Rich, moist and deliciously indulgent – this cake is sure to impress! Cinnamon, nutmeg and ginger provide this cake with its signature spiced and cozy flavour while the freshly grated carrot offers a slight but not overwhelming sweetness. This two layer cake is baked and the coated in a silky-smooth cream cheese icing making for the BEST gluten-free carrot cake! Whether you make it for a special occasion or you're simply enjoying a slice with a cup of coffee be sure to check out the recipe tips below for substitutions, additions and other adaptations. | Gluten Free + Dairy Free & Egg Free Options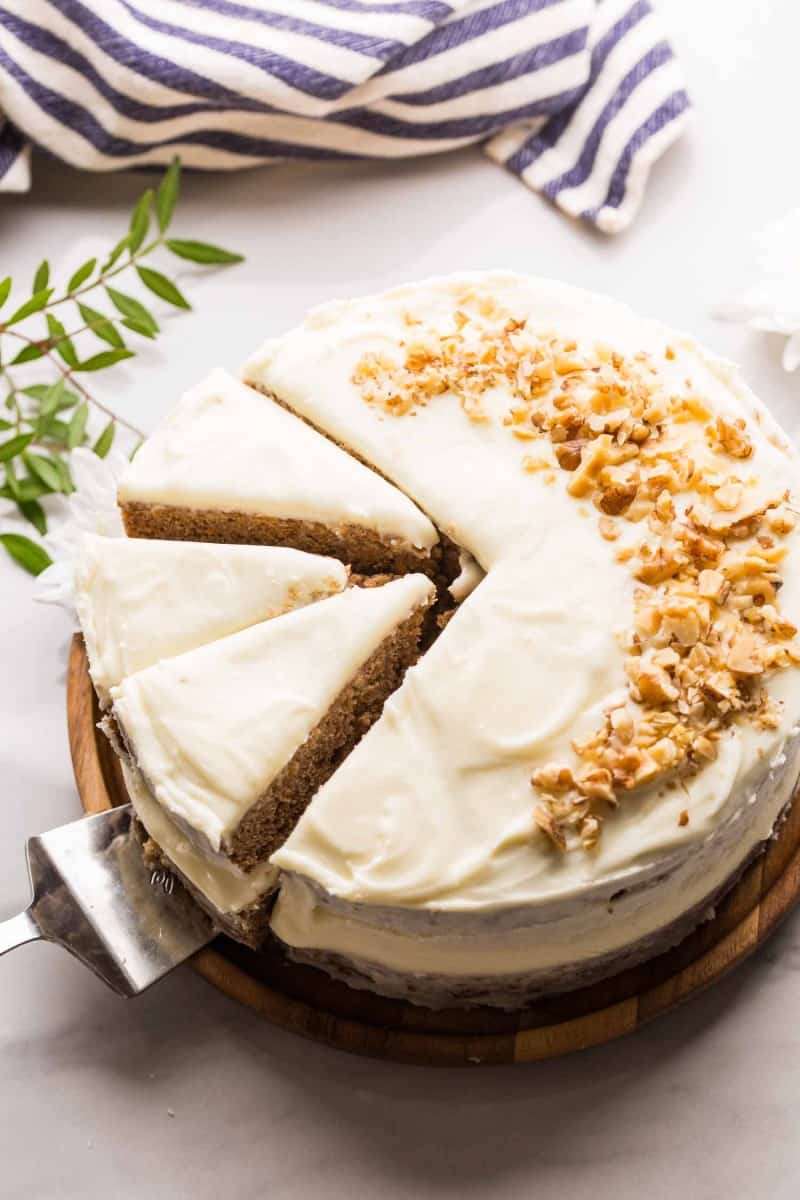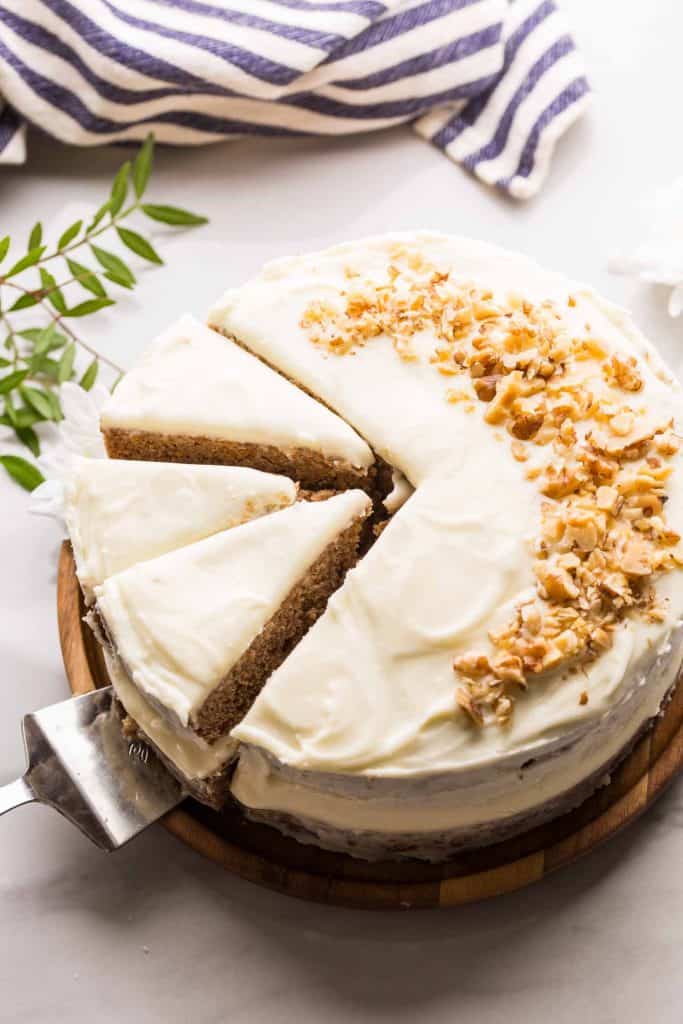 What's in this Gluten-Free Carrot Cake Recipe?
Gluten Free All Purpose Flour – Any basic gluten free flour blend should do here. When testing this recipe I made most of my cakes using Doves Farm Plain White Flour Blend.

I have also tested this cake using a quick homemade all purpose flour blend made up of a few different flours: 67% rice flour, 22% potato starch and 11% tapioca. Check the recipe notes if you're interested in using this blend.

Xanthan Gum – If your gluten-free flour blend doesn't already contain xanthan gum then I do recommend adding a bit here. The xanthan gum helps hold this cake together so that it doesn't crumble when you slice into it.

Make it without xanthan gum: I tested this cake once without xanthan gum by adding 1 tablespoon of cornstarch instead. The cake wasn't as light as my original recipe but it is worth trying if you can't have xanthan for whatever reason. Keep in mind that cakes made with additional corn starch will have a glossy looking finish to it.
Check out my post on Xanthan Gum to learn more about why it's useful in gluten free baking.

Baking Powder & Baking Soda – Important for helping this cake rise.
Cinnamon, Nutmeg, Ginger & Salt – These are signature, cozy carrot cake spices. Gotta have them.
Coconut Oil – I like the slight coconut flavour of coconut oil but you can absolutely use vegetable oil if you prefer. I haven't tested this recipe using melted butter but I do think that it would also be a good potential substitute for oil.
Brown Sugar & Vanilla Extract – Light or dark brown sugar will work here. Dark brown sugar will make for a sweeter (and darker) overall cake because it has a high molasses content. I recommend using brown sugar because it adds more moisture to this cake and because I think it provides a deeper, richer flavour than granulated sugar.

Coconut sugar substitute: You can use coconut sugar in place of, or in addition to, brown sugar if you'd like. Keep in mind that coconut sugar isn't as moist as brown sugar which can affect the texture of the finished cake. Since this cake has a lot of moisture added in other ways it shouldn't be too much of a problem.

Eggs – Eggs will add moisture and lift to your cake.
Pineapple – Many traditional, American-style carrot cakes contain pineapple. I've made several of these cakes with and without pineapple and I do think it's worth having. It adds an extra element of both sweetness and moisture that really elevates this cake. That said – look below for potential ideas on how to swap out the pineapple if you'd prefer.
Grated Carrots – What's a carrot cake without carrots?! I recommend freshly grating the carrots yourself. Store bought pre-grated carrots are usually much dryer and have less taste than fresh carrots. If you want to speed up the grating process you can always use a food processor with a grating attachment.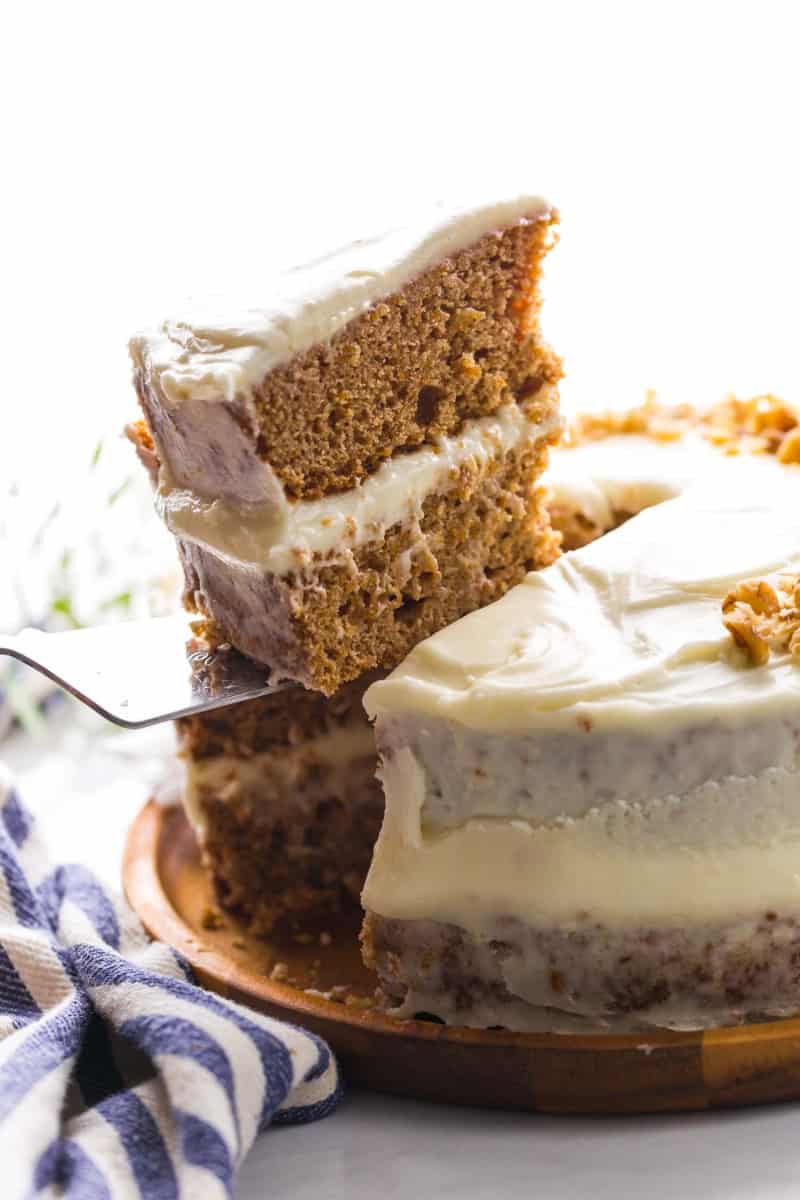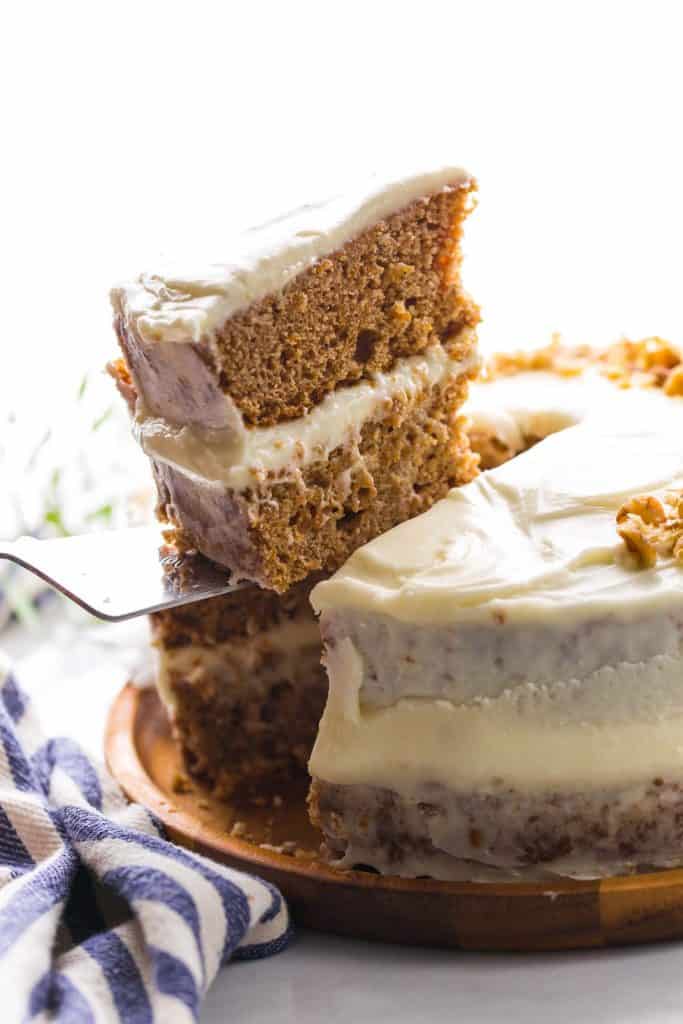 Quick How-To Summary
Preheat oven & line/grease two cake pans.
Whisk together the dry ingredients in a medium bowl.
Start mixing the wet ingredients in a large bowl: combine oil, sugar, vanilla & pineapple first. Mix in the eggs well.
Add the dry ingredients to the large mixing bowl with the wet ingredients. Gently mix together.
Fold in the carrots and whatever add-ins you'd like.
Pour into your cake tins & bake.
Cool & frost.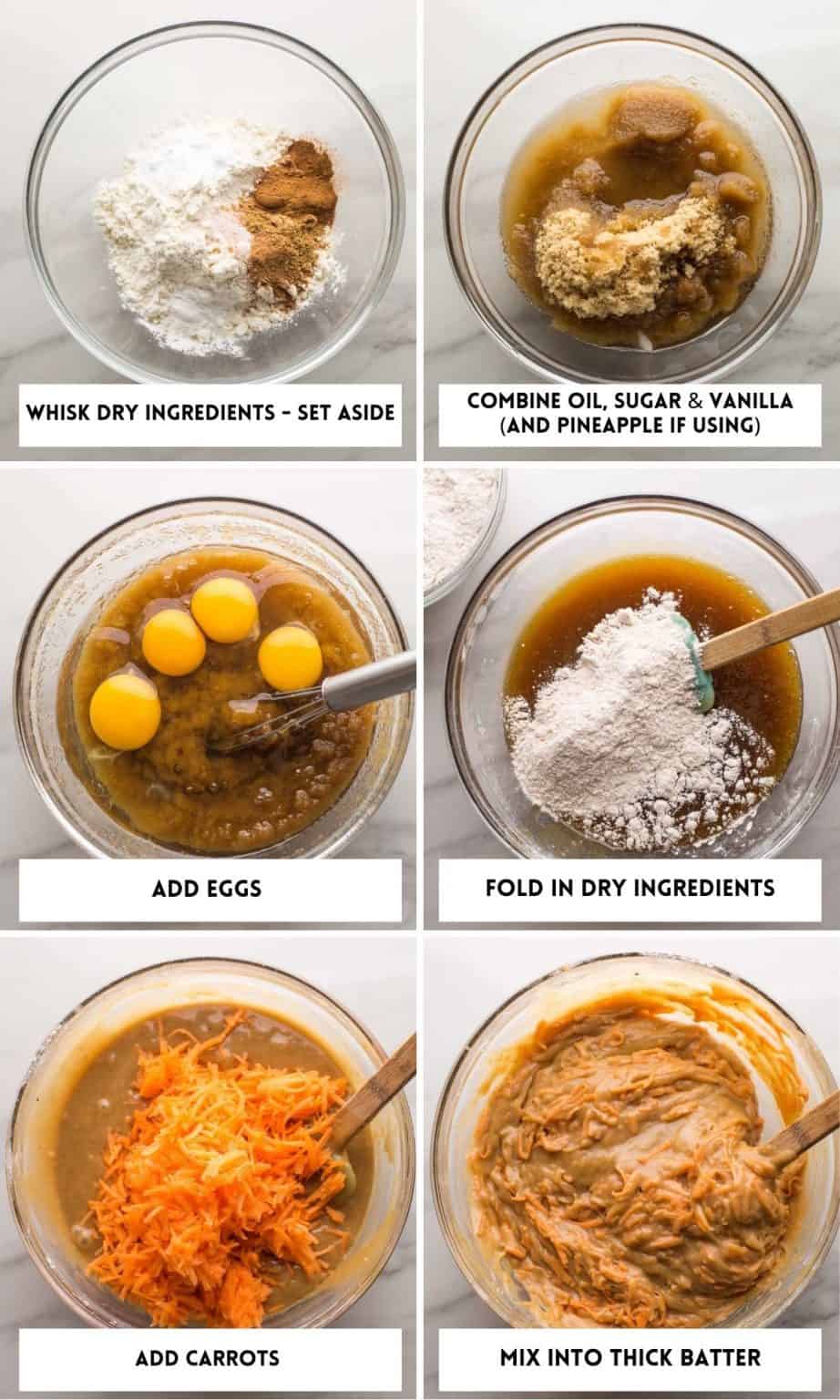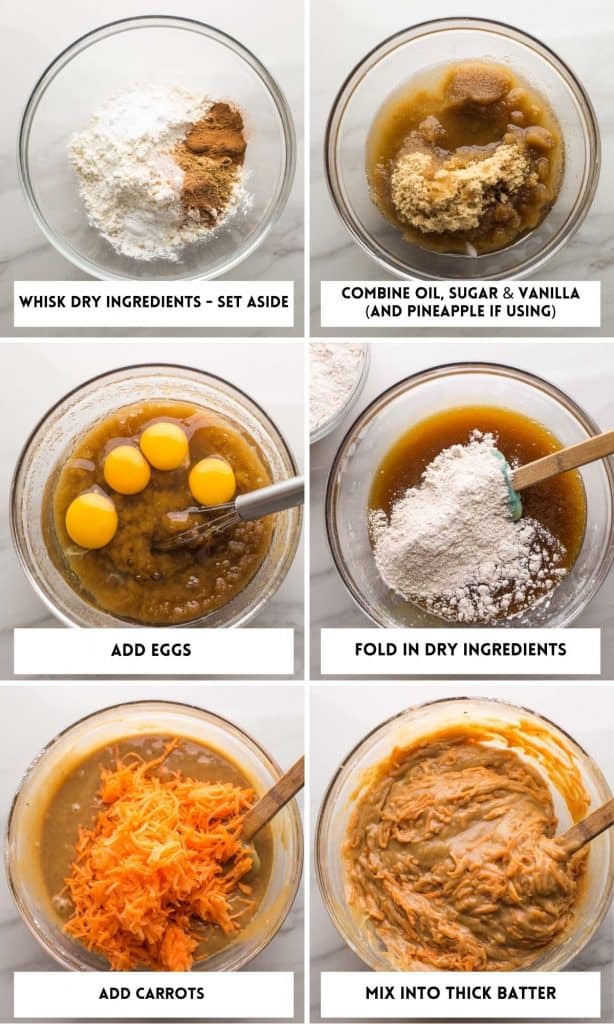 A Couple of Quick Tips
In addition to greasing your cake pans, line the bottom of the pans with parchment paper as well. This is just a little extra step you can take to be certain that you won't have to deal with a cake that's stuck to the pan.
Don't let your cake cool completely in the pan. It's important that your cake gets air flow all over. If it sits in the pan for too long it is likely to hold on to all the heat and moisture which will make for a cake that is just too soggy. After a few minutes of cooling in the pan, transfer the cake to a wire rack to completely cool.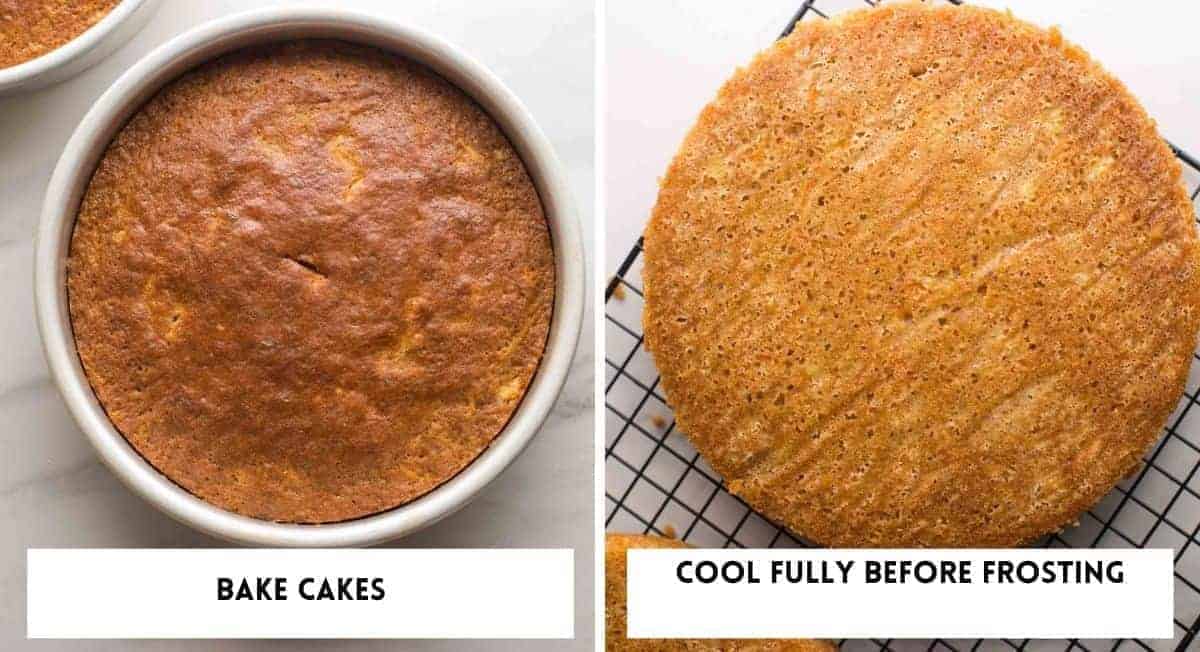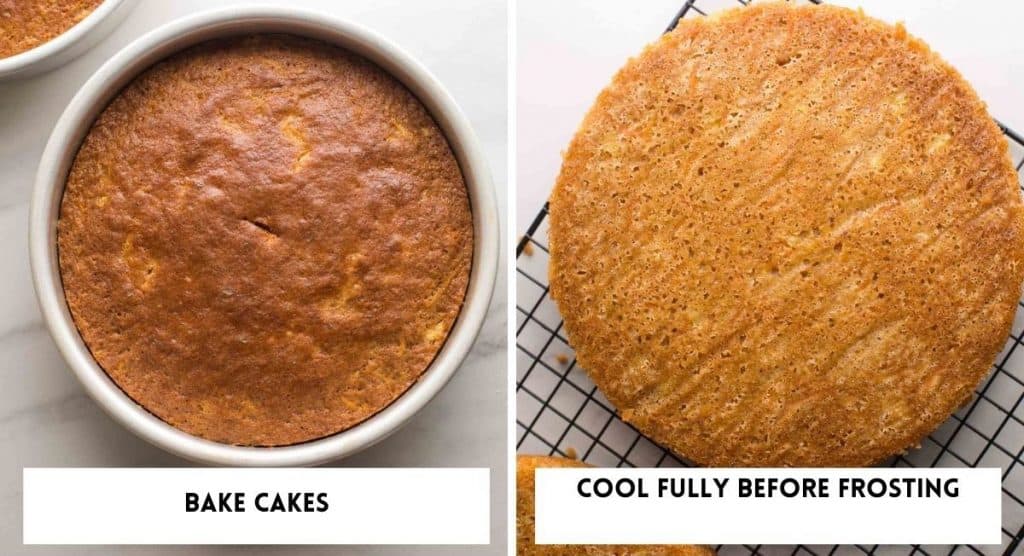 Can I make this recipe suitable for an egg-free diet?
So far I have only tested an egg-free version of this cake using aquafaba because it worked so well in my Gluten Free Vegan Chocolate Cake. In the end I thought the vegan carrot cake was absolutely delicious and I ended up eating way more than I should have, but it was much denser than the original egg version and the edges came out almost crispy.
That being said, even though it wasn't as light as the original it still had a lovely moist-crumb so I felt like it was worth offering up this egg-free solution to anyone who might be interested.
To Make it Egg Free:
In a small bowl whisk together 6 tablespoons of aquafaba along with 1/4 teaspoon cream of tartar. The cream of tartar lightly whipped along with the aquafaba helps to stabilise the aquafaba and adds another element of leavening to the cake.
Add the aquafaba + tartar after you've added the dry ingredients to the wet ingredients and just before adding the carrots.
Bake just as you normally would and that's it.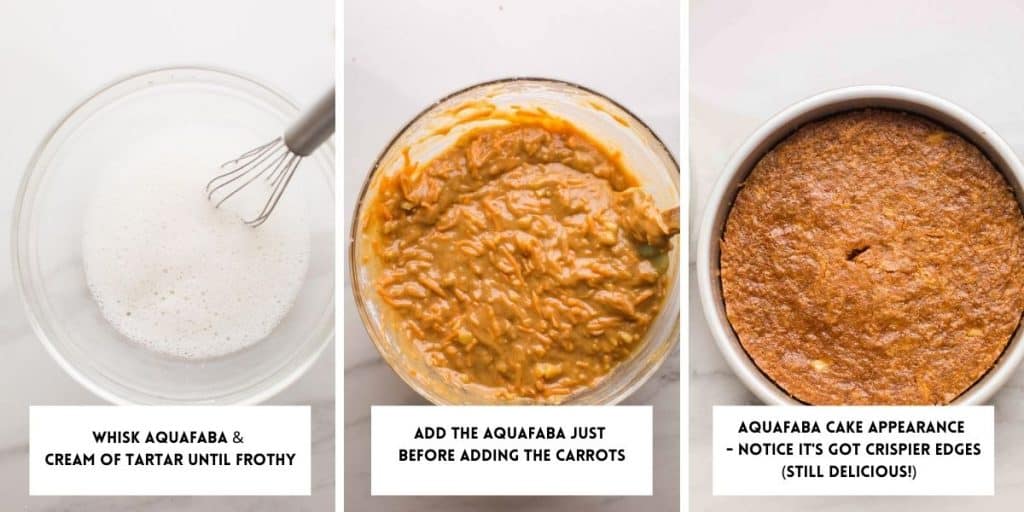 I haven't tried this using flax eggs yet but I will update the recipe when I do!
How to make a fully vegan carrot cake?
You can use a vegan cream cheese replacement when making the frosting.
OR you can use this cashew cream cheese frosting found in my healthy paleo carrot cake recipe. That recipe is simply a blend of raw cashews, coconut milk /coconut cream, maple syrup, lemon juice and a bit of coconut oil.
If you're interested you might also want to check out my vegan carrot cake bars. That recipe uses grain-free almond flour and tapioca flour along with refined free sugars. My gluten free Carrot Cake Loaf also includes an egg-free/vegan option as well.
Make a sheet cake instead of a layer-cake
Easy enough! Grease and line the bottom of a 9 x 13 inch (23 x 33 cm) casserole dish. Once filled simply increase your bake time by about 20 or so minutes. Bake for about 55-65 minutes. I recommend checking the oven at about 55 minutes. Insert a knife or tooth pick into the centre of the cake. A few moist crumbs left on the knife/toothpick is fine, but if it comes out looking wet – let your cake bake longer.
Leave your cake in the pan and let it cool completely before frosting and that's it!
Add-Ins & Substitutions
Applesauce, mashed banana, yoghurt or pumpkin puree- You can replace the chopped or crushed pineapple with an equal amount of applesauce, banana, yoghurt or pumpkin puree.
Nuts, Coconut and/or Raisins- Mix in a cup of raisins, chopped nuts (like walnuts or pecans) or shredded coconut to the cake batter before you bake it. Try not to add more than 1.5 cups total of these add-ins. If you want to add a little of everything for example, simply include 1/2 cup of nuts, coconut and raisins each. Bonus points if you use toasted nuts and coconut!
Orange zest – I didn't try adding any orange zest to my cakes (only because I didn't think of it!) but it's one I often see in many other carrot cake recipes. I'm sure it would add just an extra special zing to this cake.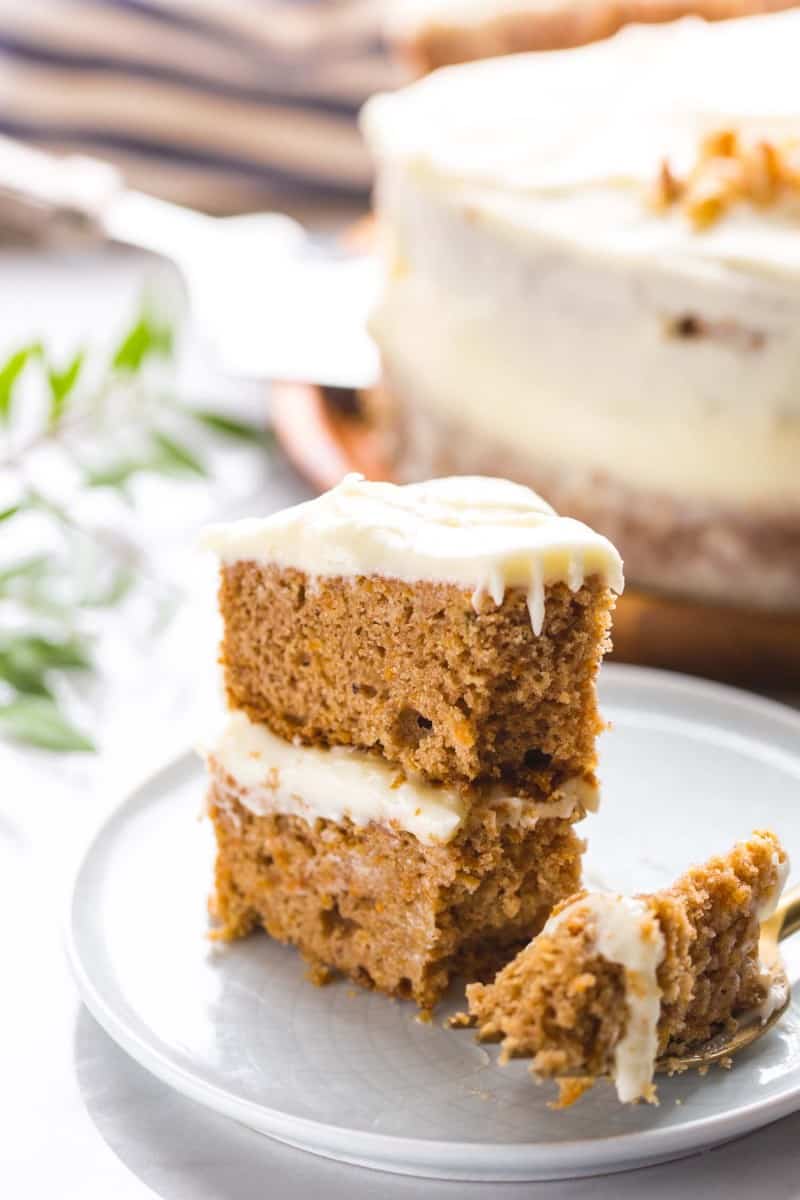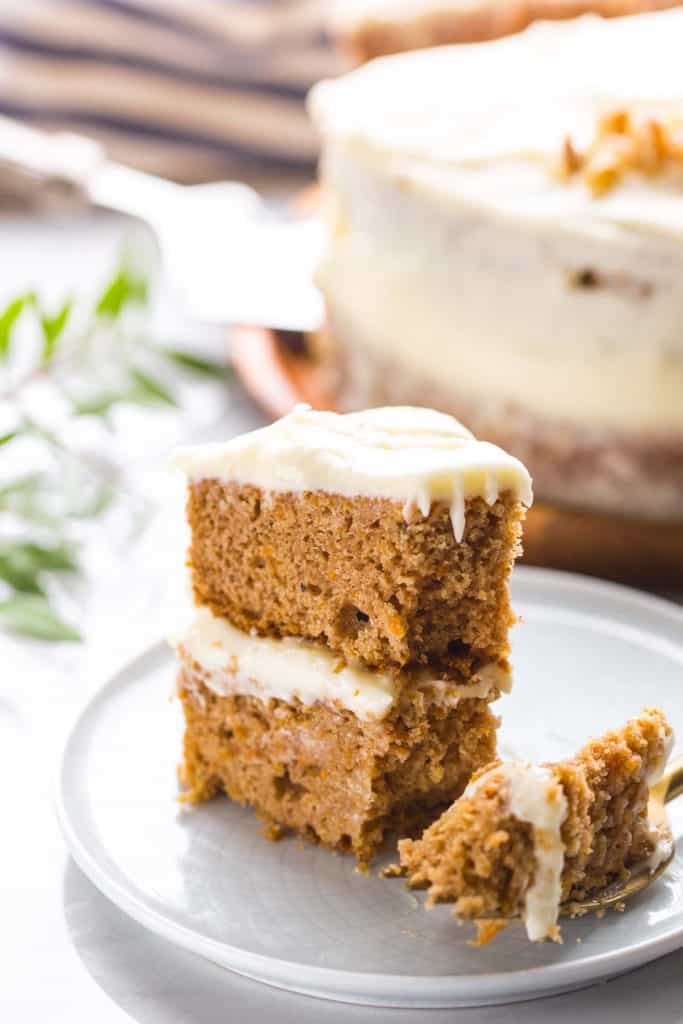 Can I make this cake ahead of time or freeze for later?
Yes! This cake probably even taste better after a day once the flavours have all had a chance to come together and enhance each other. Both the cake layers and the cream cheese frosting can be made a day before you need it. Wrap up both cake and frosting and keep in the fridge over night. Make sure you give the icing time to come down to room temperature before frosting so that it spreads easier.
Freeze for Later
You can freeze the unfrosted cake layers. After baking allow your cakes to completely cool. Once fully cooled, wrap your cakes in plastic wrap then wrap again in a layer or two of foil. Once wrapped you can freeze your baked layers for up to three months. Let the cake defrost in the fridge (about 12 hours) when you're ready to use. Make sure to label and write out the date on your cake before storing it.
You can freeze the frosted, finished cake. I recommend freezing the cake in individual slices so that you don't have to defrost the entire cake just for one slice. Wrap in plastic wrap then wrap in foil or place in a freezer safe container. Keep frozen up to three months. Allow to defrost in the fridge before eating.
Looking for a healthy carrot cake?
Check out a few of my other GF carrot cake recipes. These recipes listed below are all paleo friendly as they are made with grain free flours and refined free sugars.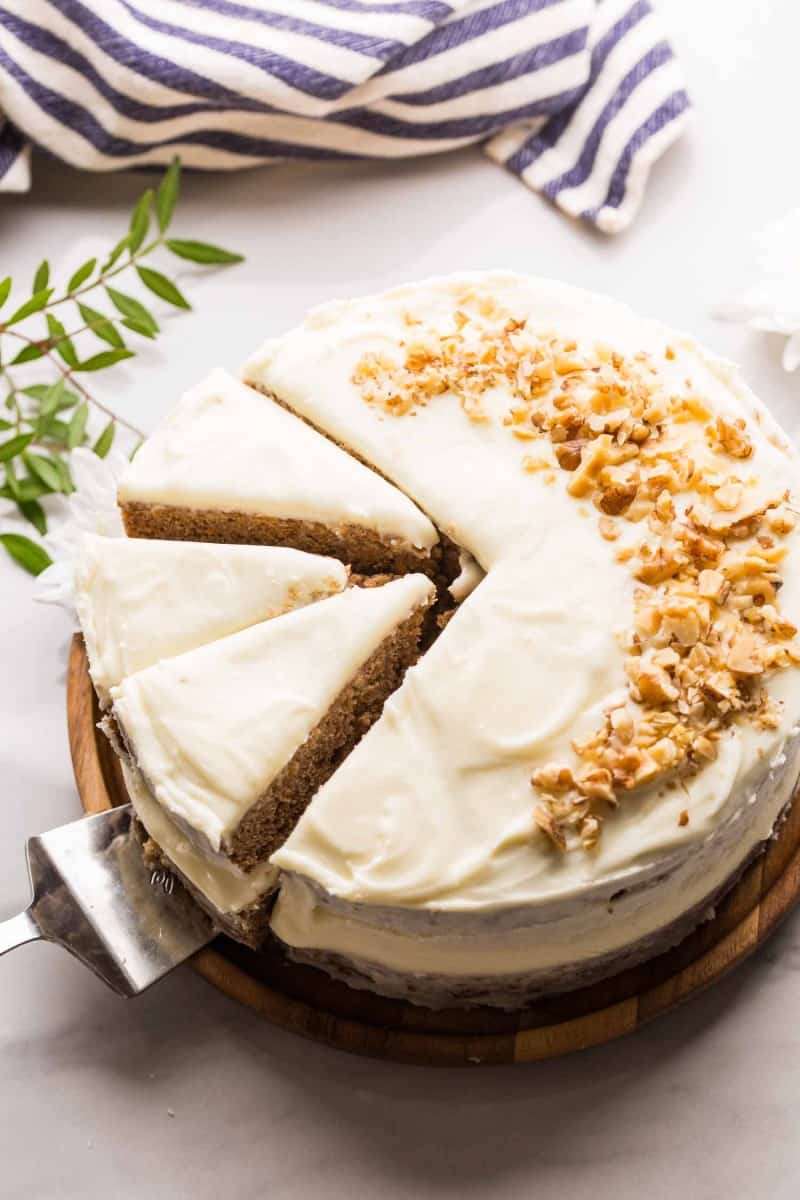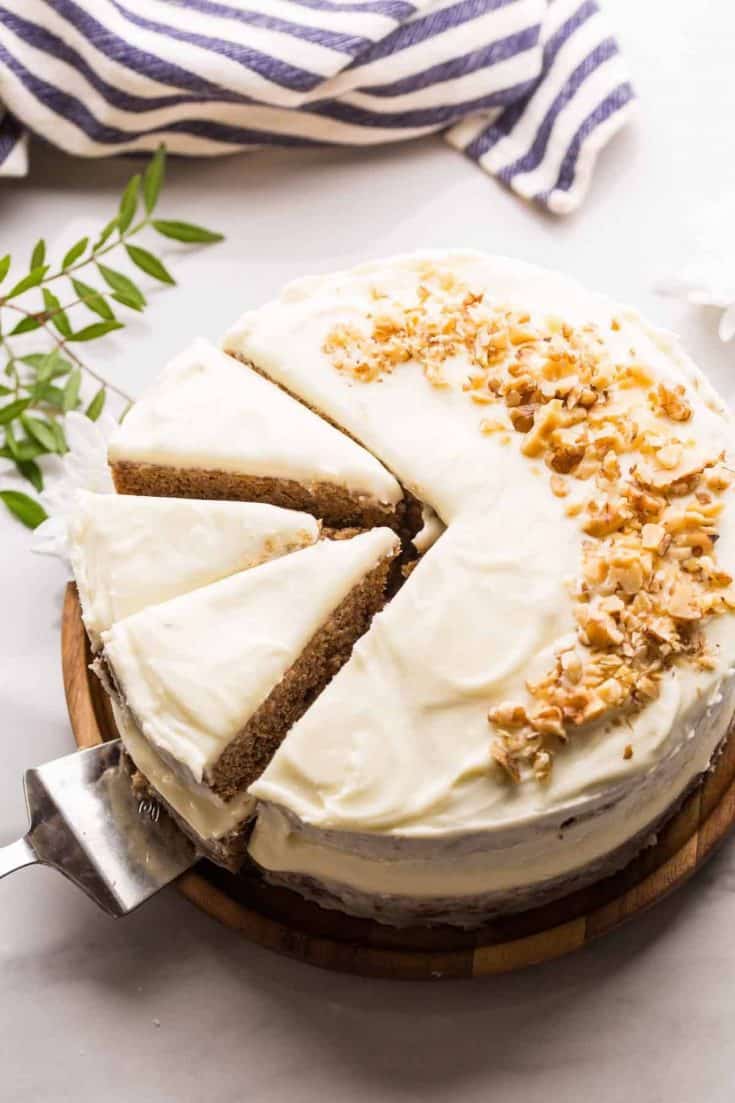 Recipe
Gluten Free Carrot Cake
Yield:
12 slices
Cook Time:
35 minutes
32 seconds
Total Time:
35 minutes
32 seconds
Rich, moist and deliciously indulgent - this Cake is sure to impress! Cinnamon, nutmeg and ginger provide this cake with its signature spiced and cozy flavour while the freshly grated carrot offers a slight but not overwhelming sweetness.
Ingredients
2 cups | 280 g gluten free four blend
2 teaspoons baking powder
1 teaspoon baking soda
1 1/2 teaspoons cinnamon
1 teaspoon ground ginger
1/4 teaspoon ground nutmeg
1/2 teaspoon xanthan gum
1/2 teaspoon salt
1 cup | 220g melted coconut oil,
1 1/2 cups | 330 g light or dark brown sugar
1/2 cup | 112 g fresh, finely chopped pineapple or crushed pineapple from a can (let juice drain if from can)
1 teaspoon vanilla extract
4 eggs
2 1/4 cups | 250 g cups grated carrots
Cream Cheese Frosting
8 oz cream cheese
1/2 cup | 113 g butter
1/2 teaspoon vanilla extract
4 cups | 500 g powdered/icing sugar
1/4 cup chopped walnuts for topping (optional)
Instructions
Preheat cake to 350°C/175°C. Grease and line the bottoms of two 8 inch round cakes. Set aside.
In a medium sized mixing bowl combine the dry ingredients: flour, baking powder, baking soda, cinnamon, ginger, nutmeg, salt and xanthan gum. Whisk until well combined. Set aside.
In a large mixing bowl mix together on a medium speed the sugar, oil, pineapple and vanilla extract.
Add the eggs. Mix on high about a minutes until fully combined.
Begin mixing the flour into the wet ingredients. Add about 1/3 of the flour mixture, fold into the wet until mostly combined then add the next third. Continue until all the flour has been mixing in.
Add the grated carrots to the batter. Add any add-ins (like nuts or raisins) at this time.Gently fold to evenly distribute.
Dive the batter between the two prepared baking tins. Gently lift up the tins and drop them on a counter/table surface to get rid of air bubbles.
Place in the middle of the oven and bake for 32-35 minutes. To check for doneness, insert a knife or tooth pick into the centre of the cake. If it comes out clean it's done.
Let cool in the tin for about 10 minutes then flip over on to a cooling rack. Let cool completely before frosting or filling.

Frosting
In a large mixing bowl, combine the cream cheese and butter. Mix together on high with an electric mixer until light and fluffy.
Add the vanilla extract and begin sifting in the powdered sugar 1 cup at a time until fully combined.
Taste and add more sugar as you see fit. More powdered sugar will make for a thicker icing which will be easier to use as a frosting.
Once your cake has completely cooled, layer and frost as you see fit and enjoy.
Notes
Additions: Add up to 1 cup of chopped nuts, shredded coconut and/or raisins. Toasted nuts are always better.
Substitutions: Instead of pineapple you can add applesauce, yoghurt, mashed banana or pumpkin puree.
Make ahead: Cake layers can be baked, cooled completely and then wrap up and left in the fridge or at room temperature overnight. Frosting can also be prepared a day ahead if kept in the fridge. Allow the frosting time to reach room temperature so that it spreads easier.
Freeze for later: Cake can be wrapped up and frozen (frosted or unfrosted) for up to 3 months. I recommend freezing frosted sliced as individual slices to make defrosting faster/easier. Thaw overnight in the refrigerator before serving.
Make a sheet cake instead of a layer cake: Grease and line a 9x13inch (23x33cm) casserole dish. Bake for 55-65 minutes. Check cake for doneness at 55 minutes. Let cool completely in the dish before frosting.
This website provides approximate nutrition information for convenience and as a courtesy only. Nutrition data is gathered primarily from the USDA Food Composition Database, whenever available, or otherwise other online calculators.
More Gluten Free Cakes to Check Out