These honey garlic chicken wings are sweet, savory and simply satisfying! While the wings bake in the oven, cook down the remaining marinade into a thick and sticky glaze to toss into the wings at the end. Good enough to serve at parties and easy enough to make as a main dish for a mid-week feast! Gluten Free + Soy Free + Paleo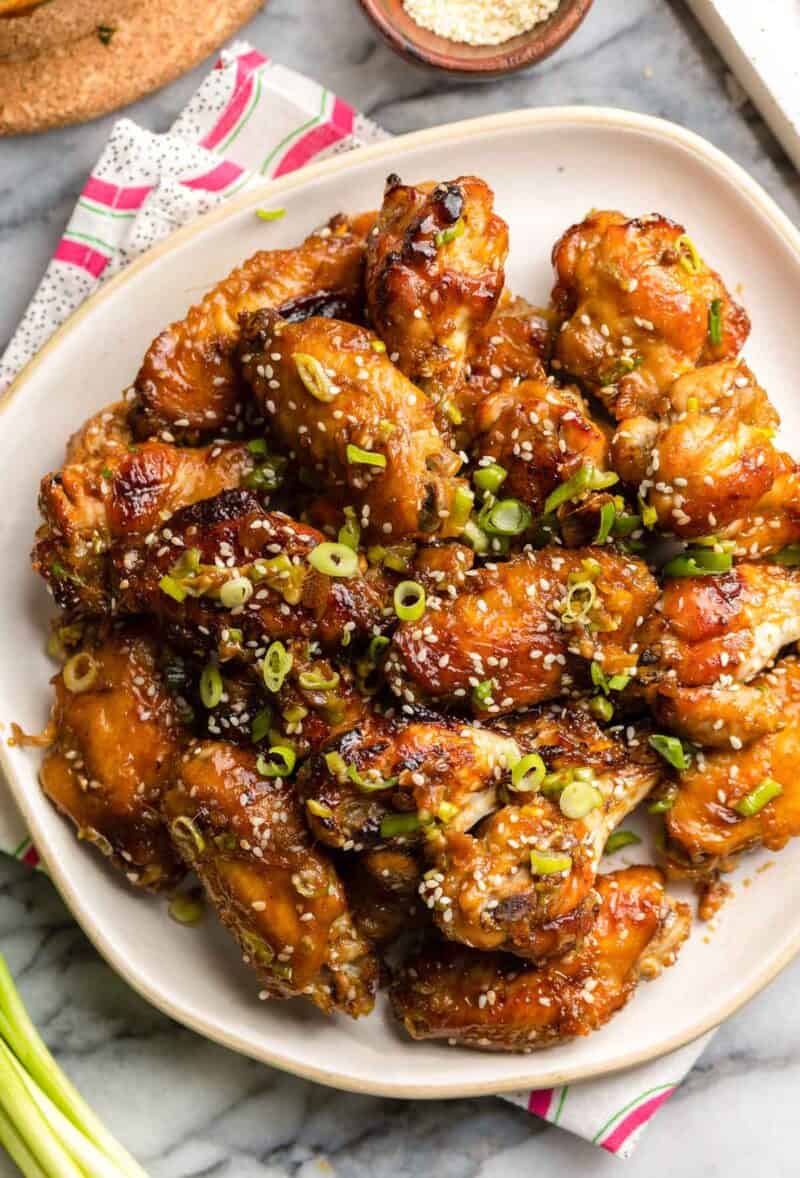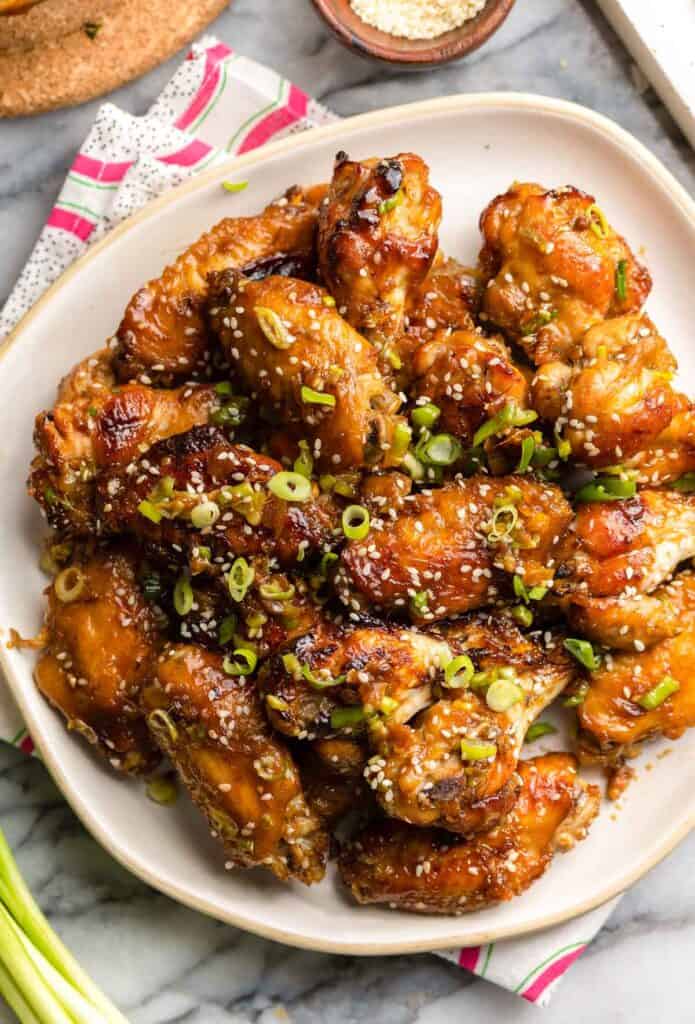 Reasons to Love these Honey Garlic Chicken Wings
Easy to make! The marinade comes together in little time and the wings are baked in the oven. The most challenging part will be cooking the leftover marinade into a sticky sauce, but all you need to do is watch and stir.
Oven baked! No need to fuss over hot oil in a deep fryer! Oven baked wings are not only easier to make, but much healthier without the added fat and calories!
Satisfying and delicious! The homemade honey garlic sauce is a perfect balance of sweet and savory flavors. It starts as a simple marinade then cooks down into a thick, sticky, mouthwatering sauce!
Ingredients & Prep
First things first: the marinade. Simply whisk together the coconut aminos, garlic, ginger, honey, vinegar and oil in a bowl. Once combined, add the wings and mix well then cover and let marinate for at least 30 minutes, or up to 24 hours.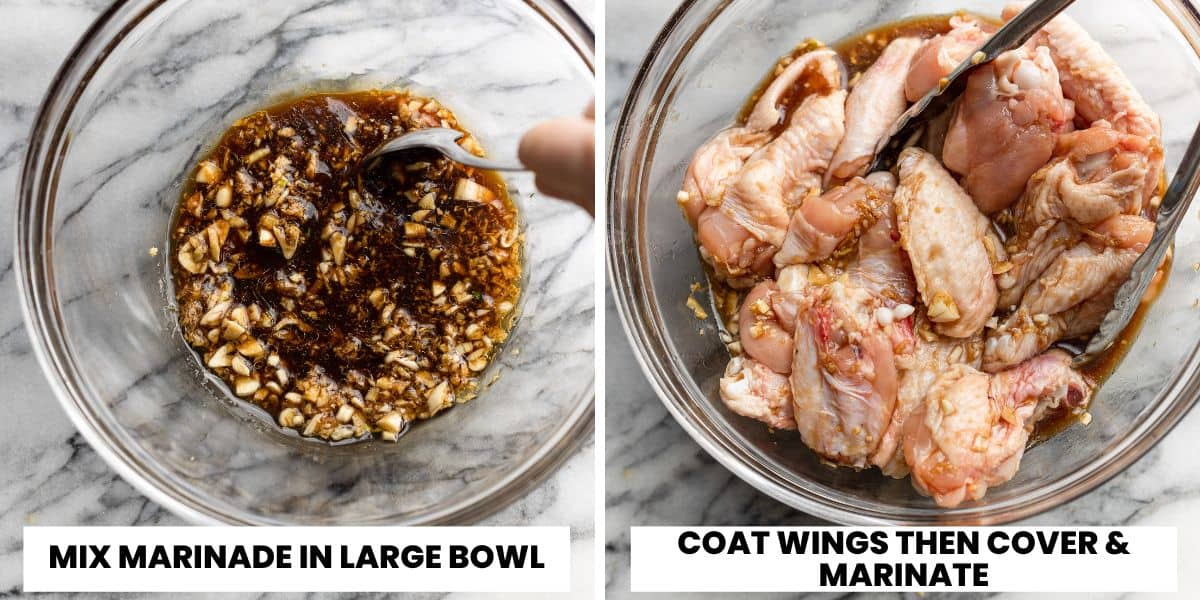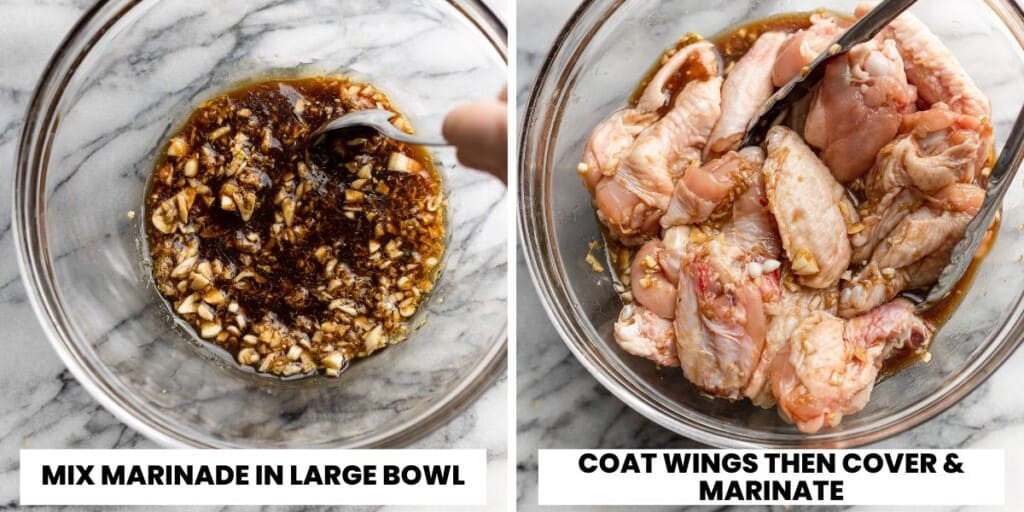 Coconut Aminos vs Soy Sauce
Made from fermented coconut sap and salt, coconut aminos are a sweet but savory sauce that works as a fantastic substitute for soy sauce and tamari. They look the same, work the same and can be used interchangeably in most recipes.
Coconut aminos are naturally much sweeter and less salty (about 70% less sodium) than regular soy sauce and tamari. With this in mind, I recommend you increase the added salt any time you want to use coconut aminos in place of soy/tamari.
Feel free to use soy sauce or tamari in this recipe if you prefer – just make sure to omit the 1 teaspoon salt in the ingredient list!
Bake Wings & Save Sauce
Line a large baking sheet with foil or baking paper then place an oven safe wire rack over the top. Make sure to grease the rack as well to prevent sticking.
Shake the excess marinade off the wings back into the bowl, then place the wing pieces on the rack in a single, even layer.
Pour the leftover marinade into a small sauce pan and set aside for now.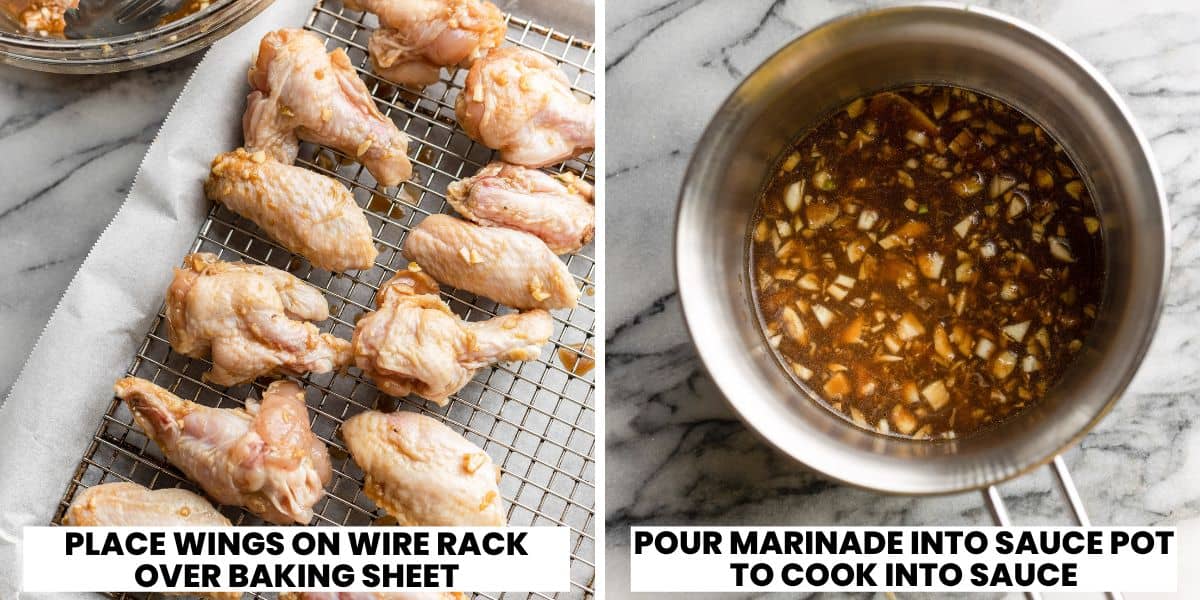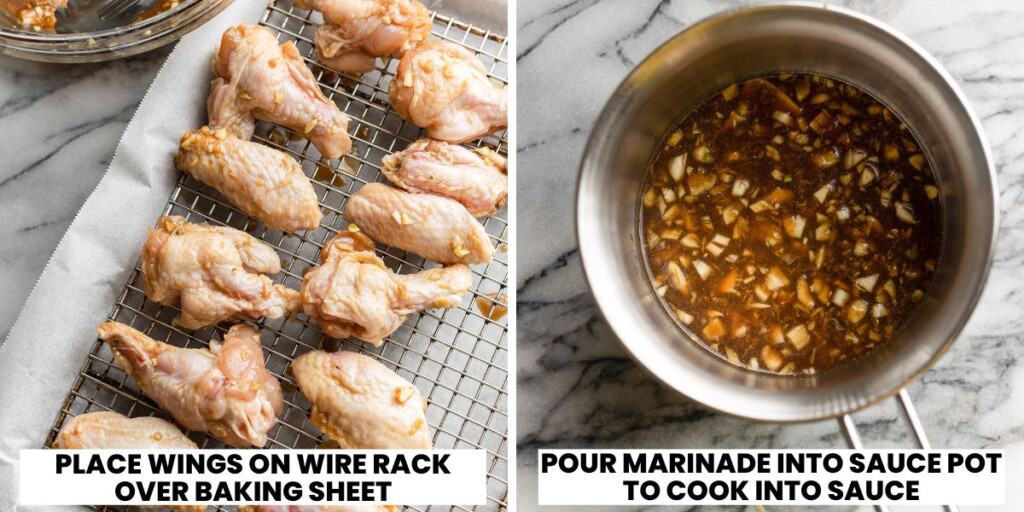 Why bake on a wire rack?
As the chicken bakes in the oven the excess fat and moisture will drip off the wing into the pan below.
If left to sit in the fat and juices, the skin will stay quite soggy while you ideally want a somewhat crispy exterior to hold on to the sticky glaze at the end. A wire rack ensure the wings stay out of the juices and ensures airflow around the wings as they cook.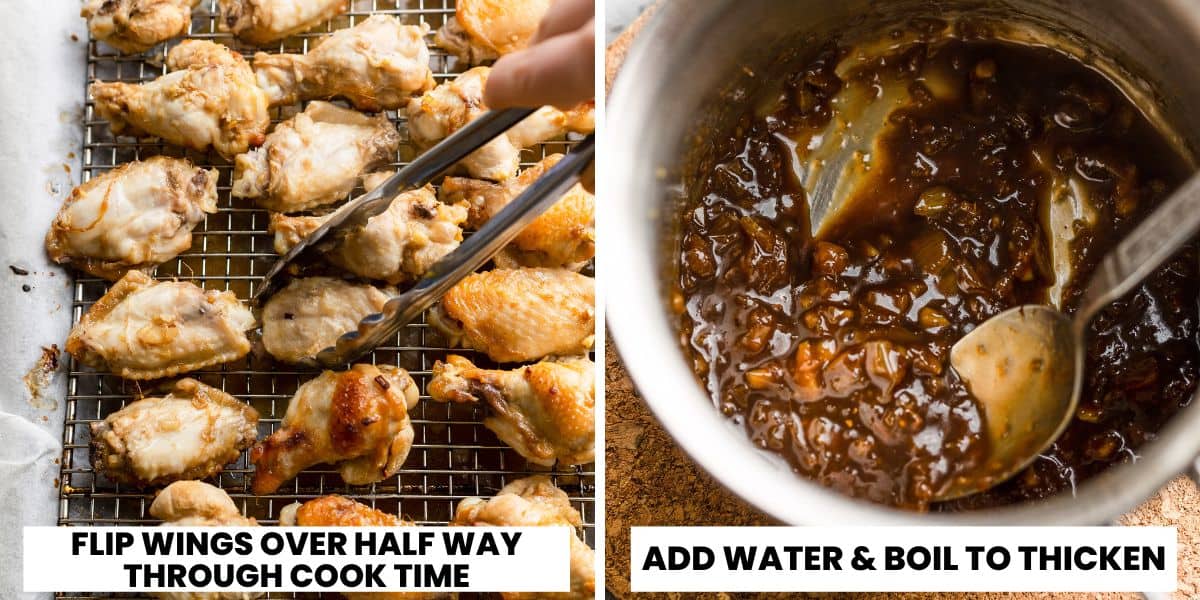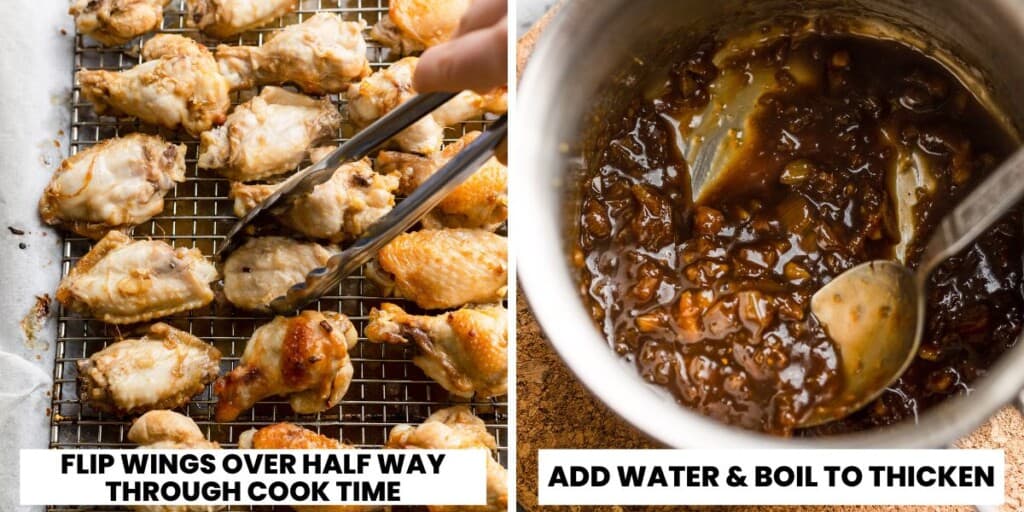 Flip Wings & Thicken Sauce
About halfway through the cook time make sure to flip the wings oven to cook evenly on both sides.
After flipping, begin working on the homemade sauce. Add a couple tablespoons water to the pot with the marinade ingredients and warm over a medium high heat. Bring to a rolling boil and let boil for at least 4-5 minutes. Make sure to stir often to keep the sauce from burning.
As the sauce cooks it will begin to caramelise and reduce down into a thick sauce. Once you notice it thicken, turn off the heat and set aside until you're ready to mix everything. When it's cool enough to test without burning, taste and season as you see fit. Add more salt, black pepper or vinegar as needed.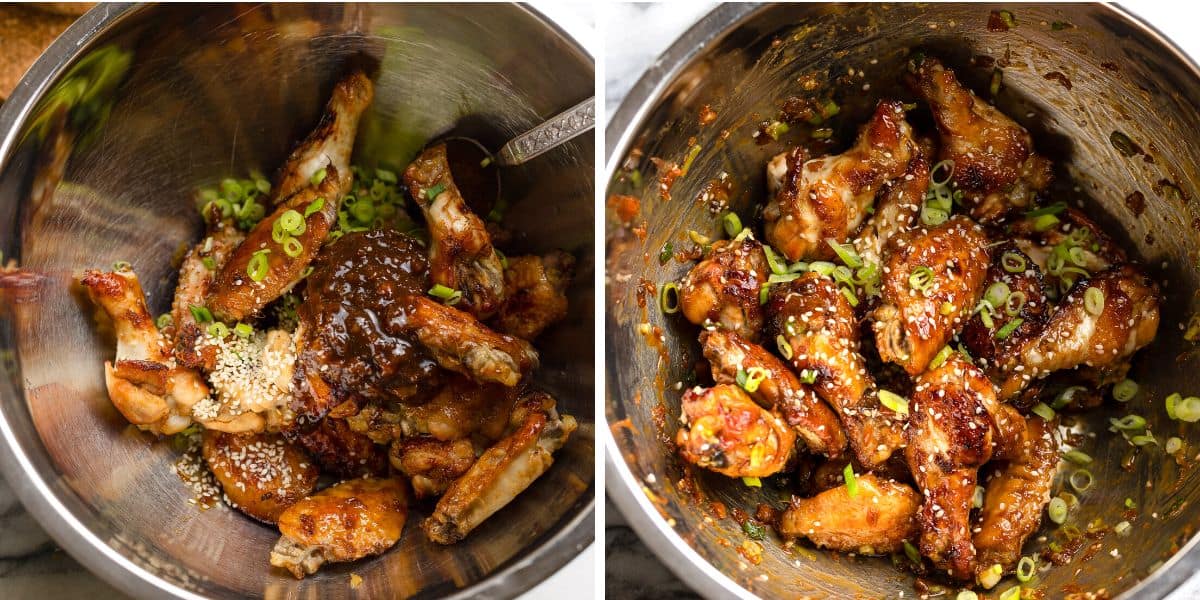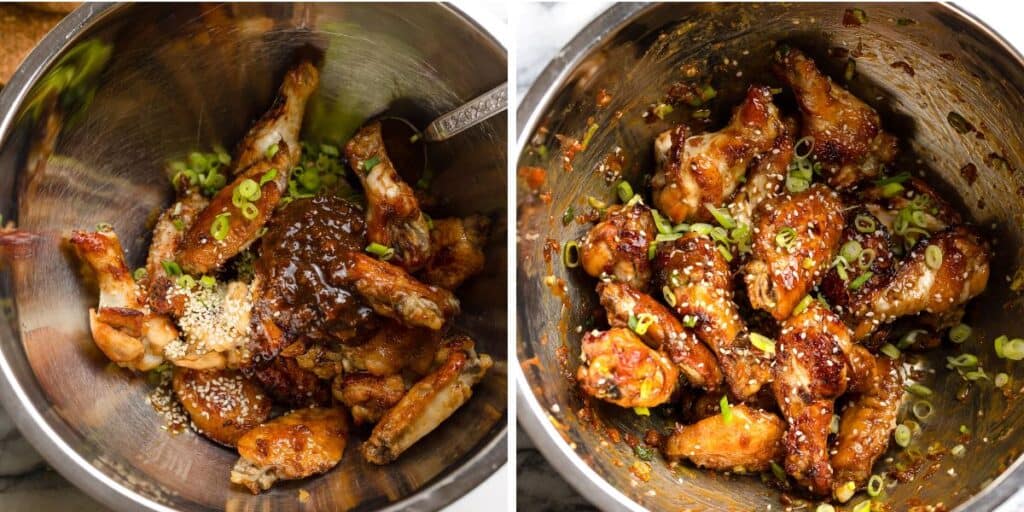 Toss in Sauce and Enjoy
Finally, after the wings are done (internal temperature should be at least 165 degrees F (74 degrees C) add them to a large bowl along with the honey garlic sauce, sesame seeds and green onions. Toss everything together making sure to evenly coat the chicken in wing sauce and that's it!
✔️Juicy Wings
✔️Sticky Sauce
✔️Delicious Flavors
Who wants some?!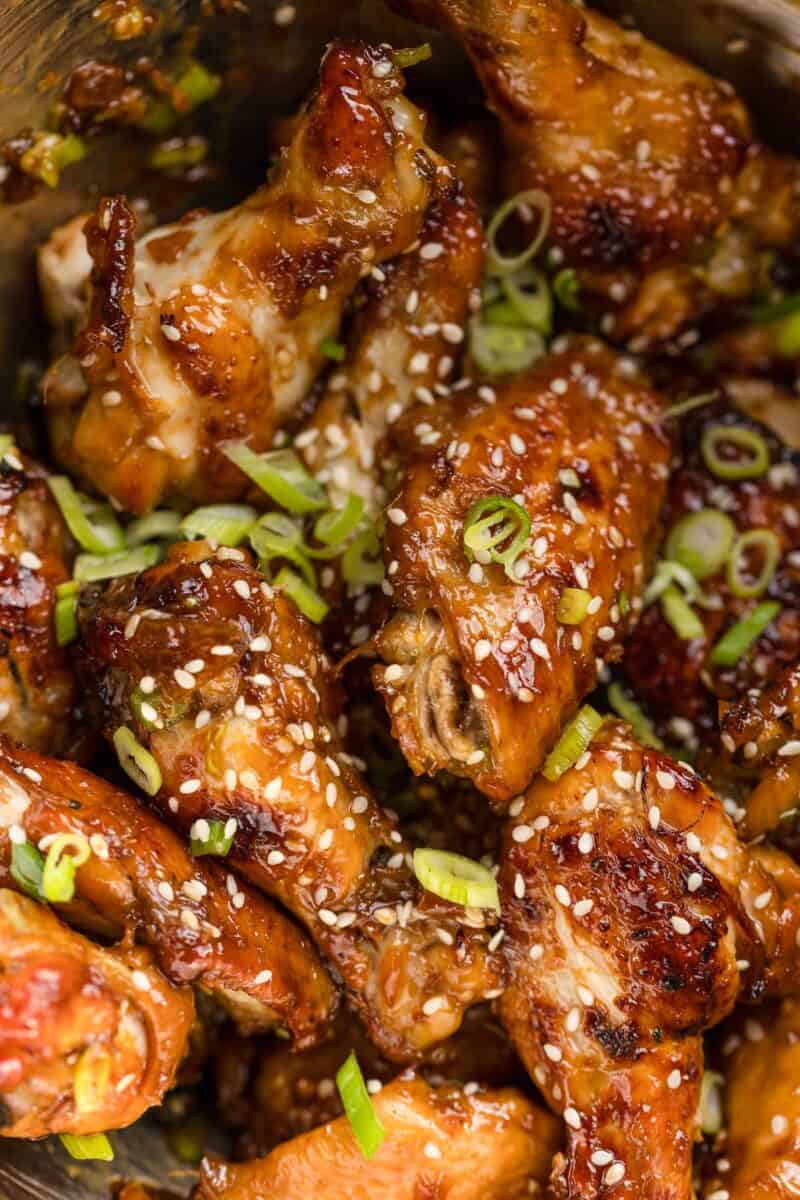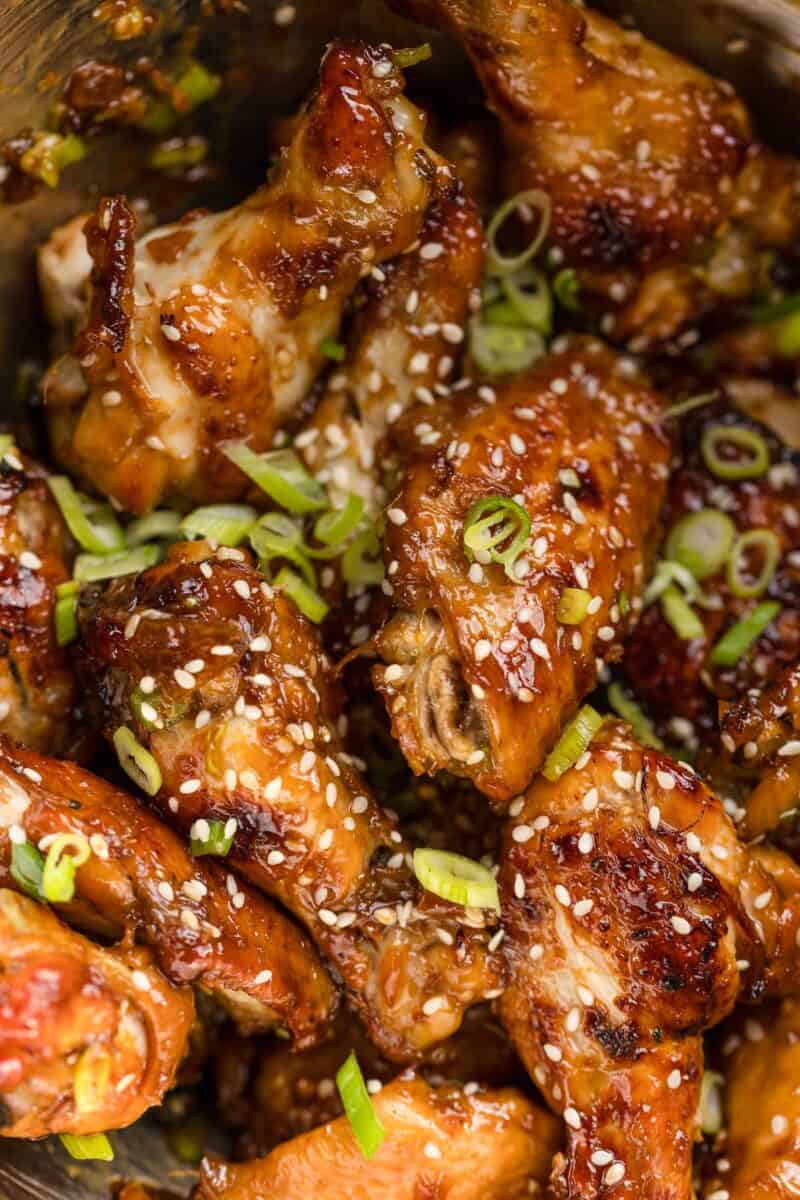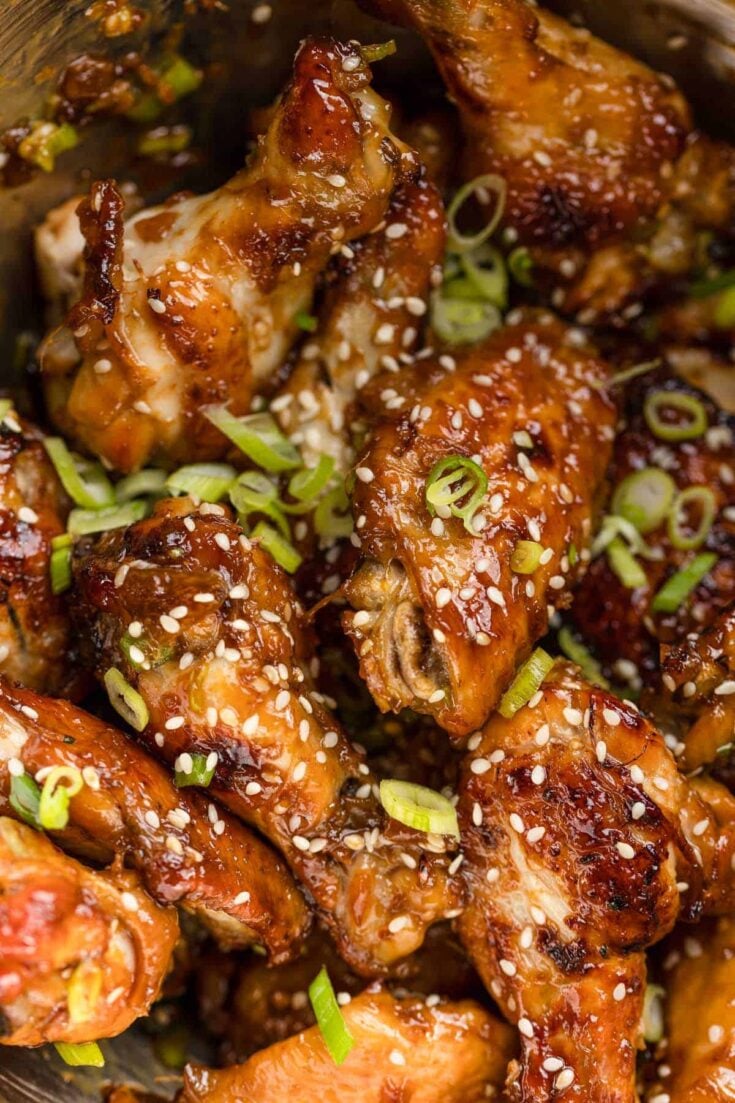 Recipe
Sticky Honey Garlic Chicken Wings
Yield:
about 20-24 wings
Prep Time:
10 minutes
Cook Time:
45 minutes
Additional Time:
1 hour
Total Time:
1 hour
55 minutes
Sweet, savory and simply satisfying! While the wings bake in the oven, cook down the remaining marinade into a thick and sticky glaze to toss into the wings at the end.
Ingredients
4 large cloves fresh garlic (or 1 heaping tablespoon)
1 inch chunk fresh ginger grated (about 1 tablespoon)
1/4 cup coconut aminos (60 ml)
1 teaspoon salt (omit salt if using soy sauce/tamari)
3 tablespoons honey (60 g)
2 tablespoons rice vinegar (30 ml)
1 tablespoon sesame oil (15 ml)
2 pounds bone-in chicken wings (about 1 kg)
2 tablespoons water (30 ml)
2 tablespoons sesame seeds
3 spring onions, sliced
Instructions
In a large bowl mix together the garlic, ginger, soy sauce/tamari, honey, rice vinegar and sesame oil until combined.
If your chicken wings come whole, cut them up into three parts: the wing, the drummette (middle part) and the wing tip (the pointy end without much meat). Discard the wing tips (or save for chicken stock).
Add the wing pieces to the bowl and toss in the marinade. Cover and refrigerate at least one hour.
Preheat oven to 400°F/200°C. Line a large rimmed baking sheet with foil or parchment paper then place an oven safe wire rack over the top of the pan. Grease the rack.
Lay the wings out on the wire rack on the prepared baking sheet in a single layer. Don't be afraid to place the wings close together as they will shrink as they cook and the wire rack will ensure air flow under the wings. Pour the leftover marinade into a small saucepan and set aside for the time.
Place in the middle of the oven and bake for 25 minutes then take out the pan and flip over each wing. Return to the oven and bake for another 20 minutes or until cooked through (instant-read thermometer internal temp reaches 165°F/74°C).
After you've flipped the wings over and returned them to the oven, begin working on the sticky sauce. Take the pot with the reserved marinade and place over a medium-high heat. Add the 2 tablespoons of water. Bring the sauce to a rolling boil. Let boil for at least 4-5 minutes, stirring often then reduce the temperature down to a low heat.
Once cooked through, remove the pan from the oven and add the baked wings to a large mixing bowl. Pour the sticky glaze on top. Add sesame seeds and green onions. Toss everything together until well coated in glaze and serve.
Notes
Feel free to use gluten free soy sauce or tamari instead of coconut aminos. Omit the added salt if using soy/tamari.
Serving size for nutrition is estimated below - amounts will vary depending on the size of your wings. One pound of wings typically contains about 10-12 wings.
Nutrition Information
Yield:

20
Serving Size:
1 wing
Calories:

131
Total Fat:

8g
Saturated Fat:

2g
Cholesterol:

34mg
Carbohydrates:

5g
Fiber:

0g
Sugar:

4g
Protein:

8g
This website provides approximate nutrition information for convenience and as a courtesy only. Nutrition data is gathered primarily from the USDA Food Composition Database, whenever available, or otherwise other online calculators.
Shop this Post
As an Amazon Associate and member of other affiliate programs, I earn from qualifying purchases.
Make a Meal Out of It
Sure, wings are great party food, but don't let that stop you from enjoying them as a quick and easy weeknight meal! Serve with a side of noodles, veggies, salads and more!