Combine the delicate, floral flavor of lavender with the bright tang of freshly squeezed lemons to make this fresh and fragrant, homemade lavender lemonade! It's simple, delicious and incredibly refreshing!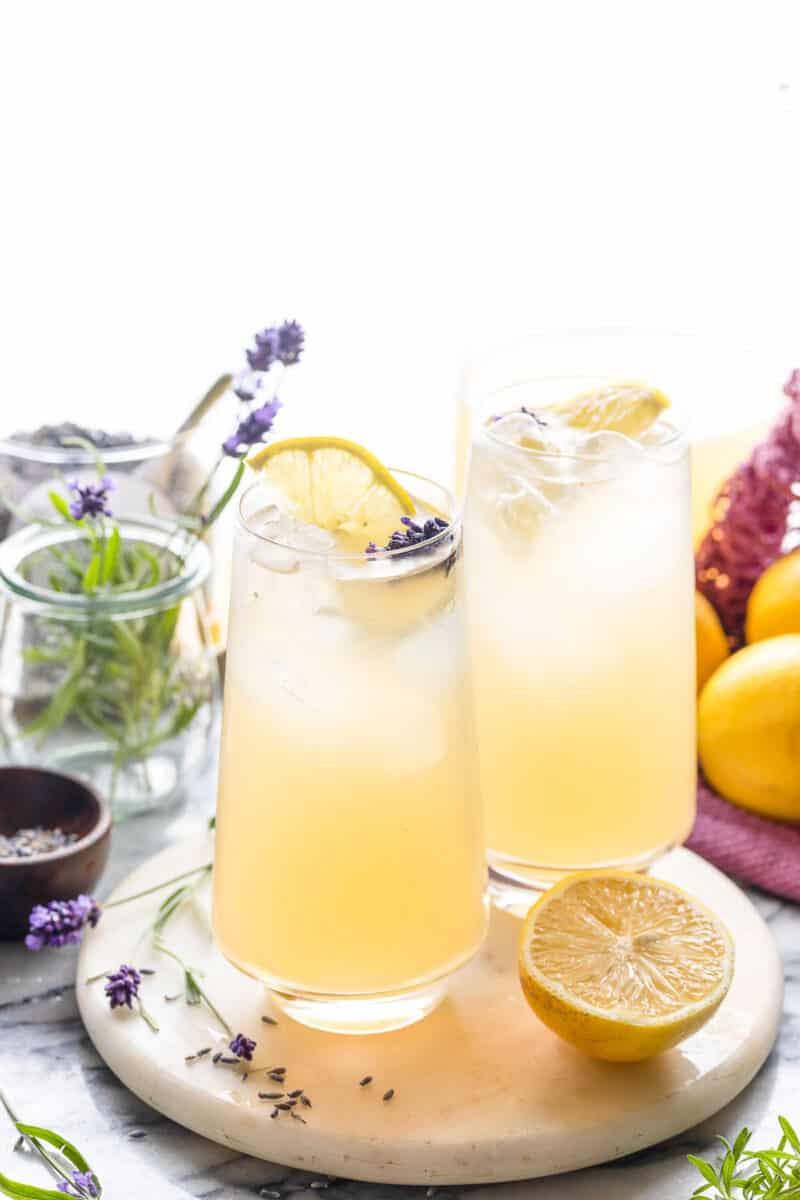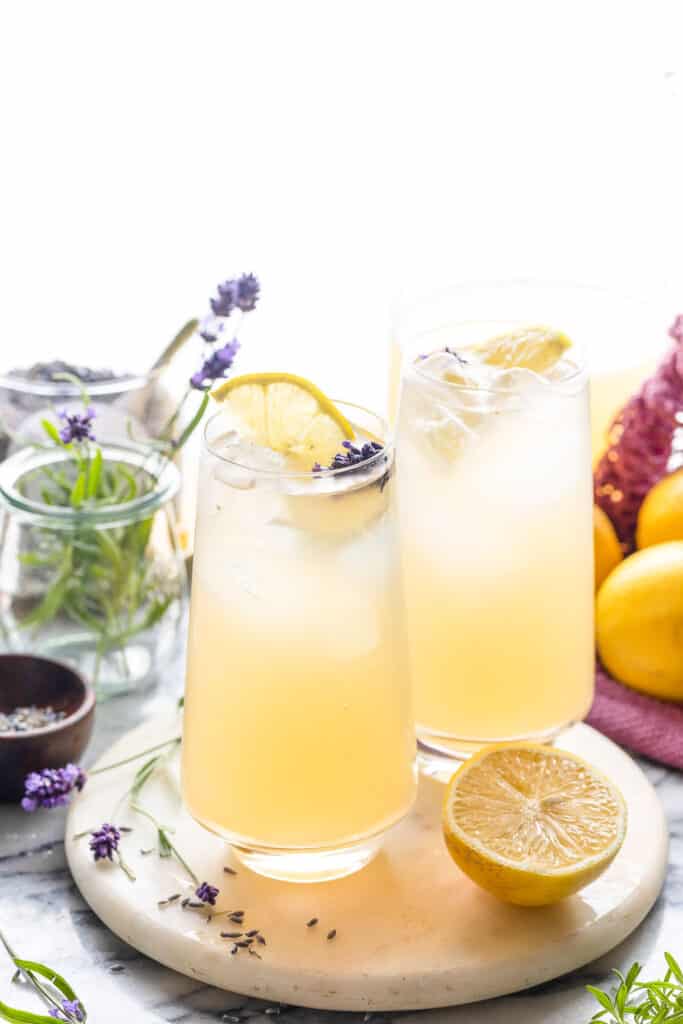 Homemade Lavender Lemonade
Not just great as a soothing aromatherapy! Records of lavender and its many uses date back about 2,500 year ago.
As a flowering member of the mint family, it's no surprise that's been used as both a food and fragrance all throughout history.
If you've never tried incorporating it into your food, this lavender lemonade is a delicious way to start!
This recipe marries together the calming, soothing qualities of lavender with the punchy, brightness of lemons to create the perfect summer sip!
Ingredients
In total there are only 4 simple ingredients in this lavender lemonade recipe:
Lavender – Make sure to use culinary lavender.
Honey or Maple Syrup – Use maple syrup for vegan and low fodmap friendly options. You can even use granulated sugar if you prefer.
Lemons – Fresh lemons are a must for any homemade lemonade recipe! You'll need about 5 large lemons.
Water – After you make it with still water, try using sparkling water next like in my Mint Cucumber Lemonade!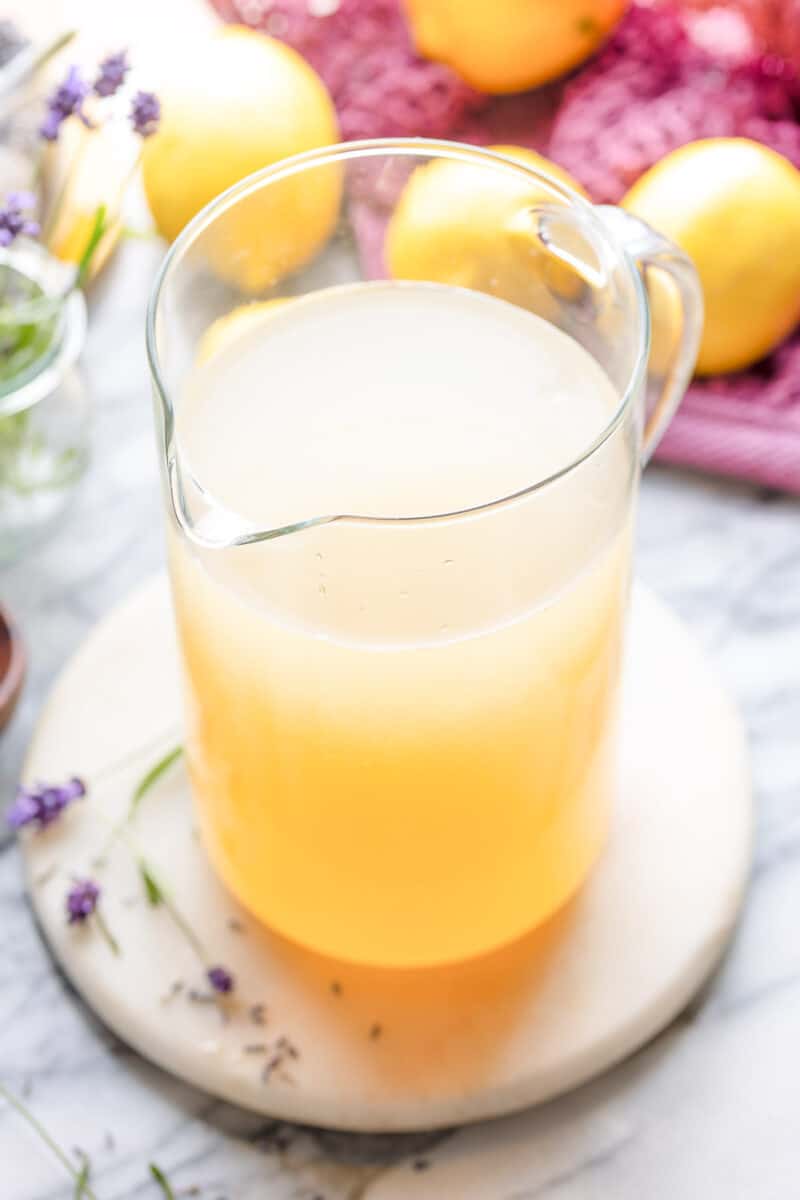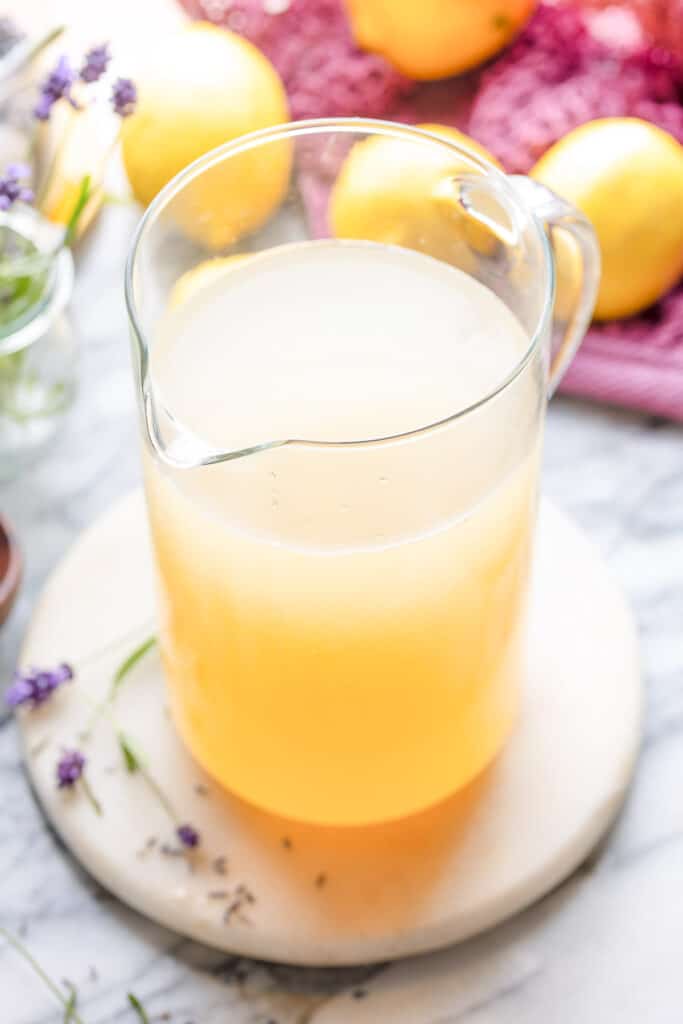 Steps
Altogether, this recipe is incredibly easy to make.
It's quite similar to a classic lemonade recipe: make a simple syrup then add to lemon juice and water.
Lavender Simple Syrup
The lavender syrup is basically a twist on a honey simple syrup.
The main change here is that you need bring the syrup to a simmer, then add the lavender. The heat will help the lavender infuse its natural oils (lavender flavor) into the syrup.
Heat and Dissolve: Combine the honey (or maple syrup) and water in a medium saucepan. Warm over a medium heat until simmering.
Steep: Turn off the heat, then stir in the lavender. Let the syrup cool and steep at least 60 minutes.
Strain: Place a fine mesh sieve over a small jar. Pour the syrup through the sieve to strain out the lavender pieces.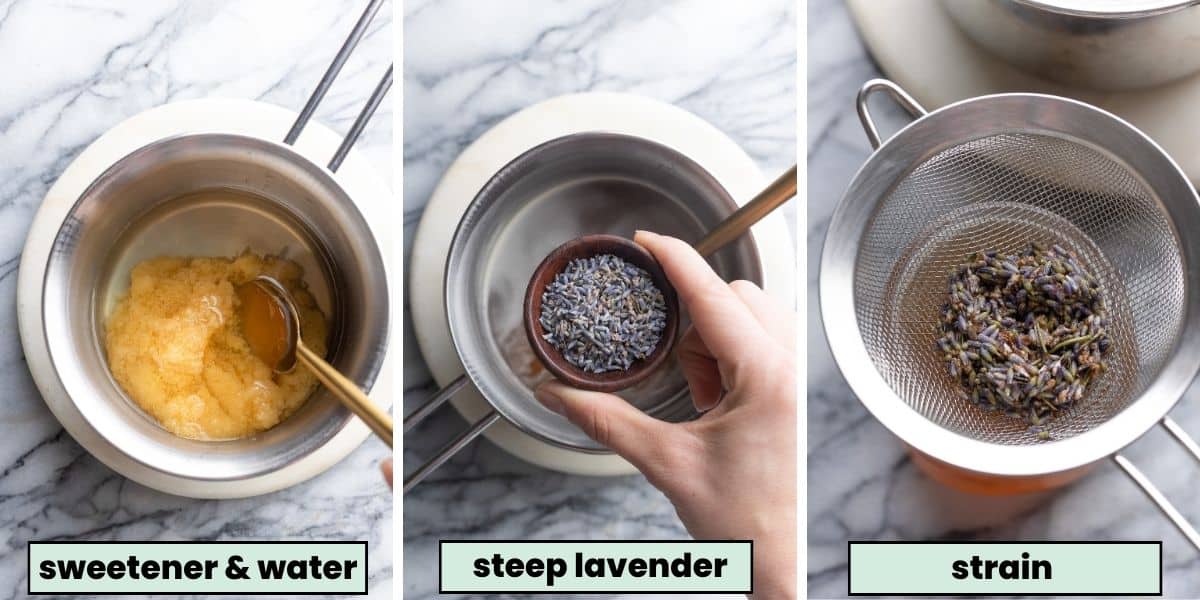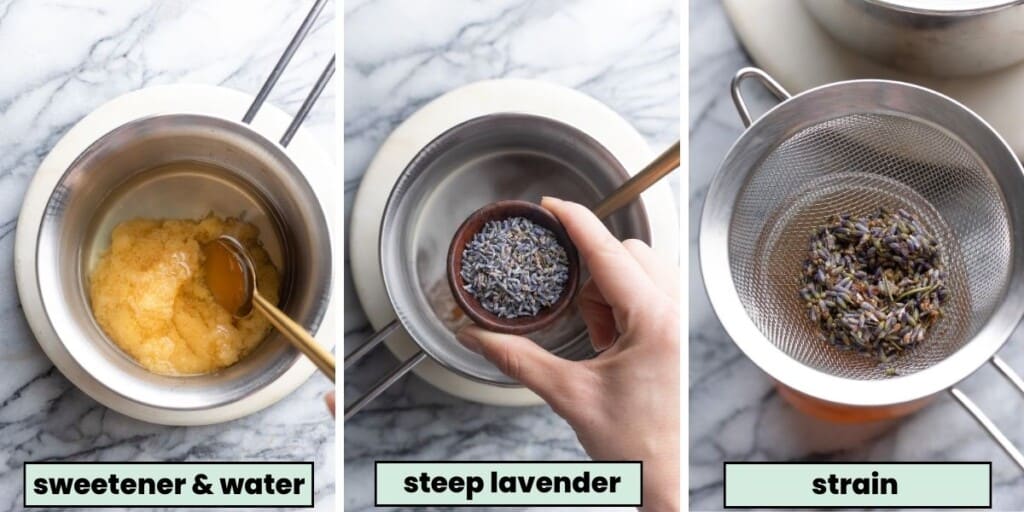 Combine
While the syrup steeps, take this time to squeeze the lemons until you get about 1 cup of fresh lemon juice.
Add it to a large pitcher with about 5 cups water. Add the strained syrup when you're ready and give it all a good stir then taste and make adjustments as needed.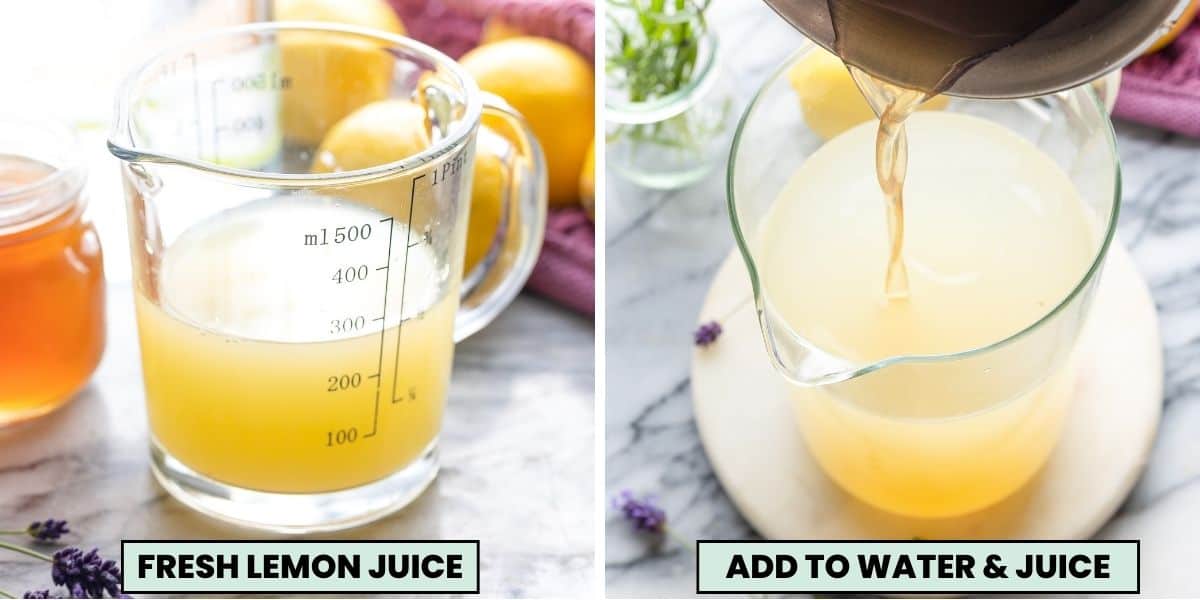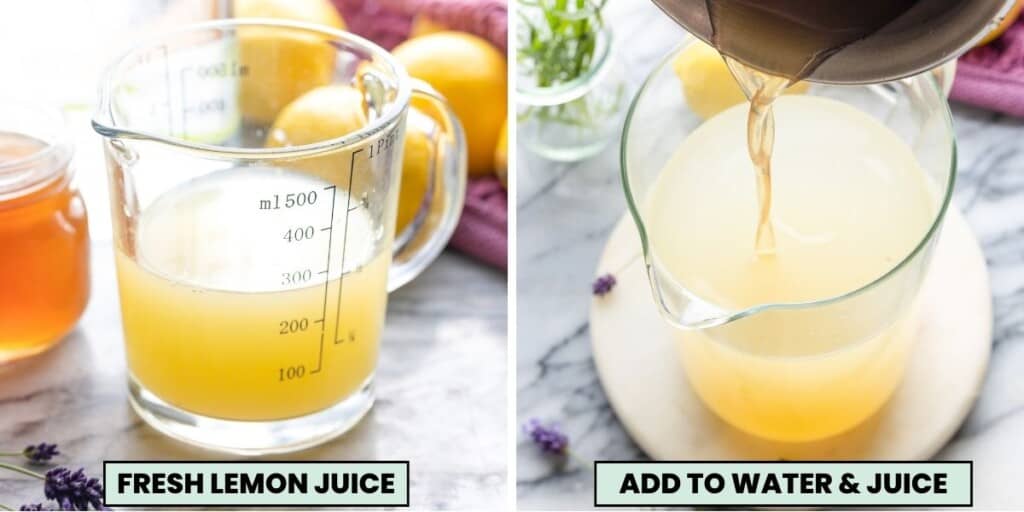 Quick Questions
What is Culinary Lavender?
A few things to note before you begin:
While it's true that all lavender is edible, some lavender and parts of the plant contain chemical compounds that are bitter and soapy tasting.
Culinary Lavender is a specific type of food grade dried lavender that has been grown, harvested and prepared specifically for culinary use – typically English Lavender. Preparation also ensure that only the delicate tasting purple flower buds are left behind.
Can I use regular sugar?
Yes! Just keep in mind that maple syrup and honey are both sweeter tasting than sugar.
In order to sweeten the lemonade enough, I recommend you double the amount of water and sugar in the simple syrup (1 cup water and 1 cup sugar).
Heat gently until the sugar dissolves then add the lavender as normal. The amount of lavender does not change.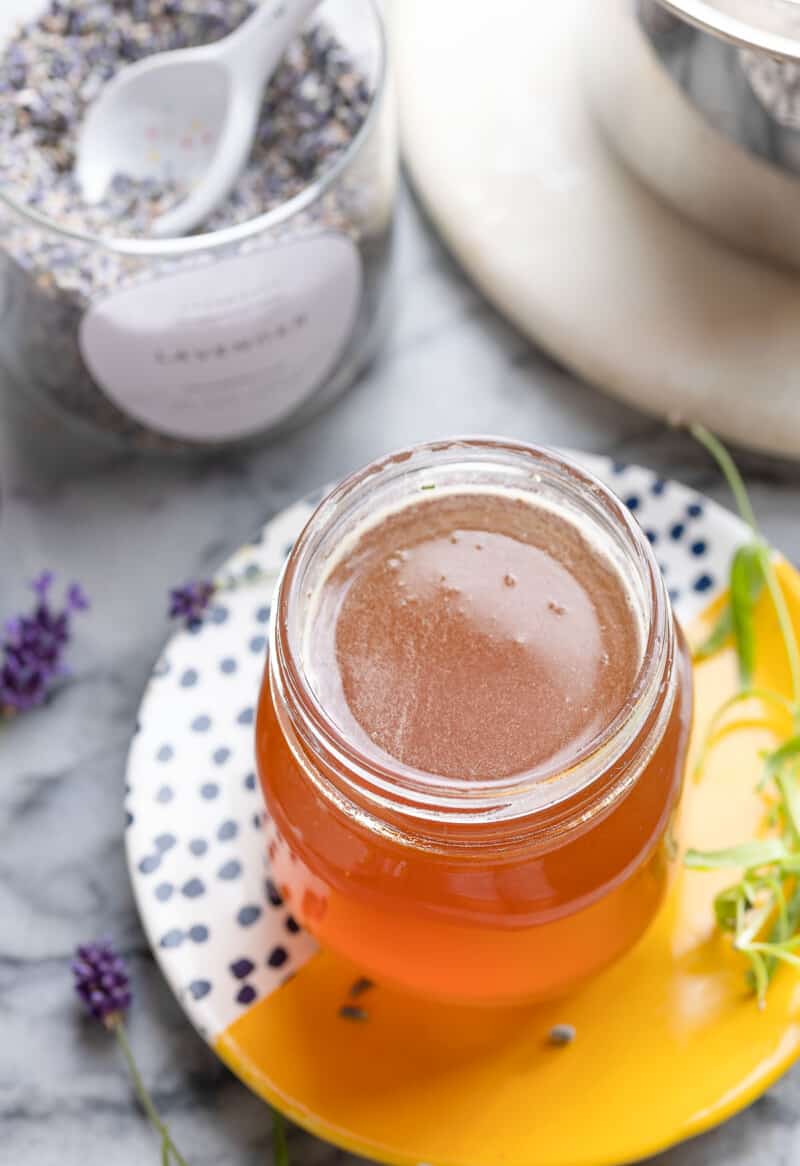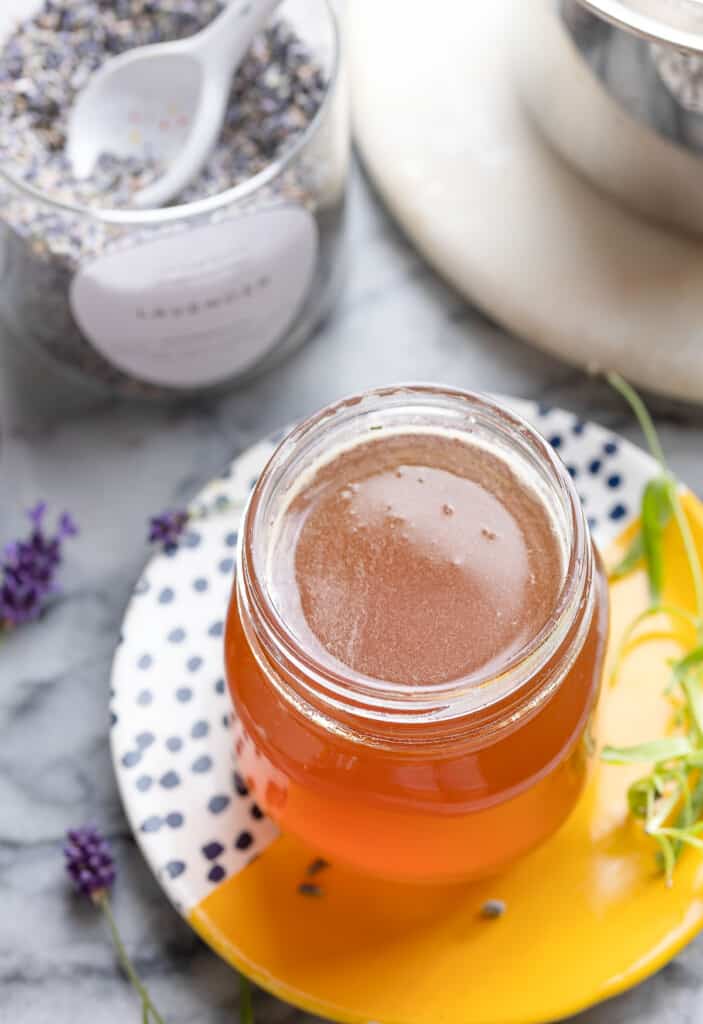 Can I use Fresh Lavender Flowers?
Yes, but you'll need to do a few things different for the syrup.
Use about 1/2 cup or a small handful of fresh lavender buds. Remove the leaves and stems then wash well.
Combine the water and sweetener in a sauce pot. Bring to a boil then turn off the heat and add the flowers. Let steep for about 20-30 minutes then taste the syrup. You can let steep up to an hour if needed, but you'll likely not need as much time with fresh flowers.
Quick Tips
Don't overheat the lavender. Make sure to add the flower buds after you've turned off the heat. Overheat the flower will make it too overpowering and bitter.
Add ice to your glass – not the pitcher. This will ensure you don't accidentally water down your lemonade before you have a chance to finish it.
Make ice cubes: Pour lemonade into ice cube moulds and freeze until solid. You can then add the frozen ice cubes to pitchers or other summer drinks for a fun twist with a surprise flavor.
Garnish with fresh ingredients: Add a few sprigs of mint and lavender to the glass or pitcher. It's a quick and easy way to really elevate the experience!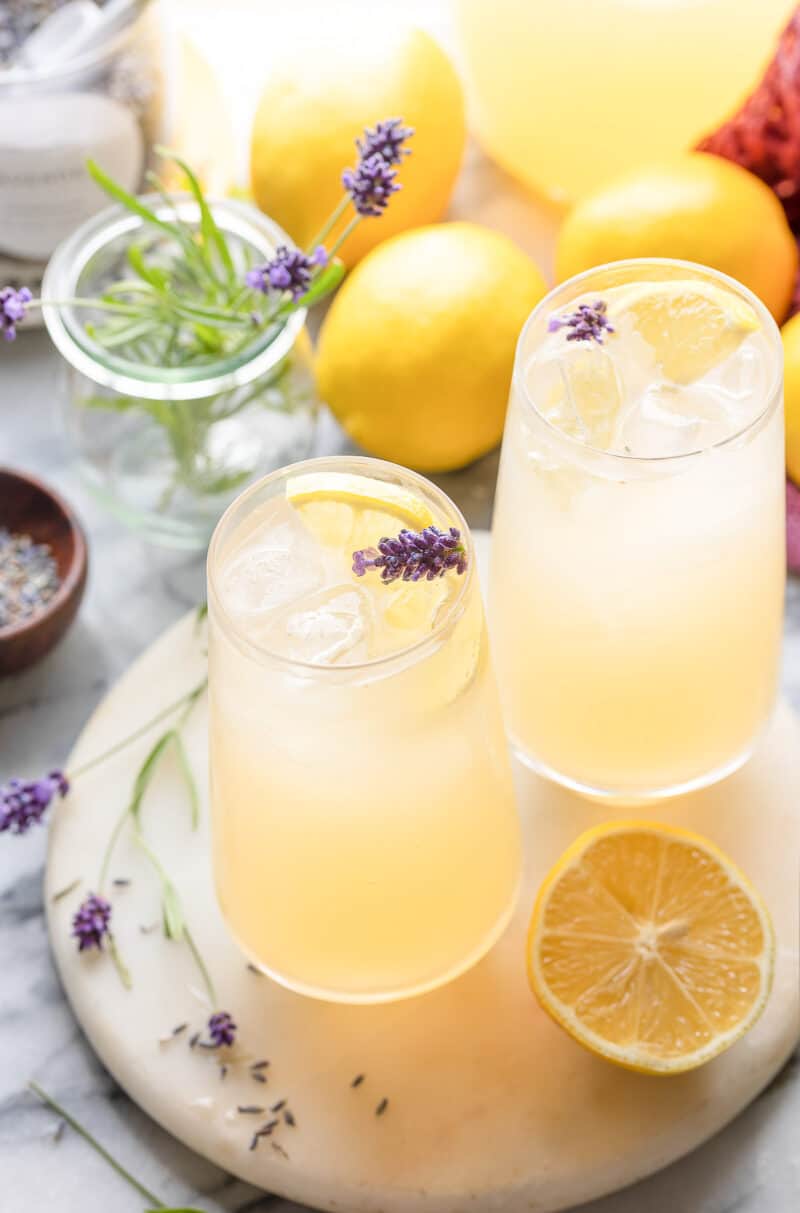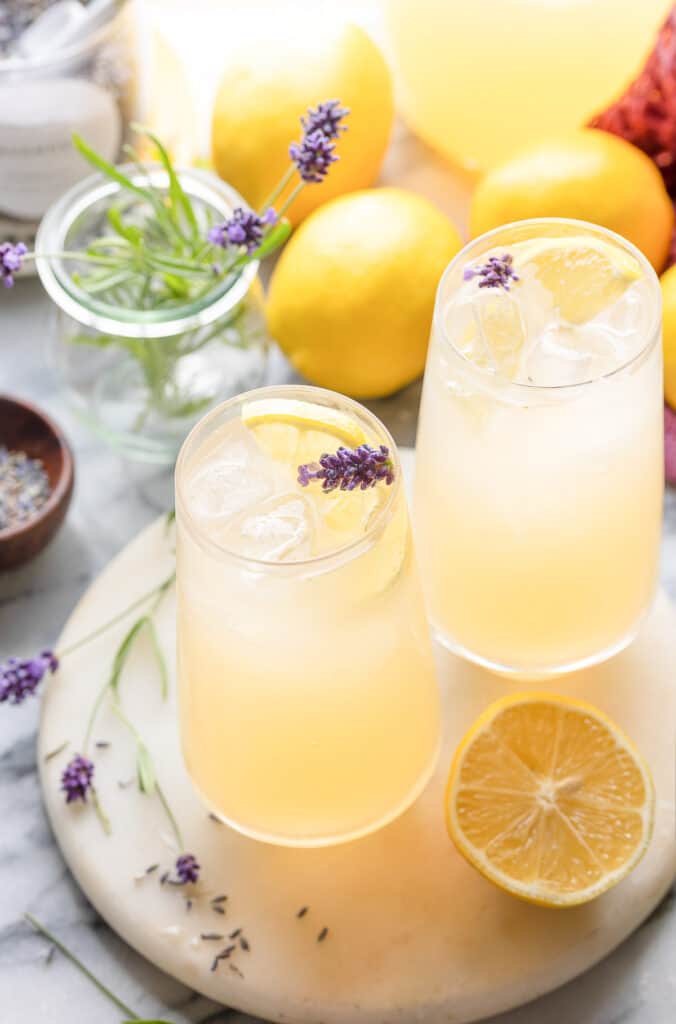 Enjoy!
If you do try this lavender lemonade, please leave a comment and let me know how it went! I always love hearing what you try and how it works out!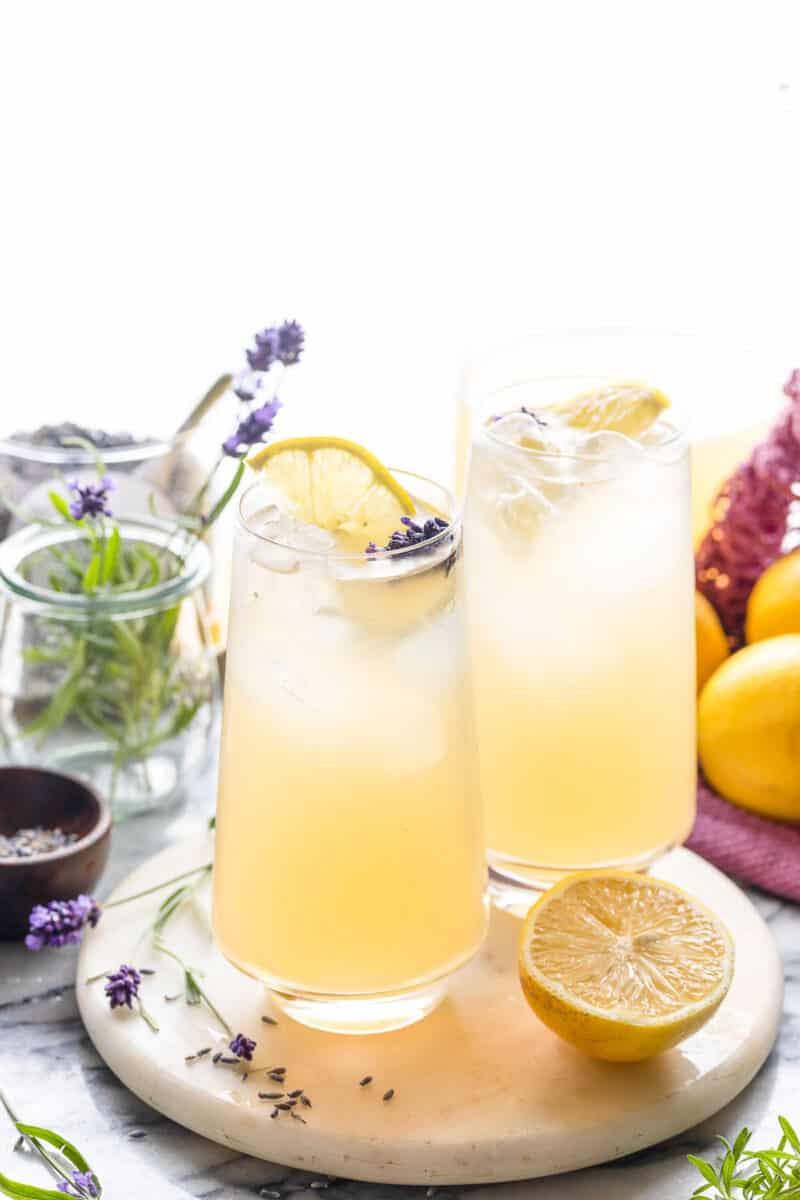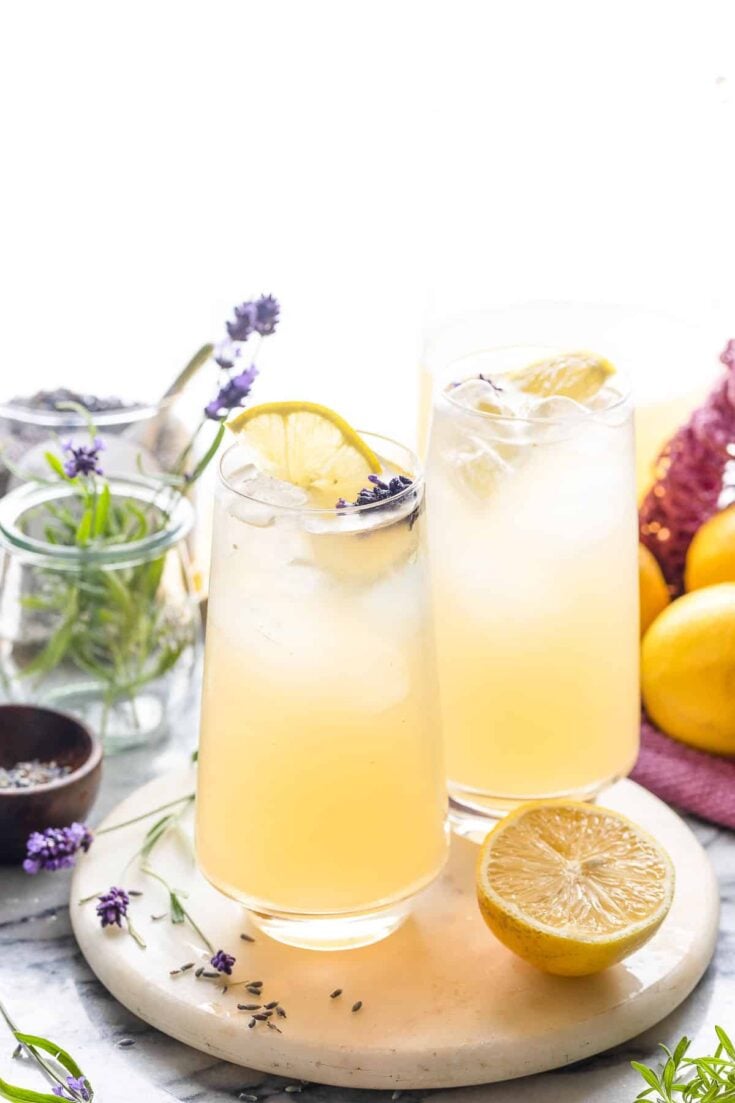 Yield:
6 1/2 cups
Cook Time:
15 minutes
Additional Time:
1 hour
Total Time:
1 hour
15 minutes
Keep cool and refreshed with this naturally sweetened Lavender Lemonade - only 4 ingredients!
Ingredients
Simple Syrup
1/2 cup honey (170g) or maple syrup (160g)
1/2 cup water (120 ml)
Lemonade
1 cup fresh lemon juice, about 5 large lemons (240 ml)
5 cups water (1.2L)
For Serving
ice
fresh mint leaves (optional)
fresh lavender flower, washed (optional)
lemon slices (optional)
Instructions
Lavender Simple Syrup
Combine the water and honey or maple to a small saucepan.
Warm over a medium heat to bring to a gentle simmer. Mix together and heat until the honey/maple has dissolved fully into the water.
Turn off the heat, then stir in the lavender. Let steep for about 1 hour to infuse the lavender flavor into the syrup.
Place a fine mesh sieve over a small bowl or jar then pour the syrup through to sieve to stain out the lavender pieces.
Store in an air tight container in the fridge until ready to use. You can store this up to 1 week before use.
Lemonade
Add the 1 cup lemon juice, 5 cups water and lavender syrup to a large pitcher.
Use a long spoon to gently mix everything together.
If you want your lemonade sweeter, you can add more honey or maple as needed. Only add 1-2 tablespoons at a time and taste in between each addition.
Pour the lemonade into tall glasses already filled with ice. Garnish with fresh mint leaves, a sprig of lavender and/or lemon slices if desired and enjoy.
Notes
Make it Low FODMAP or Vegan: Use maple syrup instead of honey.
Regular Sugar: You can use regular white sugar in place of honey and maple.
Culinary Lavender: While all lavender is edible, some parts of the plant are more bitter than others. Culinary lavender has been sifted and processed to remove all of the more bitter, soapy tasting components (leaves, stems, etc) so your food doesn't end up tasting like body lotion.
Fresh Lavender: In general, 1 teaspoons dried lavender = 3 teaspoons fresh. To make this lemonade with fresh flower, use about 3 tablespoons washed lavender flower. Make sure to use only the buds (not the bitter stems and leaves).
Nutrition Information
Yield:

6
Serving Size:
1 cup
Calories:

95
Total Fat:

0g
Saturated Fat:

0g
Trans Fat:

0g
Unsaturated Fat:

0g
Cholesterol:

0mg
Sodium:

15mg
Carbohydrates:

26g
Fiber:

0g
Sugar:

24g
Protein:

0g
This website provides approximate nutrition information for convenience and as a courtesy only. Nutrition data is gathered primarily from the USDA Food Composition Database, whenever available, or otherwise other online calculators.
Shop this Post
As an Amazon Associate and member of other affiliate programs, I earn from qualifying purchases.
More Summer Drinks You May Enjoy