Honey Simple Syrup – a basic, but incredibly versatile recipe! Stir it into drinks, whisk into salad dressings or brush over cakes for a honey-kissed finish. Make sure to check out the post and recipe notes below for honey-syrup flavor variations!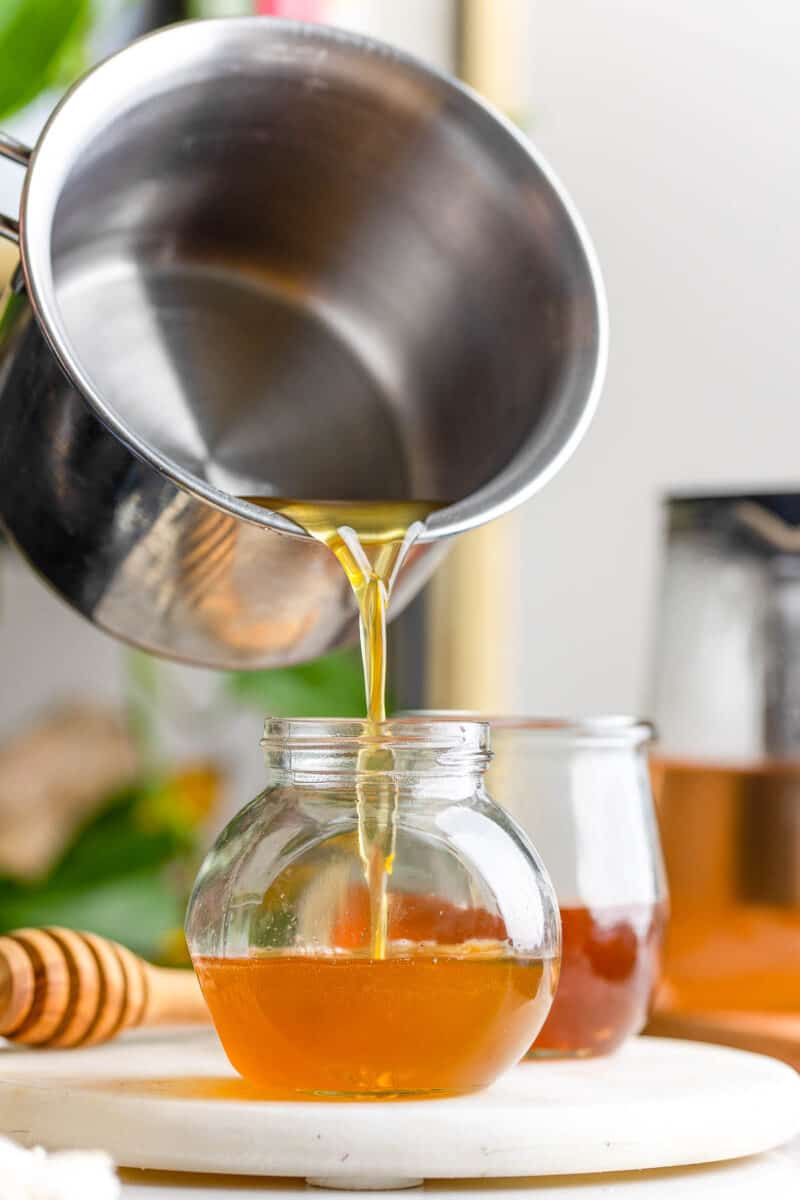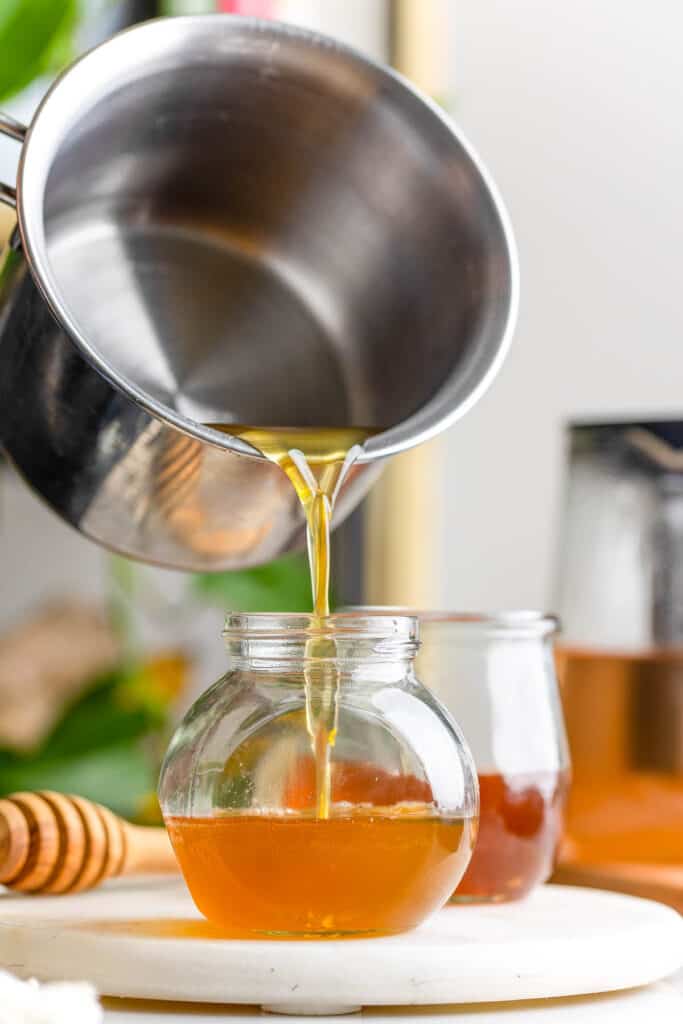 Even if you're not much of a cocktail drinker, there are still plenty of ways to put this homemade honey simple syrup to good use outside of happy hour!
What to do with Honey Simple Syrup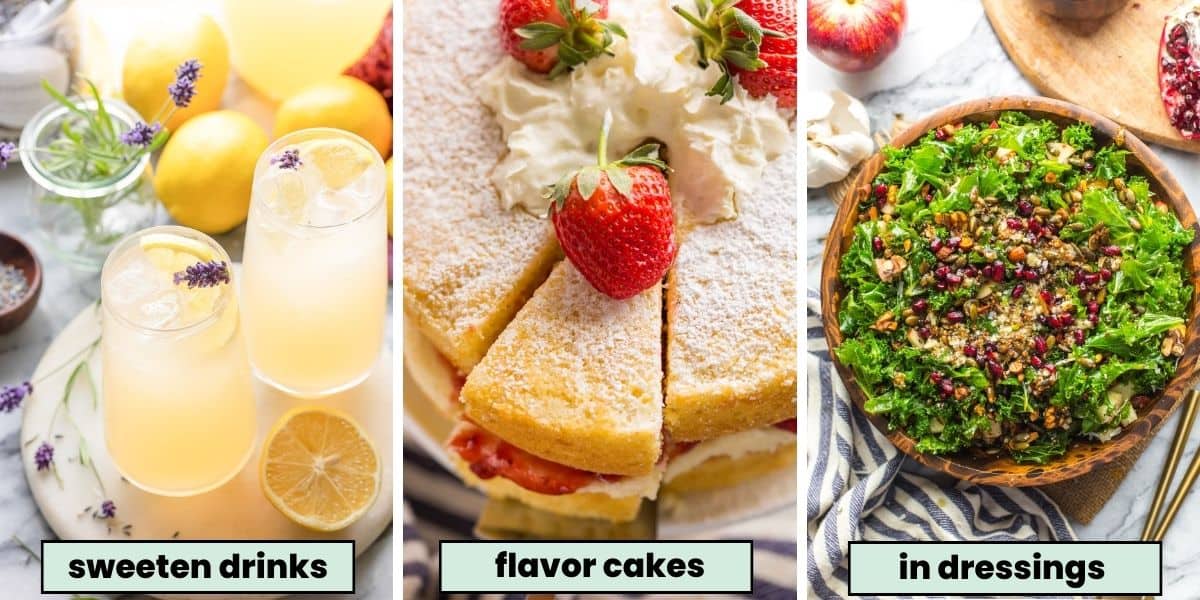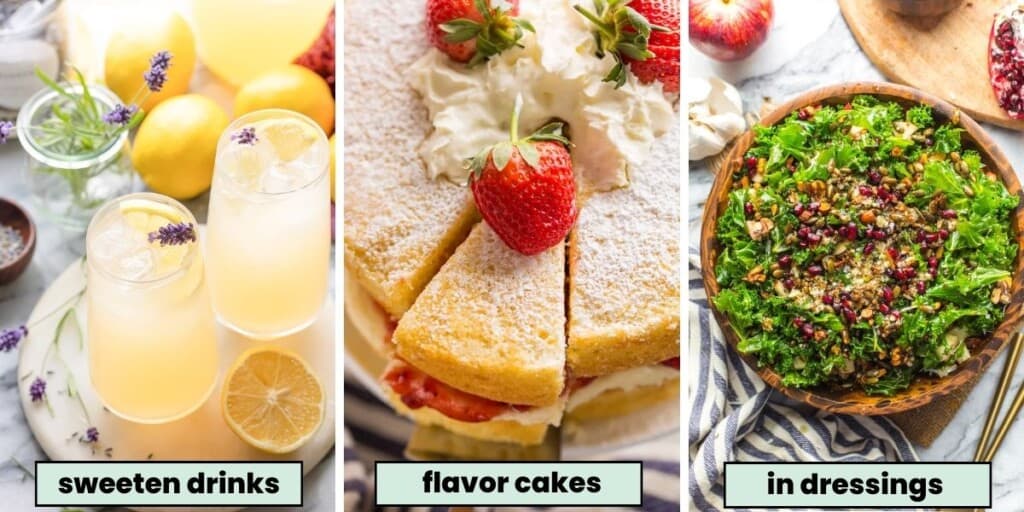 How to Make Honey Syrup
This honey syrup recipe is just as easy to make as a classic simple syrup made with water and regular sugar.
All you need is:
small pot to combine
spoon for stirring
pure honey and water to mix
Simply combine the honey and water in a small sauce pan and warm over a low heat until the honey dissolves into the water.
No need to bring it to a full boil or simmer the syrup. You can technically make this with warm water or hot water without the stove top. Just heat, mix, combine and you're good to go!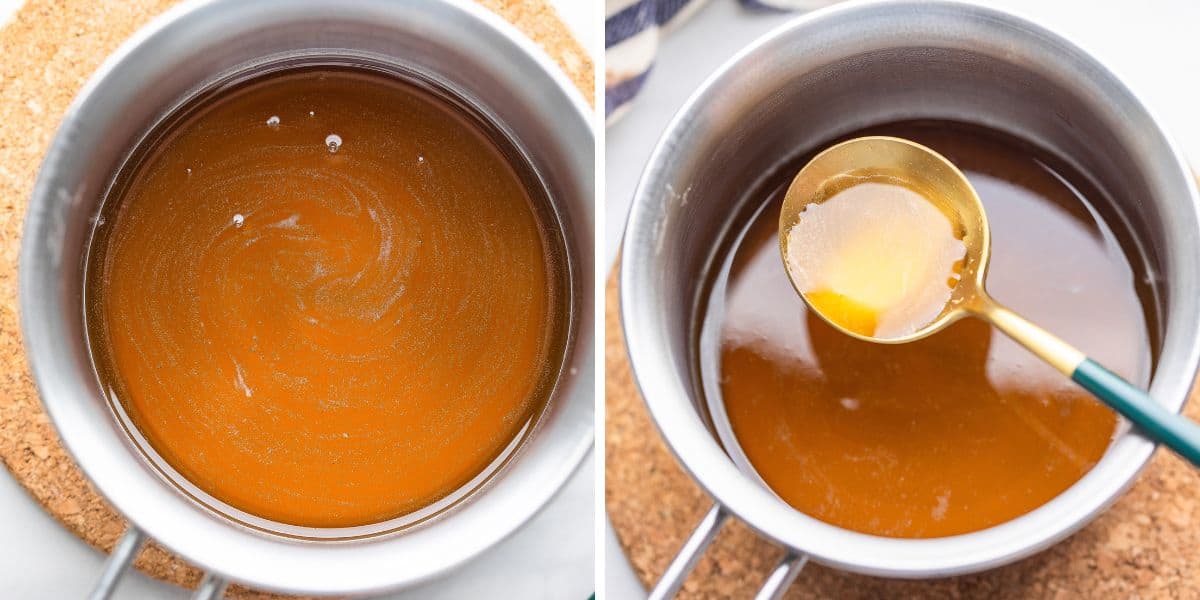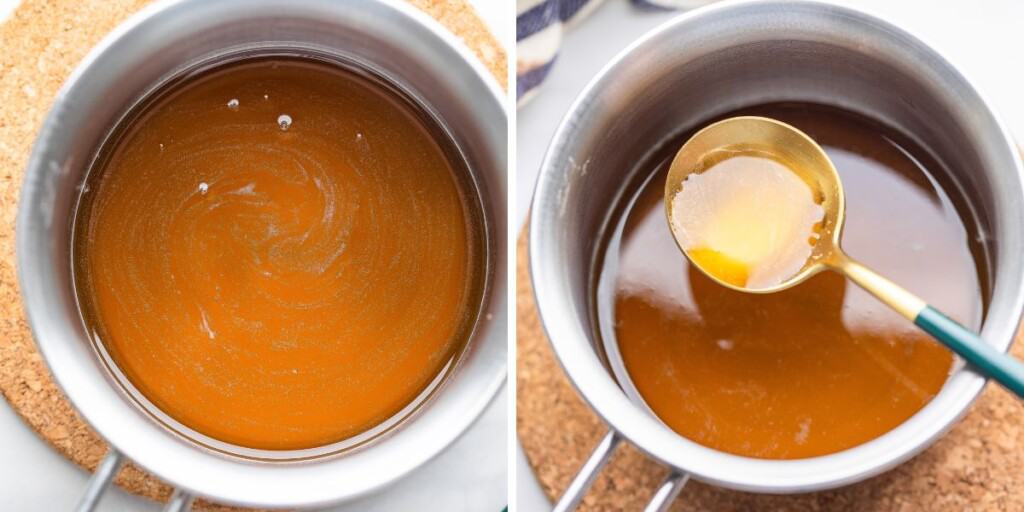 Once combined, let the honey syrup cool completely and then store it in mason jar or container.
The Ratio
The ratio here is the exact same as you'd use to make basic simple syrup made with white sugar.
Use equal parts honey to water.
You may find other honey simple syrup recipes online with slightly different ratio of honey to water. I've tried different ratios and the differences end up being so negligible that I think it's best just to keep it simple with a 1:1 formula with equal parts water and honey.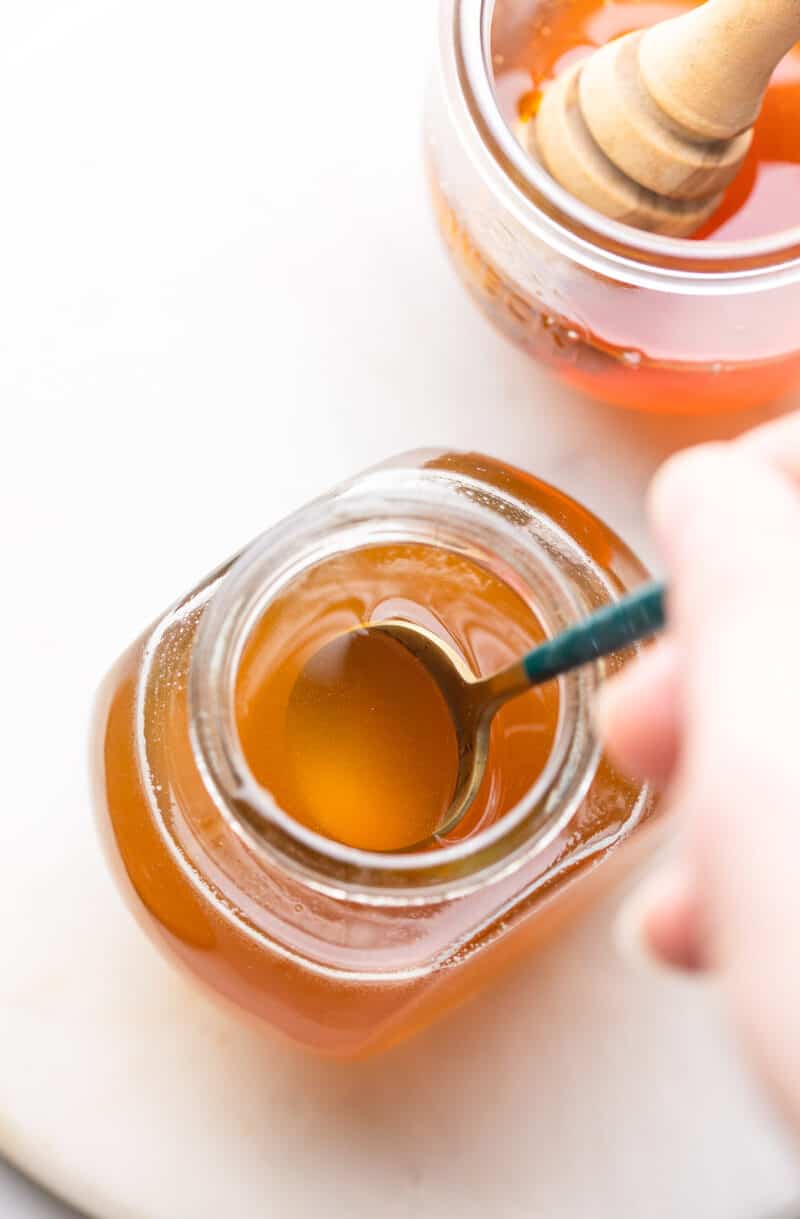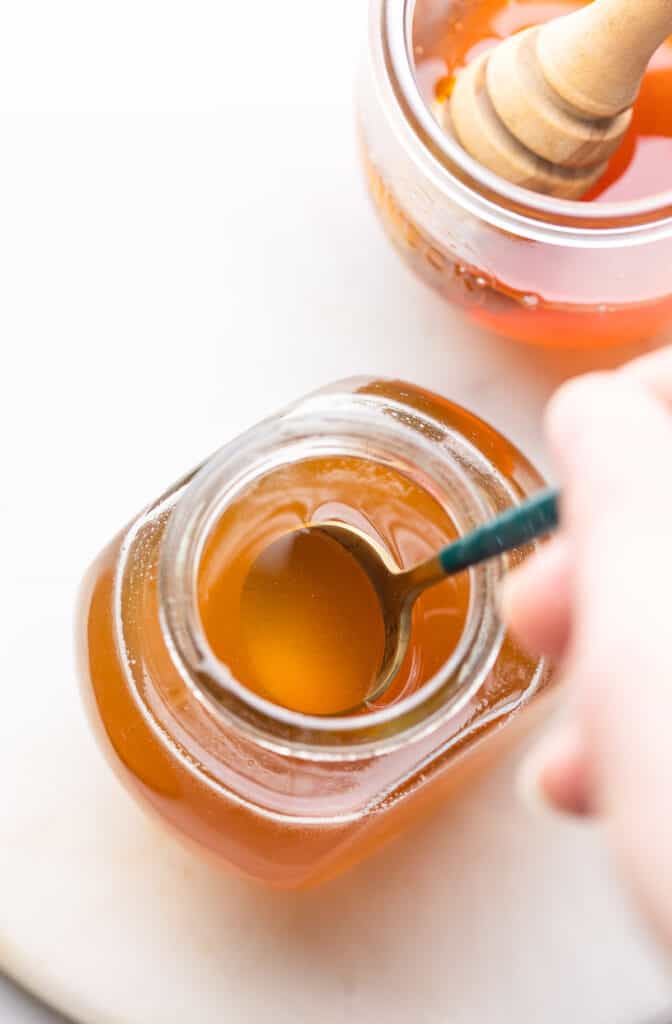 What Type of Honey to Use?
Any type! There are so many different types of honey to choose from – options will likely vary depending on where you live. Bonus points if you use local honey!
Keep in mind that each one will produce a slightly different flavor.
Whatever you have and whatever you like will be perfect! You can use liquid honey or raw honey.
I quite like turning my once runny honey that has gone hard and crystallised into simple syrup to get it back into a liquid form.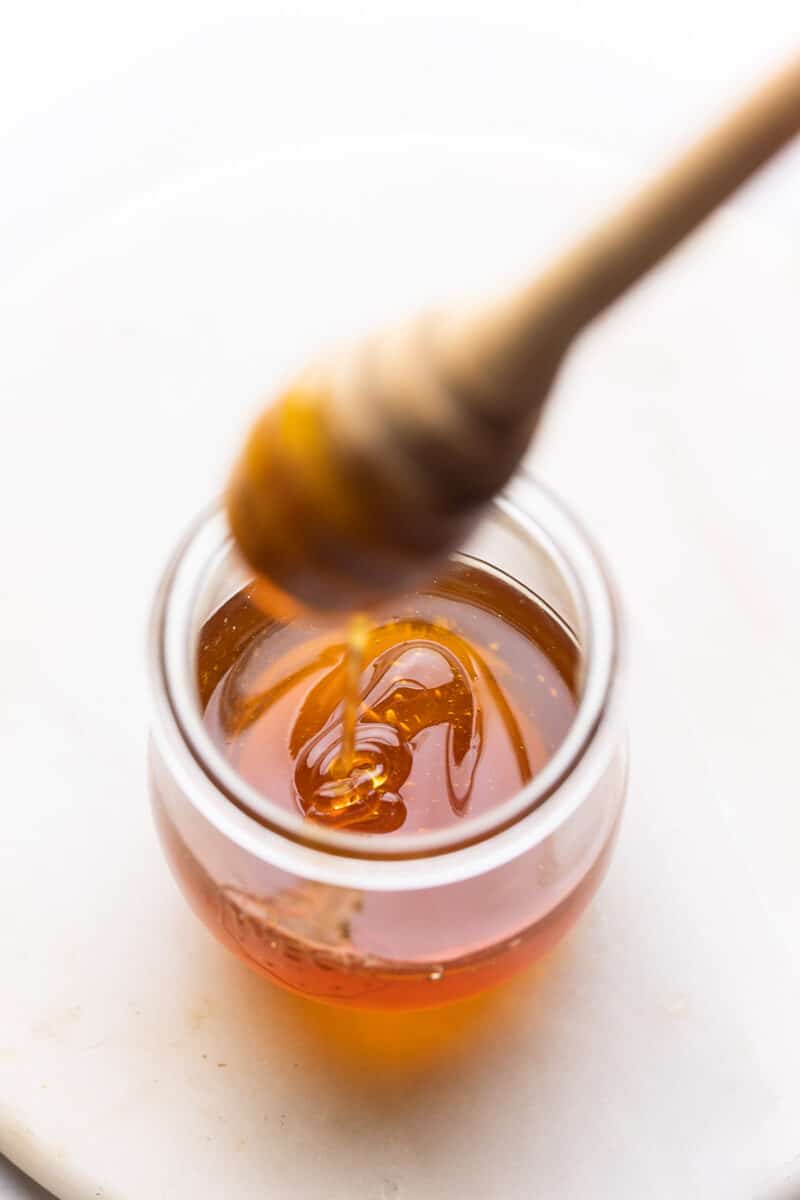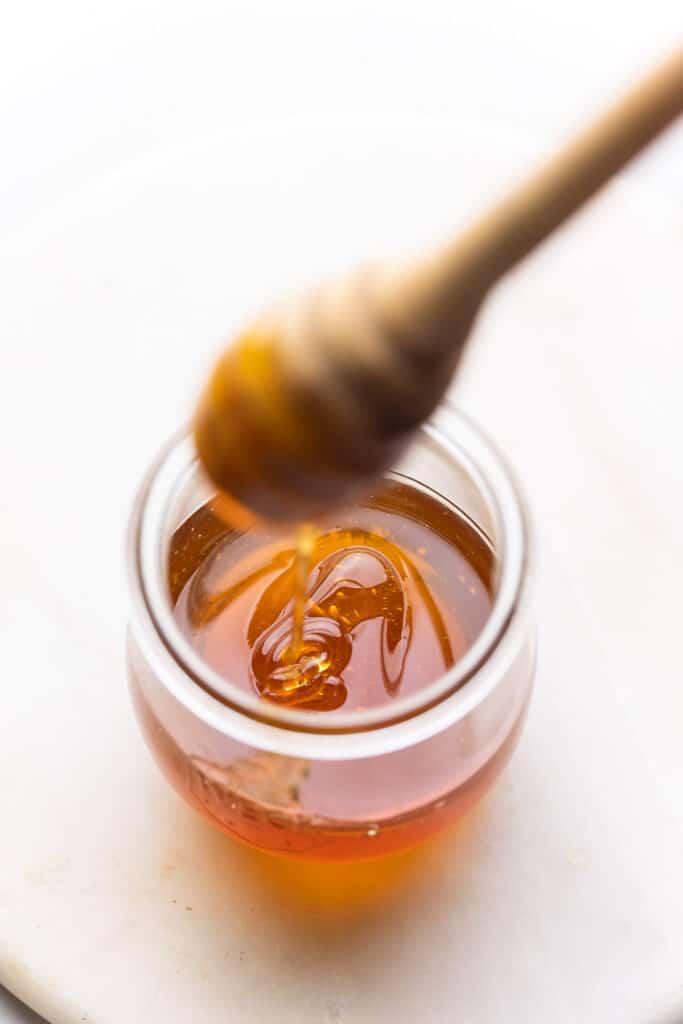 Variations on a Theme – Honey Simple Syrup
Lavender Honey Syrup: (pictured below)

I've got a Lavender Lemonade recipe coming soon which starts out with a honey lavender simple syrup. Just add 5 teaspoons dried culinary lavender to the simple honey syrup after its taken off the heat. Let steep at least 1 hour then strain out the lavender.
Tip: Don't simmer or boil the lavender. Excessive heat will make for a bitter tasting syrup.

Rosemary Honey Syrup:

Simmer a few sprigs of fresh rosemary in the water + honey mixture for about 10 minutes then strain. You can leave the rosemary to steep longer for a stronger taste. Try my apple bees knees if you like the sound of this.

Cinnamon Honey Syrup:

A 1-2 cinnamon sticks to the water + honey mixture and simmer about 10 minutes. Or stir in a teaspoon of ground cinnamon and steep. You can strain out the cinnamon with a fine mesh stainer to reduce the potential grittiness of the dried cinnamon. Great in an apple cider or mixed into a vanilla latte.

Ginger Honey Syrup:

Peel and smash (or grate) 2-4 tablespoons fresh ginger root to add to the water and honey as it simmers. The amount really depends on your personal preference. I personally really love sprucing up a typical lemonade with ginger syrup!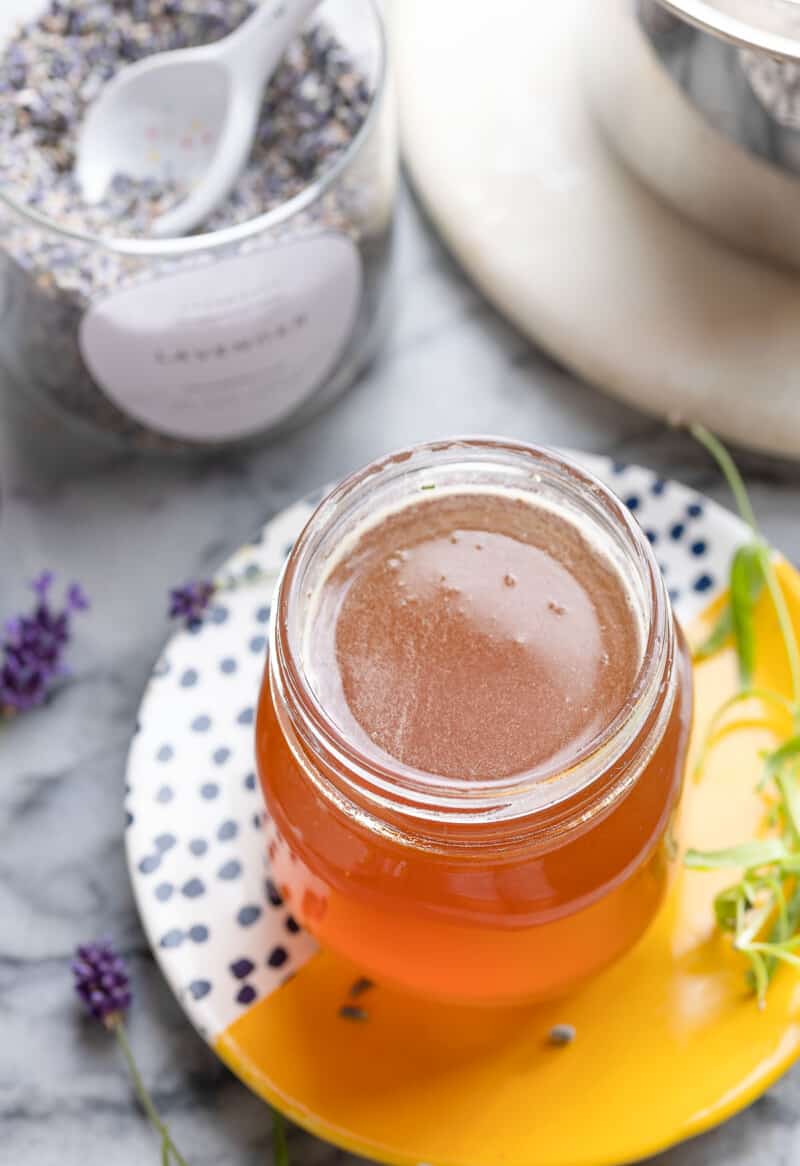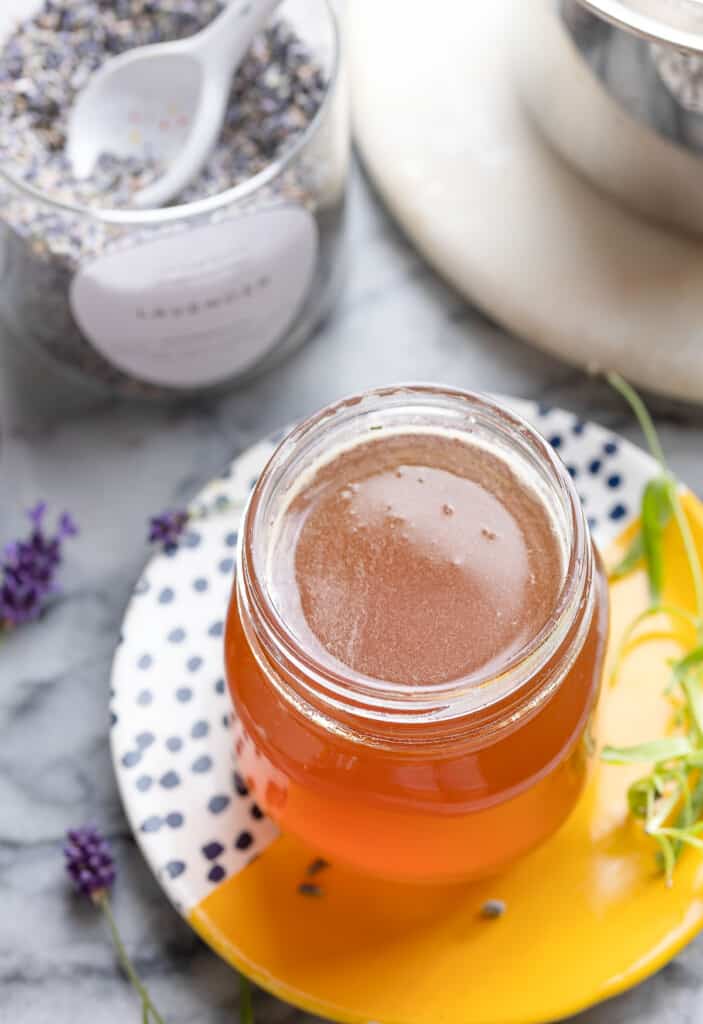 How long will it Keep?
It's true that honey does have an impressively long shelf life. This is largely thanks to its antibacterial properties, high sugar content, low moisture and natural acidity.
That being said, once you've added water the moisture and bacteria potential goes up.
You may find your honey simple syrup keeps well past the one month period, but to be on the safe side it's a good rule of thumb to keep it up to a month.
A good way to know if your syrup is off?
A simple sniff or look will give you a good clue. If your honey syrup smells sour or fermented – its off. Mould growing on the top? Throw it away.
Freeze It
Extend the lifetime of your syrup by freezing it.
The most convenient way to store it? Pour leftover syrup into ice moulds. Once frozen, pop out the frozen ice cube syrup and transfer them to a freezer safe bag or containers.
This gives you the benefit of pulling out perfectly portioned amounts so you can take out just what you need.
A few freezer tips for success:
Freeze up to 6 months.
Defrost in the fridge or room temperature. The time needed to defrost will depend on how much you're defrosting at a time. One or two portions only need an hour or two. More than a few portions and you might need a few hours.
Enjoy!
Have you ever made your own syrup? If you try this one or any of the variations mentions, please leave a comment and let me know how it went! I always love hearing what you try and how it works out!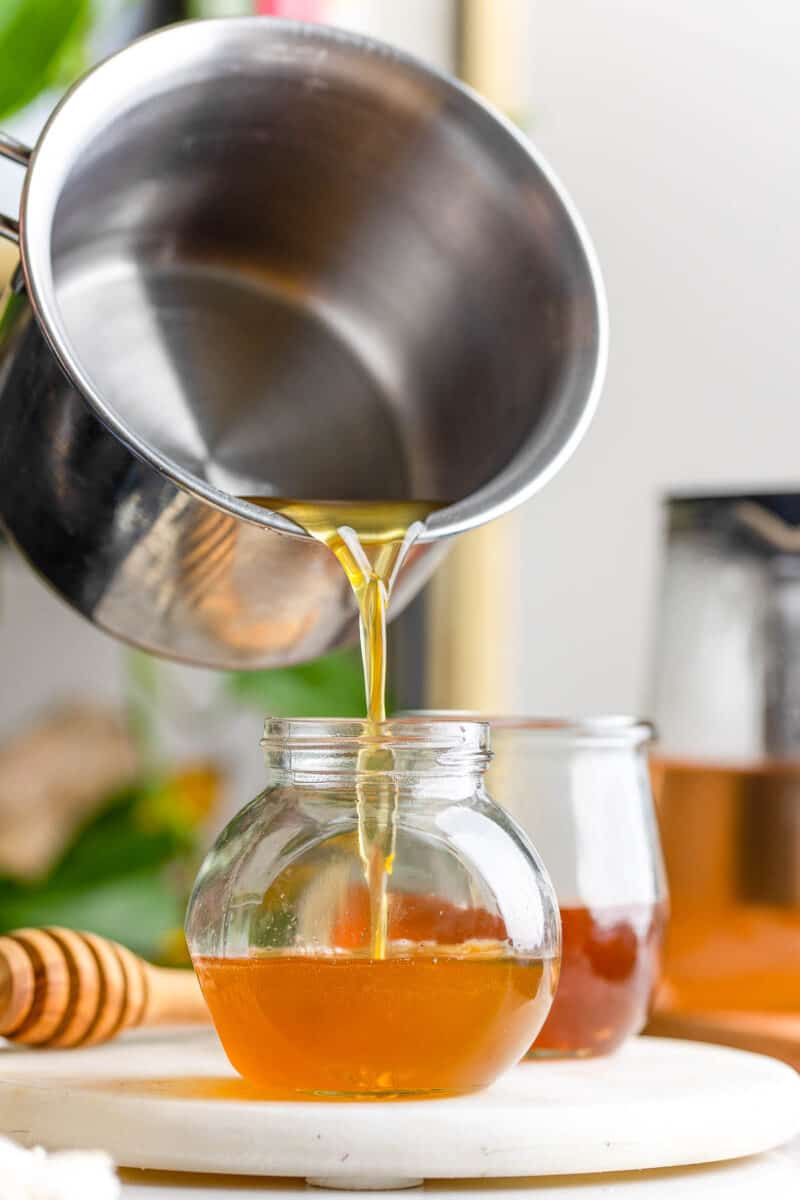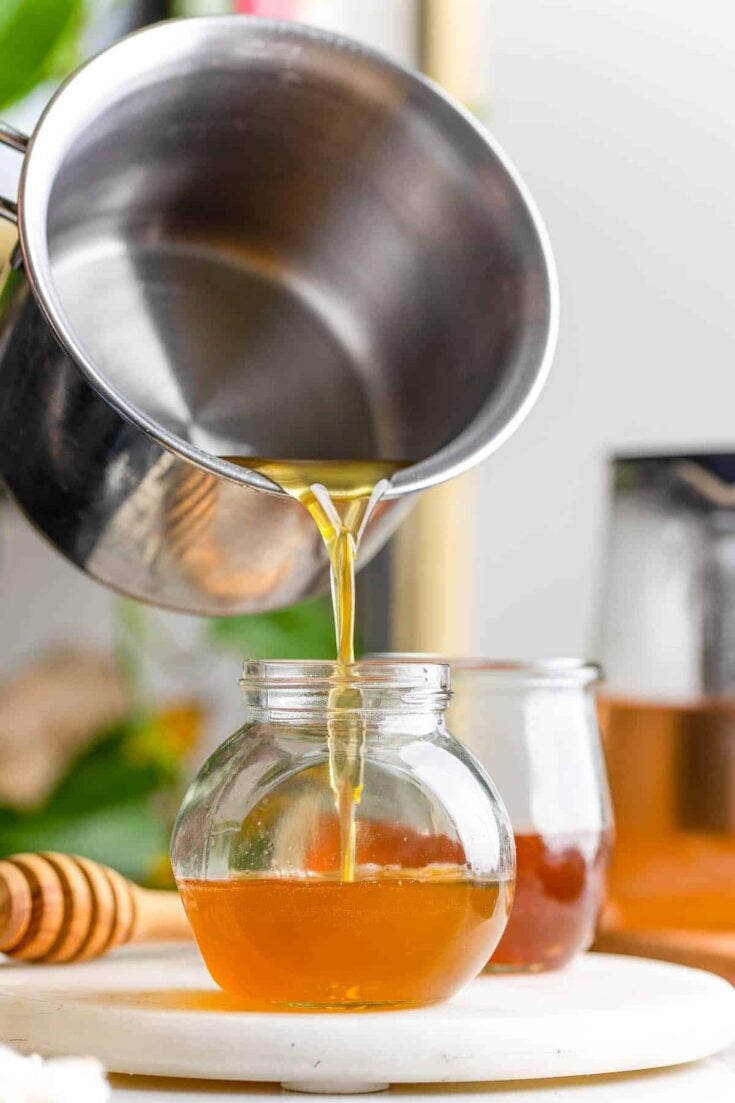 Recipe
Honey Simple Syrup
Yield:
about 3/4 cup
Cook Time:
5 minutes
Total Time:
5 minutes
Stir into into drinks, whisk into salad dressings or brush over cakes for a honey-kissed finish.
Ingredients
1/2 cup water (120 ml)
1/2 cup honey (170 g)
Instructions
Combine the water and honey to a small saucepan.
Warm over a medium heat. Mix together and heat until the honey has dissolved fully into the water.
Remove from heat. Let cool to room temperature then transfer to an airtight container or jar. Keep stored in the fridge until ready to use up to 1 month.
Nutrition Information
Yield:

12 tablespoons
Serving Size:
1 tablespoon
Calories:

43
Total Fat:

0g
Saturated Fat:

0g
Carbohydrates:

12g
Fiber:

0g
Sugar:

12g
Protein:

0g
This website provides approximate nutrition information for convenience and as a courtesy only. Nutrition data is gathered primarily from the USDA Food Composition Database, whenever available, or otherwise other online calculators.
Summer Cocktails
Refreshing, Non Alcoholic Drinks