Classic Pimm's Cup – a must have British summer cocktail. Sweet, spicy, and incredibly refreshing!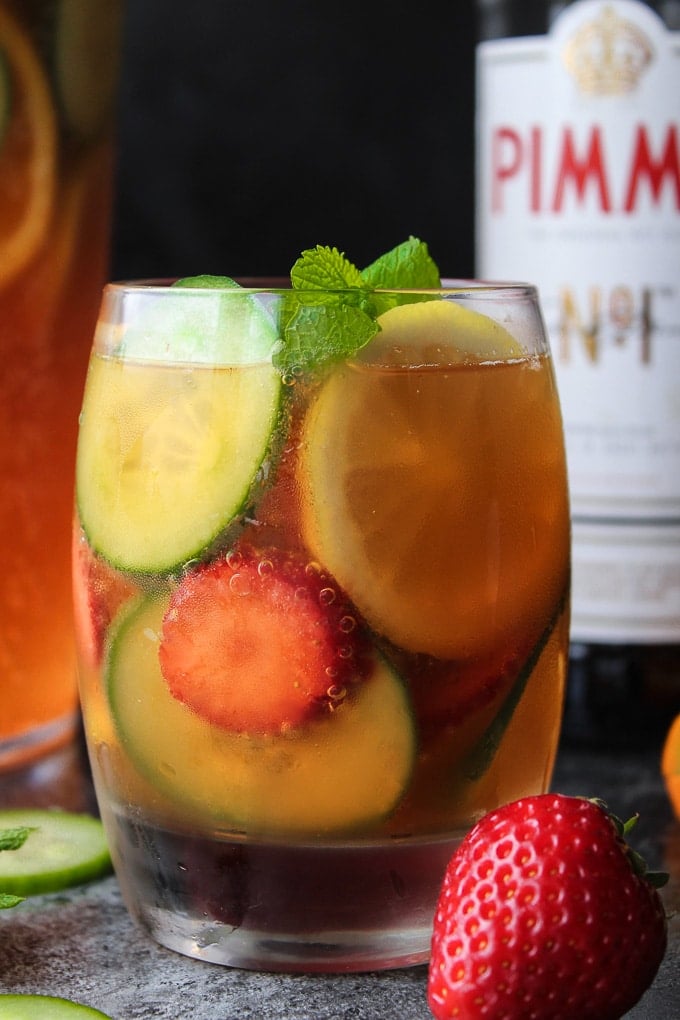 Rainy weather be damned. It's time for a Pimm's cup!
If you could see my view out the window right about now you'd never guess that it's mid June. It's gray and rainy and it's showing no signs of stopping. That's English weather for you right there.
So I'm just going to pretend that I'm poolside back in Arizona with my sunglasses on and the sun beating down because that's how a drink this refreshing deserves to be enjoyed. It's like summer in a cup but without all the unbearable sweatiness that usually accompanies an Arizona summer. Gross.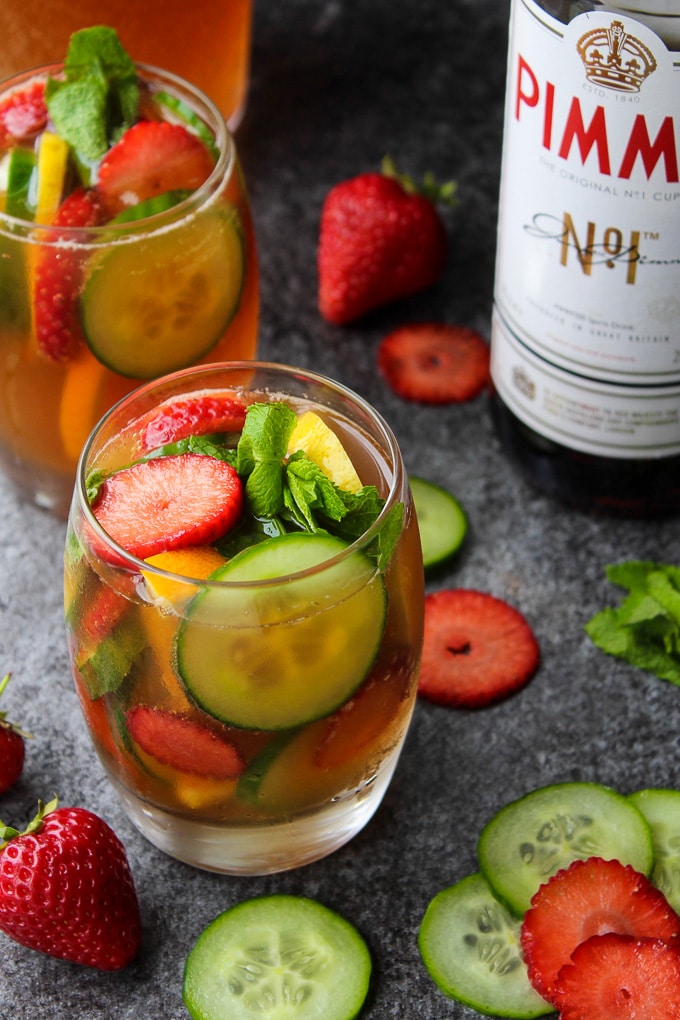 Like most traditional English things, I had never heard of Pimm's before my first visit to Sheffield. I'm sure my sister-in-law still fondly remembers the time I asked her what a 'pim' was having only heard it mentioned in passing. It gave everyone a good laugh and an excuse to buy a bottle of Pimm's No 1 so that I could try it for myself.
As it turns out, Pimm's is both a brand and a gin based liqueur that has become synonymous with British summers, strawberries and cream and Wimbledon spectating. All the markers for a classic summer cocktail in my book. Oh, and apparently it was originally sold as a digestive aid, so…like, it's good for us, right?
Making a traditional Pimm's cup (or pitcher) is basically fool proof. All you need to remember is that it's Pimm's and fizzy lemonade over ice. For all my American friends fizzy lemonade = Sprite/Ginger Ale/that kind of thing. The idea of a non carbonated lemonade was too crazy for Mike to believe apparently because he had to fact check me on Google. *cue eye roll*
The addition of fruit and veg is recommended, but not actually necessary. Throw in a few slices of cucumber, strawberry, orange, or whatever you have on hand. And I'd add a few crushed mint leaves in there for good measure.
The next time you have friends over for a BBQ or get together I highly recommend throwing together a pitcher of this and watch it become everyones new favorite summer cocktail!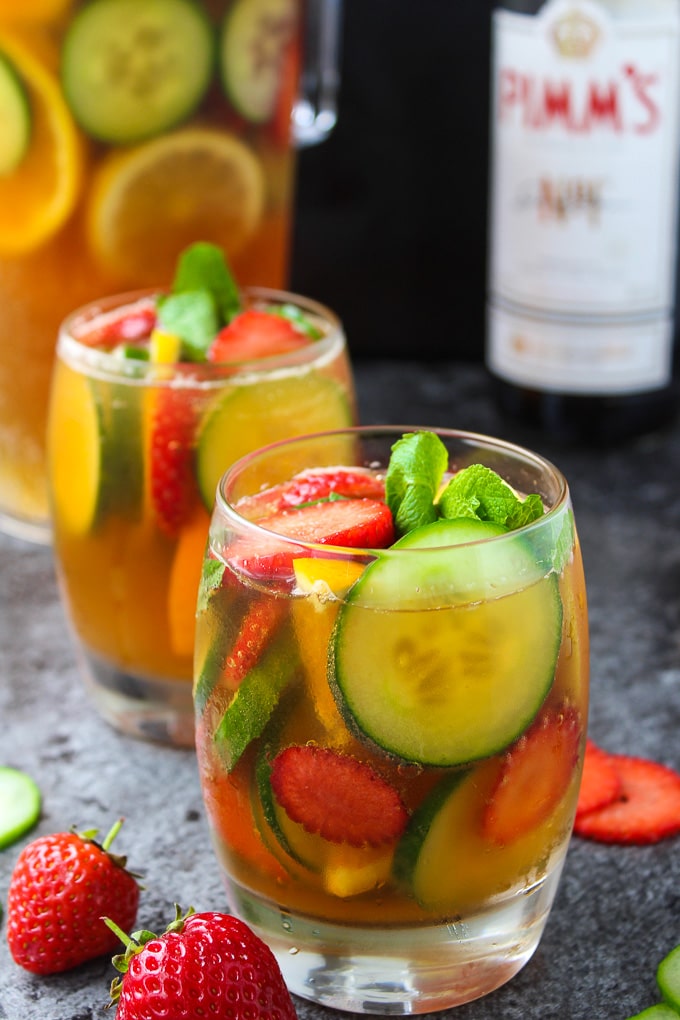 So….are ya thirsty yet?
FACEBOOK | INSTAGRAM | PINTEREST
Don't forget to use the hashtag #asaucykitchen on instagram if you try this recipe – I love seeing what you make! You can also post your pictures to my facebook page if you feel like sharing!
Yield: 1 drink
Classic Pimm's Cup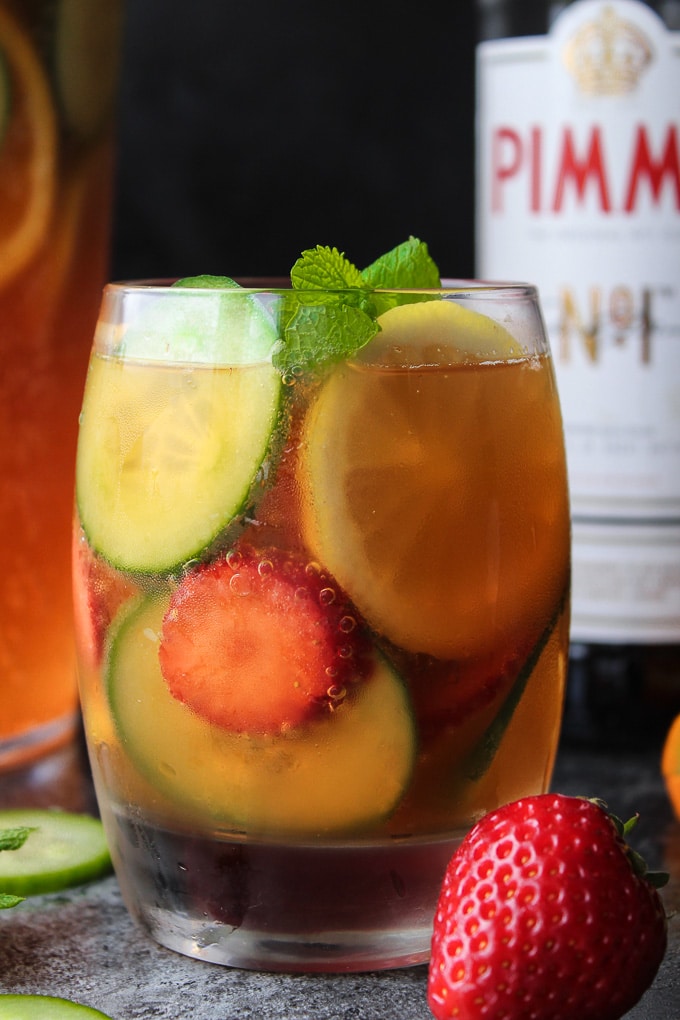 A classic British summer cocktail
Ingredients
For One Drink
2 oz Pimm's No 1
4 oz fizzy lemonade or ginger ale
Ice
garnishes for the drink - fruit slices of your choosing, orange, strawberry, lemon, cucumber slices, crushed mint
Instructions
For One Cup
Add the ice and garnishes to a glass. Add the Pimm's and then top up with the lemonade. Stir and enjoy
For a pitcher
Make this same recipe x's 4 (1 cup Pimm's to 2 cups lemonade). Fill a pitcher about 1/3 of the way with ice. Add your fruit & veg garnishes followed by the Pimms. Top up with lemonade and gnetly stir to combine. Top with any additional garnishes and enjoy!
Notes
Instructions include recipe for one drink as well as one pitcher
Nutrition Information:
Yield:
1
Serving Size:
drink
Amount Per Serving:
Calories:

141