Juicy, succulent mojo chicken thighs marinated in a Cuban mojo sauce made with blended up cilantro, fresh orange juice, orange zest, garlic, herbs and spices. It's makes for a tasty meal with minimum effort require and maximum flavor delivered! | Gluten Free + Dairy Free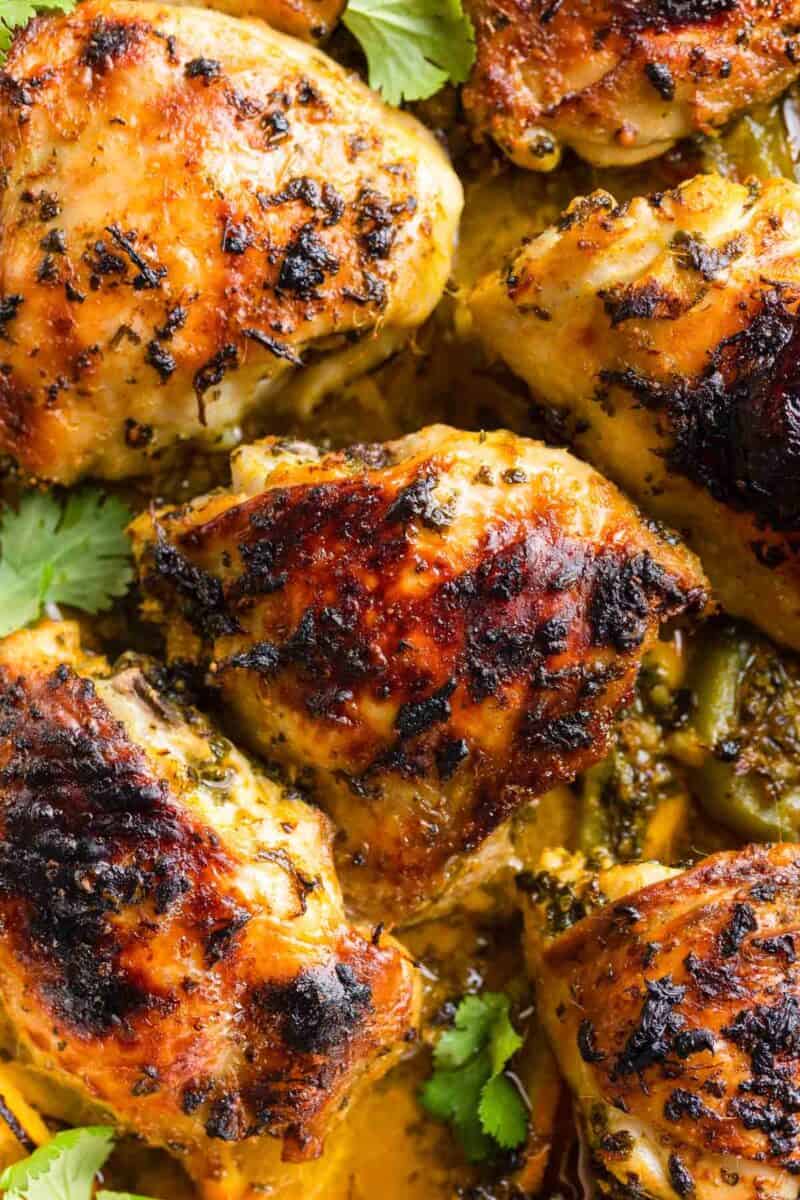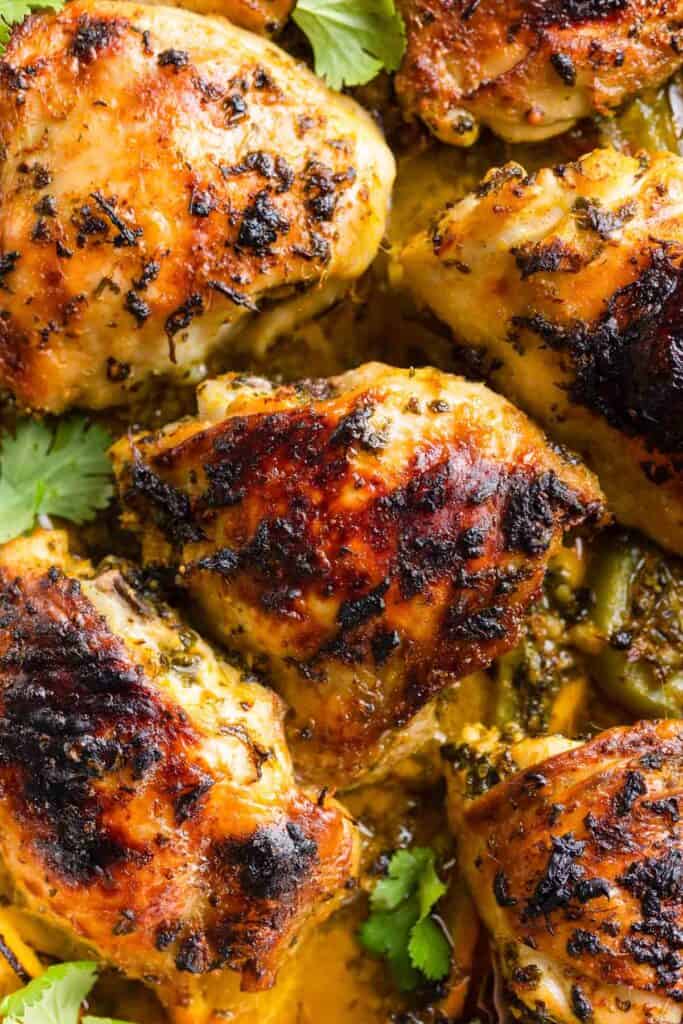 What is Mojo?
In this context – it's a sauce and a marinade!
Mojo is a traditional sauce Cuban sauce! In general it's quite popular in Latin America, Caribbean cuisine, originating from the Canary Islands. Typical ingredients include: cilantro, oranges, limes, zest, garlic, olive oil, cumin and oregano.
Uses for mojo sauce shouldn't be limited to just chicken! It's also a great sauce and marinade to use on a variety of meats, proteins, veggies and grains!
What is the flavor of mojo?
While ingredients and flavors do vary depending on the region, a typical mojo sauce is full of fresh, herby, citrusy flavor with a pungent garlic kick.
It's not really a spicy sauce, however you can add a spicy kick by adding hot sauce, peppers or chili flakes, if desired.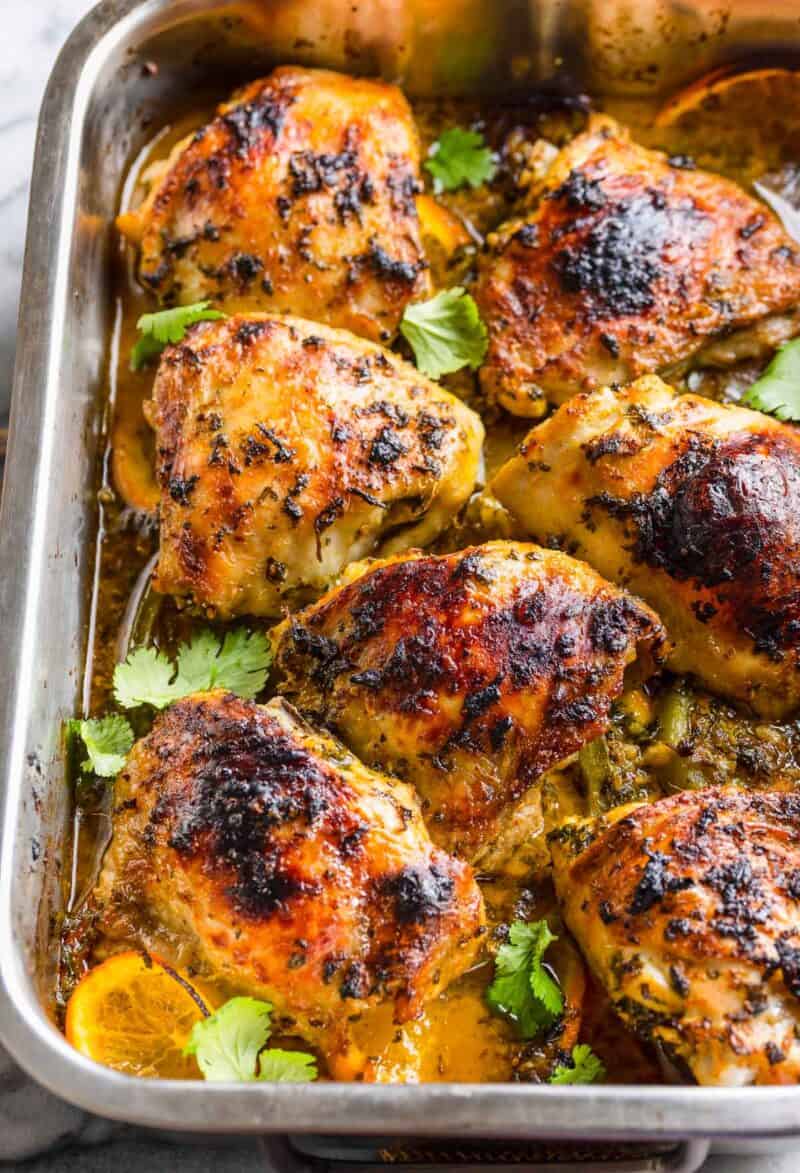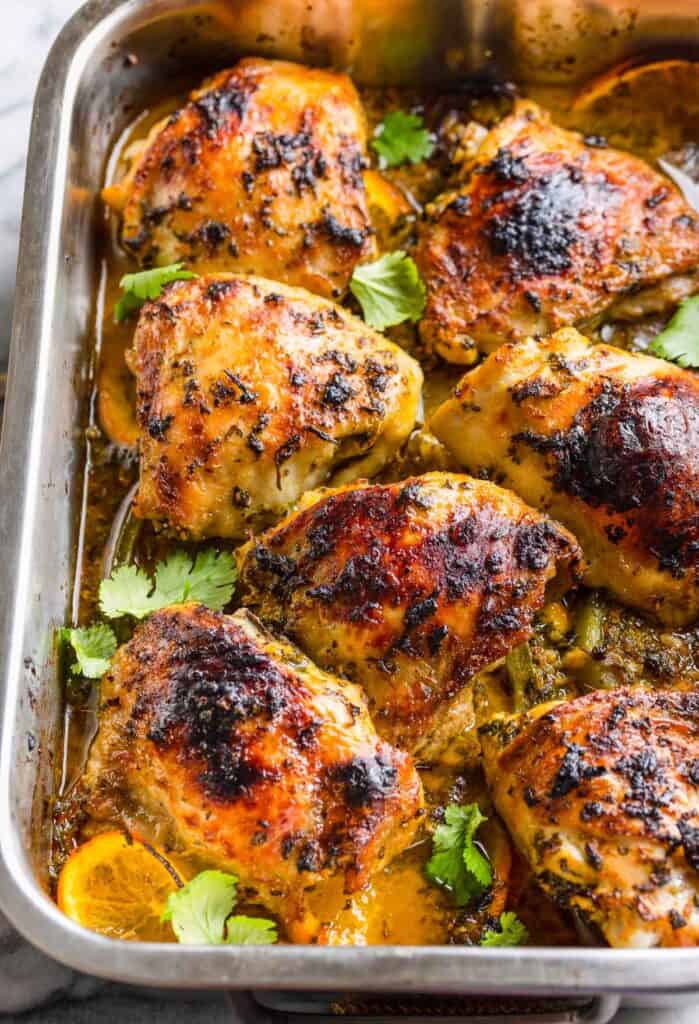 Mojo Marinade Ingredients
Olive Oil – If needed you can replace the olive oil with a neutral flavored oil like vegetable, rapeseed or avocado oil instead.
Fresh Citrus – Mojo sauce is more traditionally made with sour oranges or bitter orange juice, but those aren't always as easy to find in stores. To replicate the flavor of bitter oranges, simple use a mix of citrus juice: fresh oranges and fresh lime juice! Make sure to include both orange zest and lime zest as well.
Fresh Herbs – Cilantro is somewhat of an optional ingredient when it comes to mojo marinades, but I think fresh herbs really made a difference here. If you're not too crazy about cilantro you can sub it out with parsley instead. Not the same, but a great substitute!
Garlic – This should be garlicky so don't be modest here!
Spices – Dried oregano, cumin, smoked paprika, salt and pepper.
How to Make This Mojo Chicken Recipe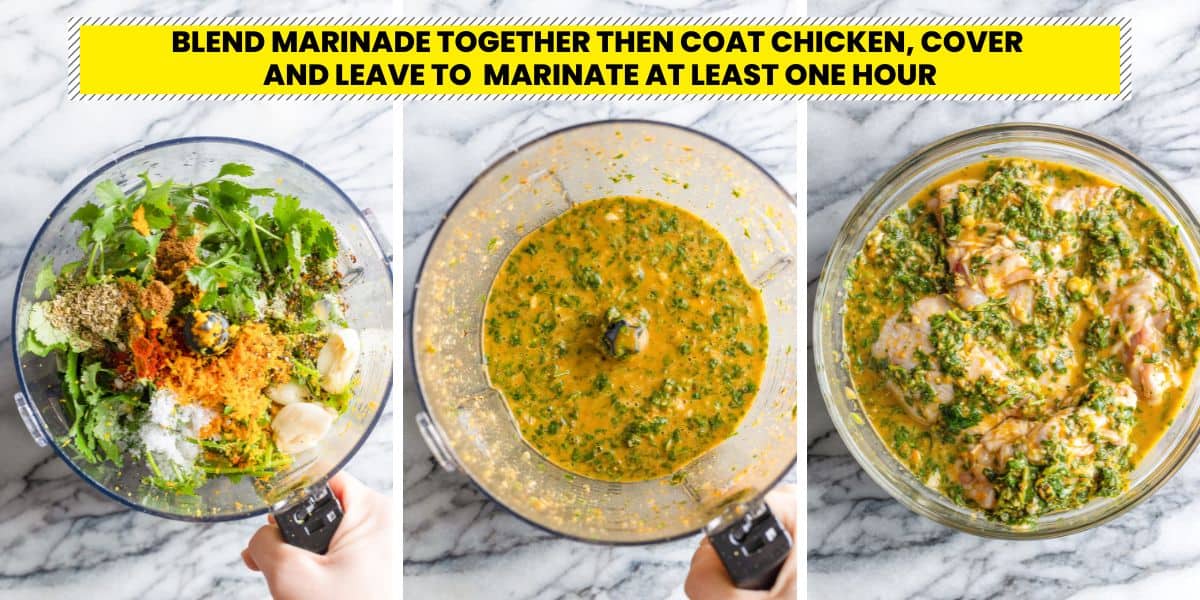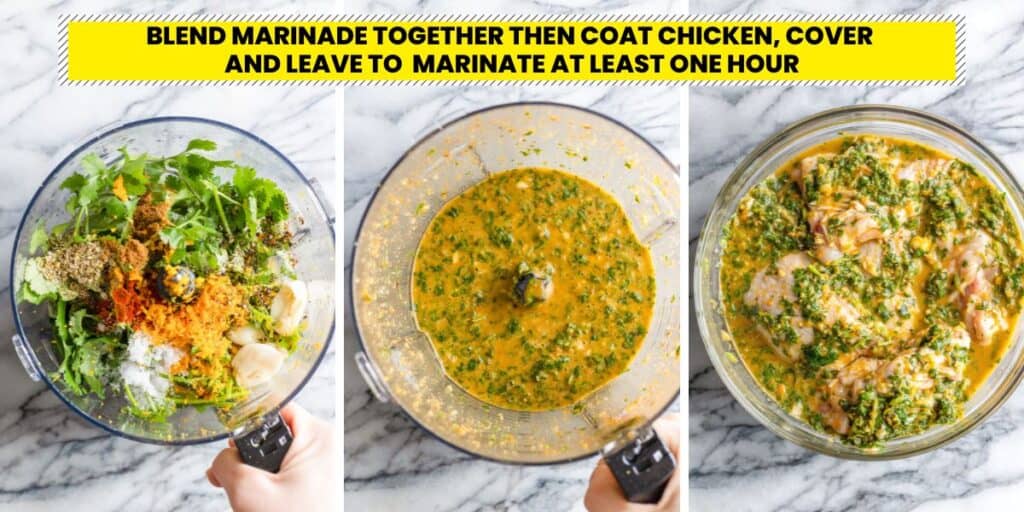 Altogether this recipe is quite simple and easy to make! The process easily breaks down into a few mains stages:
Blend the simple mojo marinade in a blender or food processor.
Add the raw chicken to a large bowl or resealable bag then pour the simple mojo marinade over the top then leave to marinate.
Prep the veggies and orange slices. Slice up the peppers, onion and orange into thin, round slices then spread evenly over the bottom of the roasting pan.
Add the chicken to the pan/dish, skin-side up. Bake for about 30 minutes, then flip the thighs over, baste and bake another 20-25 minutes.
Broil 1-2 minutes to get a nice char on the skin and that's it!
Serve over a bed of cooked rice to soak up the extra flavor and juices. These Adobo Black Beans are Mexican, but they make a fantastic side to this chicken!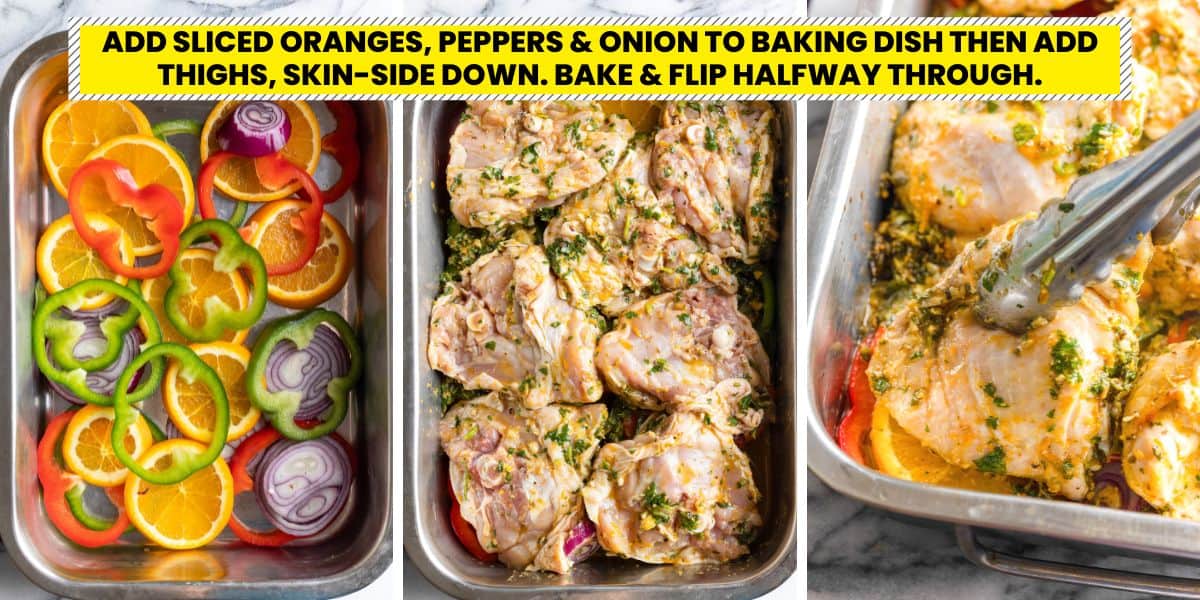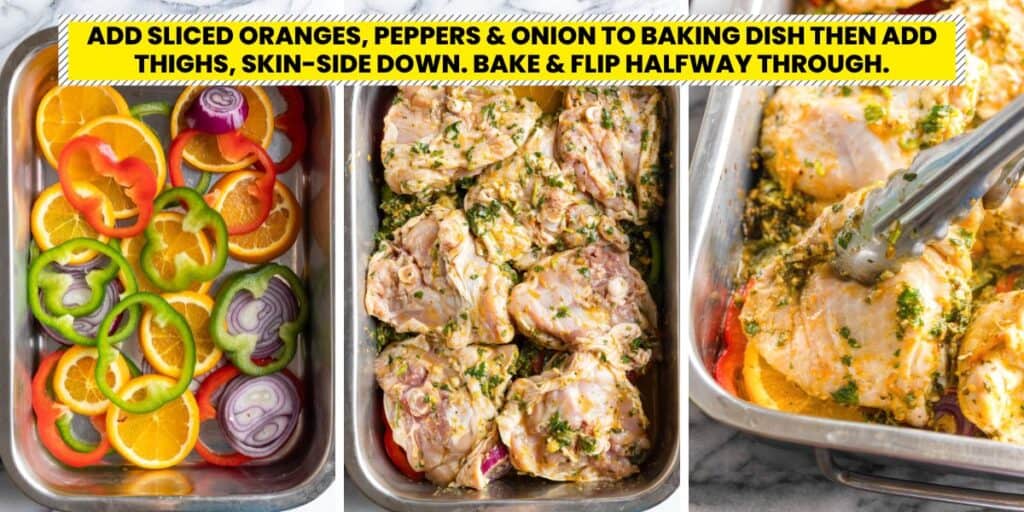 Quick Tips Before You get started
Chose your baking dish wisely.

I recommend a baking dish but you can also make this on a large baking sheet. Just make sure to use a large rimmed baking sheet. As the chicken and veggies cook they will steam and release juices so you just need to make sure whatever you're using won't spill over the sides.

Let it marinate!

For best results, give the chicken plenty of time to marinate – at least 3 hours and up to 24 hours! The longer it marinates, the more the flavorful your chicken will be!

An instant-read thermometer is your friend.

Use a meat thermometer to check the doneness of your thighs. While 165°F is safe and cooked, 195°F is better for texture and flavor!

A versatile marinade.

You can use this marinade on other cuts of meats and proteins! Just make sure to consider the time and temperature of whatever you're making and cook accordingly.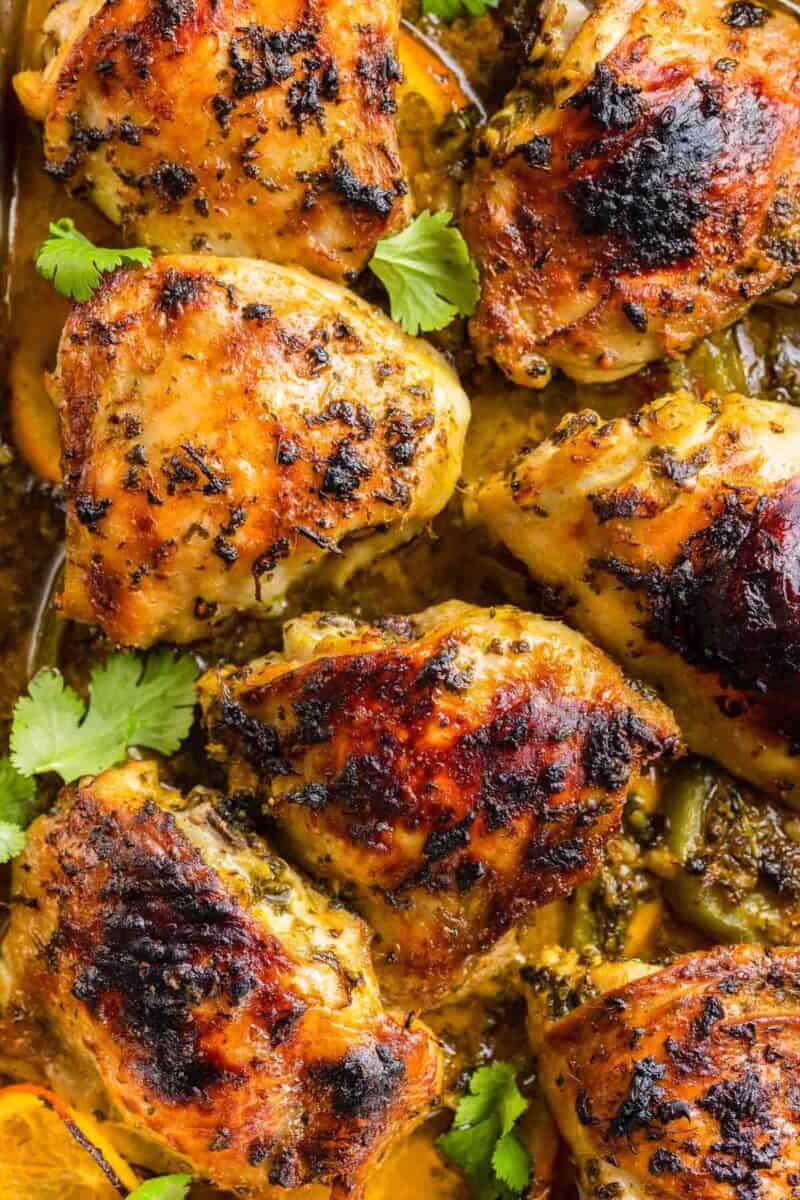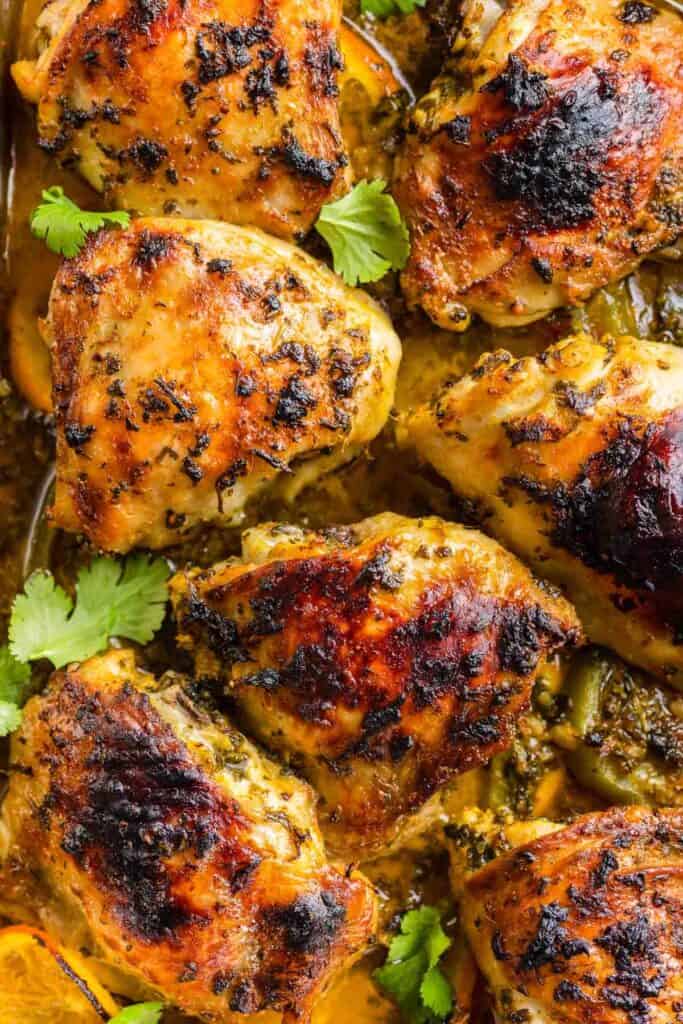 Temperature Guidelines for Chicken Thighs & Drumsticks
| Temperature | Quality | Notes |
| --- | --- | --- |
| 165°F (74°C) | Good | Minimum temperature recommended for poultry by the USDA. |
| 175°F (80°C) | Better | Tender and cooked through, but still clings to the bone. |
| 195°F (90°C) | Best | Meat is juicy, succulent and easily comes off the bone. |
| +210°F (99°C) | Too Much | Past this temperature the chicken becomes stringy and flavors diminishes. |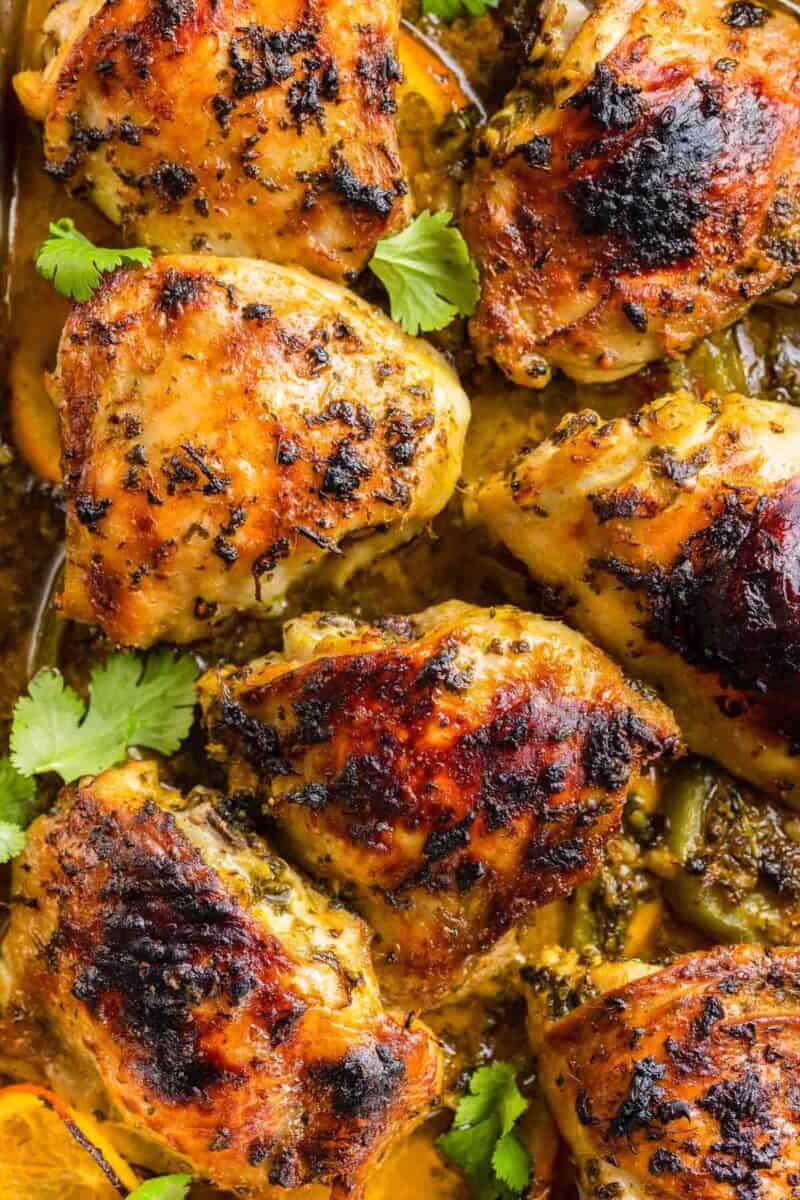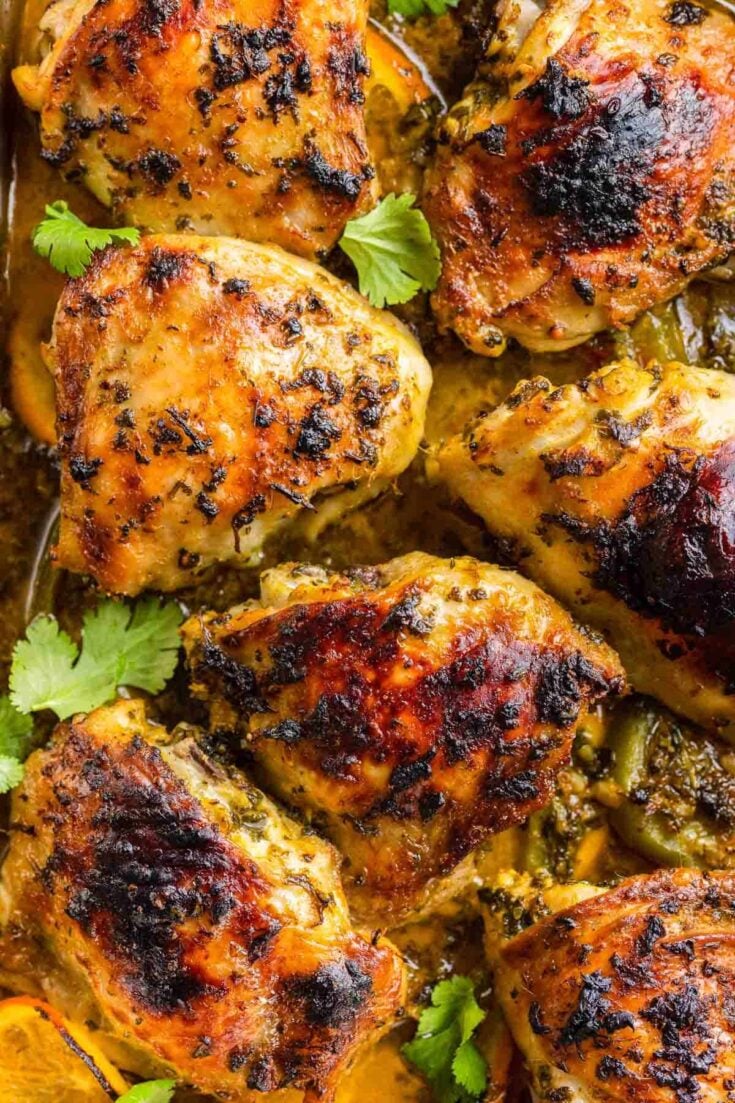 Recipe
Baked Mojo Chicken Thighs
Yield:
4
Prep Time:
15 minutes
Cook Time:
55 minutes
Additional Time:
3 hours
Total Time:
3 hours
55 minutes
Chicken thighs marinated then basked in a simple mojo marinade made with blended up herbs, spices, citrus and garlic!
Ingredients
Marinade
1/4 cup extra virgin olive oil (60 ml)
2 cups fresh cilantro, packed or 1 large bunch (50 g)
Zest from 1 orange
Zest from 1 lime
1/2 cup orange juice, about 2-3 oranges (120 ml)
1/4 cup lime juice, about 2 limes (60 ml)
5 large cloves garlic
2 teaspoons cumin powder
1 teaspoon dried oregano
1/2 teaspoon smoked paprika
1 teaspoon salt, plus more to taste
1/2 teaspoon black pepper, plus more to taste
Chicken Bake
6-8 skin-on, bone-in chicken thighs (about 1 1/2 lbs | 680g)
2 bell peppers, deseeded and sliced - any color
1 orange, sliced
1 large red onion, sliced
Instructions
Mojo Chicken Marinade
Add all of the marinade ingredients to the blender or food processor: oil, cilantro, zest, juice, garlic and spices. Blend on high until well combined.
Add the chicken thighs to a large bowl or large resealable bag. Pour the marinade over the top and mix well to fully coat the chicken in sauce. Cover the bowl or seal the bag then transfer to the fridge to marinate for a minimum of 3 hours and up to 24 hours. The longer the marinade the better the flavor.
Bake
Take the marinated chicken out of the fridge and allow to warm up to room temperature.
Preheat oven to 350°F (180°C).
Spread the sliced peppers, oranges and onion evenly across the bottom of a large roasting pan.
Place chicken skin side up over the veggies and orange slices. Pour the excess marinate in the bowl or bag over the roasting dish.
Place in the middle of the oven and bake for 30 minutes. After 30 minutes, remove the pan from the oven and flip the thighs over so the chicken is now skin-side up.
Baste or spoon some of the juice from the pan over the chicken then return to the oven and bake for a final 20-25 minutes or until the thighs reach an internal temperature of at least 165°F (74°C).
Turn the oven heat up all the way to broil a final 1-2 minutes to crisp up the skin then remove from the oven.
Allow the chicken to rest at least five minutes, then serve.
Notes
Allow leftover chicken to cool to room temperature before storing in an airtight container and in the fridge. Keeps up to 3 days.
165°F/74°C is the minimum temperature required for food safety, but aim for 195°F/90°C for a richer flavor and meat that falls off the bone.
Nutrition Information
Yield:

4
Serving Size:
2 thighs
Calories:

572
Total Fat:

44g
Saturated Fat:

11g
Unsaturated Fat:

32g
Carbohydrates:

17g
Fiber:

3g
Sugar:

9g
Protein:

28g
This website provides approximate nutrition information for convenience and as a courtesy only. Nutrition data is gathered primarily from the USDA Food Composition Database, whenever available, or otherwise other online calculators.
More Easy Chicken Recipes To Check Out