Simple, comforting ingredients come together to make this arugula, apple and goats cheese flatbread. Perfect for lazy days and quick eats.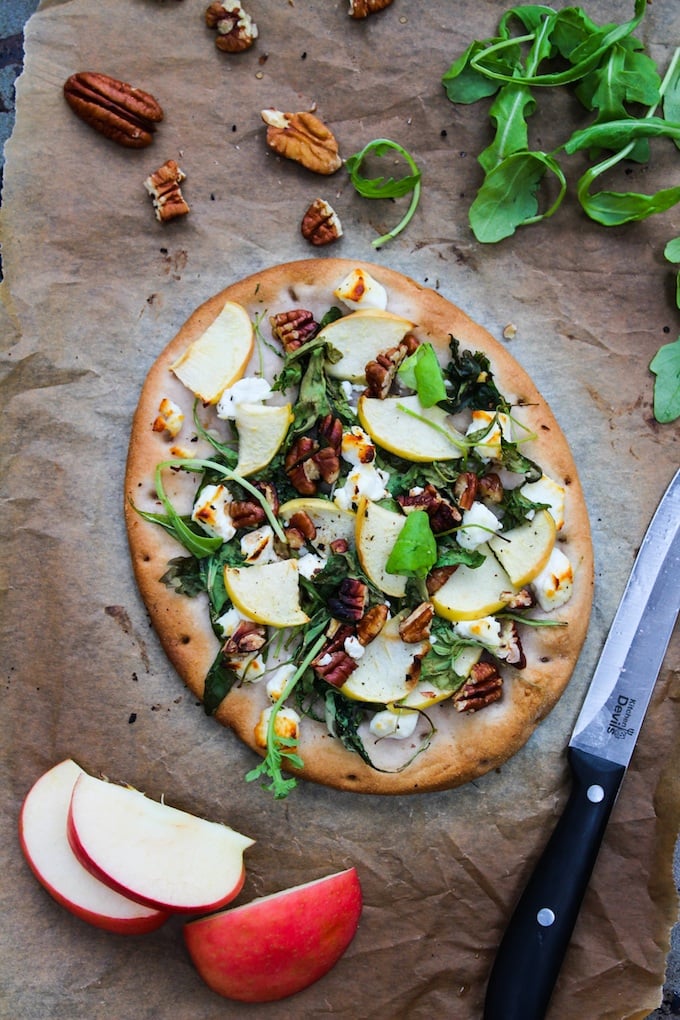 I'm all about making food fresh from scratch whenever possible, but sometimes if I'm being honest, I just can't be bothered. I think this week especially is an ICBB (I Can't Be Bothered) week – that was for you Monique.
I've made it no secret that Mike requires a very specialized diet. Years of undiagnosed Coeliac Disease really put a number on him and it's taking a long time for him to regain any normalcy in his health. We've had ups and we've had downs and have experienced a lot of general confusion and frustration, but little by little things are getting better…even if it's been getting better at a snails pace. This week has been one of those down weeks. For whatever reason that remains a mystery to us, Mike's stomach just can't seem to settle down. Every meal is followed by pain and confusion which has left only the most bland of foods available to him until this particular issue passes.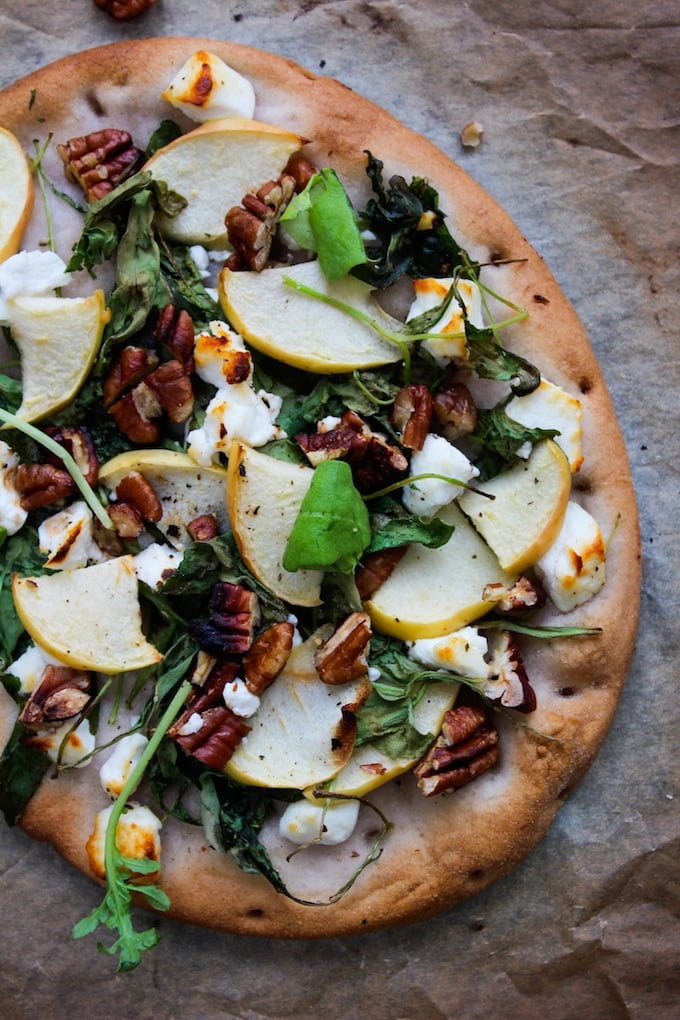 I think all the energy I would have otherwise spent making meals has been spent worrying instead. I know everything is going to be alright with him, but it's never easy to see your loved one in pain. By mealtime I'm just so over food that I don't want to spend a long time preparing anything particuarly fancy. Thank goodness for pre-made flat bread and simple ingredients.
As I mentioned in my last post I've been working on….well, reducing waste. A quick peruse through my fridge alerted me of the arugula that needed using and the half apple that I had forgotten about from earlier that day. Going along with the fall theme I crumbled up a few pecans for crunch and some goats cheese because I just really happen to like goats cheese. This is basically just a salad on flat bread which suits me fine. Warm, crunchy, slightly sweet, and exactly what I need for a quick and satisfying meal for one.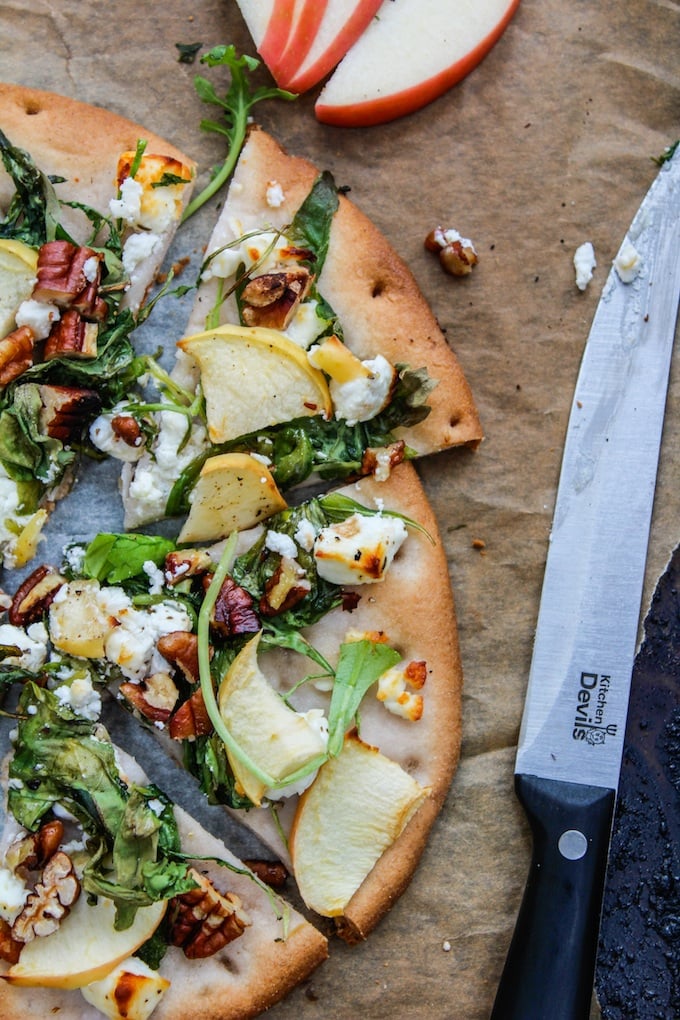 In times when life is feeling exceptionally complicated I try my best to remember to appreciate the smallest pleasures that make the biggest difference: warming my cold hands with a hot cup of coffee first thing in the morning, when Mabel (our cat) decides to jump up on my lap demanding attention while drooling all over the place, or just being in the kitchen and getting my hands dirty. Even the simplest of recipes like this cheers me up. Cliché, yes, but effective. It's easy to be down about the current situation and the unknown future ahead of us, but above all else I feel lucky every day to be here in England with somebody that I care so deeply about.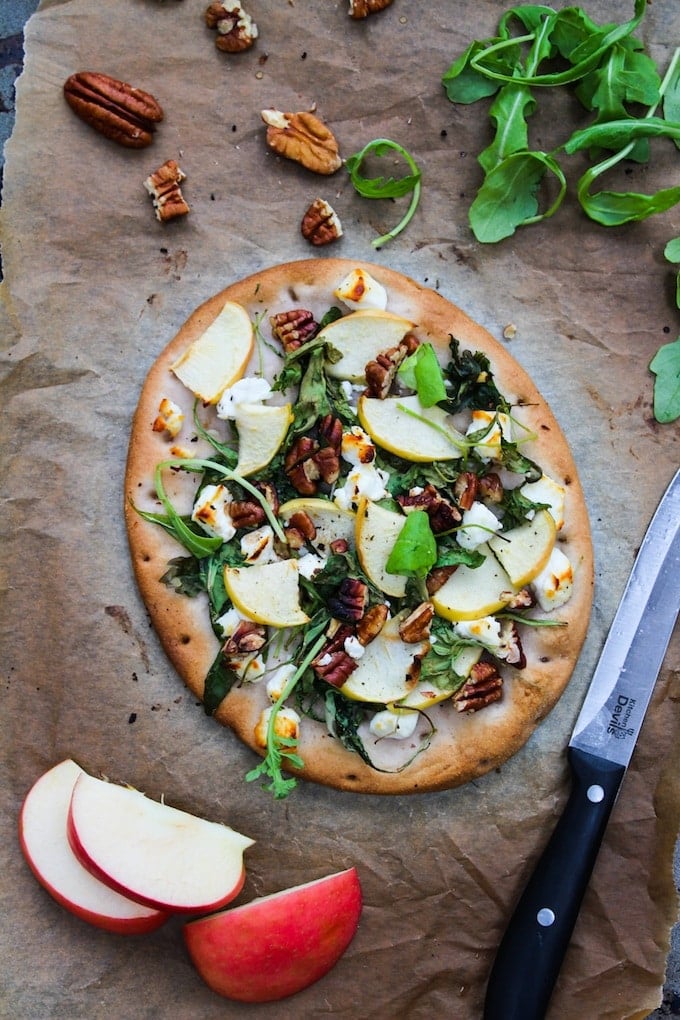 Recipe
Arugula Apple & Goats Cheese Flatbread
Yield:
1 -2 servings
Prep Time:
5 minutes
Cook Time:
10 minutes
Total Time:
15 minutes
Simple, comforting ingredients come together to make this arugula, apple and goats cheese flatbread. Perfect for lazy days and quick eats.
Ingredients
1 8 in gluten free flat bread or pizza crust
1/4 cup arugula or one small handful
1/2 an apple cut into thin slices
1 ounce goats cheese crumbled
crumbled pecans for topping
Instructions
Heat your oven to 200°C/400°F
Place the flatbread on the middle of a baking tray and top with the arugula, apple slices, cheese and pecans and bake for 10 minutes.
Top with additional salad and a bit of olive oil or enjoy as is.
Nutrition Information
Yield:

1
Serving Size:
g
Calories:

357
Saturated Fat:

4g
Cholesterol:

13mg
Sodium:

107mg
Carbohydrates:

53g
Fiber:

7g
Sugar:

20g
Protein:

8g
This website provides approximate nutrition information for convenience and as a courtesy only. Nutrition data is gathered primarily from the USDA Food Composition Database, whenever available, or otherwise other online calculators.