Bursting with some of the the best flavours that summer has to offer – this Almond Flour Tomato Tart is a must make! The simple almond crust is made with only four basic ingredients with no rolling required. Just mix and press into a tart tin then top with the pesto-ricotta spread before adding the sweet and juicy cherry tomatoes, herb seasonings and grated parmesan cheese. | Gluten Free + Vegetarian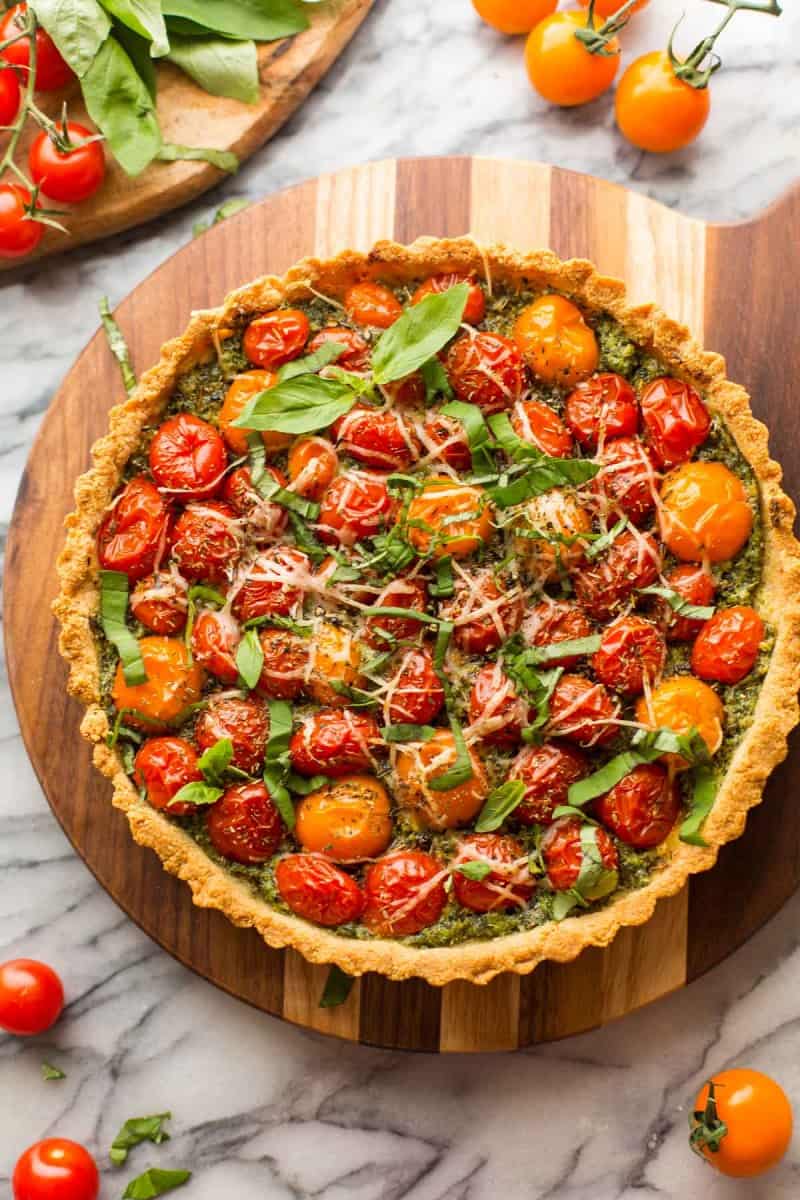 If you're looking for a delicious and satisfying way to settle in to the good Summer vibes then look no further than this recipe right here. There's so much to love in this Almond Flour Tomato Tart! We've got
✔️Juicy, bursting cherry tomatoes
✔️Bright and punchy basil pesto
✔️Two types of Italian cheeses to pack in the umami
✔️Fresh herbs to top it all off
✔️All presented and enjoyed in a super simple, low carb almond flour crust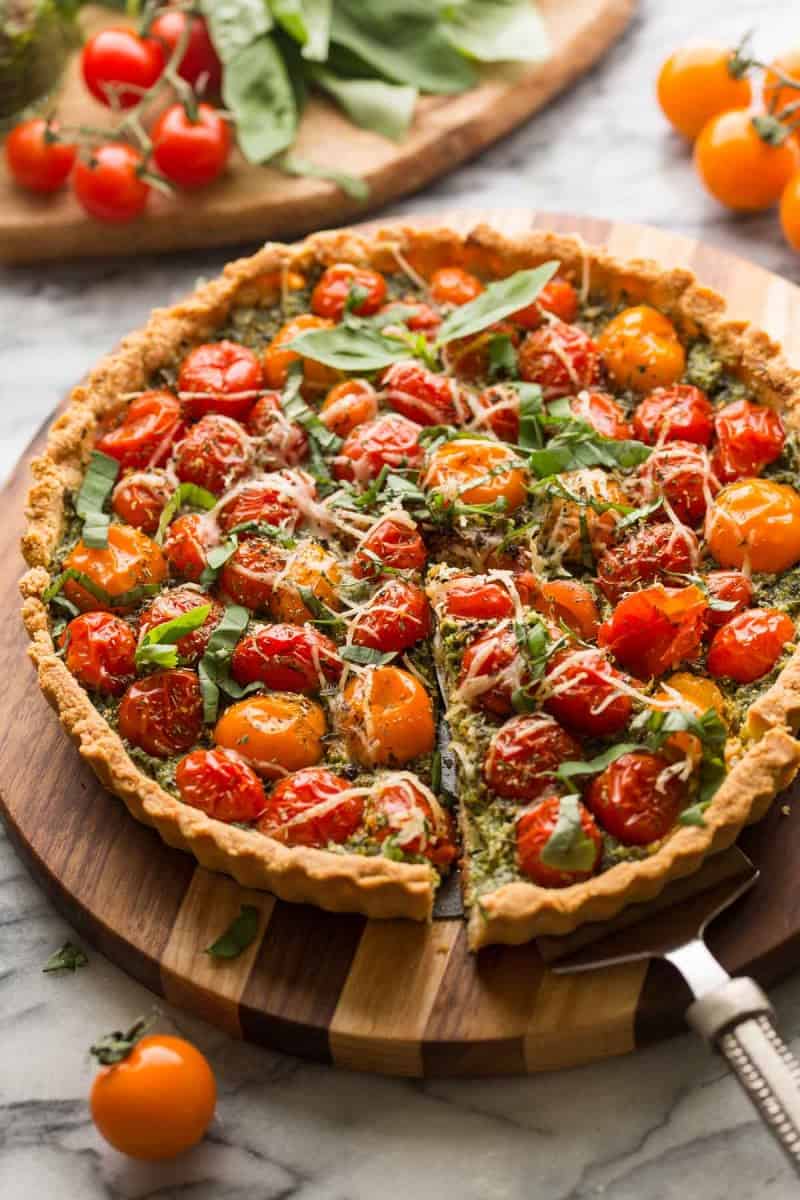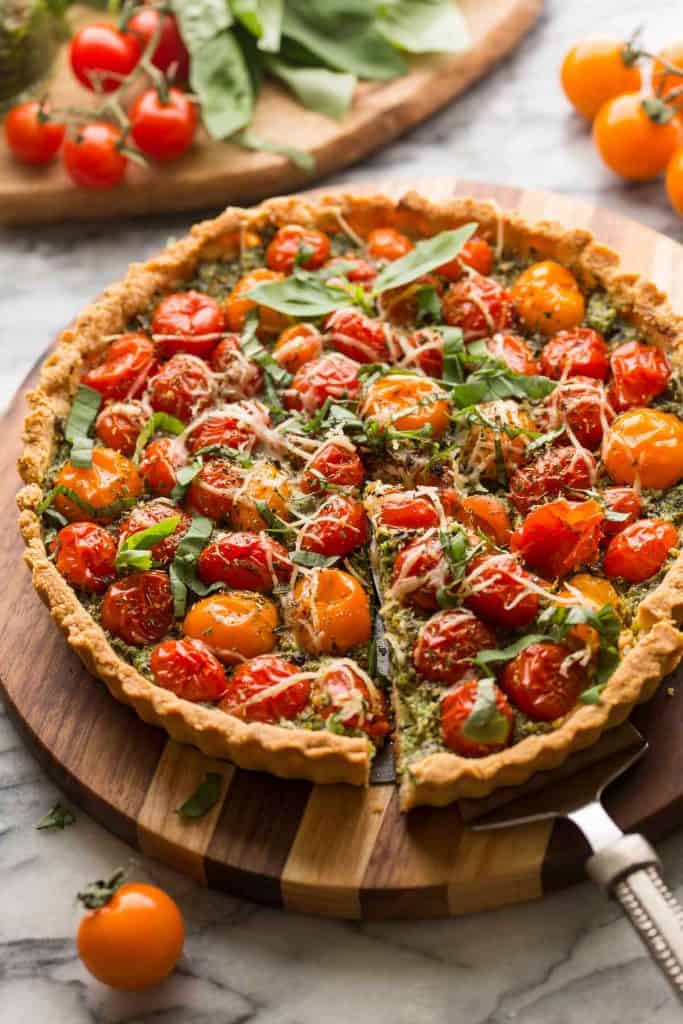 How to Make This Almond Flour Tomato Tart
The Prep
Preparation for this recipe comes down to only a few basic steps:
Make the almond flour crust. It's made up of only four ingredients: almond flour, butter, salt and an egg. The crust is extremely easy to make and is based off of my Almond Flour Pie Crust Recipe. If you'd like a little more guidance and visual representation of how to make the crust – go check out that recipe. You'll find step-by-step pics, tips and ways to adapt the recipe for different diets.
Make the cheese spread: This part is a no-brainer. Simple mix together the pesto and the ricotta and that's it. You can use your favourite store-bought pesto or a homemade version. I made the one pictured here using my kale pesto recipe.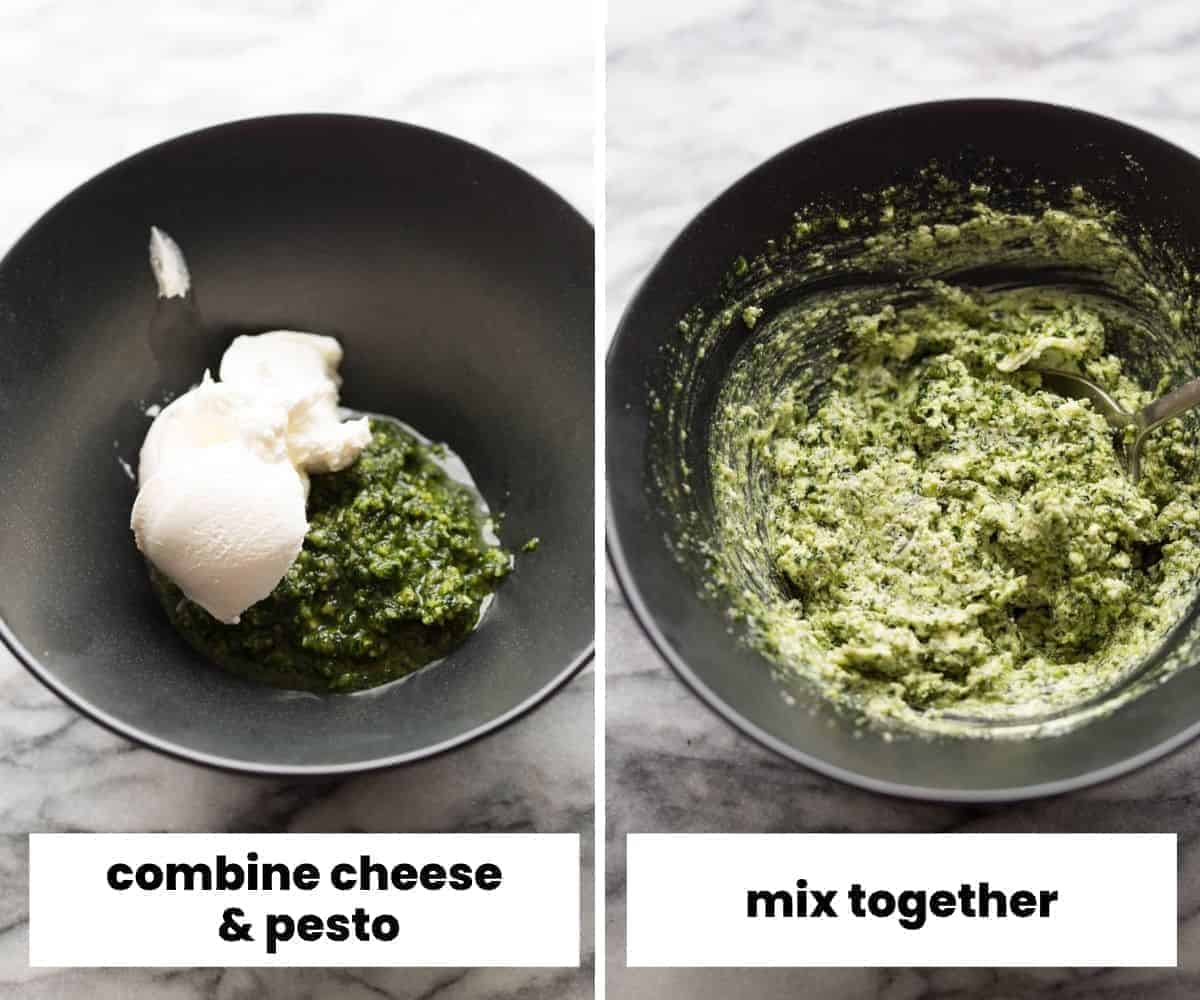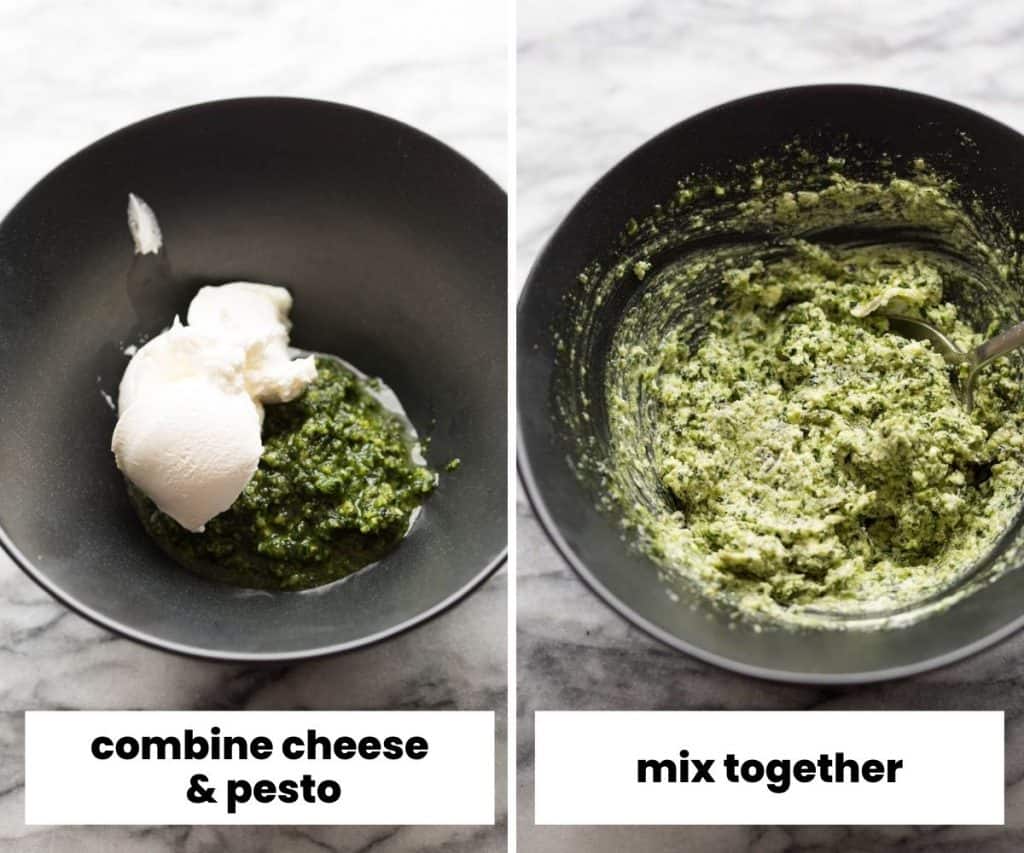 Prep the tomatoes. While the crust is baking in the oven – take this time to prepare the cherry tomatoes. Slice them in half and scoop out the watery seeds inside. The seeds and their surrounding watery membranes are….. watery. If you bake this tart without scooping out most of the seeds first they'll likely burst while cooking and leak out all over the top of your crust.
You don't need to be super meticulous here. Don't worry about getting every last seeds. Just try to get at least 3/4 of the seeds out to prevent a soggy pie. This step should take more than a few minutes so don't sweat it!
Do I have to scoop out the seeds?
Because this recipe has a lot of cherry tomatoes packed on top, I do recommend this step just to be safe. When it comes to garden vegetables and their water content – there is a lot of variation. Some tomatoes are especially juicy and watery while others are less so. Too much water releasing while the tart bakes will result in a soggy crust and a watery top.
You could skip the seed scooping and not end up with a problem, but if you make this recipe enough times you'll likely end up with a soggy tart at least once. So just to be safe – I recommend it.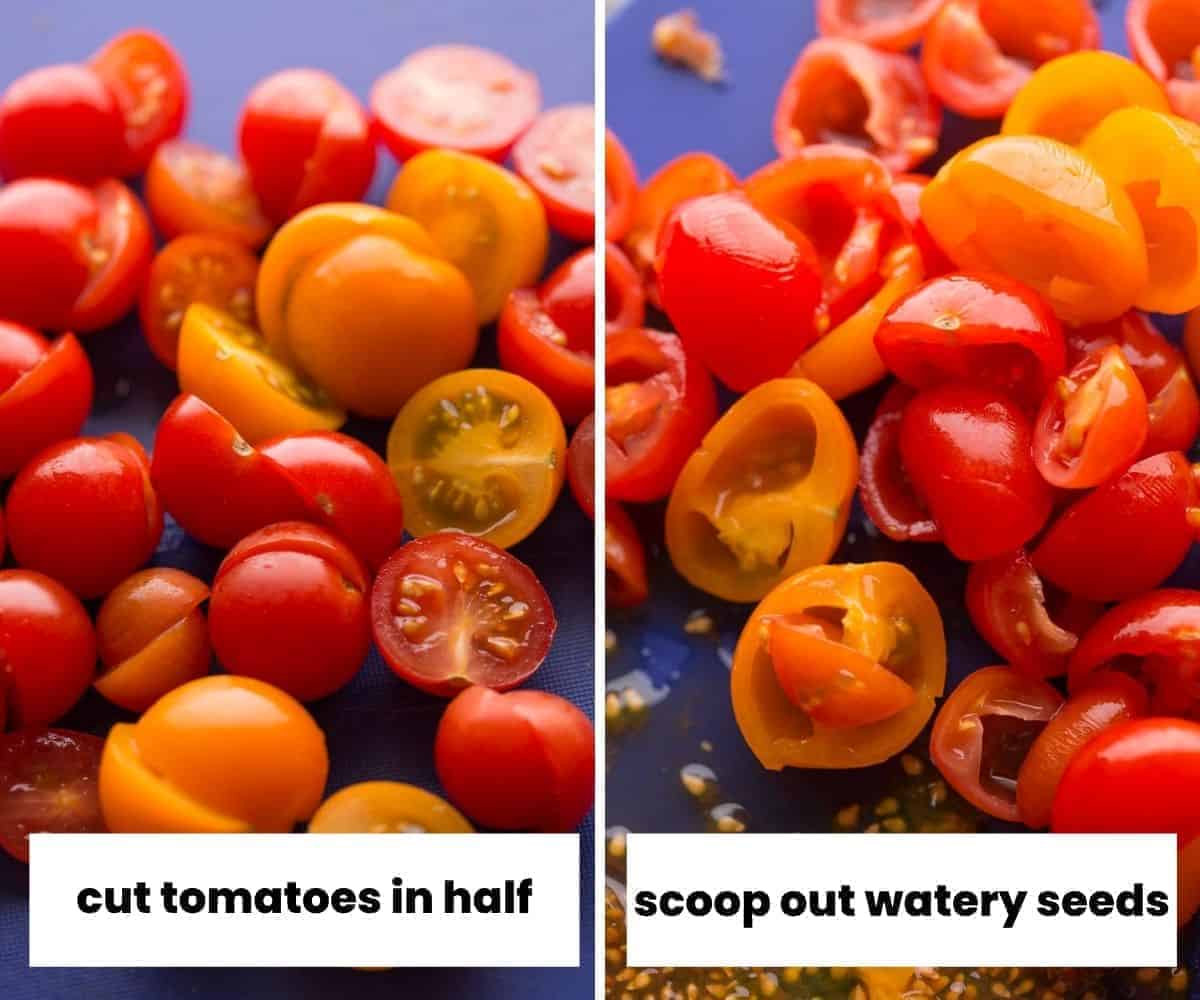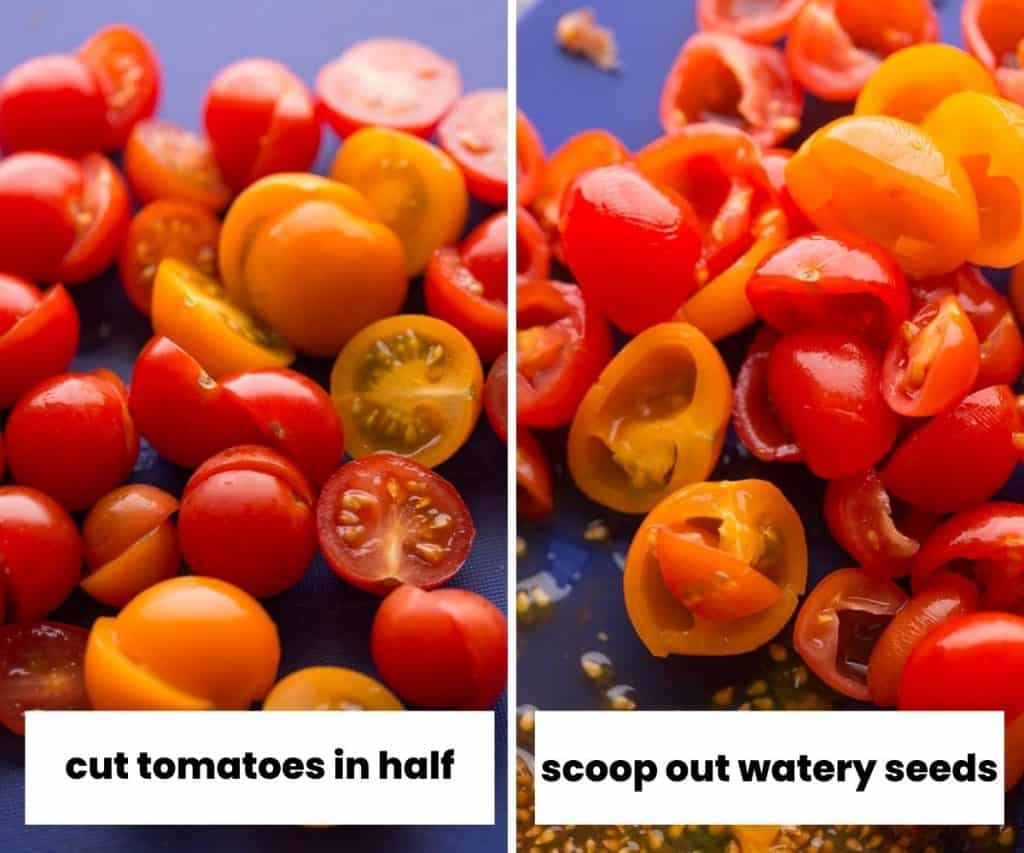 Assembly. Once the crust is made and the filling is prepared – it's time to bring it all together before one final bake. The layers go as follows:

Spread the pesto mixture over the bottom.
Top with the cherry tomatoes in an even layer.
Sprinkle herbs and parmesan cheese over the top.
Then it's simply a matter of baking until the crust is golden, the tomatoes are wrinkled and the tart is set!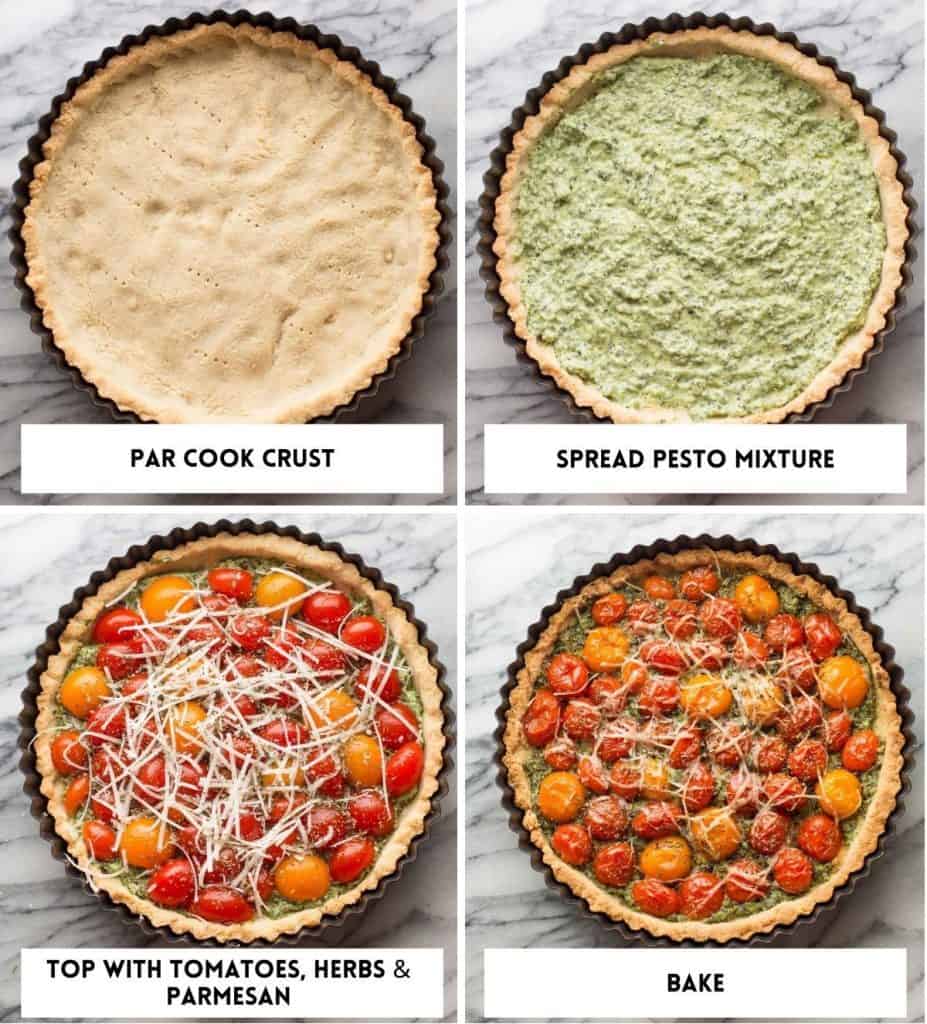 Can I make this recipe egg free?
Yes! Check out my original Almond Flour Pie Crust Recipe on how to make the crust without an egg. Essentially this can be done by swapping out the egg for a little extra water but I recommend checking out the notes in the recipe on the best way to make this egg free.
Can I make this recipe dairy free?
Yes!
In the crust: Vegan butter can be used in the crust in a quick swap. You can also use coconut oil in the crust but you must make sure to grease the pan well because I find that coconut oil crusts tend to be a bit more stubborn when it comes to releasing from the pan.
In the filling: Dairy free versions of ricotta and parmesan are fairly easy to come by these days and can be used in place of the dairy versions here. Make sure you also use a dairy free pesto.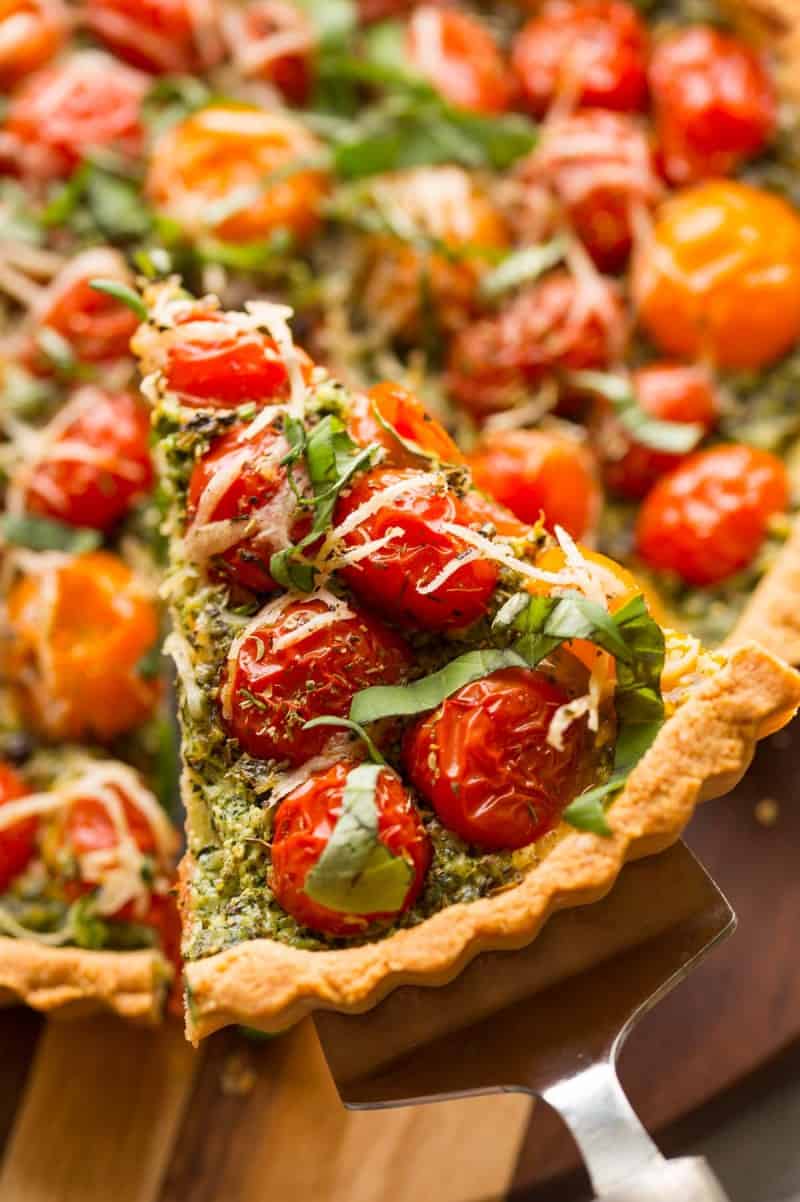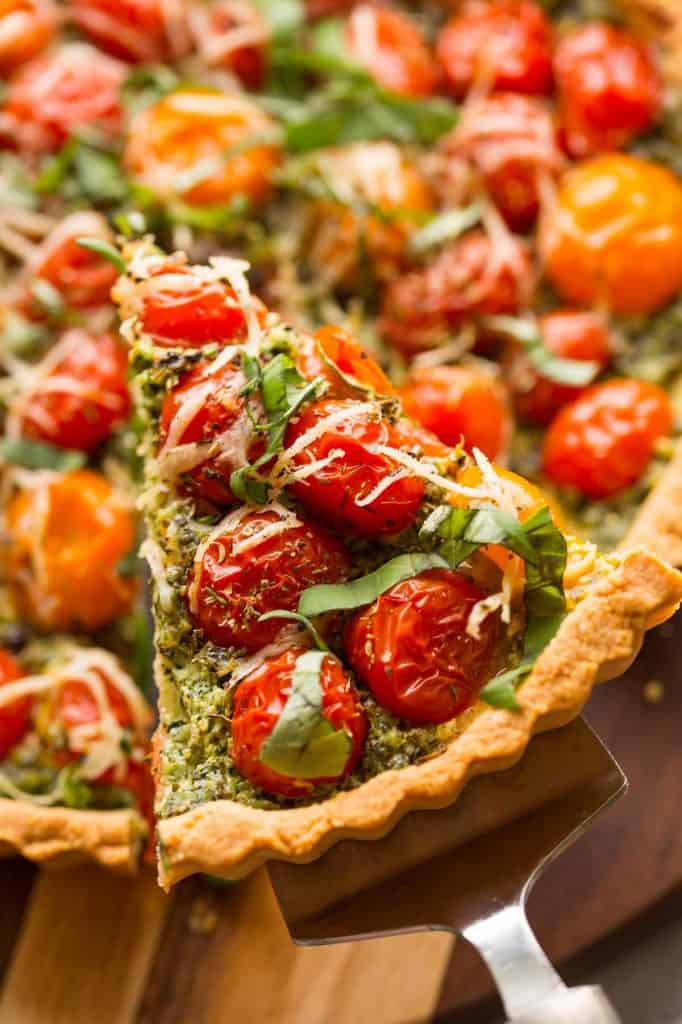 Serve this Almond Flour Tomato Tart fresh while it's still hot or cold as left overs straight from the fridge. It's great served up with a big garden salad or grilled veggies to go along with it.
Enjoy!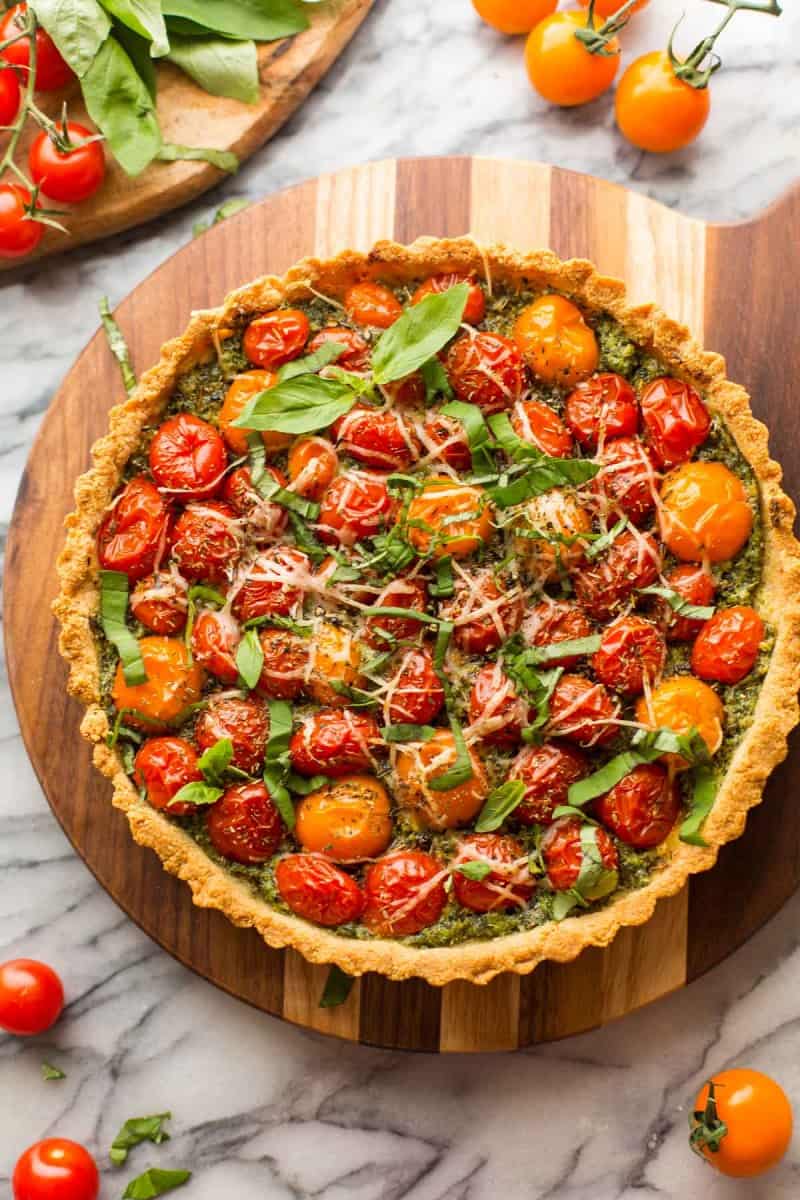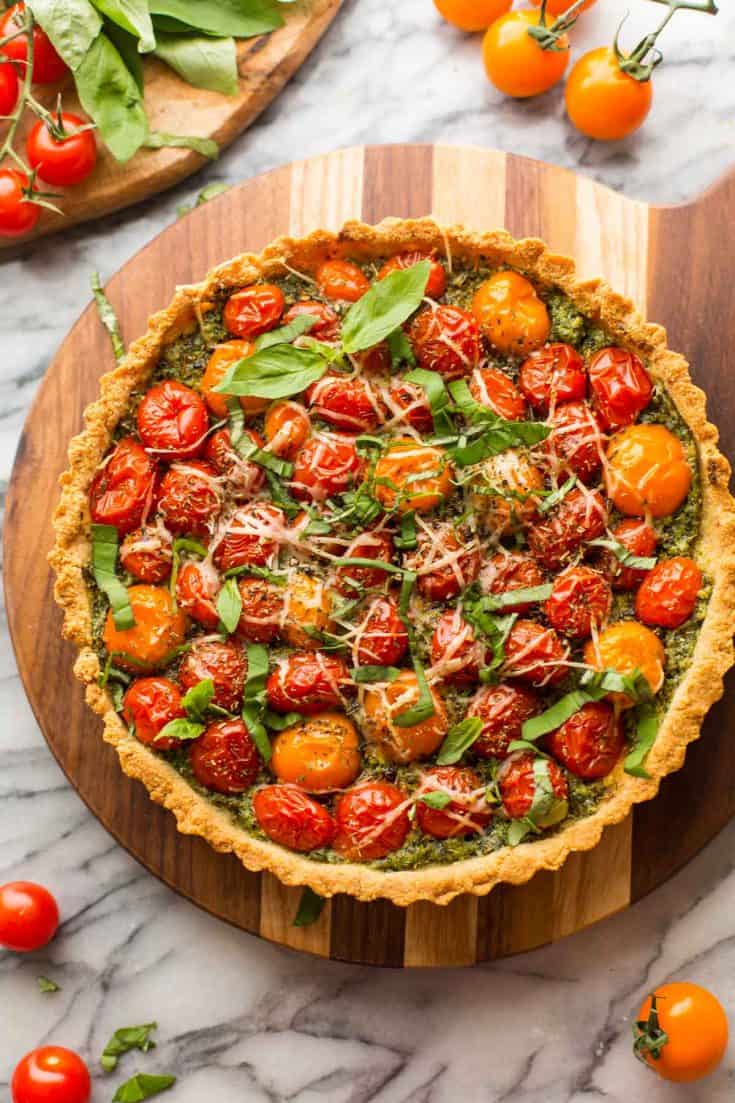 Recipe
Almond Flour Tomato Tart
Yield:
1 9inch pie
Prep Time:
15 minutes
Cook Time:
40 minutes
Total Time:
55 minutes
The simple almond crust is made with only four basic ingredients with no rolling required. Just mix and press into a tart tin then top with the pesto-ricotta spread before adding the sweet and juicy cherry tomatoes, herb seasonings and grated parmesan cheese
Ingredients
Crust
2 1/2 cups | 240 g almond flour
1/2 tsp salt
3 tablespoons | 42 g melted butter
1 egg
Filling
3 tablespoons | 24 g ricotta
3 tablespoons | 45 g basil pesto (homemade or store bought)
1 1/2 cup | about 8 oz cherry tomatoes, cut in half with seed scooped out
1 teaspoon herbs de Provence
1/4 cup | 25 g grated parmesan
Small handful fresh basil, sliced for serving
Instructions
Crust Prep
Preheat oven to 375°F/190°C. Lightly grease a 9 inch loose bottom pie/tart pan. Set it aside.
Add the almond flour and salt to a large mixing bowl and whisk to combine.
Stir in the butter. Mix until you get a soft, sandy-like texture. Add the egg and mix until a soft dough comes together.
Transfer the dough to a 9 inch pie plate. Use your hands to press the dough into the pie dish to form your crust. Prick a few holes across the bottom of the crust.
Place in the middle of the oven and bake for 10 minutes.
Filling & Assembly
Mix the ricotta and pesto together in a small bowl. Set aside.
Prep the tomatoes: cut each tomato in half and scoop out the watery seeds. This will help prevent the water from the tomatoes from seeping out into the crust as they cook.
When the crust has finished par baking: spread the pesto mixture across the bottom of the crust.
Top the tart with tomatoes, cut side down. Sprinkle the herbs and parmesan over the top of the spread.
Place back in the middle of the oven and bake for another 30 minutes. The edges should be golden-brown.
Let cool about 5 minutes before slicing and serving. Top with freshly basil and enjoy.

Notes
Keep leftovers covered stored in the fridge for up to 4 days.
Nutrition Information
Yield:

8 slices
Serving Size:
1 slices§
Calories:

265
Total Fat:

23g
Saturated Fat:

5g
Carbohydrates:

4g
Fiber:

4g
Sugar:

2g
Protein:

9g
This website provides approximate nutrition information for convenience and as a courtesy only. Nutrition data is gathered primarily from the USDA Food Composition Database, whenever available, or otherwise other online calculators.
More Vegetarian Mediterranean Inspired You Might Enjoy