With minimal prep and wholesome ingredients – these stuffed sweet potatoes make for a supremely simple and satisfying plant based meal! While the potatoes soften and bake in the oven, mix and mash the spicy chickpea to load up in the potato skins when you're ready. | Gluten Free + Nut Free + Vegan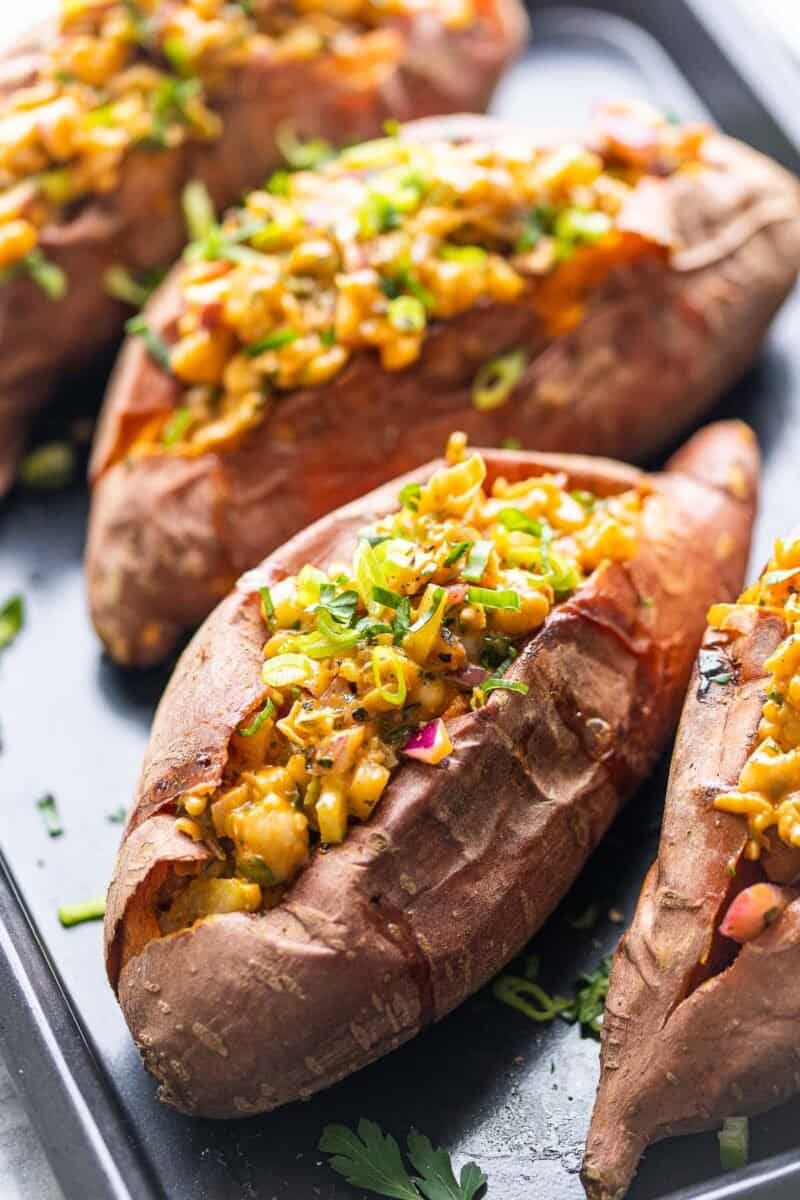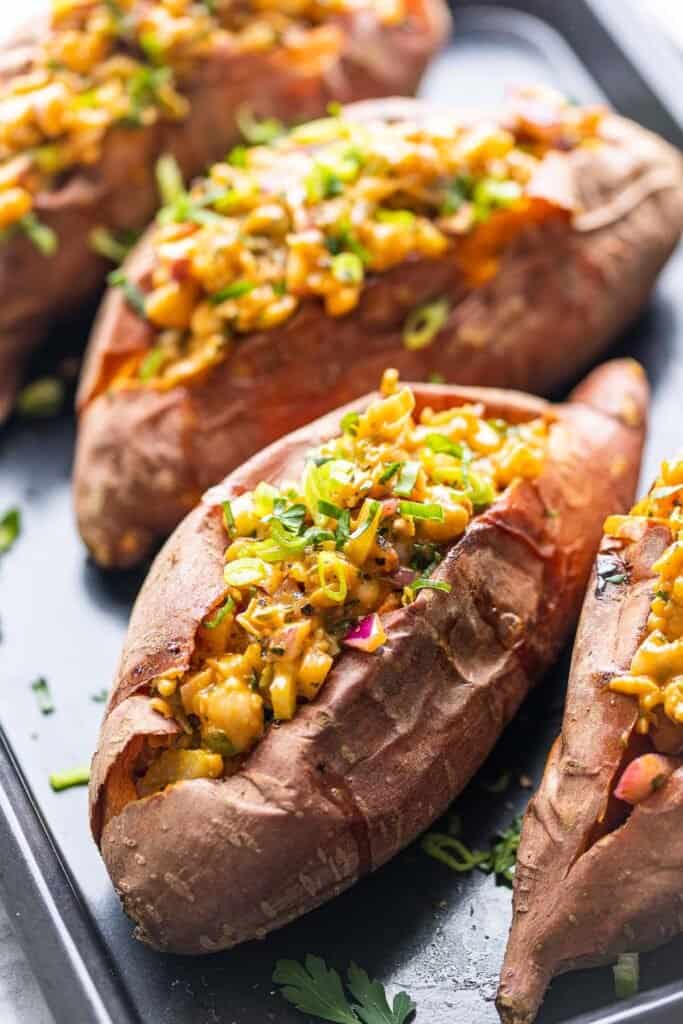 For such an easy recipe these stuffed sweet potatoes really do have a lot going on!
The smashed chickpea salad contains a medley of crispy, crunchy textures coated in a spicy mayo sauce and it tucked into a sweet and savoury baked sweet potato. Altogether it makes for a hearty, yet healthy lunch or dinner recipe that will fill you up without weighing you down.
Altogether this is great recipe to include in a regular rotation if you're looking for more health dinner ideas to share with the whole family!
How to make these stuffed sweet potatoes
This recipe can be broken down into two main sections:
The spicy smashed chickpea salad.
The baked sweet potato jackets.
And then of course you bring the two parts together to end up with your very own loaded sweet potatoes. Easy!
The Filling: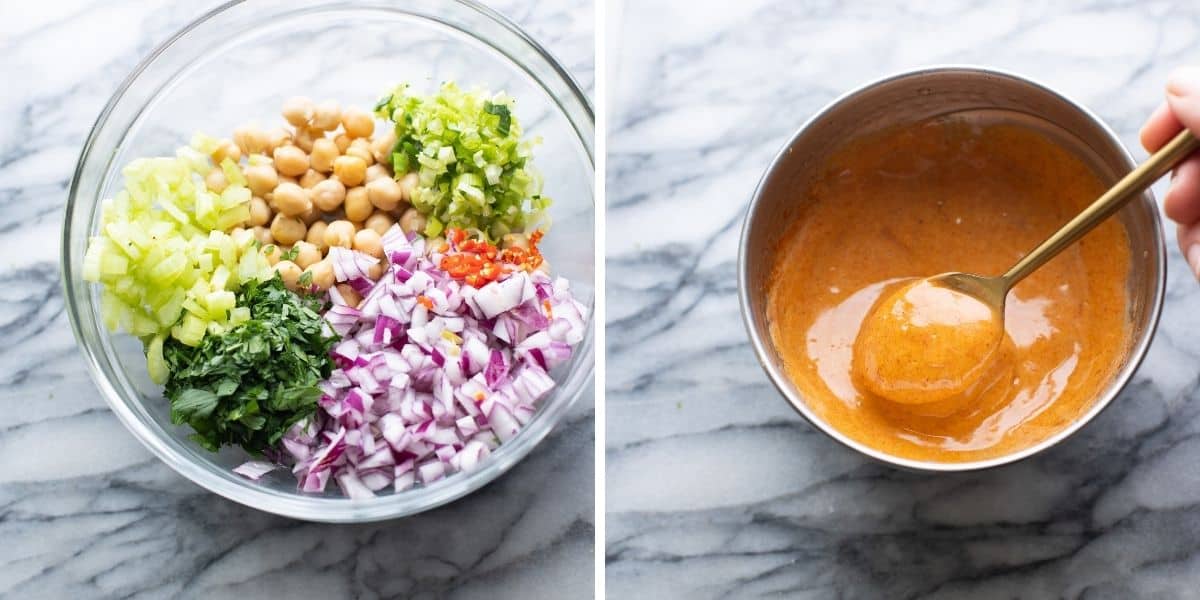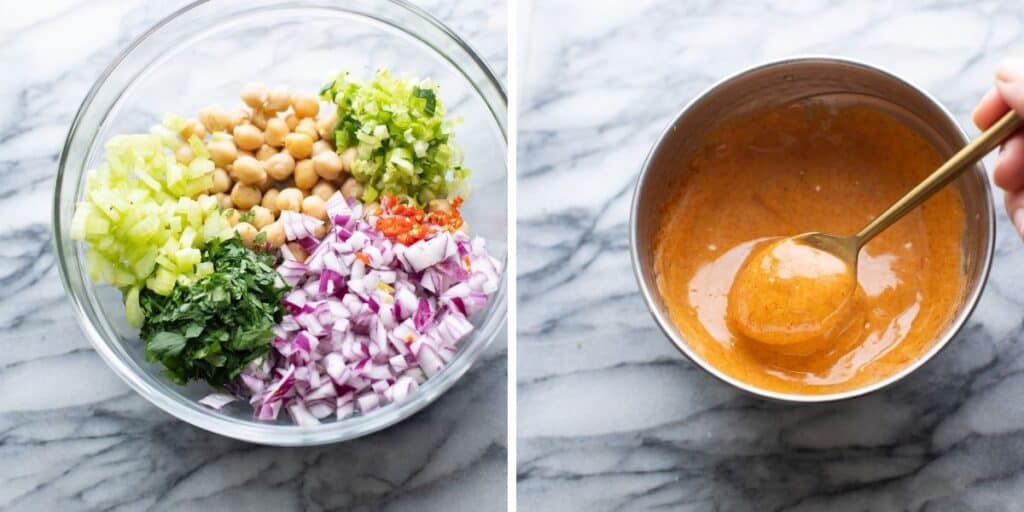 This chickpea salad filling is based off of my personal smashed chickpea salad recipe with a few extra tweaks.
To make it, simply add the main salad ingredients together in a large bowl, then mix and mash to combine. You can mash up the chickpeas as much as you'd like. I kept most of mine fairly intact for this recipe, but the choice of texture is up to you.
In a smaller, separate bowl mix together the spicy mayo dressing. The dressing is made up of a simple combination of mayo, sriracha, lemon juice or lime juice, garlic and paprika. It's a fairly basic dressing which means you can easily play around with the flavours as you like.
Once you've got everything prepared, pour the spicy mayo sauce into the chickpea mixture and combine. Taste and season the salad as you see fit – add green onion, fresh herbs, salt, black pepper, etc.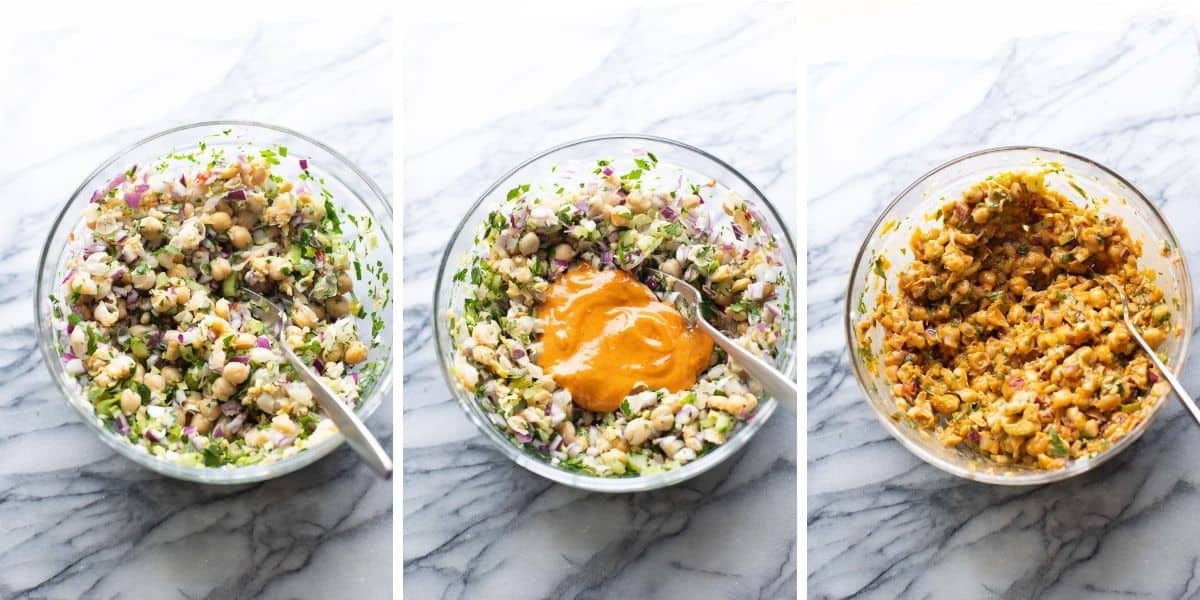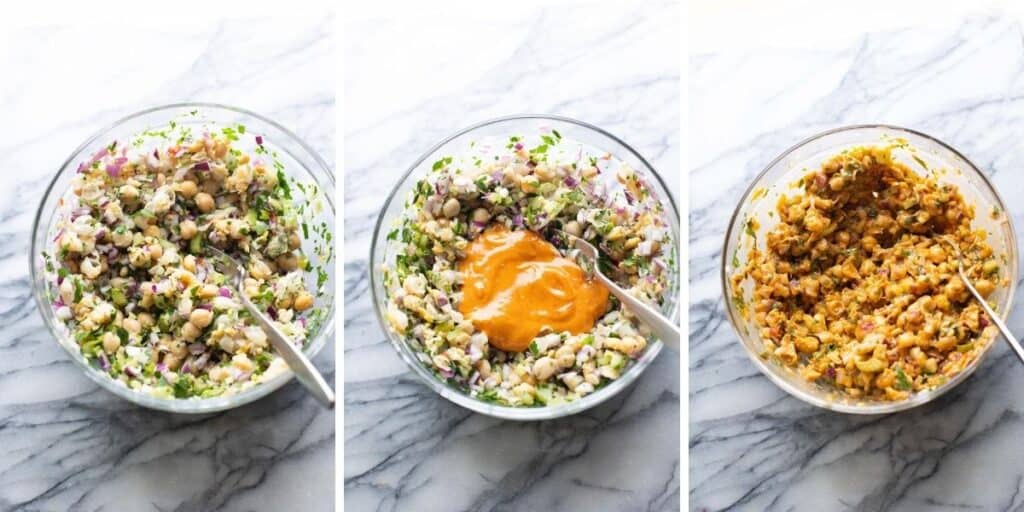 Sweet Potato Prep
The amount of time needed to roast your potatoes will vary depending on their size. Expect to bake the them in the oven for at least 45 minutes (typical for medium sized potatoes) and possibly up to an hour.
Make sure to prick a few holes across the potatoes with a fork before baking. This will allow the potatoes to steam in a safe and controlled way. When you're ready, place them on a baking sheet and allow them to bake for about 45 minutes or until soft and tender.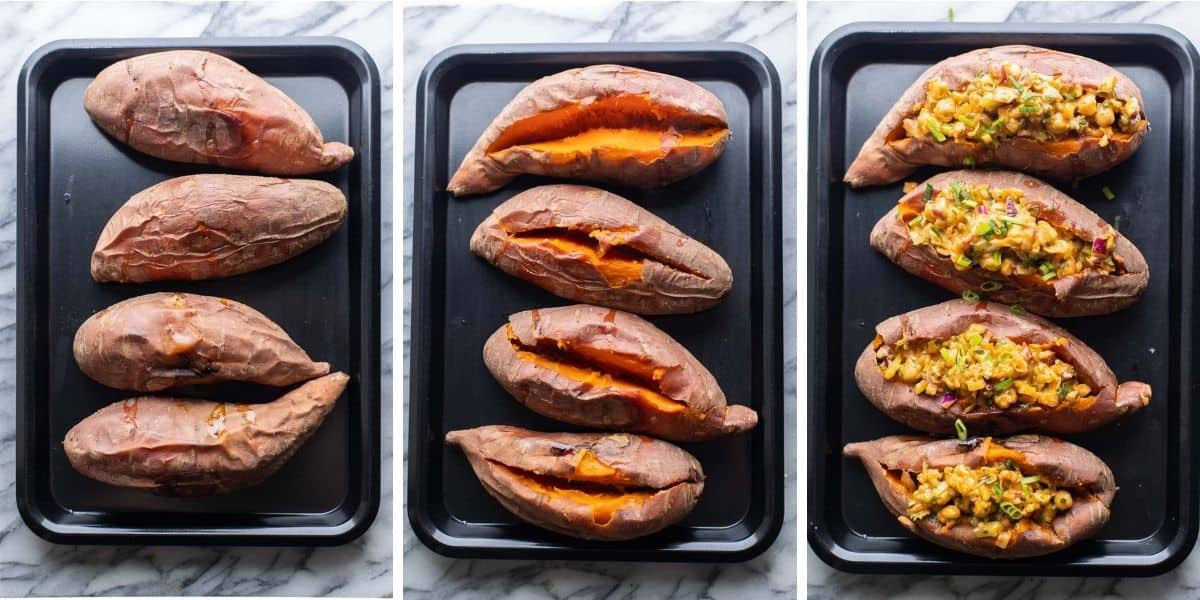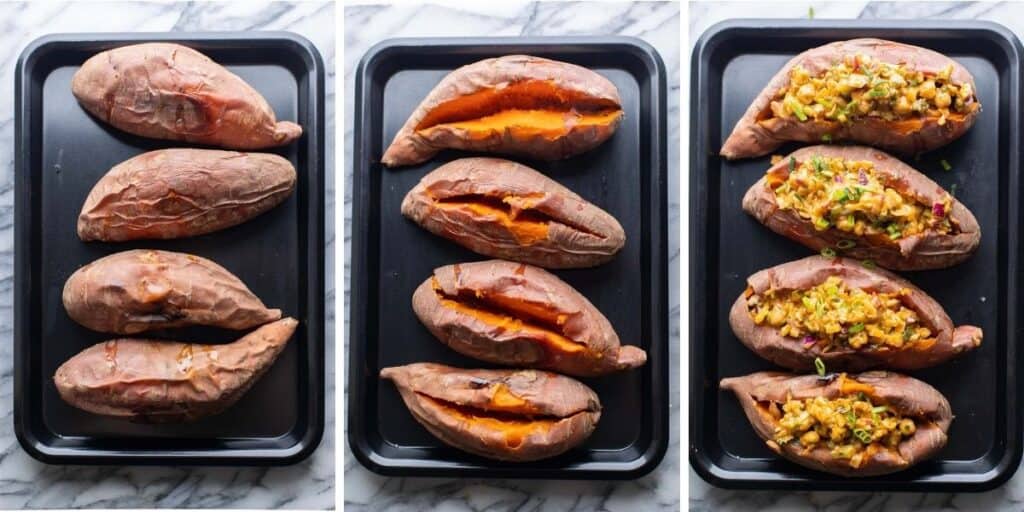 Substitutions, Additions and Adaptations
Use shallots instead of red onion.
Swap out the sriracha for your favourite hot sauce of choice.
Instead of adding sriracha or hot sauce you can spice the mayo with 1-2 teaspoons chili powder or even red pepper flakes instead.

Remember that 'chilli powder' can refer to a couple different things. Check the label on your chili powder to see if it's a blend of spices or if it's simply one chili that's been ground into a powder. Both are good options here depending on you and your preference, but it's still good to know what you're working with.

Add cheese. Vegan cheese is a good option if you need to keep this dairy free. I added vegan feta to my sweet potato skins. Feel free to mix in your preferred shredded cheese of choice.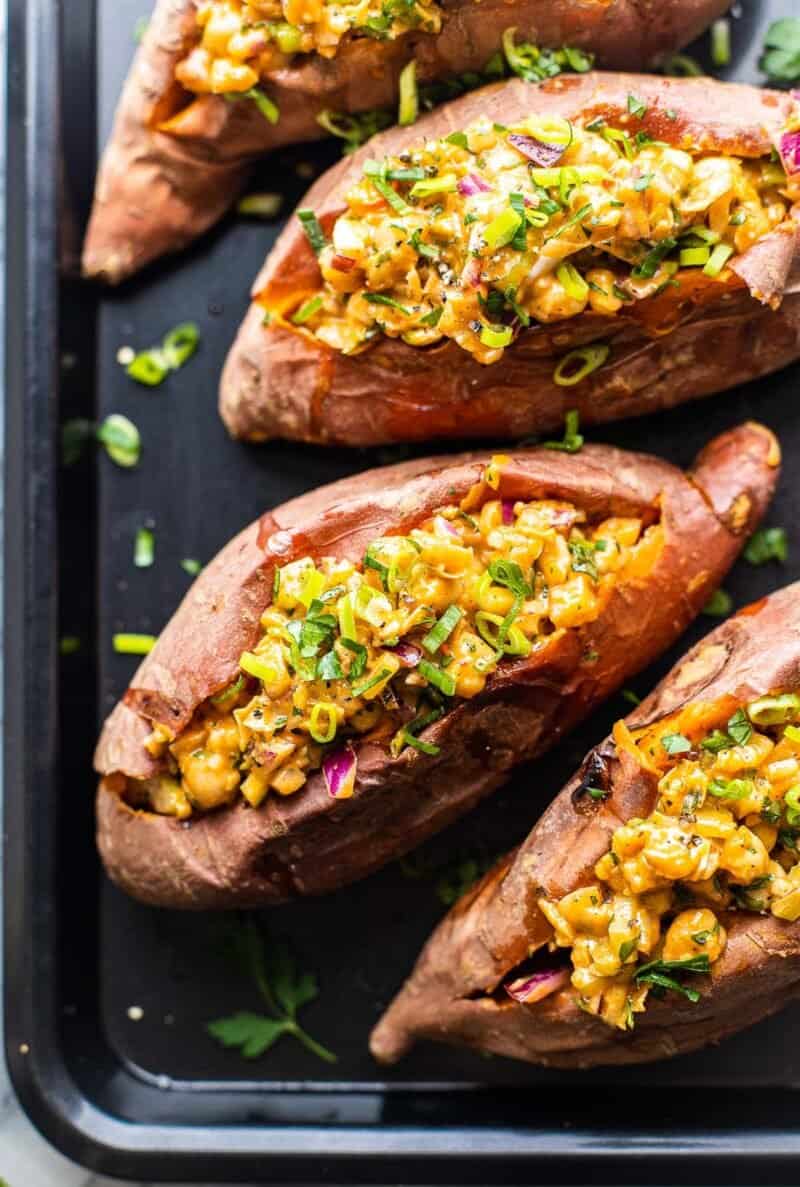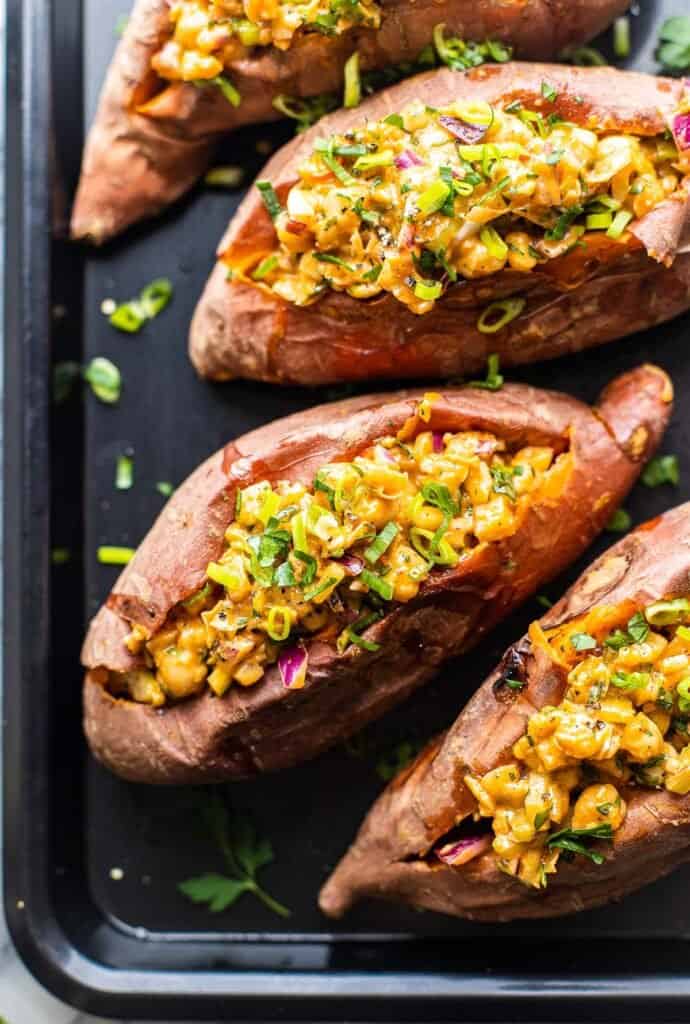 Different Ways to Prep Your Potatoes
Whether you're trying to beat the heat in the summer time or cut down on electricity – the air fryer and instant pot are both great tools that you can use to bake/roast your sweet potatoes.
Air Fryer:
Prick a few holes across the potatoes and rub a small amount of olive oil over the surface.
Arrange the potatoes in an even layer at the bottom of the air fryer – don't stack them.
Bake at 390°F/200°

2 medium sweet potatoes will take about 35-45 to cook through
4 medium sweet potatoes will take about 45-60 minutes to cook through.
Instant Pot:
Prick holes across the surface of the potatoes.
Add 1 cup water to a 6 quart pot and 1.5 cups water to an 8 quart pot.
Place the steel trivet that came with the instant pot inside the pot with the handles up.
Place the potatoes on the trivet in a single layer.
Cook on high for 17 minutes for medium sized potatoes and 22 minutes for large potatoes. When finished, let the instant pot depressurise for 10 minutes before venting and releasing.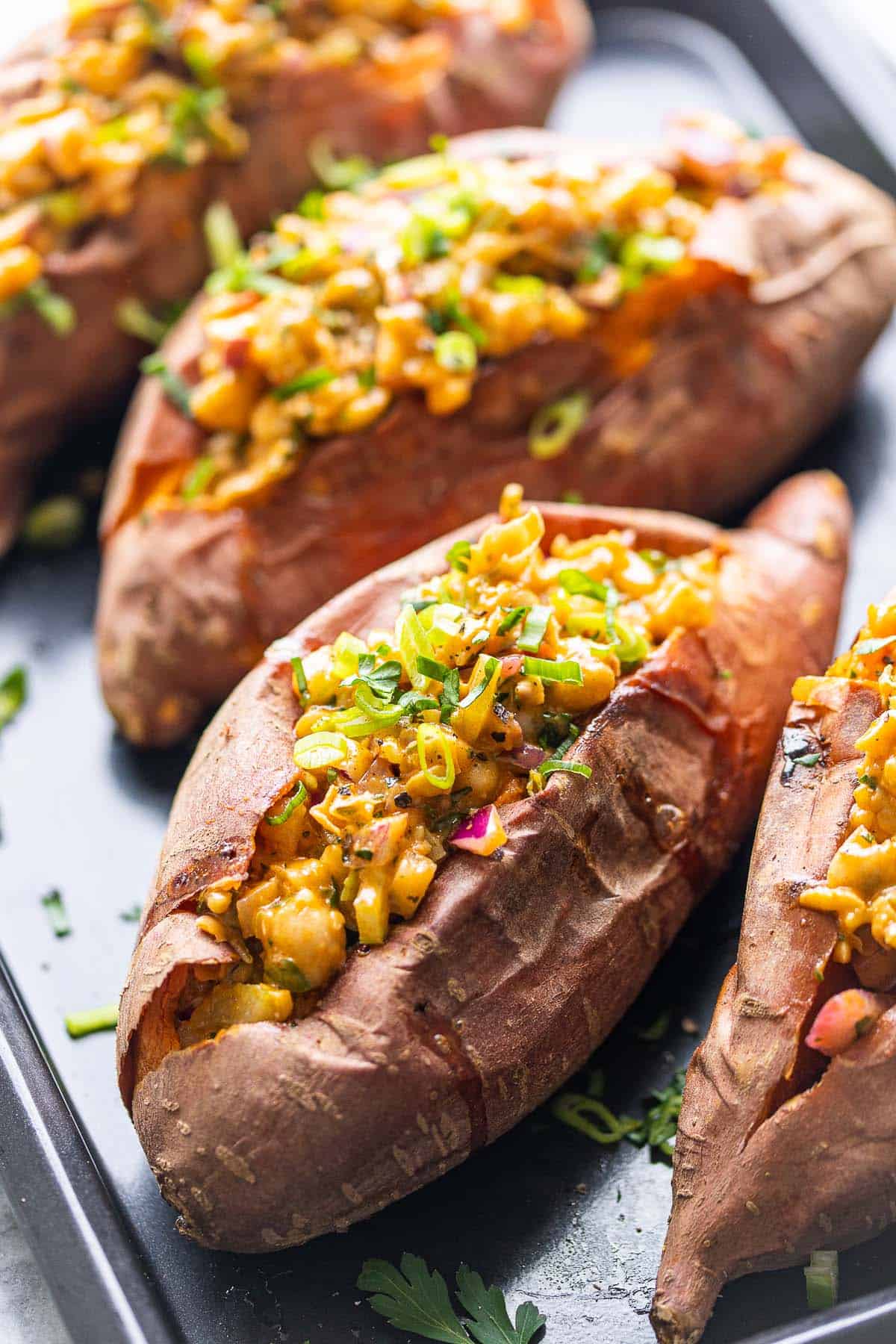 Recipe
Stuffed Sweet Potatoes with Spicy Smashed Chickpeas
Yield:
4
Prep Time:
15 minutes
Cook Time:
50 minutes
Total Time:
1 hour
5 minutes
With minimal prep and wholesome ingredients - these stuffed sweet potatoes make for a supremely simple and satisfying plant based meal!
Ingredients
4medium sized sweet potatoes, washed
Mayo Mixture
1/4 cup vegan mayo
1-2 tablespoons sriracha (ensure gluten free)
1 tablespoon lemon juice or lime juice
3/4 teaspoon paprika
1/2 teaspoon garlic powder
1/2 teaspoon salt plus more to taste
Filling
1 cup celery, finely diced, measured and chopping
1/2 cup red onion, finely diced, measured and chopping
3 spring onions, diced
1/4 cup fresh parsley, chopped
1 14 oz (400 g) can chickpeas, drained and rinsed
Instructions
Preheat oven to 400°F/205. Use a fork to poke holes around the sweet potatoes to allow steam to escape as they cook.
Once fully heated, place the sweet potatoes in the oven on a large baking sheet. Let cook about 45 minutes to an hour (depends on how big the sweet potatoes are) or until tender to the touch.
In a small bowl, mix the mayo mixture together until fully combined.
In a large bowl, add the chickpeas and mash with a fork or potato masher until chunky and mostly mashed. Stir in the the chopped veggies and herbs.
Add the mayo mixture to the salad ingredients and mix everything together until fully combined. Taste and season with more salt and pepper as needed.
After removing the potatoes from the oven slice an opening down the lengthwise. Spoon the filling into the middle, top with fresh herbs if desired and enjoy.
Notes
Unfilled, baked sweet potatoes can be kept in the fridge for up to four days or in the freezer for up to 3 months.
Leftover chickpea filling can be kept stored in an airtight container in the fridge for up to 4 days.
You can swap out the sriracha for your preferred hot sauce or replace it with 1-2 teaspoons chili powder.
This website provides approximate nutrition information for convenience and as a courtesy only. Nutrition data is gathered primarily from the USDA Food Composition Database, whenever available, or otherwise other online calculators.
More Vegetarian Sweet Potato Recipes You Might Enjoy