Delicious, filling and nutritious – this Red Lentil Dahl packs in a hearty helping of comfort and satisfaction in one large pot in around 30 minutes! It's the type of dish you can enjoy as a side or a main meal depending on how hungry you are. This lentil dahl recipe is a simple dish that keeps it simple with pantry staples (no coconut milk or tomato here) without compromising on flavor! | Gluten Free + Vegan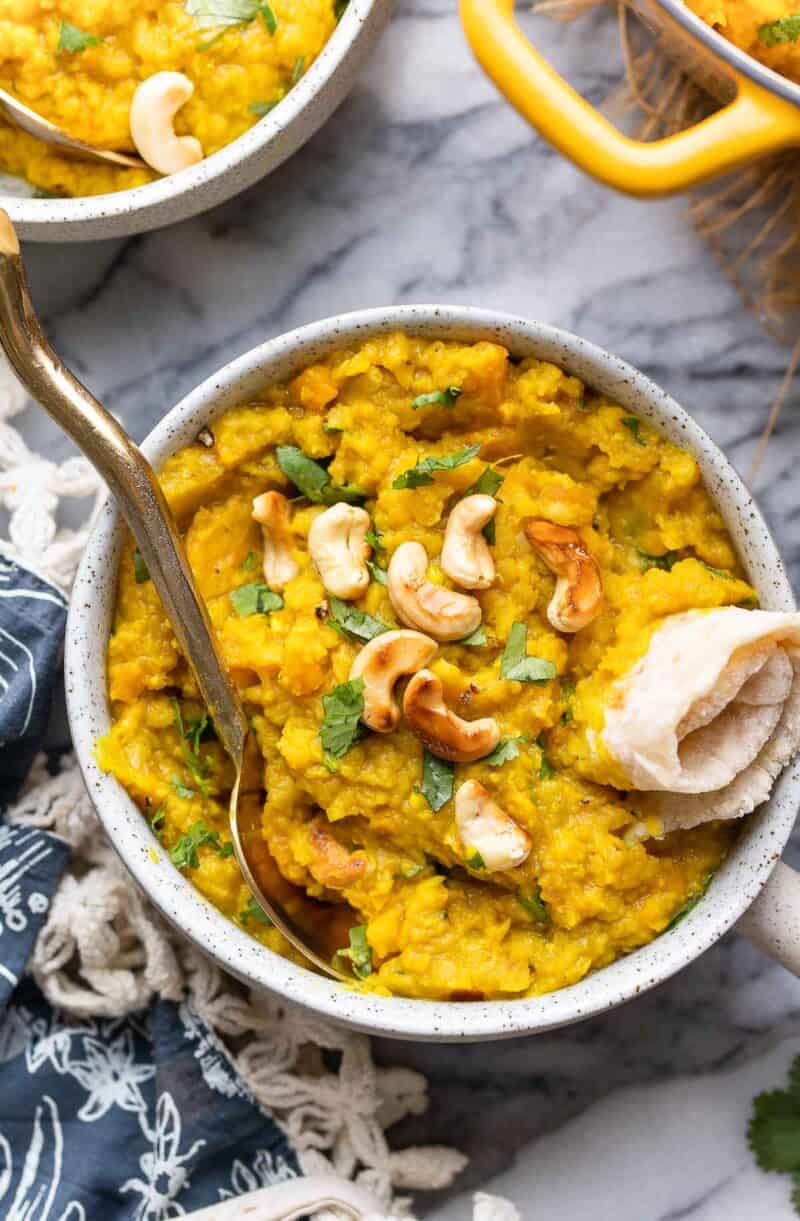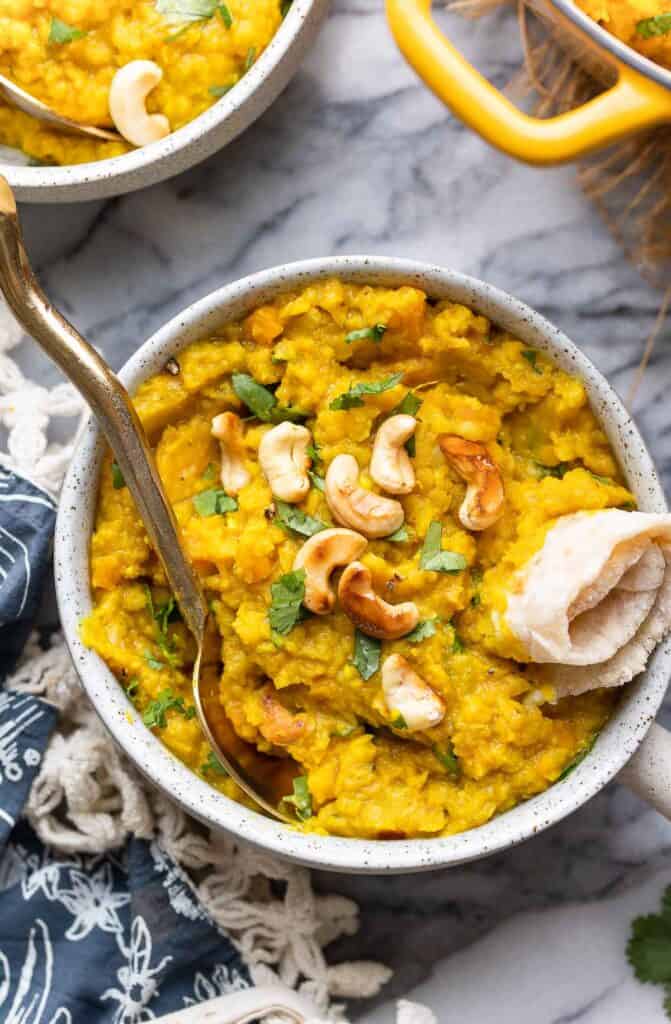 Dahl? Daal? Dal? What is it?
Dahl (also known and dal and daal) refers two things: an ingredient and a staple dish.
Dried split pulses that don't require soaking (like lentils, peas and beans).
A popular Indian curry made from split pulses (like red lentils) that are cooked into a thick and hearty stew.
Like most traditional recipes, preparation, ingredients and texture vary depending on location. Some regions more commonly use yellow split peas while others prefer mung beans.
While standard dahl prep has you cook the lentils in a simple spiced broth before adding them to another curry pot, this recipe streamlines the process so you can make it all in one pot.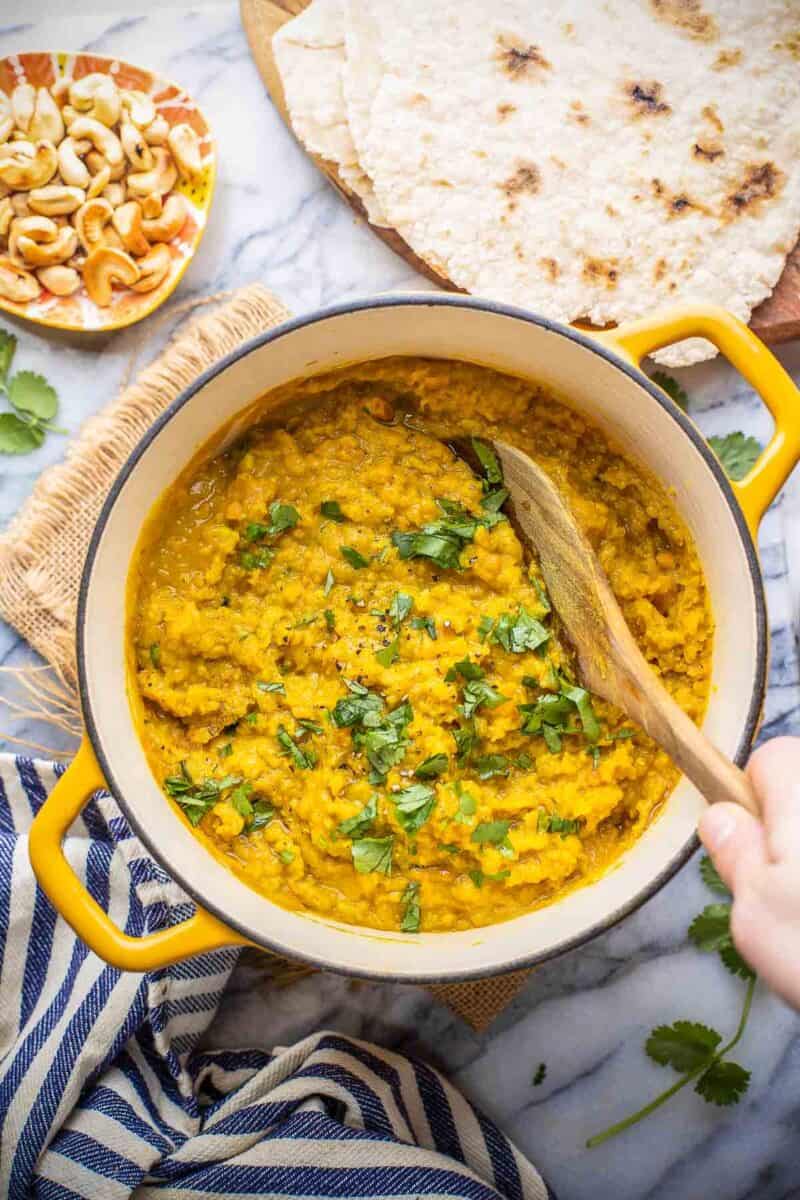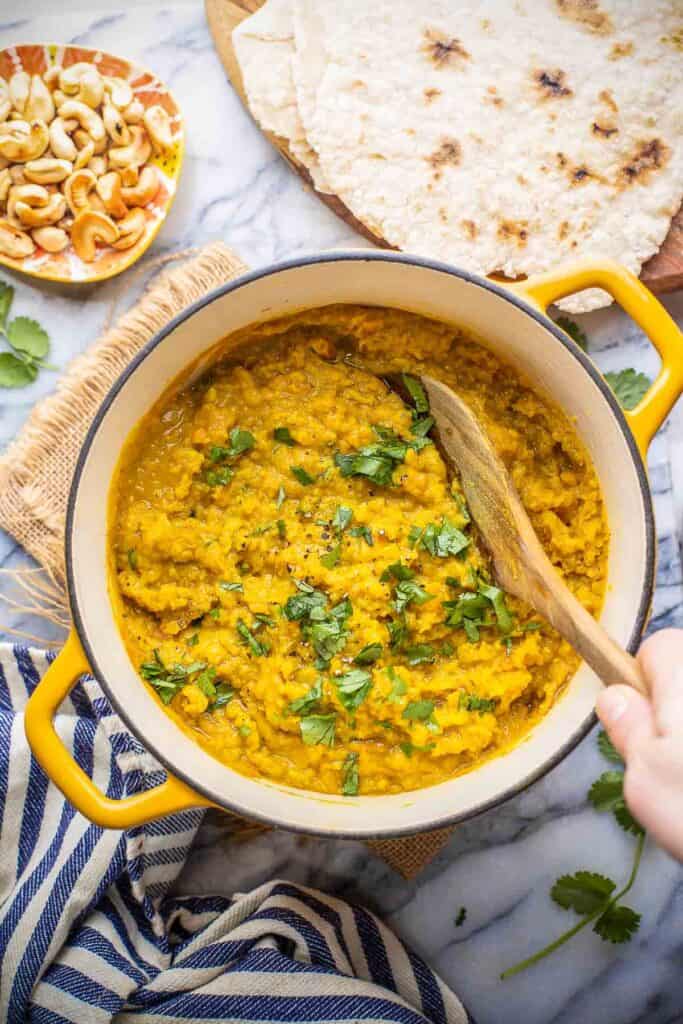 The pros of a Red Lentil Dahl
You can absolutely make dahl from different types of lentils, but there are a few benefits specific to make a red lentil dahl recipe (masoor darl|) in particular:
They're usually quite affordable and easy to find most grocery stores chains.
Since they're dried, they've got a nice long shelf life making them a great pantry staple to keep on hand.
Red lentils cook much faster than most other lentils. Due to the amount you only need about 15 minutes at most of them to cook through.
Red lentils are highly nutritious and a great source of energy. They're full of protein, fiber, iron and a number of valuable vitamins and minerals.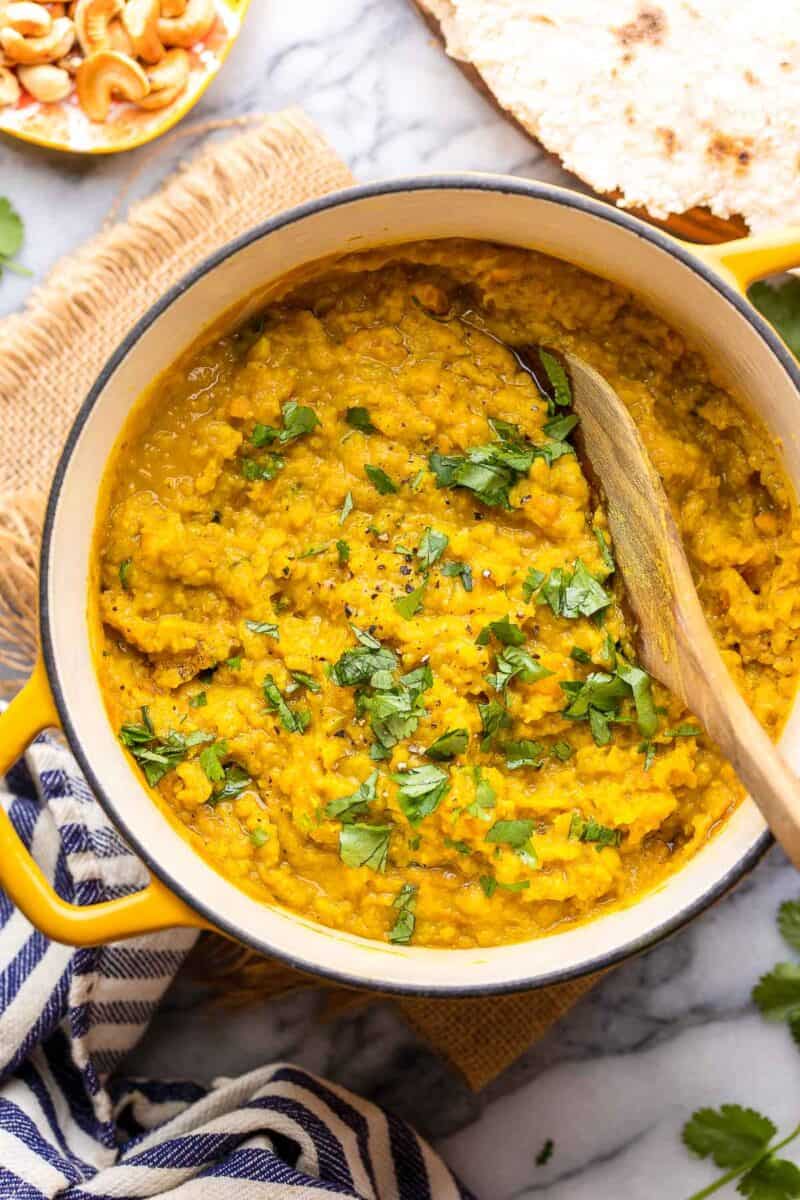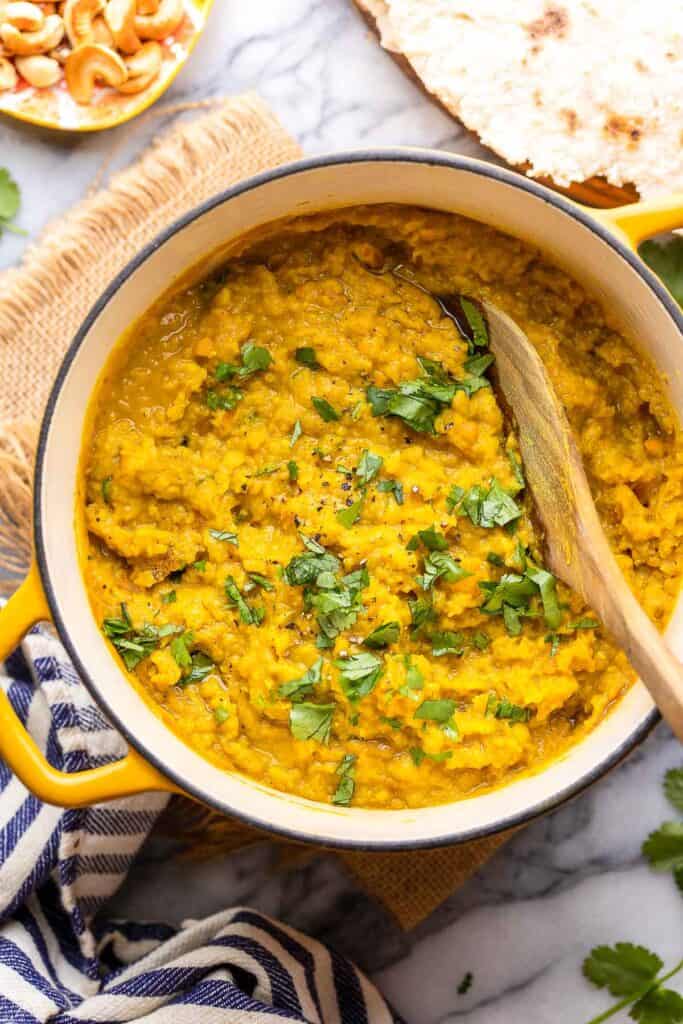 Sauté
Sauté the aromatics (yellow onions, carrot, garlic and ginger) for about 5-7 minutes in a large pan or dutch oven pot. Frying the veggies first give them a chance to soften and release their essential flavors. All in all, this creates a more layered, flavorful dish.
Next, add the spices to the pot and mix together. Cook another minute or so making sure to mix everything together well.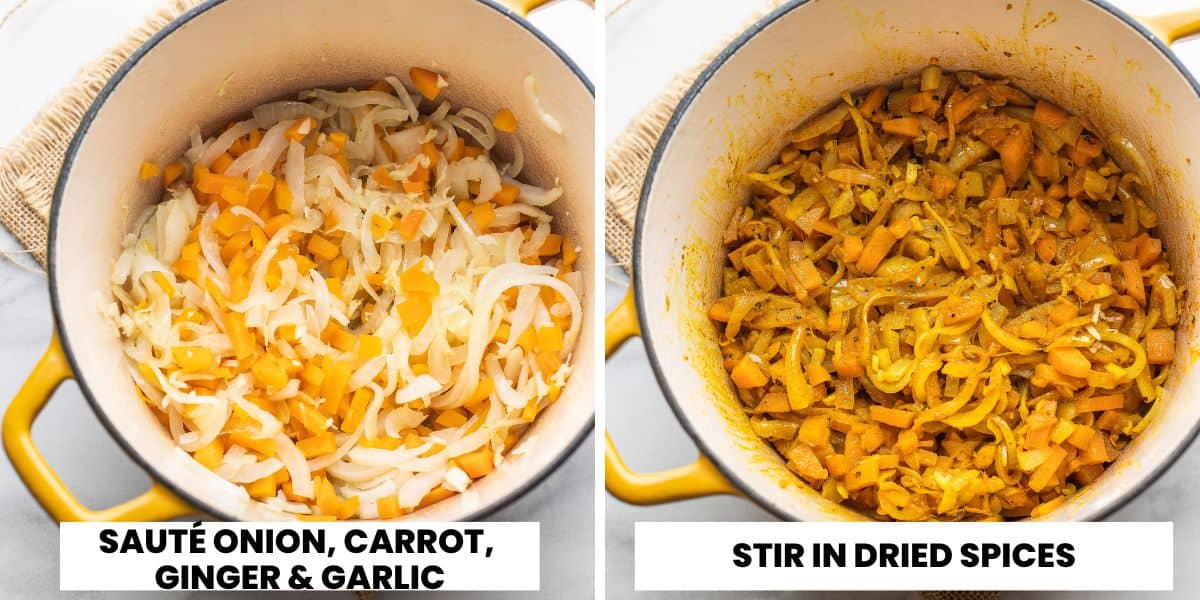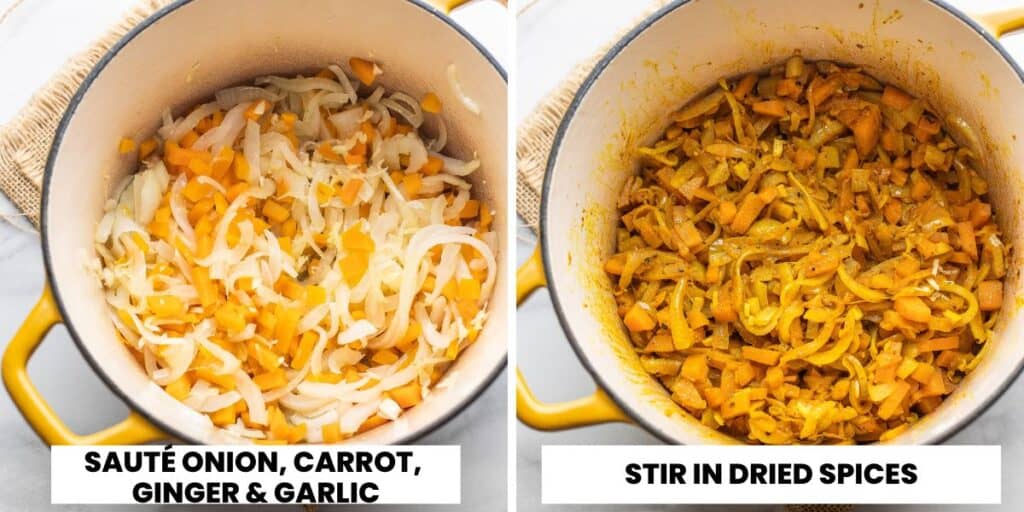 Add lentils & simmer
Stir in the dried lentils. Again, mix well to fully coat the lentils in the seasoned veggie blend.
Add the broth to the pot and bring to a boil. Once boiling, reduce to the temperature to a medium low heat, or just hot enough to let the pot simmer. Let it all simmer, uncovered for about 15 or so minutes until the lentils are plump and tender.
Stir in the lemon juice, season with salt and pepper as you see fit and that's it! Depending on your own personal preference on how thick you'd like it you can continue to simmer for a little longer. You can also add a bit more liquid to the pot to make it more like a lentil soup.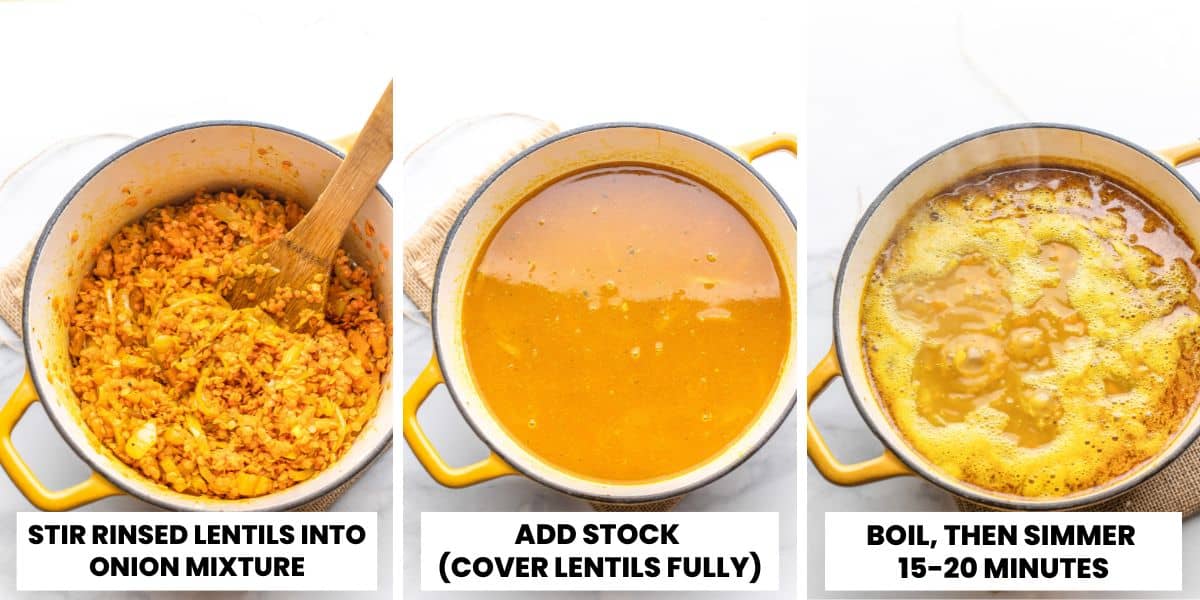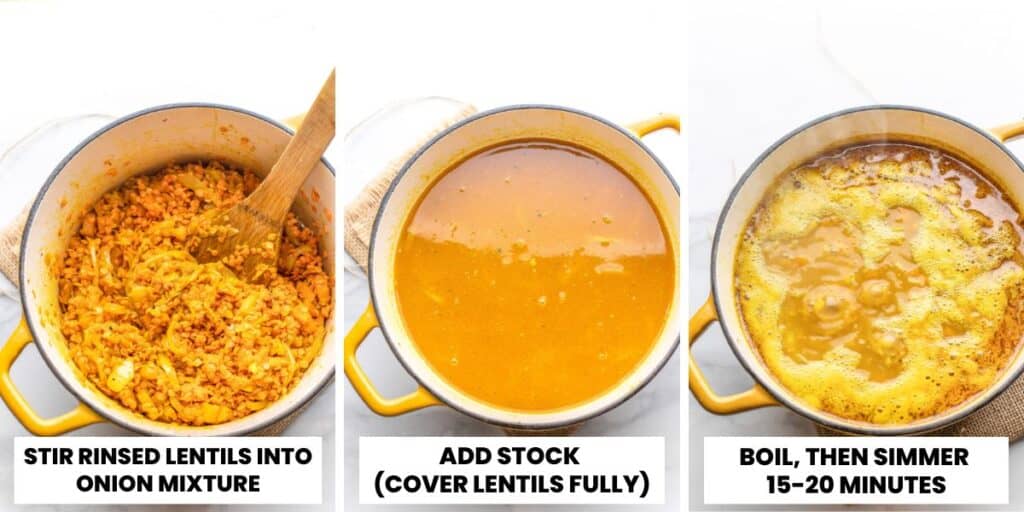 Optional Add-Ins & Substitutions
Brown lentils instead of red lentils:

Increase the stock to 6 cups total and increase the simmer time by about 20-25 minutes. Brown lentils have an earthier flavor and will hold their shape more than red lentils.

Water instead of vegetable broth:

Water will absolutely work here but you will need to salt and season the dahl more heavily. I don't add any additional salt in the recipe as written because the stock adds plenty.

By the way – stock made from stock cubes also works in case that's not clear!
If you don't need this recipe to be vegan or vegetarian friendly you can also use chicken stock.

Omit the carrots or add sweet potato in its place:

I added carrots as a way to bulk this out with a bit more veg and add just a bit more texture. You can leave them out or replace them with diced sweet potato. Just make sure to chop the sweet potato up into small pieces so it cooks in time with the lentils

Add spinach or kale:

Mix in a few minutes before the end of the cooking time until soft and wilted.

Coconut milk:

Reduce to 2 cups of vegetable broth and add one can of coconut milk. Just make sure it's unsweetened. Full-fat coconut milk will make a slightly creamier red lentil dahl, but a lighter coconut milk will cut down on calories.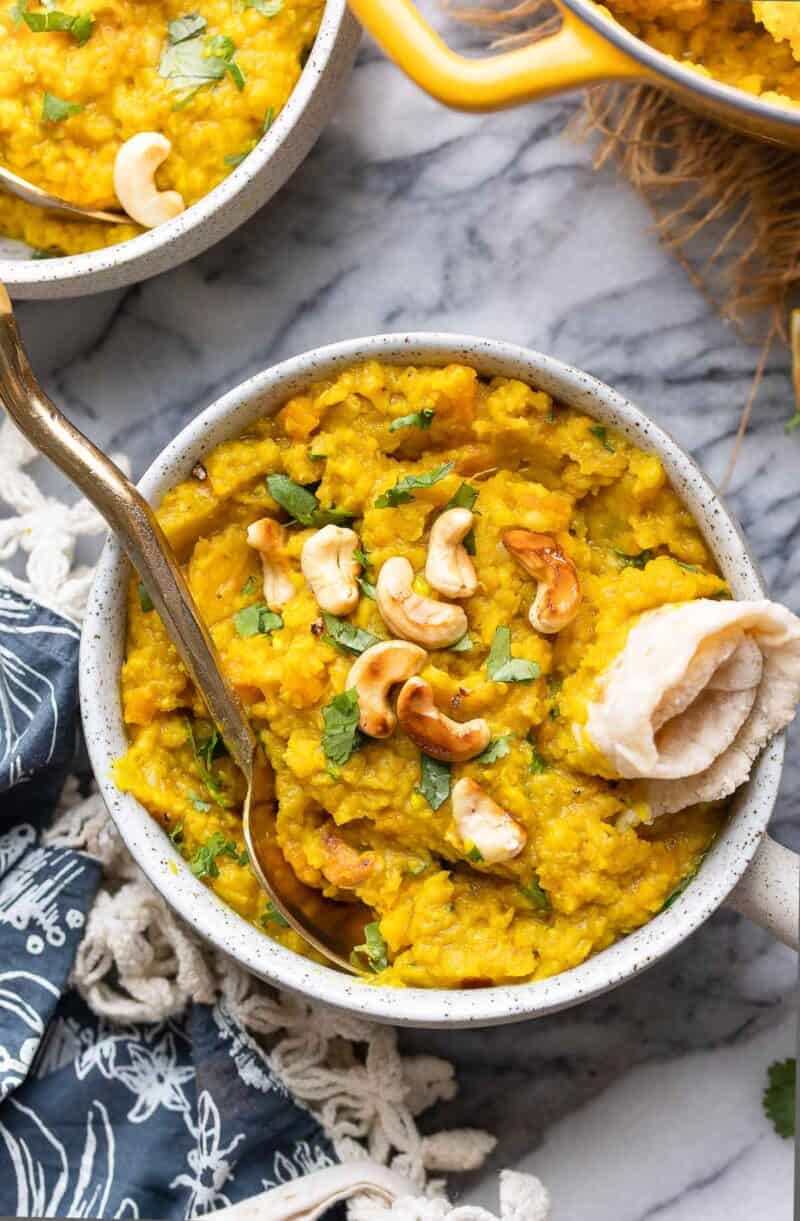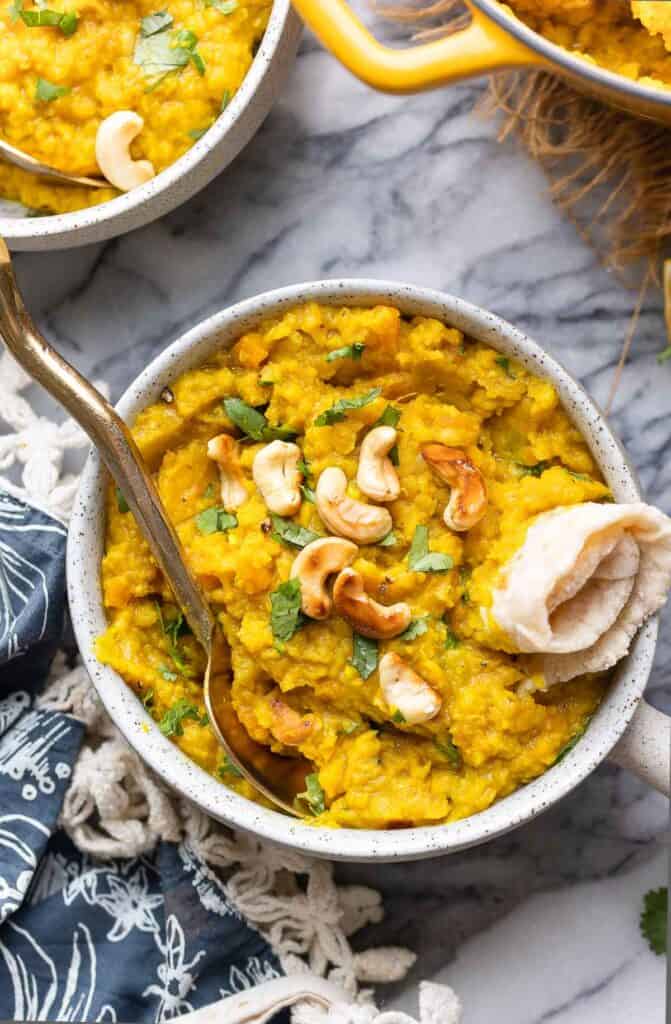 Serve & Enjoy
Because this recipe comes together quickly and easily in one pot, it makes a great option for busy weeknights.
Traditionally dahl is enjoyed as a side dish, but it's filling enough to also enjoy as a main with a side of rice and some flatbread.
And that's it!
✔️Easy
✔️Delicious
✔️Filling
✔️Nutritious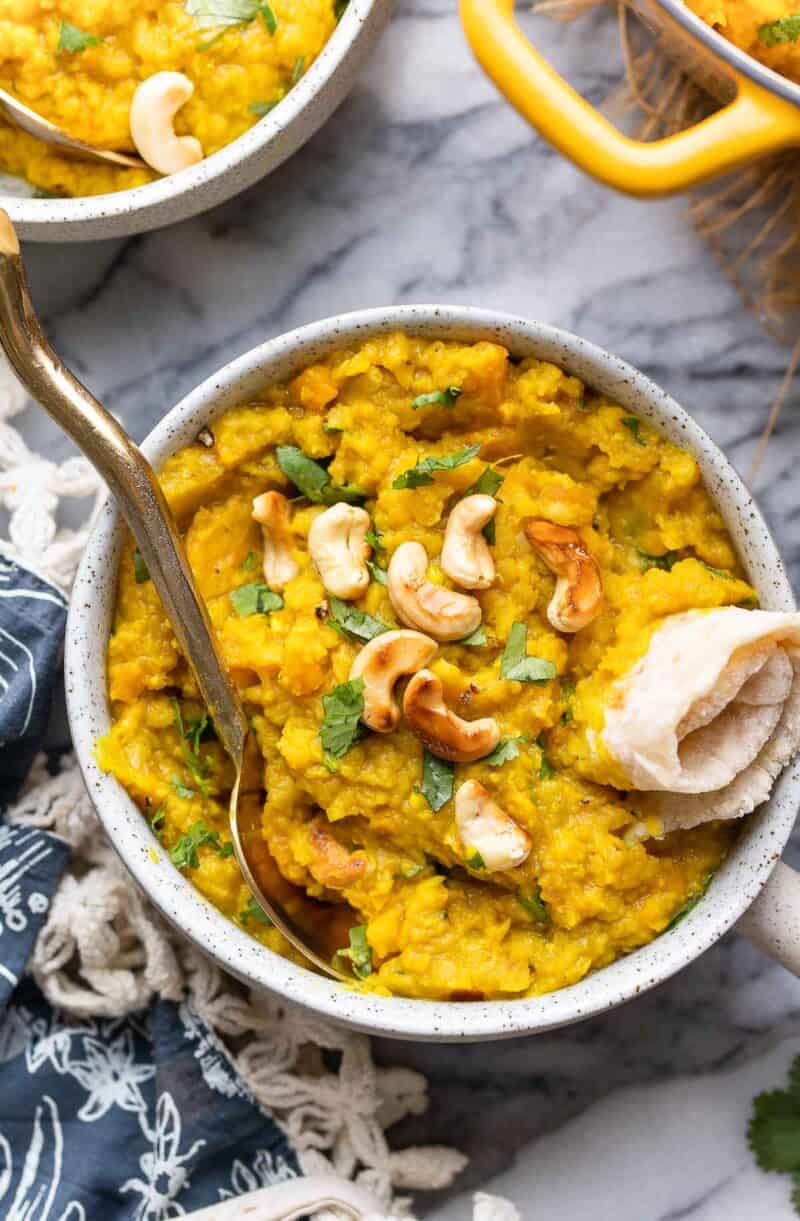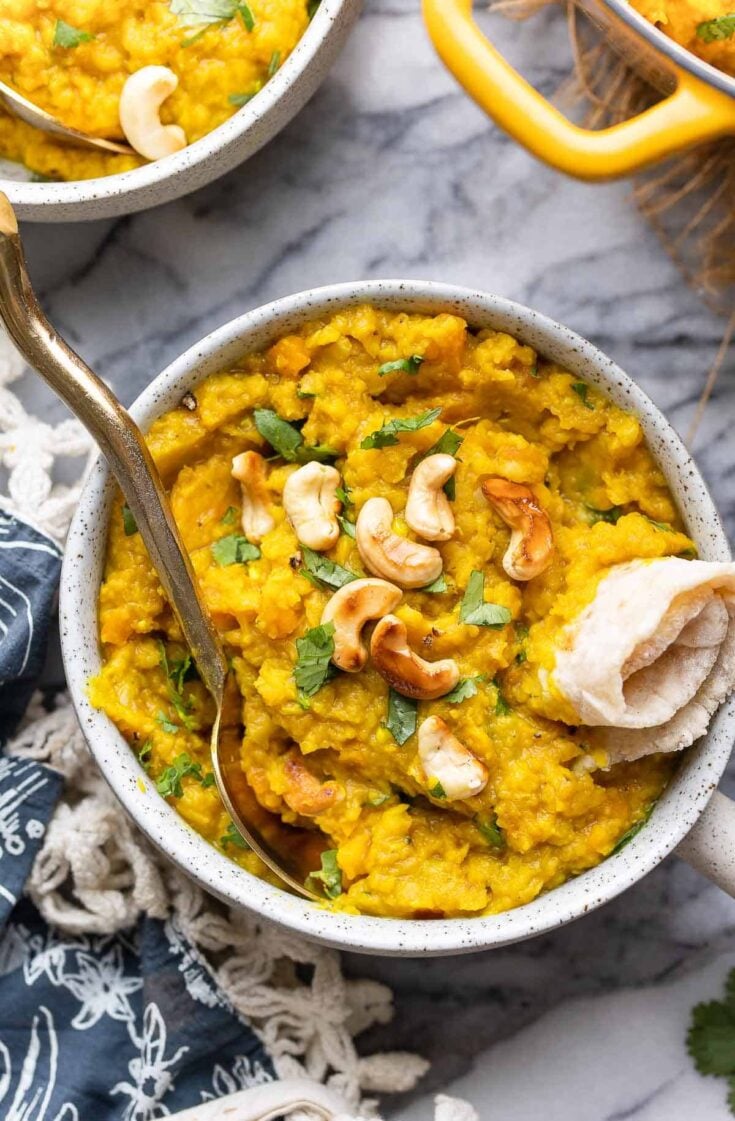 Recipe
One Pot Red Lentil Dhal
Yield:
6 servings
Prep Time:
10 minutes
Cook Time:
30 minutes
Total Time:
40 minutes
This lentil dahl recipe keeps it sweet and simple with the ingredients (no coconut milk or tomato here) without compromising on flavor! | Gluten Free + Vegan
Ingredients
2 tablespoons coconut oil
1 large onion, thinly sliced
1 large carrot, finely diced
3 cloves garlic, minced
1 inch piece of fresh ginger, grated
1 teaspoon ground turmeric
1 teaspoon ground cumin
1/2 teaspoon paprika
1/2 teaspoon chili powder
1/2 teaspoon ground coriander
1/2 teaspoon black pepper
1 1/2 cups dried red lentils (290 g)
4 cups vegetable stock (960 ml)
2 tablespoons lemon juice or lime juice (30 ml)
1 teaspoon garam masala
Instructions
Heat a large, heavy-bottomed pot over a medium heat. Add the oil to the hot pot. Add the chopped onion, carrots garlic and ginger to the hot oil. Sauté for 5-7 minute.
Stir in the dried spices: turmeric, cumin, chili powder, paprika and coriander. Cook another 2 minutes.
Stir in the rinsed lentils mixing well into the onion mixture.
Pour in the stock and stir to combine. Bring to a boil then reduce to a simmer. Let the pot simmer, uncooked for about 15-20 minutes until most of the liquid has been absorbed. If the dalh is looking too thick add more vegetable broth or water (about 1/4 - 1/2 cup [60-120ml]). The lentils should be plumped up and tender. Stir every so often to keep the bottom from burning.
Mix in the lemon juice and garam masala then taste and season with more salt and pepper as you see fit.
Add your preferred toppings and sides and enjoy.
Notes
Serving & Topping Suggestions
I recommend serving this with some sort of flatbread or naan bread. Traditionally dahl is enjoyed with chapti or rota (an unleavened flatbread). The consistency of the flatbread is soft and pliable like my cassava flour flatbread or even more 3 ingredient wraps.
Fresh cilantro or parsley and/or toasted cashews or almonds for topping
Add a dollop of yoghurt or coconut milk for serving
Add a side of basmati rice.

Leftovers
Store leftovers in an airtight container for 5-6 days.
Cool completely and store in an airtight freezer safe bag or container for up to six months. Thaw in the fridge over night. Reheat on the stove top or in the microwave for a couple of minutes until steamy hot.

Nutrition Information
Yield:

6
Serving Size:
260
Calories:

253
Total Fat:

6g
Saturated Fat:

4g
Carbohydrates:

40g
Fiber:

7g
Sugar:

4g
Protein:

14g
This website provides approximate nutrition information for convenience and as a courtesy only. Nutrition data is gathered primarily from the USDA Food Composition Database, whenever available, or otherwise other online calculators.
More Plant Based Recipes You Might Enjoy