This rustic Toad in the Hole recipe is Gluten-free, Dairy-free, Grain-free and sure to make your mouth water! Freezer friendly.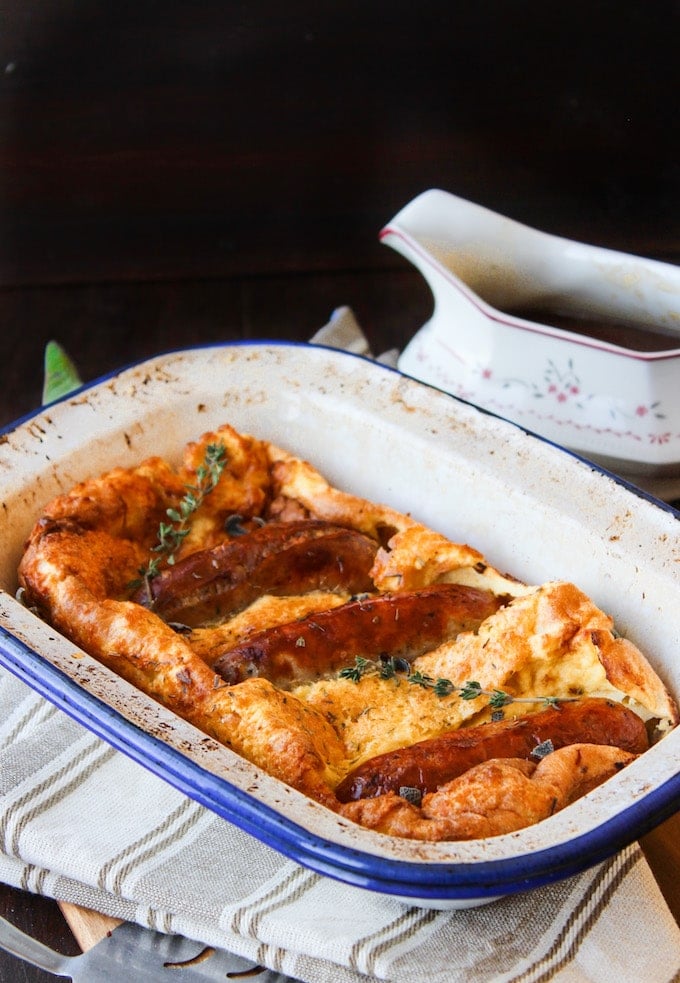 God, this recipe takes me right back to my childhood. I must've been around 5 or 6 years old and I was staying with my grandparents in Bradford with my sister. I was a little nuisance back then so I'm sure my parents were glad to have some time off. Anyway, my Nan & Grandad had taken us on a daytrip to Ilkley Moor. If you're not from around here that name might not mean much to you, but if you're from Yorkshire you'll know it as the home to a well known folk song. Seriously, just try and understand these lyrics without reading the standard English version.
So we were on Ilkley Moor, and with my Grandparents being very proud Yorkshire people, they attempted to teach us the 'words' to the song. I can't speak for my sister but the only part that I was able to remember was the bit about the hat – beyond that it was like being taught another language! They had as much luck teaching me those lyrics as my other Nan did when she tried to teach me how to pronounce Llanfairpwllgwyngyllgogerychwyrndrobwllllantysiliogogogoch – yeah, that was never going to happen.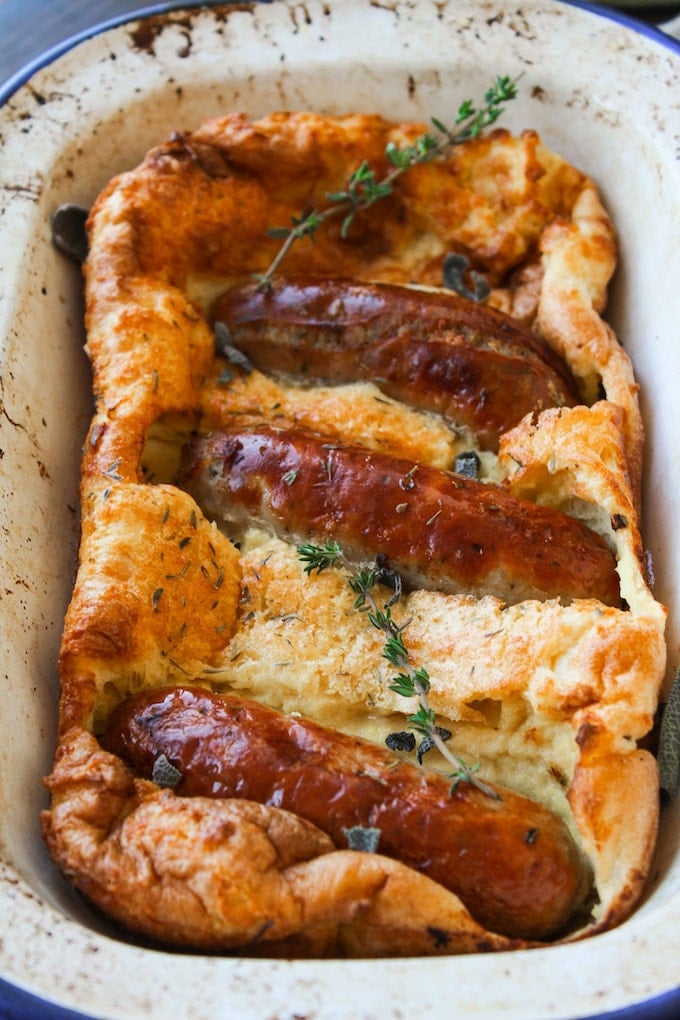 So how does all this rambling relate to Toad in the Hole? The pub at Ilkey Moor served the biggest one I'd ever seen! It looked like a crater of Yorkshire pudding that'd been doused in gravy with four sausages thrown into it. I was amazed. Unfortunately for me I'd ordered something else, so I had to sit by and watch Kathryn devour the whole thing. Boo.
About this recipe
Luckily for me, I've made up for any missed toad in the hole opportunities and then some. My Dad, also being a Coeliac Yorkshireman, was the one who first gave us the idea to think up a gluten free version just over a year ago. What's different about this recipe, you ask? As well as being gluten free, this one is also grain free. So if you have trouble eating grains, now is the time to celebrate. Oh, and one more thing: if you truly want to take this meal up to the next level, I'd massively suggest making the onion gravy. It's amazing. Right, that's enough waffling about food – go put one in the oven and let us know what you think!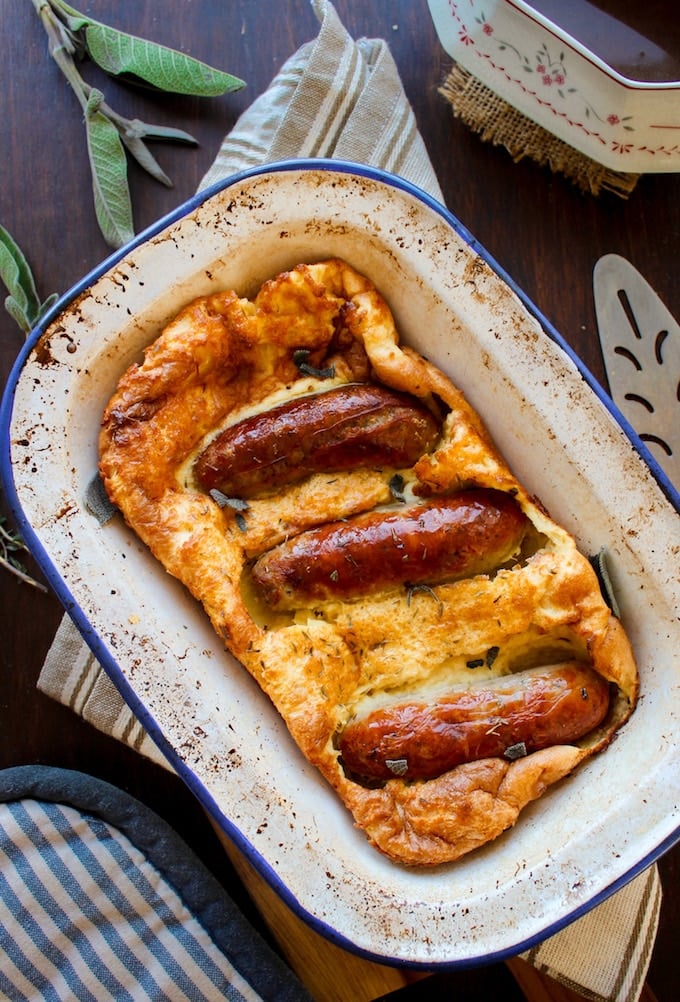 FACEBOOK | INSTAGRAM | PINTEREST  
Don't forget to #asaucykitchen on instagram if you try this grain free toad in the hole! We love to see what you make with it!  You can also post your pictures to my facebook page!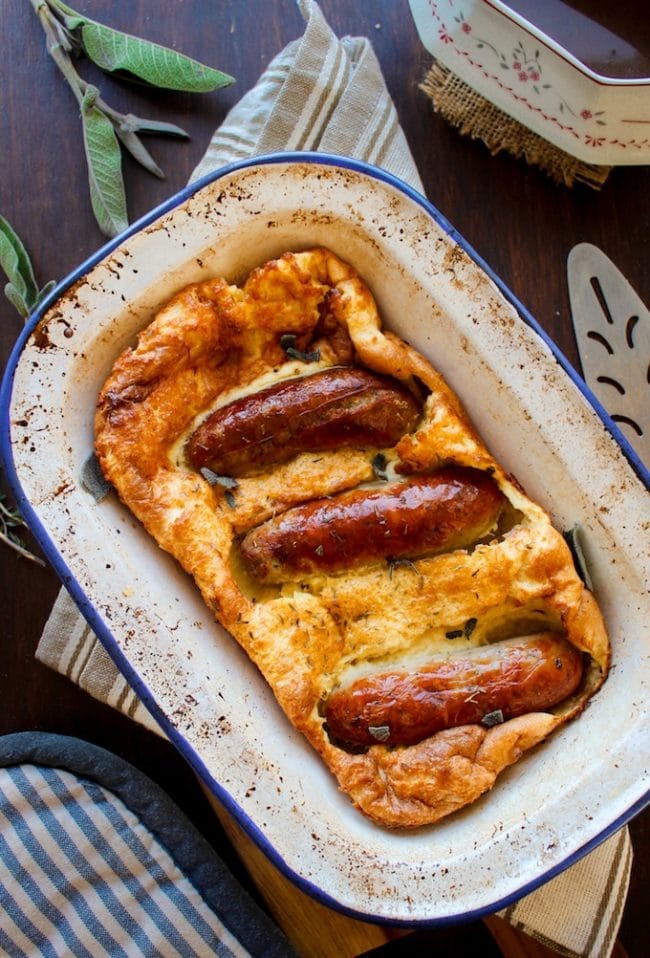 Recipe
Grain Free Toad in the Hole
Yield:
4 servings
Prep Time:
20 minutes
Cook Time:
40 minutes
Total Time:
1 hour
This rustic Toad in the Hole recipe is Gluten-free, Dairy-free, Grain-free and sure to make your mouth water! Freezer Friendly.
Ingredients
Toad In the Hole
4 gluten free sausages
3/4 cup + 2 tablespoons chickpea flour, 100 grams
2 eggs
1 - 1 1/4 cup milk of your choice 240 ml-300ml)*
1 stem of thyme, chopped
4 sage leaves, chopped
1/2 teaspoon sea salt
Gravy
1 large onion, chopped
1 teaspoon sugar
1 tablespoon butter or oil
1 1/2 cups beef stock
1 sprig thyme leaves
1 teaspoon Worcestershire sauce, or Henderson's (make sure to look for a gluten free brand)
2 teaspoons arrowroot or cornstarch
Instructions
Preheat your oven to 425°/220°C
Thoroughly grease an 8inch x 11inch roasting tin with 1 tablespoon of oil. Add the sausages and toss them in oil to coat. When the oven is fully up to temperature roast the sausages for 15 minutes.
While the sausages are roasting begin preparing the batter. In a large mixing bowl add the flour and salt and gently whisk together. Add the eggs to the flour and whisk.
Slowly begin pouring in 1 cup of milk. Whisk together until no lumps remain. Your batter should be the consistency of heavy whipping cream. If your batter is too thick, add a little more milk to the batter to thin it out. Mix in the thyme and sage.
In order to get the batter to rise you want the oil and pan to be pipping hot. Give the batter a quick stir before adding it to the sausages. When the sausages have roasted for 15 minutes take the pan out of the oven and quickly, but carefully pour the batter into the roasting tin along with the sausage. The batter should sizzle and bubble slightly as you pour it into the tray. Return the pan to the oven and bake for 30-40 minutes. When you can poke the center with a knife and it comes out clean then you're done.
Onion Gravy
Warm your butter or oil in a medium sized frying pan and stir in the onions. Cook the onions on a medium heat until they are soft and brown, about 10 minutes. Add the sugar to caramelize the onions and continue cooking for about 5-7 minutes. Stir often to prevent burning and sticking. Add the thyme.
In a small measuring jug combine the beef stock with the starch and whisk together with a fork until no starch lumps remain. Carefully pour the stock over the onions and bring to a boil. Once it reaches a boil reduce it down to a simmer. Add the Worcestershire or henderson's and season with salt and pepper as needed.
Serve along side the toad in the hole.
Notes
Usually I use coconut oil or butter when needed. For this particular recipe I wouldn't recommend using either since both smoking points that are much lower than the temperature needed to roast/bake the sausages and toad in the hole.
Freeze for later: Cool the toad in hole completely before double wrapping in plastic wrap and/or aluminum foil. Make sure to cover completely and tightly to prevent freezer burn. To cook from frozen preheat your oven to 425°F/ 220°C. Unwrap and place the toad in the hole on a baking sheet. When the oven is up to temperature bake for 25-30 minutes or until pipping hot. The internal temperature of the sausages should be 160°F/71°C
Nutrition Information
Yield:

4
Serving Size:
serving
Calories:

334
This website provides approximate nutrition information for convenience and as a courtesy only. Nutrition data is gathered primarily from the USDA Food Composition Database, whenever available, or otherwise other online calculators.