Fast and easy Chickpea & Chorizo Stew – make it in 30 minutes or less for the ultimate one pot dinner | Gluten Free + Grain Free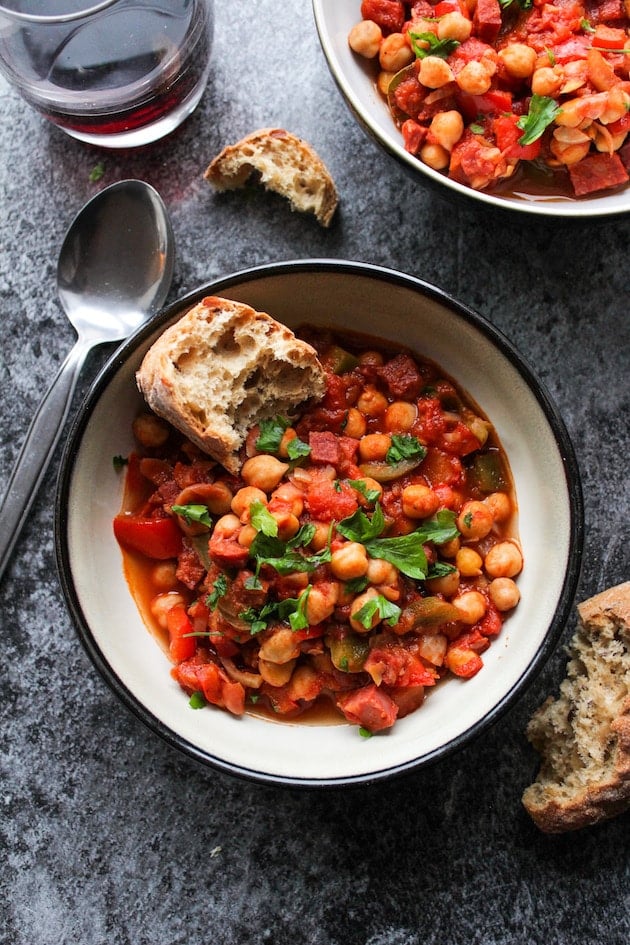 Happy first day of winter!
My mother-in-law will kick me in the shins for saying this, but I'm actually a little disappointed at the amount of snow we've had so far. NONE.
There was one morning about a month or two back where I woke up to a light dusting of snow on the ground but it was gone within a few hours. Boo!
Despite the lack of winter wonderlands, it's still been fairly brisk this year. There are few things as distinctly miserable as having to leave the comfort of a warm bed on a dark and chilly morning. It's bad enough when it's cold, but dark too? My brain just tells me it's time to get up and be productive! while my body is just laying there saying nope.nope.nope. until I finally force myself up.
At least I can console myself by warming up with hot bowls of comfort food like this chickpea & chorizo stew. It's like a hug in a bowl, but with added garlic and chorizo. I'll take it!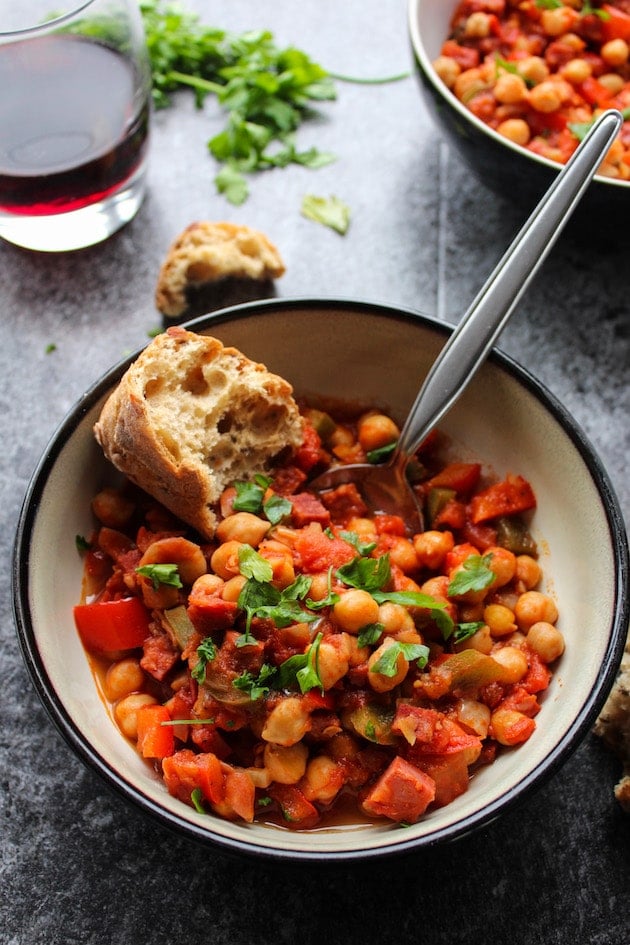 About this Recipe: Quick Spanish Chickpea & Chorizo Stew
Would you believe me if I told you that this chorizo stew takes 30 minutes to cook – tops? Even including prep time? Maybe if you're a slow vegetable chopper like Mike you'll cut it close, but I'm sure even he could finish this in time.
The base of this recipe starts with a quick sauté of garlic and onions. Let those two sweat it out for a couple of minutes while their aromas release and they begin to soften. Next, you'll add the chorizo, pepper, and bay leaves to cook for another 5 minutes while those flavors release. Then you simply introduce the wine, tomatoes, and paprika, cover and let that mixture stew gently on the stove for about 5-7 minutes. Finally, add the drained chickpeas, let those warm through and then season and serve. Don't forget to throw a handful of chopped fresh parsley for a little added brightness and you're all set!
If you're really feeling ambitious you can even make a fresh loaf of gluten free bread to go along with this.
How's that for fast and easy one pot wonders?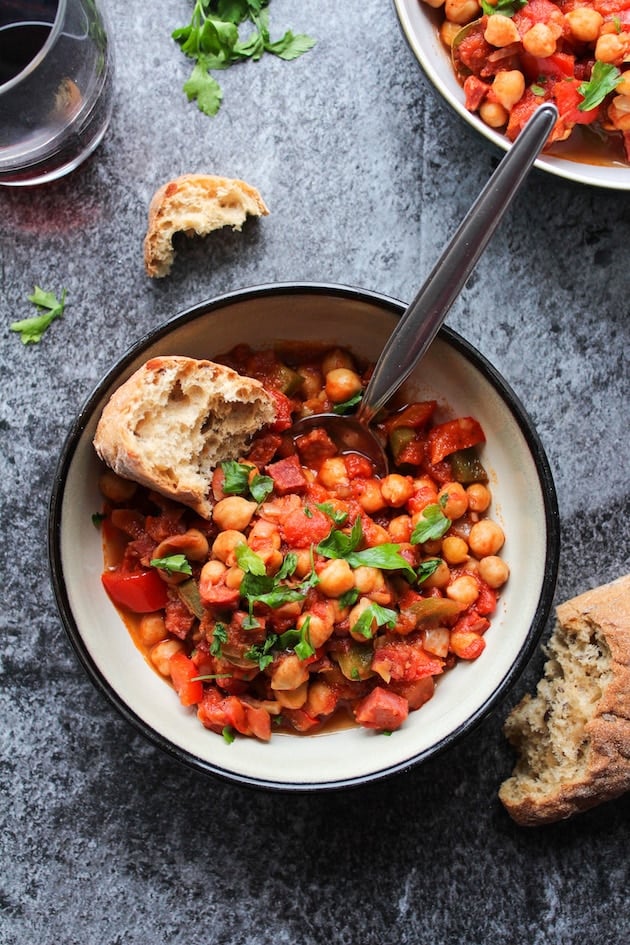 More Chorizo Recipe You Might Like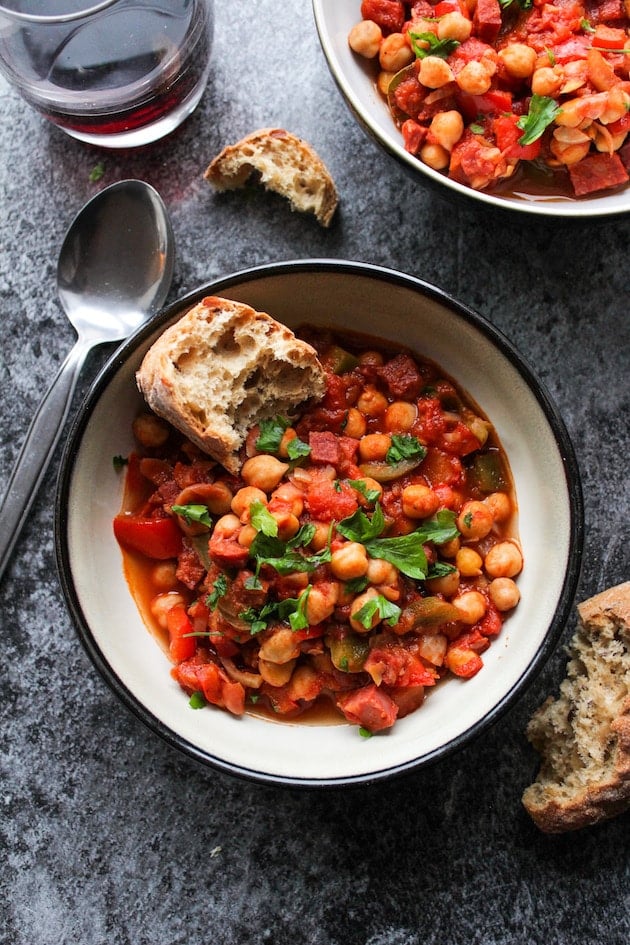 Recipe
Chickpea & Chorizo Stew
Yield:
5 servings
Prep Time:
5 minutes
Cook Time:
25 minutes
Total Time:
30 minutes
Fast and easy Chickpea & Chorizo Stew - make it in 30 minutes or less for the ultimate one pot dinner | Gluten Free + Grain Free
Ingredients
3 tablespoons | 45 grams extra virgin olive oil
1 medium onion, chopped
3 cloves garlic, crushed or minced
150 grams chorizo sausage, diced
1 small red AND green pepper, seeds removed and chopped
2 bay leaves
6 tablespoons | 90 ml red wine
1 1/2 teaspoons paprika
1 14 oz | 400 gram can chopped tomatoes
2 400 gram cans chickpeas, drained
1 teaspoon sea salt or to taste
1/2 teaspoon ground black pepper
small chopped handful, fresh flat-leave parsley for topping
Instructions
Warm the olive oil in a large saucepan over a low heat. Once the oil is warm add the onion and garlic and sauté for 3-5 minutes until starting to soften. Stir frequently to keep the garlic from burning. Add the diced chorizo, peppers, and bay leaves and cook for another 5 minutes.
Add the red wine, paprika, and chopped tomatoes. Give it all a stir to micx together and increase the heat to medium. Cover and let that gently stew for about 5-7 minutes. Remove the lid and let cook uncovered for 1-2 minutes to let the sauce reduce slightly.
Add the drained chickpeas, cover the pan once more and cook for another 3-4 minutes on a low heat to warm the chickpeas through. Season with salt & pepper, and taste.
Sprinkle over the fresh parsley and serve.
Nutrition Information
Yield:

5
Calories:

325
Saturated Fat:

5g
Cholesterol:

26mg
Sodium:

1183mg
Carbohydrates:

18g
Fiber:

5g
Sugar:

3g
Protein:

12g
This website provides approximate nutrition information for convenience and as a courtesy only. Nutrition data is gathered primarily from the USDA Food Composition Database, whenever available, or otherwise other online calculators.