Grain Free & Vegan Mince Pies with coconut flour, gingerbread spiced crust
Presents wrapped ✔️
Tree up (two trees!!) ✔️
Cookies baked ✔️ (but there are only about 500 batches left to be made)
Traditional mince pies made in a not so traditional fashion ✔️
I'm not so sure what Mary Berry or Paul Hollywood would think about gluten free vegan mince pies made with a coconut flour crust and gingerbread spices, but we're doing this!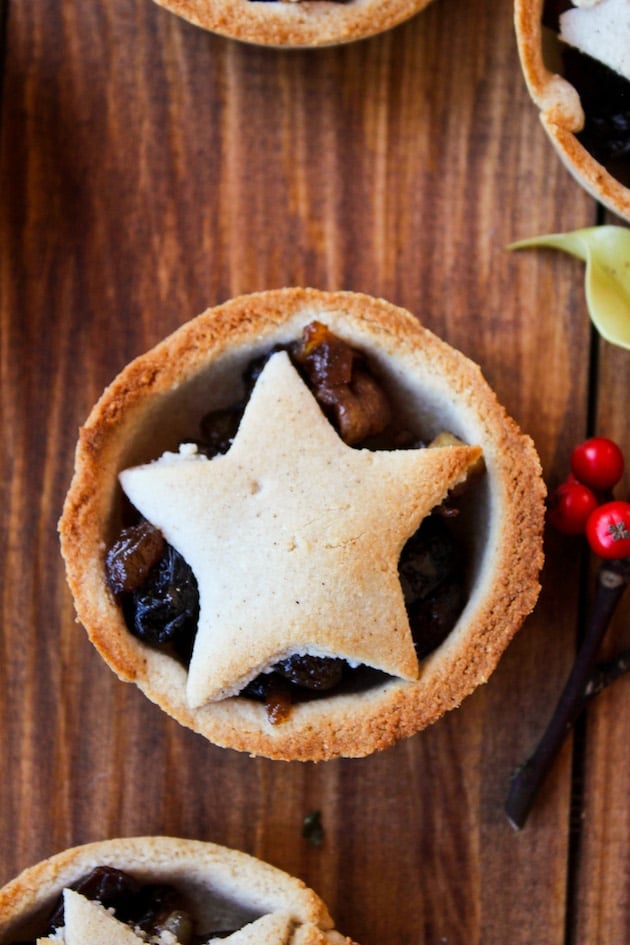 These mince pies have been kicking my ass for almost a year now. Well, maybe not these mince pies. These ones came together beautifully. It's such a joke how many mince pies I have gone through this past year though.
Last year, I really wanted to share a traditional mince pie recipe….as traditional as you can when making them with a coconut oil, gluten free vegan pie crust. *I'm now realizing that I can't do anything in a traditional fashion.*
Eventually I did figure out the coconut oil pie crust, but by the time I managed that I was losing the will to make any type of pie at all.
This year I started early. I tested/pictured my pies before Mike & I left for Arizona so that I'd be able to continue sharing recipes while we were away. But of course I live in one of the rainiest/grayest places on Earth and my pictures came out hopelessly dark and dreary that I decided to nix them.
When I finally headed back to the kitchen to conquer the mince pies once and for all, I just couldn't make the same recipe again. Ya know?
And dare I say it? I like these ones better anyway.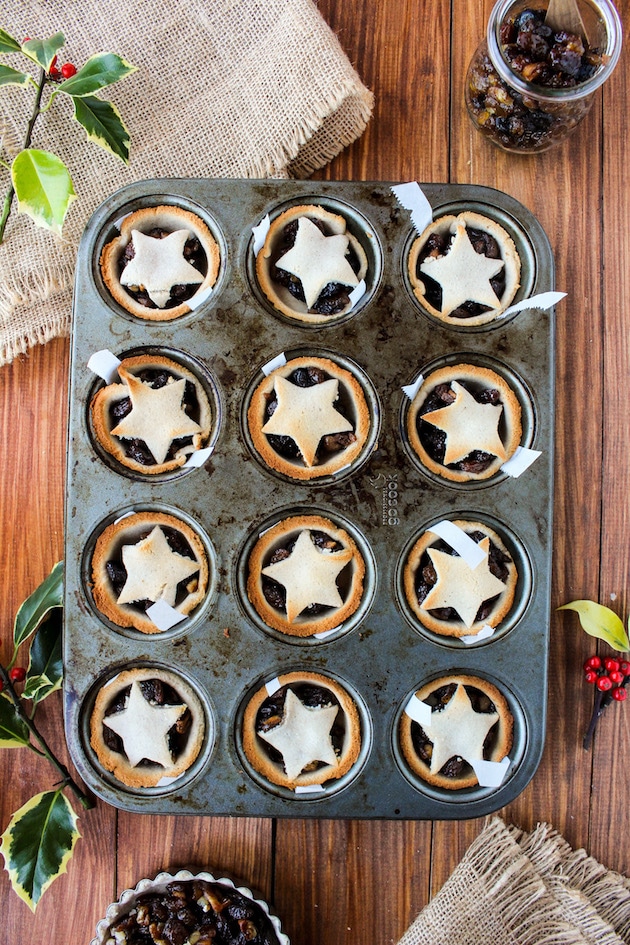 FACEBOOK | INSTAGRAM | PINTEREST  
Don't forget to #asaucykitchen on instagram if you make these paleo/ vegan mince pies. We love seeing what you make!  You can also post your pictures to our facebook page!
Recipe
Vegan Mince Pies with a Gingerbread Crust
Yield:
12 pies
Prep Time:
10 minutes
Cook Time:
45 minutes
Total Time:
55 minutes
Grain Free & Vegan Mince Pies with coconut flour, gingerbread spiced crust
Ingredients
Mince Filling
1 tablespoon coconut oil
2 tablespoons | 30 grams maple syrup, agave, or honey in not needing to be vegan
2 large apples, I used green apples, but it's your choice, peeled, cored and diced
1 cup | 165 grams mix of dried fruit, raisins, sultanas, cranberries, currants, etc
zest and juice of 1 large orange
2 tablespoons | 30 ml dark rum
1 teaspoon pure vanilla extract
½ teaspoon cinnamon
¼ teaspoon nutmeg
¼ teaspoon cloves
¼ teaspoon ground ginger
¼ teaspoon salt
Coconut Flour Crust
1 1/4 cup | 140 grams coconut flour
1/2 teaspoon ground cinnamon
1/2 teaspoon ground ginger
1/2 teaspoon allspice
1/4 teaspoon ground nutmeg
1/4 teaspoon ground cloves
large pinch of sea salt
2/3 cup | 135 grams coconut oil, soft but not melted
3 tablespoons | 64 grams agave if vegan or honey
Instructions
In a large sauce pan add all of the ingredients needed for the mince filling. Cook on a medium low heat for about 20-25 minutes until the apples soften and tender and the liquids have reduced Stir often to keep the fruit from burning at the bottom. Once cooked, remove the pan from the heat.
While the mince is cooking make the crust.
In a large mixing bowl whisk together the coconut flour and spices (including the salt) until well combined. Mix in the coconut oil and your sweetener (agave or honey) until a dough forms. Once mixed, let the dough sit for about 5 minutes so that the coconut flour has time to absorb the moisture of the coconut oil. This will make the dough easier to handle.
Preheat the oven to 350°F/180°C
Once ready to roll, lightly flour a clean surface with a dusting of coconut flour. I like to roll my dough between two sheets of parchment paper for easy clean up. Place the dough in the middle of your surface and roll out to be about ¼" - 1/6" thickness.
Use a round cookie cutter or drinking glass (3 1/2-4 inches in diameter) to cut out circles for your pies. Cut out 12 bases and gently press them into a greased or lines muffin tin (See note for tip). Fill each cup with 1-2 tablespoons mince meat. Re-roll the dough to cut out tops for the pies - I normally make stars, but you can use other cookie cutters or circle tops here. Cut out 12 shapes and place them on the top of your pie.
Bake in the preheated oven for 9-10 minutes or until the edges start to brown. Let the pies cool in the trays for at least 15 minutes before removing. Transfer to a wired cooling rack and then enjoy!
Notes
I recommend cutting thin strips of parchment paper about 6 inches long (or longer to fit your trays) to place in your muffins tins before adding the crusts. These will help you easily and gently pull out the mince pies after the cook without breaking. Look to the third image in this post to see an example.
Nutrition Information
Yield:

12
Calories:

260
Saturated Fat:

13g
Sodium:

88mg
Carbohydrates:

29g
Fiber:

5g
Sugar:

21g
Protein:

1g
This website provides approximate nutrition information for convenience and as a courtesy only. Nutrition data is gathered primarily from the USDA Food Composition Database, whenever available, or otherwise other online calculators.