Gluten free coconut oil pie crust – only five ingredients needed to make this tender, flaky pie crust that's completely dairy & nut free.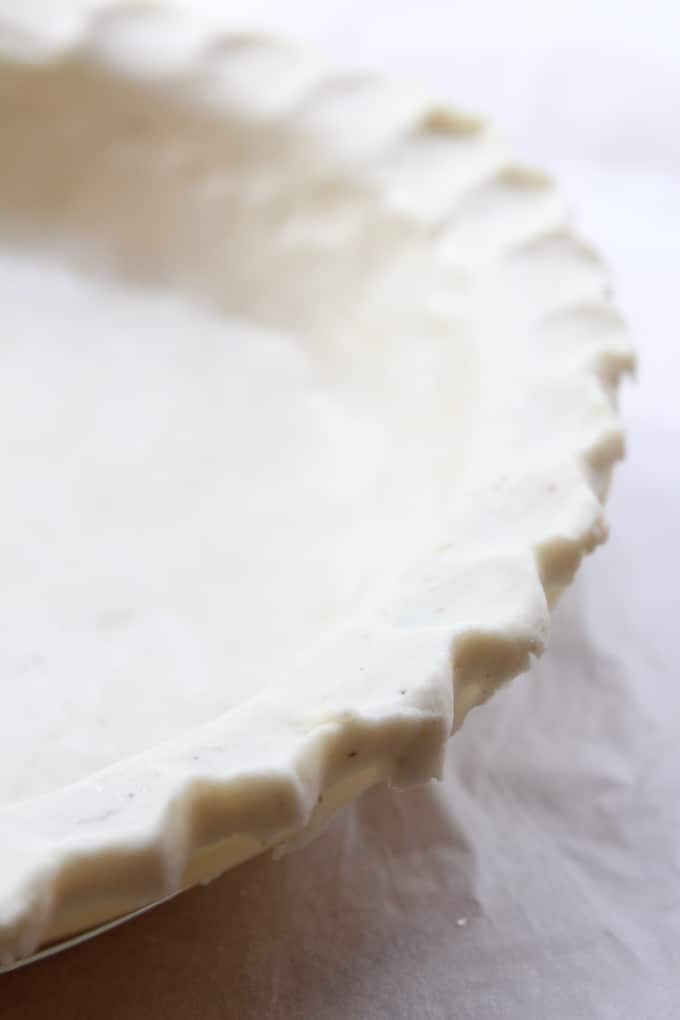 Ok so full disclosure: I love dairy. I love butter. I love cheese. I love cream in my coffee. However I am married to a man that seems to be more on the lactose intolerant side. For the most part Mike likes to completely avoid dairy, but every now and then he'll indulge in a pizza or something. I both love and hate that fact because it means that I end up eating and cooking with a lot less cheese than I'd like, but that's probably also a blessing in disguise.
Alright now we can begin.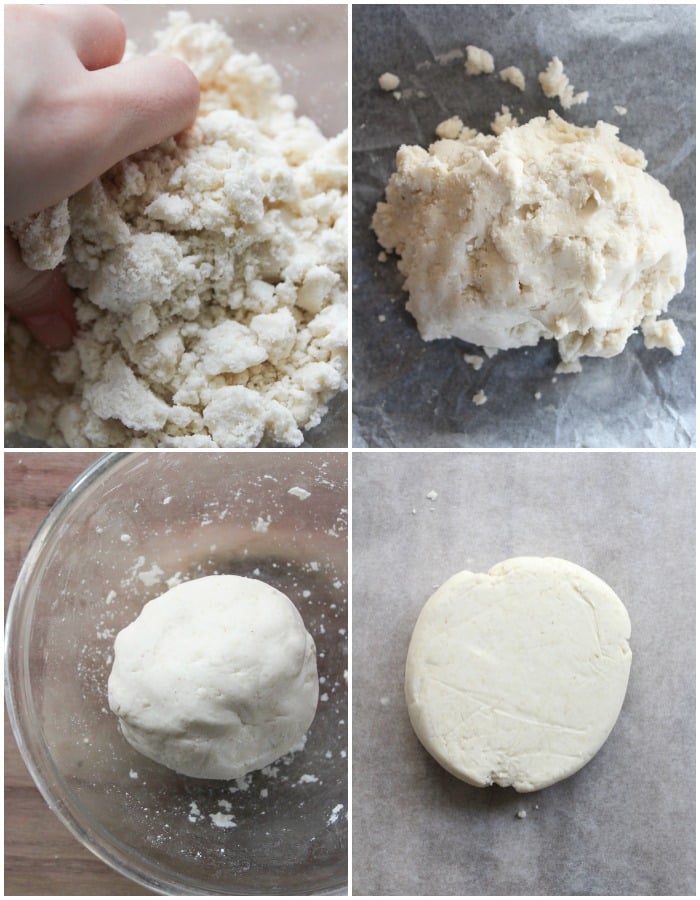 I've spent the past several days destroying our kitchen trying to get this sucker right. I hate thinking of how much coconut oil I went through in the process, but that's just the price you pay to make sure you get a recipe right. Just don't tell Mike that. The first pie crust I made was terrible. Like, I'm not even kidding, truly and completely t e r r i b l e . You could throw the crust across the room and it still wouldn't break it was that hard.
In the end it was more than worth it because this crust is flaky, tender, and so much easier than you might think. Once I got the fat to flour ratio right it was easy as….pie. (Sorry, I had to.)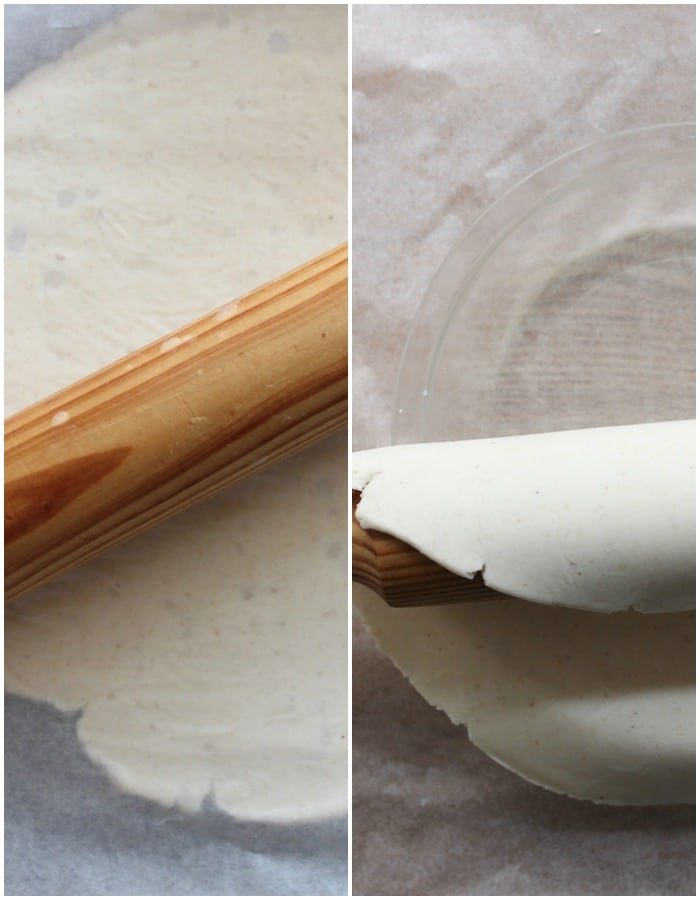 I noticed that most coconut oil pie crusts that I could find out there on the web were one of three things. They were either:
a regular gluten containing pie crust that used coconut oil, which doesn't take into account the extra struggles that revolve around gluten free baking
a paleo pie crust that used a ton of nut flours which can be both expensive and impossible for people with nut allergies
a coconut oil/butter fat-combination which defeated the purpose of searching for a dairy free pie crust
As someone who is more than familiar with just how much of a total b**** food intolerances are I wanted to make a pie crust that was gluten, dairy, nut, and egg free. And thus my quest for a gluten free coconut oil pie crust began…
But before I get any farther, we need to talk about the whole cups vs weighing thing when it comes to baking. Everyone outside of America probably already knows this because I'm pretty sure the US is the only major country that doesn't use the metric system, but I gotta mention it.
I think there are a lot of times when we can get away with measuring with cups without too much issue. However, if there was ever a time that you followed a recipe to the T and for some unknown reason your cookies still came out flat it's probably because somewhere along the line your measurements got funky. It's cool – we've all been there. It's so easy to do because there are so many things to consider: Did you scoop the flour out or did you spoon it into the measuring cup? Was that brown sugar packed in? Are you sifting your flour? Are you using tapioca flour or coconut flour because you know that a cup of each doesn't weight the same. Truth is, if you want complete accuracy in baking, especially gluten free baking, you need to do yourself a favor and buy a kitchen scale.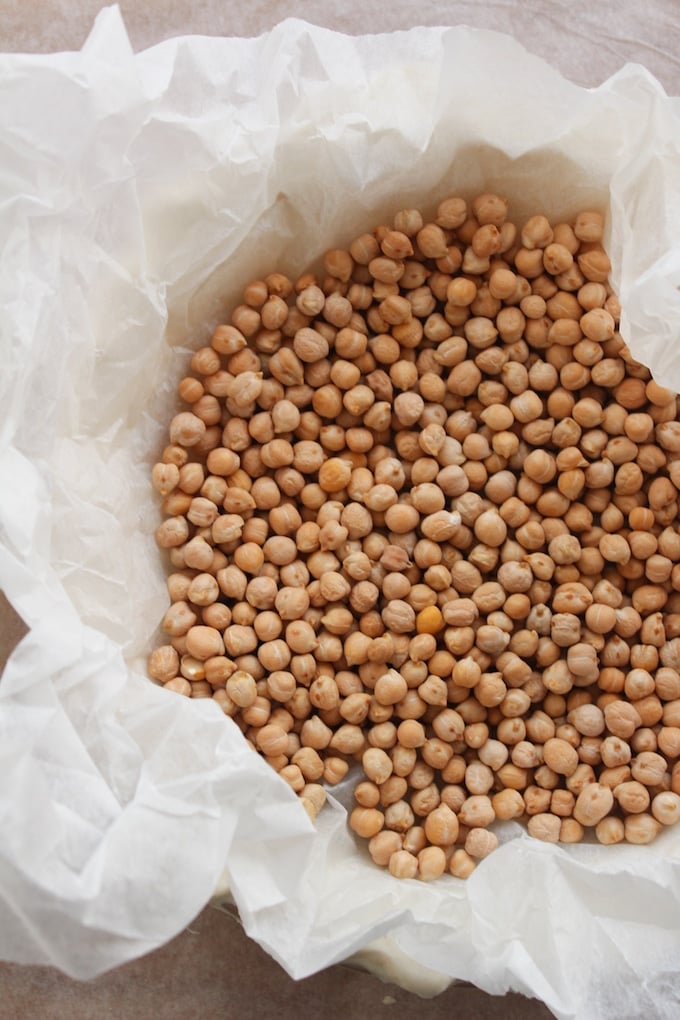 Truth be told, it took me months before I got around to using my kitchen scale. After I first moved to the UK I went out and bought myself a scale because I knew that's how people did it here, but up until recently I've still had the American mindset of measuring in cups and then converting to grams.
It wasn't really until I was testing and researching how to make the perfect gluten free coconut oil pie crust that I had this ah-ha moment about the scales. Depending on where you look, how you measure 1 cup of flour can weigh anything from 120 grams to 150 grams. Seriously, I looked. If you don't have access to a kitchen scale yet, or you just can't give up your cups, just know that from now on 1 cup of all purpose gluten free flour = 140 grams. That's the most consistent and reliable weight that most professional cooks use and you can read more about it here on Food52 with Gluten Free Girl.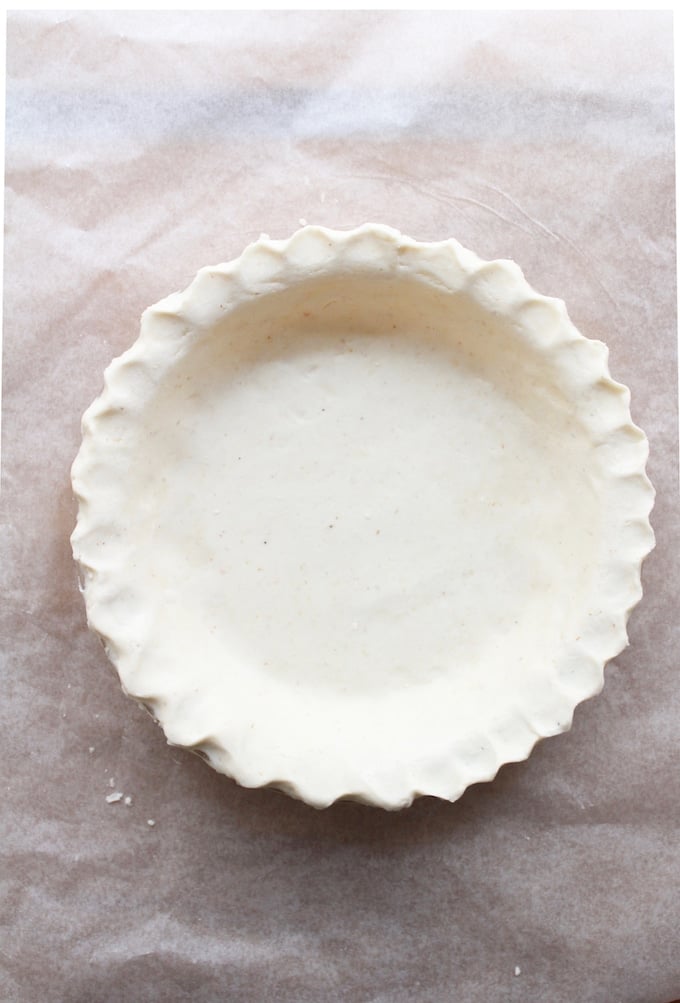 Now back to our pie crust.
A few things to know about making this gluten free coconut oil pie crust:
(UPDATED) I recommend using a fork or a pastry cutter to mix your dough. In my experience, unless your kitchen is very cold the coconut oil will melt too fast. If the oil melts too much into the dough to the point where there are no pea sized bits mixed in then your crust will come out too crumbly. I'd also recommend chilling your mixing bowl and utensils in the fridge for about 20 minutes before mixing.
I chose to use psyllium husk in place of xanthan gum as a binder. Since there's no gluten in the recipe, psyllium husk is needed to make the crust easier to roll out. Xanthan gum is known to cause stomach irritation in a lot of people and I personally like using psyllium as a binding agent. You should be able to buy some at health food stores, or you can buy it online. Make sure it's psyllium husk and not psyllium husk powder. Psyllium powder usually has additives mixed in making it unreliable in baking.
If you leave the pie crust as is you'll end up with a pale crust. If you're ok with eggs you can make a quick egg wash and brush over the top of the dough before baking to get a nice golden crust. Here are a few vegan options if you want something that is both egg/dairy free.
Add in the water one tablespoon at a time to avoid adding too much. My mistake with the first crust is because I added waaaay too much water which ended up in a rock hard crust.
Don't roll the dough out on a floured surface if you can help it. Instead roll the dough between two sheets of baking parchment to prevent over flouring your dough.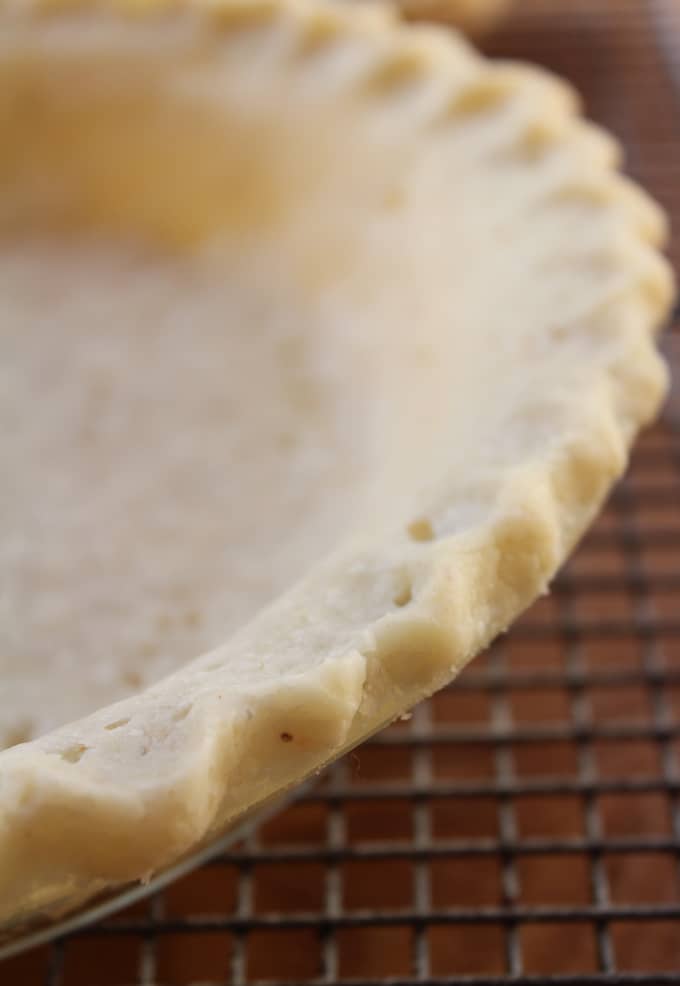 Let me know in the comments below if you making your own gluten free coconut oil crust /if you make and adjustments! Or if you've got any questions or need trouble shooting just let me know.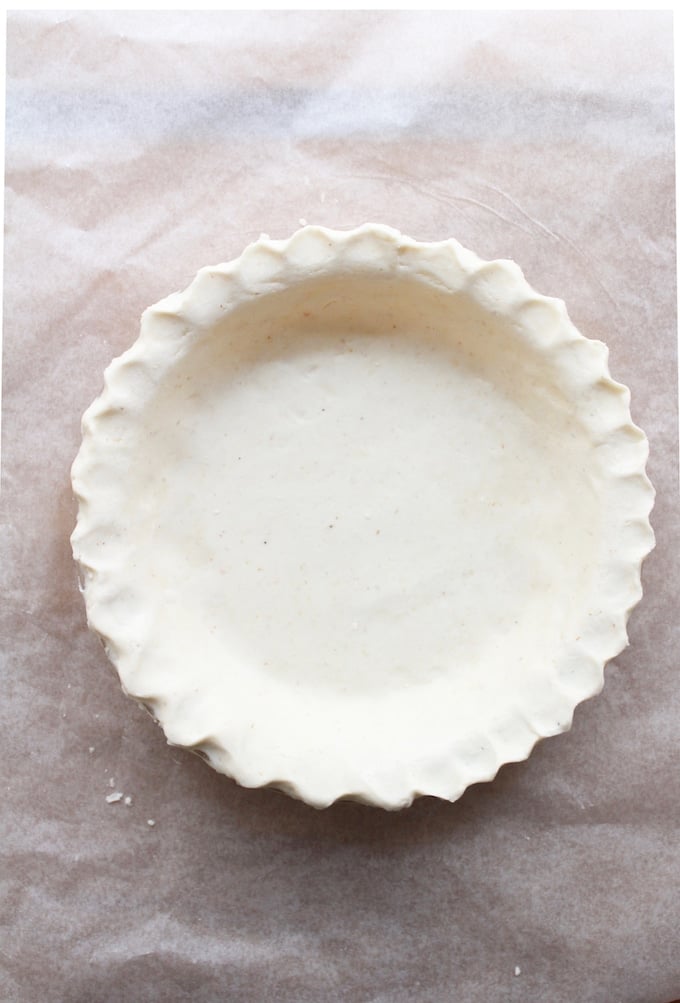 Recipe
Gluten free coconut oil pie crust
Yield:
1 crust
Prep Time:
35 minutes
Cook Time:
20 minutes
Total Time:
55 minutes
Gluten free coconut oil pie crust - only five ingredients needed to make this tender, flaky pie crust that's completely dairy & nut free.
Ingredients
1 teaspoon psyllium husk + 2 tablespoons warm water, (not psyllium husk powder)
1 1/4 cup gluten free all purpose flour without xanthan gum, (175 grams)
1/2 teaspoon salt
2 teaspoons organic cane sugar
5 tablespoons extra virgin coconut oil, (65 grams) * see note
3-6 tablespoons ice cold water
Instructions
In a small cup whisk together the psyllium husk & water until combined. Place in the fridge or freezer for a few minutes while you prep the rest of the ingredients.
Add the flour, salt and sugar to a large mixing bowl and whisk together until combined.
Mix in the coconut oil and with a pastry cutter or fork with the flour (see note below**). Keep mixing until you get a clumpy/sandy mixture and make sure to leave some of the coconut oil in small pea sized chunks.
Add the psyllium husk mixture.
One tablespoon at a time, add in the ice cold water. Don't be tempted to add more than 6 tablespoons of water because then your pie crust will come out as one giant brick.
Clump the dough together until it sticks and transfer it to a sheet of baking parchment. Form a disc as if you were forming a burger/patty.
Place the dough in bowl, cover, and place in the fridge for at least 15 minutes.
Place another sheet of baking parchment over the top of the newly formed disc and begin rolling out the dough until you get it to be 1/8-1/4 of an inch thick. Using the rolling pin carefully roll the dough onto the pin and drape it over your pie pan. Push the bottom and sides of the dough carefully into the place and remove the excess hanging over the sides. Form/crimp the crusts however you'd like.
To prevent the crust from bubbling up in the middle or the sides place your pie weights down in the middle. If you don't own any weights you can use dried beans or chickpeas like I did. Just place a sheet of baking parchment in the middle of your crust and fill with beans to weight it down. Alternatively you can use a fork to prick all around the bottom to allow the steam to escape without bubbling up.
Bake your pie in an already heated oven at 375°F/190°C for 15 - 20 minutes. Remove from the oven when finished and place on a cooling rack to cool completely before filling.
Notes
You want your oil to be easy to scoop out of the jar, but not a liquid or in any way runny. If your coconut oil is liquid at room temperature, place the jar of oil in the fridge for about 30 minutes before using.
I recommend using a pastry cutter or a fork to mix the dough. If you live in a really cold place with a freezing kitchen you may be able to get away with using your hands. If the oil melts too much into the dough to the point where there are no pea sized bits mixed in then your crust will come out too crumbly after you bake it. I'd also recommend chilling your mixing bowl and utensils in the fridge for about 20 minutes before mixing.
Nutrition Information
Yield:

1
Serving Size:
g
Calories:

1153
Saturated Fat:

60g
Sodium:

1165mg
Carbohydrates:

121g
Fiber:

19g
Sugar:

13g
Protein:

15g
This website provides approximate nutrition information for convenience and as a courtesy only. Nutrition data is gathered primarily from the USDA Food Composition Database, whenever available, or otherwise other online calculators.