Skip the store-bought stuff and make your very own Homemade Grenadine Syrup with just three simple ingredients! Use in your favorite drinks, cocktails recipes and non-alcoholic non-alcoholic beverages. | Gluten Free + Vegan + Alcohol-Free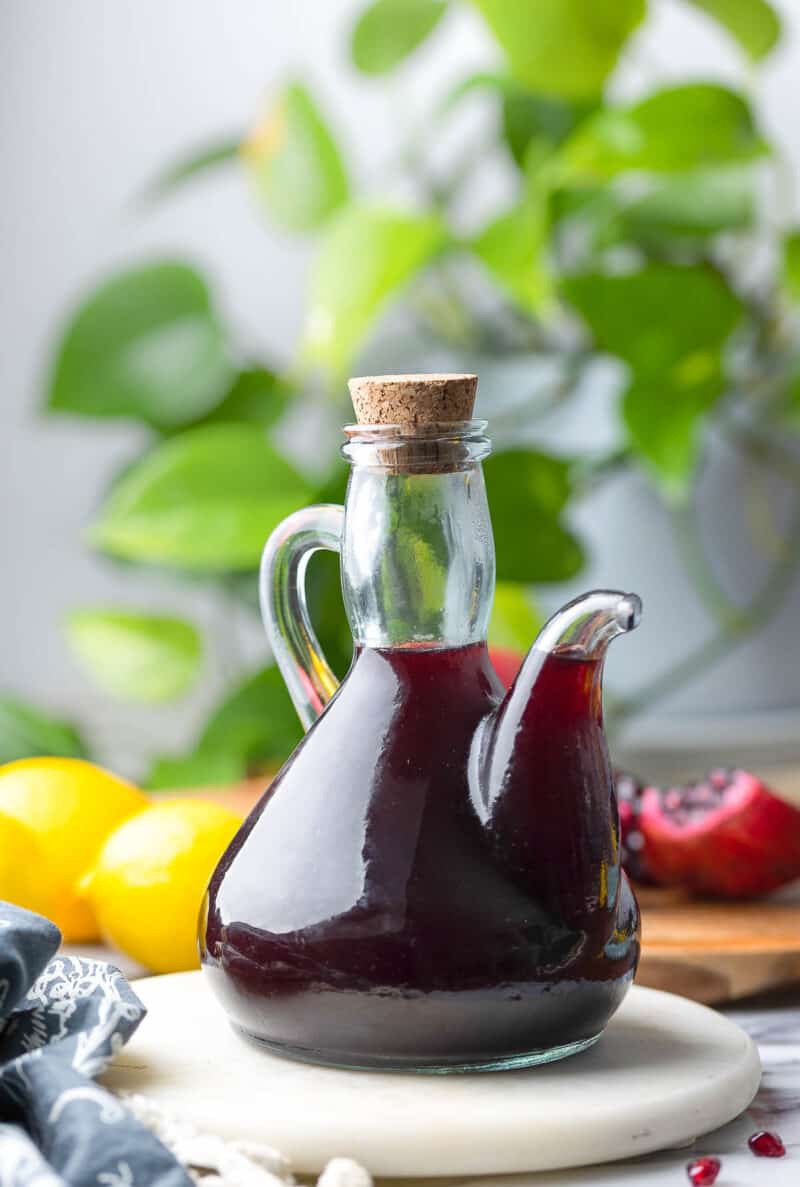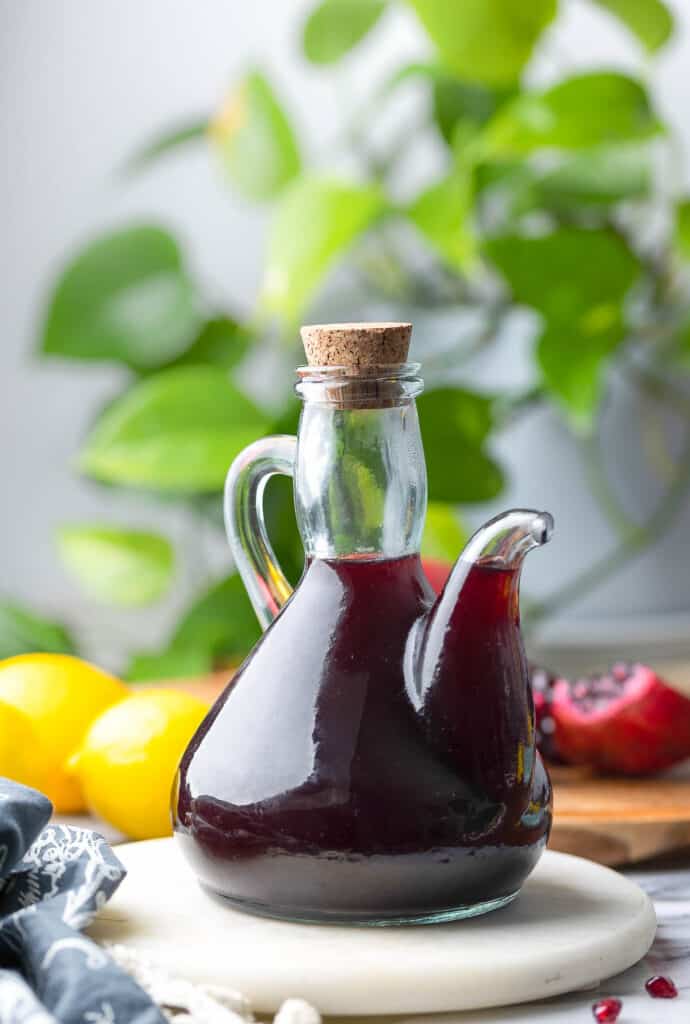 First things first: what is grenadine?
It's a non-alcoholic cocktail mixer!
'Grenadine' derives from the French word grenade which means pomegranate. It's basically just a simple syrup made with pomegranate juice.
Though real grenadine is made with pomegranate, you can find grenadine-like syrup made with raspberry and/or cherry syrup (something to replicate the vibrant red hue of pomegranate juice).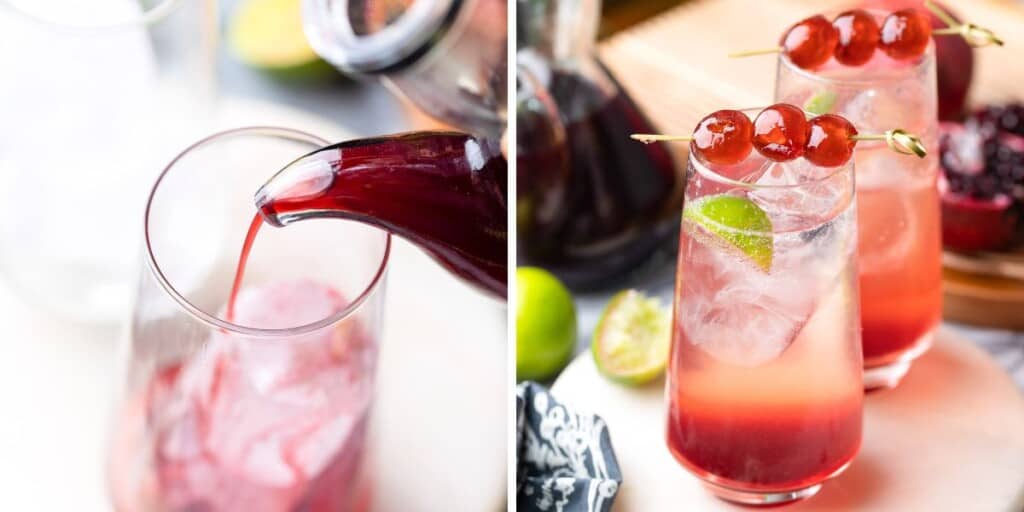 Why Make Homemade Grenadine Syrup
While you can absolutely find store-bought grenadine quite easily in liquor stores and major grocery stores – making it yourself does have it's perks!
You can tweak and adapt the recipe to better suit your tastes.

It's made without the addition of artificial colors or high fructose corn syrup.
Homemade ingredients create a more fresh and flavorful cocktail syrup!
Ingredients
Pomegranate Juice: This recipe is made with pre-squeezed, store-bought juice. Make sure to use an 100% unsweetened pomegranate juice (like POM).
Sugar: Use white cane sugar. It's cheap, easy and doesn't darken the grenadine color.
Lemon Juice: Fresh lemon juice adds a light, tart flavor to really brighten things up and helps retain the vibrant, ruby red color.
Want to Make it with Fresh Pomegranate Juice?
You can absolutely make this with fresh pomegranate seeds!
The easiest way to make your own juice is to blend the seeds from 2 pomegranates, then strain out the hard bits. Check out the video below for tips on peeling and extracting the seeds from the fresh fruit.
How to Make Grenadine Syrup
Altogether, homemade grenadine is pretty easy to make – especially if you choose to use pre squeezed juice!
Combine sugar and juice in a sauce pan.
Warm over medium heat and stir to dissolve the sugar. For best results don't boil the juice!
Stir in the lemon juice.
Cool and store in an airtight jar or container in the fridge.
Easy!
Tip: Don't Boil the juice!
Pomegranates get their bright red color from the water-soluble pigments called anthocyanins (also found in blueberries and red cabbage!). These pigments are heat-sensitive and breakdown when heated up too long or too high.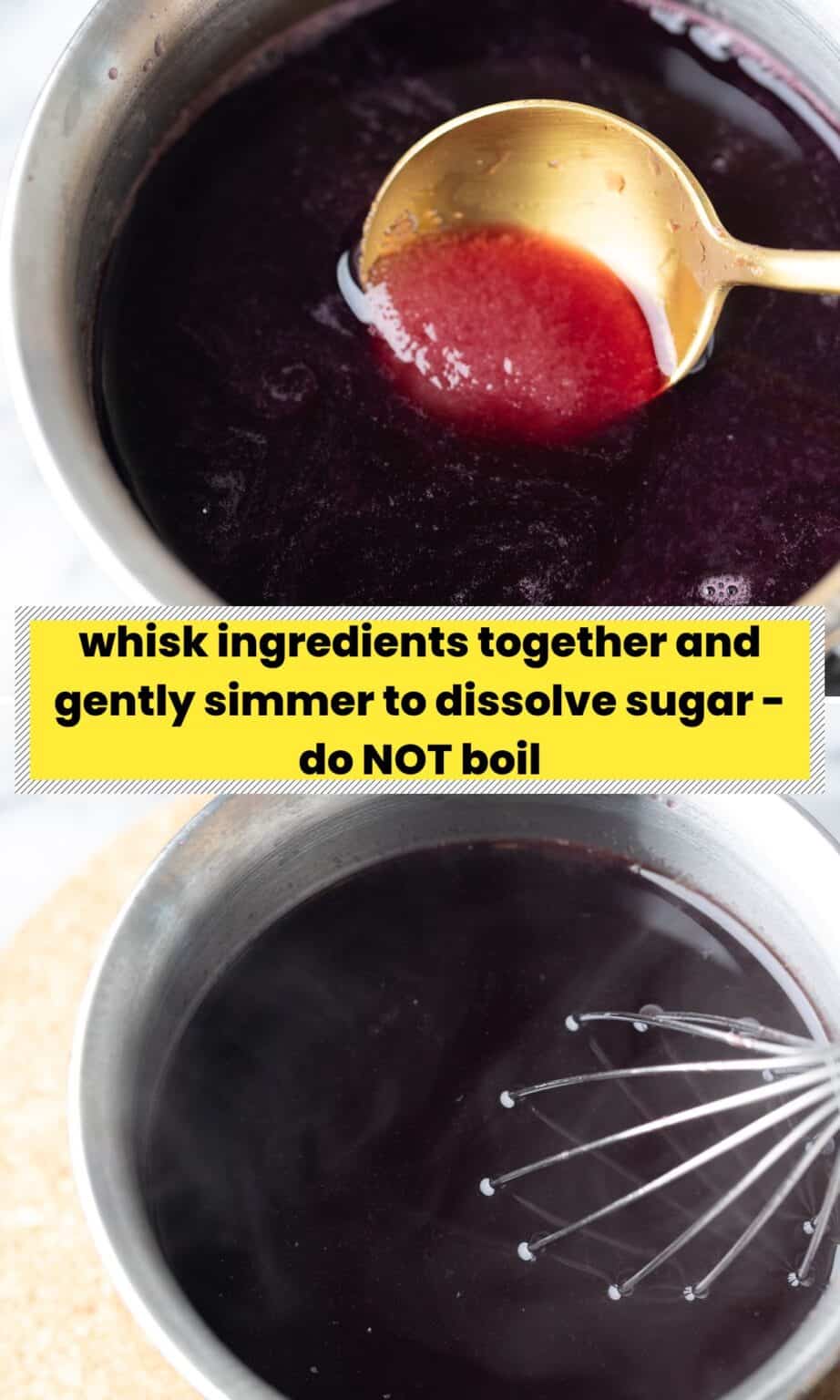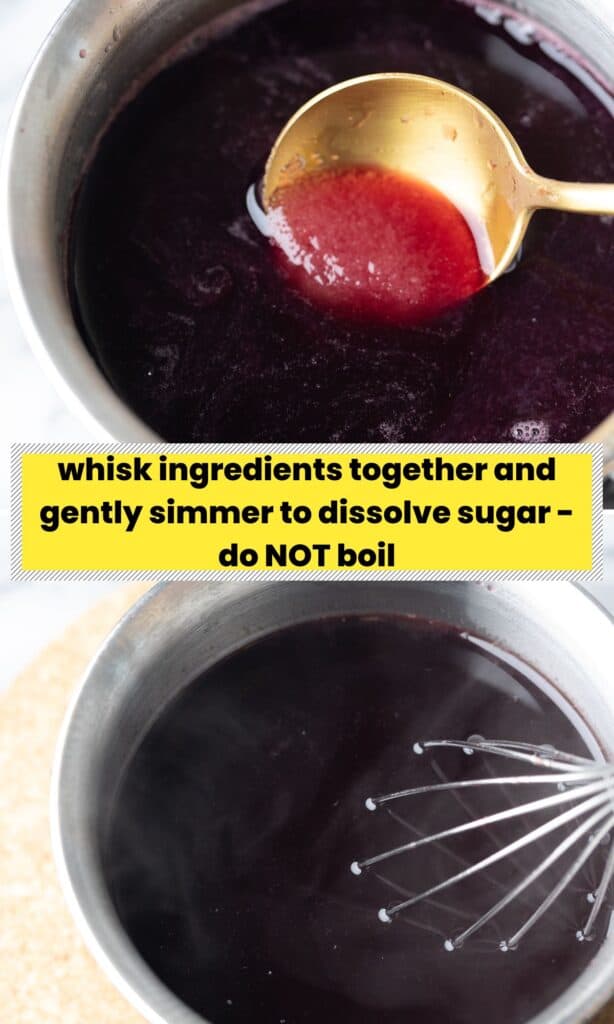 Substitutions, Additions & Variations
White Sugar >> Honey or Maple Syrup: If you'd like to make this refined sugar free you can use either honey or maple. Just reduce the amount of sweetened to about 2/3 cup. Keep in mind that honey and maple will make for a darker grenadine color.
Lemon Juice >> Lime Juice or Orange Juice: Lime will add an even tangier flavor and orange a sweeter one.
Add a floral flavor: Mellow out the sweet, tart flavors with some floral additions! Rose water, orange flower water or orange blossom water are all great options and popular grenadine syrup additions.
Add Pomegranate Molasses: Double down on the pomegranate flavor with a tablespoon of pomegranate molasses. I don't recommend more than 1 tablespoon though because it will darken the bright red color.
Add Hibiscus Flowers: Hibiscus flowers contain the same water-soluble pigments (anthocyanins) found in pomegranate making them a great natural food coloring. They also add a lovely, tart and earthy flavor which are great with pomegranate.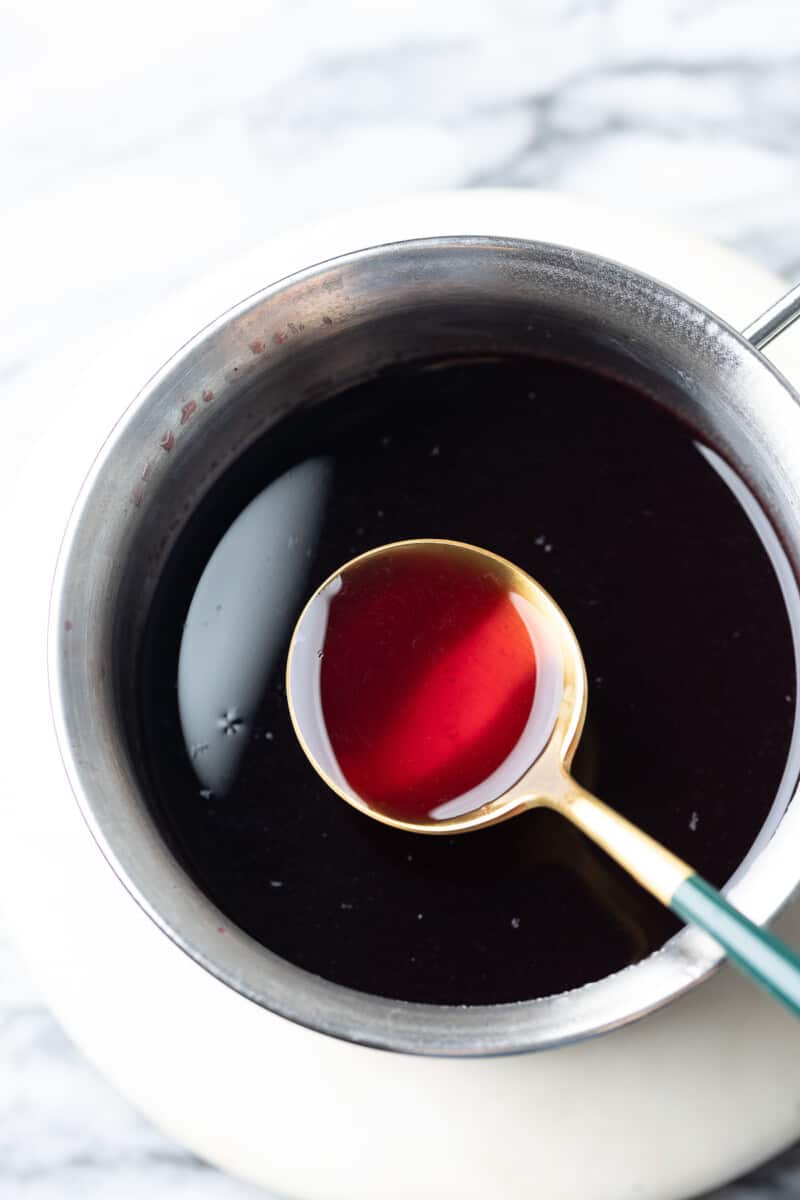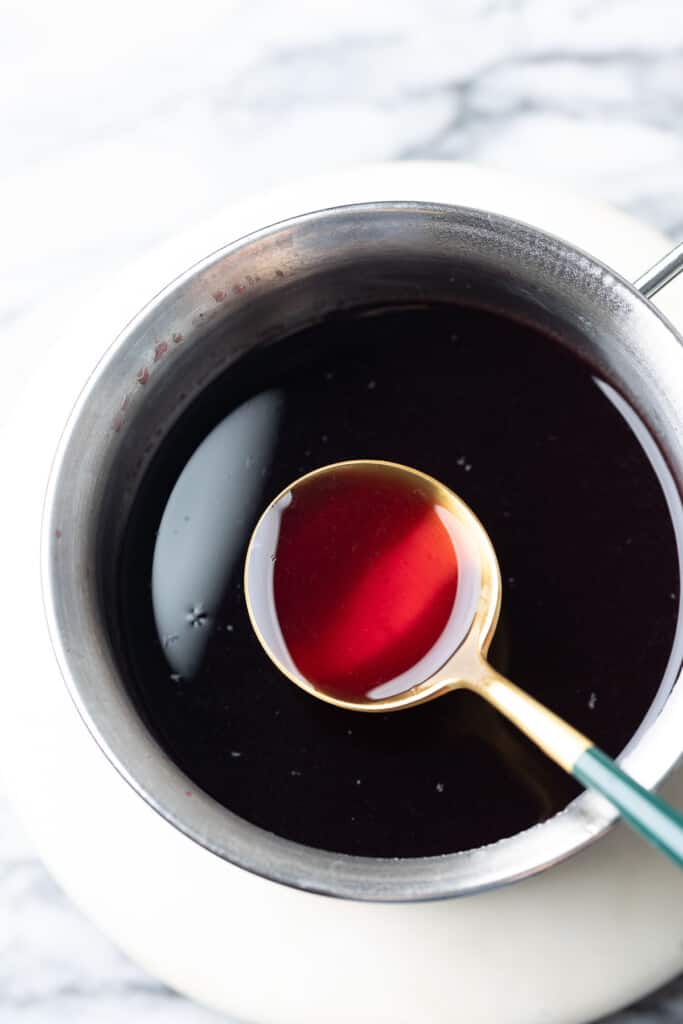 Frequently Asked Questions
How long will homemade grenadine syrup keep?
Stored in an airtight container and kept in the fridge, this homemade grenadine syrup recipe should last you at least one month.
Tip! Want to make it last even longer? Add an ounce of vodka to extend the fridge life to 3 months.
What Drinks Use grenadine?
Popular cocktails that use grenadine include: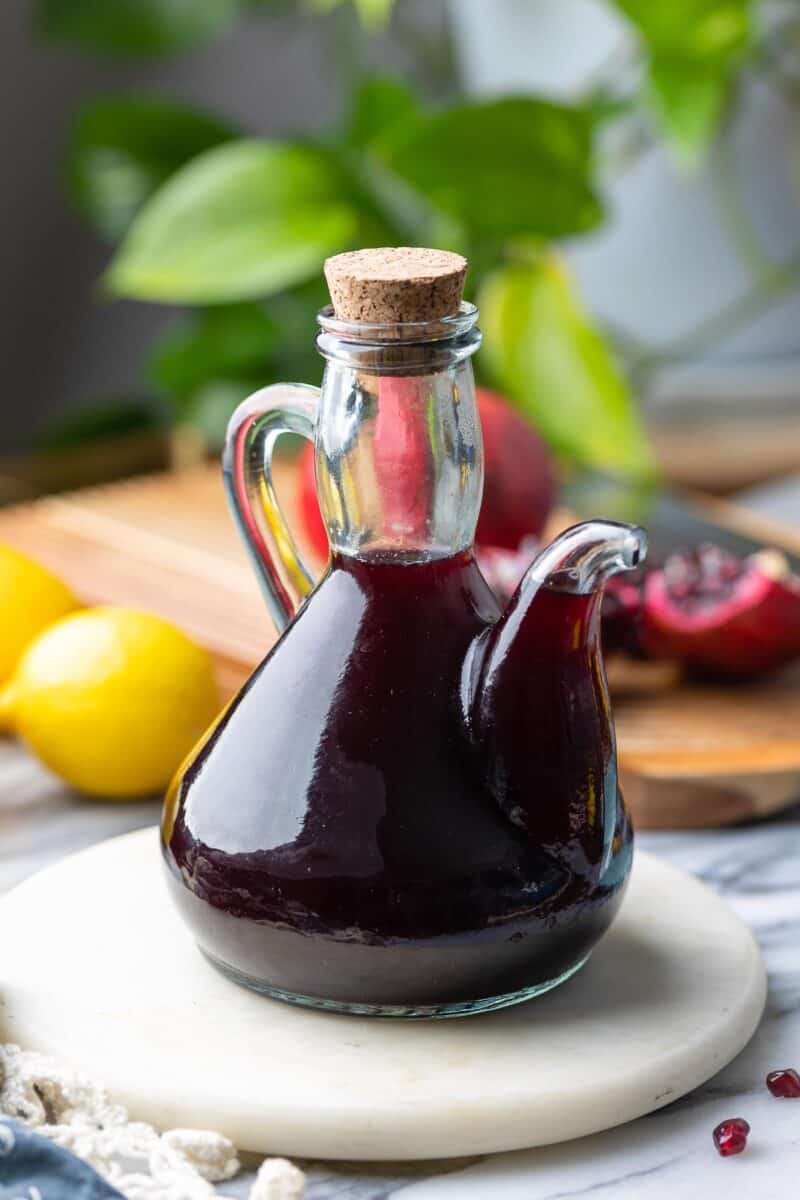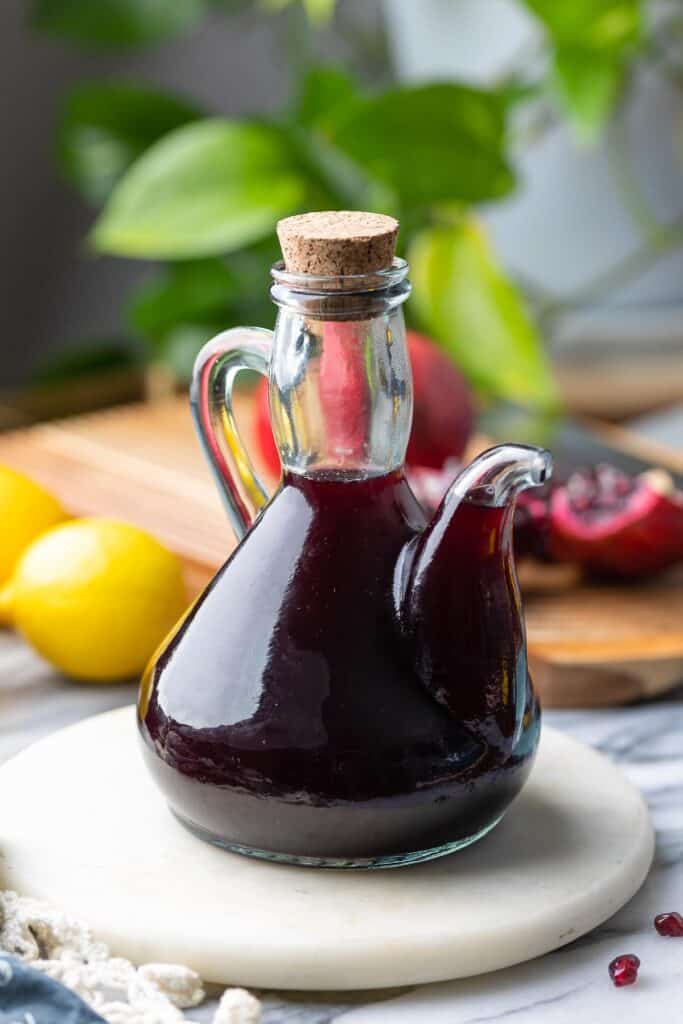 More Cocktails & Drinks You Might Like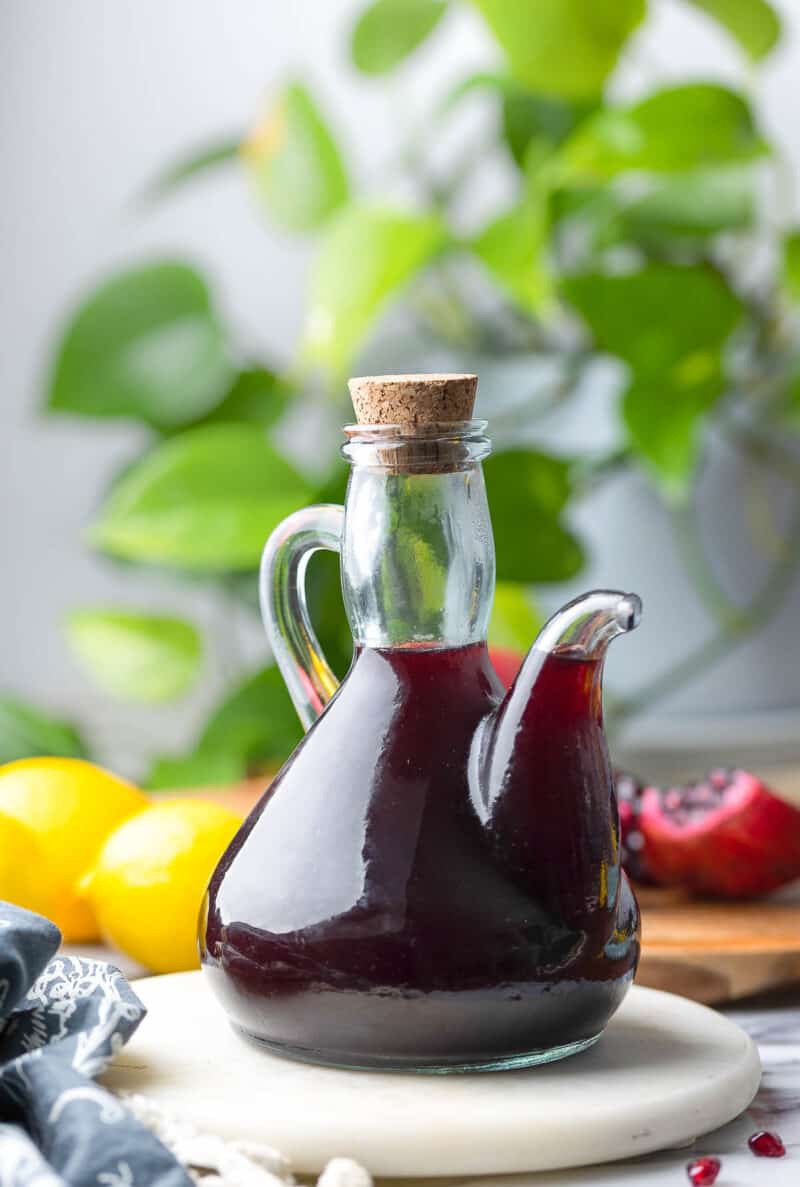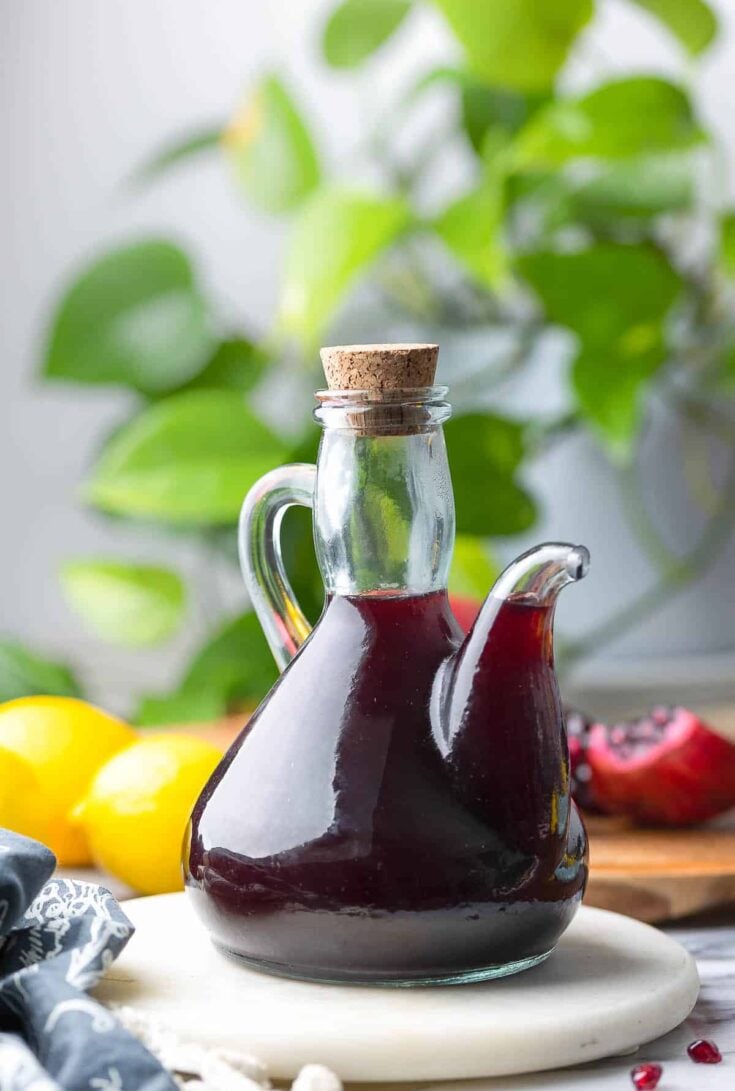 Recipe
Homemade Grenadine Syrup
Yield:
2 cups
Prep Time:
10 minutes
Cook Time:
10 minutes
Total Time:
20 minutes
Skip the store-bought stuff and make your very own Homemade Grenadine Syrup with just three simple ingredients!
Ingredients
2 cups unsweetened, pomegranate juice (480 ml | 16 oz)
1 cup white sugar (200 g)
2 tablespoons lemon juice (30 ml)
Instructions
Add the pomegranate juice and sugar to a medium sauce pan over a medium heat. Stir and gently heat about 5 minutes until the sugar dissolves fully into the juice.
Remove the pot from the heat.
Stir in the lemon juice.
Cool and store in an airtight container in the fridge up to one month.
Notes
To maintain the bright- red color, try not to cook the pomegranate juice too hot or too long. The hotter it gets and longer it cooks, the more likely it is to go from red to brown.
For best results, make sure to use a real pomegranate juice like POM Wonderful - something unsweetened without any added ingredients.
This recipe makes about 2 cups (32 tablepoons) grenadine. Most cocktail recipes call for about 1-2 tablespoons which means you'll get about 16-32 servings altgother.
This website provides approximate nutrition information for convenience and as a courtesy only. Nutrition data is gathered primarily from the USDA Food Composition Database, whenever available, or otherwise other online calculators.