Lean into zucchini season with this Lemon Zucchini Pasta recipe! The bright lemon flavor perks up the rich zucchini sauce making for a truly mouthwateringly delicious pasta. Add some extra crunch and punch with the homemade gluten free garlic chili breadcrumbs.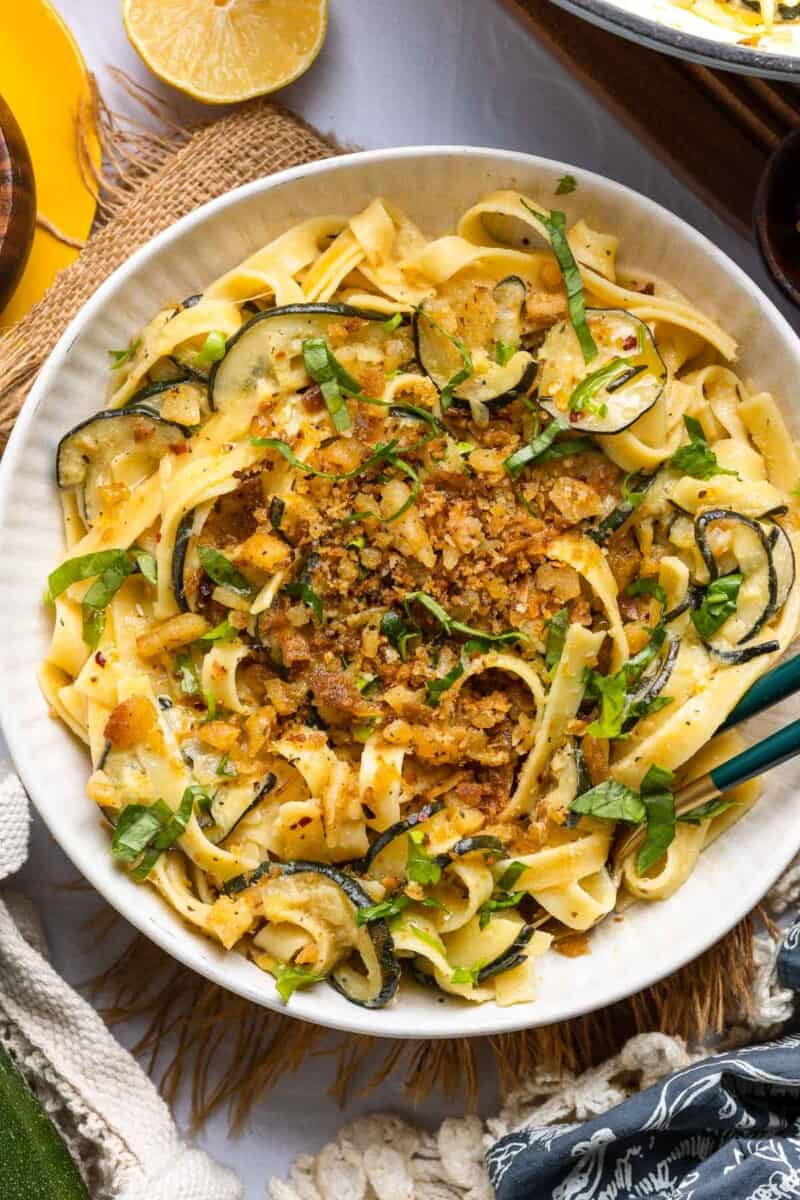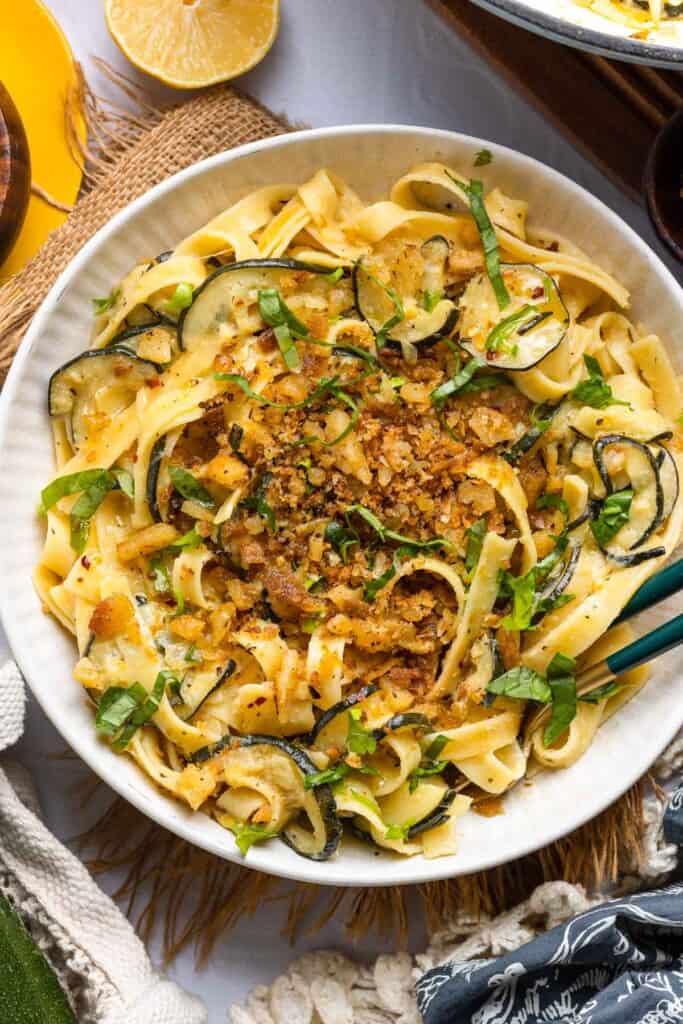 You'll be reaching for seconds in no time with this Lemon Zucchini Pasta!
Al dente noodles coated in a light sauce that's still incredibly rich in flavor. It's delicious enough all on its own, but the crispy, golden breadcrumbs really elevate this dish to a new level!
---
Lemon Zucchini Pasta Highlights
Dairy Free Sauce: No heavy cream or cheese needed to make this creamy, cheese sauce!
Simple Ingredients: Made with pantry staples and produce easily found in a grocery store.
Homemade Breadcrumbs: Transform stale pieces of bread into crispy, crunchy garlic and chili flavored breadcrumbs. Try not to eat too much on its own!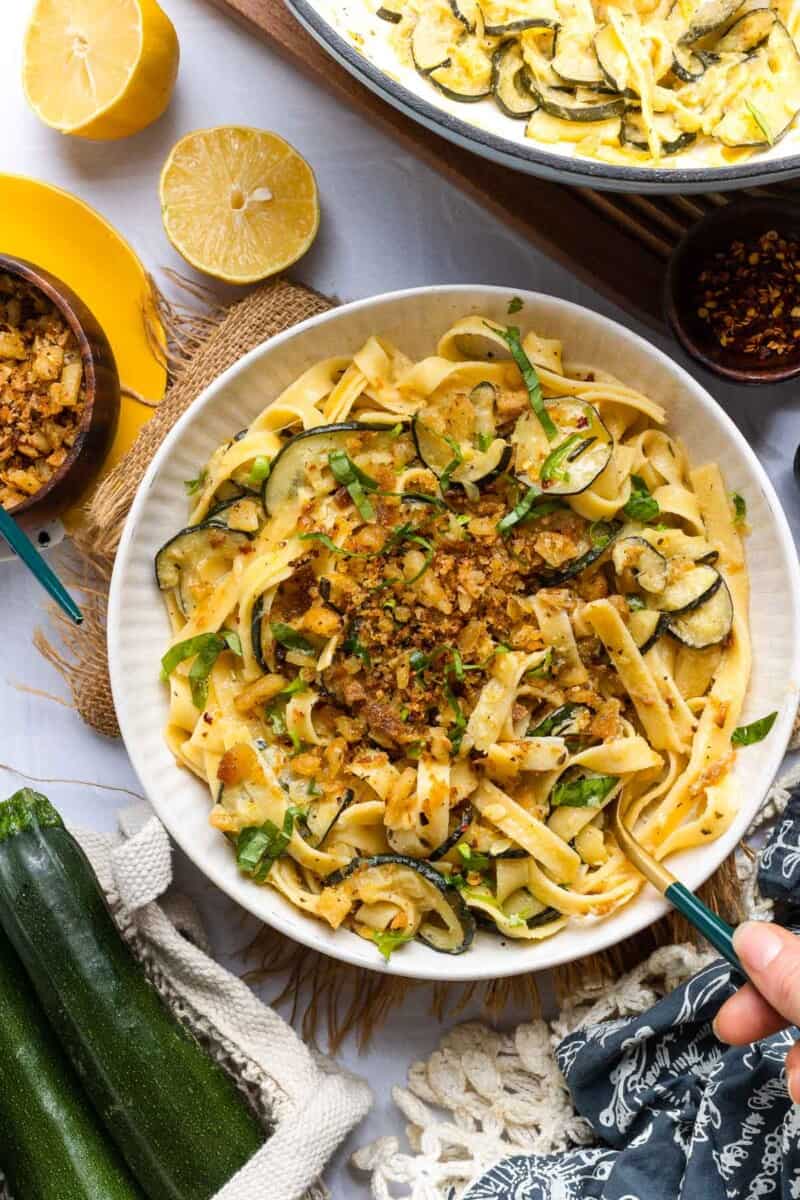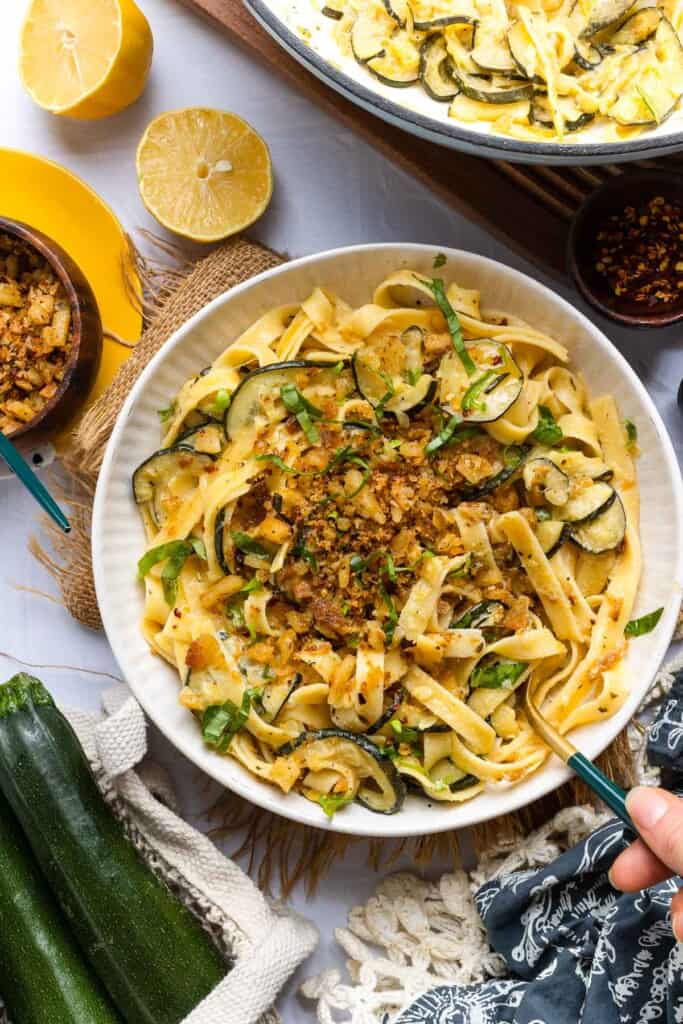 Main Ingredients
Fresh Zucchini: You'll need about 2 medium zucchinis here. It might seem like a lot when you first slice it up, but it cooks down quite a bit.
Fresh Lemon: Lemon zest goes into the bread crumbs and the juice into the sauce.
Nutritional Yeast: This is how you get a cheesy flavor without any dairy at all! You can also use vegan parmesan (or regular parmesan) if desired.
What Is Nutritional Yeast?
Nutritional Yeast is a cooked and dried baking yeast that is no longer active. It often comes in a yellow, flaky-form though you can also get it powdered. It adds a savory, cheesy, nutty flavor to whatever it's added to and it typically comes fortified with vitamins and minerals that are difficult to get in a plant based food.
---
Olive Oil: Don't skimp on the oil! You need enough oil to fry the breadcrumbs and sauté/flavor the veggies. Feel free to use butter (vegan butter works too) in place of the oil if desired.
Aromatics: Minced garlic flavors the breadcrumbs and sautéd onion supports the lemony zucchini sauce.
Herbs: Mix in a small handful of fresh parsley and/or basil at the end to brighten up the dish one last time.
Stale Bread: Ensure your bread is also vegan if needed.
Gluten-Free Pasta: Gluten free pasta can get mushy when over cooked, so aim for an al dente pasta.
Seasonings: A simple mixture of chili flakes, oregano, basil and salt is all you need.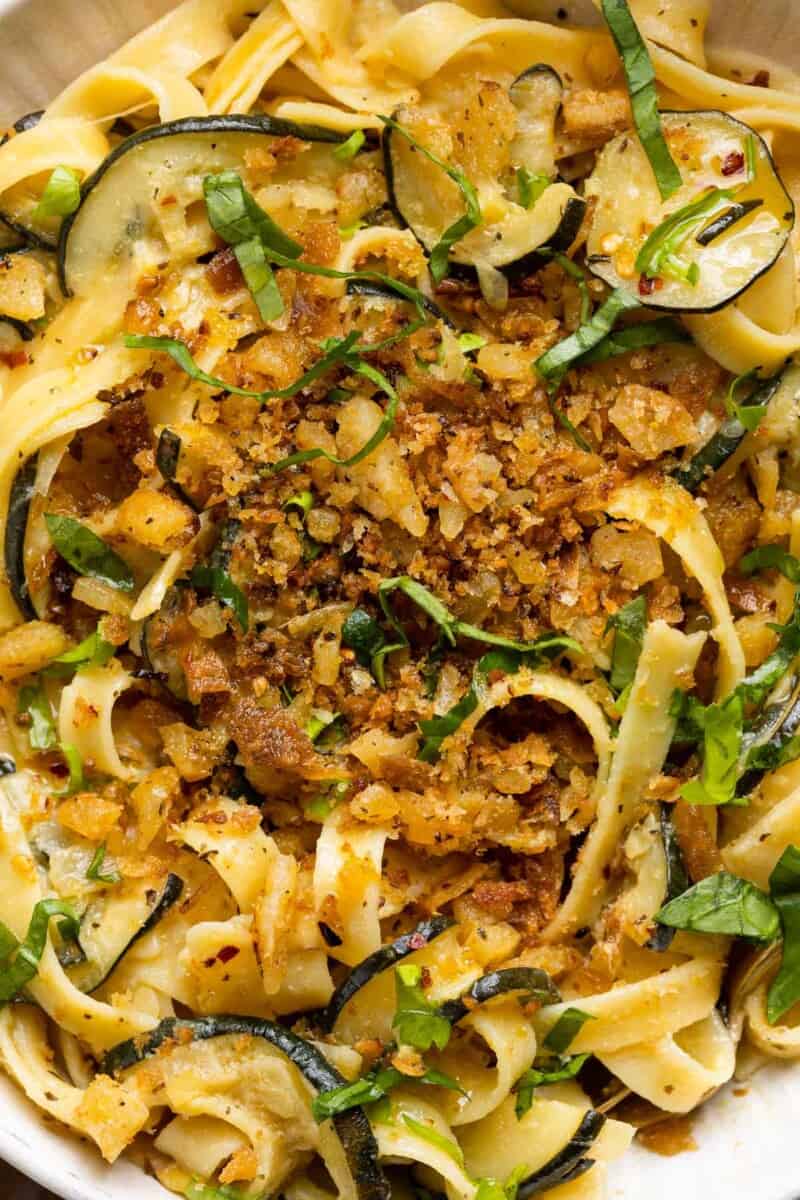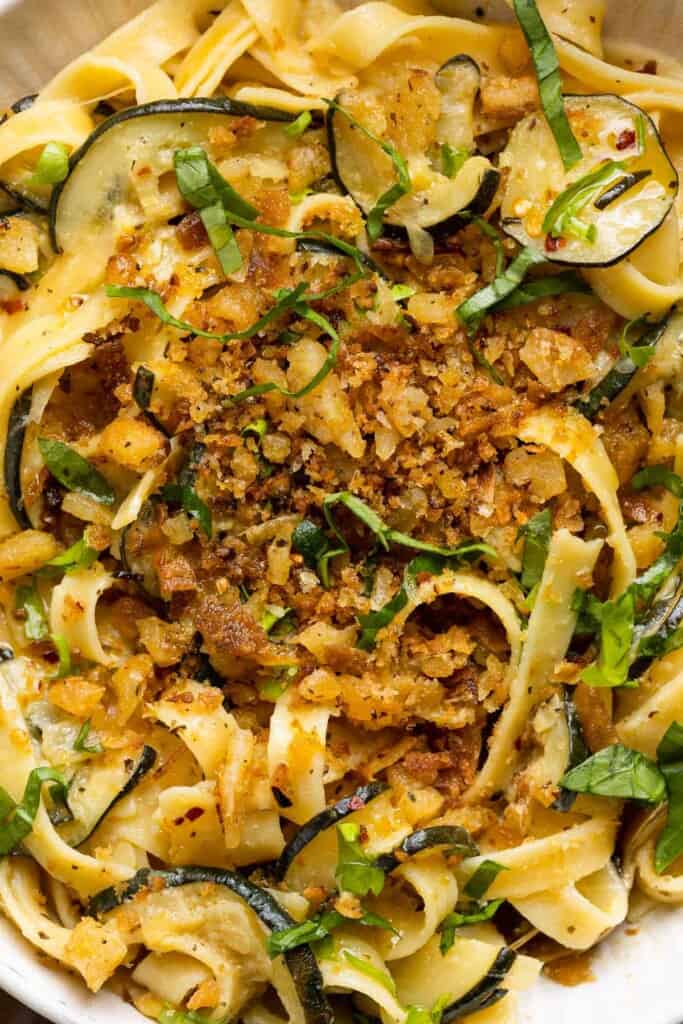 How to Make Garlic Chili Breadcrumbs
Tear up a few slices of gluten free bread then place in a food processor and pulse into small, crumbly pieces.
Gently fry garlic, chili and oregano in a large pan for a couple of minutes until fragrant.
Add the blitzed bread crumbs to the pan and fry until golden and crispy, about 8-10 minutes.
Add nutritional yeast and lemon zest to the breadcrumbs. Mix everything together then taste and season.
Remove from the heat and set aside to prepare the pasta.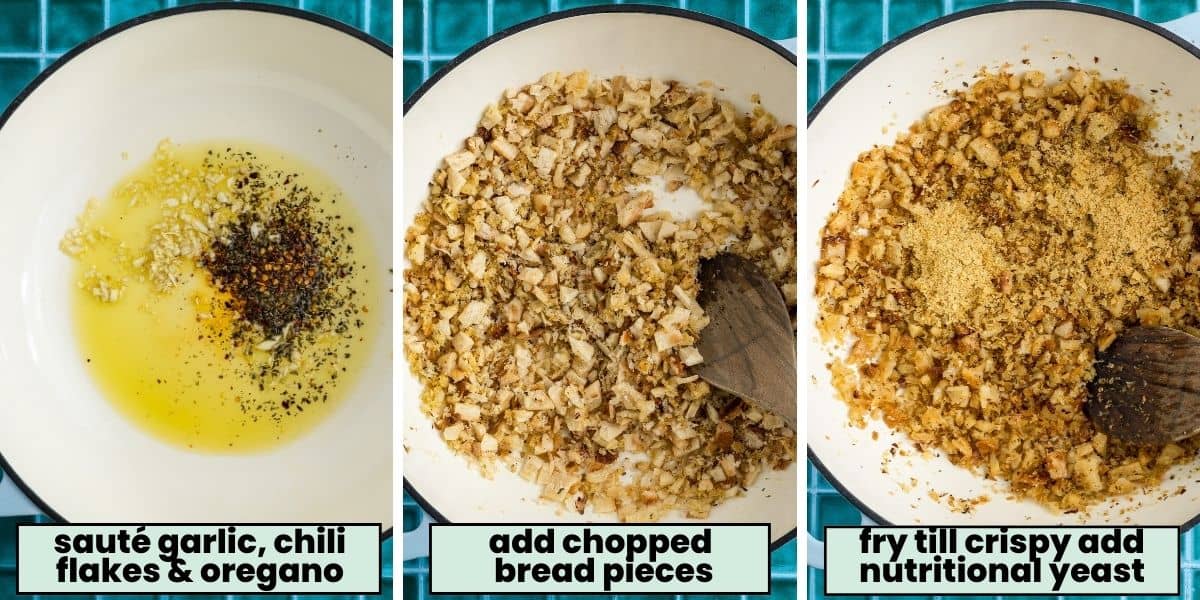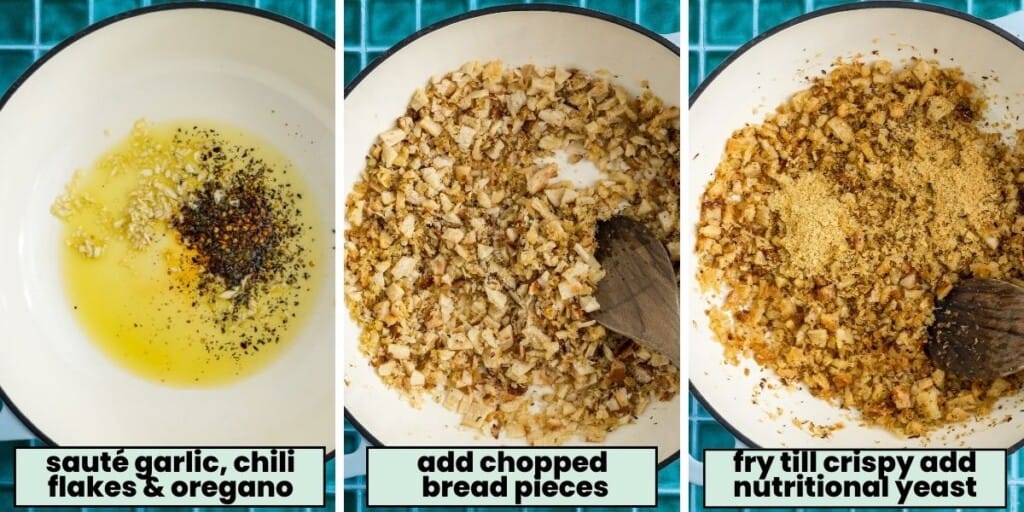 How to Make the Lemon Pasta
Boil a large pot of water and cook the pasta according to package instructions.

Before draining water, carefully reserve 1 cup to add to the pasta sauce.

Sauté onions in oil for about 5 minutes or until they begin to soften.
Add about half the zucchini slices and dried basil to the pan. Cook 5-7 minutes until softened, stirring every so often. Add the remaining zucchini and basil and cook another 5-7 minutes.
Stir in the lemon juice and nutritional yeast.
Add the reserved pasta water. Simmer a couple minutes to thicken. Taste and season with more salt if needed.
Add the cooked pasta to the pan and toss well to coat in the sauce.
Stir about 1/2 cup of the breadcrumbs into the pasta along with fresh herbs.
Serve divided between plates with the breadcrumbs on the side to add more as needed.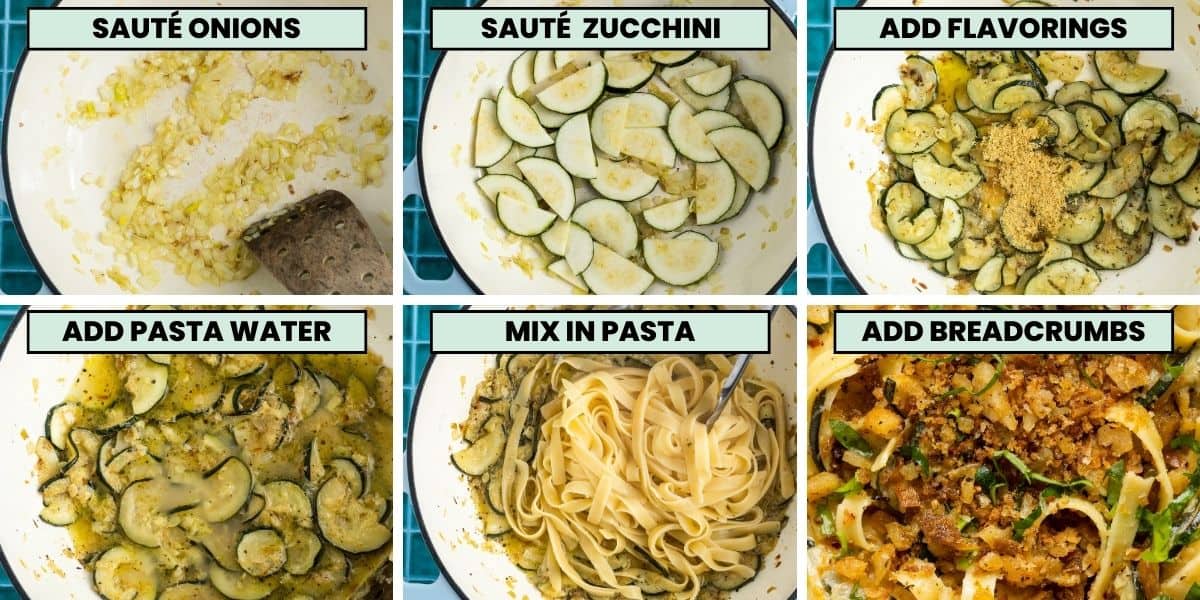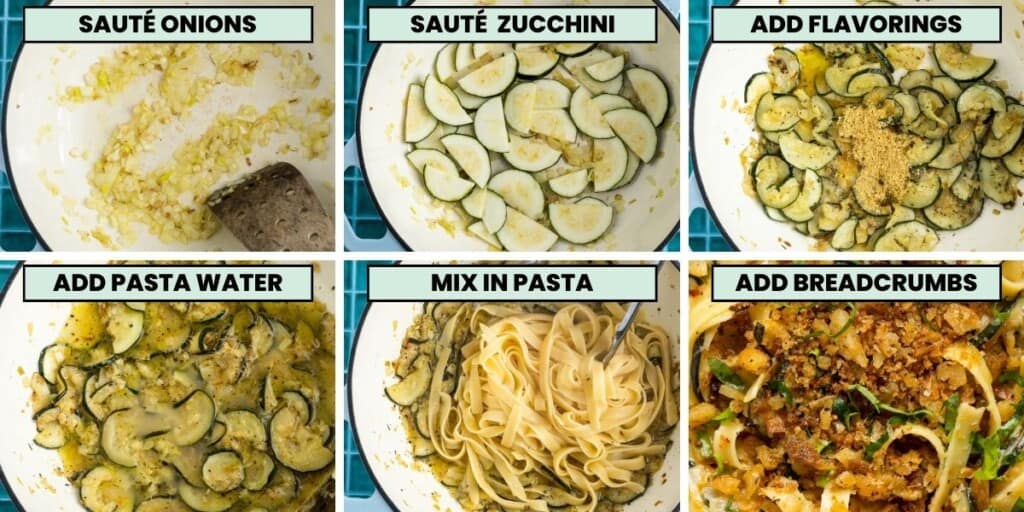 Frequently Asked Questions
Can I use a different type of pasta?
Yes! Any type of pasta will be fine here.
Can I make it without the breadcrumbs?
Absolutely! While I do highly recommend you try it just once with the breadcrumbs, I understand that it adds extra time and effort. Even without the breadcrumbs, this pasta is definitely worth making!
How long will leftovers last? How do I reheat it?
This pasta will keep about 3-4 days in the fridge. Any longer than that and both zucchini and pasta will go a bit mushy.
Reheat leftovers in the microwave or a pan on the stove top over a medium-low heat until fully heated through. If heating on the stove top, you may want to add a bit more oil or splash of water the pan to loosen the sauce.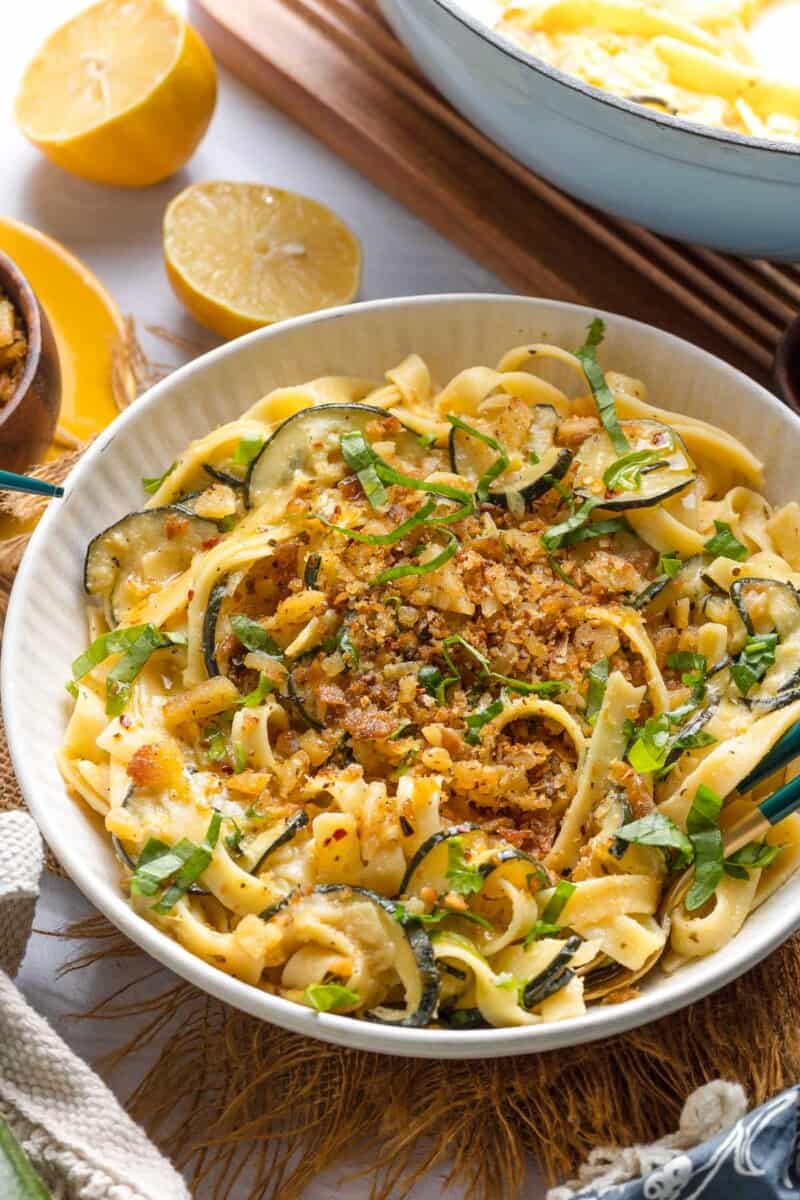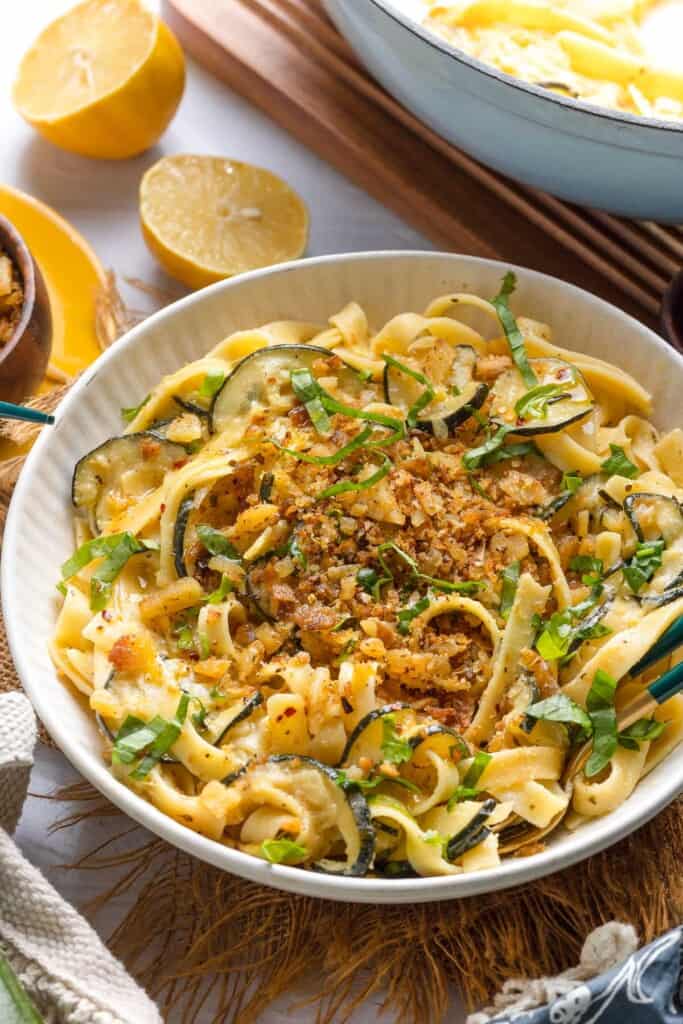 Enjoy
Let me know if you try this Lemon Zucchini Pasta recipe! Leave a comment and review with your thoughts. I always appreciate the feedback and serving suggestions that you come up with!
If you're still hungry for more delicious summer squash, make sure to check out my list of 55+ gluten free zucchini recipes!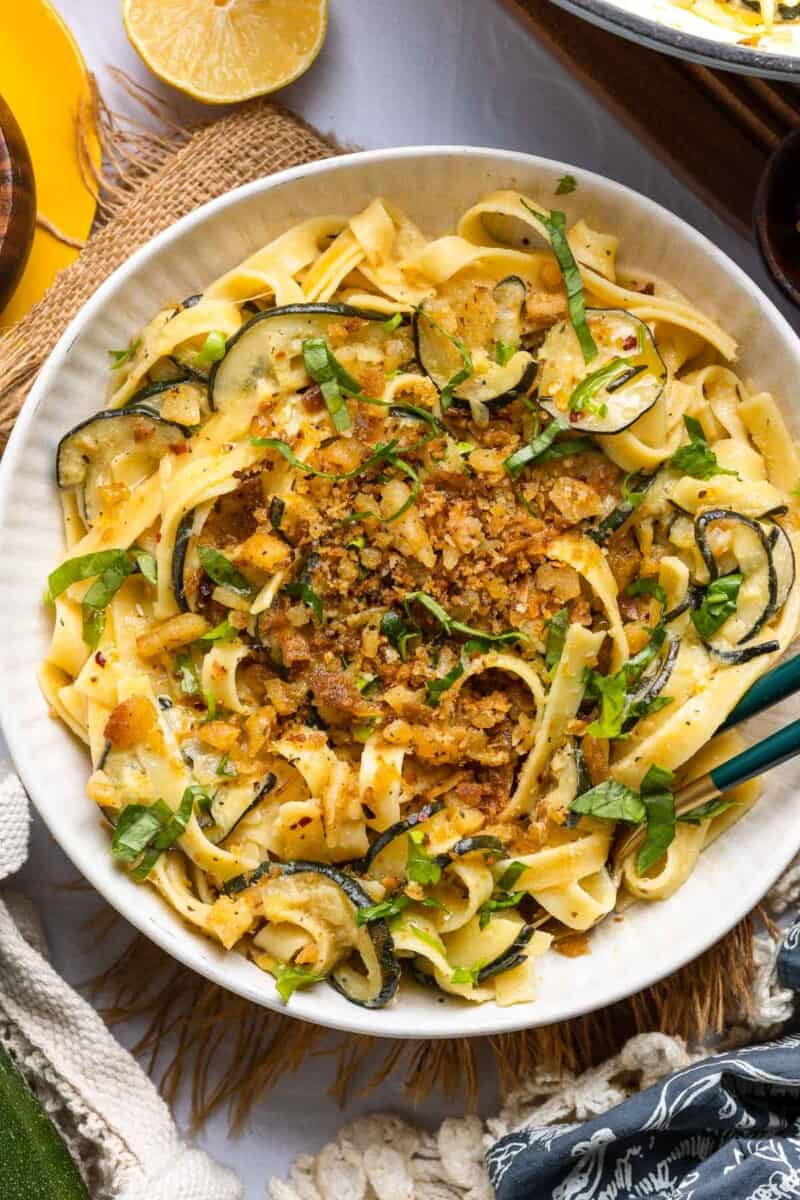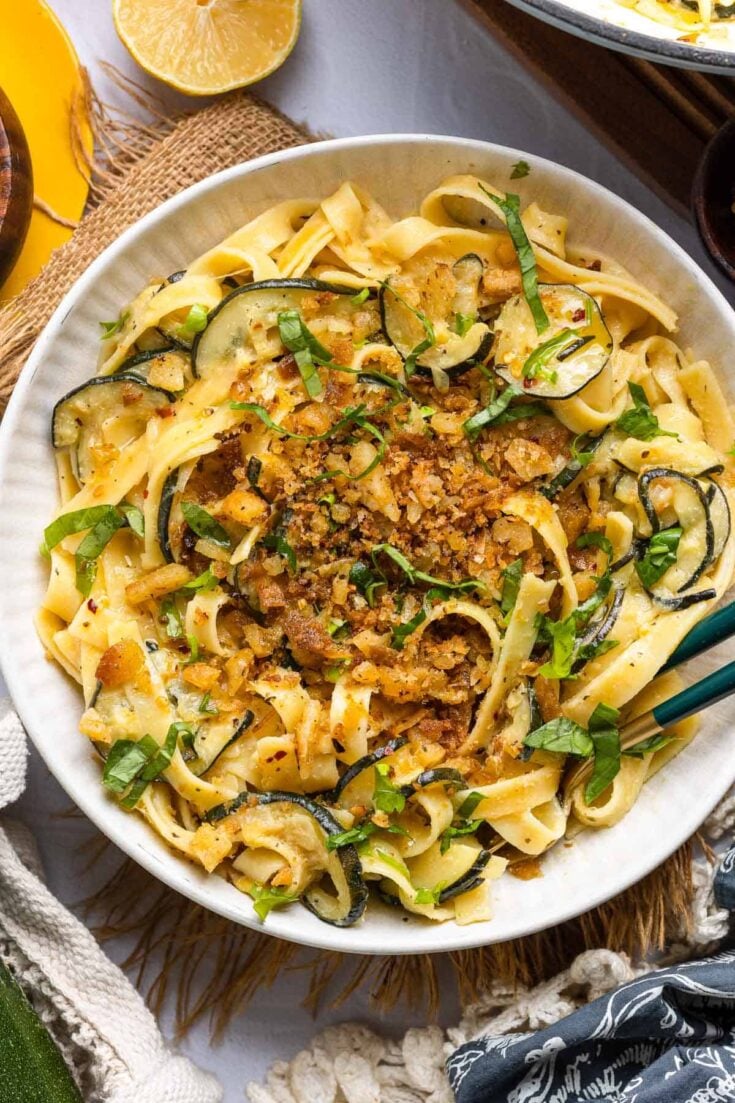 Recipe
Lemon Zucchini Pasta with GF Garlic Chili Breadcrumbs
Yield:
4 servings
Prep Time:
20 minutes
Cook Time:
45 minutes
Total Time:
1 hour
5 minutes
​Sautéed onions and zucchini jazzed up with a bright lemon flavor and cheesy nutritional yeast, then mixed into al dente pasta and topped with homemade gluten free garlic chili breadcrumbs.
Ingredients
Breadcrumbs
3 slices stale gluten free bread
3-4 tablespoons extra virgin olive oil (45-60ml)
2 cloves garlic, minced
1 teaspoon dried oregano
1/2 teaspoon red pepper flakes
1 teaspoon fresh lemon zest
2 tablespoons nutritional yeast (15g)
Pasta
10 oz gluten free tailgate pasta
1/4 cup extra virgin olive oil (60ml)
1/2 large onion, finely diced
2 medium zucchini, thinly sliced
2 teaspoons dried basil
2 tablespoons lemon juice
1/4 cup nutritional yeast (30g)
small handful fresh basil or parsley
Instructions
Breadcrumbs
Tear bread slices into small chunks then place in a food processor. Pulse into small breadcrumb pieces.
Warm a large skillet over a medium heat and add oil. When the oil is hot, add garlic, chili flakes and oregano. Cook 1-2minutes until fragrant.
Add the pulsed bread crumbs to the pan. Cook about 8 minutes, until the breadcrumbs are golden brown and crispy, stirring often.
Add nutritional yeast and lemon zest. Mix into the breadcrumbs. Taste and season with salt if needed.
Transfer breadcrumbs to a plate or bowl and set aside. Wipe down the pan and return to the burner.
Pasta
Bring a large pot of salted water to a boil. Cook pasta until al dente according to package directions. Before draining, carefully reserve about 1 cup of the pasta water (240ml) and set aside. Pour pasta into a colander to drain remaining water. Leave in the colander and set aside.
Add the olive oil to a large skillet and warm over a medium heat. When the oil is shimmering, add the onion. Sauté about 5 minutes to soften.
Add half the zucchini slices to the pan and 1 teaspoon basil. Cook until the zucchini starts to soften, about 5-7 minutes. Add the remaining zucchini and dried basil and cook another 5-7 minutes until all the zucchini is soft.
Stir in the lemon juice, nutritional yeast and salt. Add the cup of pasta water. Simmer 2-3 minutes over a medium-high heat.
Add the cooked pasta to the pan. Toss to coat fully with pasta sauce. Stir in 1/2 cup of the garlic chili breadcrumbs and any fresh herbs if using.
Serve divided up between plates and top with more breadcrumbs as desired.
Notes
Make it vegan: check bread and pasta are also vegan.
Store leftovers in an airtight container in the fridge 3-4 days.
Store leftover breadcrumbs in a separate airtight container or freeze in a freezer-safe bag for up to 3 months.

This website provides approximate nutrition information for convenience and as a courtesy only. Nutrition data is gathered primarily from the USDA Food Composition Database, whenever available, or otherwise other online calculators.
More Delicious Gluten Free Pasta Dishes