Cozy up with this Chicken Gnocchi Soup! It's hearty and creamy without being too heavy or rich making for a super satisfying and delicious cool weather comfort! Sautéed chicken sausage and aromatic veggies make up the base with pillowy gnocchi dumplings throughout the soup providing ample flavour and filling ingredients. No heavy creams or milks needed to make this silky, cozy bowl of comfort! | Gluten Free + Dairy Free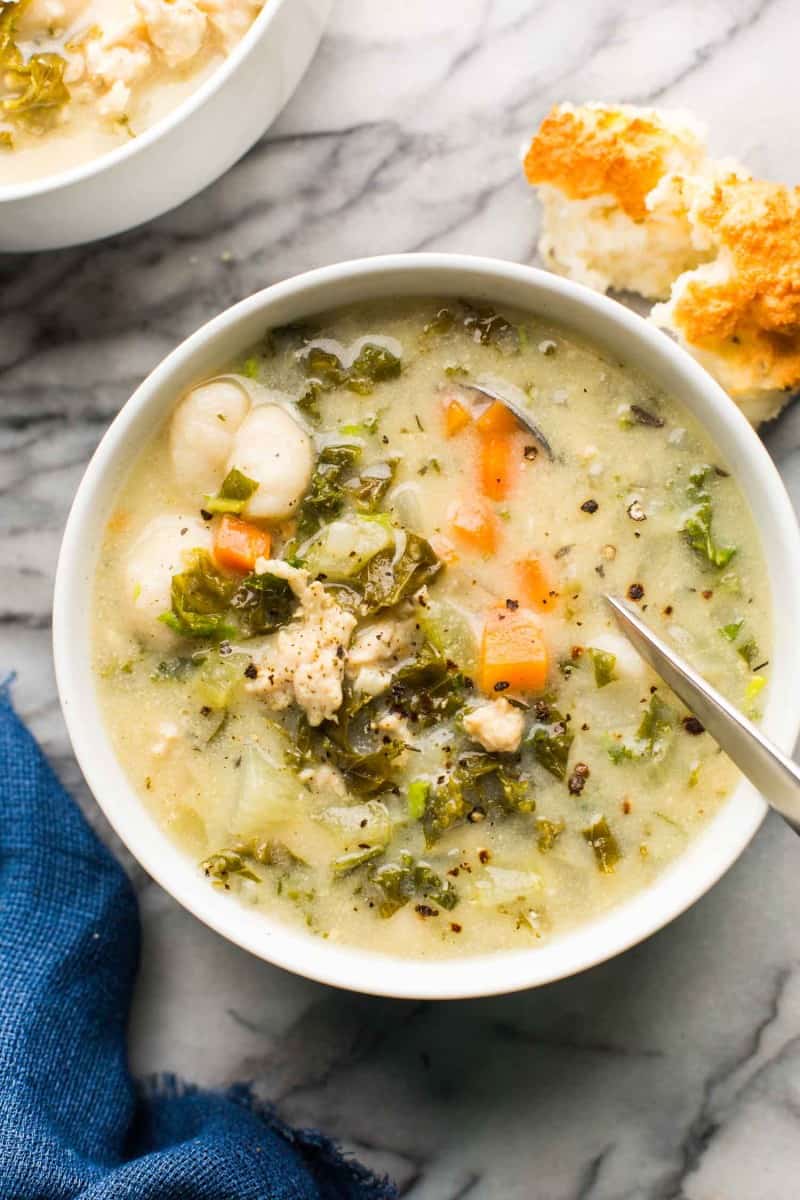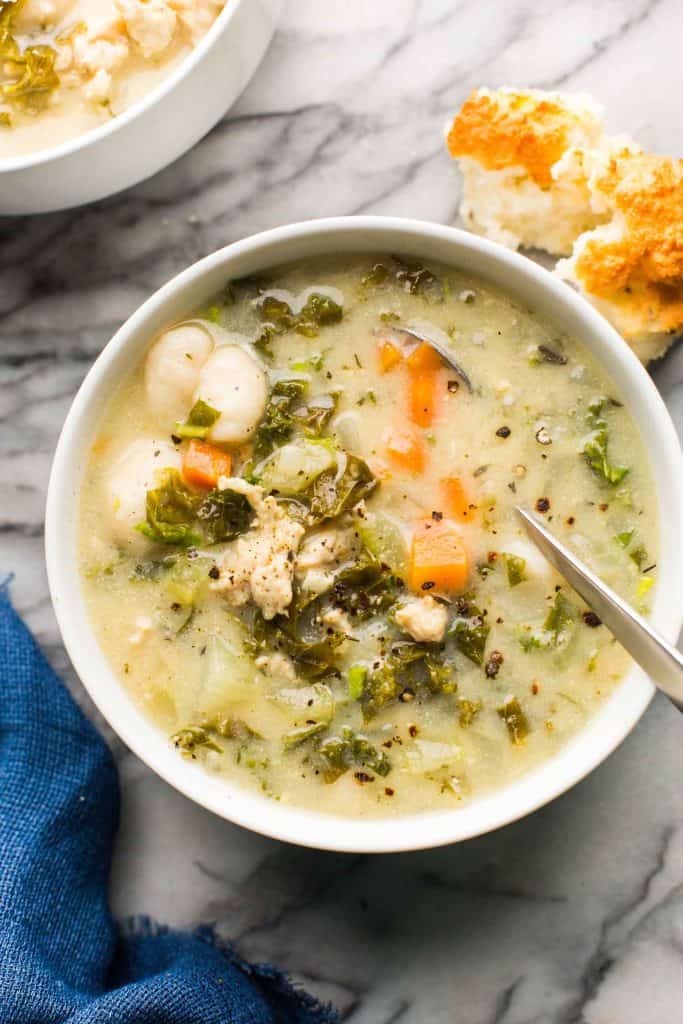 You're only one pot and about 30 minutes of cooking time away from settling in with a healthy, hearty, mouthwatering bowl of this chicken gnocchi soup!
I guess you can say that it's inspired by Olive Garden's much loved Chicken and Gnocchi Soup, though I haven't actually had any myself. It's been a long time since I was last at an Olive Garden given how there aren't any here in the UK. At any rate, I definitely don't think they'd be Coeliac safe what with all of the unlimited breadsticks. *My tastebuds just got hit with a wave of nostalgia.*
So after seeing quite a few copycat recipes pop up on my Pinterest feed I figured I'd take a stab at making my own version. I might be biased, but I think this version might just give them a run for their money. What's different?
It's lightened up & dairy free. I used a bit of almond milk and starch to create a silky, less calorie rich broth.
Chicken sausage instead of chicken breasts – it's easier to cook and provides and extra boost of flavour.
Kale instead of spinach (though you can absolutely use spinach if you prefer). In my opinion, kale just holds up better in soups and lasts longer.
So let's get cooking!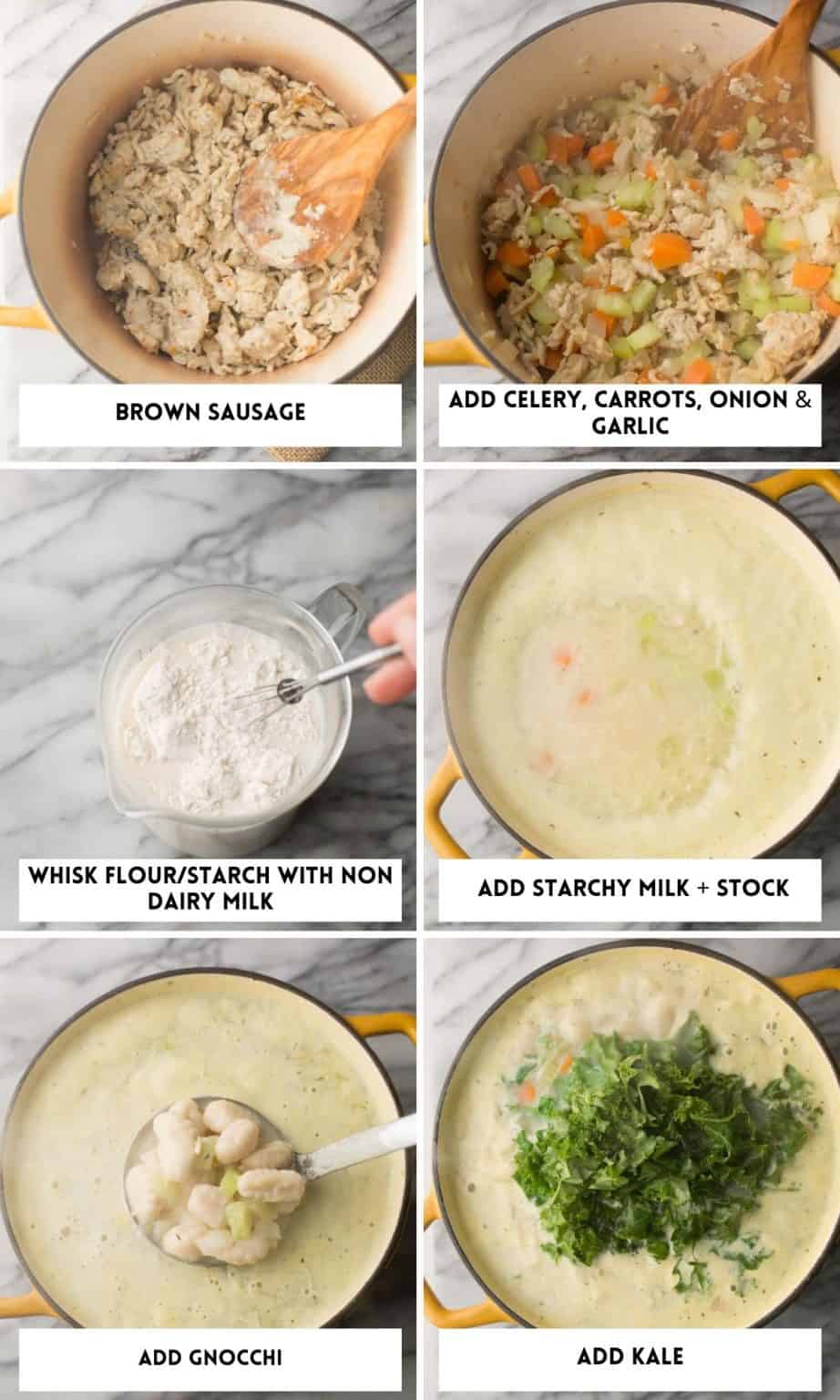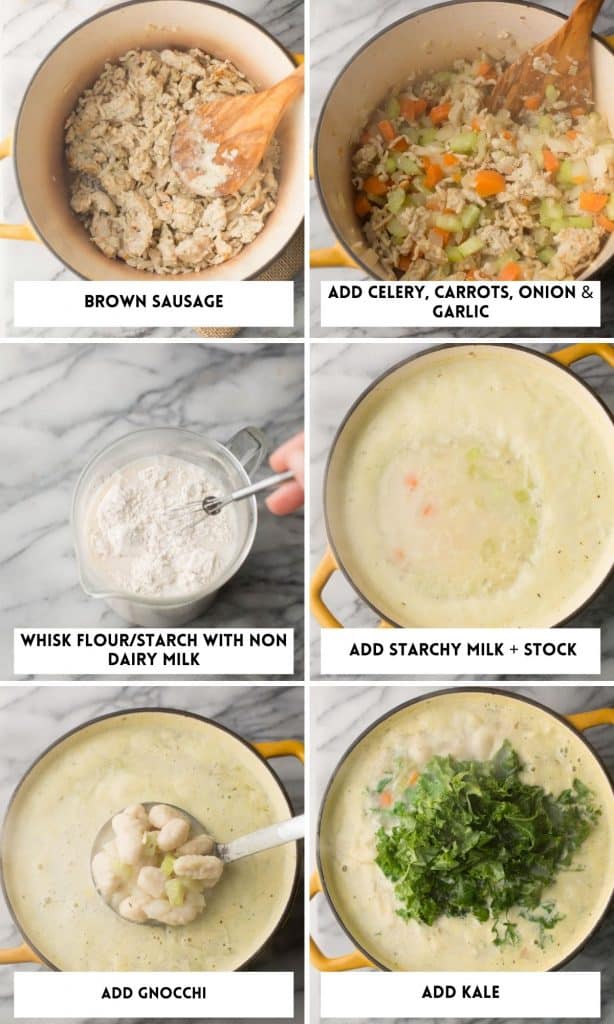 Substitutions
Chicken Sausage >> Pork Sausage – chicken sausage is a lot leaner than pork sausage. If using pork sausage you don't need to add olive oil to the pot to begin with and you may also need to drain the excess oil out of the pot before adding your veggies.
Chicken Sausage >> Shredded Chicken Breast/Thigh – This soup is a great way to use up leftover chicken. You can use shredded rotisserie chicken or chopped cooked chicken. To make this swap, simply add the chicken in when you add the gnocchi.
Kale >> Other leafy greens like spinach or chard – whatever leafy greens you've got on hand are likely good to use. If using a softer leafy green like spinach, add it in in the last minute or two as it will soften and wilt much faster than kale.
Almond Milk >> Pretty much any other non dairy milk – Just make sure that you use unsweetened and unflavoured milk. No need for vanilla flavoured rice milk or anything like that.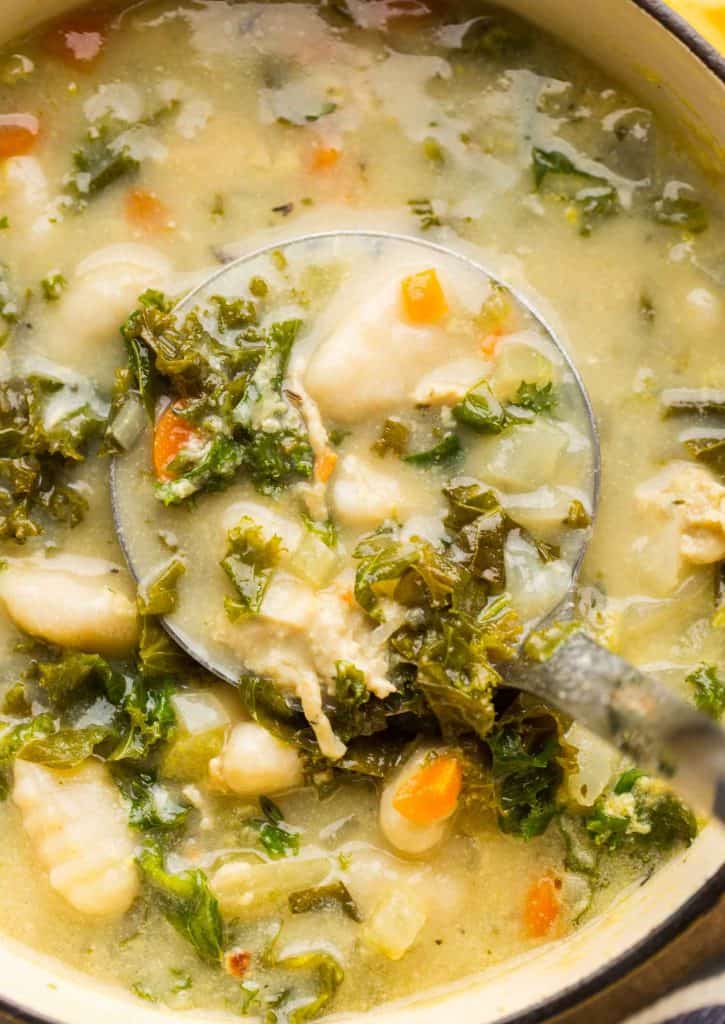 Make this paleo or low carb friendly
Use cauliflower gnocchi in place of potato gnocchi. If you live in the US, Trader Joe's has an excellent cauliflower gnocchi. If you're up to the job you can also make your own paleo friendly gnocchi yourself: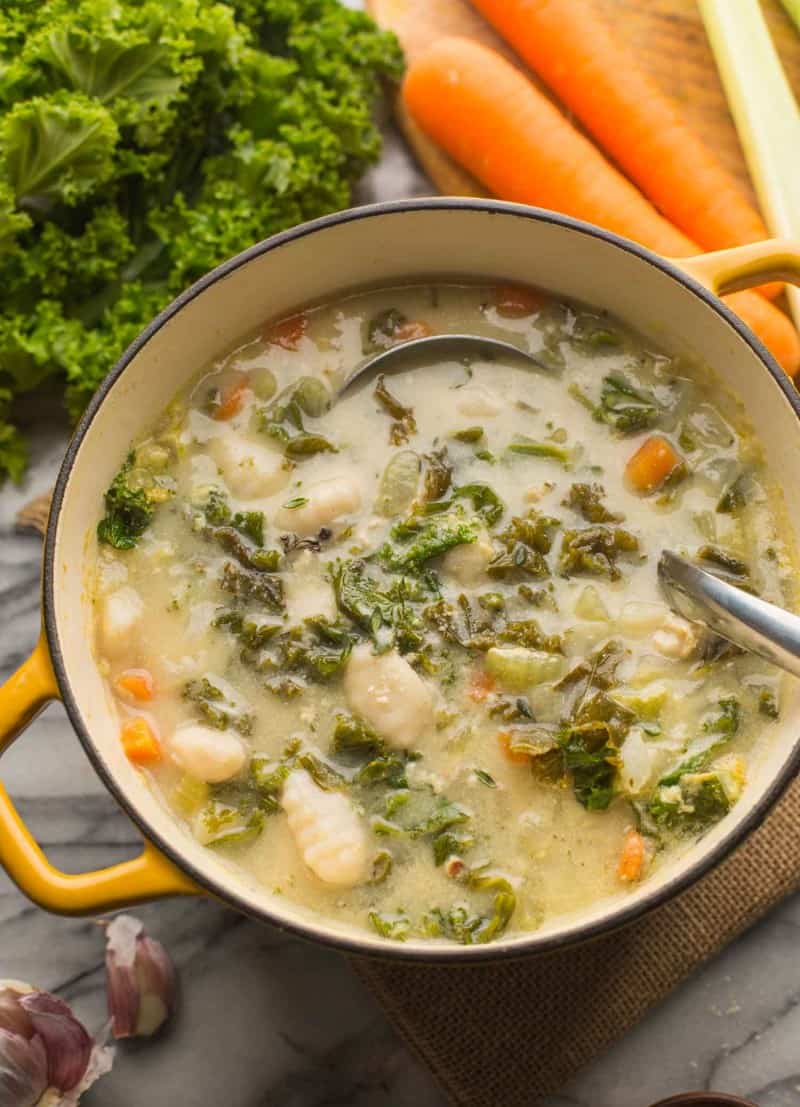 Enjoy!
FACEBOOK | INSTAGRAM | PINTEREST
Don't forget to #asaucykitchen on instagram if you try this Chicken Gnocchi Soup! I'd love to see what you make with it! You can also post your pictures to my facebook page!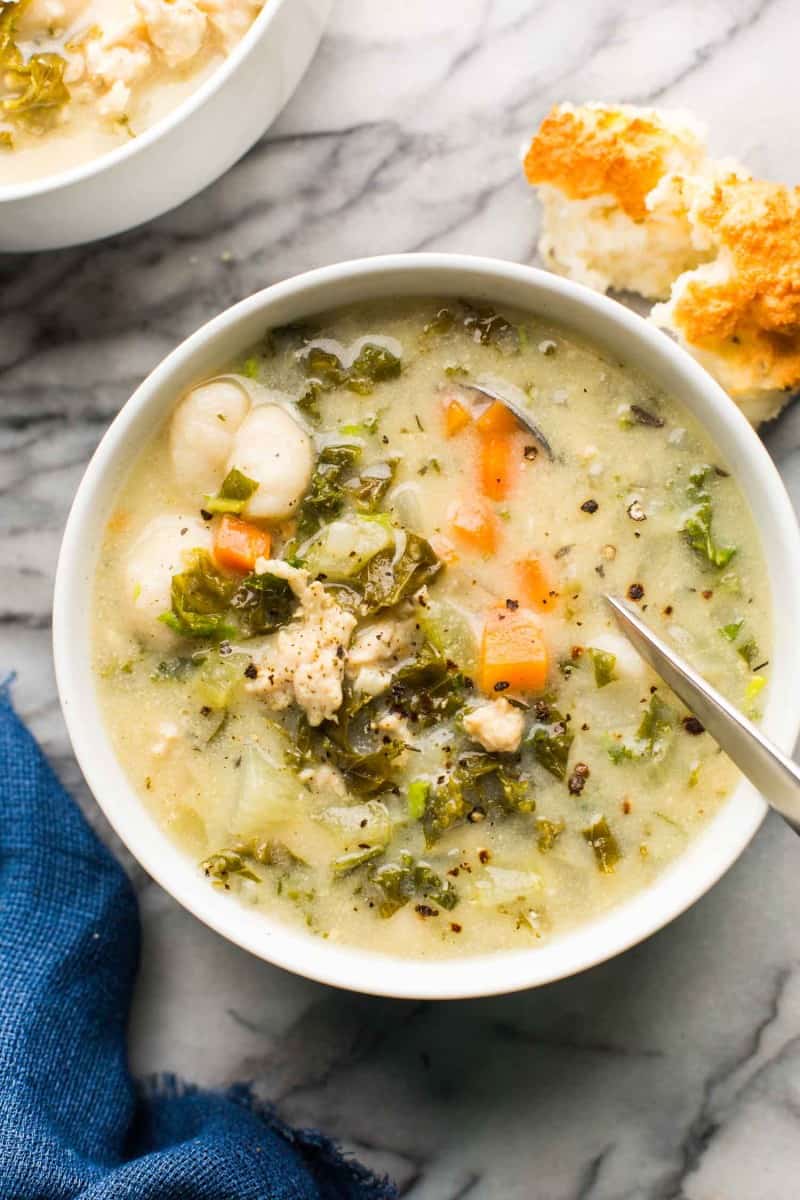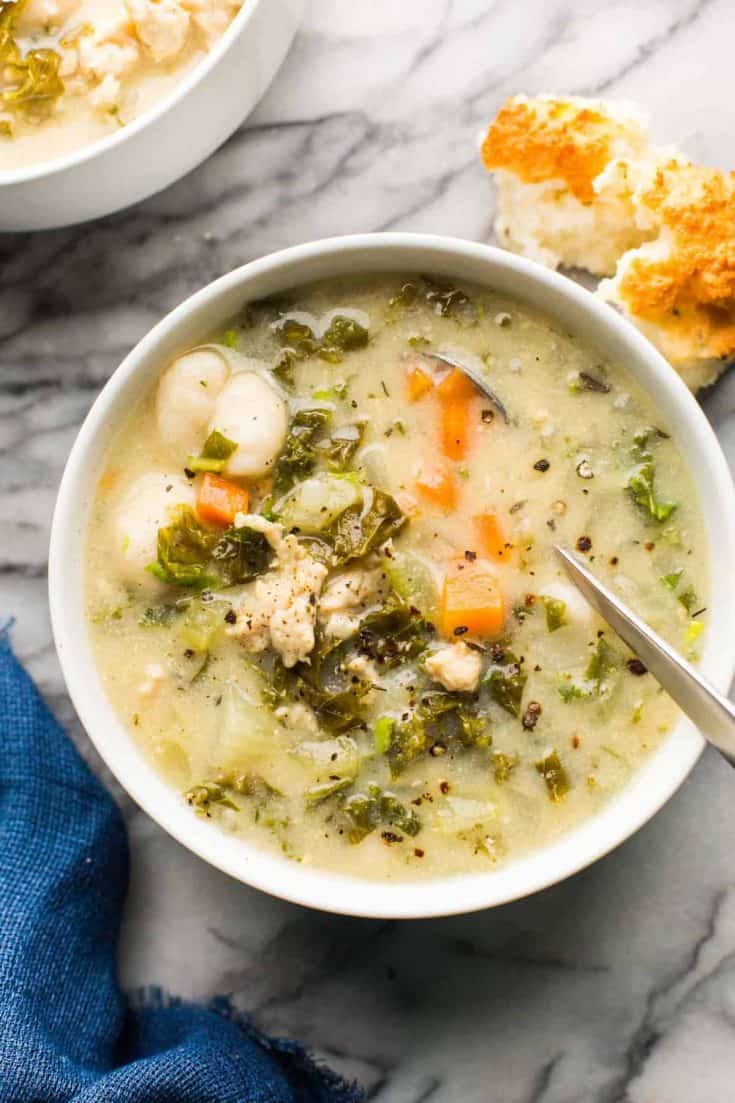 Recipe
Chicken Sausage Gnocchi Soup
Yield:
9-10 cups
Prep Time:
15 minutes
Cook Time:
30 minutes
Total Time:
45 minutes
Sautéed chicken sausage and aromatic veggies make up the base of this soup with soft and pillowy potato dumplings found throughout providing ample flavour and filling ingredients. No heavy creams or milks needed to make this silky, cozy bowl of comfort! | Gluten Free + Dairy Free
Ingredients
1 tablespoon | 15 ml olive oil
1 pound | 450 g chicken sausages, casings removed
1 large white, brown or yellow onion, diced
2 stalks celery, diced
2 large carrots, diced
1 tablespoon (abut 3 cloves) garlic, minced
2 cups | 480 ml unsweetened almond milk (or another dairy free milk of choice)
1 tablespoon arrowroot starch, tapioca starch, rice flour or gluten free all purpose flour
4 cups | 950 ml chicken stock
1 pound | 16 oz gluten free potato gnocchi
3 cups kale, chopped into bite sized pieces
Salt & freshly ground black pepper to season
Fresh herbs like parsley or thyme to serve (optional
Instructions
Warm a large pot over a medium-high heat with olive oil. Add the sausage and cook. Use a wooden spoon to break up the sausage into smaller pieces. Cook until lightly browned.

Add the chopped onion, celery, carrot and garlic and cook about 7 minutes to soften the veggies. Make sure to stir everything around to prevent the garlic and onion from overcooking.

While the veggies are softening: Whisk together the almond (or non dairy) milk with the starch or flour so that no lumps remain. Add the starchy milk and chicken stock and turn the temperature up high. Bring the soup to a boil then add the gnocchi.

Reduce the temperature to a medium low to achieve a gentle simmer and let cook 6-8 minutes.

Add the kale and cook another 3-5 minutes to soften the kale. Taste and season with salt as needed and sprinkle some freshly grated black pepper over the top for good measure. Top with fresh herbs if desired and enjoy.
Notes
Make sure you use unsweetened almond milk/non dairy milk.
Ensure egg/dairy free if needed: gnocchi is commonly made with eggs and sometimes made with cheese. Double check the labels on your gnocchi before buying if you need this recipe to be suitable for your lifestyle/diet.
Nutrition Information
Yield:

5-6
Serving Size:
about 2 cups
Calories:

375
Total Fat:

9g
Saturated Fat:

0g
Carbohydrates:

47g
Fiber:

2g
Sugar:

5g
Protein:

23g
This website provides approximate nutrition information for convenience and as a courtesy only. Nutrition data is gathered primarily from the USDA Food Composition Database, whenever available, or otherwise other online calculators.
Similar Recipes You Might Enjoy