One pot Fast Seafood Gumbo loaded with crab, shrimp and tons of veggies | Gluten Free + Paleo Option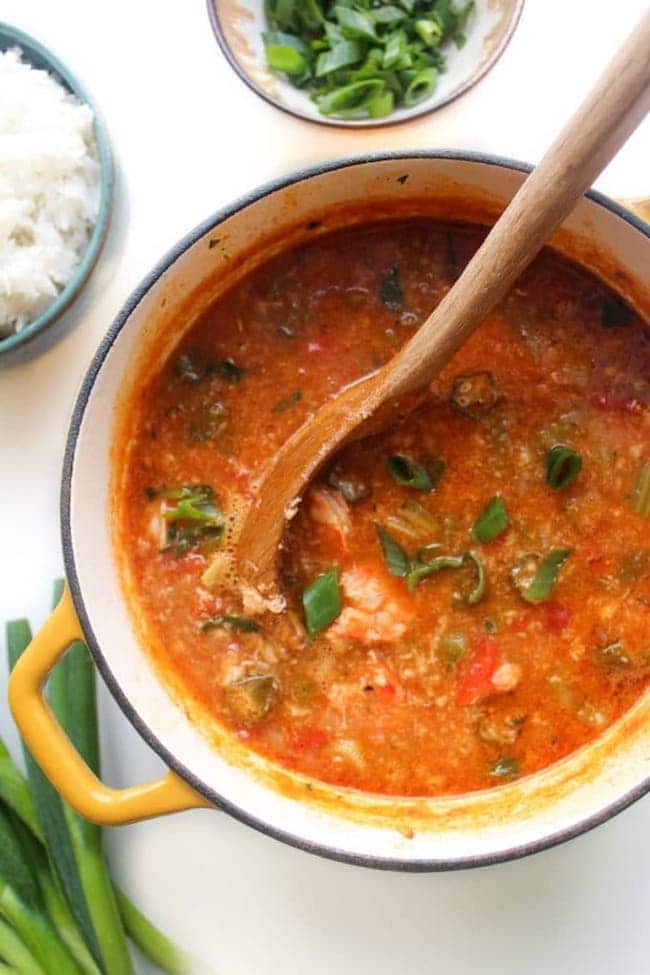 For as long as I've known Mike I've been telling him that I need to make him gumbo. I had never actually made gumbo myself before, I just knew he'd love it because gumbo is actually the best. True fact.
Well, it's taken me long enough but I finally delivered on the gumbo situation and now I think I've got a new recipe to add into the usual rotation. Within a day this very full pot was completely polished off – and I only had one bowl to myself. So I guess you could say Mike's a fan. Which is a good thing because I probably would have had to divorce him for irreconcilable differences otherwise.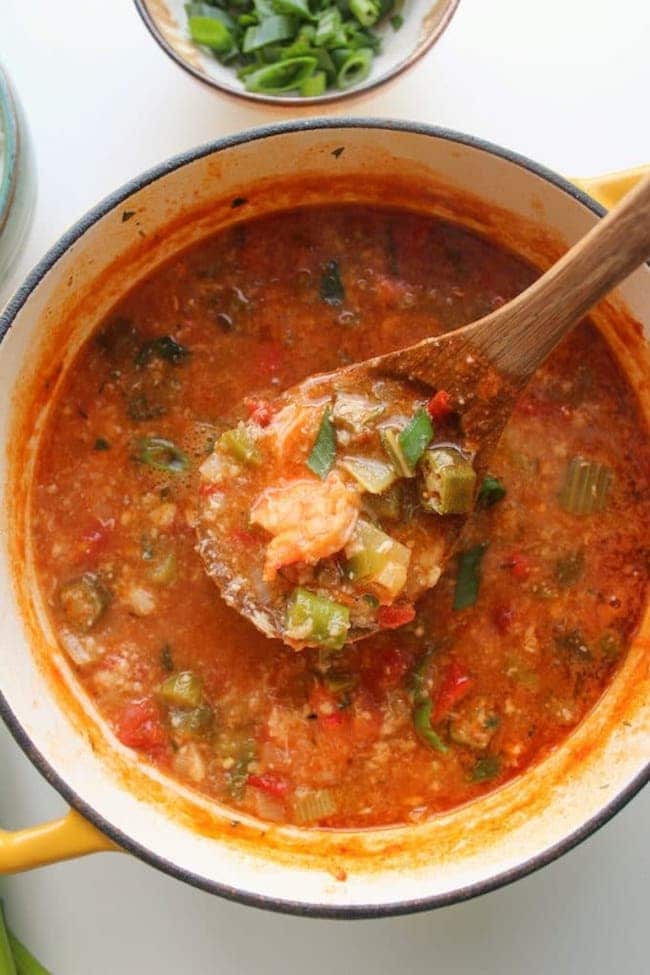 I think the thing that kept me from making gumbo for so long was the lengthy ingredient lists that typically accommodates gumbo – or at least good gumbo. I'd take one glance at the recipe and give it pass. It's stupid really because when I freestyle recipes for dinner I often end up throwing in everything within reach. So many spices, so many herbs, and probably whatever is in the fridge that needs using ASAP.
I promise though, it's worth it here. I often find my brain in turmoil trying to decide whether or not to keep my recipes on here short for the sake of ease and also not wanting to cut corners and reduce the quality of a recipe. Why share an 8 when I can make a 10? While I'm a big believer that you don't need a million ingredients to make something delicious and healthy – sometimes a little extra spice goes a loooong way. What do you think?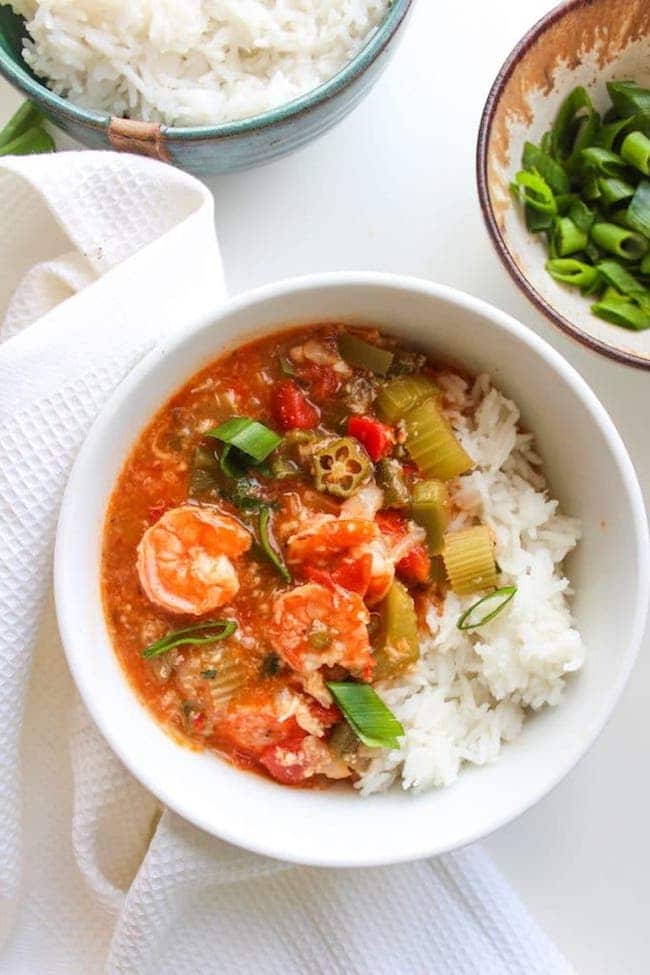 I got the idea to make a seafood gumbo from my mom a couple of weeks ago. I was talking to my youngest brother on Facetime who was giving me his newest recipe ideas. He's just turned 9 last month, so as you can imagine most of his recipe ideas involve peanut butter, bacon and m&m's…sometimes all of those things together.
The kid has vision.
While on the subject of food my mom suggested I make a seafood gumbo like one she used to make when I was young. It's easy to put off things that I want to do just because but once your mom tells you to do something you just gotta do it, ya know? Thanks, mom.
The great thing about this gumbo is that it's actually based off of a Weight Watchers recipe which drastically cuts the amount of flour and oil that you'd normally find in gumbo. I've also added a few more veggies and spices to punch it up. The original was good, but this one is life changing.
I should also mention that technically this isn't a very authentic gumbo. Our roux here is more like a cheater roux. A true roux is made by mixing together equal parts flour and oil (or butter) in a sauce pan and cooking until you end up with a thick, dark paste. It helps to both thick the stew while imparting a deep, rich flavour. It takes time and patience – great if you have either of those things, but we don't need it here. There are so many amazing veggies and spices in the mix so I'm not worried about missing any added flavours.
Once you have all your veggies washed and chopped this recipe is super easy to carry out. Just pile your veggies into the pot and get sautéing.
Serve this over a bed of rice (or cauliflower rice if you're doing the paleo thing) and enjoy! If you end up enjoying this half as much as Mike did then I know you'll love it!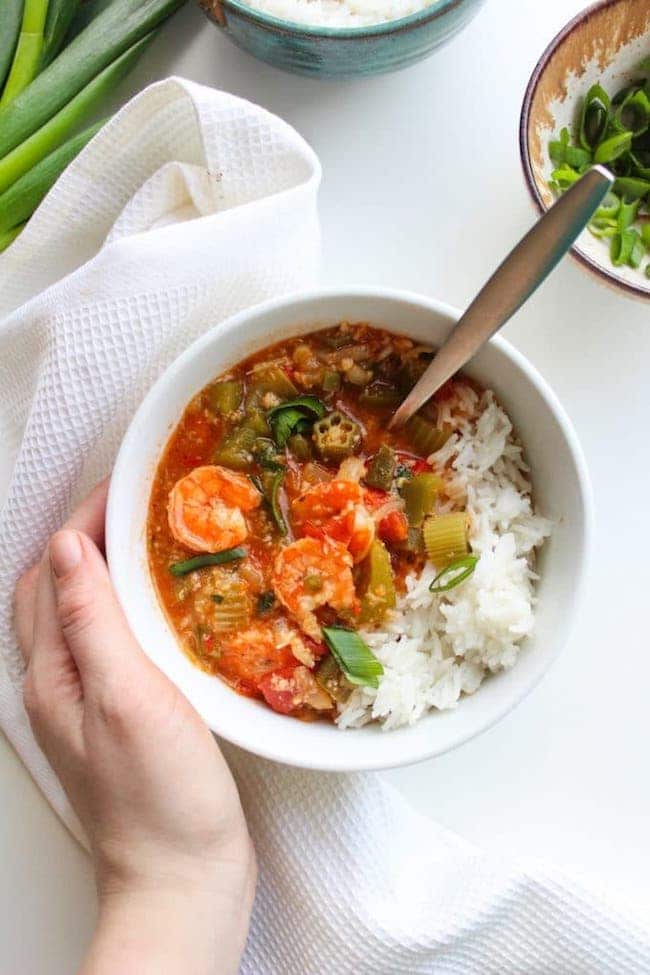 FACEBOOK | INSTAGRAM | PINTEREST  
Don't forget to #asaucykitchen on instagram if you try this Fast Seafood Gumbo! I love seeing what you make with!  You can also post your pictures to our facebook page!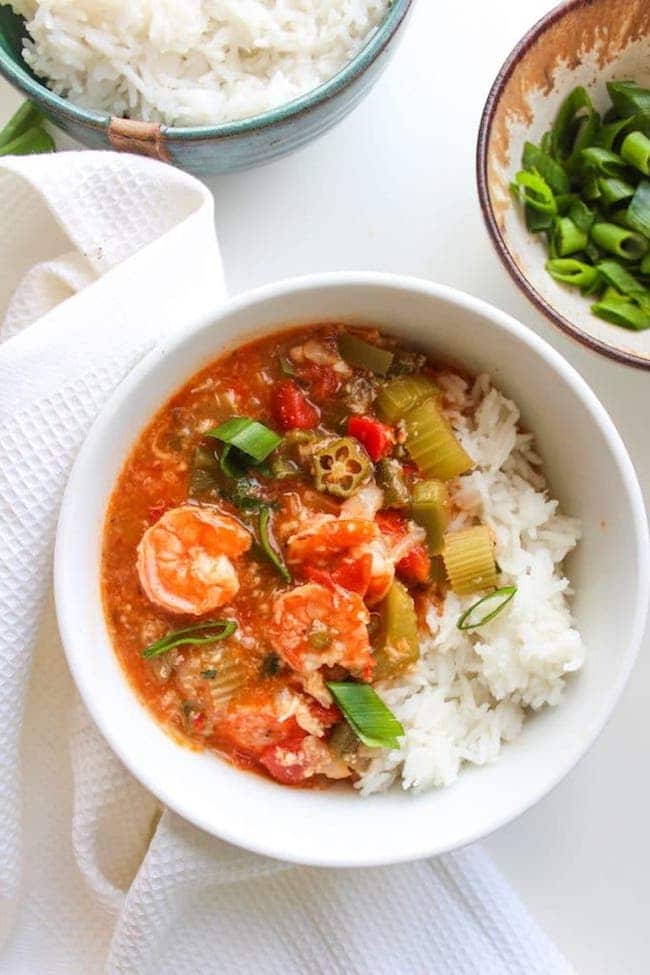 Recipe
Fast Seafood Gumbo
Yield:
5 servings
Prep Time:
15 minutes
Cook Time:
25 minutes
Total Time:
40 minutes
One pot Fast Seafood Gumbo loaded with crab, shrimp and tons of veggies | Gluten Free + Paleo Option
Ingredients
1/4 cup olive oil
1/4 cup gluten free flour (rice, tapioca, or gluten free blend)
1 medium white onion, chopped
1 cup celery, chopped
1 red & green bell pepper, chopped and deseeded
1 red chili, chopped
2 cups okra (fresh or frozen), chopped
1 cup canned crushed tomatoes
2 large cloves garlic, crushed
1 teaspoon dried thyme
2 cups fish stock
1 bay leaf
1 teaspoon cayenne powder
2 8 oz can crab meat with brine, make sure there are no bones
1 pound shrimp, peeled and deveined
salt & pepper to taste
1/4 cup fresh parsley, finely chopped
Instructions
In a 8 quart stock pot warm the oil over a medium heat. Once hot add the flour and stir with the oil to form a thick paste. Stir for about 5 minutes making sure not to let the paste burn.
Add the onions, celery, peppers, and okra and cook for 5 minutes. Add the garlic, tomatoes, thyme, stock bay leaf and cayenne and stir to combine.
Bring to a boil on high then reduce the temperature back to a medium heat and let simmer for 15 minutes.
Add the raw shrimp and crab meat with brine and let the shrimp cook for 8 minutes until cooked through. Add the parsley before serving.
Serve with rice and top with sliced green onions. Taste and season with salt & pepper as needed
Nutrition Information
Yield:

5
Serving Size:
g
Calories:

363
Saturated Fat:

2g
Cholesterol:

316mg
Sodium:

1462mg
Carbohydrates:

18g
Fiber:

5g
Sugar:

7g
Protein:

40g
This website provides approximate nutrition information for convenience and as a courtesy only. Nutrition data is gathered primarily from the USDA Food Composition Database, whenever available, or otherwise other online calculators.