Fruity Chia Coconut Popsicles – 5 ingredients and lightly sweetened popsicles speckled with chia seeds and mixed berries | Gluten Free + Vegan + Paleo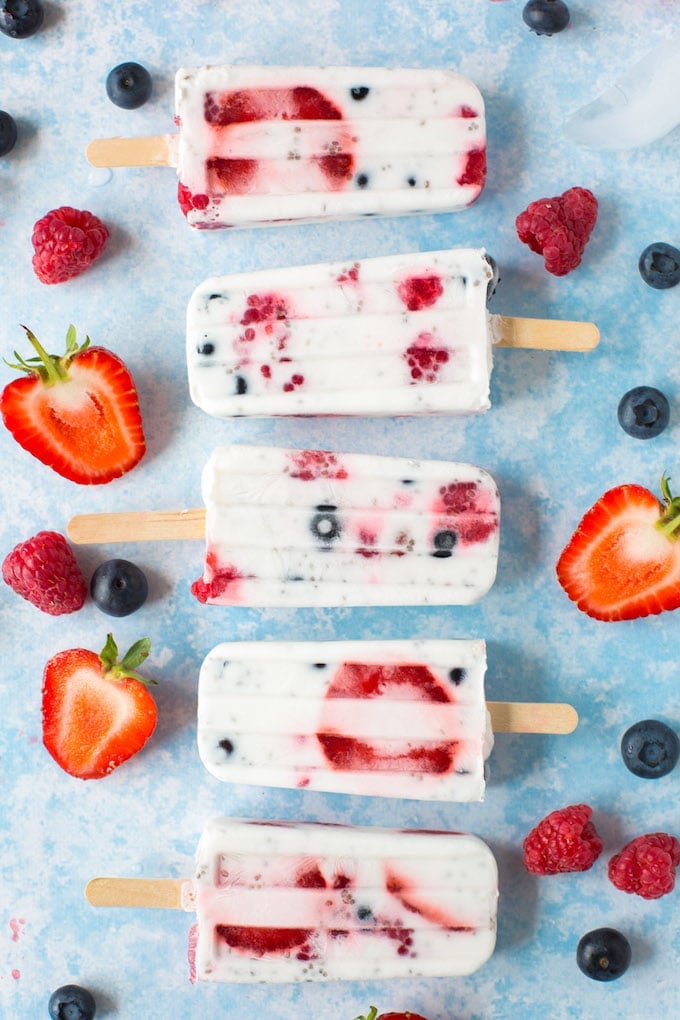 Even though it's been almost exactly three years to the day since I moved to England, I still can't quite get used to these summers.
I love the spring, I adore the autumn, I even enjoy the winter here….for a time. I'm pretty much over winter by February though. Don't need it.
I just desperately miss my Arizona summers. I miss the months blazing hot sun and the ridiculous heat. I've said it before and I'm sure I'll say it a million times more – ya girl is solar powered. I never feel more like I'm in my element than when it's hot, and bright, and I'm soaking in some rays.
Summers here on the other hand are predictably unpredictable. There are more cloudy, grey days than anything else. Even when we do get sun it goes from hot to cold to rain to sun all within the span of a few hours. I never quite know how to dress when I leave the house – whether or not to take a sweater or umbrella. BBQ plans are always made last minute because who knows if we'll be rained out.
As much as I whine about it all, I do feel like living here has taught me to enjoy the good times as they're happening. When ever the sun comes out to play I make sure I take the time to get out of the house and go for a walk even if I'm feeling busy because who knows if I'll be able to tomorrow.
The same even goes for my food! In about a month or two it's going to be decidedly too cold for ice cream for dessert and smoothies in the morning. I've got to make sure to get in all the summer grub in before it's too cold and out of season – including these Fruity Chia Seed Coconut Popsicles!
It's all coming full circle!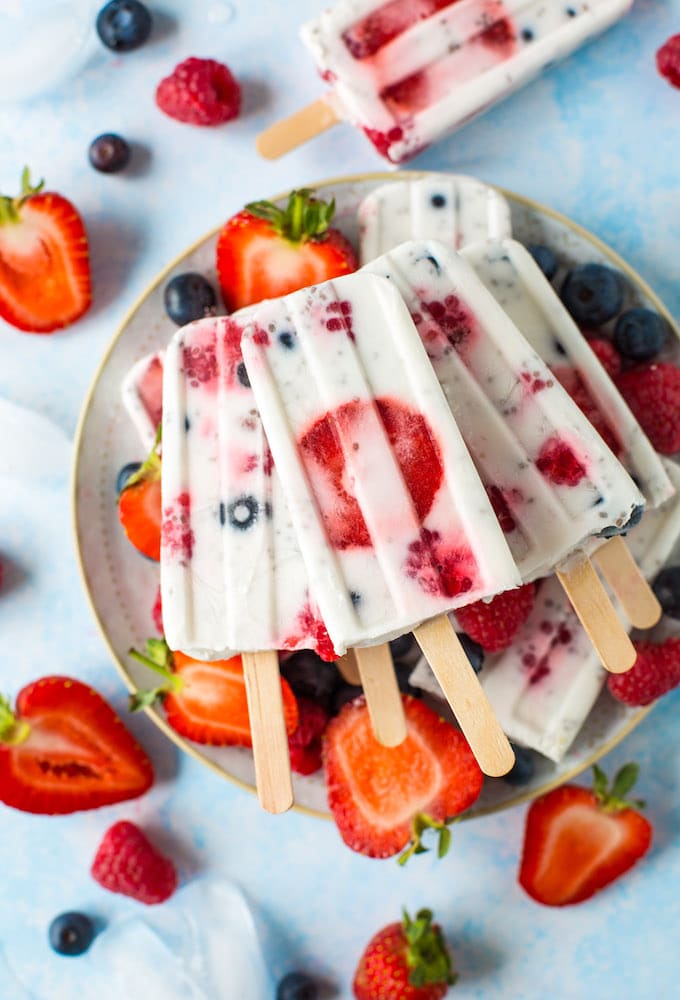 And what screams summer more than berries?
I think I've been subconsciously trying to eat my body weight in berries. They're just so ripe, and juicy and cheap this time of year I can't not pop a carton of strawberries into my cart when I pass it at the store. The problem with that is that I then end up with loads of fruit hanging around that have the potential to go bad before I can actually eat them.
So into the popsicles they go! Along with a sprinkling of chia seeds because
a.) I love the texture of chia seeds
and
b.) Hello fibre, protein and healthy fats!
You with me?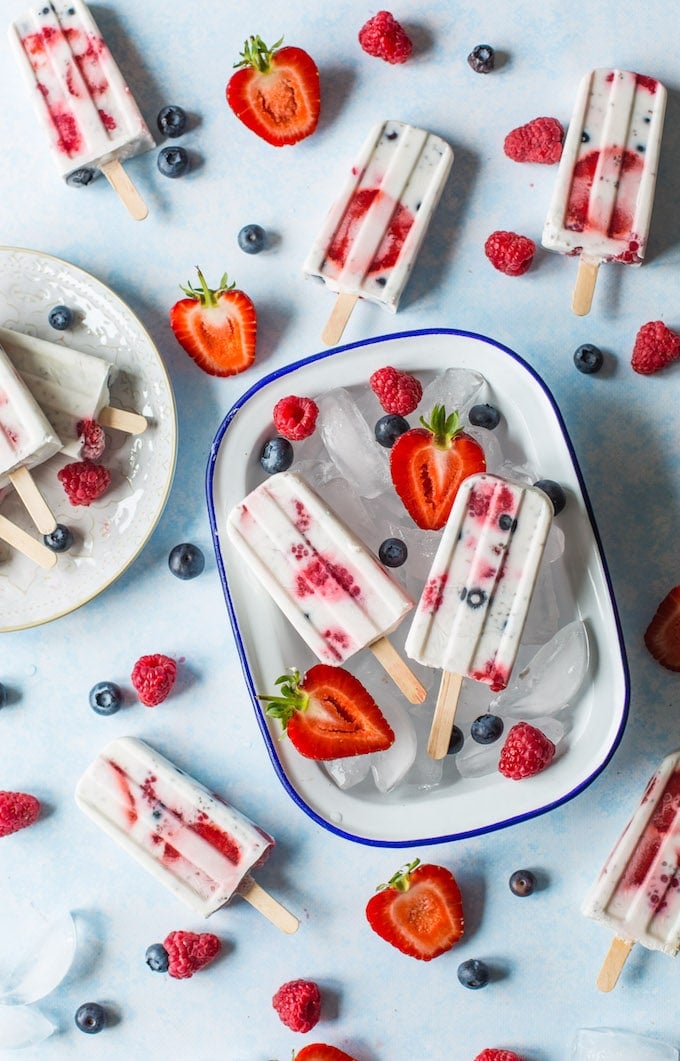 How to make: Fruity Chia Seed Coconut Popsicles
These coconut popsicles are super easy to make requiring only about 25ish minutes to prep.
It's starts with a simple coconut milk base lightly sweetened with maple syrup (feel free to use your favourite sweetener) and brightened up with a squeeze of lemon juice. Mix in a few tablespoons of chia seeds and set aside for about 20 minutes to allow the seeds to gel up. Gelled chia seeds will stay suspended in the popsicles rather than sink to the bottom.
Once your base is ready to go just add it to a popsicle mould with your choice of fruit. I used sliced strawberries, raspberries, and blueberries but you can play around with what you've got and make these your own. Sliced peaches, blackberries, mango – throw in whatever you've got!
And then freeze! Easy as that!
These popsicles are fresh, fruity, healthy to boot so you can feel good about eating them.
Enjoy!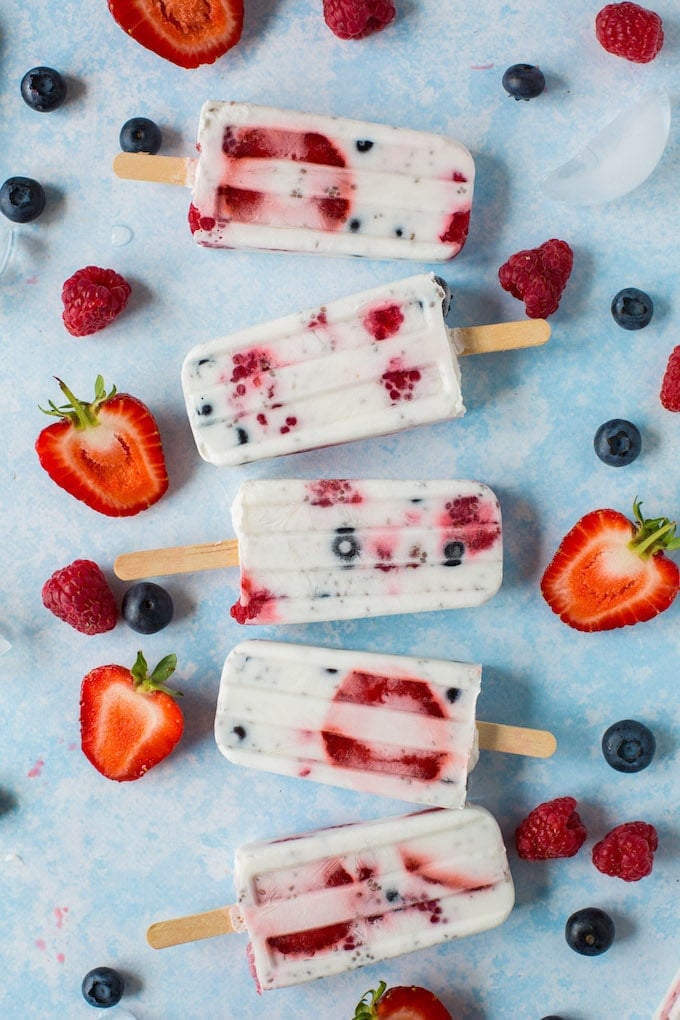 FACEBOOK | INSTAGRAM | PINTEREST
Don't forget to #asaucykitchen on instagram if you try this Fruity Chia Seed Coconut Popsicles! I'd love to see what you make with it! You can also post your pictures to my facebook page!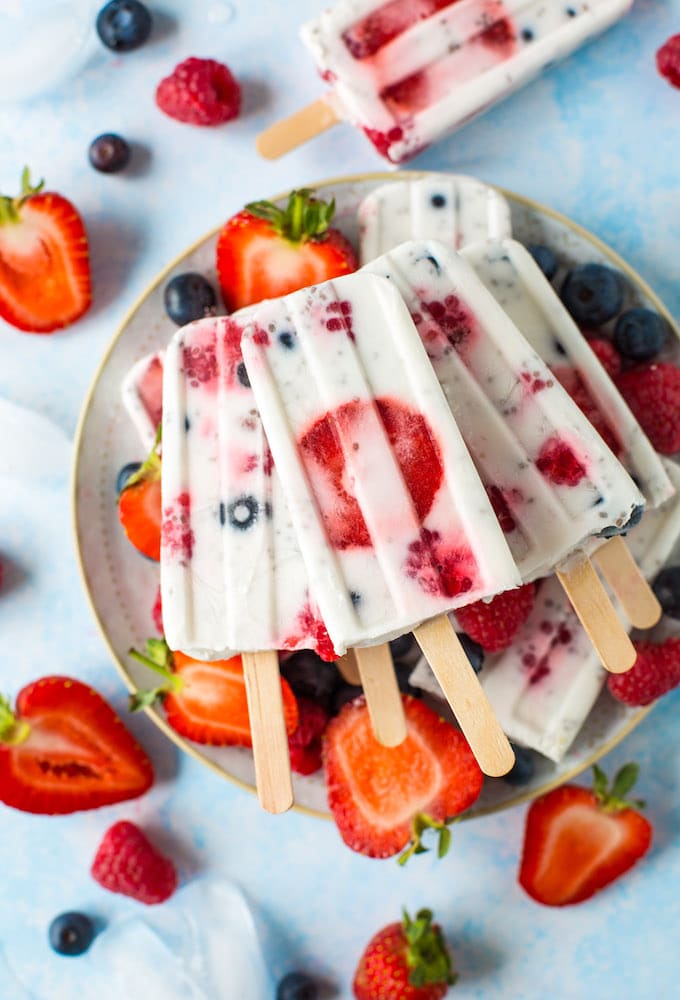 Recipe
Fruity Chia Seed Coconut Popsicles
Yield:
10 popsicles (though it mostly depending on the size of your mold)
Prep Time:
25 minutes
Total Time:
25 minutes
Fruity Chia Coconut Popsicles - 5 ingredients and lightly sweetened popsicles speckled with chia seeds and mixed berries | Gluten Free + Vegan + Paleo
Ingredients
1 14 oz can full fat coconut milk
2 tablespoons | 30 ml maple syrup (more or less to taste)
2 tablespoons | 30 ml freshly squeezed lemon juice
3 tablespoons black chia seeds (you can also use white but won't get the same speckled effect)
2 cups berries of your choice (I used a mix of sliced strawberries, raspberries and blueberries)
Instructions
In a medium sized mixing bowl or jar with a pourable spout, mix together the coconut milk, maple syrup, lemon juice and chia seeds. Whisk together until completely combined.
Place in the fridge for about 20 minutes to give time for the chia seeds to gel up.
When you're ready place a few berries at the bottom of the mold. Pour the coconut milk mixture into the mold, filling about 2/3 of the way full.
Carefully add the rest of your berries to the popsicles mold until the molds are almost full. Add the popsicle sticks, cover and place in the freezer for at least 6 hours or until completely frozen.
Notes
Prep time is about 25 minutes but freeze time is at least 6 hours
Serving size: 1 popsicle  Calories: 108 Fat: 8 g Saturated fat: 6 g Carbohydrates: 9 g Sugar:4 g Fiber: 2 g Protein: 1 g
Nutrition Information
Yield:

10
Serving Size:
popsicle
Calories:

108
Saturated Fat:

6g
Carbohydrates:

9g
Fiber:

2g
Sugar:

4g
Protein:

1g
This website provides approximate nutrition information for convenience and as a courtesy only. Nutrition data is gathered primarily from the USDA Food Composition Database, whenever available, or otherwise other online calculators.
This post contains affiliate links. I only post links for products I personally use and believe in. If you make a purchase on Amazon after clicking one of my links, I receive a small commission and the price you pay is not affected. Thank you!
more frozen treats you might like…