Baked Thai Meatballs packed with fresh flavors and paired with a simple chili sauce. Low FODMAP, Paleo and SCD approved.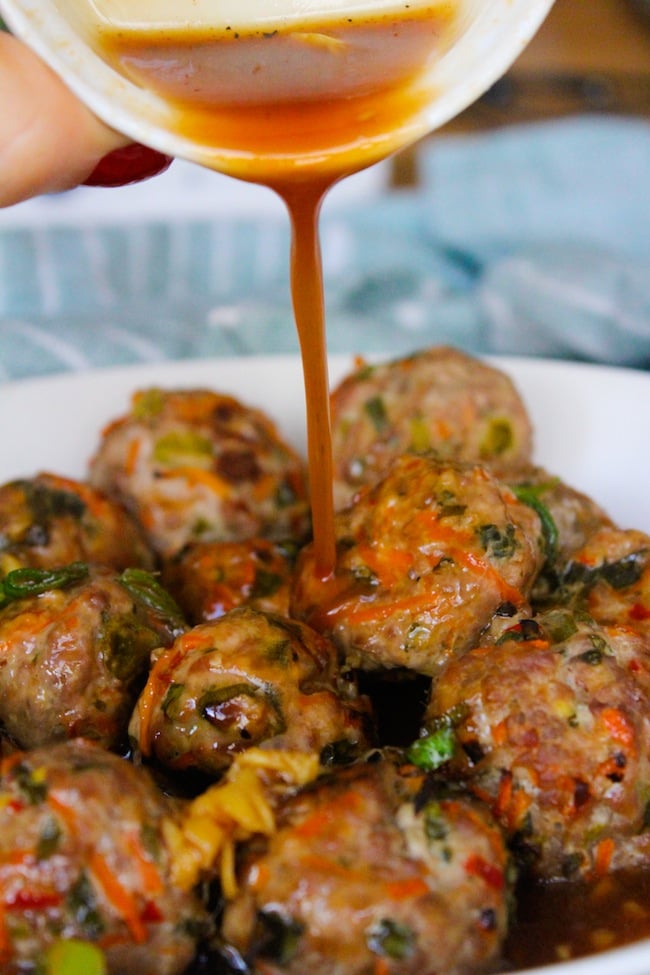 *UPDATE 1/10/16* It's recently come to my attention that coconut aminos are up for debate when it comes to an SCD diet because it's made with coconut sap. As far as I can see it's not listed at all on the Breaking the Vicious Cycle list of legal/illegal foods. It is however a recommended product listed on SCD Lifestyle and I've seen Danielle from Against All Grain uses it it many of her SCD recipes. Since Coconut aminos are fermented many people think that most of the remaining sap has 'died off'. If you're new to SCD it may be advised to steer clear of coconut aminos and then introduce it over time just to be on the safe side. Please leave a comment below if you have any more info on the matter!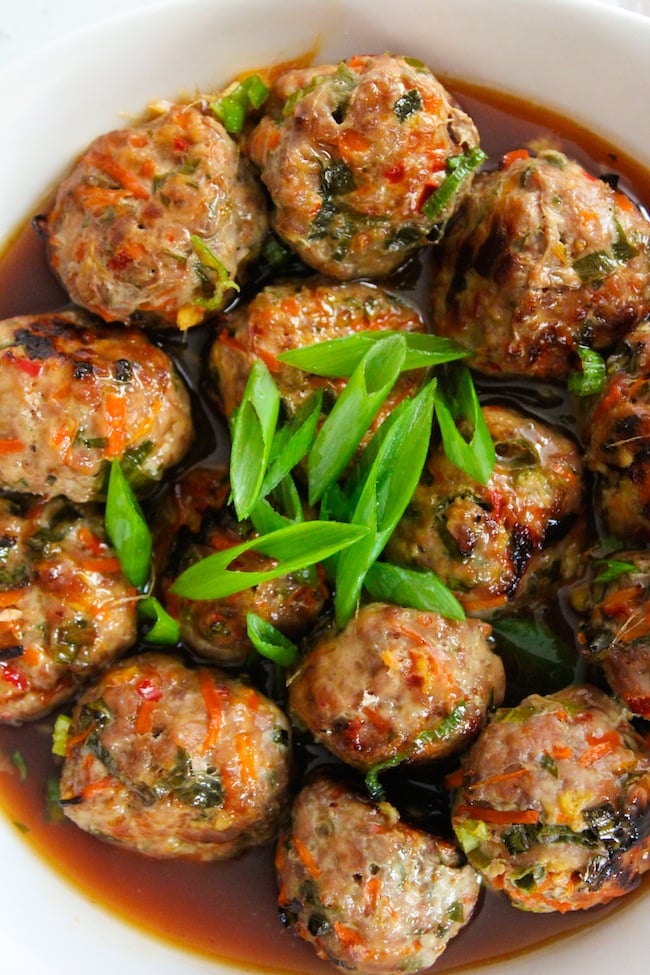 So.
Have any of you ever heard of the Specific Carbohydrate Diet (SCD)?
Up until a few weeks ago, I had only ever heard little bits and pieces of information about it. I knew it was similar to the Paleo diet and I had heard it compared to the GAPS diet, but beyond that it was just another acronym in a long list of acronyms that I can barely keep track of. Included in that list are FODMAPS, PoTS, EDS, CFS/ME – have I completely lost you yet?
If you're new around here then let me sum it up for you quickly by explaining that my husband has only a million health issues that all stem in one way or another from Coeliac Disease that got completely out of hand after going undiagnosed for so long. Even though Mike's been eating gluten free for over two years now his health has only improved marginally. Since taking a couple rounds of really intense antibiotics last year, his stomach has been completely off the rails. Things improved after he started taking a medical grade probiotic called VSL#3, but many of the issues still continued. Again, things started looking better after adopting a Low FODMAP diet a few months ago, but overall he still struggles with fatigue, bloating, and general IBS discomfort. It's been lots of fun.
I'm still trying to learn more about the SCD diet myself, but after a lot of dejection and desperation, Mike's decided to give this new diet a go. Basically in the SCD you're only allowed certain types of carbs that are easily broken down and absorbed by the small intestine and no starches. Instead of being broken down and used as energy for the body, in a person with a compromised gut certain carbs and starches remain undigested in the intestines where the begin to ferment and feed the bad bacteria in the gut. I'm sure this is exactly what you want to read when you come to a food blog. Bacteria and fermentation: Yum. (I'm sorry!)
The diet mostly consists of meats, vegetables, most fruits, specific dairy products, nuts, and seeds. SCD is not low carb.Though there aren't a whole lot current of studies to show that the SCD diet is effective in healing Coeliac Disease and other irritable bowl disorders or diseases like Crohns Disease, there are quite a lot of testimonial stories of people who feel like their lives have been changed for the better because of it. I can't think of many people who wouldn't feel better by cutting out all forms of processed foods and sugars (except honey).
To be honest, it means more to me to hear from a person who suffered through the pains of chronic illness say that their life has been changed by a lifestyle change than to hear a dietician say that not enough evidence supports the claim. I know to a lot of people diet's like this sound extremely restrictive, but from my perspective of watching someone I love struggle so much on a daily basis I think it's probably more restrictive and exhausting to have to live your life ruled by ill health.
Are you still with me? I don't blame you if you decided to jump down to the fun stuff. Why am I telling you gross things about IBS etc? Apparently I don't know how to get to the point fast enough. Given Mike's new dietary restrictions, I've been needing to come up with more recipes that are both SCD Legal and FODMAP friendly. It's been quite the job.
First up on the menu: these Thai Meatballs. How's that for getting to the point?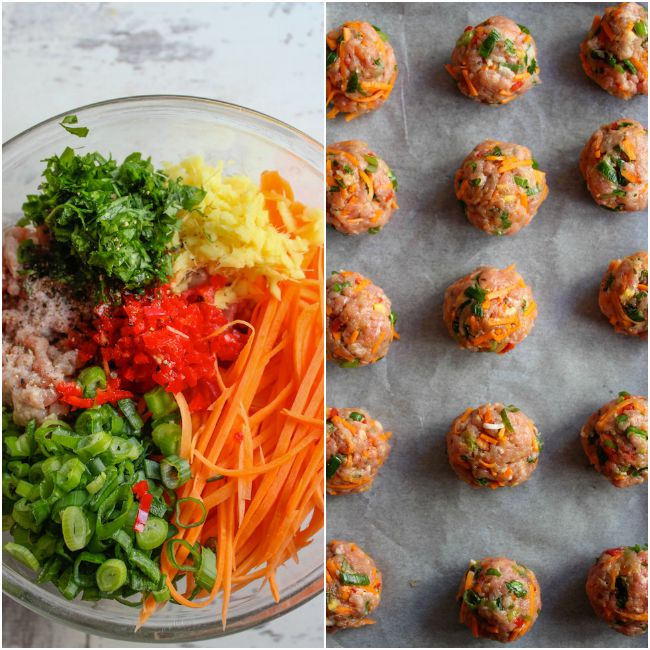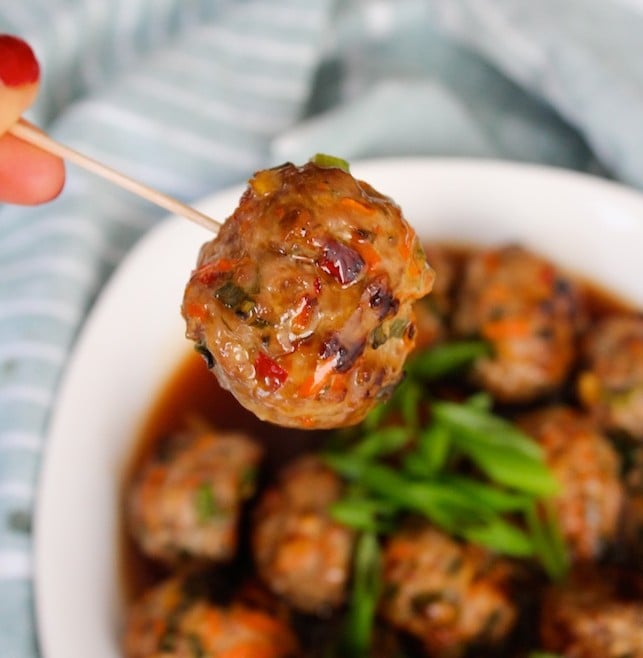 FACEBOOK | INSTAGRAM | PINTEREST
Don't forget to #asaucykitchen on instagram if you try these Thai Meatballs! We love seeing what you make! You can also post your pictures to my facebook page!
Do any of you guys have experience with with the Specific Carbohydrate Diet? I'd love to know your experience/pick your brain if you do!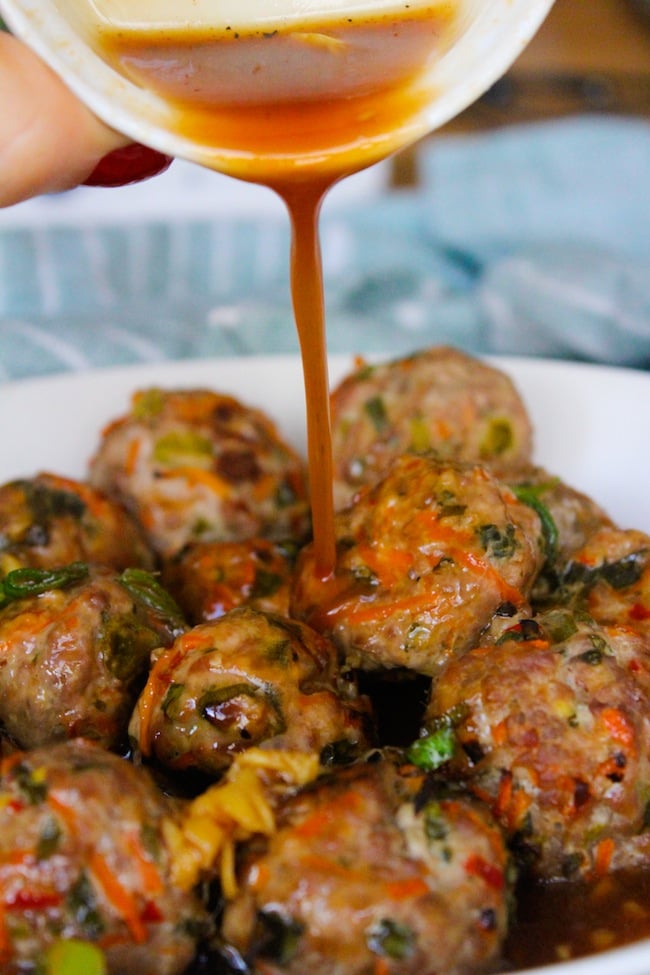 Recipe
Paleo Thai Meatballs
Yield:
15 meatballs
Prep Time:
5 minutes
Cook Time:
25 minutes
Total Time:
30 minutes
Baked Thai meatballs packed with fresh flavors and paired with a simple chili sauce. Low FODMAP & Paleo approved.
Ingredients
FOR THE MEATBALLS
1 pound ground turkey or chicken
1 large carrot, about 1/2 cup shredded
2 tbps fresh parsley chopped
1 red chili chopped
1/4 cup green onion, green parts only for Low FODMAP, chopped + more for garnishing
2 tablespoon fresh grated ginger
2 tablespoon Coconut Aminos or 1 -2 tablespoons gluten free soy sauce* see note
3/4 salt to your taste *see note
pepper to your taste
1 egg
Dash red pepper flakes optional
FOR THE SAUCE
1/4 cup (60ml) Coconut Aminos * OR 2-3 tablespoons for gluten free soy sauce
2 tablespoon sesame oil
1 tablespoon Fish Sauce, only if you use coconut aminos instead of soy sauce
2 teaspoon fresh grated ginger
1 teaspoon chili paste
1 garlic clove crushed, omit for low FODMAP
Instructions
Preheat oven to 400°F/200°C
In a bowl combine all of your meatball ingredients.Mix well and form into balls. If the mixture is a bit wet and sticks, wet your hand with a little water and then roll the balls.
Place balls on lined baking sheet and bake for 20-25 minutes
While the meatballs are baking, combine all sauce ingredients in a small pot over medium heat. Once boiling, stir, and reduce heat to a simmer.
When meatballs are done pour sauce over it, or use sauce as a dipping sauce
Notes
Only use Tamari/gluten free soy sauce if you don't need this to be SCD. *If you're using Tamari or another soy substitute like Braggs Aminos you may want to decrease or get rid of the extra salt all together. If you plan on using soy sauce I recommend using a low sodium chicken stock. Otherwise I really love coconut aminos as a soy free alternative.
Nutrition info is calculated per meatball including sauce so that you can get a more accurate account
Nutrition Information
Yield:

15
Serving Size:
meatball
Calories:

64
Cholesterol:

27mg
Sodium:

209mg
Carbohydrates:

1g
Protein:

7g
This website provides approximate nutrition information for convenience and as a courtesy only. Nutrition data is gathered primarily from the USDA Food Composition Database, whenever available, or otherwise other online calculators.