Easy, one pan crispy skillet chicken bathed in a white wine sauce and sprinkled with parsley and thyme.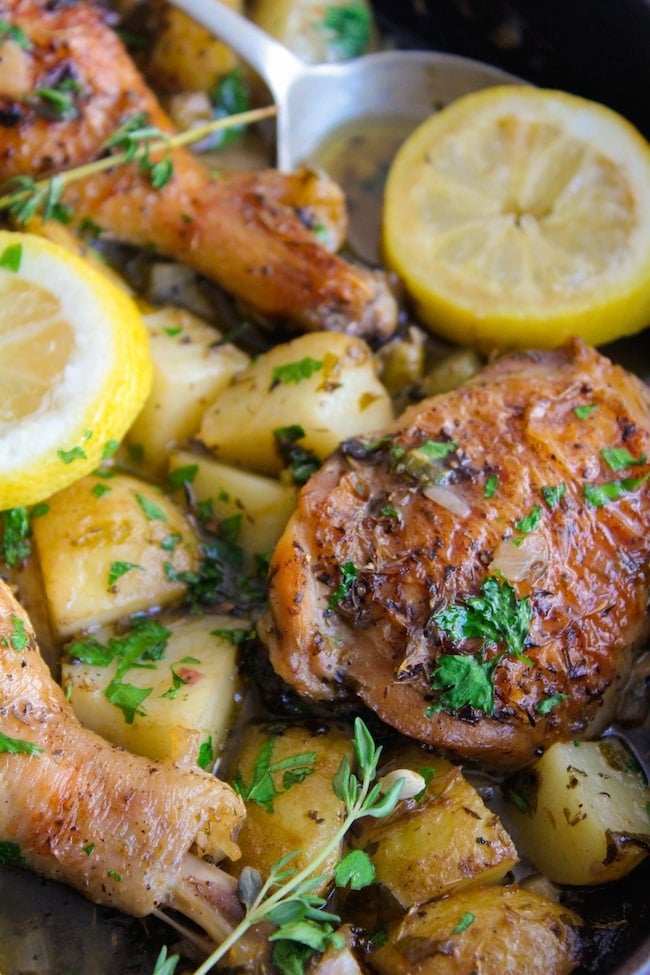 I don't know about any of you, but some days I just really struggle with the idea of making anything for dinner. You get up, you do your work, you make breakfast, you make lunch, and then by the time 4 o'clock rolls around if you're anything like me then you're pretty much mush for brains. Or maybe that's just me…Like…I already did stuff today, I don't want to do anything else. Lately, I just want to sit down with Mike and binge watch episodes of The Sopranos. (I know, I know – we're only about 15 years late to the party with that one.)
So on days when I'm especially not feeling it (which is basically every day of my life) I live for simple, hands off dinners like this crispy one skillet chicken in white wine sauce. This must be where the whole "winner, winner chicken dinner" saying became a thing. All you need is one skillet and something to dip into that white wine sauce to soak up all those juices. Might I suggest my personal favorite gluten free French Bread to go along with this? I'm not at all biased. Seriously though, you'll want to get all into this sauce and really take it in any way you can.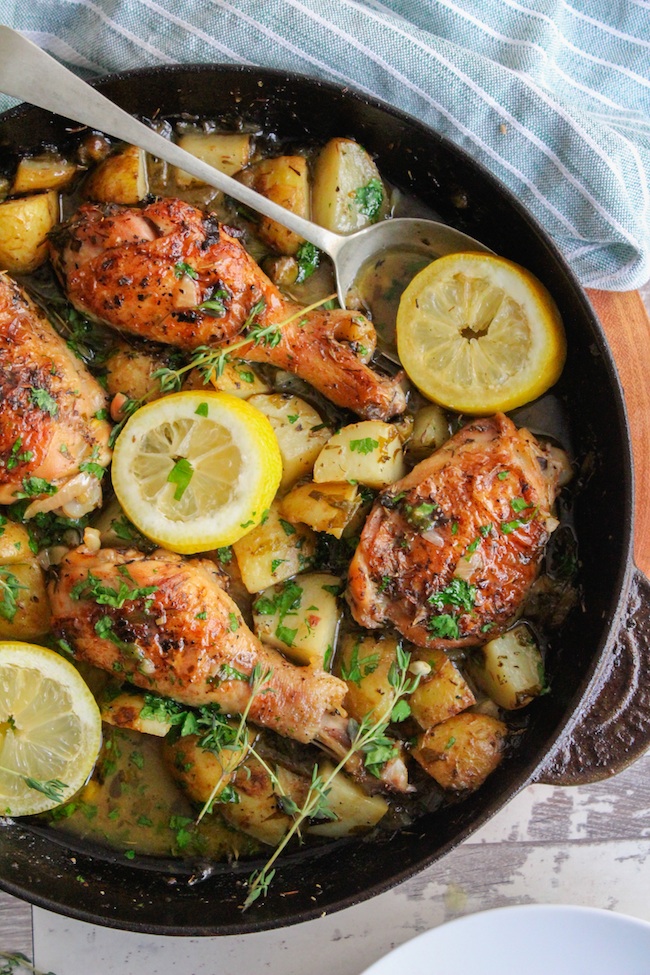 Before I get to the recipe I just want to say something about the shallots in this. For anyone who follows a low FODMAP diet, shallots are of course a major no-no as are other foods in the onion family. This could be absolutely wrong, so if anyone knows better please feel free to tell me I'm full of it, but I *think* that they shouldn't be an issue for most people if you make sure to cut them up in large enough chunks that can be avoided while you eat. I really wanted the flavors to add to the sauce while the chicken baked so I decided to keep them in the recipe. My thinking is based on the fact that when you make infused oils you're basically sauteing the garlic, or onion, or whatever it is that you're infusing in oil to get the flavors in the same way. If you're not so sure for yourself, you can also just use garlic infused olive oil to fry the chicken initially – I would have done that myself, but I'm all out. So far it's not been an issue for Mike, but of course, everyone reacts differently.
Back to this skillet chicken in white wine sauce, you now have my permission to make and devour. The end.
Recipe adapted from Pinch of Yum.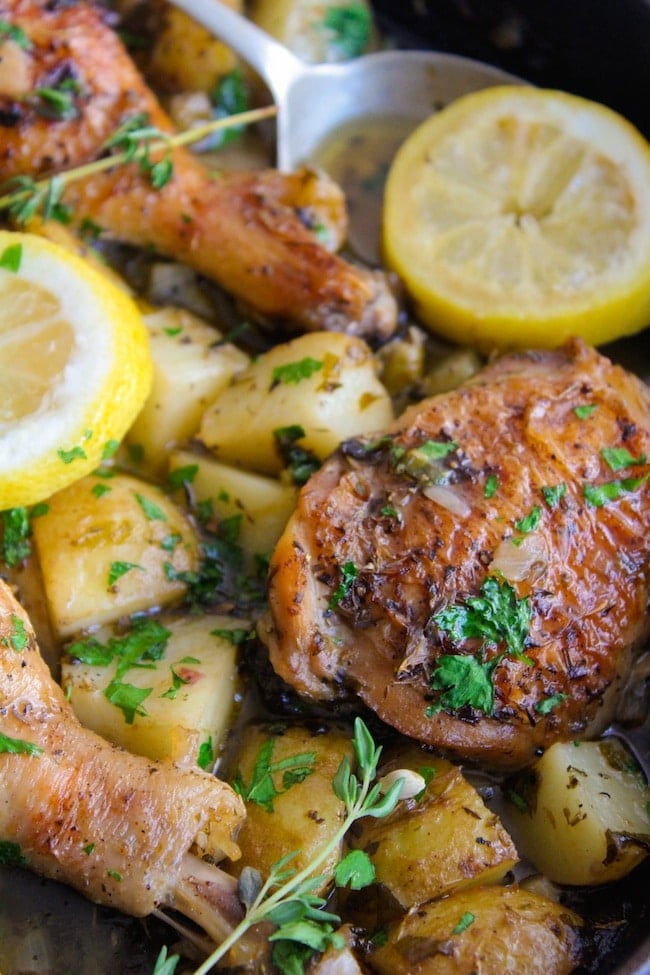 Recipe
Crispy Skillet Chicken In White Wine Sauce
Yield:
4 servings
Prep Time:
10 minutes
Cook Time:
50 minutes
Total Time:
1 hour
Easy, one pan crispy skillet chicken bathed in a parsley and thyme white wine sauce.
Ingredients
2 tablespoons olive oil*
1-1 1/2 pounds chicken thighs with the skin on, (about 4-6 thighs and/or legs)
salt and pepper
1 tablespoon Italian seasoning
2 shallots chopped**
1/2 cup (125 ml) dry white wine
1 cup (250 ml) chicken stock
4 tablespoons lemon juice
6-9 jersey royal potatoes, (baby potatoes)
parsley and thyme for garnishing
Instructions
Preheat your oven to 350°F/180°C. Pour the olive oil in a large cast iron skillet or dutch oven and heat on a medium high temperature on the stove top.
Sprinkle the salt, pepper, and Italian seasoning over the chicken and then transfer to the skillet and fry the chicken skin side down for a few minutes, and then continue to fry an additional couple of minutes on the other side.
While the chicken is frying quickly chop up the shallots and then toss it into the pan to caramelize with the chicken still in it. Reduce the heat down to low and slowly pour in the wine, the chicken stock, and the lemon juice and stir it all up.
Quarter the potatoes and throw them in the pan with everything else. Gently stir the contents of the pan so that it all gets coated in the sauce and allow everything to simmer and the juices to reduce slightly for about five minutes.
Transfer the skillet to your preheated oven and bake for about 40 minutes. About halfway through give everything a good stir and baste the chicken in the sauce. Make sure it's sitting skin side up and then allow it to finish for the remainder of the time. When it's done the skin on top should be crispy and the potatoes soft.
Top with fresh parsley and thyme and a few extra lemon slices if you'd like and enjoy.
Notes
If you want to adapt this to make it low FODMAP then you can either skip the shallots and use garlic infused olive oil OR you can keep the shallots, but just make sure you keep the shallots large enough that you can avoid them in the sauce.
Nutrition Information
Yield:

4
Serving Size:
g
Calories:

453
Saturated Fat:

7g
Cholesterol:

141mg
Sodium:

133mg
Carbohydrates:

11g
Fiber:

1g
Sugar:

1g
Protein:

25g
This website provides approximate nutrition information for convenience and as a courtesy only. Nutrition data is gathered primarily from the USDA Food Composition Database, whenever available, or otherwise other online calculators.