Moist, nutty, and perfectly sweet. Make this melt-in-your-mouth banana breakfast
coffee cake the night before for a delicious breakfast in a pinch.
Yes, that's right I said breakfast cake. Not just any breakfast cake…coffee cake. Banana sweetened coffee cake with a crumbly, walnut streusel topping. Sound good?
I love coffee cake. What's not to love about a food that's saturated with cinnamon and meant to be enjoyed with a hot cup of coffee? Any what do you do when you've got a couple overly ripe bananas hanging around? You bake. So banana flavored coffee cake it was.
Really though, I needed to come up with a make ahead breakfast because the kitchen has been almost entirely off limits this week. This week (and many weeks prior) we've had builders in and out of the house trying to piece our kitchen back together. Long story short, there was a leak in one of the walls that got to the floor which resulted in the flooring, the units, and a bit of plaster on the walls to be completely removed from the kitchen so that everything could be repaired and dry. Fortunately, we were able to keep the oven and the stove. So our refrigerator is in the hallway, the counters are standing on thin wooden stilts, and all of the dried food are stored in boxes throughout the house. Mind you, this all started in February and it is now July 2nd.
Seeing as how life has been a bit complicated lately, I wanted to make a very uncomplicated breakfast. The builders have been arriving so early I barely have time to pour myself a cup of coffee and get out of the way, let alone cook eggs over the stove. So as the saying goes, when life hands you lemons…or as I like to say, when life hands you overly ripe bananas….make coffee cake!….or something…
This breakfast cake is basically a banana bread with the classic coffee cake streusel topping. The only sweetener in the cake it self are the bananas. If you want a completely sugar free treat you can just leave it at that, but I wouldn't want to miss out on the crumbly, maple and walnut topping if I were you.
Make ahead the night before like I did, or if you've got the extra time bake this in the morning and fill your house with cozy, bakery aromas.
Yield: 8 slices
Banana Breakfast Coffee Cake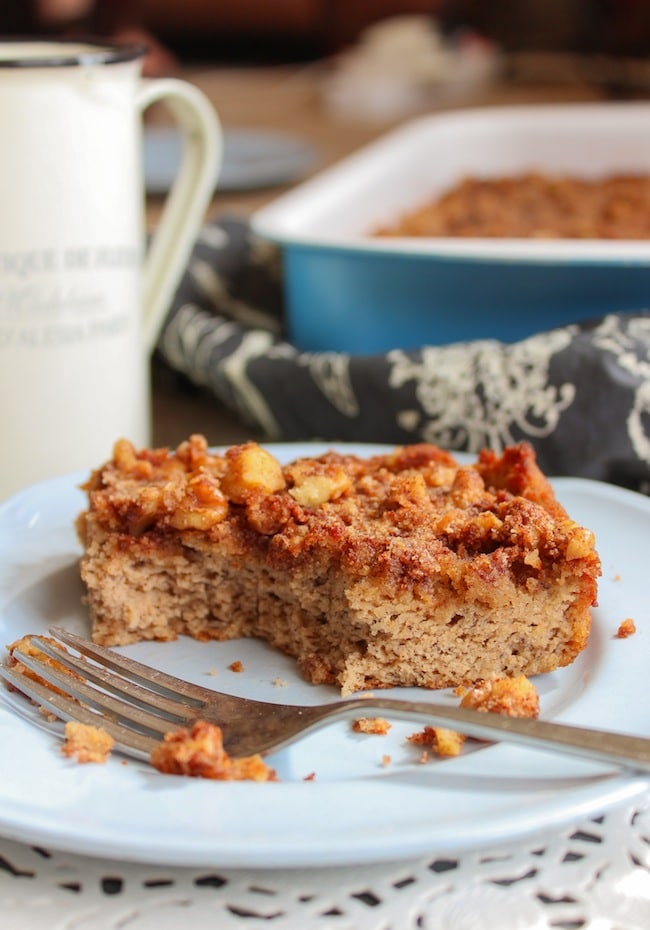 Moist, nutty, and perfectly sweet. Make this easy, melt in your mouth banana breakfast coffee cake the night before for a delicious breakfast in a pinch!
Ingredients
Cake
3/4 cup | 72 grams almond flour
3/4 cup | 84 grams coconut flour
1/2 teaspoon baking powder
1/2 teaspoon baking soda
1/4 teaspoon salt
2 teaspoons cinnamon
5 eggs
2 teaspoons vanilla extract
3/4 cup | 160 grams melted coconut oil
2 ripe bananas
Topping
4 tablespoons | 24 grams almond flour
2 tablespoons | 40 grams maple syrup or honey
2 tablespoons | 30 grams melted coconut oil or butter
1/2 cup | 54 grams chopped walnuts
2 tablespoons cinnamon
Instructions
Preheat your oven to 350°F/178°C and grease a 13x9 inch baking dish (33x23 cm).
Using hand held or a stand mixer, mix your eggs together on a medium speed, then add your mashed bananas mixing until smooth. Add the remainder of your wet ingredients and mix until combined.
In another medium sized bowl mix together your dry ingredients until thoroughly combined, then add the dry ingredients to the wet and mix everything together on a medium speed for about 1 minute.
Spoon your batter into the greased baking dish. You may need to smooth out the batter using the back of a spoon to cover the dish. Set aside while you make the topping.
To make the topping, simply mix together the flour, maple, melted oil, chopped walnuts and cinnamon. Drizzle the mixture evenly over the top of the cake.
Bake for 35-40 minutes or until it passes the toothpick test - stick a toothpick or knife tip into the center - if it comes out clean it's done.
Allow it to cool covered overnight, or for at least 15 minutes and then enjoy.
Nutrition Information:
Yield:
8
Serving Size:
slice
Amount Per Serving:
Calories:

405