Gluten Free Yorkshire Pudding – simple, foolproof and perfectly light!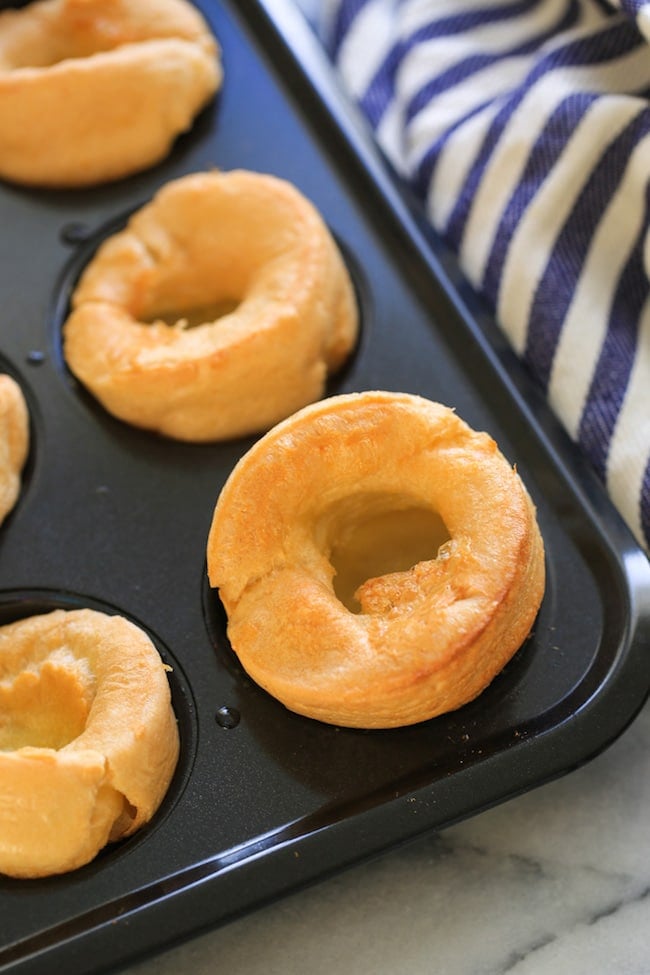 Aww yes, Yorkshire Pudding. My first (and favourite) introduction to British cuisine.
After Mike was diagnosed Coeliac disease we went through a spell of making sad, dense and non-rising gluten-free Yorkshire Puddings. Then we went through a lot of almost good recipes. Sometimes they'd look perfect but be a little too dense or a little too crispy.
Finally after a lot of practice and recipe testing along with a good number of pudding consumed (no complaints here) we ended up with this tried & true, perfectly puffed and light gluten free Yorkshire Pudding recipe.
Let's get to it!
What is Yorkshire Pudding?
Yorkshire pudding is a popular British recipe made up of a only a few very simple ingredients: eggs, milk and flour. It's usually served as a side to Sunday roast dinner along with gravy and roast potatoes.
For the uninitiated – it's almost like a puffed up, bread that's crisp up around the high edges and chewy at the bottom. Like a popover with a sunken in centre. It's the perfect vehicle for stuffing with sausage and gravy.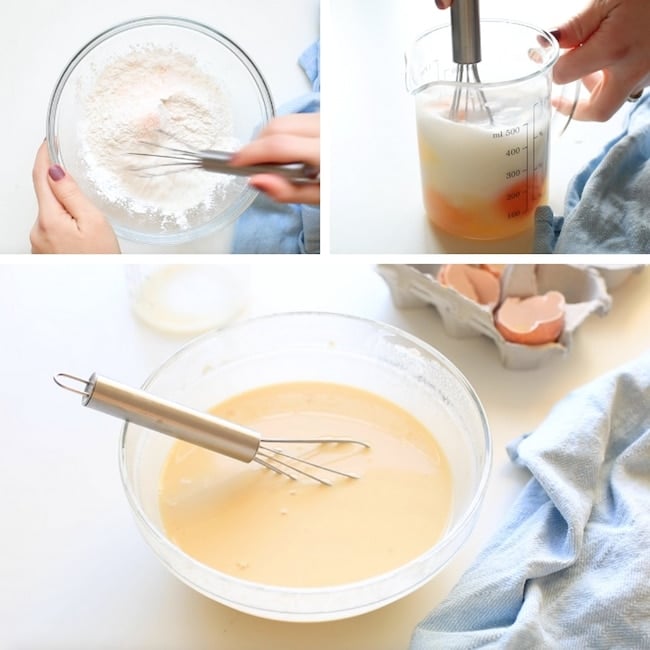 How To Make: Perfect Gluten Free Yorkshire Pudding
Ingredients
Altogether this batter is super simple made up of only five ingredients: rice flour, starch, salt, eggs and milk.
In order to get that perfect light and fluffy texture I chose to use a homemade blend of rice flour and starch like I do with my homemade gluten free French Bread. I've tested this recipe with both cornstarch and tapioca starch/flour with good result. Between the two there really isn't much difference in outcome so feel free to use either.
As for the milk – you can choose to use either a dairy or non dairy milk so long as it's unsweetened. You don't want any vanilla flavoured almond milk here unless maybe you're going for a more dessert pudding over a dinner pudding.
Preparing the batter is simply a matter of whisking together the dry ingredients and wet ingredients separately and then mixing it all together until no lumps remain. Your batter should be thin and lump free in the end.

Heat & Fat
Above all the key thing to keep in mind when making these gluten free Yorkshire Pudding (or Yorkshire Pudding in general) is to make sure you get your oven, baking equipment and oil HOT before cooking.
Before prepping the batter begin by heat the oven and prepping your muffin tin. Drizzle a small amount of oil or fat into a nonstick muffin tin. Traditional Yorkshire Pudding is made with beef drippings but lard and duck fat are other great options as is standard vegetable oil. Whatever you use – just make it hot.
When it's time to add your batter to the prepared muffin tin you ideally want to work quickly here to keep everything hot. For easy pouring I recommend transferring your batter to a container with a pourable spout. This will help you move faster while avoiding spills as you go. When the batter hits the hot oil it should sizzle – if there's no sizzle you didn't heat up your equipment long enough and the pudding likely won't rise very high.
Continue filling up the muffin cups, about 3/4 of the way full and then quickly return to the oven to bake undisturbed 20-25 minutes until puffed and goldened.
Keep in mind Rice flour and corn starch/tapioca starch don't get as dark as easily as regular gluten flour so don't be tempted to cook for longer or else you might overcook and harden up your pudding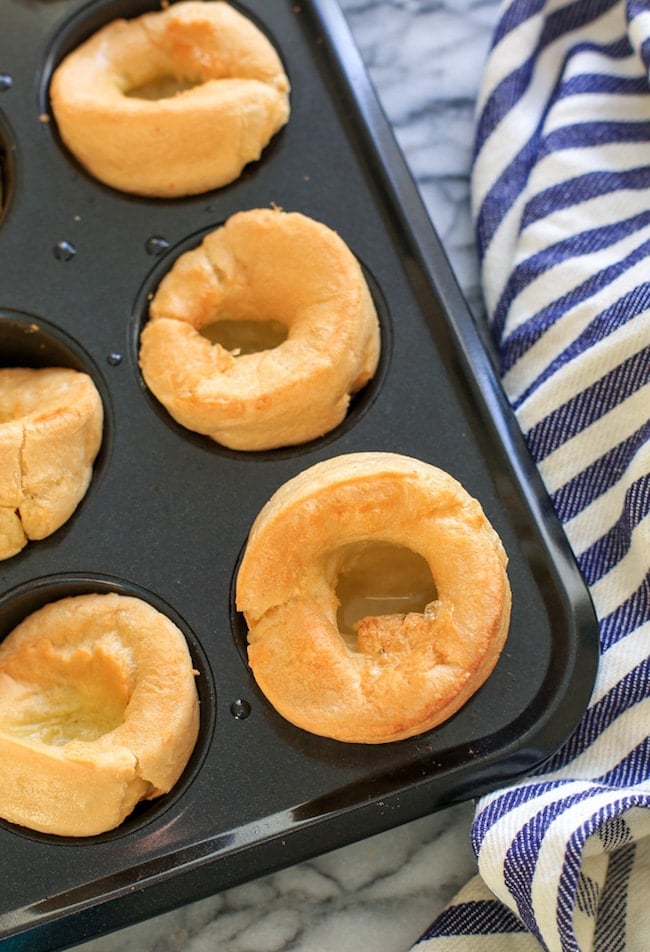 Final Tips to Keep in Mind
Make sure there are no lumps. Your goal is to whisk everything into a smooth batter.
Make sure everything is HOT. Preheat your oven with your greased muffin tins inside. You want to work with a hot oven and preheat the muffin tray to get hot oil before adding the batter.
Fill your muffin cups about 3/4 of the way full.
Don't open the door too soon.Avoid opening the oven door while they cook to prevent premature collapsing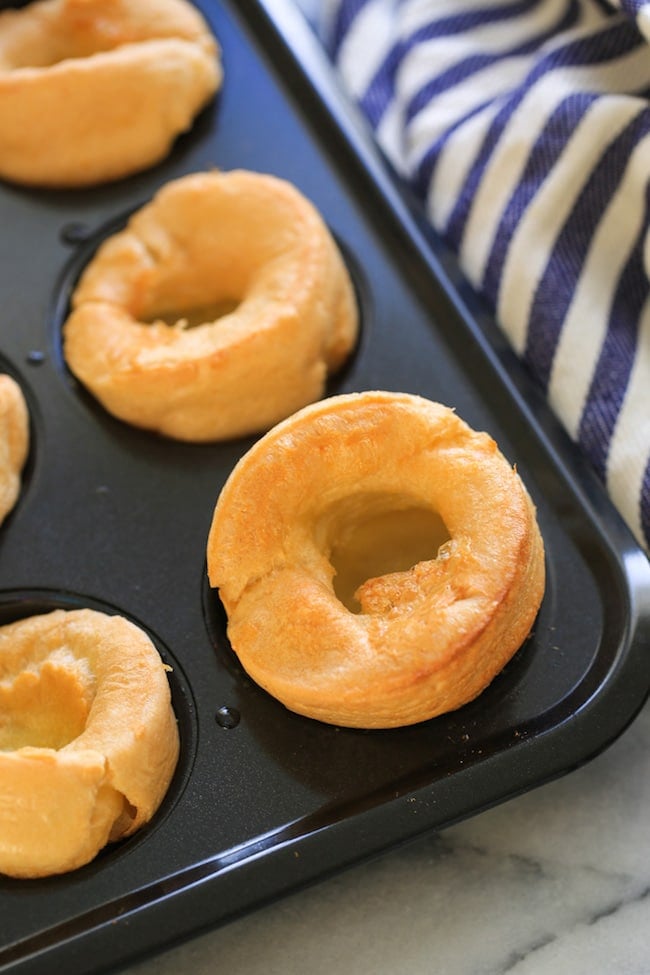 Recipe
Gluten Free Yorkshire Pudding
Yield:
12-15
Prep Time:
10 minutes
Cook Time:
25 minutes
Total Time:
35 minutes
Gluten Free Yorkshire Pudding - simple, foolproof and perfectly light!
Ingredients
2/3 cup white rice flour (93g)
2/3 cup corn starch or tapioca starch (75 g)
1/4 teaspoon salt
4 eggs
1 cup unsweetened milk (dairy or dairy free milk) (240 ml)
oil or fat for roasting
Instructions
Preheat oven to 220°C/425°F.
Drizzle a little oil into a non stick 12 cup muffin pan. Place the grease muffin tin into the oven as it preheats. Your muffin tray and oil should be smoking HOT before adding your batter.
In a large mixing bowl whisk together the rice flour, starch and salt until combined.
In a large measuring jug whisk together the milk and eggs until thoroughly mixed.
Gradually pour the milk and egg mixture into the flour mixture and whisk until no lumps remain. Your batter should be smooth and thin. Pour the batter back into the measuring cup or some other container that is easy to pour.
Once the oven has fully heated and the oil is smoking slightly, remove the hot muffin tins and carefully pour the batter into each greased muffin cup. Fill each cup about 3/4 full.
If your batter doesn't sizzle after you've filled your first cup then you haven't heated the muffin tin well enough. Return back to the oven another five minutes before adding anymore batter.
Place the tin back in the middle of the preheated oven and let bake for 20-25 minutes. The batter will puff up so make sure there is no rack above that could get in the way.
Serve warm and enjoy.
Notes
To Freeze: Let these cool completely and then place in a freezer-safe, ziplock bag and place in the freezer for up to two months. Reheat from frozen by placing the pudding on a baking sheet and cooking at 220°C/425°F for about 15-20 minutes until warmed through. 
Keep in mind Rice flour and corn starch/tapioca starch don't get as dark as easily as regular gluten flour so don't be tempted to cook for longer or else you might overcook and harden up your pudding.
In the UK cornstarch is also known as corn flour.
Calories calculate with cornstarch, almond milk and an estimated 2 tablespoons vegetable oil - the amount of oil you use will vary. 
You do not need to any any extra binders like xanthan gum to the flours.
Nutrition Information
Yield:

12
Serving Size:
Yorkshire Pudding
Calories:

113
Total Fat:

3g
Saturated Fat:

1g
Trans Fat:

0g
Unsaturated Fat:

2g
Cholesterol:

64mg
Sodium:

79mg
Carbohydrates:

17g
Fiber:

0g
Sugar:

0g
Protein:

3g
This website provides approximate nutrition information for convenience and as a courtesy only. Nutrition data is gathered primarily from the USDA Food Composition Database, whenever available, or otherwise other online calculators.
More Recipes Using Gluten Free Yorkshire Pudding Batter