Mexican Style Cauliflower Rice with guacamole – an easy, one skillet plant based dinner | Grain Free, Vegan, Gluten Free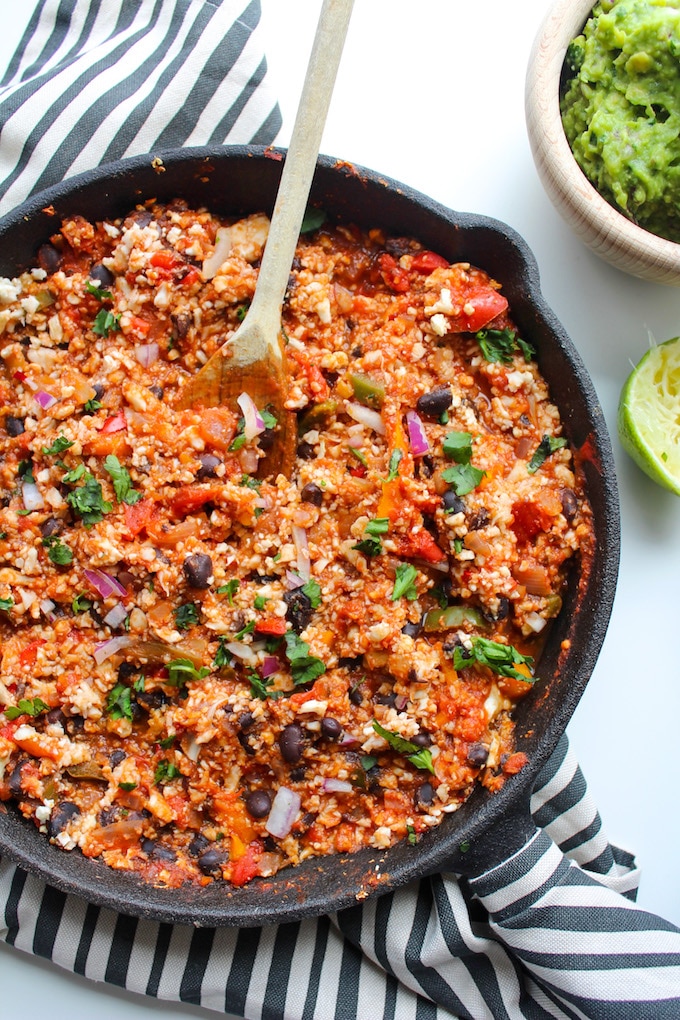 Things I'm currently excited about
this skillet full of goodness
finally getting my UK license (!!!)
It's only taken me about two years to get myself together and get my license sorted out. It's about damn time, too.
The first year or so after moving to England I didn't mind not being able to drive quite as much. A little walking and fresh air usually does me good. Not to mention, we live in such a beautiful place. Even now I can't quite get over how scenic everything is.
After awhile though, I really started to miss the freedom of having a car. While the walk to the nearest grocery store is an easy 15 minute walk downhill, the uphill walk home carrying bags of heavy vegetables turned me into a sweaty mess in no time.
But enough about hills and driving! I made you dinner and it's delicious!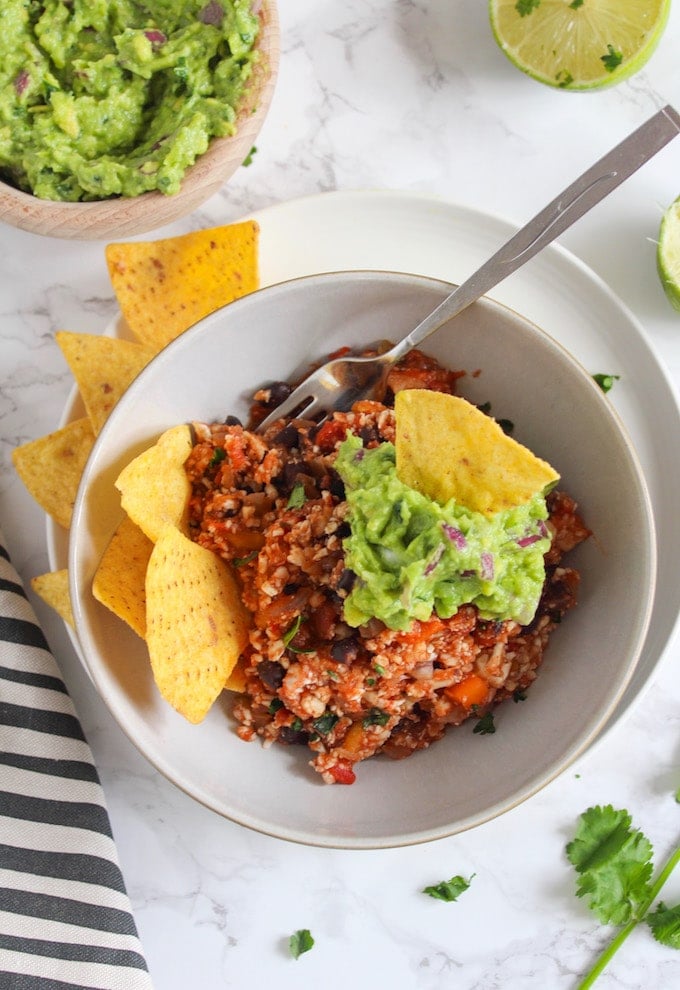 Mexican Style Cauliflower Rice
I can't remember the last time I was this excited about a savory recipe on my blog – and that's not something that I say lightly.
I mean, anytime guacamole is involved I'm on board, but this Mexican Style Cauliflower Rice is probably my new favorite dinner and I feel really good about that.
It's
made in one skillet
topped with guacamole
entirely plant based
healthy
savory
addicting
Plus, it gives you an excuse to add a few tortilla chips which is all the more reason to love it.

Between the beans and the cauliflower there's enough fiber to fill you up despite being a 'rice' dish.
Altogether this dish takes about 30 minutes to throw together making for a great/healthy weeknight meal.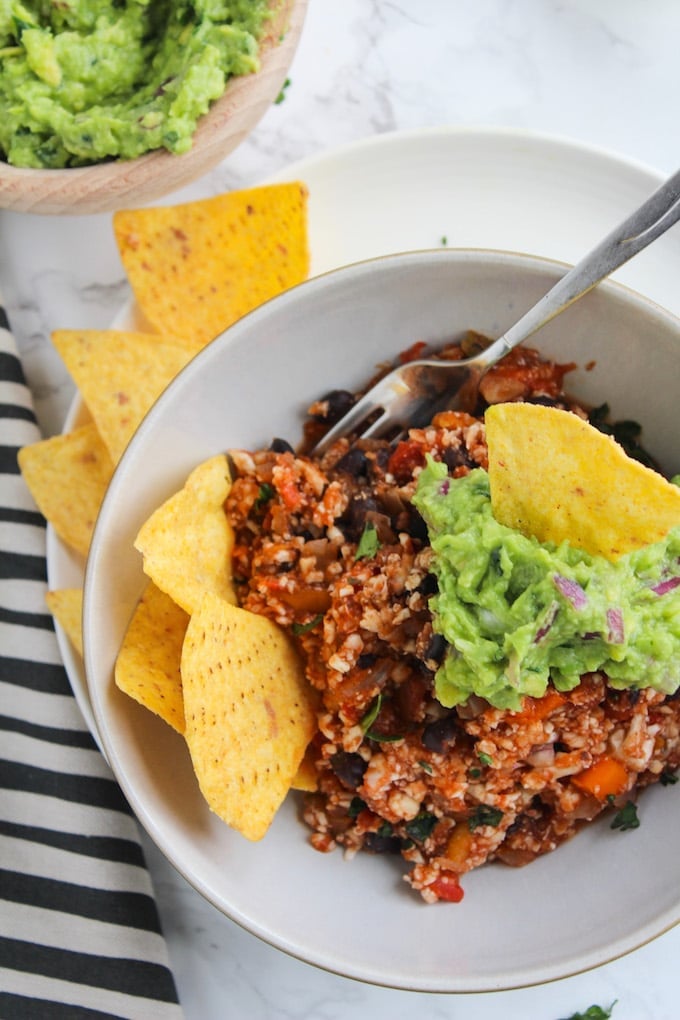 FACEBOOK | INSTAGRAM | PINTEREST
Don't forget to #asaucykitchen on instagram if you try this dish! I'd love to see what you make with it! You can also post your pictures to my facebook page!
Recipe
Mexican Style Cauliflower Rice with guacamole
Yield:
6 servings
Prep Time:
10 minutes
Cook Time:
20 minutes
Total Time:
30 minutes
Mexican Style Cauliflower Rice with guacamole – an easy, one skillet plant based dinner | Grain Free, Vegan, Gluten Free
Ingredients
Mexican Cauliflower Rice
1 head cauliflower
2 tablespoons oil
1 small red onion, diced
2 bell peppers, deseeded and diced
3 garlic cloves, crushed or minced
1 teaspoon salt
1 teaspoon chili powder
1 teaspoon cumin
1 teaspoon dried oregano
1 (15 ounccan black beans, drained and rinsed
1 can (15 ouncecrushed tomatoes
Gaucamole
2 avocados, pitted
1/2 small red onion, diced
juice of 1/2 limes
1/2 jalapeno, diced
1/4 cup fresh cilantro, chopped
Instructions
How to make the cauliflower rice
Quarter cauliflower head and cut out the hard inner core from each section. Break apart the cauliflower into smaller florets.
Transfer the florets to a food processor or blender. If you use a blender you will need to do this part in several batches so that you don't over process the cauliflower. Pulse the cauliflower at 1 second intervals until it's broken down into small, rice sized pieces. Once you've processed everything, set aside your cauliflower rice to a bowl until you're ready to add it to your skillet.
ORJust use the large side on a box grater to grate the cauliflower florets into a grain like texture.
Mexican Cauliflower Rice
In a large skillet heat 2 tablespoons oil over medium heat. Add the diced onion and sauté for 2-3 minutes, until soft and translucent. Add the bell pepper, crushed garlic, chili powder, cumin, oregano. Stir everything together and continue cooking for another 5 minutes.
Add the drained and rinsed beans and crushed tomatoes and stir everything together.
Turn the heat to medium high and bring to a simmer. Cover with a lid and allow to cook for about 15 minutes, stirring intermittently.
Meanwhile make the guacamole by mashing all of the ingredients together in a small bowl.
After 15 minutes has gone by, reduce down to a medium heat and stir the cauliflower rice into the skillet until it's completely mixed in. Cook or another 5 minutes to warm up the cauliflower. Once it's nice and tender remove it from the heat.
Serve the cauliflower rice warm with guacamole and sprinkle extra cilantro over the top and enjoy.
Nutrition Information
Yield:

6
Calories:

319
Saturated Fat:

2g
Sodium:

526mg
Carbohydrates:

38g
Fiber:

15g
Sugar:

8g
Protein:

11g
This website provides approximate nutrition information for convenience and as a courtesy only. Nutrition data is gathered primarily from the USDA Food Composition Database, whenever available, or otherwise other online calculators.
Other plant based meals…