Crispy, light, savoury and absolutely moreish – these Crispy Onion Bhajis are a must make! Thinly sliced onions are mixed and coated in an chickpea flour batter then dropped into a frying pan of hot oil and cooked until crisp. Enjoy as delicious side or starter to your favourite homemade Indian food or simply as a naturally gluten free and vegan snack.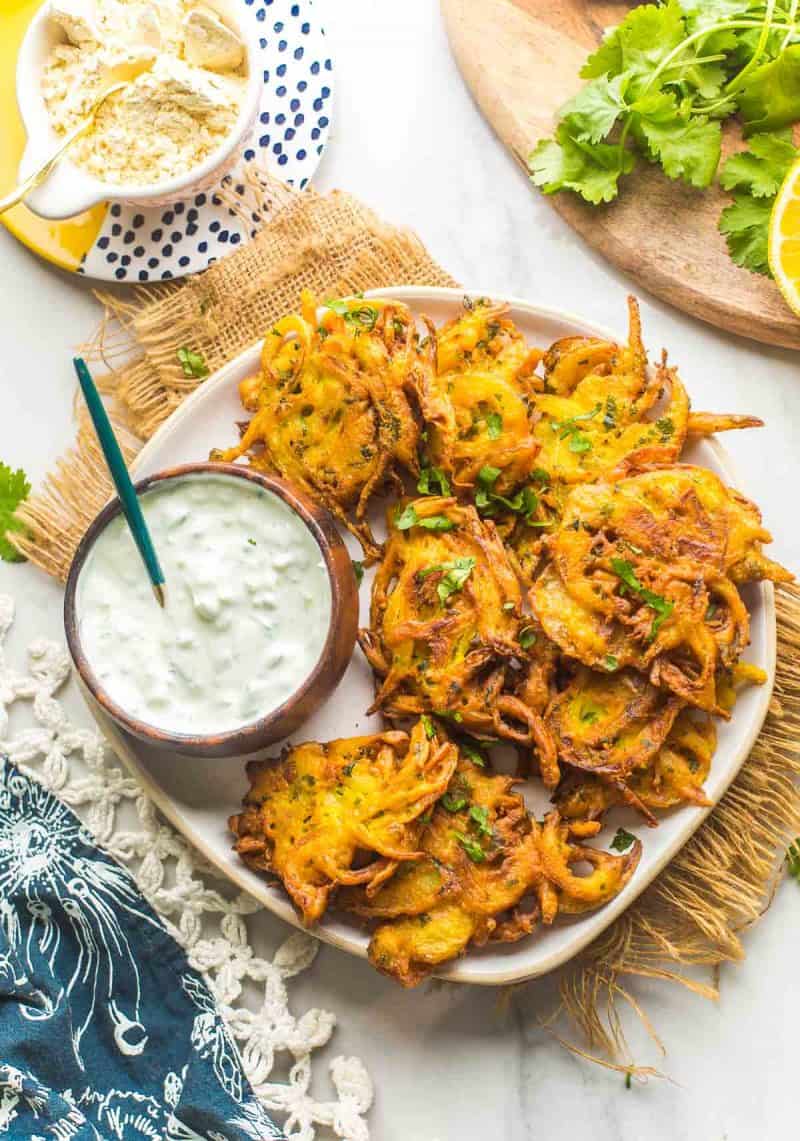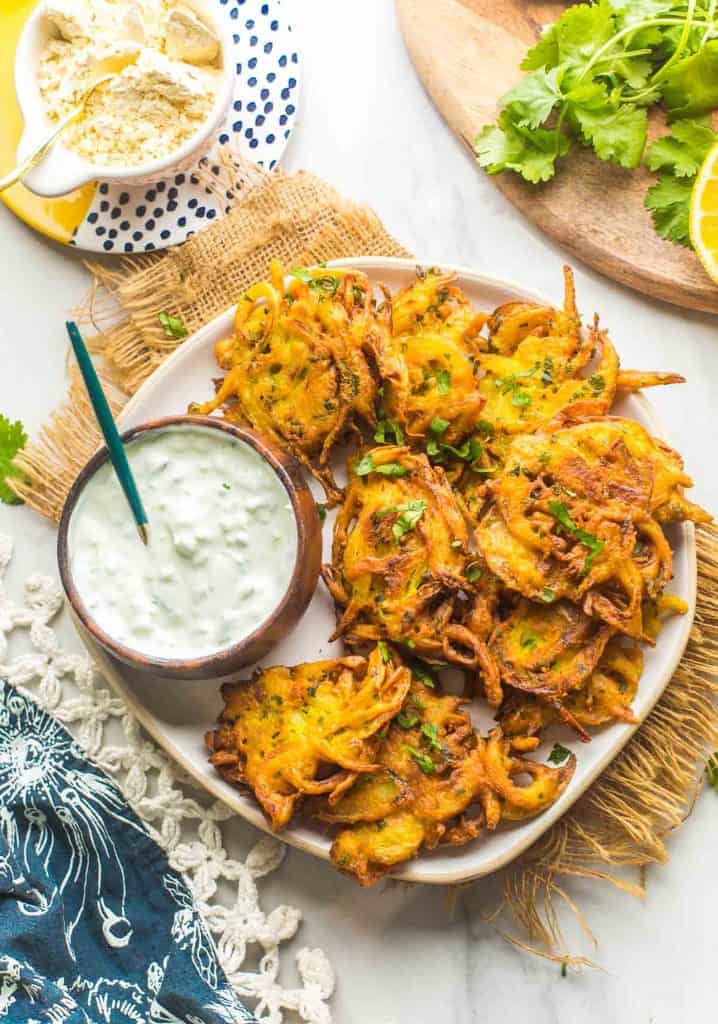 Originally posted 5 February, 2016. Updated pictures post and recipe 14 September, 2021 with new photos, tips and simplified recipe.
What are Onion Bhajis?
Bhajis are Indian fritters that are a popular snack, starter and street food found in Indian cuisine. Onion bhajis are essentially Indian-style onion fritters: thinly sliced onions that have been coated in a simple, spiced batter then fried until golden and crisp.
Depending on the region in India, you might find onion bhajis referred to as a number of different names including: onion pakora, kanda bhajia, kanda bhaji, and pyaz ke pakode to name a few.
Aside from onion, you can also find a variety of different bhajis like: chili, bread and potato bhajis.
what are onion bhajis made of
Spices and fresh ingredients often vary slightly from recipe to recipe but the main ingredients usually remain the same. This onion bhaji recipe is made up of: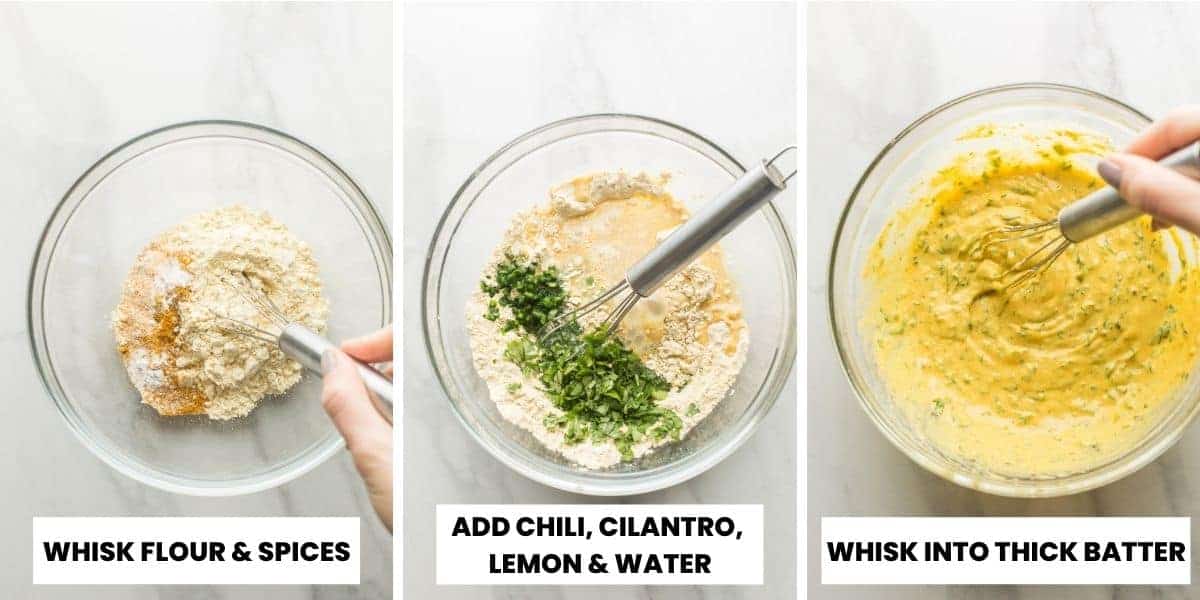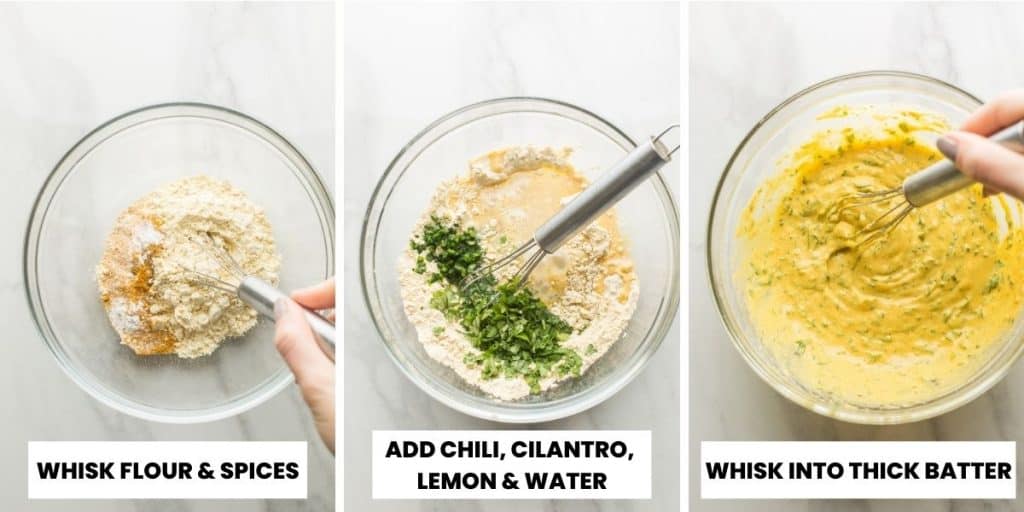 Onions – I used a couple of white onions here but you can also use red onions and yellow onion.
Gram Flour – Gram flour is often sold under a variety of different names. If you can't find gram flour look for chickpea flour, besan flour and/or garbanzo bean flour.
Baking Powder – A small amount of baking powder helps to create an ultra crispy exterior crust by forming tiny air bubbles across the surface of the fritter. This is what helps to makes these onion bhajis more light and crispy than crunchy.

Since this recipe includes lemon juice, you can substitute baking soda (bicarbonate of soda) here if necessary.

Dried Spices – A little salt, ground cumin, and turmeric powder is all you need as far as dried spices go. Feel free to spruce up the batter with additional herbs and spices if desired.

Other popular kanda bhaji spices include: garam masala, curry powder, chili powder and garlic powder.

Fresh Aromatics – You'll need 1-2 green chillies and fresh cilantro (coriander leaves). Finely chop and add to the batter.
Lemon Juice – A teaspoon of lemon adds a slight, but bright pop of flavour.
Water – Mix in about 5-6 tablespoons. You just need enough water to transform the mixture into a thick batter.
Oil for Frying – Ideally you want to use an oil with a high smoke point. The higher the smoke point the more suitable it is for frying (vegetable, peanut, rapeseed, etc). Avocado oil (though pricey) has a high smoke point and is considered a healthy oil for frying.
How to Make Onion Bhajis
Altogether the process for making these bhajis is very simple. Start out by preparing the batter:
Whisk together the dry ingredients in a large mixing bowl.
Add the fresh and wet ingredients (except the onion). Mix into a thick pancake-like batter.
Add the onions and coat in batter.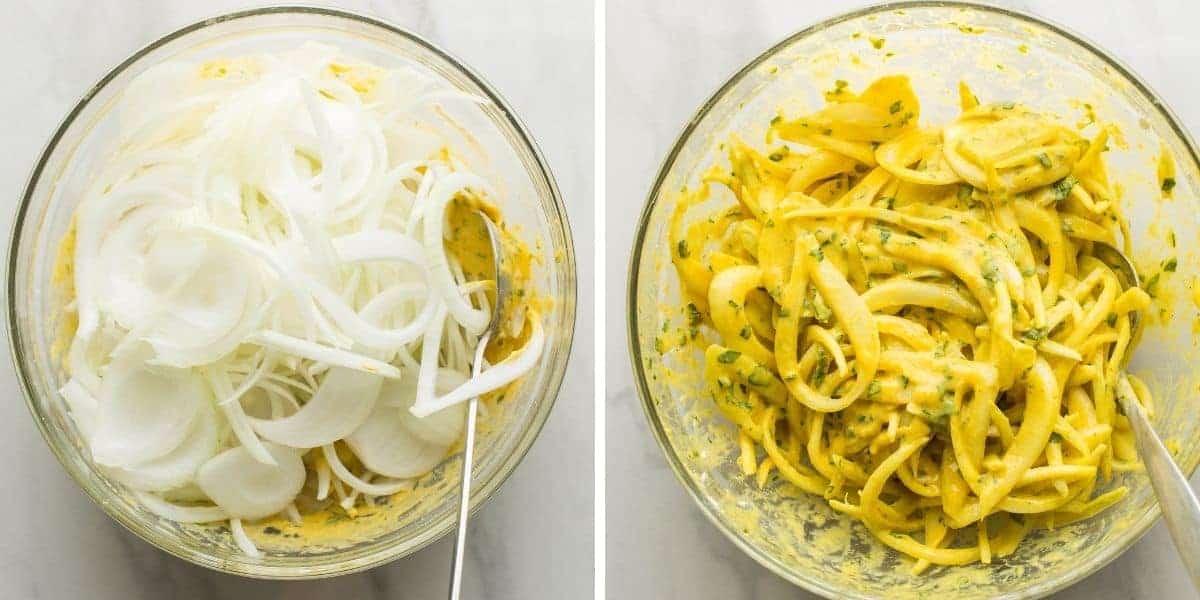 Fry Until Golden and Crisp
Set aside the onion mixture to prepare for frying. Place a large pan over a medium heat and add about 1-2 inches of oil. You need enough oil to easily cover the bottom of the pan. Heat oil until nice and hot. Place a wire rack over large baking sheet and set that aside too.
Tip!
Ideal frying temperature is between 350°F-365°F (177°C – 185°C).
Oil that is too hot will burn the bhajis too quickly and oil that is too cool with allow too much oil to absorb into the fritters making them soggy.
Check with a cooking thermometer for them most accurate temperature read. If you don't have a cooking thermometer you can gauge temperature with a wooden spoon. Stick the end of a wooden spoon in your oil – if you see lots of little bubbles form around the spoon and float to the surface you're in the right region. If the bubbles pop up fast and aggressive, lower your temperature.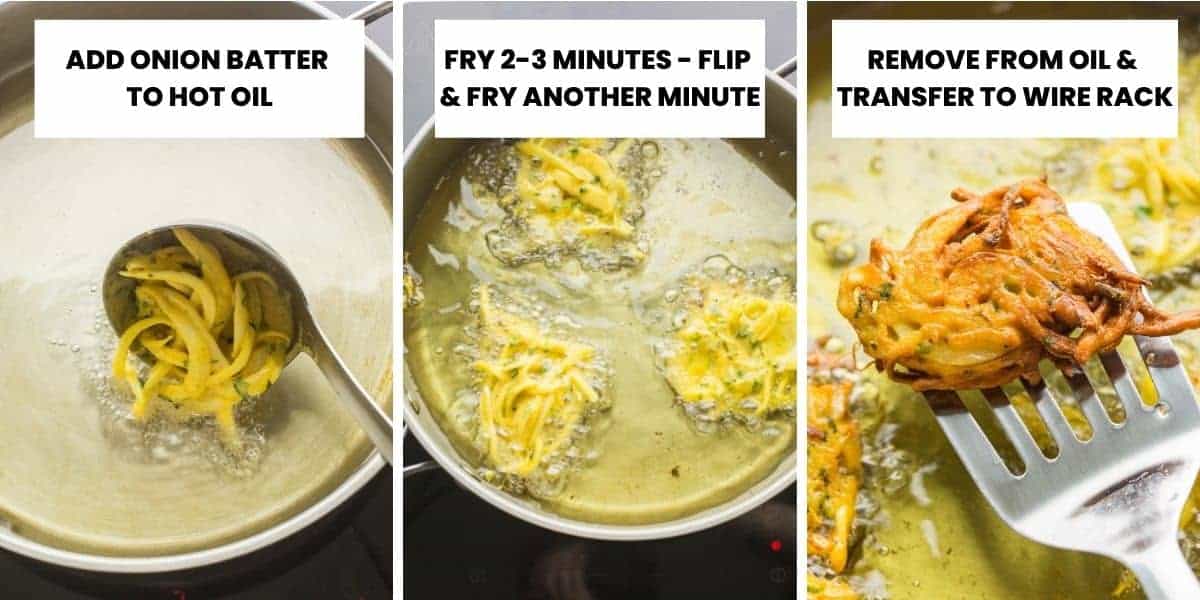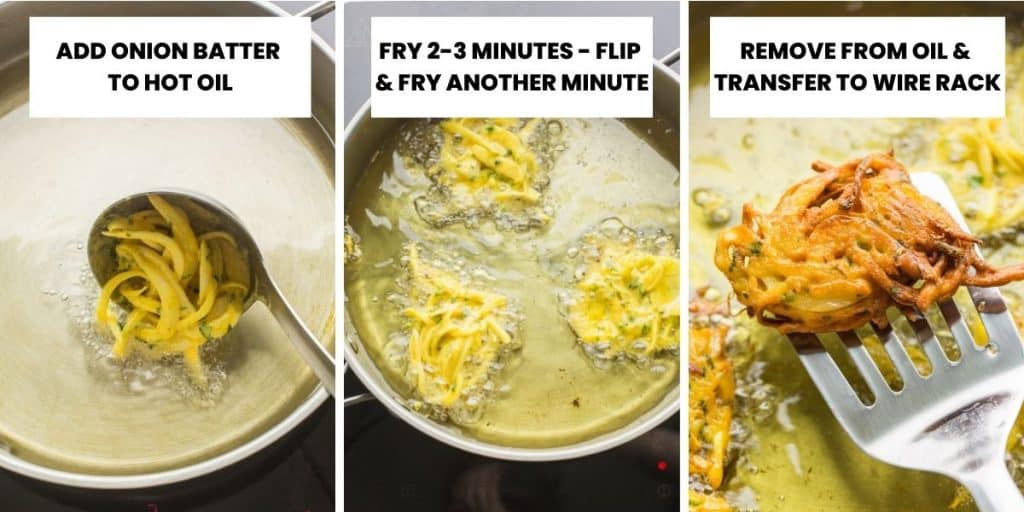 When you're ready – grab the onion batter and add a couple of tablespoons of the mixture into the hot oil. Add about 3-4 fritters to the pan at a time. Leave an inch or two of space in between each bhaji. If the pan gets too crowded, you'll end up with soggy fritters.
Fry each fritter for a couple of minutes on each side, then flip over and fry another minutes or so. The edges of the bhajis should be golden brown and crisp. Use a slotted spoon or metal spatula to remove the crispy bhajis from the oil. Let the excess oil drip back into the pan, then transfer the bhajis to the wire rack to cool.
Repeat this process until all of the batter has been fried.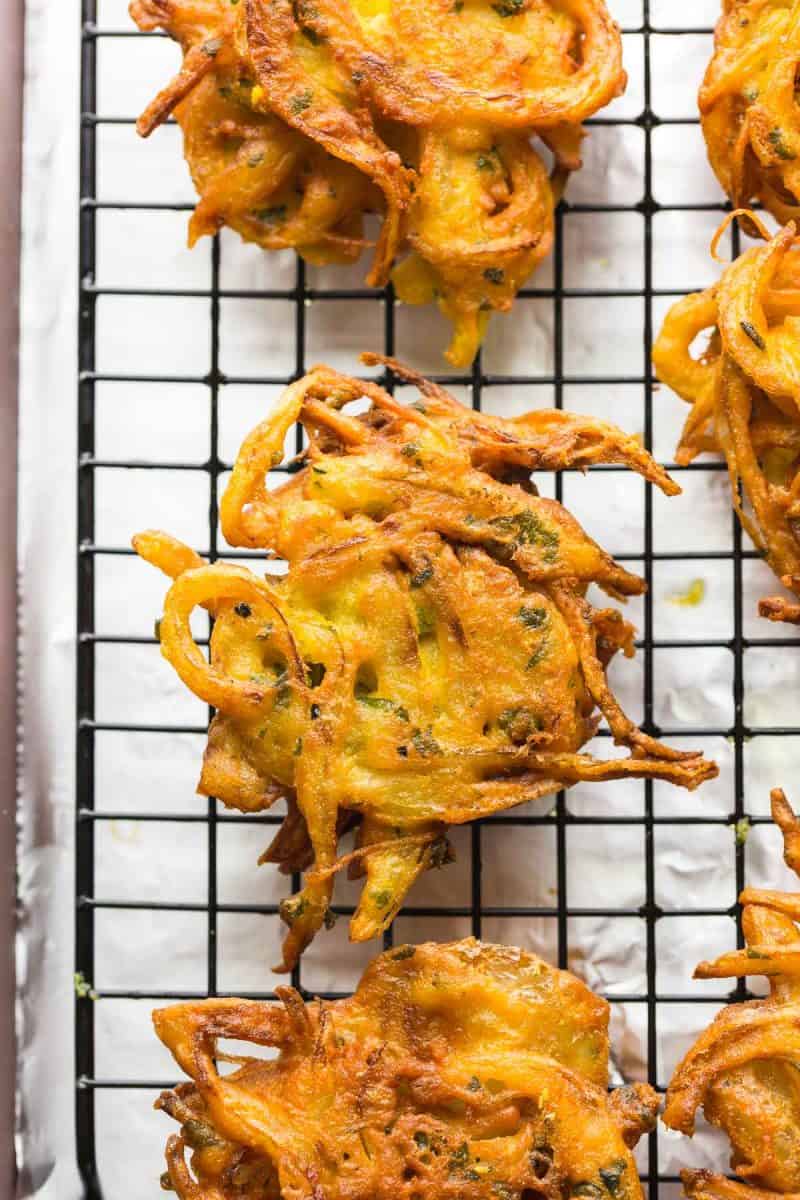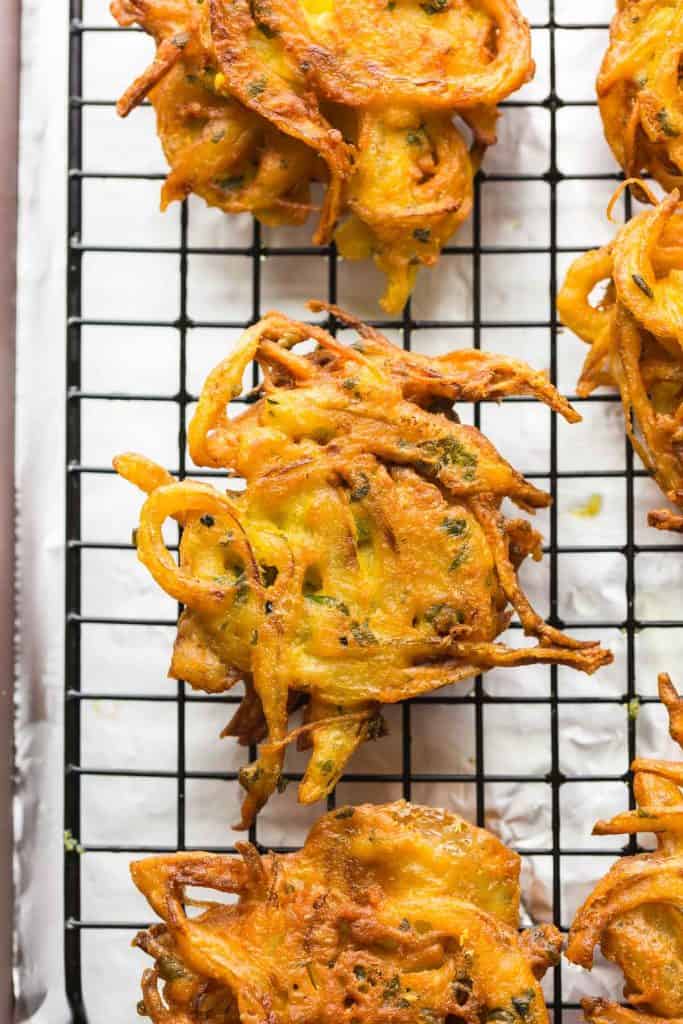 Final Tips & Questions
Can I make onion bhajis in advance or save leftovers for later?
Onion bhajis are best enjoyed as fresh as possible because that's when they will be the most crispy. That being said – you can absolutely make these ahead of time or finish at a later day.

In an air fryer: Reheat in an air fry for about 4-5 minutes. This is a great method for keeping things nice and crispy.
Under a medium grill: Reheat for about 5 minutes (flip halfway through). This is another great option to maintain that crisp factor.
Microwave: This will warm the bhajis back up, but they won't be crispy this way.
Freeze for Later
Fry your bhajis as listed and allow them to cool completely on a wire rack.
Line a baking sheet (one that can fit in the freezer) with parchment paper. Spread the bhajis across the baking sheet in an even layer. Place in the freezer for 2-3 hours until the firm up.
Transfer the frozen/partially frozen bhajis to an airtight container or freezer safe bag and freeze up to one month.
Thaw and reheat: Thaw the onion bhajis by placing them in fridge overnight then reheat in the oven at 400°F/205°C for 5-6 minutes. Flip the bhajis over halfway through reheating.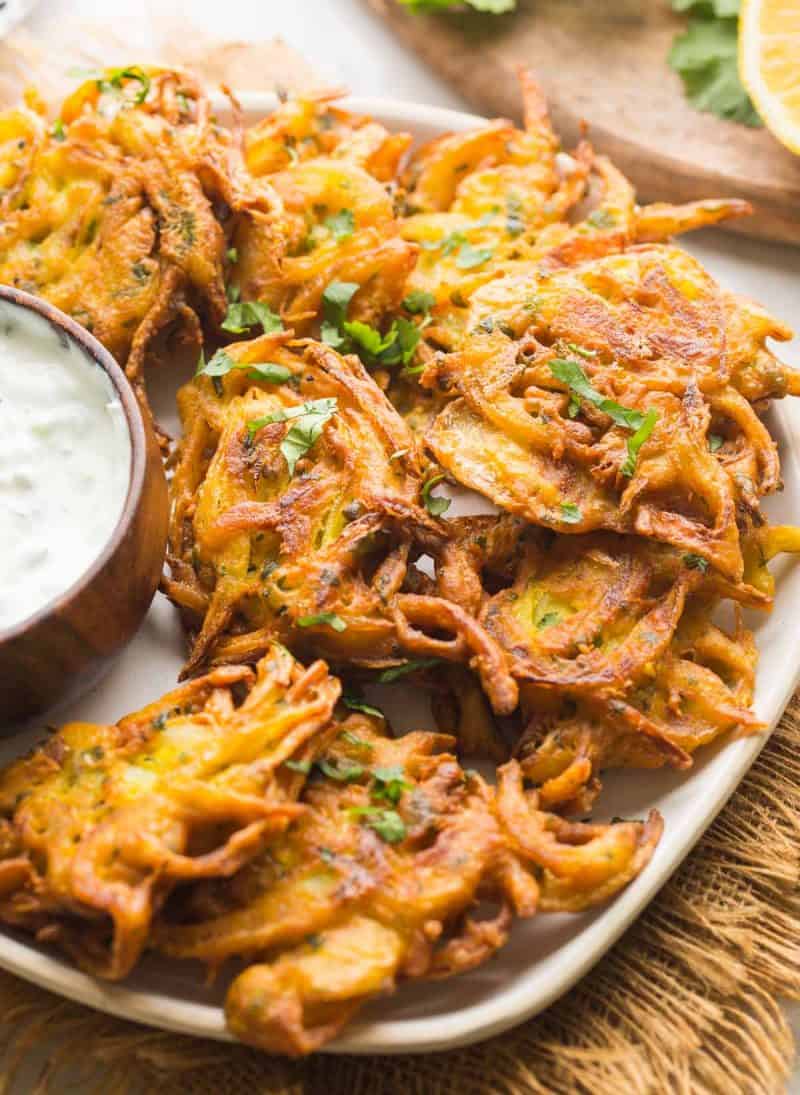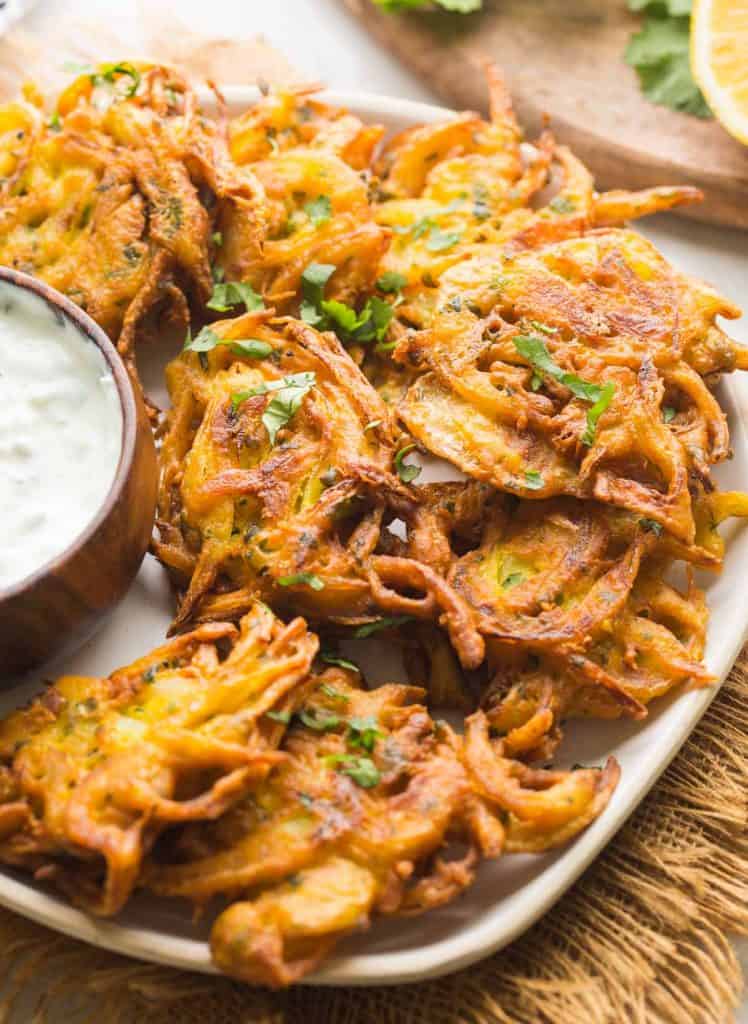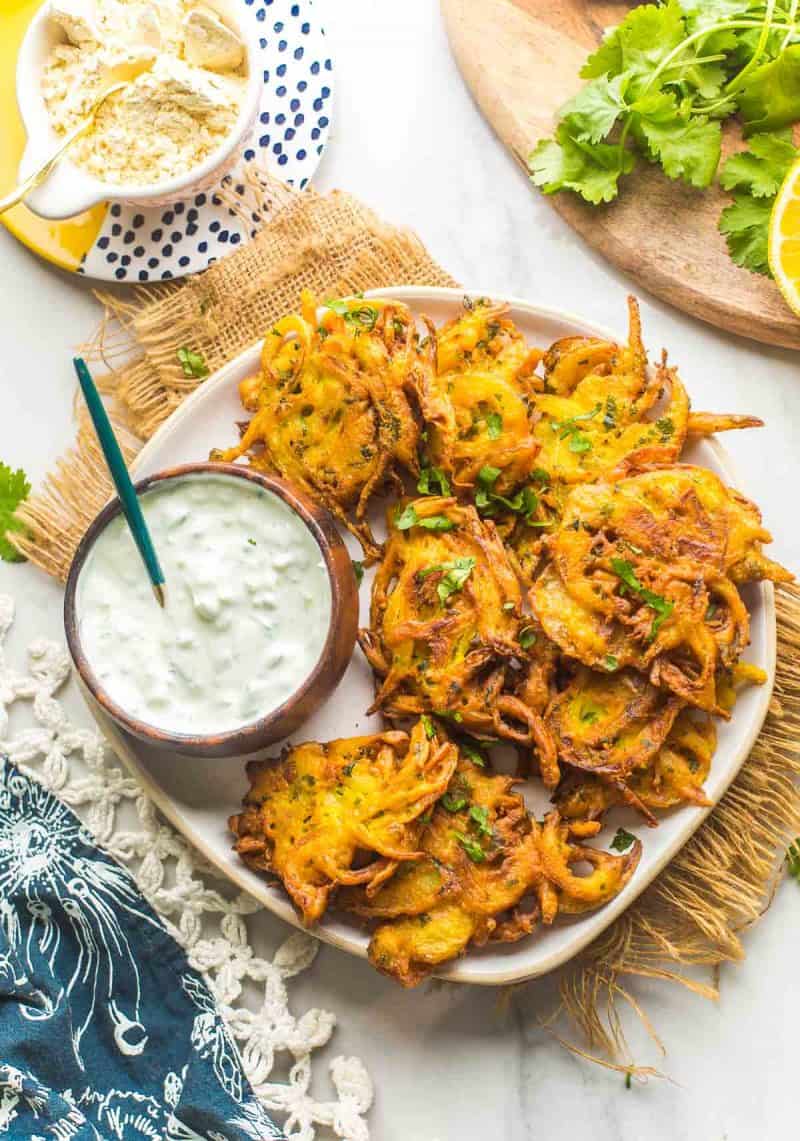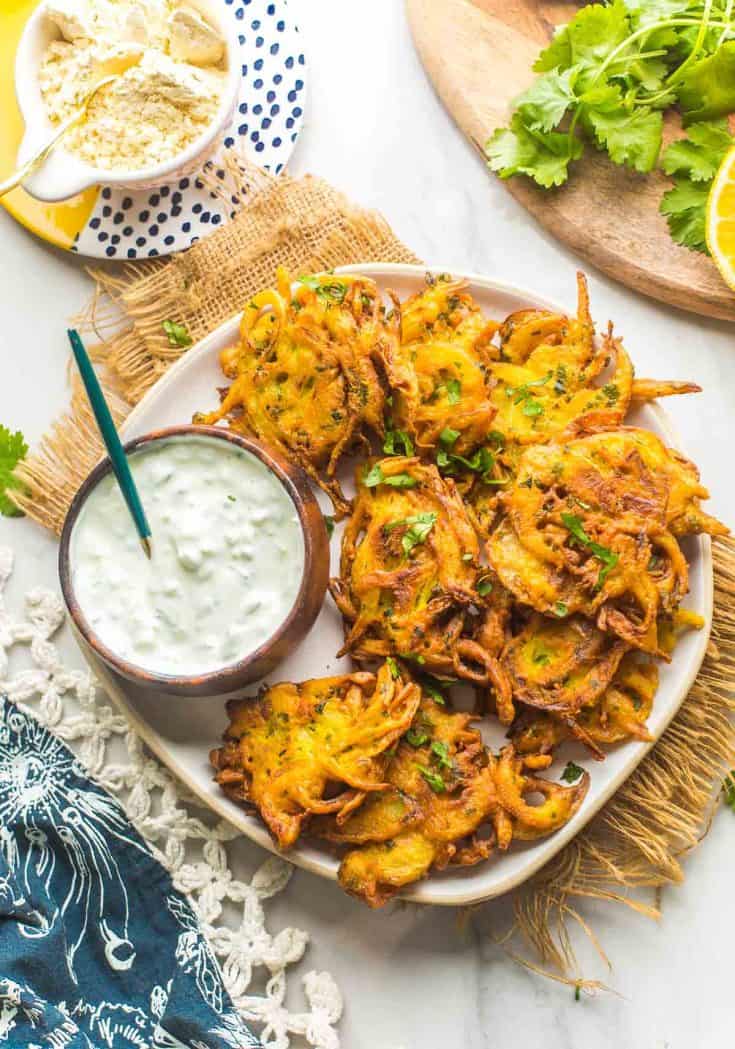 Yield:
12 -14 bhajis
Prep Time:
10 minutes
Cook Time:
15 minutes
Total Time:
25 minutes
Crispy Onion Bhajis make the perfect naturally gluten free and vegan snack or starter. Light, crispy, and completely moreish!
Ingredients
2 large onions, thinly sliced
1 cup (100 g) gram flour/chickpea flour
1/2 teaspoon baking powder
1 teaspoon salt
1 teaspoon ground cumin
1/2 teaspoon ground turmeric
1-2 green chillies, finely chopped
2 tablespoons freshly chopped cilantro
1 teaspoon lemon juice
5-6 tablespoons (75-90 ml)water
oil for frying
Instructions
In a large mixing bowl whisk together the flour, baking powder, salt, cumin and turmeric until combined.
Add the chili, cilantro, lemon juice and water. Mix into thick batter.
Add the sliced onions to the bowl. Mix well until all of the onions are fully coated in batter. I find this step is easiest and most thoroughly done with hands.
Heat a large skillet or wok over medium heat. Add enough oil so that you've got about an inch covering the bottom of the pan.
When the oil is hot, carefully drop spoonfuls of the batter into the hot oil. Cook about 3-4 bhajis at a time (too many will crowd the pan and make it difficult for them to crisp up). Fry for about a minute on each side and then flip the bhajis to get the other side until golden.
Remove each bhaji with a slotted spoon and transfer to a wire rack to drain the excess oil. Continue until all of you batter in gone.
Serve these hot on their own or with a cucumber mint raita and enjoy!
Notes
Red, white, yellow and/or brown onions all work.
Ideal oil temperature for frying is between 350°F-365°F/177°-185°C.
You can quickly and easily slice your onions with a spiralizer or mandolin slicer if desired.
Nutrition Information
Yield:

12
Serving Size:
1 bhaji
Calories:

51
Saturated Fat:

1g
Sodium:

212mg
Carbohydrates:

7g
Fiber:

1g
Sugar:

2g
Protein:

2g
This website provides approximate nutrition information for convenience and as a courtesy only. Nutrition data is gathered primarily from the USDA Food Composition Database, whenever available, or otherwise other online calculators.