Fast and easy almond butter blender muffins – 5 minutes of prep and 15 minutes in the oven! Paleo & Vegan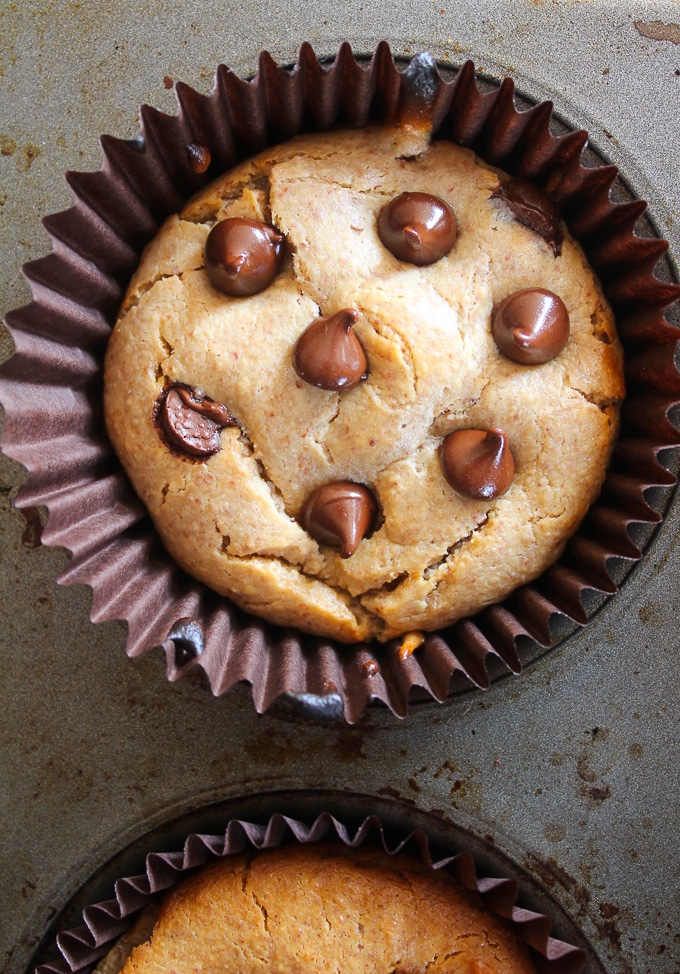 Yes, that's right, I said almond butter blender muffins – as in toss all of your ingredients into the blender (save for the chocolate chips) and hit go. Once it's blended up to a smooth, pourable batter just pour it into little muffin tins, drop in couple of chocolate chips and bake. It doesn't really get any easier or faster than that.
But before we get to that – how has your week been so far? Last night Mike and I went and saw John Grant which was fantastic. It was a nice change actually seeing a concert in Sheffield.
Normally we have to go to Manchester for most gigs which means waiting for a train in the cold late at night. Last time we went to Manchester for a gig was Halloween and I also ended up getting egged on the way to the train station – good times! Towards the end of his set he also brought out Richard Hawley who's also a Sheffield local to play a few songs which of course everyone loved.
How about this weekend? Got any Valentine's Day plans? Mike's going to make me dinner for once so I requested this mac n cheese recipe. It's got squash in it which means it's healthy, right? And what's more romantic than mac and cheese? Nothing if you're me. Absolutely nothing.
Almond Butter Blender Muffins
Now to the muffins! As I said before these almond butter blender muffins take next to no effort to throw together – about five minutes tops! These are also egg and dairy free – provided you use dairy free chocolate chips making these both paleo and vegan.
These muffins are dense and super moist – like miniature banana bread loaves. Between the banana and the maple these muffins are naturally sweetened. I only add a couple of tablespoons maple syrup because my personal preference is not too sweet, but feel free to add an additional tablespoon if you like it sweet.
You can also customize this using different nut butters – so far I've tried it with almond butter and peanut butter. I have yet to try it out myself, but I imagine sunflower seed butter would work as a great nut free substitute. If you try out any different nut butters or add ins let me know in the comments how it goes!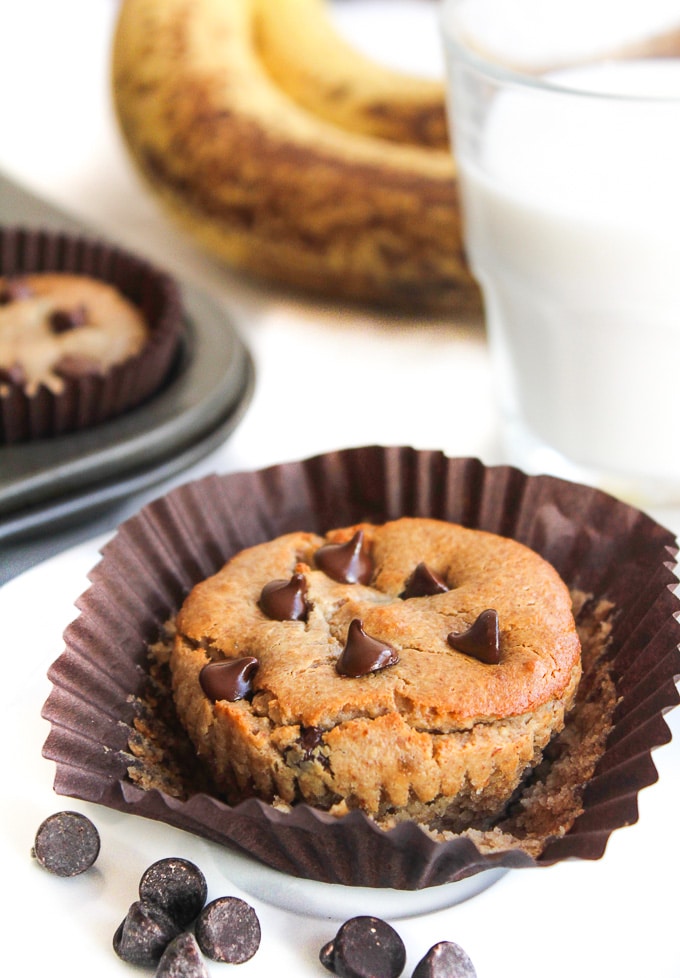 Yield: 9 muffins
Almond Butter Blender Muffins
Fast and easy almond butter blender muffins - 5 minutes of prep and 15 minutes in the oven! Paleo & Vegan
Ingredients
2 ripe bananas
1 cup | 250 grams smooth almond butter
1 teaspoon vanilla extract
1/2 teaspoon baking powder
1/4 cup | 60 ml maple syrup
4 tablespoons | 60 ml almond milk or another non dairy milk
1/4 cup chocolate chips
Instructions
Preheat the oven to 400°F/200°C. Line and/grease a 9 cups in a standard size muffin tray and set aside until you need it.
Add all of the ingredients except for the chocolate chips to a blender and blend until you have a smooth batter.
Pour the batter into the pre-prepared muffins tins filling no more than 3/4 of the way full. Add the chocolate chips to the muffin cups and gently stir them into the batter.
Bake for 12-15 minutes or until a tooth pick inserted into the centre comes out clean. Press in a few extra chocolate chips into the muffins if you like and allow the muffins to cool for about 10 minutes in the tin before removing and enjoy!
Notes
Keep these muffins in an airtight container for up to 5 days
Nutrition Information:
Yield:
9
Serving Size:
muffin
Amount Per Serving:
Calories:

245
Saturated Fat:

1g
Sodium:

15mg
Carbohydrates:

20g
Fiber:

3g
Sugar:

12g
Protein:

6g
This post contains affiliate links.  I only post links for products I personally use and believe in. If you make a purchase on Amazon after clicking one of my links, I receive a small commission and the price you pay is not affected.  Thank you!
She brains and reluctant dishwasher for A Saucy Kitchen