Sunflower Seed Paleo Chocolate Chip Cookies – nut free, dairy free, with egg free options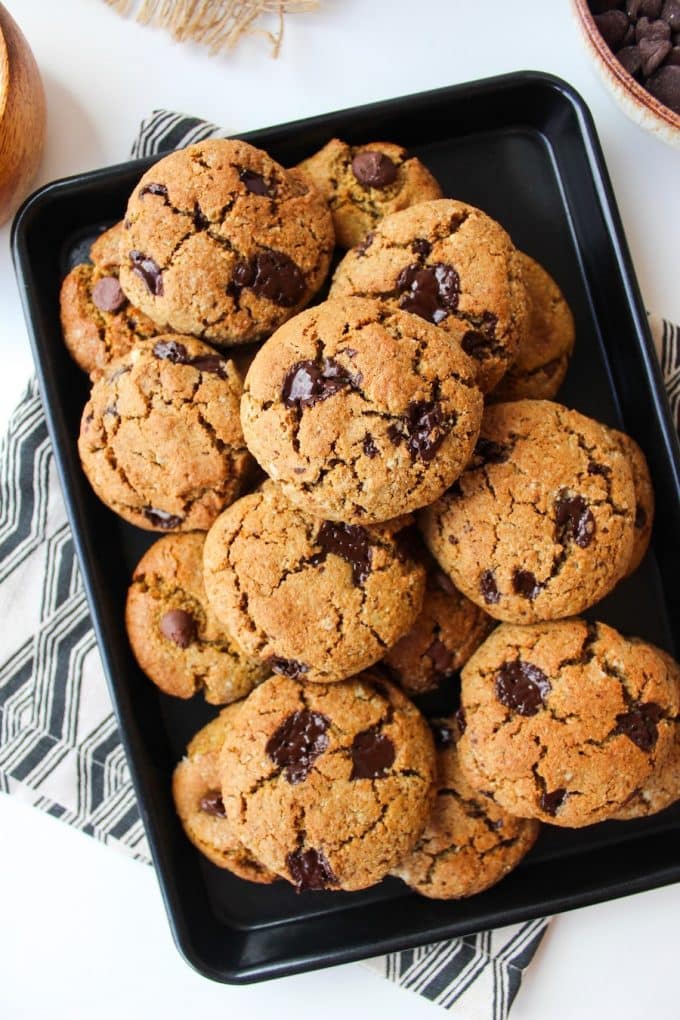 Just incase it isn't super obvious that I'm not actually talking in 3rd person – I managed to bribe my husband (with cookies of course) to write today's post so I could work on other things. Enjoy!
And yet again, Sarah finds another one of my weaknesses. The cookies in these pictures are long gone at this point and I'd be lying if I told you I wasn't the primary culprit. They're so damn good. When Sarah was talking me through the recipe I was surprised when she told me the main ingredient is sunflower seed flour. First off, I'd never considered the idea of grinding up sunflower seeds to form a flour. Secondly, I had no idea just how amazing it'd be for making paleo chocolate chip cookies. You'll see what I mean. OH, and that's not the only thing you'll notice with these cookies – there's also a surprise that neither of us were expecting.
So Sarah made these, pictured them, I ate about 3 of them and that was that for the night. Pretty standard fare. I get up the next day, get something to drink, head over to the cookie tin and break a small piece off because I'm a sugar fiend. Anyway, as I break it off I notice the inside of the cookie is now bright green. What. It would've been alarming if it didn't taste so good still.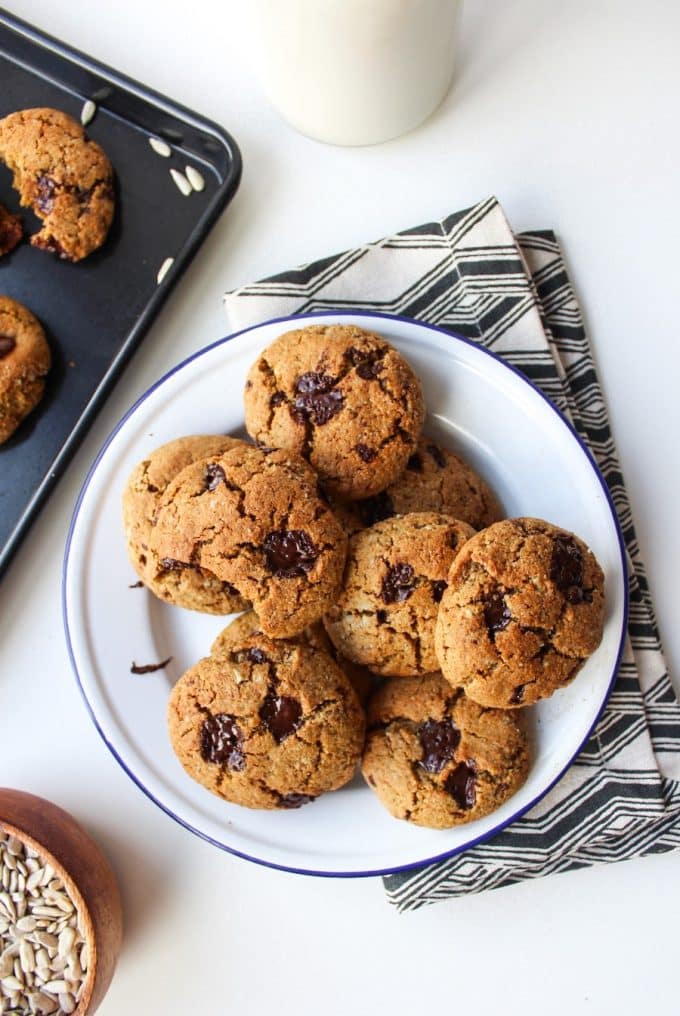 After the initial confusion, Sarah did some googling and we realised that the Chlorophyll inside sunflower seeds reacts with the baking soda in the recipe over time to form a shade of green that's more reminiscent of halloween candy than a chocolate chip cookie! It's amazing. On the outside they look pretty normal, so we handed them out for friends and family to try. One of my Mum's friends faces was a picture after she saw what she'd bitten into!
The good news? She wanted another one as soon as she'd finished. That's the sort of feedback we like to see.
Hope you guys like these as much as we do!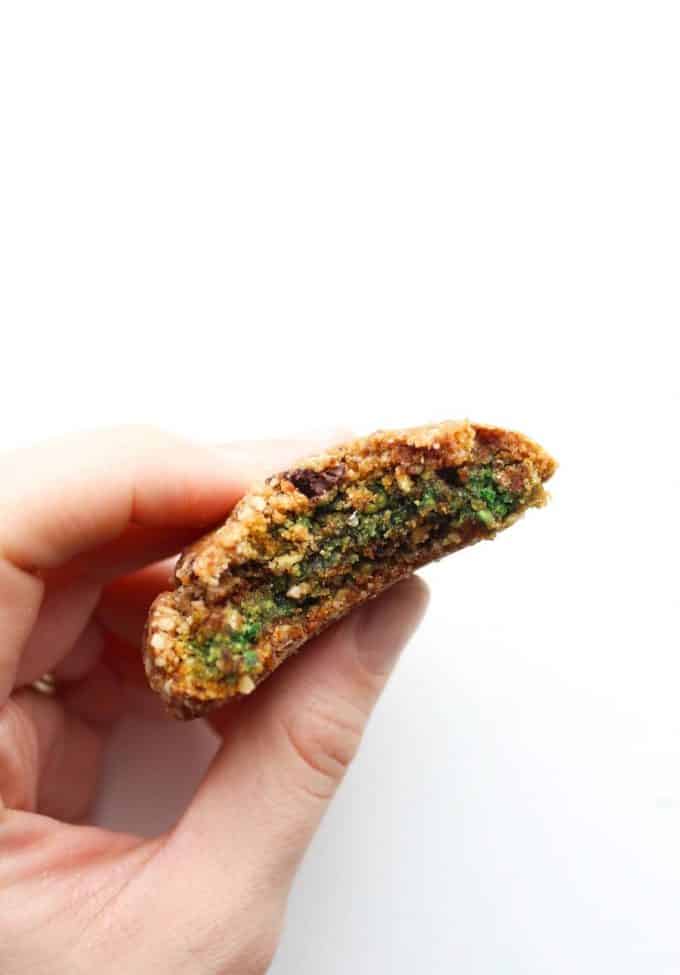 FACEBOOK | INSTAGRAM | PINTEREST
Don't forget to #asaucykitchen on instagram if you try these Sunflower Seed Paleo Chocolate Chip Cookies! I love seeing what you make with! You can also post your pictures to our facebook page!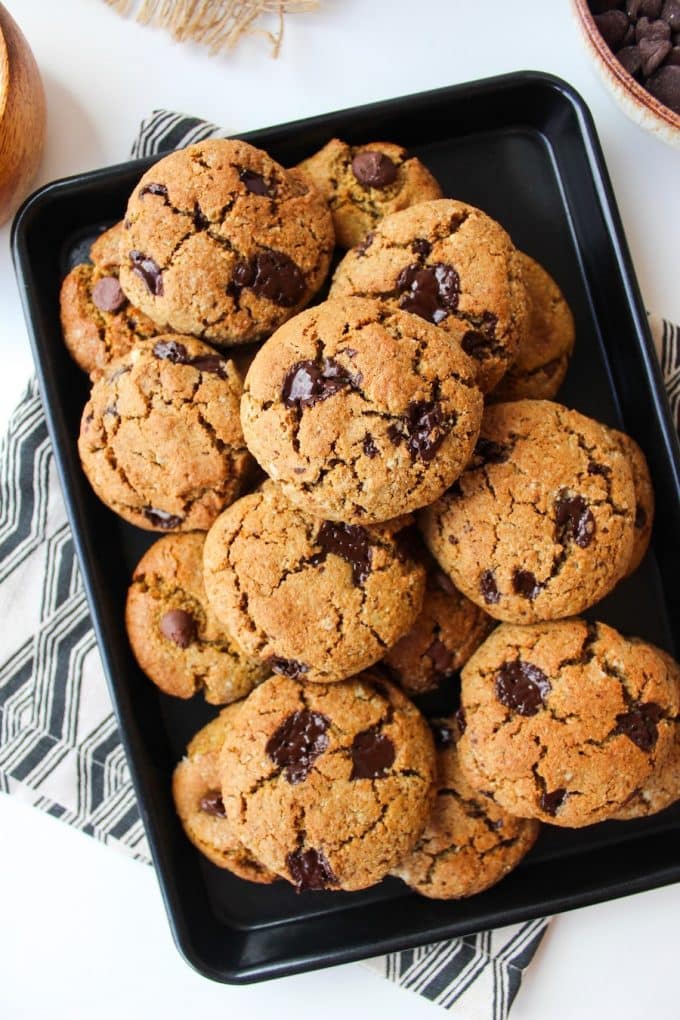 Recipe
Sunflower Seed Paleo Chocolate Chip Cookies
Yield:
12 cookies
Prep Time:
15 minutes
Cook Time:
12 minutes
Total Time:
27 minutes
Sunflower Seed Paleo Chocolate Chip Cookies - nut free, dairy free, with egg free options
Ingredients
1 cup | grams sunflower seeds, shells removed
1/4 cup | 28 grams coconut flour
3/4 teaspoon baking soda
1/4 teaspoon sea salt
1/2 cup | 100 grams coconut sugar
1 teaspoon vanilla extract
1/4 cup | 56 grams coconut oil, melted
1 tablespoon ground flax seed + 3 tablespoons cold water, or sub with 1 egg if you can tolerate eggs
1/2 cup | 87 grams dairy free dark chocolate chips
Instructions
Preheat oven to 350°F/180°C.
Flax egg
Do this next step if you are using flax eggs. Otherwise just skip on down to make the sunflower seeds
Make your flax eggs by mixing the 1 tablespoon ground flax with 3 tablespoons cold water in a large mixing bowl. Mix together and then place in the fridge to let rest while you make the sunflower seed flour.
Cookies
Place the sunflower seeds in a blender or food processor and pulse the seeds until you end up with a flour like texture. You may need to stop every so often to scape the sides of the blender/processor down.
Add the melted coconut oil, coconut sugar, vanilla extract to a large mixing bowl with the flax egg (or regular egg if that's what you're using) and stir until well combined.
Mix in the ground sunflower seeds, coconut flour, baking soda, and salt and whisk everything together until. You should end up with a crumbly but wet looking dough that easily sticks together. Stir in the chocolate chips.
Scoop out 1 - 1 1/2 tablespoons of dough and roll together to form little balls. Place the dough balls on a lined baking sheet leaving about 1 inch in between each cookie. Gently flatten the dough with your hand.
Bake for 10-12 minutes or until the edges are golden brown.
Allow the cookies to cool on the sheet for at least 10 minutes before carefully removing and placing on a cooling rack.
Enjoy!
Notes
Store these cookies at room temperature in an airtight container for up to 4 days.
Sunflower seeds contain chlorophyll (the chemical in plants that makes them green). When mixed with baking soda, heated, and cooled the acid reacts and turns green. You may notice a few green specks here and there just after baking, but the longer these cookies sat on the counter the more green they got. By day three the cookies looked completely normal on the outside but were a bright green/blue on the inside. They're still perfectly safe to eat - just might be a little confusing if you're not expecting it.
Nutrition Information
Yield:

12
Serving Size:
cookie
Calories:

182
Saturated Fat:

6g
Sodium:

144mg
Carbohydrates:

13g
Fiber:

2g
Sugar:

7g
Protein:

3g
This website provides approximate nutrition information for convenience and as a courtesy only. Nutrition data is gathered primarily from the USDA Food Composition Database, whenever available, or otherwise other online calculators.