Chocolate Chip Sunflower Seed Cookies: The next time someone tells you to eat your greens – grab a cookie! These sunflower cookies, made with ground up sunflower seeds are healthy, easy and super fun! The naturally occurring chlorophyll found in sunflower seeds reacts with baking soda in the oven creating a bright green, colorful surprise inside. Make sure to check out the recipe notes for substitutions and adaptions including ways to make these cookies vegan friendly.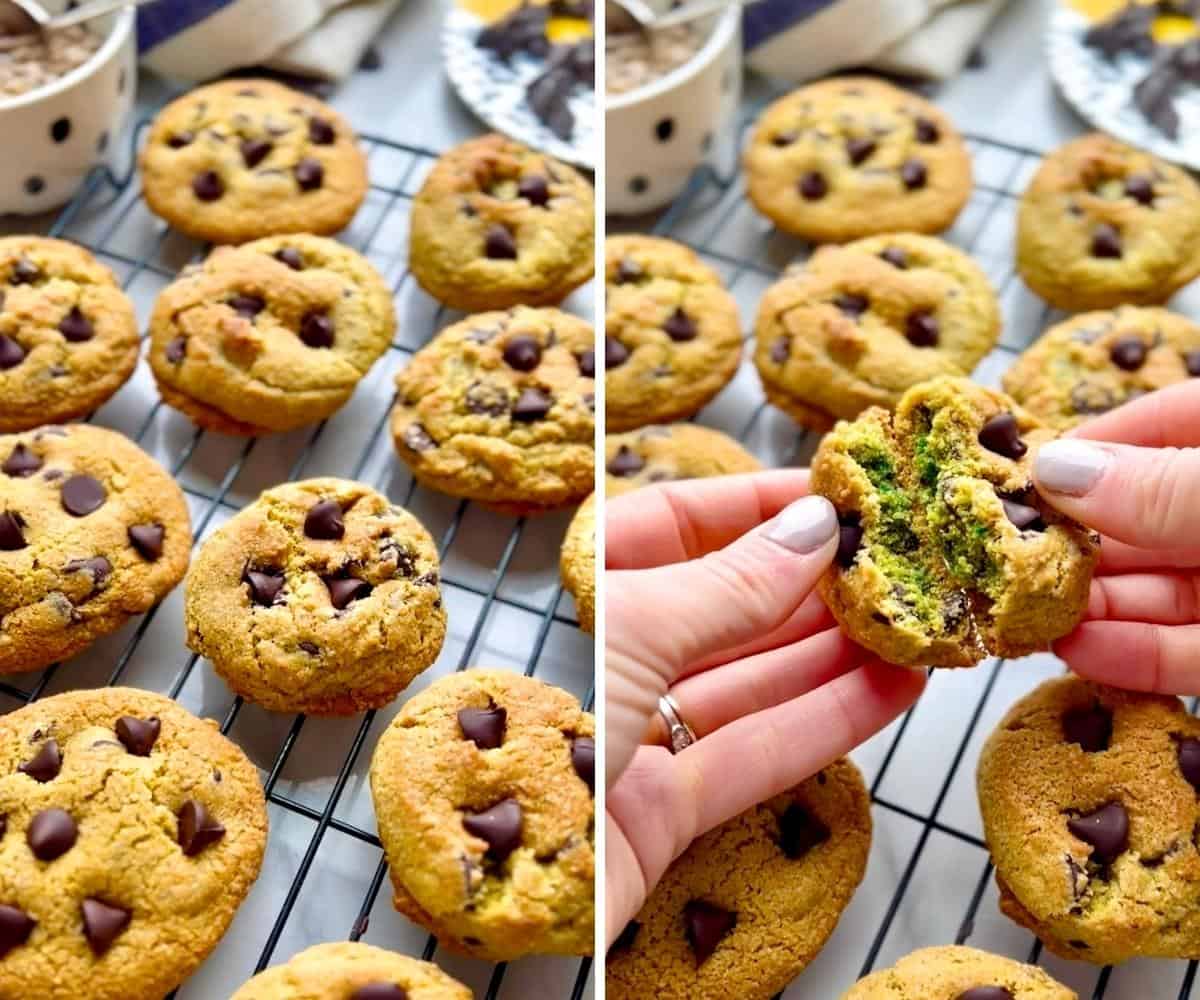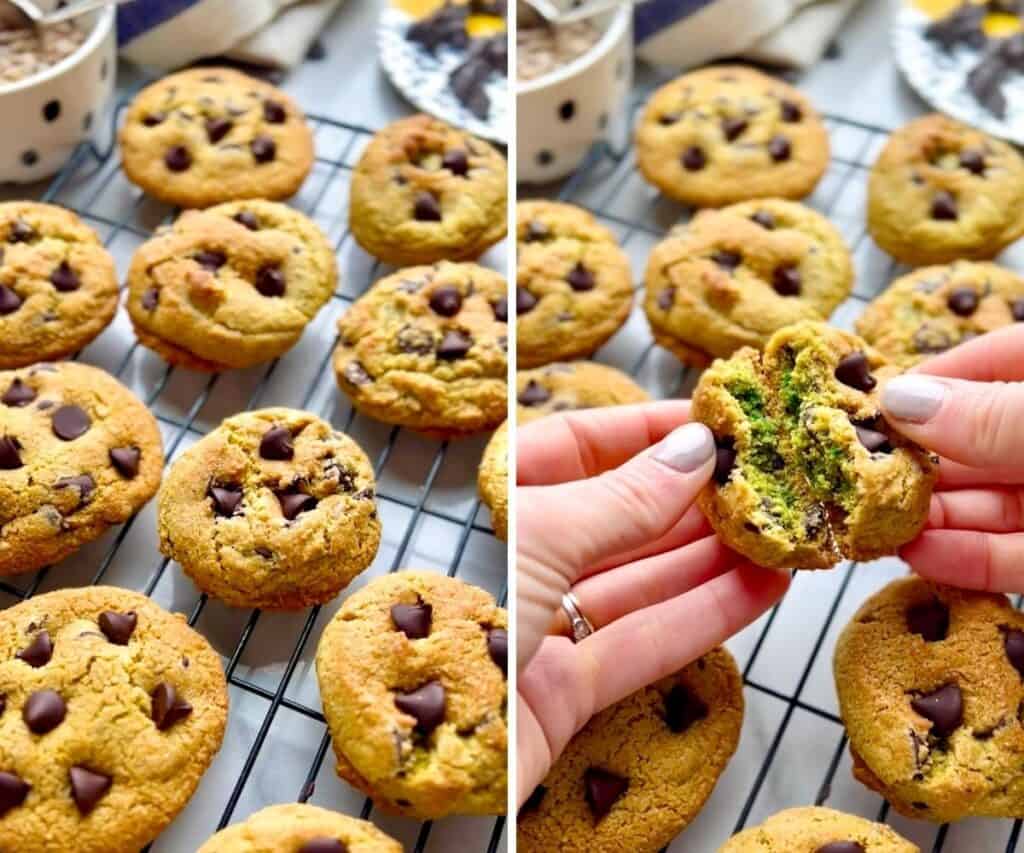 Original recipe posted March 10, 2017 – Updated post and recipe March 10, 2022 with additional pictures, tips and frequently asked questions.
If you're looking for something new to bake I highly recommend these chocolate chip sunflower seed cookies!
They're easy to make, super tasty and they're a lot of fun to share with friends and family who aren't expecting the vibrant green hue hiding inside. More on the green color further down!
Not only that, but these cookies are also: gluten free, grain free, nut free and dairy free. They can also easily be made refined sugar and egg free as well! With so many 'free from' attributes they're a great, allergy friendly cookie recipe to make and share with loved ones and acquaintances with food allergies and intolerances.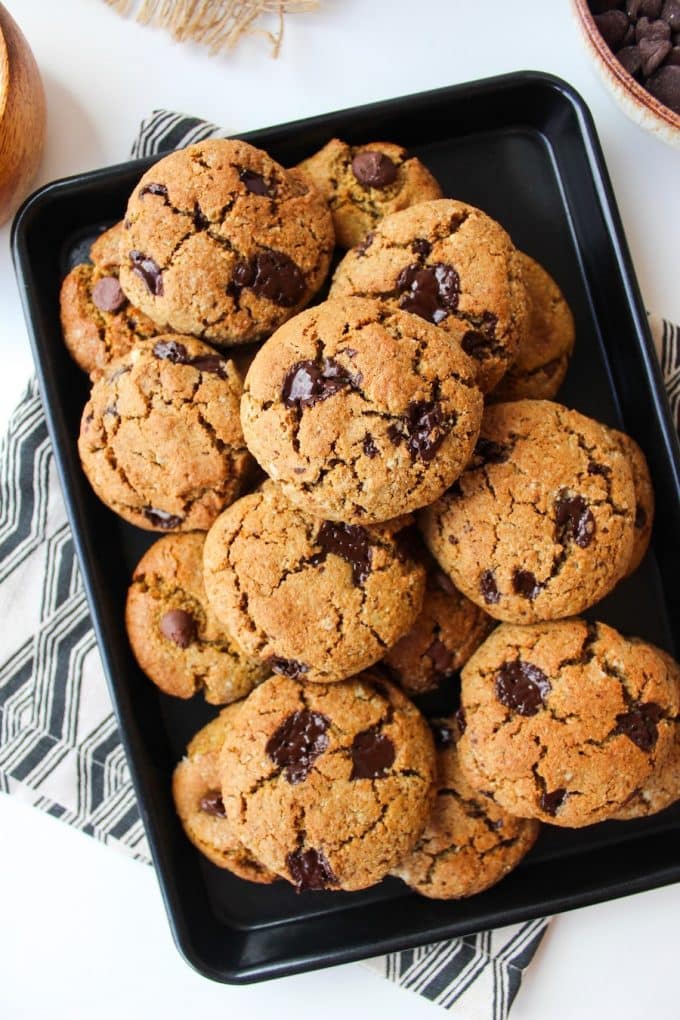 Why make cookies with Sunflower Seeds?
Great question!
First off, let's just agree that you can never have too many chocolate chip cookie recipes! I'm convinced that there is a cookie recipe for every occasion and I want to bake it! So, why not?
More so, ground up sunflower kernels (sunflower seed flour) is basically just a nut free alternative to almond flour. Unlike coconut flour (also a nut free/grain free flour), you can often easily swap it in 1:1 in place of almond flour without too much fuss.
Sunflower seeds also have a pleasantly unique flavor. They are slightly nutty and almost buttery in taste which work really well in cookies and other baked goods.
How to Make these Cookies
As far as cookies go this recipe is fairly simple and straight forward. There's not too much involved with little prep time needed.
The only special equipment you'll need aside from a large bowl is a blender or food processor to grind the seeds though you can use an electric mixer to prep the cookie dough if you like.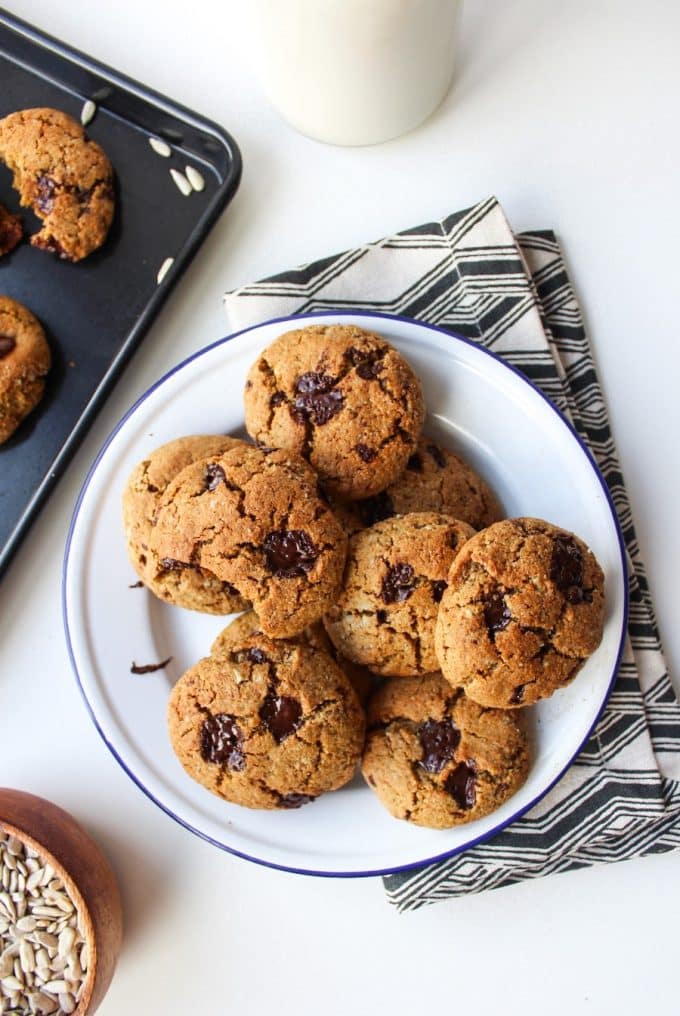 Steps
Add the the oil, sugar, egg (or flax egg) and vanilla to a bowl and mix until well combined. Mix until smooth and combined.
Add the dry ingredients (ground sunflower seeds, coconut flour, baking soda and salt) to the wet ingredients then add the chocolate chips. Mix into a thick dough.

Make sure to mix the dough well to ensure the baking soda is evenly distributed throughout. This is what's needed to make the insides green.

Scoop out the dough and transfer to a greased or lined cookie tray.
Bake for about 10-11 until the edges have set and tops golden.
Cool and enjoy. Let the cookies cool for a few minutes on the tray, then transfer to a wire rack to cool completely. Cookies made with flax egg will be more delicate right out of the oven so give them a bit more time to cool before moving.

Note: The green insides will darken and develop over time. The longer the cookies rest the more apparent the color. Cookies made with white sugar or light brown sugar are more likely to be mostly green on the inside right away.
Tip: Room Temp Ingredients
Make sure that you're working with room temperature eggs. If you try to mix a cold egg straight out of the fridge into melted coconut oil, it cause the oil to harden up making it difficult to mix.
Substitutions
Make it vegan:

Use a flax egg in place of the regular egg. Most of the cookies pictured in this post are flax egg cookies. Keep in mind that cookies made with flax egg won't spread much so make sure to gently flatten the dough before baking if you want thin cookies.
Make sure to use dairy free/vegan chocolate chips or use 1/2 cup raisins instead.

Sugar options:

I used coconut sugar in the most of the cookies shown here. For comparison: the first cookie pictures shown above (on the wire rack) are made with light brown sugar and the rest are made with coconut sugar.
Cookies made with light brown sugar or white sugar will be lighter in color than ones made with coconut sugar.
What makes these cookies turn green inside?
If you've ever baked with sunflower seed flour you might have noticed your baked goods turn green, or darken in color.
This is thanks to a chemical reaction called: chlorogenic quinone-amino acid greening…which is just a fancy way of saying that the chlorophyll (acid) in sunflower seeds reacts with baking soda (alkaline) when heated up in the oven which then creates a blue-green tinge in the baked cookies. In this case it makes for internally green cookies.
It's totally safe to eat though it might be a bit confusing if you're not expecting it. The first time I made these cookies I had no idea what happened.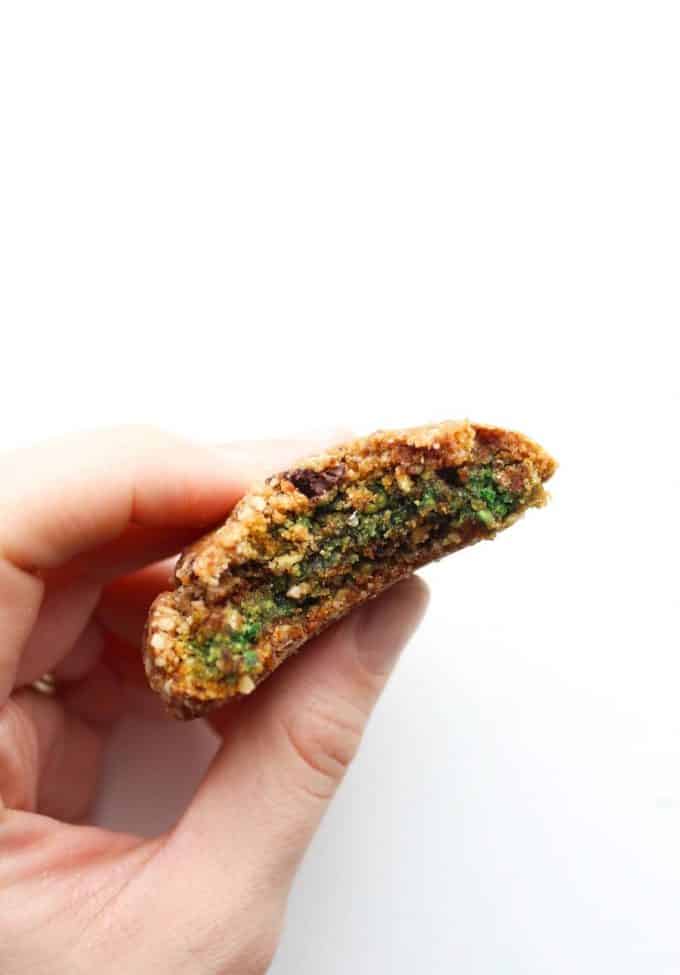 Enjoy!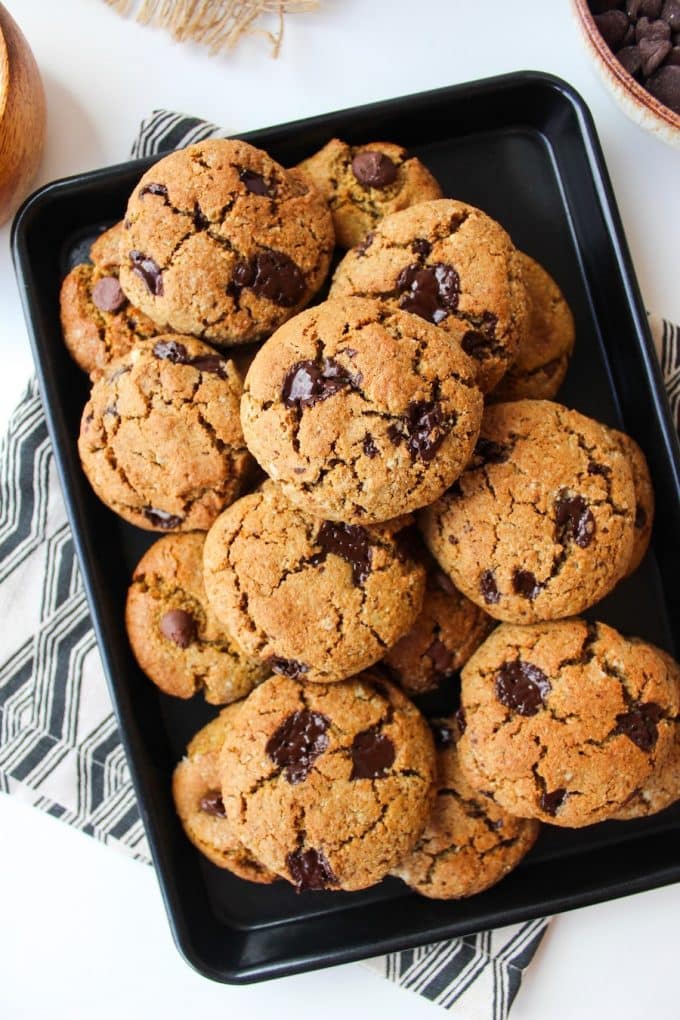 Recipe
Chocolate Chip Sunflower Seed Cookies
Yield:
12 cookies
Prep Time:
15 minutes
Cook Time:
10 minutes
Total Time:
25 minutes
The next time someone tells you to eat your greens - grab a cookie!
Ingredients
1 cup (140 g) sunflower seeds, shells removed
1/2 cup (100 g) coconut sugar (can sub with white sugar or light brown sugar)
1 teaspoon vanilla extract
1/4 cup (56 g) coconut oil, melted
1 egg (sub flax egg for vegan alternative - see notes)
1/4 cup (28 g) coconut flour
3/4 teaspoon baking soda
1/4 teaspoon sea salt
1/2 cup (87 g) chocolate chips, ensure vegan if needed
Instructions
Preheat oven to 350°F/180°C. Line or lightly grease a large cookie sheet. Set aside.
Place the sunflower seeds in a blender or food processor and blend the seeds on high until you end up with a flour like texture. You may need to stop every so often to scape the sides of the blender/processor down.
In a large mixing bowl combine the melted coconut oil, coconut sugar, vanilla extract and egg (or flax egg). Mix until well combined.
Add the ground sunflower seeds, coconut flour, baking soda, and salt to the bowl. Mix everything together well until a thick dough forms. Stir in the chocolate chips.
Scoop out 1 - 1 1/2 tablespoons of dough and roll together to form little balls. Place the dough balls on a lined baking sheet leaving about 1 inch in between each cookie. Gently flatten the dough with your hand.
Bake for 10-11 minutes or until the edges are golden brown.
Allow the cookies to cool on the sheet for about 5-10 minutes then carefully transfer to a wire cooling rack to cool completely.
Store cookies at room temperature in an airtight container for up to 4 days and enjoy!
Notes
How to Make a Flax Egg: Mix together 1 tablespoon ground flax with 2 tablespoons cold water in a small cup or bowl then set aside for 10-15 while the mixture thickens up into a gel-like consistency.
What makes these green inside? Sunflower seeds contain chlorophyll (the chemical in plants that makes them green). When mixed with baking soda, heated, and cooled the acid reacts and turns green. You may notice a few green specks here and there just after baking, but the green color will intensify over time.
Nutrition Information
Yield:

12
Serving Size:
cookie
Calories:

182
Saturated Fat:

6g
Sodium:

144mg
Carbohydrates:

13g
Fiber:

2g
Sugar:

7g
Protein:

3g
This website provides approximate nutrition information for convenience and as a courtesy only. Nutrition data is gathered primarily from the USDA Food Composition Database, whenever available, or otherwise other online calculators.
More Gluten Free Chocolate Chip Cookie Recipes
Gluten Free Chocolate Chip Cookies (a classic cookie good any time)
Almond Flour Chocolate Chip Cookies (next level, grain free goodness – my most popular recipe)
Chocolate Chip Pumpkin Cookies (great in the Fall)
Chocolate Chip Zucchini Cookies (for the inevitable, summertime zucchini surplus)
Oatmeal Raspberry Chocolate Chip (if you're feeling fruity)