Superfood Vegan Rice Krispie Treats – a childhood favorite reimagined with a few healthier tweaks and additions. Organic puffed brown rice with toasted quinoa, coconut flakes, and pepitas mixed together in a nut butter glue.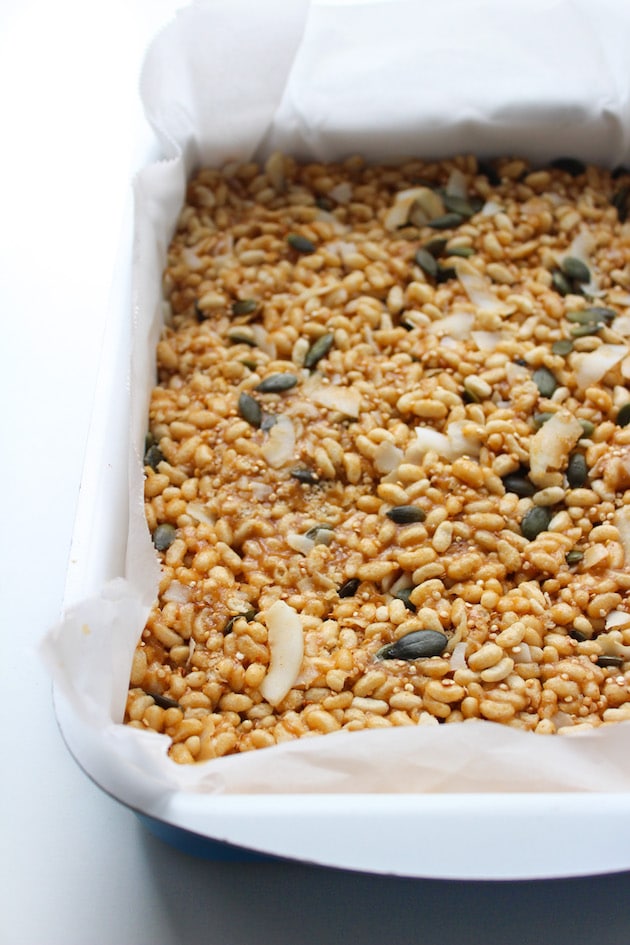 Hi my name is Sarah. Instead of giving up junk foods that aren't good for me I like to come up with ways to make them healthier so that I have an excuse to eat them. See also: paleo pop tarts and healthified snickers bars.
Can you blame me? Just look at this stuff! ⬇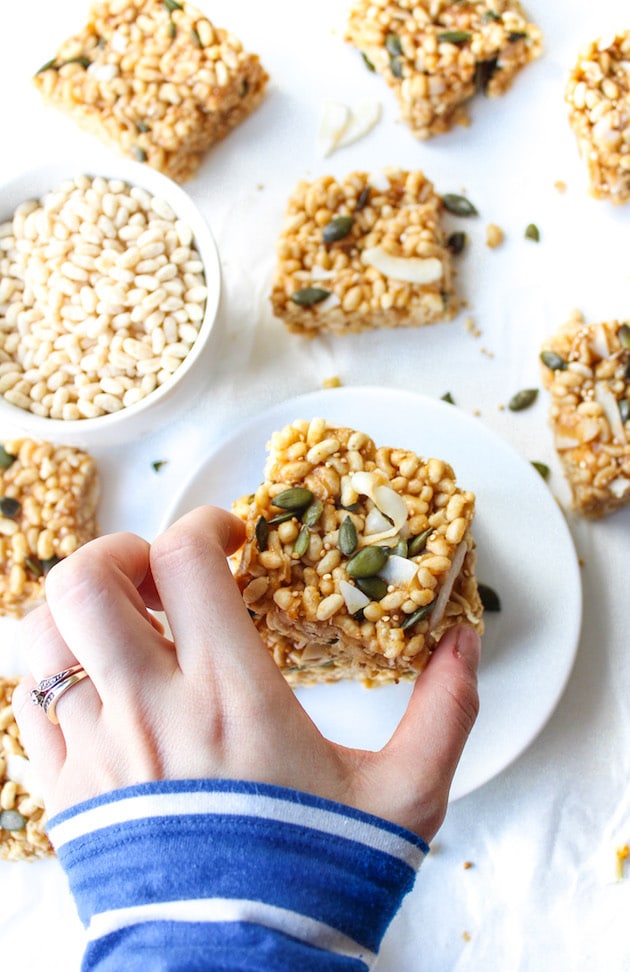 Making of: Vegan Rice Krispie Treats
I got the idea for these rice krispie treats from these toasted marshmallow, quinoa, and cashew butter ones I saw on How Sweet Eats a few weeks back. As soon as I saw them I was sold. When it comes to my favorite childhood junk food – I just can't help myself.
My thoughts basically went from: YUM ➡ WANT ➡ NEED ➡ MAKE all within about 10 minutes.
And that was that.
Except when making it I wanted to make a few tweaks here and there so that I could rationalize going back for seconds. As much as my mouth enjoys browned butter and toasted marshmallows, my waistline would beg to differ. You understand?
I used peanut butter in the video making these that you can see above, but you can use whatever nut butter you have on hand. When it comes to the sweetener, brown rice syrups worked the best, followed by agave.  You can use maple syrup if you like, but just realize that it's not as sticky as agave or brown rice syrup, so your rice krispie treats may not be quite as firm. Honey would also be a good option if you're not overly concerned about making this fully vegan.
However you make this – I hope you like them as much as we did!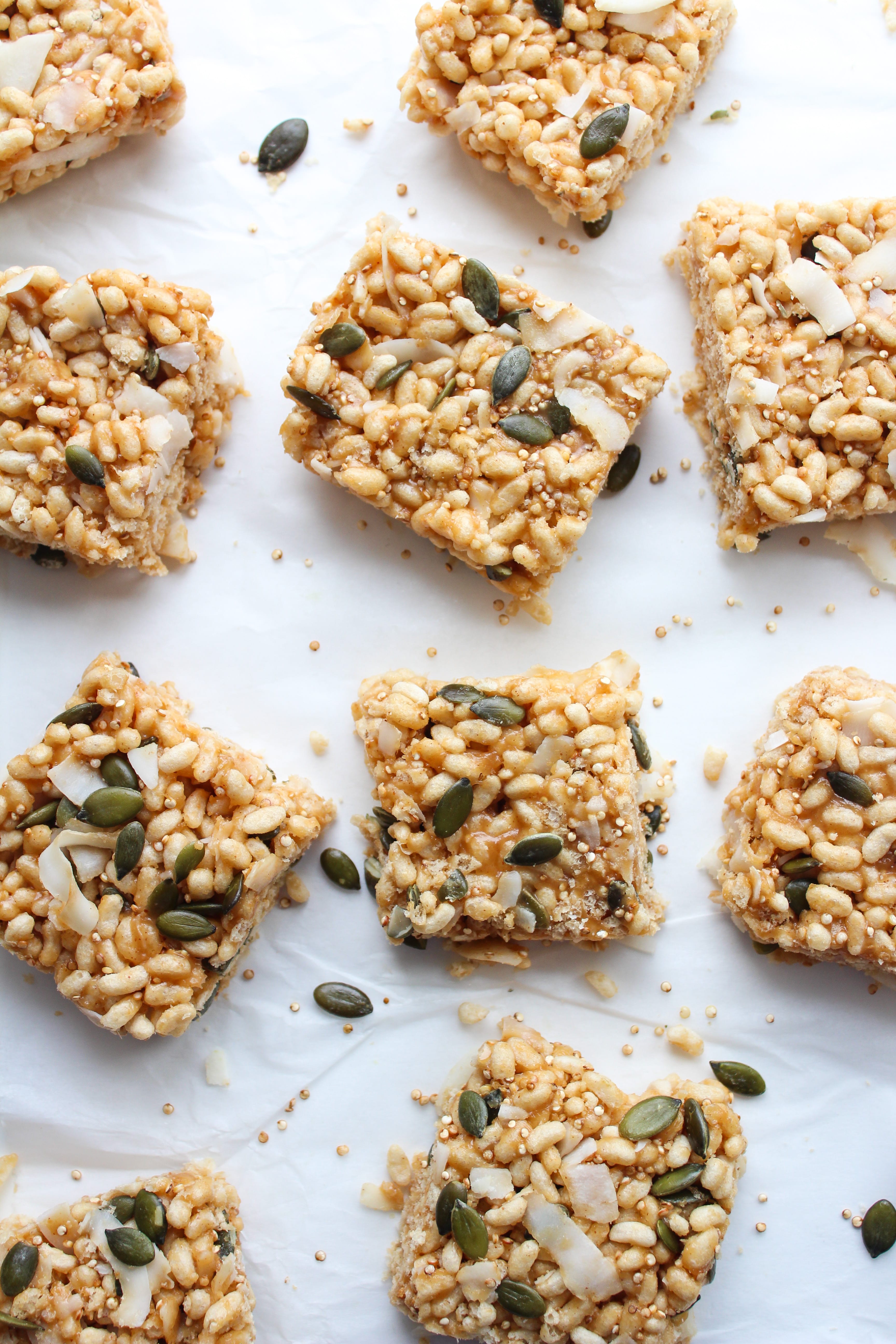 FACEBOOK | INSTAGRAM | PINTEREST  
Don't forget to #asaucykitchen on instagram if you make these vegan rice krispie treats! I love seeing what you make with!  You can also post your pictures to our facebook page!
Superfood Vegan Rice Krispie Treats
---
Sarah Nevins
25 minPrep Time
5 minCook Time
30 minTotal Time
Ingredients
1/2 cup peanut butter | 125 grams (can sub with almond butter, cashew butter or nut butter of your choice)
1/2 cup brown rice syrup 172 grams (can sub with agave or coconut nectar)
2 teaspoon vanilla extract
1/4 teaspoon sea salt
2 cups | 50 grams gluten-free puffed brown rice cereal
1/2 cup | 45 grams coconut flakes
1/4 cup | 37 grams pumpkin seeds (pepitas)
1/4 cup |40 grams quinoa, uncooked
Instructions
Add almond butter, brown rice syrup, vanilla, and salt to a sauce pan over low heat. Stir until the mixture is all melted together.
Place the quinoa in a fine mesh sieve and rinse it well under water. Place the wet quinoa in a small skillet over a medium low heat. Stir with a wooden spoon and cook until the quinoa toasts and puffs slightly and starts to pop about 5 to 6 minutes. Remove from the heat
Pour the puffed rice cereal into a medium bowl along with the toasted quinoa, coconut flakes, and pumpkin seeds.
Pour the almond butter mixture over the cereal and stir until evenly coated.
Scoop the cereal into a glass baking dish or pan (line with parchment for easy clean up) and firmly press the mixture down until it's tightly packed. The harder you press, the firmer these will be.
Place in the fridge for about 20 minutes to allow to cool completely and to set before cutting into squares.
Notes
http://www.asaucykitchen.com/superfood-vegan-rice-krispie-treats/
She brains and reluctant dishwasher for A Saucy Kitchen