No bake, healthier homemade snickers bars. Made with a coconut almond nougat, topped with a simple vegan caramel sauce and dipped in dark chocolate. Paleo + Vegan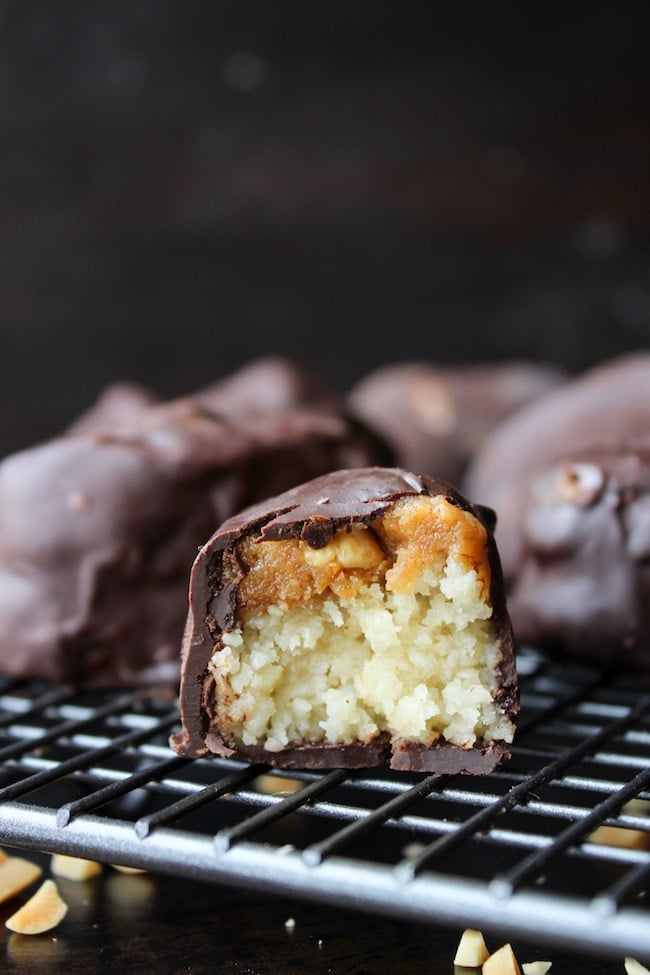 These might just be one of the worst things I've ever made on this blog. And by worst I mean best.
But also the worst.
If I were a stronger, more disciplined person then these homemade snickers would be no problem. As it currently stands that is definitely not the case. I'm also definitely going to need someone to take these away from me before I eat the lot.
#TheStruggleIsReal
With Halloween coming up I've been eager to replicate a few of my trick or treat favorites with a healthier twist. Since Snickers have always been my candy bar of choice they were a must.
You don't even want to know how many dozens of these I made until I finally landed on a ~healthier homemade snickers bar that I actually liked. Thankfully I have a husband and father-in-law who are more than happy to eat their way through the rejects.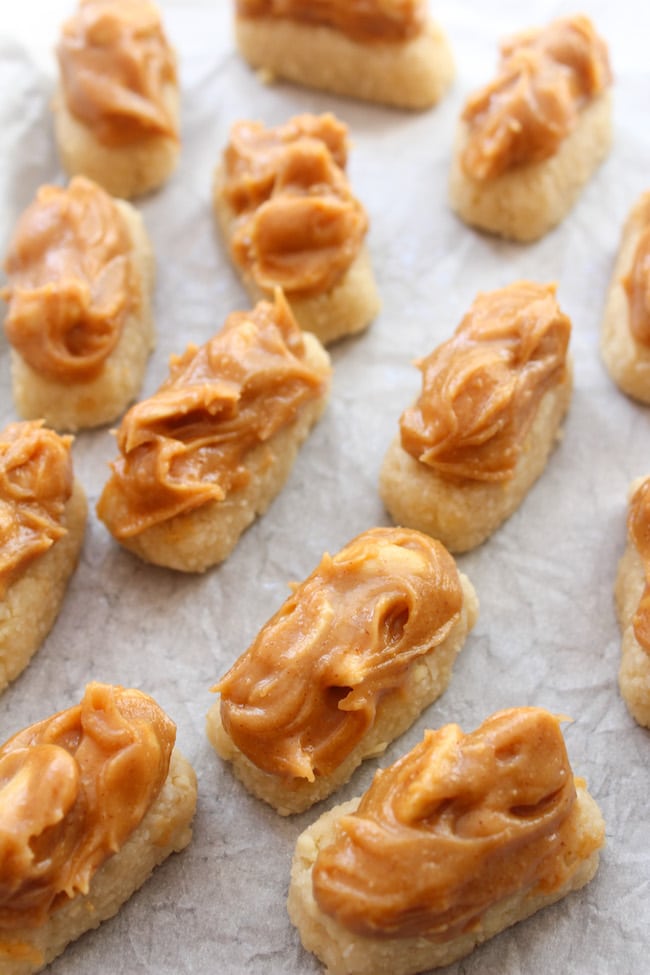 Homemade Snickers
The chocolate and caramel part were easy enough to figure out here. The caramel is the same one I used in my paleo millionaires that I shared last year. Those have been so universally loved it seemed like a no brainer. It's my go to vegan caramel and it's made in less than five minutes. Easy. For the chocolate, I decided to use melted dark chocolate for the sake of ease.
I kept trying to throw banana into the nougat as a natural sweetener/thickener, but of course then all I was able to taste was banana. Good, but not right. Also, it was way too mushy. Snickers are supposed to have a bit of chew to them.
I know that I could have used cashews to get the right texture, but
a) I already have a snickers cheesecake recipe that relies on cashews and wanted something different
b) cashews can be expensive and you have to wait for them to soak before using. Who's got time for that when there are candy bars to be eaten?
In the end I finally landed on this coconut/almond blend and let me tell you, it far surpassed my expectations. Once that was figured out everything else came together.
The formation of these bars takes a bit of time because have to hand form everything, but it's well worth it. I list two methods for making these bars so take your pick. Just sit down, throw on some music, and you'll be done in no time.
FACEBOOK | INSTAGRAM | PINTEREST  
Don't forget to #asaucykitchen on instagram if you try these homemade snickers! I'd love to see what you make with it!  You can also post your pictures to our facebook page!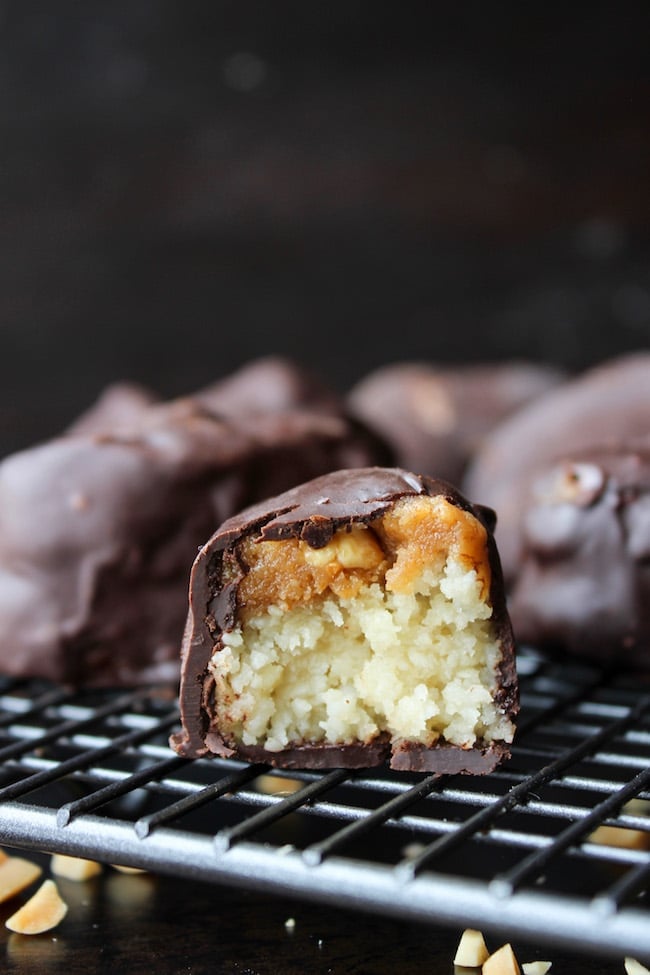 Recipe
Healthier Homemade Snickers
Yield:
12 fun sized bars
Prep Time:
55 minutes
Cook Time:
5 minutes
Total Time:
1 hour
No bake, healthier homemade snickers bars. Made with a coconut almond nougat, topped with a simple vegan caramel sauce and dipped in dark chocolate. Paleo + Vegan
Ingredients
Caramel Layer
1/4 cup maple syrup
1/4 cup peanut butter, you can sub with another nut butter of your choice
1 teaspoon vanilla extract
1/4 teaspoon sea salt
2 tablespoons melted coconut oil
1 cup peanuts
Nougat Layer
1 cup raw almonds
1 cup desiccated unsweetened coconut
1 tablespoon coconut oil, melted
1 tablespoon maple syrup
Chocolate Shell
9 oz Dark Chocolate, 255 grams, dairy free chopped or in chips
Instructions
Caramel
Start making the caramel first so that it has a chance to cool down while you prep the nougat layer. To make the caramel add all ingredients listed under "Caramel Layer" except for the peanuts to a small sauce pot and warm on a low heat. Stir to combine until everything has melted and is completely mixed together. Once mixed remove the caramel from the heat and mix the peanuts in whole. Pour into a small bowl to cool and transfer to the fridge to harden up while you prep the next step.
Nougat
To make the nougat add the almonds and coconut to a high powered blender or food processor and blintz. Process until the coconut and almond become crumbly and sandlike. Add the remaining nougat ingredients and continue blending until becomes smooth and starts to come together. The nougat should stick when you press it together.
To form the bars scoop out a couple of tablespoons of the mixture and form a small 2 inch long rectangle.The dough will be sticky so you may need to grease your hands slightly to handle. After you form all the bars (you should get 10-12 "fun sized" bars) place them in the freezer to harden for at least 20 minutes. After they have a chance to firm up, take the bars out of the freezer and the caramel out of the fridge and spread the caramel over the top of each bar. Try to make the caramel layer as thick as the nougat layer is. Place the bars back in the freezer for another 20 minutes to firm up.
Chocolate Shell
When the bars are almost finished freezing begin prepping the chocolate. To melt in a double boiler, place a small amount of water in the bottom pan of a double boiler, the water should not touch the top pot. Place the chocolate in the top pot and start heating. Stir frequently until chocolate is just melted, turn the heat off and continue stirring until melted. Remove the chocolate from the heat and let cool before dipping. OR you can melt the chocolate in a microwave at 20 second intervals. Stir in between microwaving. When the chocolate is nearly melted fully just stir to help it melt faster to keep from overheating it. Set aside to cool before dipping the bars.
Remove the bars from the freezer. Lay out a sheet of parchment paper to place the chocolate on as the dry. Place on bar on top of a fork and dip in the chocolate one at a time. Let the excess chocolate drip off the bar before placing it on the parchment paper to firm up. Repeat this until all of the bars are covered. The chocolate shell should harden on the counter top after about 15 minutes. You can also transfer the bars to the freezer to speed up the process.
Store the bars in the fridge or freezer for up to a week and enjoy! If you do store the bars in the freezer make sure you give them a few minutes to soften before biting into.
An alternative method
Instead of individually forming bars out of the nougat you can press the dough into a parchment lined 8in x 8in baking pan to cut up into bars later. Make it about 1/2 inch thick. Place the nougat in the freezer to firm up for 30 minutes.
Don't refrigerate the caramel after mixing it together - just leave it out on the counter top until after you make the nougat base so it's easy to spread. Pour the caramel over the nougat and spread it evenly across the top. Refrigerate for 40 minutes or until it's hard enough to cut into. After you cut the nougat and caramel into bars you can proceed as you would with the instructions above for dipping and melting chocolate.
Nutrition Information
Yield:

12
Serving Size:
bar
Calories:

397
Saturated Fat:

14g
Sodium:

83mg
Carbohydrates:

22g
Fiber:

6g
Sugar:

11g
Protein:

9g
This website provides approximate nutrition information for convenience and as a courtesy only. Nutrition data is gathered primarily from the USDA Food Composition Database, whenever available, or otherwise other online calculators.