Healthier Homemade Pigs in a Blanket – made with a sweet potato almond crust and only 8 total ingredients | Paleo + Gluten Free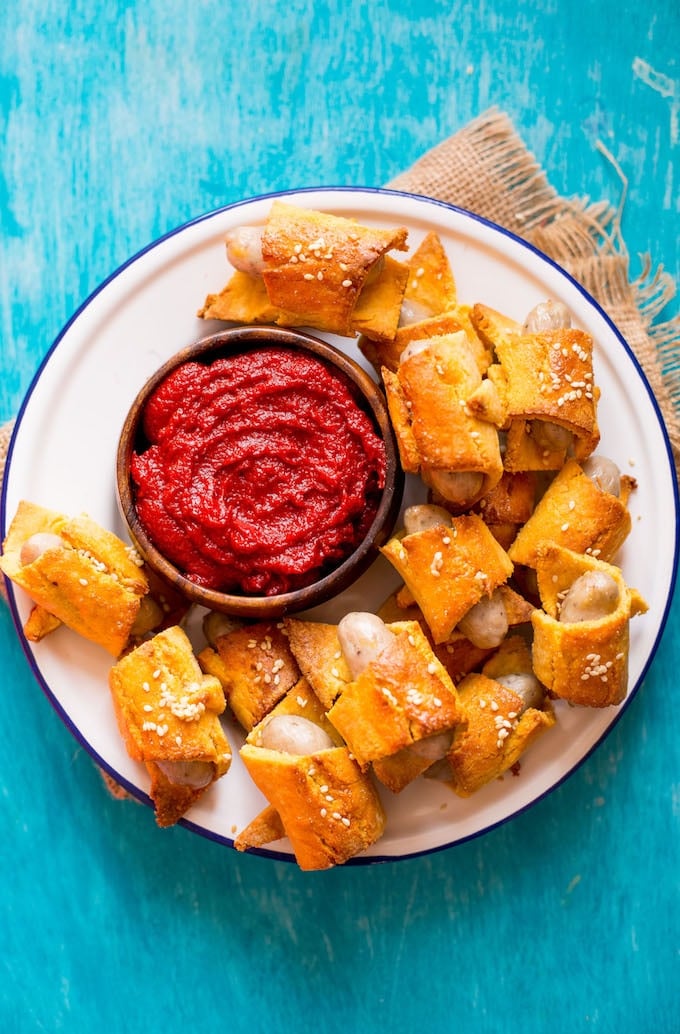 I got your next game day appetiser right here and you're only 8 ingredients and about 30ish minutes away….7 ingredients if you skip the egg wash towards the end!
And if you're like me and you don't actually watch a lot of sports then I can also attest to the fact that these are a great comfort when watching trash reality TV or catching up on the emotional roller coaster, This Is Us. No tears will be shed when you're chowing down on homemade pigs in a blanket. Just sayin'.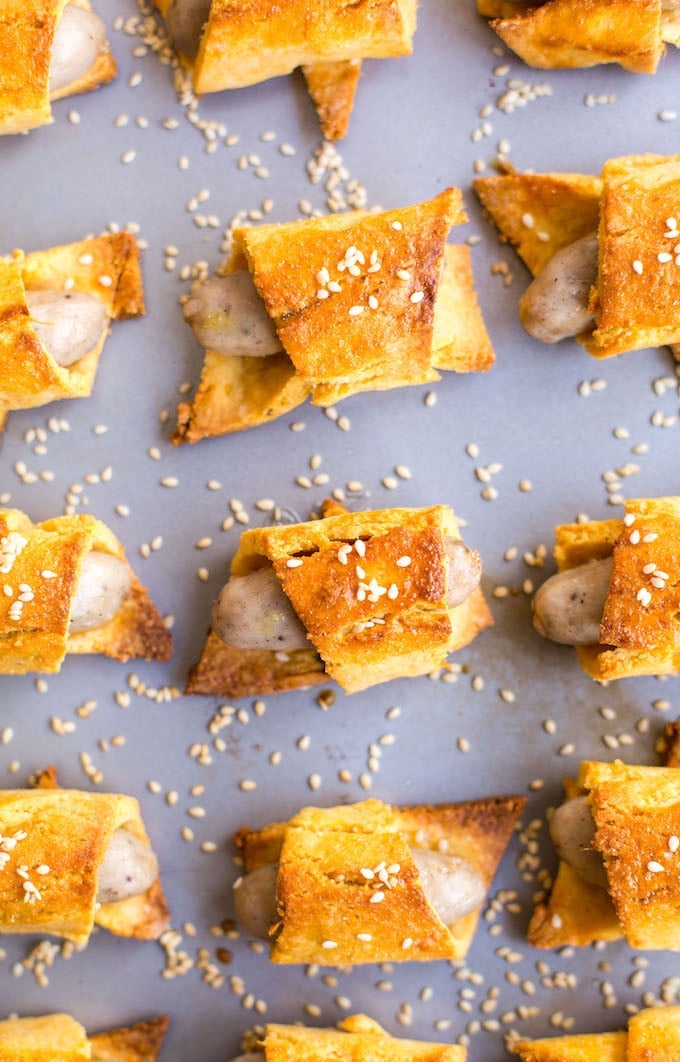 How to Make: Healthier Homemade Pigs in a Blanket
Like I said: 8 ingredients + 30 minutes!
The 'pastry' here is my tried and true sweet potato crust. It's made up of five basic ingredients:
mashed sweet potato
almond flour
tapioca flour
oil
salt
It's super easy to make and extremely versatile as seen in both my homemade pizza rolls and my sweet potato crackers. Just mix together those ingredients to form a dough and you're halfway there.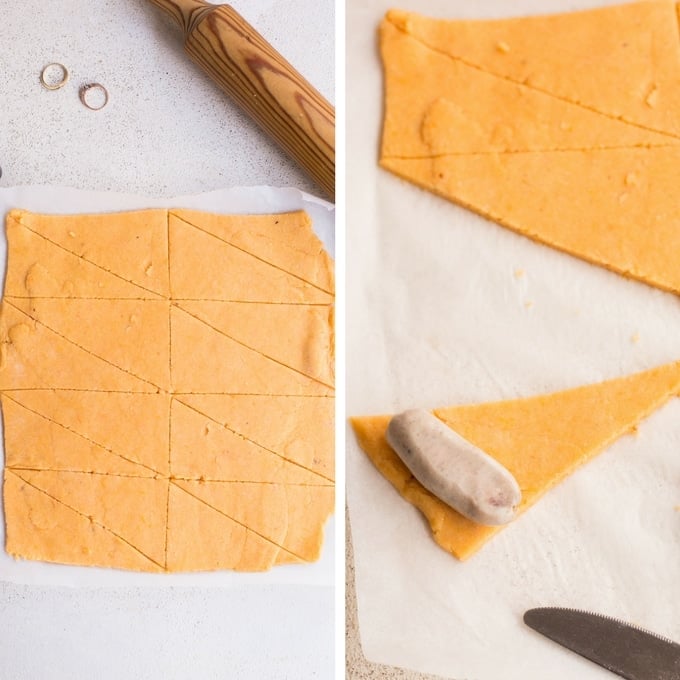 The trickiest part of this recipe is probably going to be rolling out the dough and cutting it into shape correctly. If you get a little lost in the instructions just refer back up to this picture above so you can see what it is you need to do. It's not actually difficult, it just might look confusing at first glance.
Once your dough is cut into shape it's just a matter of rolling the sausage and placing on the baking sheet. The egg wash that follows is completely optional. It's more a cosmetic addition than anything as it adds a little more shine and colour to the final product. So no worries if you can't have eggs for any reason – you're not missing out!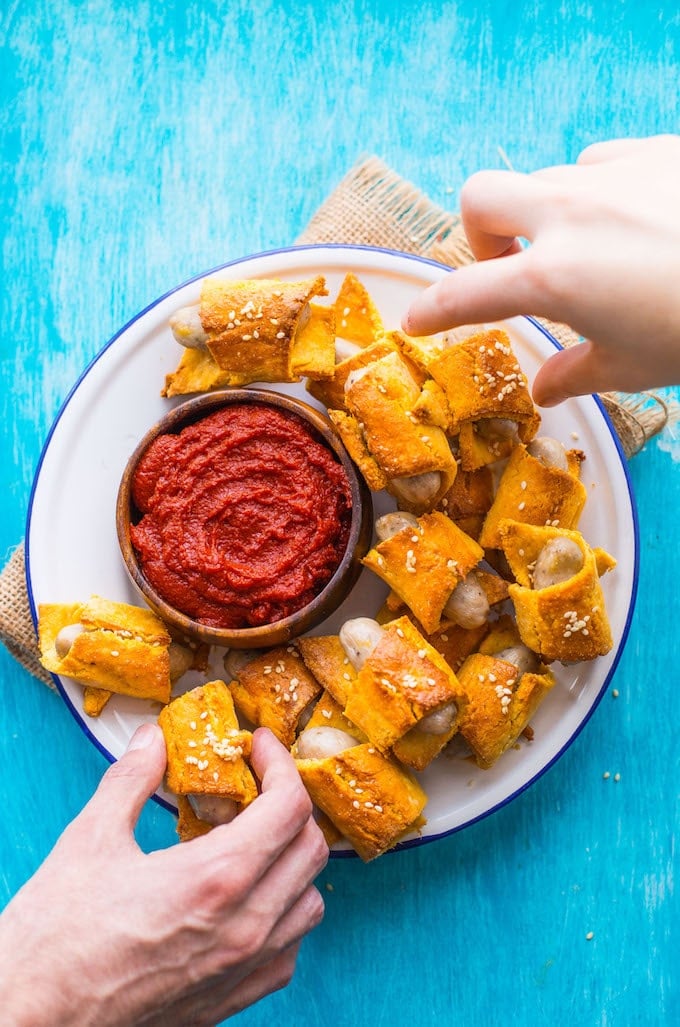 So be it the Super Bowl, The Bachelor, or the Royal Rumble (which we actually will be watching this coming Sunday!) these homemade pigs in a blanket hits are just what you need.
FACEBOOK | INSTAGRAM | PINTEREST
Don't forget to #asaucykitchen on instagram if you try these Healthier Homemade Pigs in a Blanket! I'd love to see what you make with it! You can also post your pictures to my facebook page!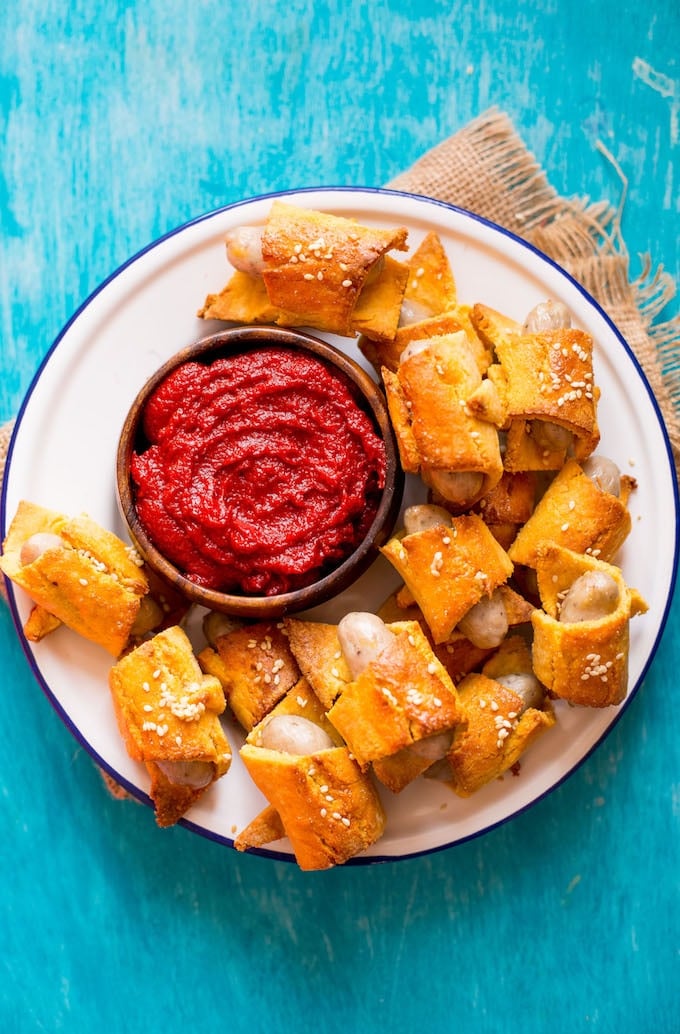 Recipe
Healthier Homemade Pigs in a Blanket
Yield:
16 rolls
Prep Time:
20 minutes
Cook Time:
15 minutes
Total Time:
35 minutes
Healthier Homemade Pigs in a Blanket - made with a sweet potato almond crust
Ingredients
1 cup + 2 tablespoons | 120 grams almond flour
1/2 cup | 50 grams tapioca flour
1/2 cup | 100 grams mashed sweet potatoes
2 tablespoons | 30 ml olive oil or melted coconut oil
1/4 teaspoon sea salt
16 good quality gluten free cocktail sausages or large sausages cut up into 2 inch pieces
1 egg, whisked for brushing over the top of the dough (optional)
2 tablespoons sesame seeds (can also use poppy seeds or skip altogether)
Instructions
Preheat the oven to 400°F/205°C
Add the almond meal, tapioca flour, mashed sweet potatoes, olive oil and sea salt to a mixing bowl. Mix together until completely combined and a slightly sticky dough forms.
Sprinkle a little more tapioca flour over a large sheet of parchment paper. Place the dough on top of the paper, sprinkle a little more flour over the top of the dough and then place another sheet of parchment paper over the top. Roll out the dough out into an large, even rectangle (about 8x14 inches). If you're dough is still a little too sticky don't be afraid to add more tapioca flour tablespoons at a time until it's easy enough for your to handle.
Take a knife and run it down the centre of your rectangle lengthwise so that you now have 2 rectangles that are now about 4x14 inches. Now cut the dough horizontally making 8 sections of dough that are about 4 inches wide and 2 inches high. Finally, cut each section of dough diagonally from one corner to the opposite corner making 16 triangles of dough altogether. Pictures are provided in the post above if you need a visual reference of what this should look like.
Before adding your sausages for rolling, carefully slide a knife under your triangular piece of dough to make sure it doesn't stick to the paper.
Place your sausage horizontally at the wide end of your triangle and carefully roll the dough over the sausage until the point is rolled over the top. There might be a few cracks in the dough here and there. Don't worry about it, just smooth your fingers over and breakages after placing on the baking sheet.
Transfer the rolled sausage to a lightly greased or lined baking dish and repeat this process until all of your sausage is rolled.
Use a pastry brush to lightly brush the sausages with the whisked egg. Sprinkle a pinch of sesame seeds over the top of each roll and place in the oven to bake for 15-18 minutes. The sausage should be cooked through and the rolls golldened.
Once done, let cool for a few minutes before serving and enjoy!
Notes
The egg wash will add a slight shine and a little more colour to the final product, but they won't affect the overall taste/texture of the rolls so don't worry about skipping that step if you have any egg allergies. 
---
How to get mashed sweet potatoes:  
Microwave: Poke a sweet potato all over with a fork and then microwave for about 4-5 minutes until soft and tender. Large sweet potatoes will need more time than small potatoes. Once microwaved, let cool for about 10 minutes before handling and the slice the potato down the middle and scoop out the insides. The peel should easily come off at this point. Then just use a fork or potato masher to mash until smooth.
Oven: Poke a sweet potato all over with a fork and then bake in the oven for 45-60 minutes at 400°F/205°C. Remove from the oven and let cool for about 10 minutes before handling. Slice down the centre of the potato and scoop out the insides. Use a fork or potato masher and mash until smooth.
Nutrition Information
Yield:

16
Calories:

158
Saturated Fat:

1g
Cholesterol:

5mg
Sodium:

130mg
Carbohydrates:

8g
Fiber:

2g
Protein:

4g
This website provides approximate nutrition information for convenience and as a courtesy only. Nutrition data is gathered primarily from the USDA Food Composition Database, whenever available, or otherwise other online calculators.