Asian Cucumber Sesame Salad: Bright flavours and crunchy textures!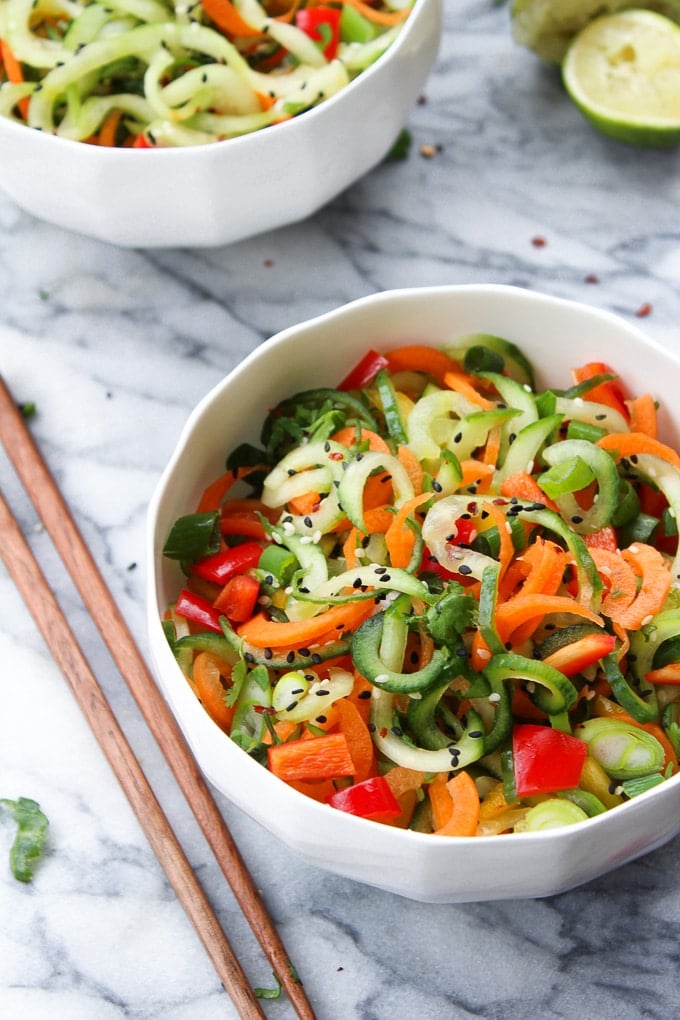 This Asian Cucumber Salad is my celebratory 'Spring is coming!' recipe. *Here Comes the Sun plays softly in the background*
But first I'm serving up this salad with a side of #realtalk.
I always go back and forth about how much of Mike's health problems to share on my blog. On the one hand, the main reason I started this thing was to share his story in hopes that other people who are going through similar problems might be able to relate. Living with an invisible illness of any kind is a uniquely frustrating experience that I don't feel like gets talked enough.
And then on the other hand it feels like such a downer talking about his arthritic hands and creaky knees. Who wants to read about a 25 year old man with the aches and pains of a 55 year old man while searching for cookies?
That being said, I think it's important for myself to be open about Mike and his experience with Postural Orthostatic Tacychardia Syndrome (POTS) and Ehlers Danlos Syndrome (EDS). As I said before, I hope that in talking about some of the nastier details of living with these health issues that others might be able to relate.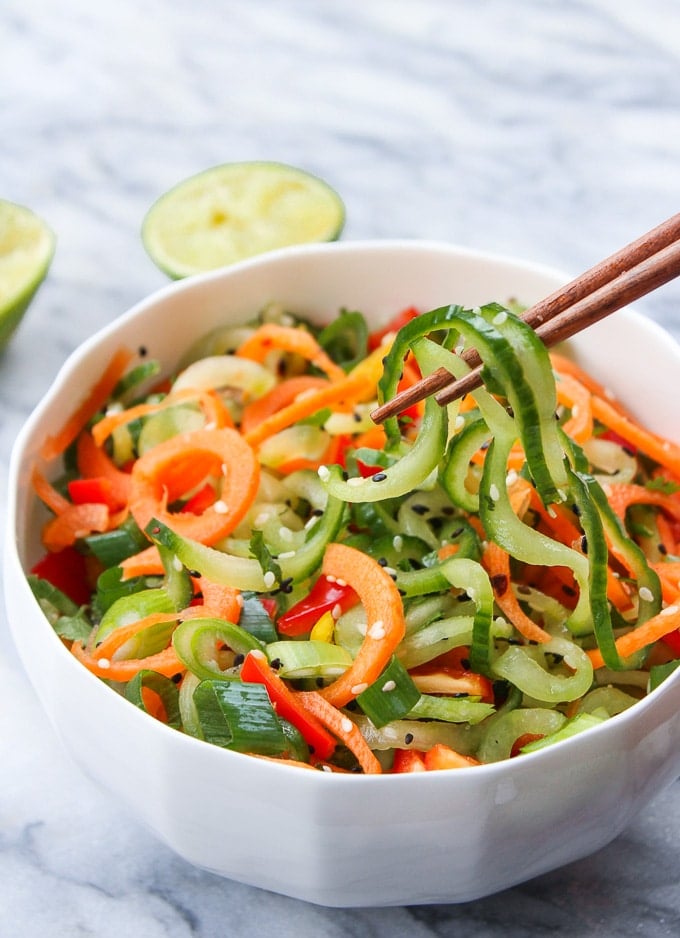 I also need to remind myself about why we choose to eat the way we do. While there are so many things that are outside of our control, food is not one of them. There are days…many, many days, when I would love nothing more than to throw some cheap frozen meal in the oven, serve up dinner and not think twice about it. In those times especially I need to remind myself why it's so important to rally behind clean eating.
We don't have access to a physiotherapist with a thorough understanding of POTS, or one who understands how to build up strength in wonky knees. We also can't take back years of undiagnosed arthritis that resulted in fused joints in his hand. We can however make an effort to eat clean and make an effort to nourish our bodies through our food.
So not only is this Asian Cucumber Salad my nod to sunnier days and (hopefully) warmer weather, it's also my salute to clean eating and my belief that health starts in the kitchen.
This salad is the blend of salty and tangy flavors with bright colors and flavors. Between the carrots and the cucumber I'm loving the crunch you get in every bite. It's been a couple months now and I'm still in love with my Spiralizer because I've been able to make sooo many fresh and healthy zoodle recipes like this one. If you don't have a Spiralizer yet though you can still make this by using a julienne peeler in its place.
So here's to eating well and doing what we can for ourselves in the little ways that we can. Enjoy!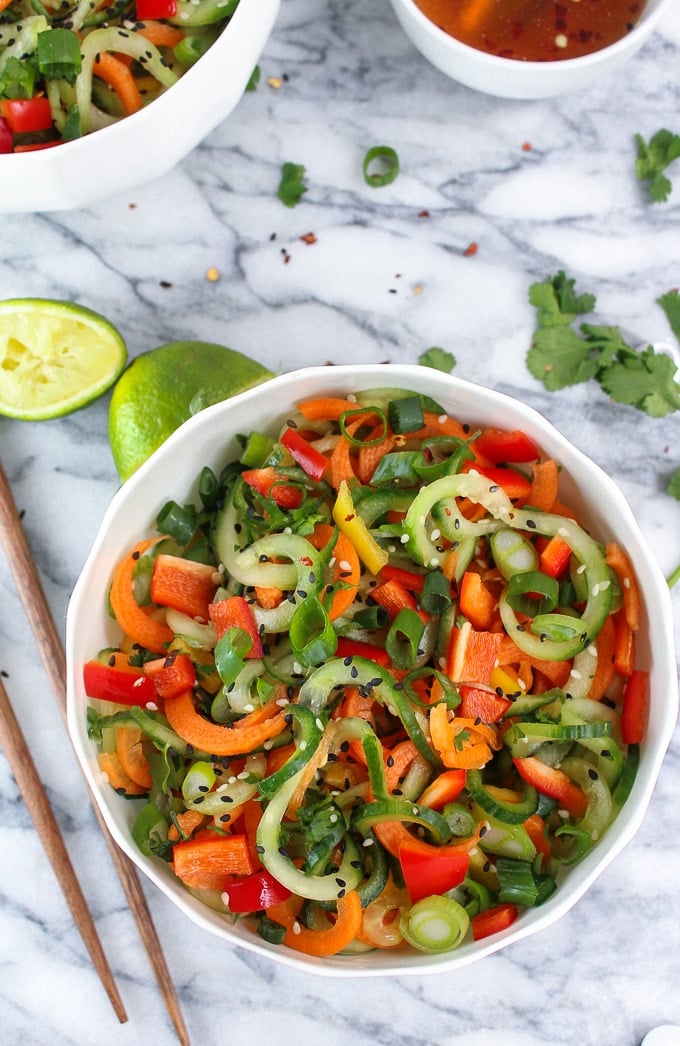 FACEBOOK | INSTAGRAM | PINTEREST
Don't forget to #asaucykitchen on instagram if you try this Asian Cucumber Sesame Salad! I love seeing what you make with! You can also post your pictures to our facebook page!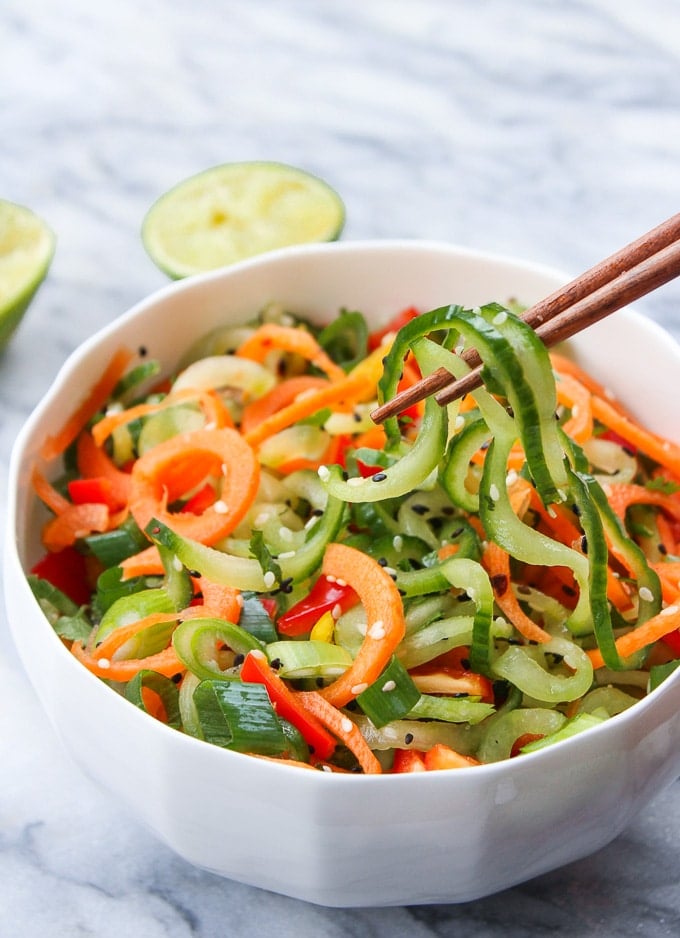 Recipe
Asian Cucumber Sesame Salad
Yield:
4 servings
Prep Time:
25 minutes
Total Time:
25 minutes
Asian Cucumber Sesame Salad: Bright flavours and crunchy textures!
Ingredients
Salad
2 large seedless cucumbers
2 large carrots
1 sweet pepper, chopped
1 teaspoon kosher salt
1 tablespoon sesame seeds, white or black
1 green onion sliced, use the green part only for low FODMAP
2 tablespoon cilantro, chopped
Dressing
2 tablespoon rice vinegar
1 tablespoon freshly squeezed lime juice, about half a lime
1 tablespoon Coconut Aminos for paleo, or gluten free soy sauce/tamari
1 tablespoons maple , can sub with honey or sugar
1 teaspoon grated ginger
1 tablespoon sesame oil
pinch red pepper flakes, or to taste
more salt to taste if needed
Instructions
Salad
Trim the ends of the cucumber and spiralize the cucumbers or use a julienne peeler. Place the sliced cucumbers in a colander and toss them with the 1 teaspoon of salt. Let the cucumbers sit in the colander in the sink for at least 5 minutes to draw out excess water/moisture..
While the cucumber is sitting, spiralize or peel the carrots and chop the sweet peppers. You can also use this time to prepare the dressing.
Once the cucumber has drained for 15 minutes, spread them out on a layer of paper towels, or a clean dish towel, and gently pat out as much moisture as you can.
Place the cucumber noodles, carrots, and pepper in mixing bowl large enough to hold the salad. Add 2-3 tablespoons of the dressing and toss to combine, coating the salad. Top with the sliced green onion, sesame seeds, and cilantro and serve immediately.
Notes
This salad is best eaten on the day of. If you do save some for later make sure to store in an airtight container and you may need to drain some water before eating.
Nutrition Information
Yield:

4
Serving Size:
serving
Calories:

102
Sodium:

692mg
Carbohydrates:

12g
Fiber:

2g
Sugar:

7g
Protein:

1g
This website provides approximate nutrition information for convenience and as a courtesy only. Nutrition data is gathered primarily from the USDA Food Composition Database, whenever available, or otherwise other online calculators.
FYI this post contains affiliate links. I only post links for products I personally use and believe in. If you make a purchase on Amazon after clicking one of my links, I receive a small commission and the price you pay is not affected. Thank you!