Learn how easy it is to make homemade chocolate with only 3 essential ingredients needed: cocoa butter, cocoa powder and a sweetener of your choice. You can easily make this chocolate vegan, low carb and paleo friendly by choosing the right sweetener for you!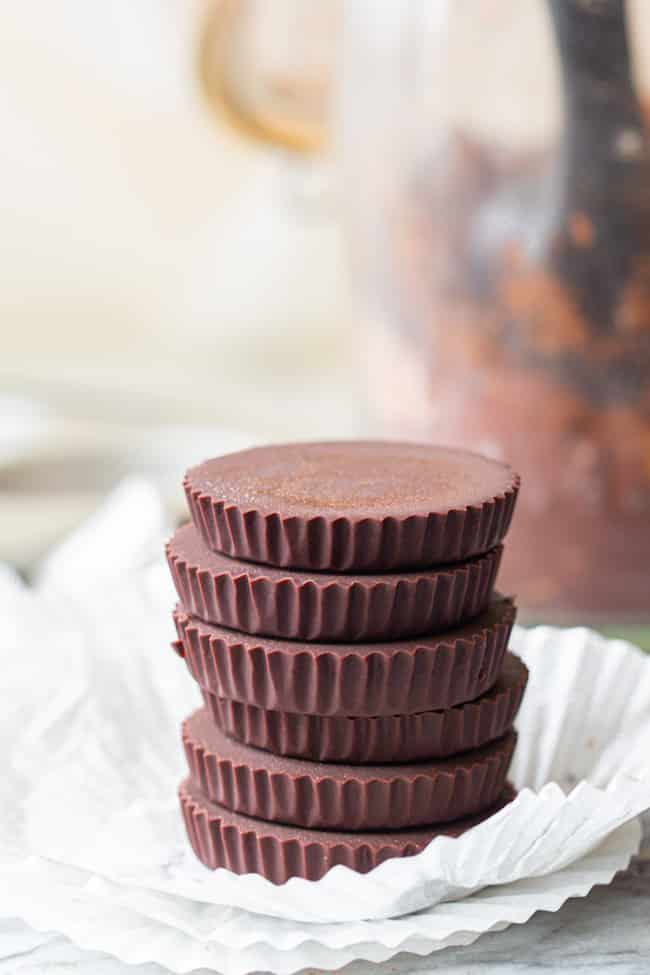 What is cocoa butter?
Cocoa butter is the edible fat extracted from, you guess it: cacao beans. It's got a naturally chocolatey smell and taste making it a perfect addition to homemade chocolate. Despite the name, cocoa butter is naturally dairy free/vegan so don't worry about the 'butter' in the name.
It's typically sold in solid, block-like form that you'll need to chop up to melt. I recommend using a kitchen scale to measure out what you need otherwise it might be too tedious to melt and then measure.
Cocoa butter can be hard to find and very expensive which is why I don't often use it in recipes. Since I got so many questions about how to make homemade dark chocolate in my other chocolate recipe I thought I'd take the time to dedicate a separate recipe here explaining exactly how to use it.
So let's get to it!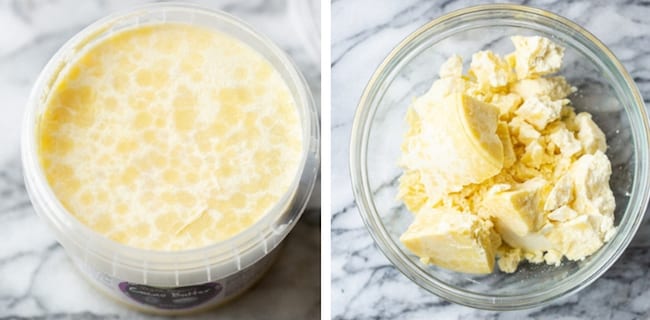 Cocoa Vs Cacao
Cocoa and cacao are so similar in name, look and product that they can so easily be mixed up. That being said there are a few key differences to know that will help keep it all straight:
| | |
| --- | --- |
| CACAO | COCOA |
| cacao refers to the name of the plant/seeds and the minimally processed products that are derived from it | cocoa refers to all of the products that come from cacao plants that have been processed in high temps |
| cold pressed & heated in low temperatures – raw | roasted & cooked in higher temperatures – not raw |
| less processed – more bitter | more processed – more sweet |
| high antioxidants & nutritional value | less antioxidants & nutritional value |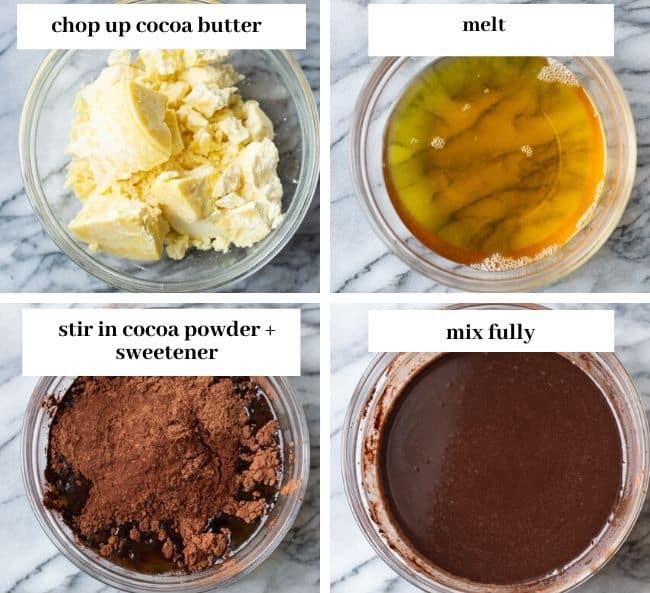 What should I use here?
Whatever you have! Cacao powder/butter, cocoa butter/powder, unprocessed cocoa powder, dutch processed cocoa powder, etc.
The type of cocoa/cacao that you use in this recipe really only depends on you and your preference. Use cacao products if you'd like to make raw chocolate with a few extra health benefits. Use cocoa/dutch processed chocolate if you like your chocolate a little sweeter. They'll all work here so don't sweat it.
What type of sweetener can I use to make homemade chocolate?
It's up to you! You can use more natural sweeteners like maple or honey, low carb/keto sweeteners like stevia or erythritol or even plain white caster sugar or powdered icing sugar if you prefer.
If you choose to use a coarser grain sugar like caster sugar, you will need to mix and warm the mixture longer to ensure the grains fully dissolve.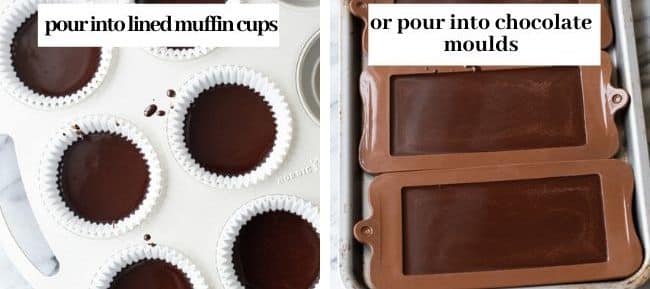 A couple things that you'll need to keep in mind:
You'll need more or less sweeteners depending on the type you use.

Honey and maple are sweeter to taste than plain white sugar and erythritol so you need less honey/maple than you would the sugar/erythritol.
Liquid stevia is naturally very sweet – you'll need to measure it out in drops and not cups.
Start out with a small amount of sweetener and taste and as as you go. You can always add more sweetener but you can't take it away.

Make sure you fully dissolve whatever sweetener you use – especially if you're using a granulated sweetener.
What percentage dark chocolate is this?
This is going to depend on how much and what kind of sweetener you use to make your chocolate.
Chocolate percentage refers to how much cocoa/cacao products are in your chocolate. As a really base explanation, it's a measure of how much sugar is in a bar of chocolate.
This recipe is made up of essentially three ingredients:
1 cup | 220 g cocoa butter
1 cup | 118 g cocoa powder
1/4 cup | 79 g maple syrup (for this example I'm just going to use 1/4 cup maple, but this amount/type of sweetener can be changed to suit you)
The Math
If you add up all of those amounts together you'll end up with a chocolate that weighs 417 grams. The cocoa butter and cocoa powder together in this recipe weigh 338g. In order to calculate the percentage you need to divide 338g by 417g and you'll end up with .8105 g . Once you move the decimal point over two places as you should when calculating percentages you'll end up with 81.05%. SO if you're only using 1/4 cup maple syrup you'd end up with an 81% chocolate.
However, you need to keep in mind that different sweeteners weigh different amounts. 1/4 cup maple syrup weighs 79 grams but 1/4 cup honey weighs 85 grams and 1/4 cup white caster sugar weighs 50 grams. If you use something like stevia you'll end up using much less which will also change the chocolate percentage. That's just one reason why a 70% chocolate bar can taste so different depending on the brand.
To sum it all up the Math
It really just depends. If you use 1/4 – 1/2 cup maple or honey your chocolate will be some where between 65%-80%. If you use more or less sweetener, you can calculate the percentage yourself by adding up the weight and then dividing the weight of the cocoa products (338g) by the weight of the sweetener.
Hope you enjoy!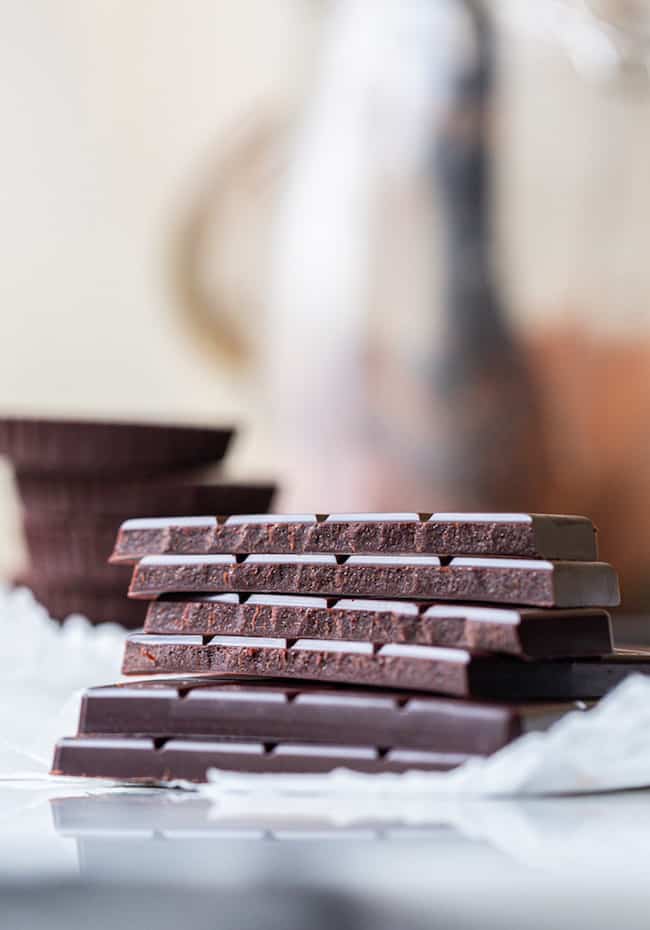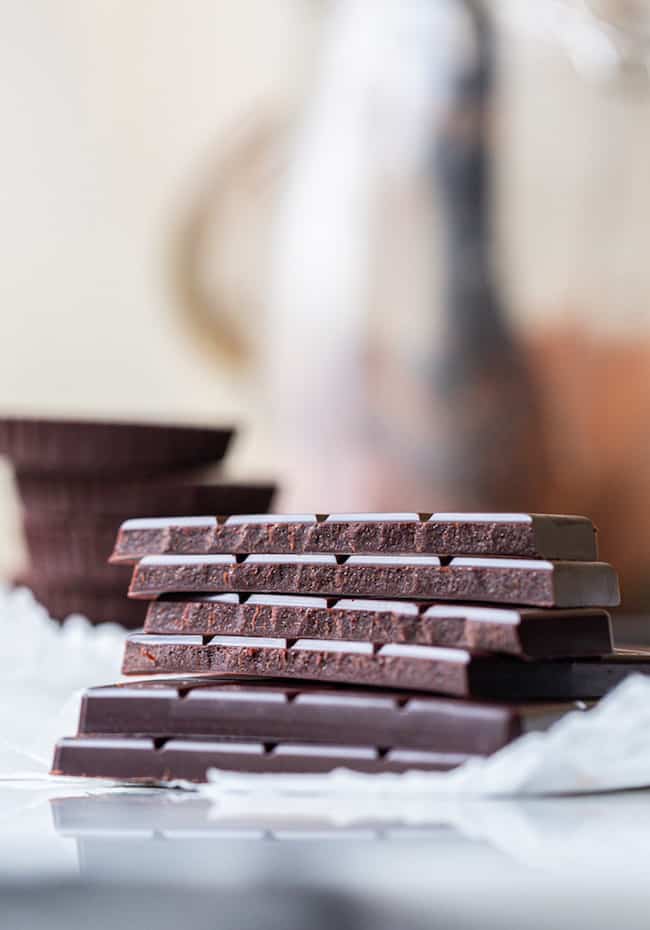 Recipe
Homemade Chocolate with Cocoa Butter
Prep Time:
5 minutes
Cook Time:
5 minutes
Additional Time:
30 minutes
Total Time:
40 minutes
Learn how easy it is to make homemade chocolate with only 3 essential ingredients needed: cocoa butter, cocoa powder and a sweetener of your choice. You can easily make this chocolate vegan, low carb and paleo friendly by choosing the right sweetener for you!
Ingredients
1 cup | 220 g cocoa butter
1 cup | 118 g unsweetened cocoa powder
1/4 - 1/2 cup | 80g - 160g maple syrup, honey, agave etc*
Pinch of salt
Instructions
Chop up and melt the cocoa butter. You can melt directly in a small sauce pan over a low heat or in the microwave. Once melted remove the cocoa butter from the heat. To make raw chocolate, melt the cocoa butter slowly over a water bath (see notes).
When the cocoa butter has fully melted, stir in the cocoa powder, sweetener, sea salt and any additional flavours you want to add.
Whisk everything completely until there are no remaining lumps of cocoa powder and the honey has dissolved into the chocolate mixture.
Pour the chocolate into silicone moulds or a lined muffin cups and transfer to the fridge for at least 30 minutes. Once the chocolate has fully hardened, pop it out of the moulds and enjoy.
Keep stored at room temperature or in the fridge.
Notes
I no longer recommend adding vanilla extract (or other flavored extracts) to this chocolate as most extracts contain a small amount of water which can cause the chocolate to seize. If you would like to add flavors I recommend you use a food grade oil (like mint, orange, cherry, coffee, etc) instead.
Melt over a water bath: Place the cocoa butter in a medium sized heat safe bowl. Place the bowl over a small pot of simmer water. Make sure the bottom of the bowl doesn't touch the water. Let sit and stir occasionally until fully melted.
How much & what kind of sweetener to use: This recipe is meant to be a 'healthy/healthier' chocolate that uses natural or unrefined sweeteners. For this reason I recommend honey or maple syrup however you can try out different type of sweetener here like stevia, erythritol, caster sugar, etc. Just keep in mind that not all sugar is created equal - some are sweeter than others so you will need varying amounts depending on what you use. You'll need to play around with the amounts you use based on your preference. If you're not concerned about using natural sweeteners, then I recommend you use 3/4cup -1 cup icing/powdered sugar.
If it's important to you, keep in mind that honey is not vegan.
This chocolate will melt if heated so it's not suited to use in baking.
This website provides approximate nutrition information for convenience and as a courtesy only. Nutrition data is gathered primarily from the USDA Food Composition Database, whenever available, or otherwise other online calculators.