Instant Pot Adobada Tacos – pork shoulder, marinated in a homemade red sauce made with dried ancho and guajillo chiles. Unlike more traditional Adobada Tacos recipes that are made in a dutch oven or heavy skillet and take hours to cook, thanks to the Instant Pot the overall cook time for this pork is kept at a minimum. Once you've blended up the sauce and marinated the meat, simply add the pork to your pressure cooker, set and you'll be ready to eat these delicious pork tacos in less than an hour!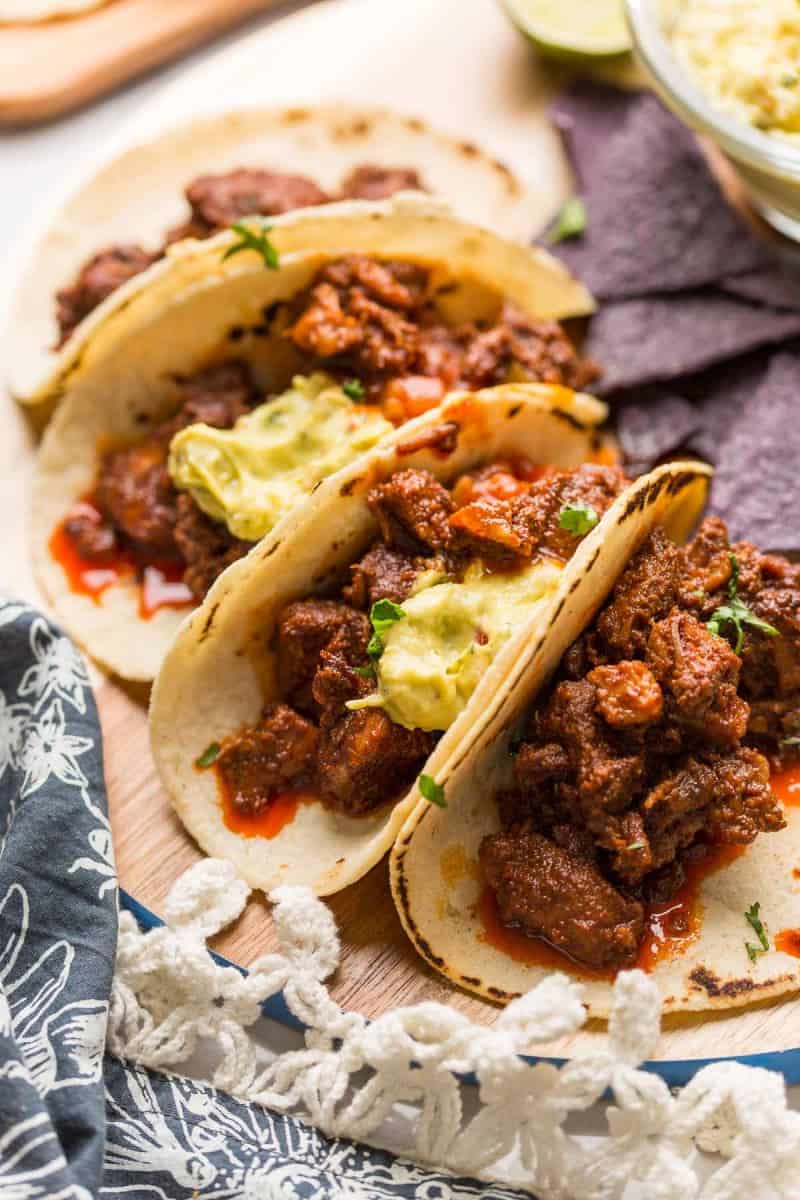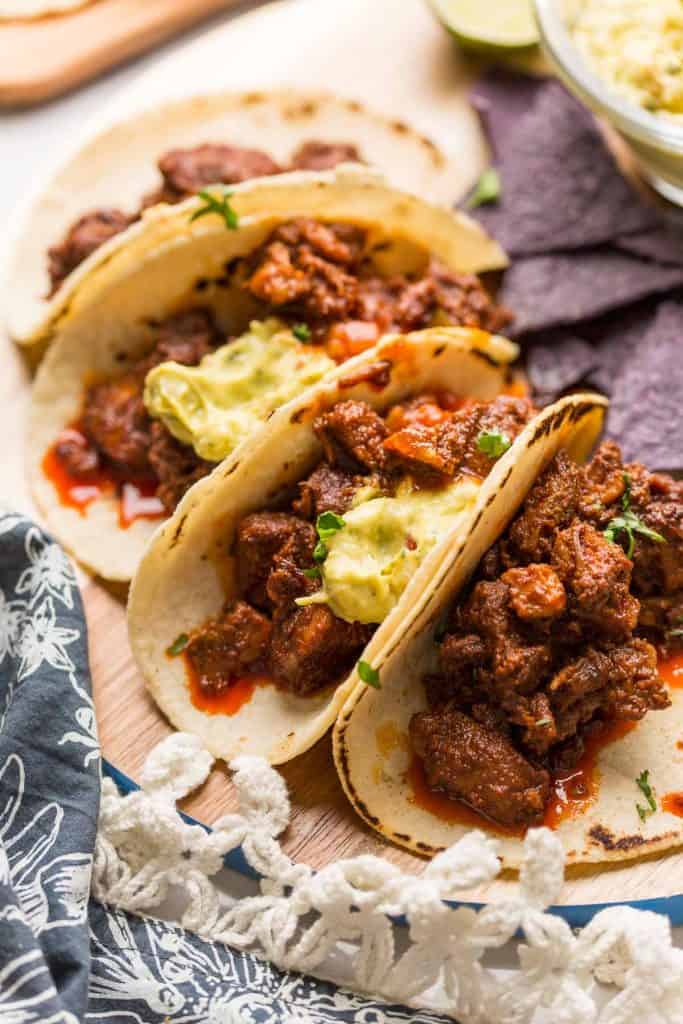 What are Adobada Tacos?
Adobada is simply Spanish for 'marinated' though in the context of Adobada (sometimes spelt adovada) refers to pork marinated in a thick, chili-based red sauce.
They are not too unlike Tacos Al Pastor which are popular Mexican street tacos – the marinade and cut of meat is similar. The main difference stems from the cooking method. While Tacos Al Pastor are traditionally made on vertical rotisseries, adobada recipes are usually made by grilling or braising the meat (or in this case via pressure cooker!).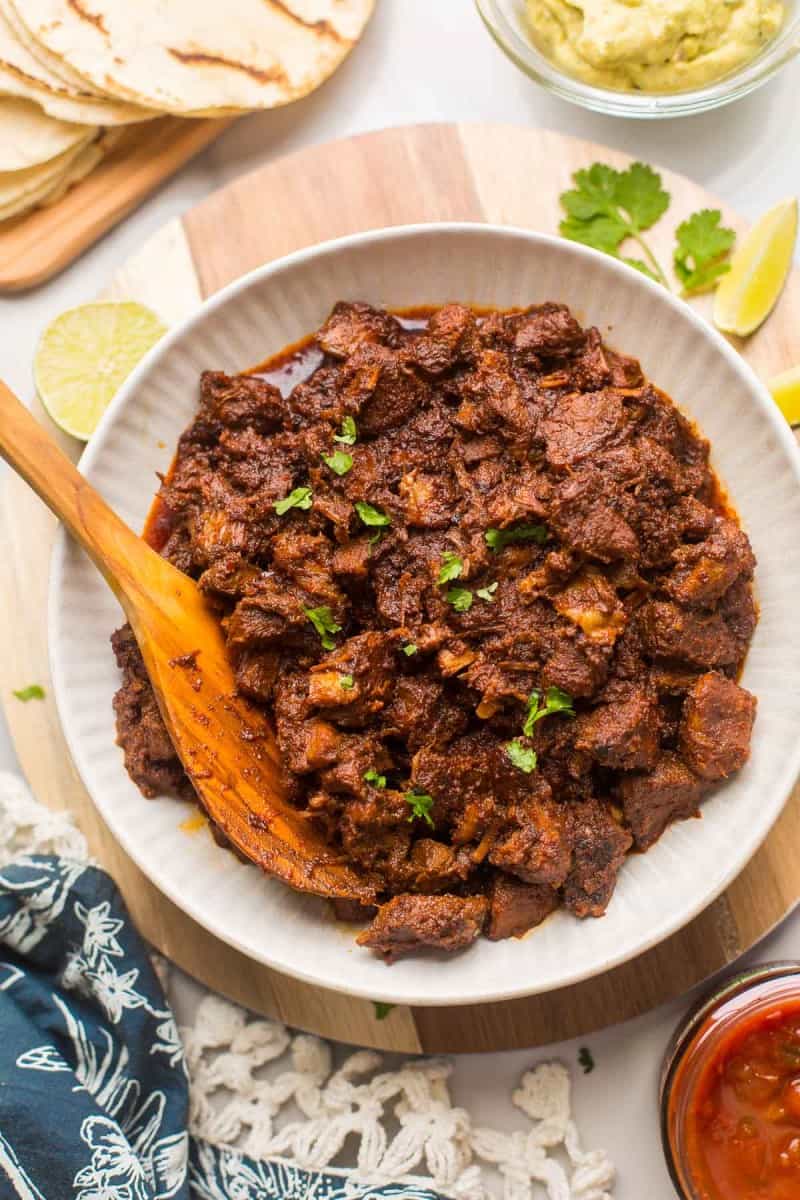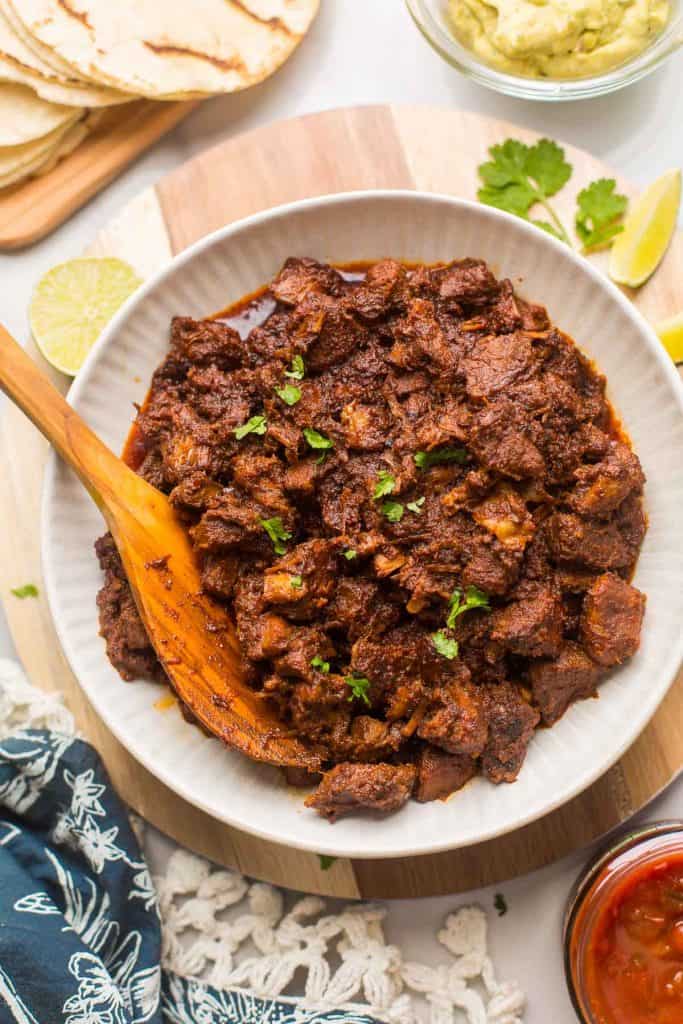 What's in the Marinade
Dried Chilis (Ancho & Guajillo): Ancho chilies are a bit smokey, slightly sweet and offer up a mild to medium spice. Guajillo chilies are the second most commonly used chili in Mexican cuisines (after ancho chilies). They have more fruity/tangy flavour with notes a green tea.
Boiling Water: Soaking the chilies in hot water will help rehydrate and soften the dry skin making them easy to blend up. Use a tea kettle to boil your water or add the chilis to a small pot set over the stove and let sit at least 20 minutes before blending. For an even more flavour packed meal you can use chicken stock in place of water. Keep in mind that you will need to decrease the amount of salt later.
Apple Cider Vinegar: Vinegar provides the acid flavours in this marinade that helps to balance out the sweet and smokey flavours. It also helps break down the proteins the pork as it marinates making for a more tender pork. White vinegar can be used in place of apple vinegar.
Orange Juice & Sugar: The sweetness of the juice and sugar balances out the smokey + salt flavours. Instead of orange juice you can use pineapple juice instead. Brown sugar can also be replaced with honey.
Tomato Paste: Tomato paste adds an extra level of richness and depth.
Onion & Garlic: You can use yellow, brown or white onions. Just roughly chop the onion and throw the whole (peeled) garlic cloves in the blender.
Spices (Cumin, Oregano, Salt): Boost the earthy, smokey depth of the marinade with cumin & oregano. Taste and season with a pinch of salt and black pepper here and there as needed.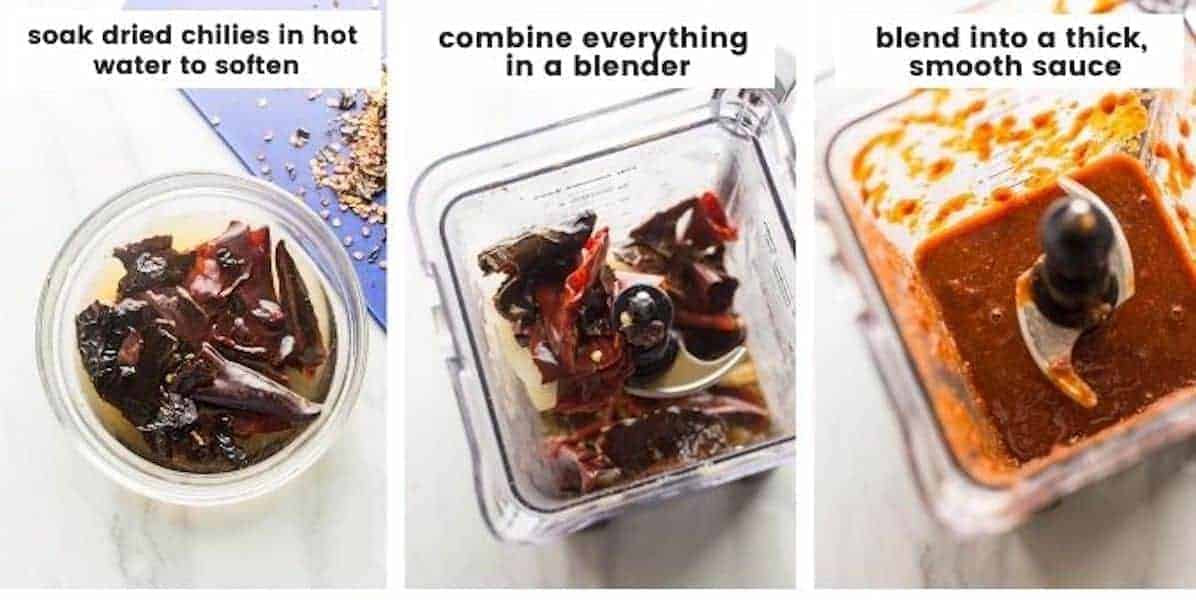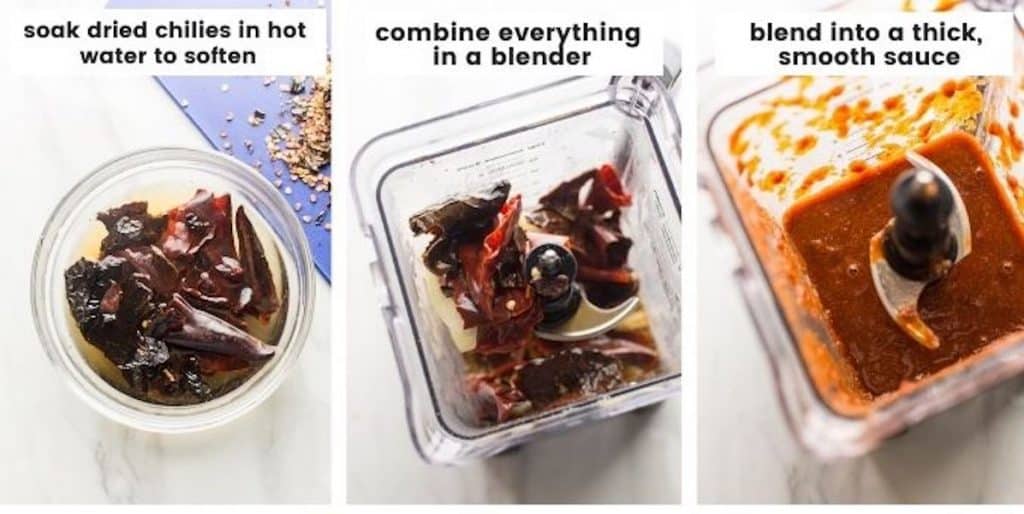 How to Make Instant Pot Adobada Tacos
Soak. Soak the dried chiles in hot water. You can soak them in a heat proof bowl or add them to a small saucepan and boil the water in the pan. Let soak until the chilies have softened, about 20 minutes. Make sure you remove the seeds and stems before soaking.
Blend. Combine all of the marinade ingredients to a blender and blend into a smooth puree.
Marinate. Place pork steaks to a large bowl and cover in sauce. Once fully coated, cover and let the meat marinate at least 1 hour and up to 24 hours.
Brown. When you're ready to cook – start out by browning the sides of the pork first. Browning the meat is simply a way of adding more flavour to your final dish. You're essentially caramelising the meat making for a richer flavour. Make sure to do this in batches – if you over crowd the instant pot by adding too much pork at one time your pot will hold too much liquid making it nearly impossible to brown.
Cover and Cook. After browning the meat, seal the instant pot and cook on high for 20 minutes. Let the pot naturally depressurise after it's done cooking.
Shred & Simmer. Open the pot and shred the pork. It should be soft, tender and easily come apart with a couple of forks. Set the pot to sauté and let the liquids boil and simmer about 10-15 minutes until it reduces in to a thicker sauce.
Serve. Spoon the pork into warmed flour or corn flour tortillas, top with your favourite tacos toppings and enjoy!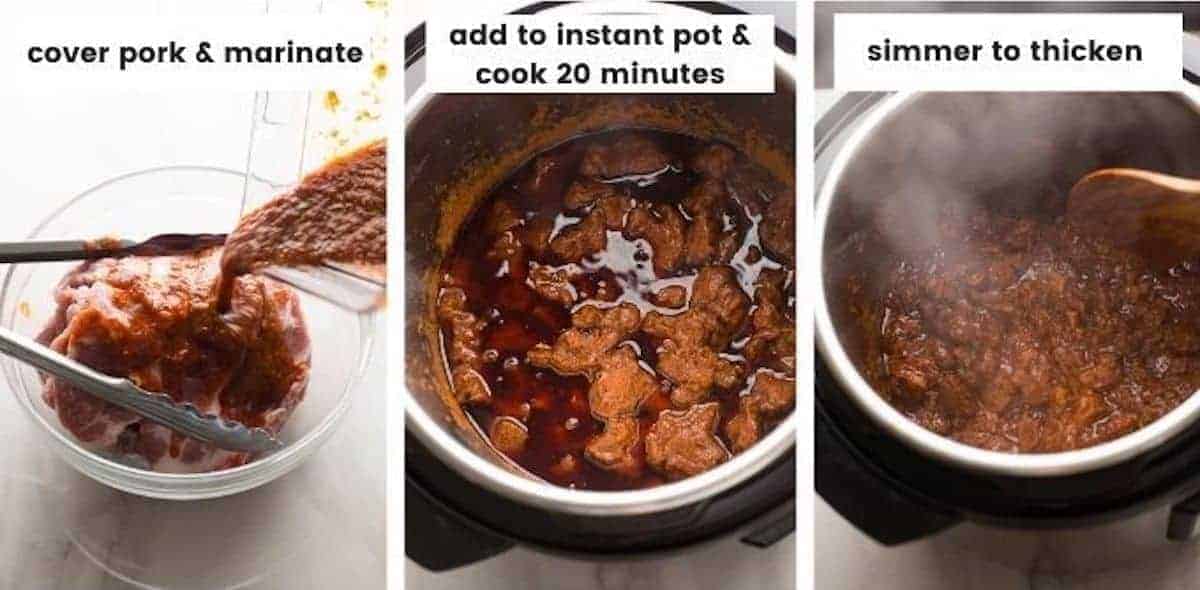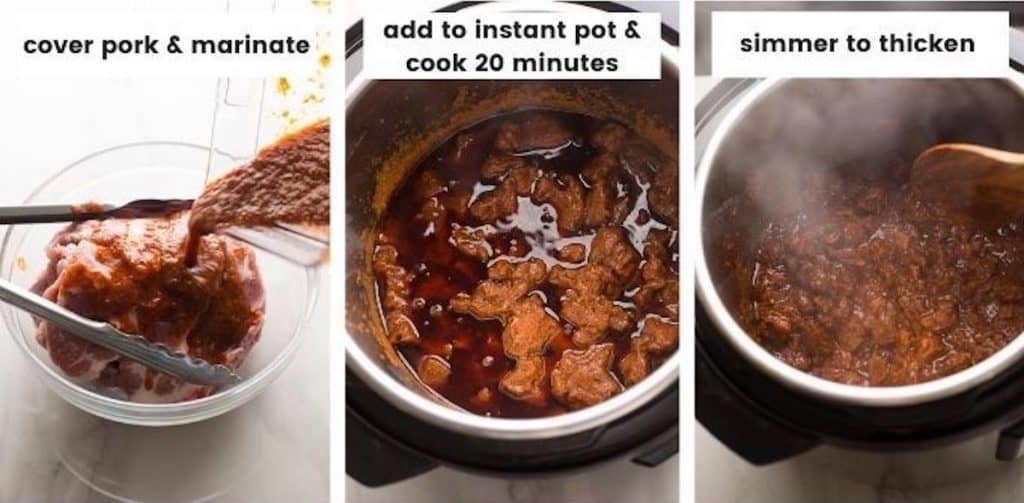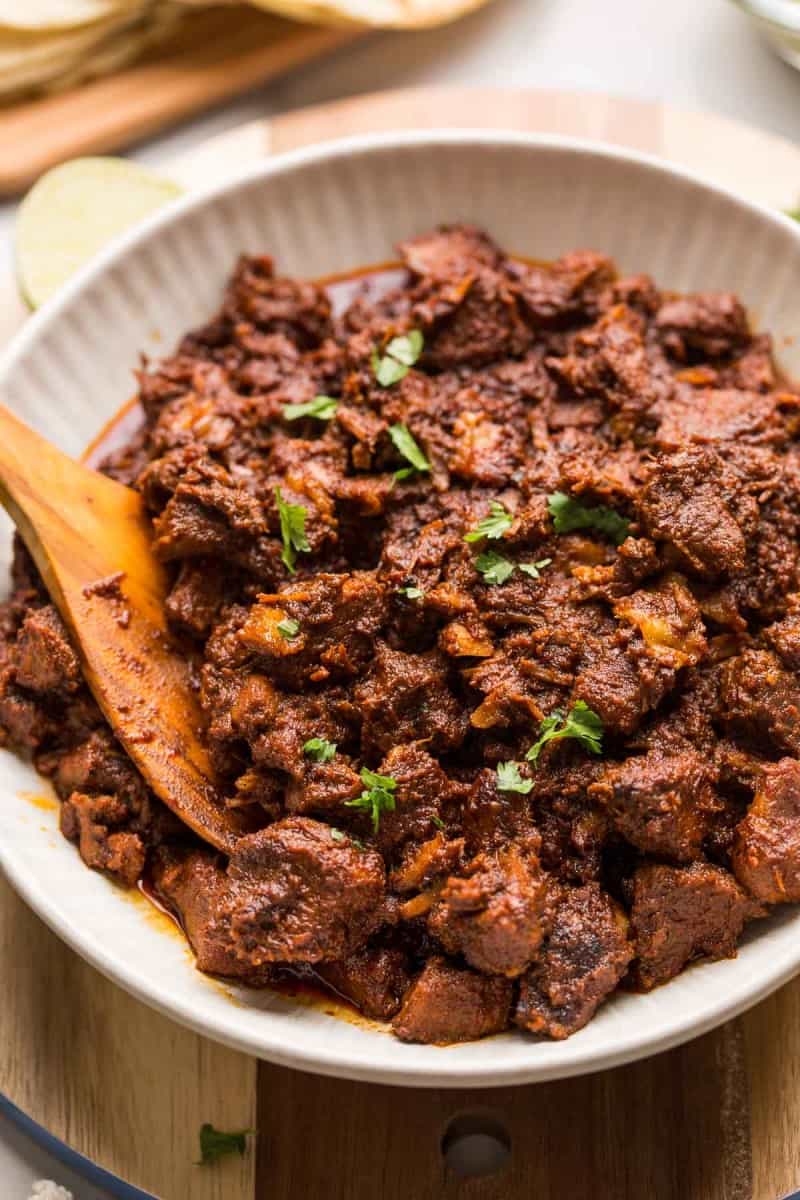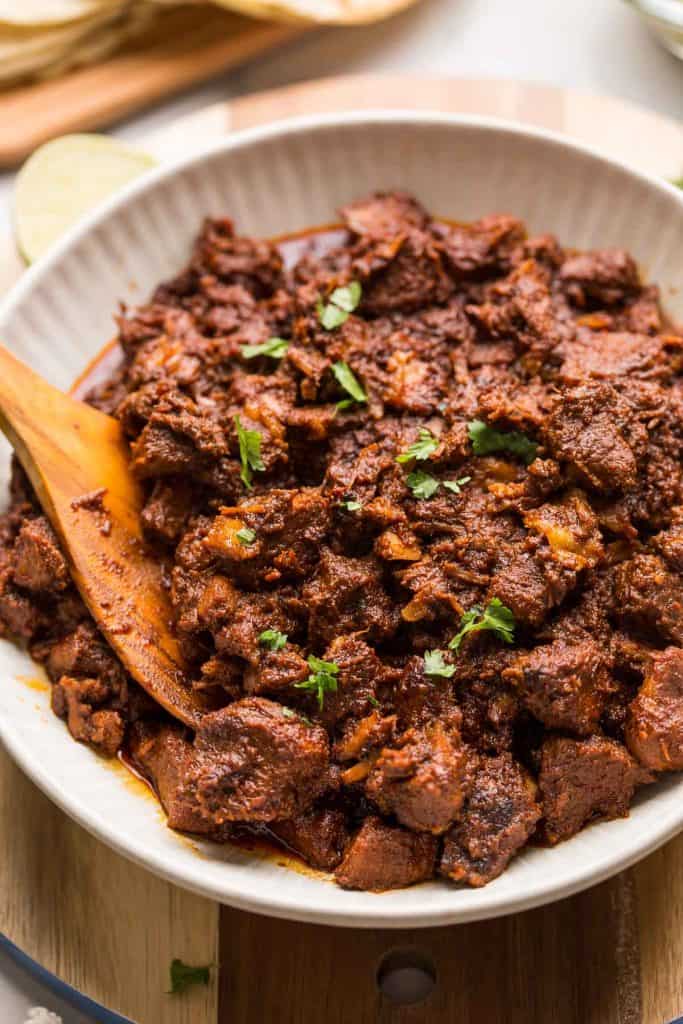 Serving Suggestions
Warmed tortillas. For an even more impressive meal – make your own homemade corn tortillas at home – no tortilla press needed!
Serve with a side of rice. Try this Mexican Red Rice or add in some extra veggies with this Cilantro Lime Cauliflower Rice.
In my opinion tacos are essentially an excuse and a vehicle for eating guacamole. You can also make a Deconstructed Guacamole Salad to add some extra goodness to your meal.
Salsa – make a fresh tomato salsa, a roasted chipotle salsa (this recipe uses dried chipotle peppers) – or pop open a jar of your favourite store bought brand.
Bulk out the meal with a side of refried beans for some extra fibre and protein.
Serve with lime wedges on the side. A taco isn't complete with out a squeeze of lime juice and some fresh cilantro sprinkled over the top.
FACEBOOK | INSTAGRAM | PINTEREST
Don't forget to #asaucykitchen on instagram if you try these Instant Pot Adobada Tacos! We love to see what you make with it! You can also post your pictures to my facebook page!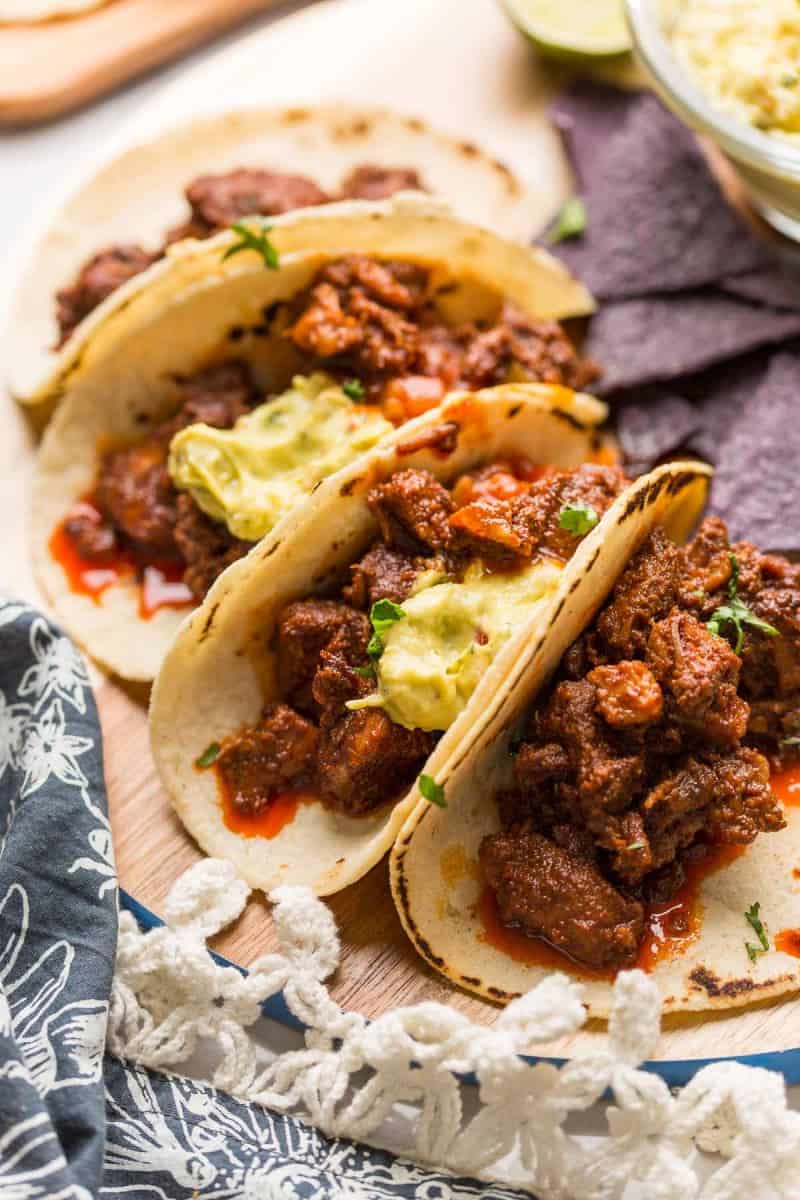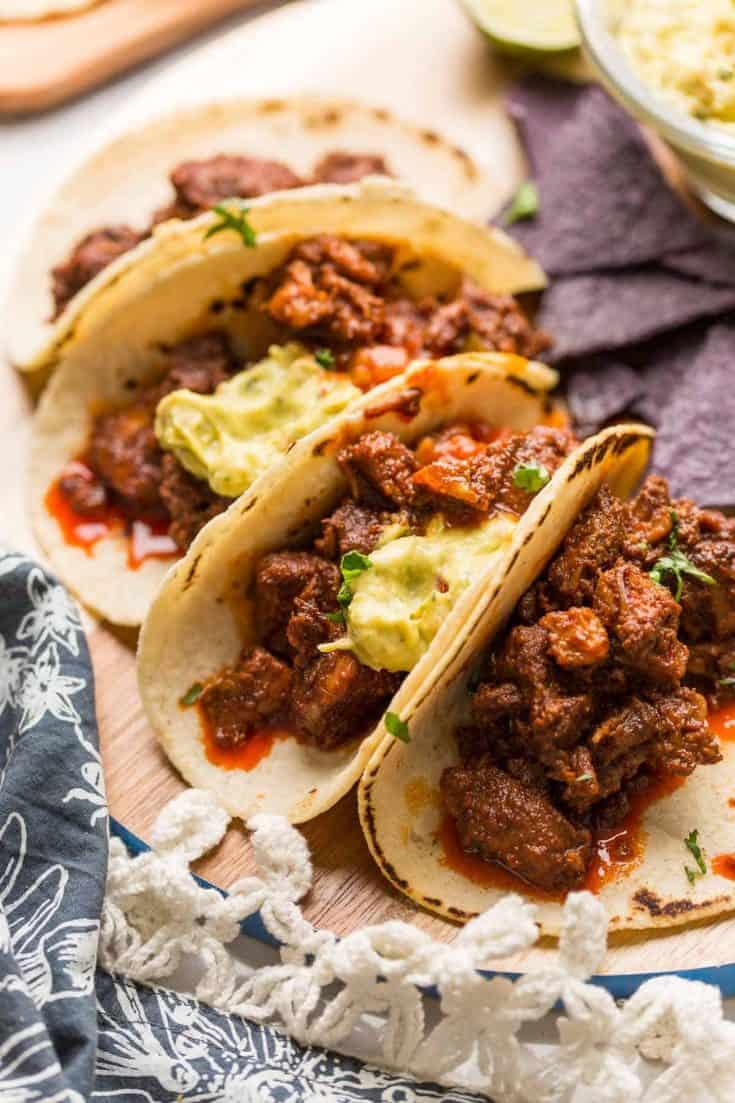 Recipe
Instant Pot Adobada Tacos
Yield:
12 tacos
Prep Time:
20 minutes
Cook Time:
35 minutes
Additional Time:
4 hours
Total Time:
4 hours
55 minutes
Pork shoulder, marinated in a homemade red sauce made with dried ancho and guajillo chiles. Unlike more traditional Adobada Tacos recipes that take hours to cook, thanks to the Instant Pot the overall cook time for this pork is kept at a minimum.
Ingredients
Marinade
3 dried ancho chiles, stem and seeds removed
4 dried guajillo chiles, stem and seeds removed
1 1/2 cups boiling water
1/4 cup orange juice
1/4 cup apple cider vinegar
2 tablespoons tomato paste
1 tablespoon brown sugar
1 medium onion, chopped
5 cloves garlic
1 tablespoons ground cumin
2 teaspoons dried oregano
1 1/2 teaspoons sea salt
Meat & Tacos
1 tablespoons olive oil
2 pounds pork shoulder steaks, trim off excess fat
Optional Taco Fillings
Guacamole
Salsa
Sour Cream
Fresh Cilantro
Lime wedges
Instructions
Marinade
Add dried chilies to a heat proof bowl or pot and cover with boiling water until fully submerged. Set aside 20 minutes to soften.
Add the water and chilies to a blender along with the orange juice, vinegar, tomato paste, sugar onion, garlic, cumin, oregano and salt. Cover and blend until a thick, smooth sauce forms.
Add the pork steaks to a large bowl. No need to cut the steaks into smaller pieces - they'll fall apart easily after cooking. Pour the red sauce over the pork and mix until the pork is fully coated in sauce. Cover and let marinate in the refrigerator at least an hour and up to 24 hours.
Instant Pot
About 30 minutes before cook time, take the pork out of the fridge and let it come to room temperature.
Add the olive oil to the Instant Pot and press the "Sauté" button to begin warming it up. Once the oil is warm, add a couple of pork steaks to the pot and cook, browning each side 3-4 minutes. Remove browned steaks from the pot and set aside until all of the steaks have been browned.
Add the steaks back to the pot along with the sauce. Arrange the pork so that it's in an even layer and entirely covered in the sauce.
Press the "Keep Warm/Cancel" button to stop the sauté function. Secure the lid and make sure the steam valve is set to closed. Press 'Manual' or 'Pressure Cook' and set the timer to 20 minutes.
After the time is up the Instant Pot will automatically switch the keep warm. Let it keep warm for 10-15 minutes before releasing the steam valve. Once the steam has been fully released remove the lid of the instant pot. Use a couple of forks to shred the pork.
Press the "Sauté" button and bring the pot to a simmer. This will help reduce the liquids down to make for a thicker sauce. Simmer at least 10-15 minutes.
Taste and season with more salt if needed. Serve in corn tortillas and enjoy.
Notes
Substitutions
Pineapple juice can be used in place of orange juice.
White granulated sugar or 1 teaspoon honey can be used in place of brown sugar.
White vinegar can be used instead of apple cider vinegar.
Chicken stock can be used instead of water but you will need to adjust the amount of salt.

This website provides approximate nutrition information for convenience and as a courtesy only. Nutrition data is gathered primarily from the USDA Food Composition Database, whenever available, or otherwise other online calculators.
More Instant Pot Recipes You Might Enjoy