Chicken Korma with coconut milk and cashews – a rich and creamy curry that's mildly spiced and easy to make! Serve over cauliflower rice for a hearty and healthy low carb meal! | Gluten Free + Paleo + Whole30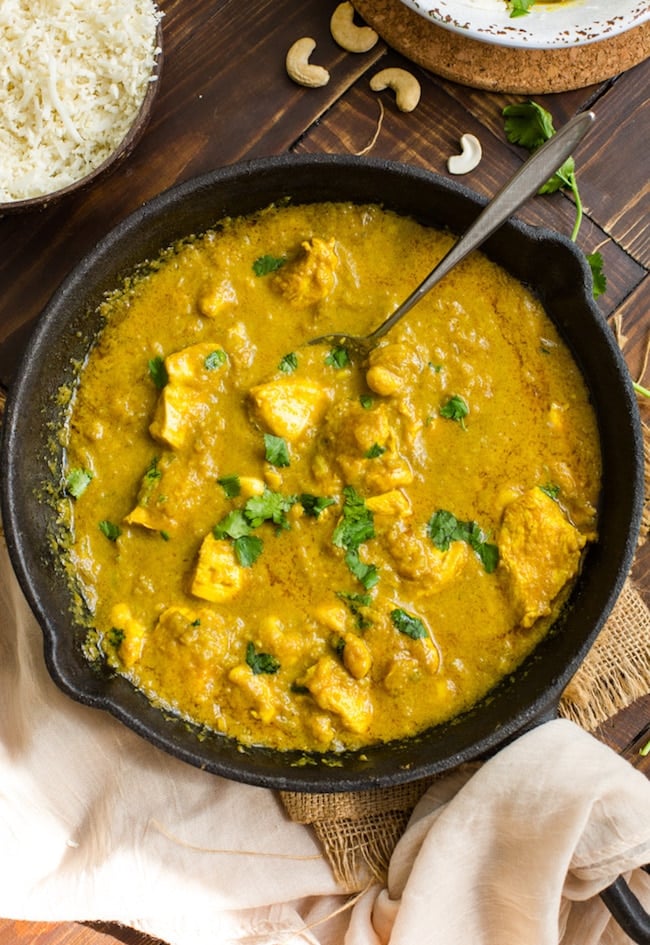 Chicken Korma with Coconut Milk
Let's be real.
Curries can look really intimidating to make. They always have these huge ingredients lists and the flavours are always so complex and delicious that it just feels like a lot. Ya know?
Well. Difficult, this is not. Glancing briefly at the ingredients and instructions here this chicken korma with coconut milk might look like a lot – it's not.
Altogether, it will take about 30 minutes to make with ingredients that you probably already have in your kitchen.
Altogether this curry can be made in about 30 minutes. It's made almost entirely in one pan, though you will need a blender or even a small food processor as well.
More Ways to Cook with Coconut Milk
Steps
Start off by frying the chicken in coconut oil. Cook about five minutes, then remove the chicken from the pan and set aside. It's alright if the chicken isn't 100% cooked through at this stage because you will be adding it back to your dish later.
Moving on: it's time to pull out the blender. We're basically going to be making out own ginger/garlic/onion paste by blending them all up with a little water until smooth and watery.
Note: This recipe calls for two onions. One onion (the roughly chopped one) blends up with the garlic and ginger while the other is chopped and fried separately.
In the same pan you used to cook the chicken, heat the remaining coconut oil and begin frying your remaining onion. Cook for about 10 minutes until it's soft and slightly browned. Add the spices and onion puree and cook for about a few minutes.
Stir in the coconut milk and chicken stock and let that mixture simmer and reduce into a nice, thick, golden-brown sauce. Then, just add the cashews and chicken and cook another 5 minutes until cooked through. Top it off with some fresh cilantro and serve!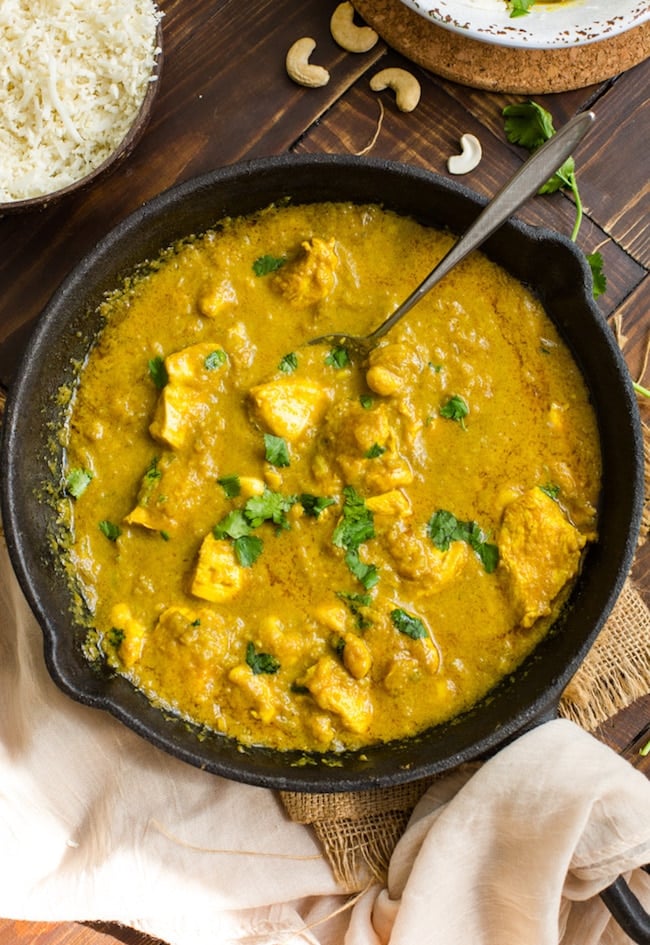 Servings Suggestions
This chicken korma with coconut milk is a great option for people who are sensitive to spicy foods. It's a pretty mild curry with only 1/2 teaspoon chilli powder. You can also reduce that amount down even more to 1/4 teaspoon if you really want to play it safe.
If you're looking for a Whole30/low carb meal, serve this over warmed cauliflower rice and you're all set!
Otherwise a side of gluten free flatbread or naan and regular rice is also a great option!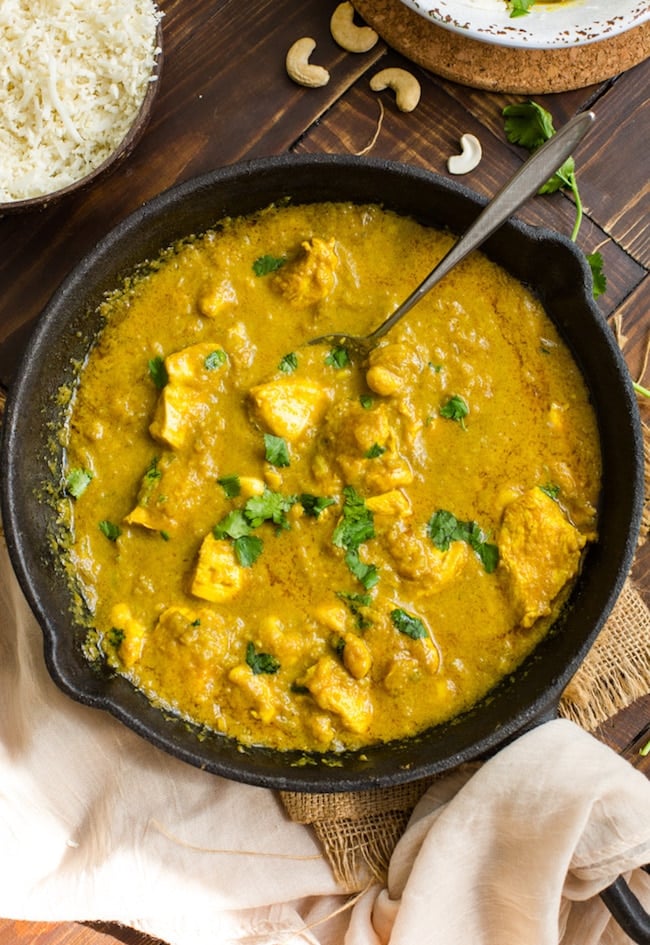 Recipe
Chicken Korma with Coconut Milk
Yield:
4 servings
Prep Time:
15 minutes
Cook Time:
25 minutes
Total Time:
40 minutes
Chicken Korma with coconut milk and cashews - a rich and creamy curry that's mildly spiced and easy to make! Serve over cauliflower rice for a hearty and healthy low carb meal! | Gluten Free + Paleo + Whole30
Ingredients
2 tablespoons coconut oil
4 large boneless and skinless chicken breasts seasoned with black pepper, cut into bite sized pieces
2 brown/yellow onions (one quartered and another chopped)
2 tablespoons garlic, crushed or finely chopped
2 tablespoons fresh ginger, peeled and roughly chopped
2 tablespoons water
2 teaspoons ground cumin
2 teaspoons ground coriander
1 teaspoon ground turmeric
1 teaspoon garam masala
1/2 teaspoon chili powder, (optional)
1 cup full fat unsweetened coconut milk or coconut cream from a can
1 1/2 cup chicken stock
1/4 cup raw cashews
1 teaspoon salt or to taste
fresh cilantro for topping
Instructions
Heat 1 tablespoon of the coconut oil in a large pan or skillet. Add the chicken and cook on a medium heat for about 5 minutes stirring occasionally until almost fully cooked through. Transfer the chicken to plate or bowl and set aside.
Add the quartered onion (saving the other chopped onion for later), the garlic, ginger and water to a blender or small food processor and blend into a puree. Set aside momentarily.
Add the remaining 1 tablespoon coconut oil to the same pan you used to cook the chicken. Once warm add the chopped onions and sauté the onions for 10-15 minutes until soft and starting to brown.
Stir in the onion, garlic & ginger puree along with the cumin, coriander, turmeric garam masala and chili powder. Gently cook another 2-3 minutes until fragrant.
Add the coconut milk (or cream) and chicken stock and let simmer for at least 5-10 minutes. Let the mixture reduce down and thicken slightly.
Add the chicken to the pan along with the cashews and cook another 5 minutes until the chicken cooked through and piping hot. Season with more salt as needed - this curry uses a lot of dried spice which can taste bitter if under seasoned with salt. Alternatively, you can stir in a bit of lemon juice to done down potential bitter notes.
Garnish with fresh cilantro and more cashews if you'd like and serve hot over rice.
Notes
Nut Alternatives: You can replace the cashews with flaked almonds or another nut of choice or omit them altogether.
Coconut Milk: I recommend using a full fat coconut milk from a can as opposed to reduced fat or carton milk. The extra fat will yield a creamier curry. You can also just use straight coconut cream or regular dairy cream if you can tolerate dairy/don't need this to be Whole30 compliant. 
Nutrition Information
Yield:

4
Calories:

396
Saturated Fat:

18g
Cholesterol:

72mg
Sodium:

756mg
Carbohydrates:

12g
Fiber:

1g
Sugar:

3g
Protein:

29g
This website provides approximate nutrition information for convenience and as a courtesy only. Nutrition data is gathered primarily from the USDA Food Composition Database, whenever available, or otherwise other online calculators.
More Dairy Free Curry Recipes You Might Enjoy