Homemade chocolate orange nakd bites made with just five ingredients – dates, raisins, cashews, cocoa, and a touch of orange zest.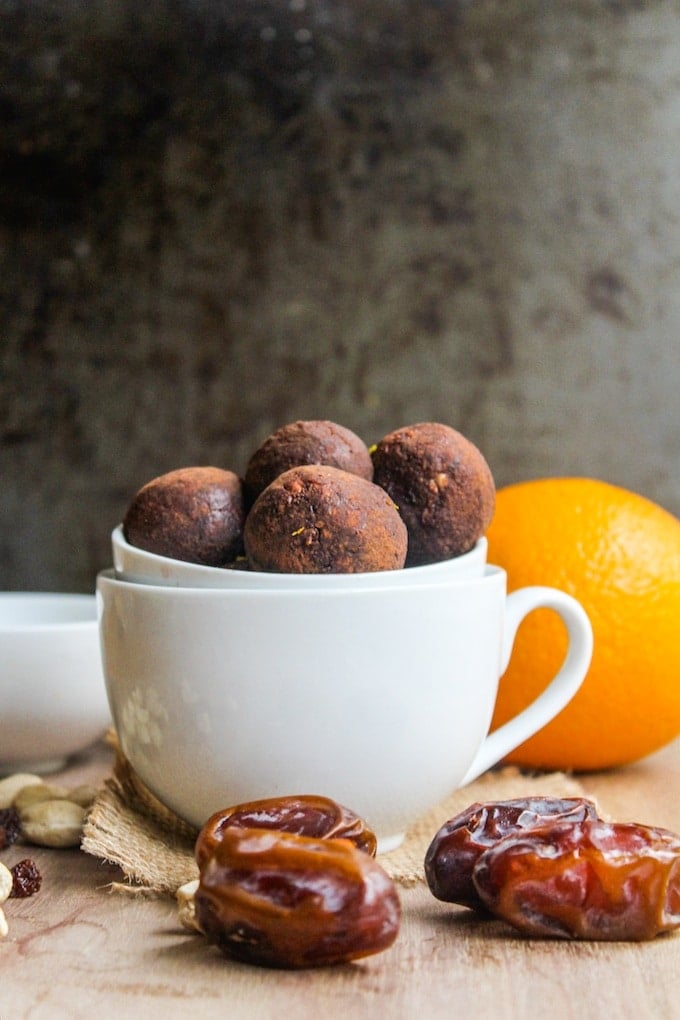 Question: Are Nakd bars just an English thing? I'm asking because most of the websites that I see with knock off recipes are all English bloggers so I can't tell.  I can't remember ever seeing them in America, but that could just be because I can be pretty oblivious about most things that aren't right in front of my face.
At any rate, if you do know what they are then I don't have to tell you how perfectly delicious and convenient they are. If you have not yet had one for yourself – well, I just told you.
I say they are convenient (and delicious!) because they're a perfect travel friendly snack. Not to mention, they are Paleo and vegan friendly making them a great go to in a pinch. The first time I ever had a Nakd bar was when I picked one up at a magazine stand in the Manchester airport as I killing time before my flight.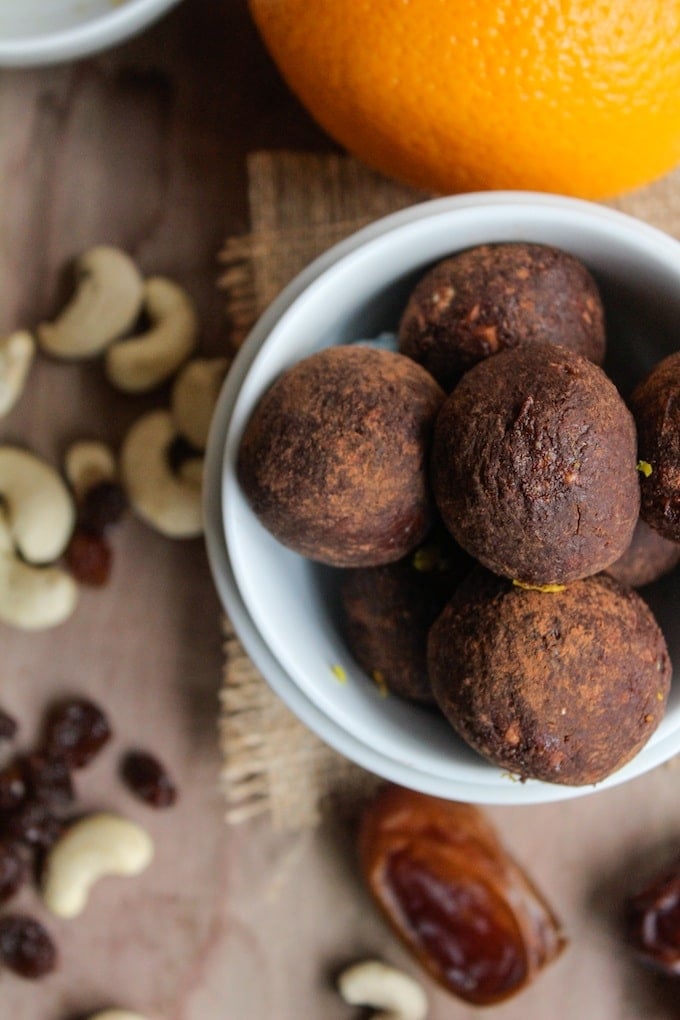 I always find food to be the hardest thing about airport travel. There are times when I hardly have time to pick up a sandwich before catching my next flight, let alone find something healthy to eat. That being said, I like having a bar or two in my purse during long flights just in case I need a little something. I realize that Nakd bars are made up of mainly dates and nuts, so the natural sugar content can be a little high, but I much prefer knowing exactly what goes into the food I eat. Besides, sometimes you need a little energy rush as you race through terminals, right?
These will be particuarly handy for me this upcoming week. Somehow I lost track of my days and didn't realize that it was this week that Mike and I would be flying to Dublin to meet up with my aunt who is there on a business trip. A day after we get back from Dublin I'll then be heading off to Arizona for a couple weeks to spend Thanksgiving with my family back home.
Busy? Yes! Exciting? Very much so!  Between packing and planning I'll definitely be whipping up another batch of these chocolate orange Nakd bites to see us through the next week.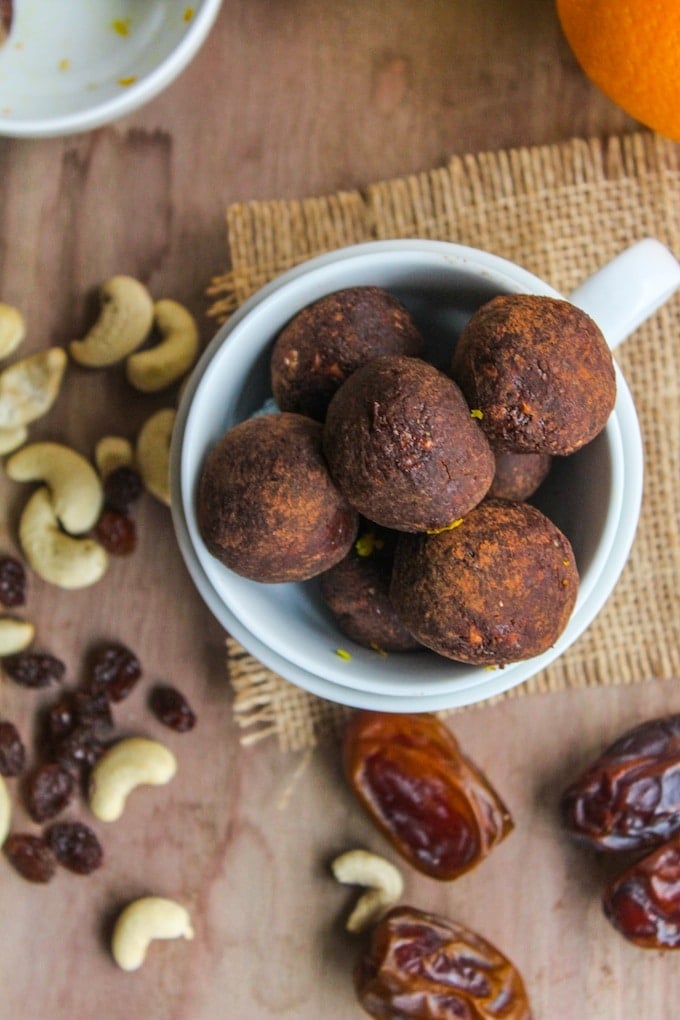 Speaking of travel -Part of me is excited to have time where I get to sit and do nothing but listen to music and color. Nothing like good old fashioned forced relaxation. Another part of me is dreading the thought of having to sit on a plane for 10 hours followed by another 5 hours. I've got a few books and podcast lined up, and I even have a couple coloring books that I'm looking forward to diving into. I am however, always on the look out for more podcasts to listen to and I love recommendations so if you have any that you like please let me know!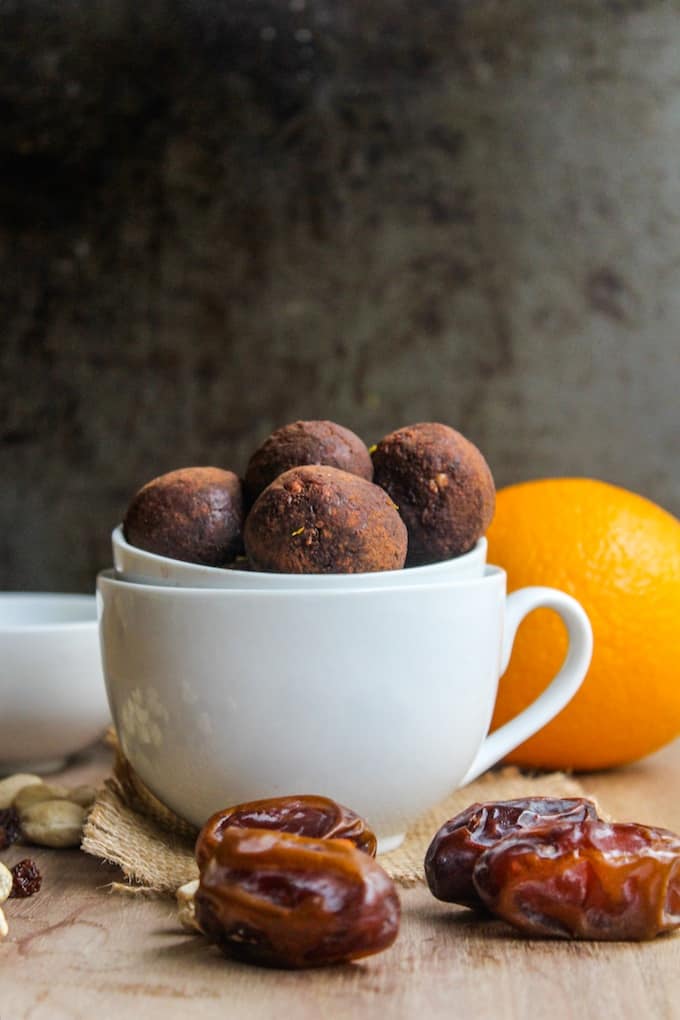 Recipe
Chocolate Orange Nakd Bites
Yield:
10 balls
Prep Time:
30 minutes
Total Time:
30 minutes
Homemade chocolate orange nakd bites made with just five ingredients - dates, raisins, cashews, cocoa, and a touch of zest.
Ingredients
1.25 cups | 178 grams raw cashews
10 | 200 grams Medjool dates, pitted
2 tablespoons | 18 grams rasins
1/4 cup (30 grams) unsweetened cocoa powder + more for rolling
zest of 1 orange
Instructions
In a high powered blender or food processor pulse the cashews until they turn into small and crumbly bits. Make sure to stop blending before you end up with nut butter.
Add the rest of your ingredients to the blender or food processor and pulse until you end up with a large, sticky chocolate ball.
Wrap the mixture in cling film (it will be very sticky at this point) and place it in the freezer for about 20 minutes to let the mixture harden.
After 20 minutes, remove the chocolate from the freezer and roll into little bite sized balls. Roll the balls into a small amount of cocoa powder to coat the outside to make it less sticky. Freeze or refrigerate for freshness.
Notes
If the balls are too sticky to handle, try wetting your hands with a bit of water before rolling. store in a container in the fridge for up to a week
Nutrition Information
Yield:

10
Serving Size:
ball
Calories:

158
Saturated Fat:

1g
Sodium:

3mg
Carbohydrates:

23g
Fiber:

2g
Sugar:

14g
Protein:

3g
This website provides approximate nutrition information for convenience and as a courtesy only. Nutrition data is gathered primarily from the USDA Food Composition Database, whenever available, or otherwise other online calculators.