Paleo Apple Pie – made with an almond based crust and filled with a cinnamon apple + ginger filling. Gluten Free + Grain Free + Refined Sugar Free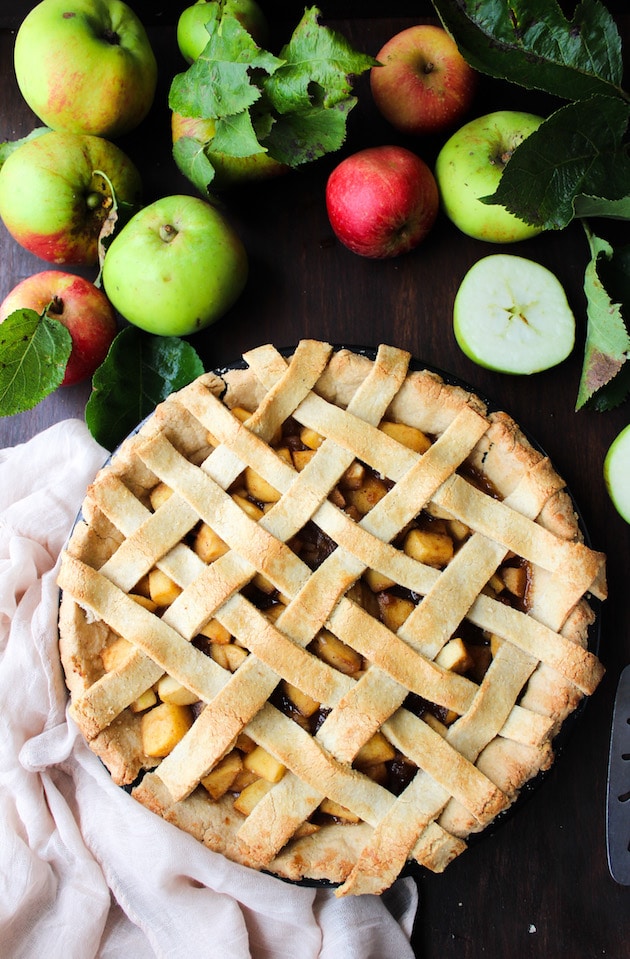 Apple pie time!
And not just any apple pie ~paleo apple pie. Which I happen to enjoy more than regular apple pie anyways.
*time to stop saying apple pie so much*
It's gluten, grain, dairy, and refined sugar free and almost too pretty eat….almost!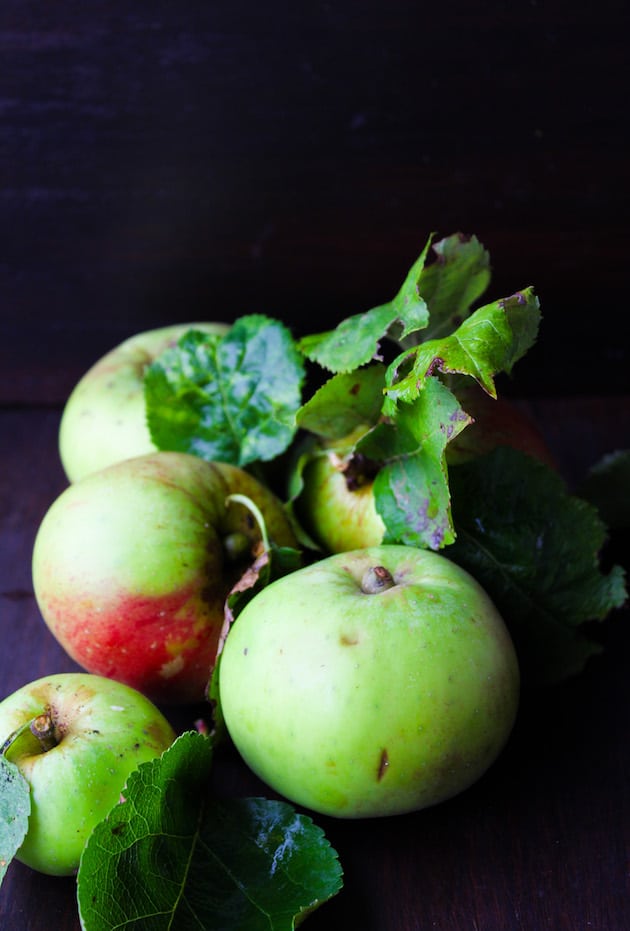 I know there's still a month to go before Thanksgiving but I'm already in full on planning mode. I've got my airline tickets all sorted out to go back home to Arizona to spend the holiday with my family and I'm beyond excited. As much as I love Sheffield and its beautiful views, I really miss being surrounded by the desert landscapes and mountain ranges that I grew up with.
I've got my fingers crossed that Mike is able to make the trip with me this year as well. We've got his tickets bought, but there is still a chance we might have to cancel his trip if he's not well enough. It's been four years since he's been to Arizona and I hate to spend another Thanksgiving without my favorite person by my side. Do me a favor and keep your fingers crossed for him as well!
Speaking of Thanksgiving – I'll be sharing this pie with my family this year. The past couple of years I've actually found myself making two pies for Thanksgiving. While my mom prefers a good old fashioned apple pie, my dad likes his pies with a little less fruit and a lot more chocolate. So naturally, I make two pies and we're all winners.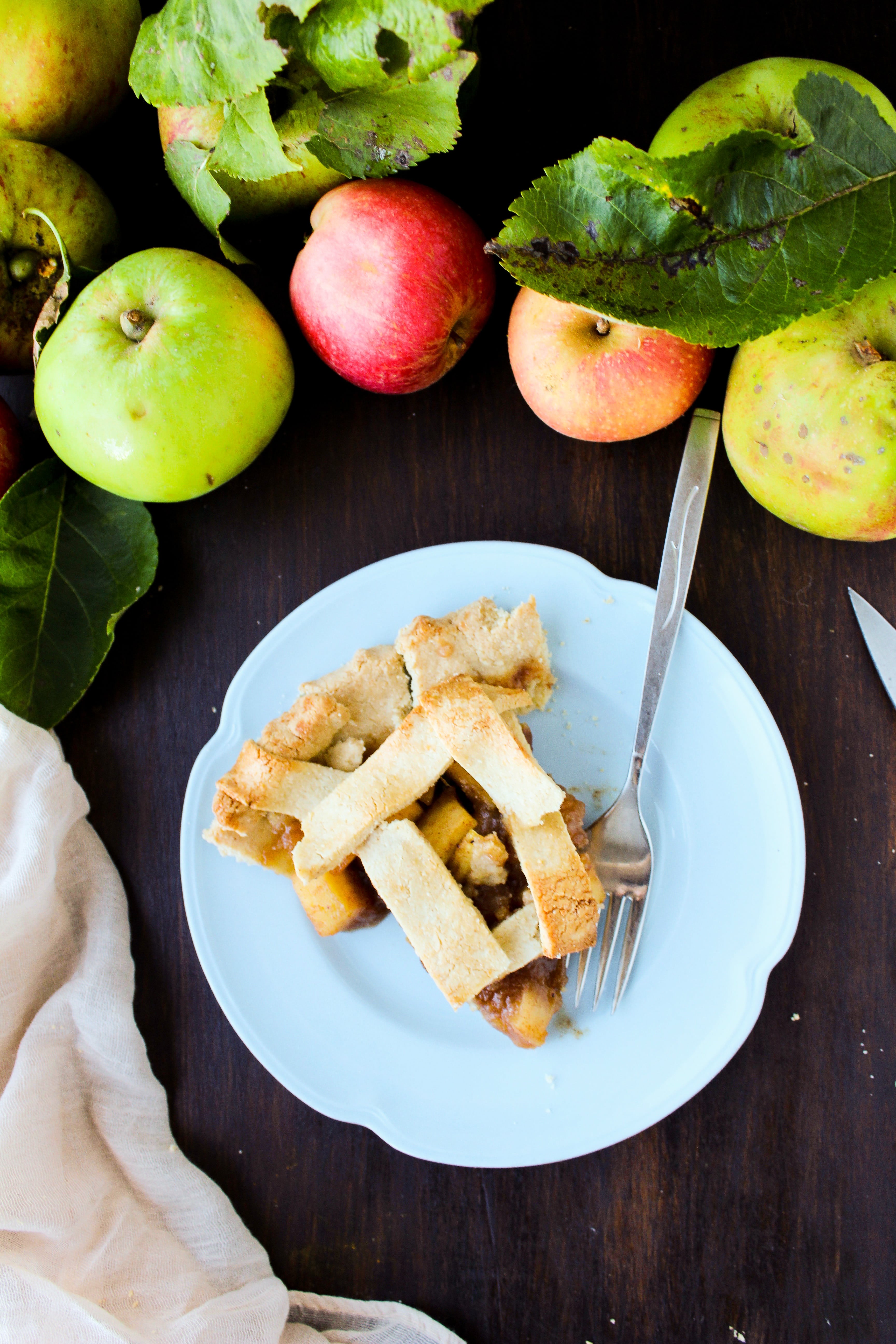 Paleo Apple Pie
This pie is based off of my cinnamon apple pop tarts I shared last month. Those went down so well here I had to give them another go, but this time in the form of pie!
When it comes to the pie crust top you have a few options here.
a) You can make a lattice top like you see here in these pictures with the woven pie strips. It can look complicated, but it's actually pretty easy. If you're anything like me then you might enjoy this short, 2 minute video showing you how to make it.
b) An easy way to fake a lattice top crust is to lay the strips across each other – no braiding necessary. Here's a picture for reference.  You can't actually tell that it's not braided unless you look closely.  For this method you just need to lay out half the strips horizontally across the pie and the other half vertically so that they intersect perpendicularly.
c) You can also just roll out the top crust to cover the pie top. Just make sure that you cut a few slits in the center to let air escape during the baking process and you're good to go.
FACEBOOK | INSTAGRAM | PINTEREST  
Don't forget to #asaucykitchen on instagram if you make your paleo apple pie! We love to see what you make with it!  You can also post your pictures to my facebook page!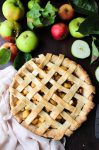 Paleo Apple Pie
Paleo Apple Pie - made with an almond based crust and filled with a cinnamon apple + ginger filling. Gluten Free + Grain Free + Refined Sugar Free
Ingredients
Pie Crust
3

cups

almond flour

can use 1 1/2 cup oat flour with 1 1/2 cup almond flour

1

cup

tapioca flour

1/2

teaspoon

sea salt

1

teaspoon

baking powder

1

tablespoon

coconut sugar

1

cup

very cold palm oil or cold butter

2

eggs
Filling
6

cups

peeled and sliced brambly apples or granny smith apples

about 5-6 apples

¼

cup

+ 2 tablespoons honey or maple syrup

2

tablespoons

fresh lemon juice

about 1 lemon

1

teaspoon

lemon zest

finely grated

2

teaspoons

cinnamon

3/4

teaspoon

ginger

1

teaspoon

vanilla extract
Instructions
Pie Crust
Preheat the oven to 350°F

Combine the almond flour, tapioca flour, sea salt, baking powder.

Use pastry cutter or a fork to cut in the cold palm shortening or butter into the flour mixture until the size of small peas. Mix in the egg until a dough forms.

Divide dough in half. Roll out one half of the dough with a rolling pin on a sheet of parchment paper to about ¼" thick. Roll the dough out to be at least 11 inches in diameter to easily fit a 9 inch pie plate.

Roll out the other half of the dough so that the length of the dough is enough to cover a 9 inch pie plate also (11 inches).

Using a knife or a pizza cutter, cut the dough into strips about 1/2 inch to 3/4 inches wide depending on how thick you want your strips. Set aside the strips for later.

Carefully transfer dough to a 9" pie plate. The dough will likely break in a few places as you're transferring it so just pinch any broken pieces together so there are no cracks.

Use a fork to poke a few holes across the bottom of the crust. Transfer the pie plate to the preheated oven and par bake for 10 minutes. After 10 minutes is up remove the crust from the oven and set aside to cool while you prep the filling.
Filling
Add the diced and peeled apples to a medium sized sauce pot and warm on a medium low heat. Add the honey, lemon juice, lemon zest, cinnamon, ginger, and vanilla extract. Mix it all together as it cooks on the stove for about 5-7 minutes until the apples start to break down. Remove the apples from the heat.
Assembling the Pie
Pour the filling evenly across the top of the par baked pie crust. Take the strips that you cut up earlier and make a cross hatch pattern out of the strips by spacing out the strips and laying them across each other in a criss cross pattern.

Once the top crust is on place the pie plate back in the oven to bake for another 15-20 minutes or until the crust has turned slightly golden. Take the pie out of the oven and let cool for at least 10 minutes before slicing and serving
Recipe Notes
makes one 9 inch pie, about 8 servings Here are some written instructions here on how to make a lattice top crust or click here to watch a video tutorial instead.
I no longer recommend using coconut oil in this recipe - I've since made this pie crust a few times and have found the coconut oil to be too unreliable. If you need to keep this dairy free you can use palm oil, but if you can handle dairy then butter works perfectly.
Nutrition Facts
Paleo Apple Pie
Amount Per Serving
Calories 549
Calories from Fat 405
% Daily Value*
Total Fat 45g 69%
Cholesterol 108mg 36%
Sodium 371mg 15%
Potassium 178mg 5%
Total Carbohydrates 33g 11%
Protein 11g 22%
* Percent Daily Values are based on a 2000 calorie diet.
This post contains affiliate links.  I only post links for products I personally use and believe in. If you make a purchase on Amazon after clicking one of my links, I receive a small commission and the price you pay is not affected.  Thank you!
She brains and reluctant dishwasher for A Saucy Kitchen