Spiced Chickpea Kale Salad – pan fried chickpeas and pepitas with hard boiled egg and massaged kale coated in a bright and tangy lemony-date dressing. It's filling, healthy and incredibly tasty!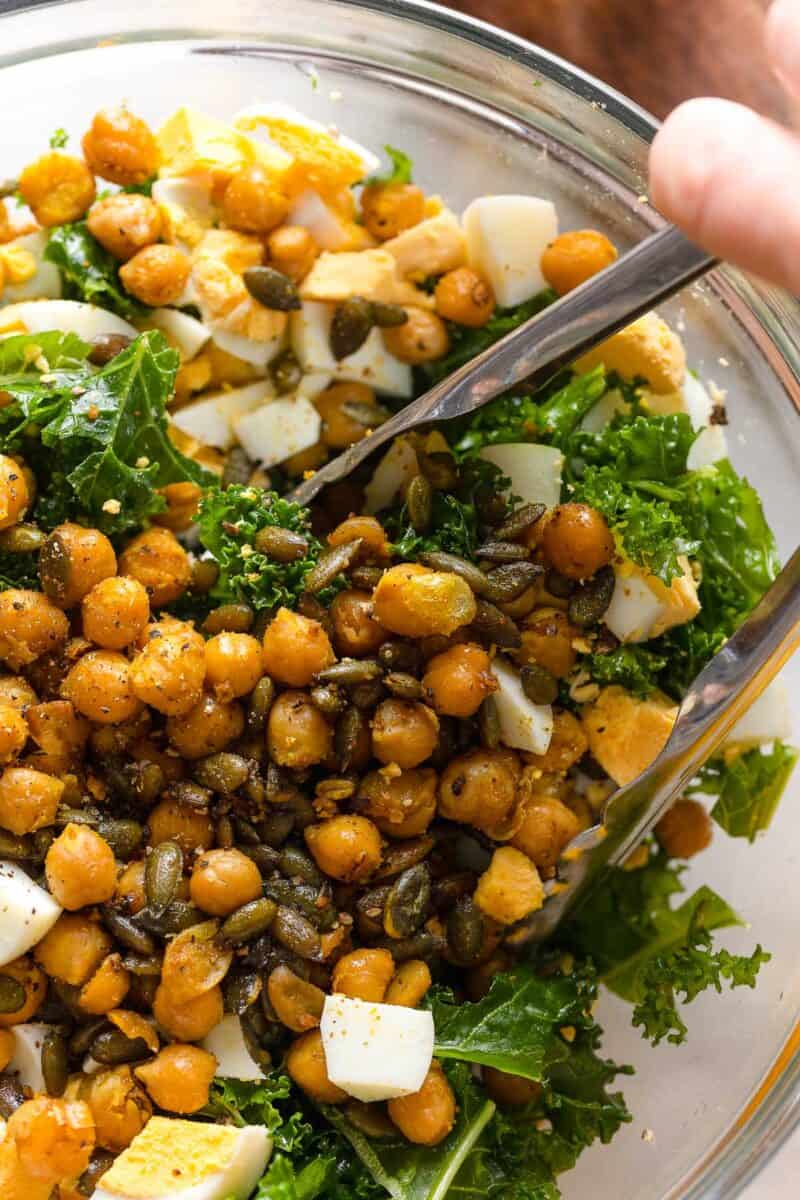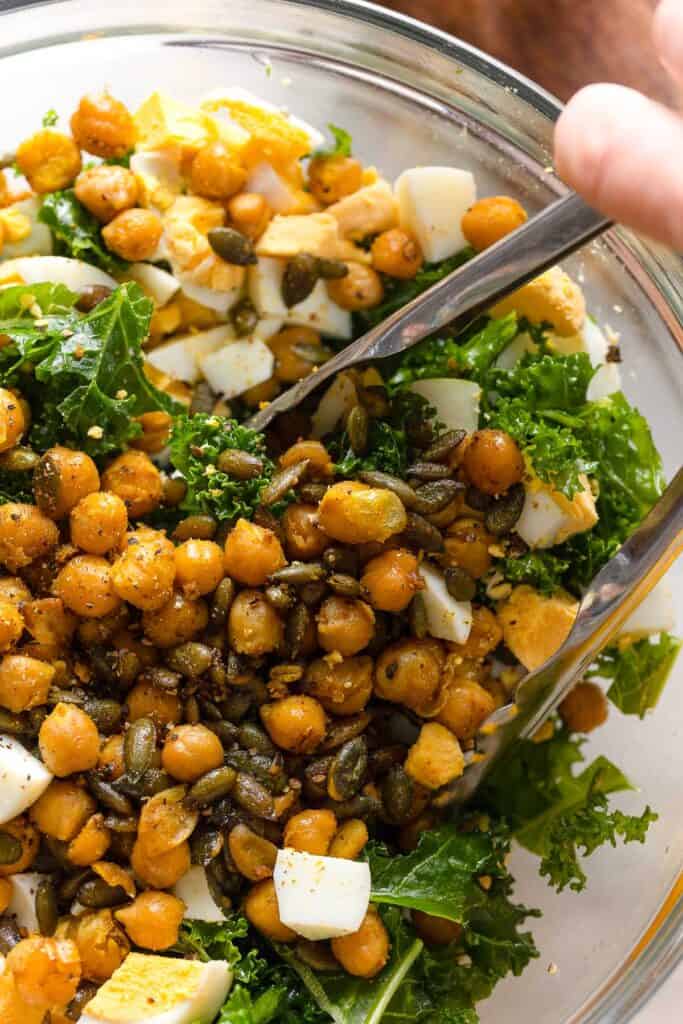 🥗Chickpea Kale Salad highlights🥗
A few things to love about this salad:
Healthy & Filling: Packed full of protein, healthy carbs and plenty of fiber – this salad is not only good for you, but incredibly filling!
Great for Meal Prep: Kale salads are great for making in advance since the don't wilt nearly as fast as softer, leafy greens. Make this on a Sunday night and enjoy throughout the week.
Delicious: Creamy, tangy, earthy and savory – so many mouthwatering flavors in one packed salad bowl!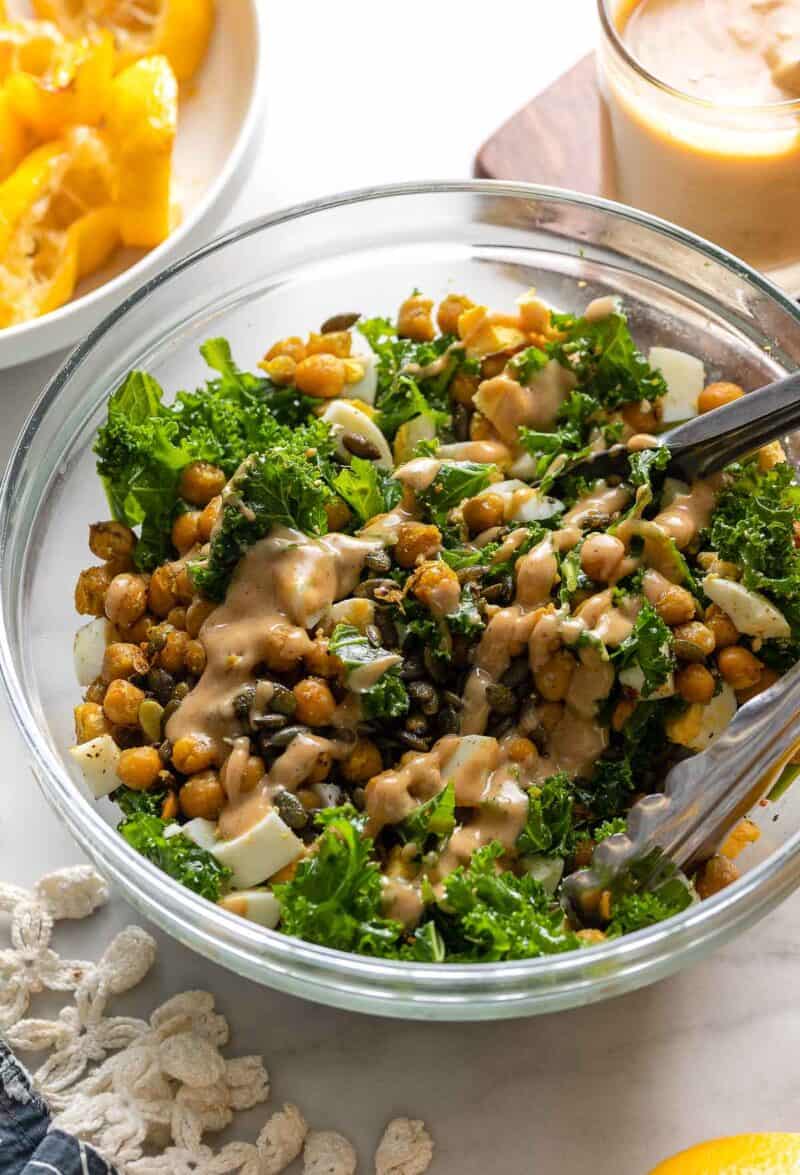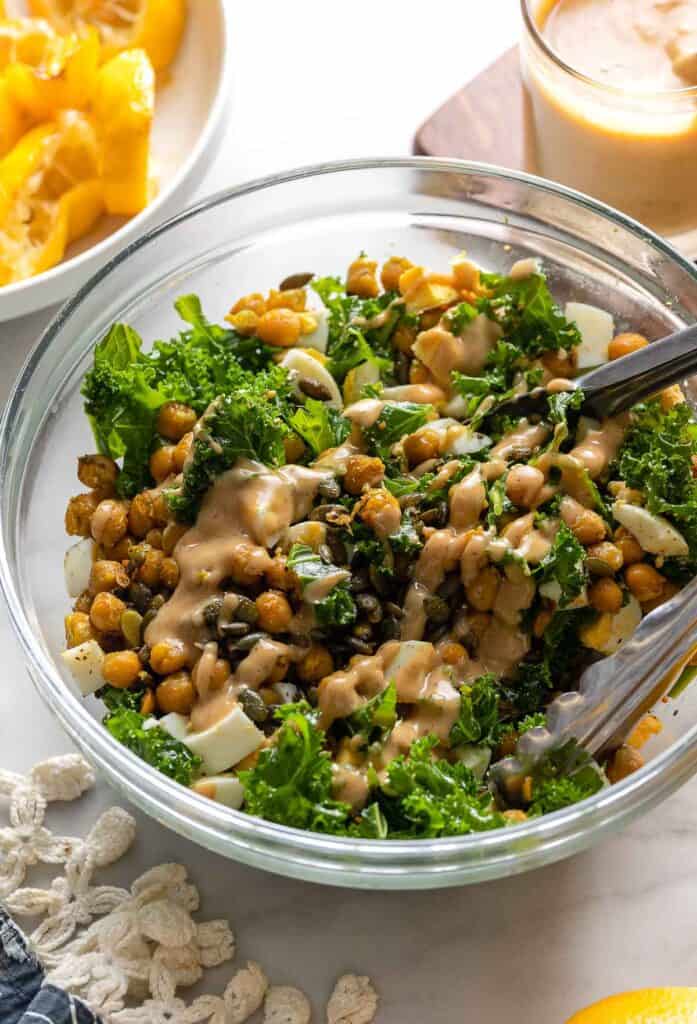 Salad Ingredients + Steps
Chickpeas + Pepitas + Spices: Simply pan-fry the chickpeas in a large pan for about 8-10 minutes. Halfway through add the pepitas and dried spices and cook until warm, toasty and fragrant.
Massage Kale: Soften and prime the leaves by rubbing a little bit of salt and olive oil into the leaves.
Hard Boil Eggs: Boil the eggs a day early if you want to get a head start. Otherwise, you'll need about 15-20 minutes to bring to a boil then cool and peel.
Lemon Date Dressing: Fresh lemon juice, medjool dates, fresh garlic, dijon mustard, cumin, salt pepper and olive oil blended up into a bright and tangy, creamy lemon salad dressing.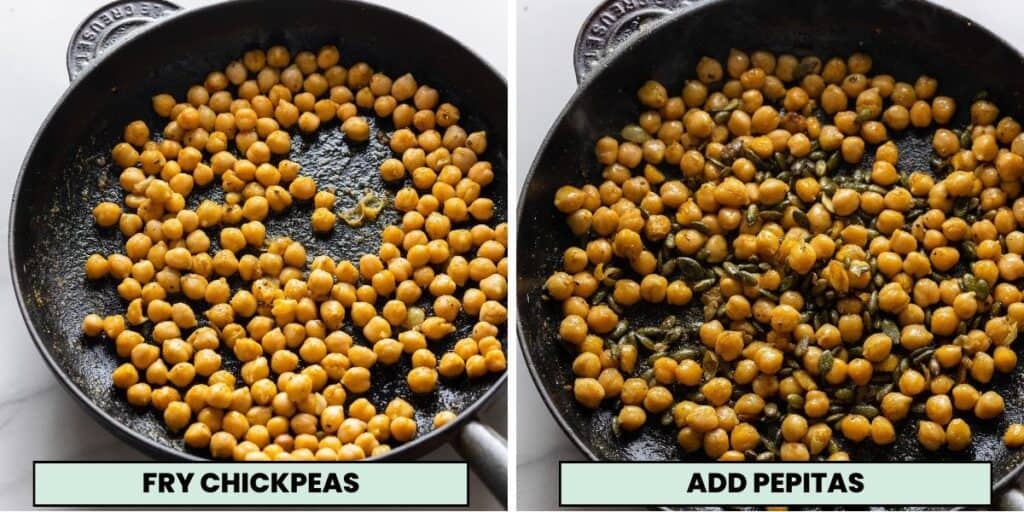 Why Massage Kale?
Two main reasons you should massage your kale: better taste and texture.
All you need is about 30-60 seconds, a little bit of olive oil, a good pinch of salt and clean hands.
Scrunch the dry kale leaves between your fingers and give it a good massage. It might sound ridiculous, but it's a game changer when it comes to eating raw kale!
After a minute or so you should notice the leaves take on a darker green and feel much softer in your hands as you break down the fibrous membrane.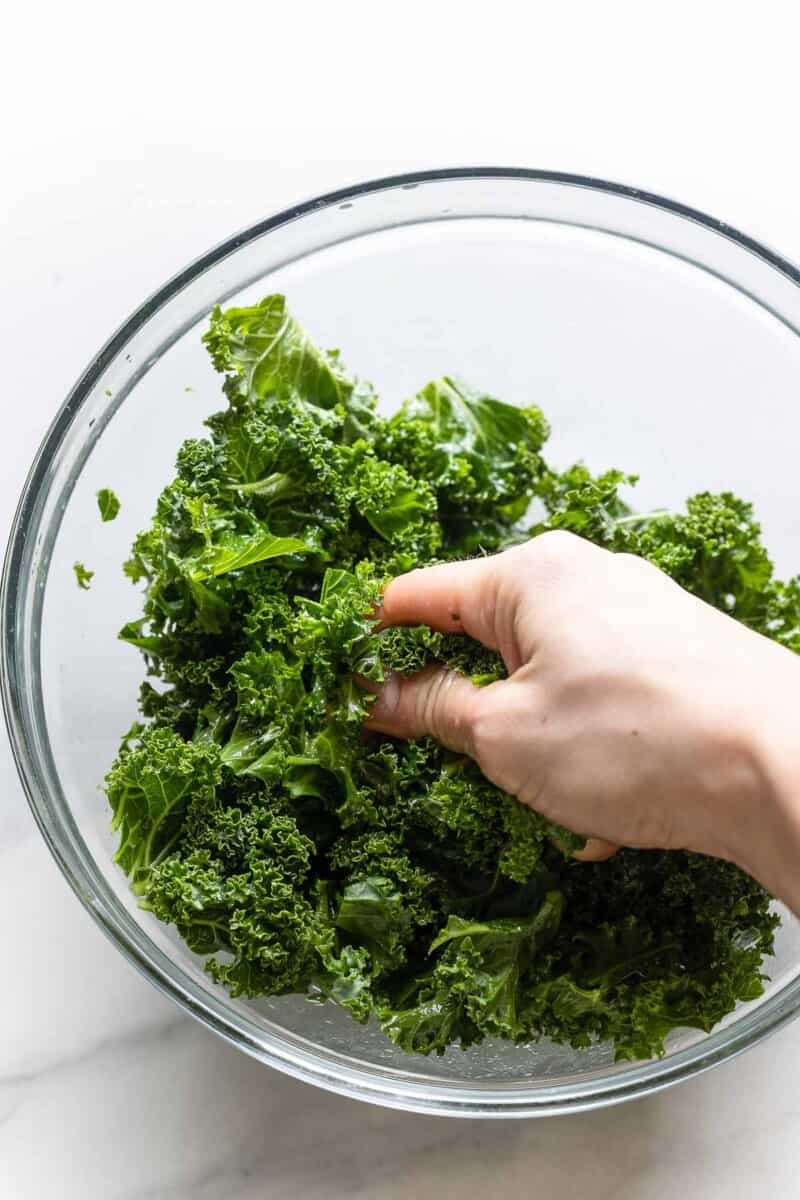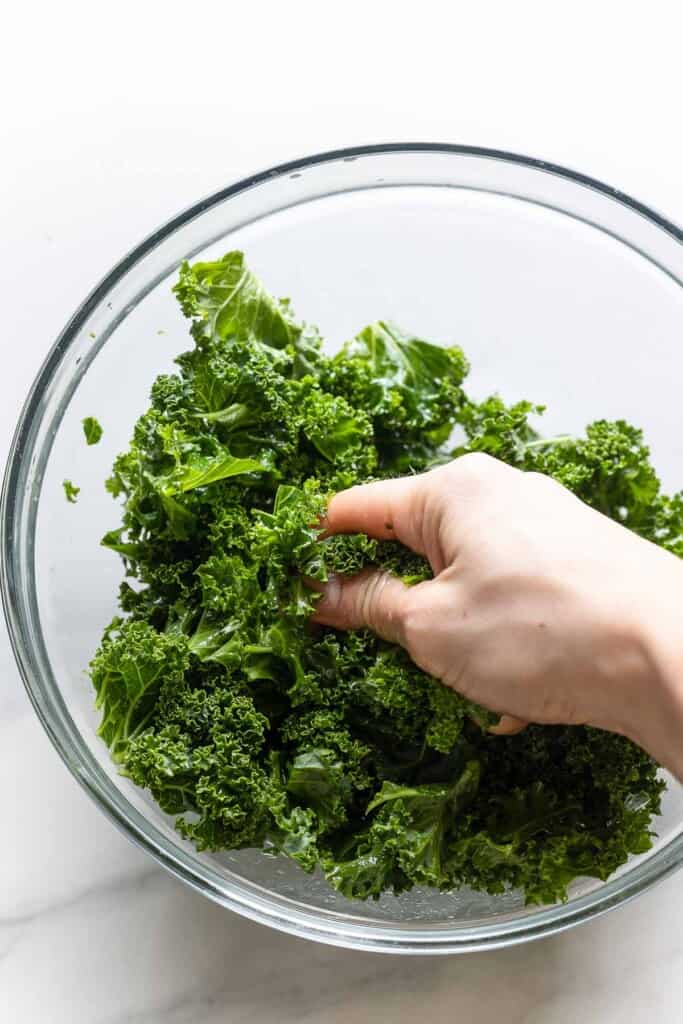 What Type Of Kale?
I like curly kale for the texture, but you can make this with a variety of kale types.
Most of the following kale types have a similar flavor and nutritional profile. The big difference will be the look and texture.
Types of kale to look out for in the grocery stores:
Curly Leaf Kale, Baby Kale, Lacinato Kale, Cavolo Nero , Tuscan kale, Italian Kale, Dinosaur Kale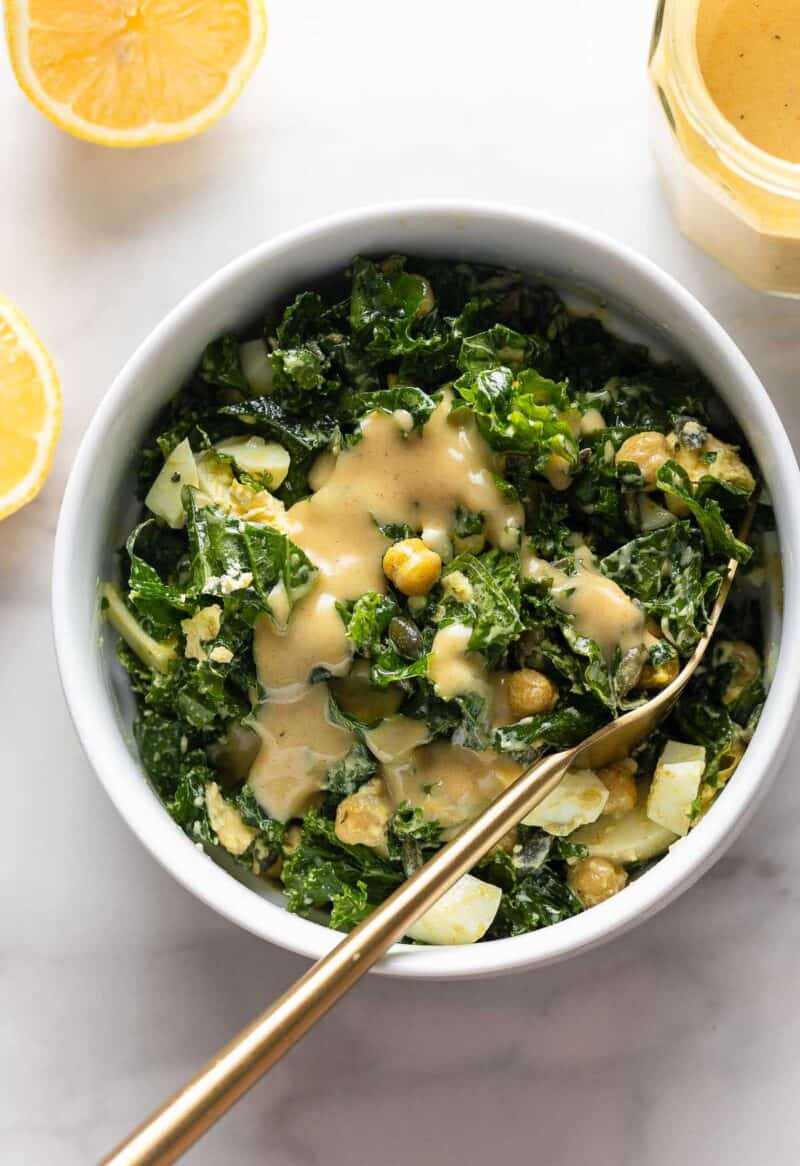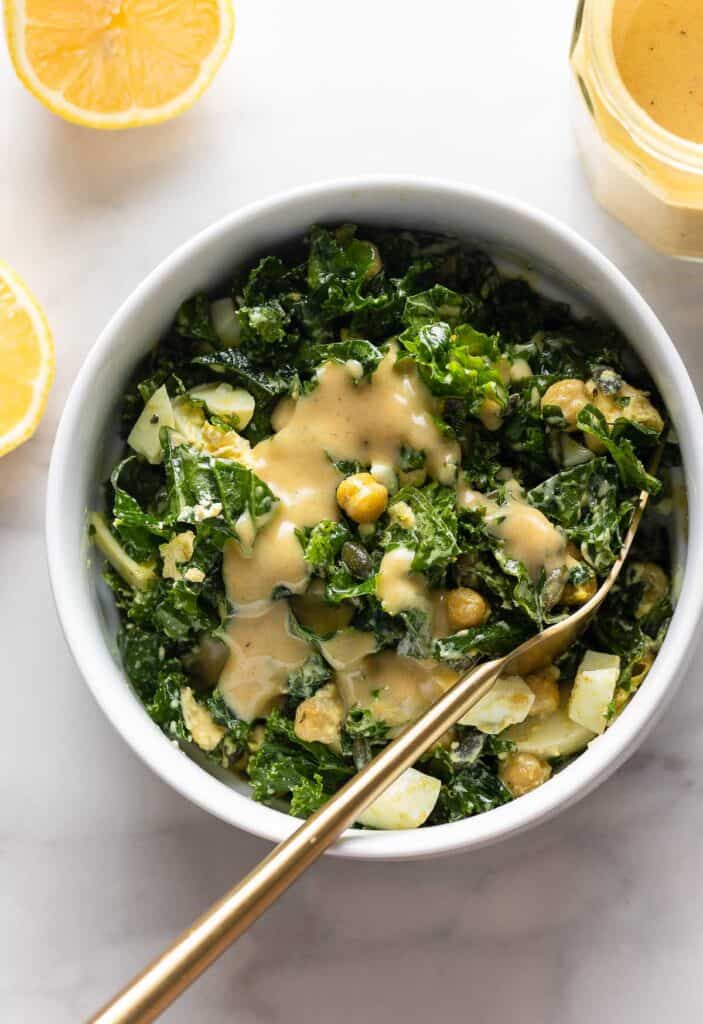 Add or Swap
Add Cheese: Add crumbled feta cheese, creamy goat cheese or diced hard cheese (like swiss, harvarti or cheddar) to the salad at the end. Grated parmesan cheese is also a great addition.
Swap Pepitas: Instead of hulled pumpkin seeds you can use raw sunflower seeds, pine nuts or crunchy almonds.
Add Spice: Add dried chili flakes or chili powder to the chickpeas spice blend for a little more heat.
Swap Chickpeas: Use a different white bean if you prefer: cannellini beans, great northern, butter beans, etc. I think black beans would also taste great here!
Roasted Instead of Pan Fry: For extra crispy chickpeas and pepitas – roast them instead! It takes a bit more time and care to roast the chickpeas, but the end result is super crispy and super tasty!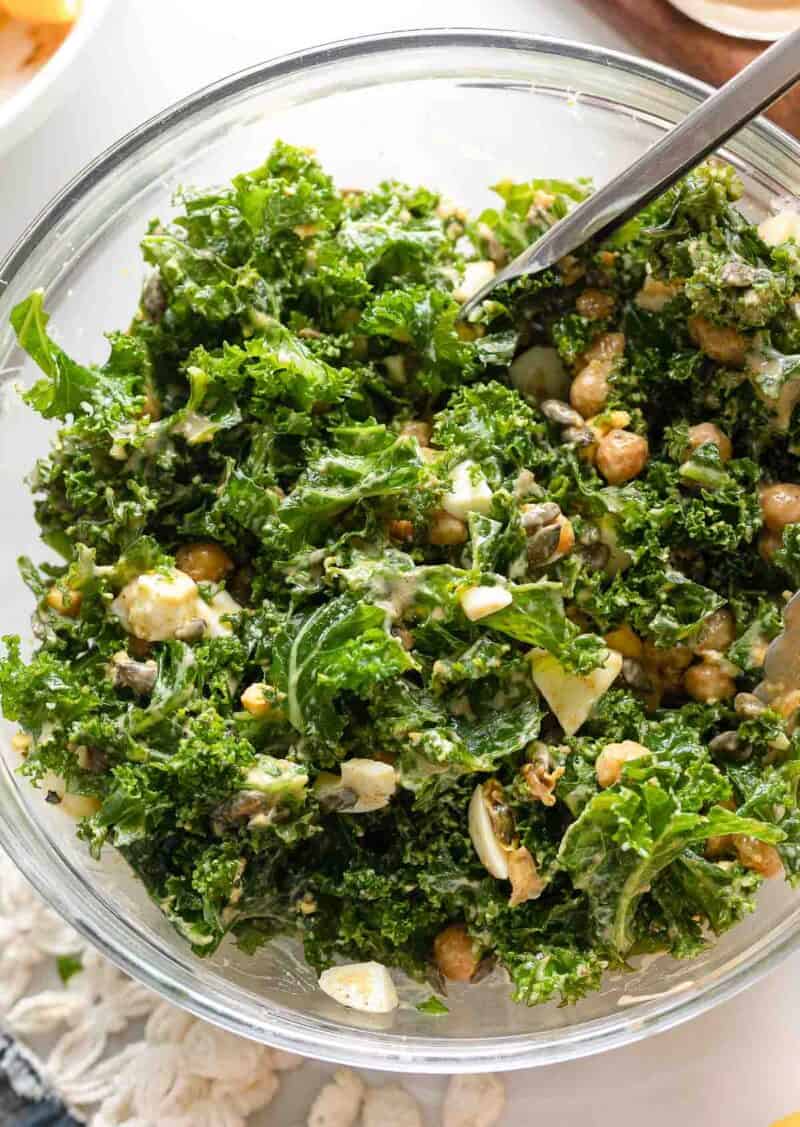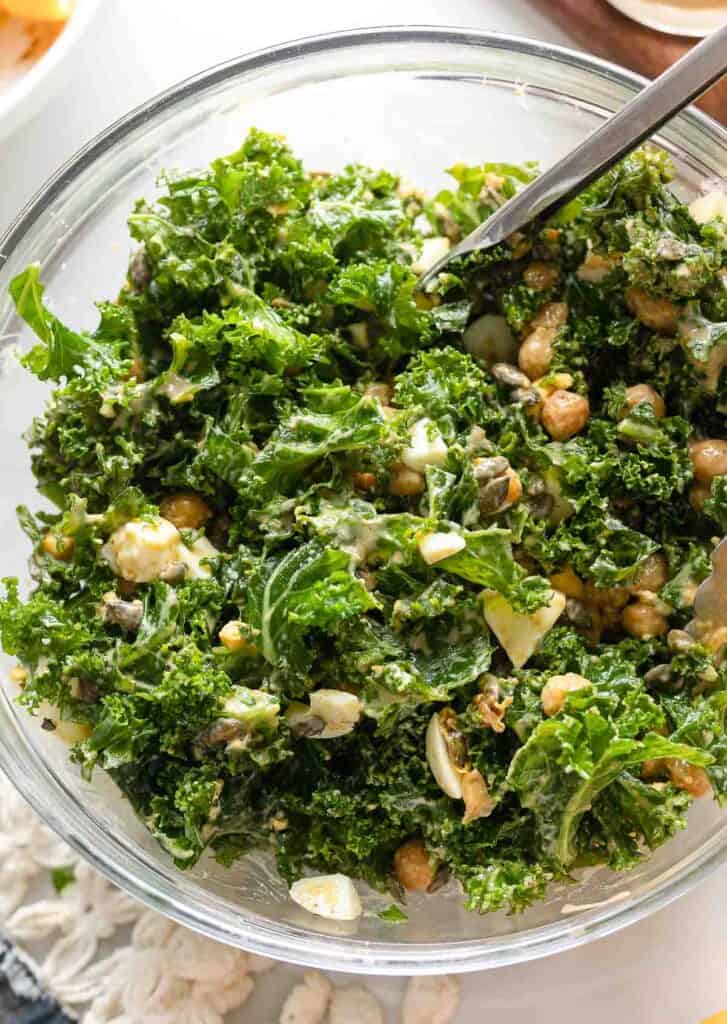 Hungry for More Salads?
Enjoy!
Let me know if you try this Spiced Chickpea Kale Salad! Leave a comment and review with your thoughts. I always appreciate the feedback and serving suggestions that you come up with!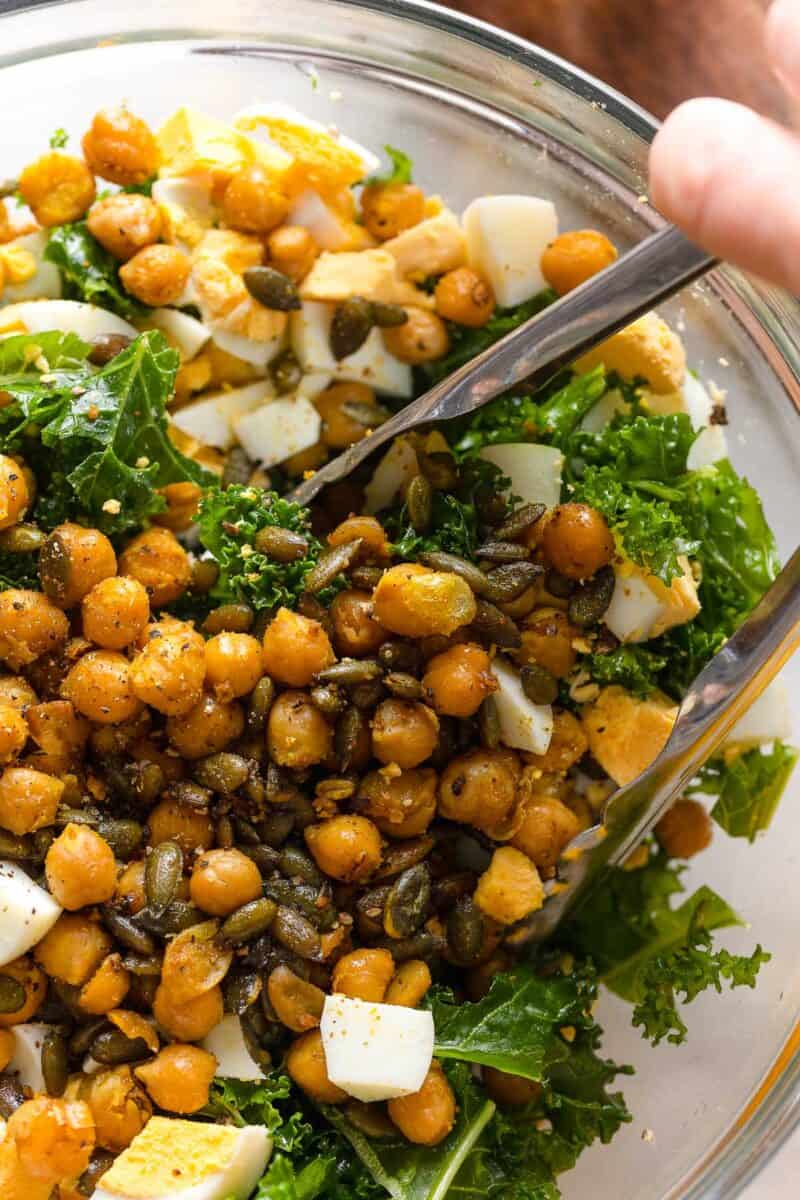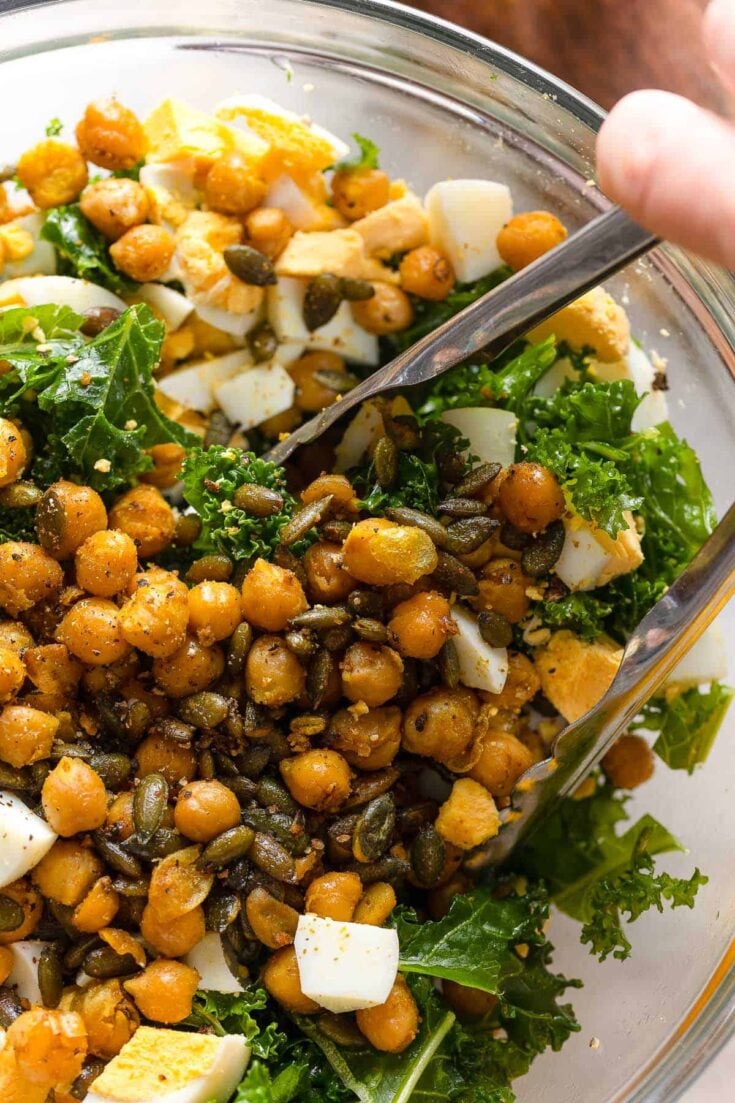 Recipe
Spiced Chickpea Kale Salad & Pan Fried Lemon Date Dressing
Yield:
6 servings
Prep Time:
10 minutes
Cook Time:
20 minutes
Total Time:
20 minutes
Pan fried, spiced chickpeas and pepitas with softened kale leaves and hard boiled egg coated in a bright and creamy lemon dressing.
Ingredients
Creamy Lemon Dressing
1/2 cup extra virgin olive oil (120ml)
1/4 cup fresh lemon juice (60ml)
2 dates, pits removed and chopped
1-2 cloves garlic
1 tablespoon dijon mustard
1 teaspoon ground cumin
1 teaspoon salt
1/2 teaspoon ground pepper
2 tablespoons water (30 ml)
Salad
4 eggs, hard boiled and peeled and diced (see notes for cooking instructions)
2 tablespoon extra virgin olive oil (30 ml) + more massaging kale
2 cans chickpeas rinsed and drained, (400 g | 14 oz, each)
1/2 cup pepitas, unsalted (75g)
1 teaspoon ground cumin
1/2 teaspoon ground turmeric
1/2 teaspoon garlic powder
1/2 teaspoon salt
6 cups kale, hard stem removed and chopped into bite-sized pieces
Instructions
Lemon Dressing
Add everything except the water to a blender and blend on high for about about 1-2 minutes until the garlic and dates have fully blended into the dressing.
If the mixture is too thick, add the water and blend for 10 seconds or just long enough to mix.
Taste and season with more salt and pepper if needed then transfer to an airtight container or jar and keep stored in the refrigerator until ready to use. Keep refrigerated for a week.
Salad
Chickpeas: Warm 2 tablespoons oil in a large skillet over a medium-high heat. When hot, add the chickpeas to the pan. Stir to completely coat the chickpeas in oil. Cook about 5 minutes.
Pepitas + Spice: Add the the pepitas, cumin, turmeric, garlic powder and salt to the pan and switch to a medium heat. Mix everything together fully coating both chickpeas and pepitas in dried spices. Cook another 3-5 minutes, stirring often until you hear the pepitas start to pop. Turn off the heat and set aside as you prep the kale.
Kale: Place kale in a large salad bowl and drizzle with olive oil (1-2 tablespoons or more as needed) and a big pinch of salt. . Use your hands to rub the hard kale leaves with your fingers by lightly scrunching big handfuls at a time. After about a minute the leaves will get softer and darker.
Assemble: Add diced hard boiled egg, chickpeas and pepitas to the kale. Toss everything together. Pour about half the dressing over the salad and toss again to fully coat the salad in the dressing. Taste and season the salad with more salt, pepper and/or dressing if needed and serve warm or room temperature.
Leftovers: Keep leftovers stored in an airtight container in the fridge up to 4 days. Store leftover dressing separately in an airtight container in the fridge about a week.
Notes
How to Hard Boil Eggs:
Place eggs in saucepan in a single layer. Cover with water by about 2 inches. Heat over high heat and bring the water to a rolling boil.
Turn off the heat then cover and let sit for about 10 minutes or so for hard boiled eggs. For a creamier yolk, leave for 7-9 minutes.
Drain excess water then run cool water over the eggs or place in an ice bath to stop them from cooking further. Once cool enough to handle, peel then dice.
This website provides approximate nutrition information for convenience and as a courtesy only. Nutrition data is gathered primarily from the USDA Food Composition Database, whenever available, or otherwise other online calculators.