Sweet and Sour Chicken made healthy with low fodmap, paleo ingredients free of additives and full of flavor.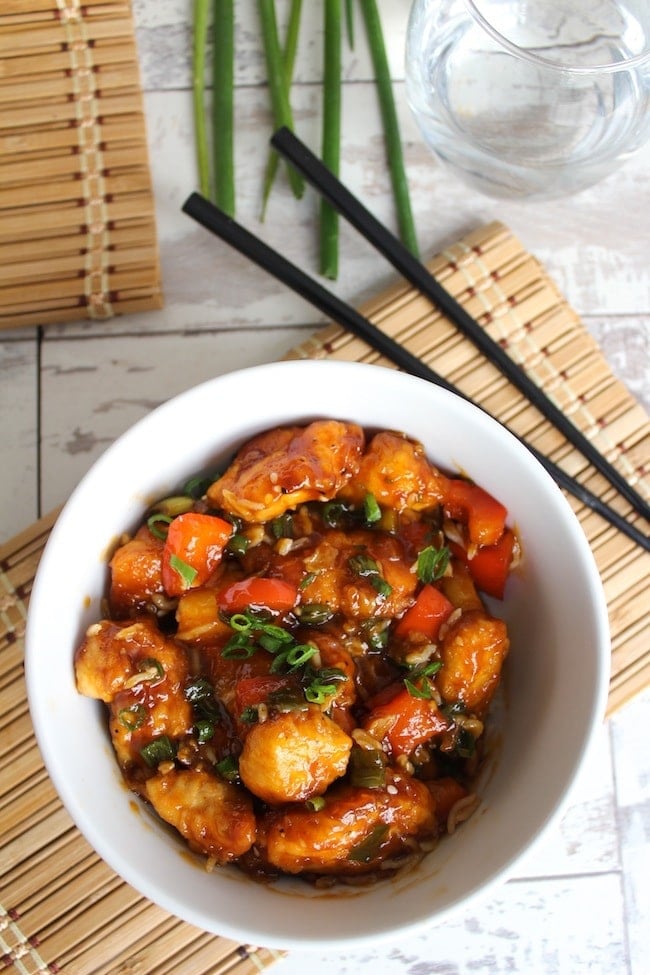 Did you know that it can take up 6 weeks to get over a gluten contamination? Blah.
A couple of weeks ago we had Chinese takeaway (including a killer sweet and sour chicken dish) for the last time for my father-in-laws birthday. We had eaten from this place a couple times before with no major issues that we could remember. I say for the last time because lo and behold – Mike got glutened. <–(that may or may not be a made up word). The day after our meal Mike broke out in a rash that he used to randomly get before being diagnosed with Coeliac Disease. Along with the return of the rash came a return of his old deep muscle aches and a number of other symptoms that used to be written off as side effects of having ME/Chronic Fatigue.
Conveniently, he already had a check up with his gastroenterologist scheduled for a week later. When we described his symptoms his doctor confirmed our suspicion that he was more than likely exposed to cross contamination in the meal and reminded us just how long it could take to get over it. *Sigh*
The thing about healing from Coeliac disease is that a lot of the time it feels like you take 2 steps forward, and 17 steps back. Unless you take food matters into your own hands you leave yourself wide open to cross contamination and further gut damage. Knowing how to cook your own food isn't just a valuable skill, but a necessity. Basically everything above is just a really long and round about way to say that you should definitely try your hand at making your own food from scratch.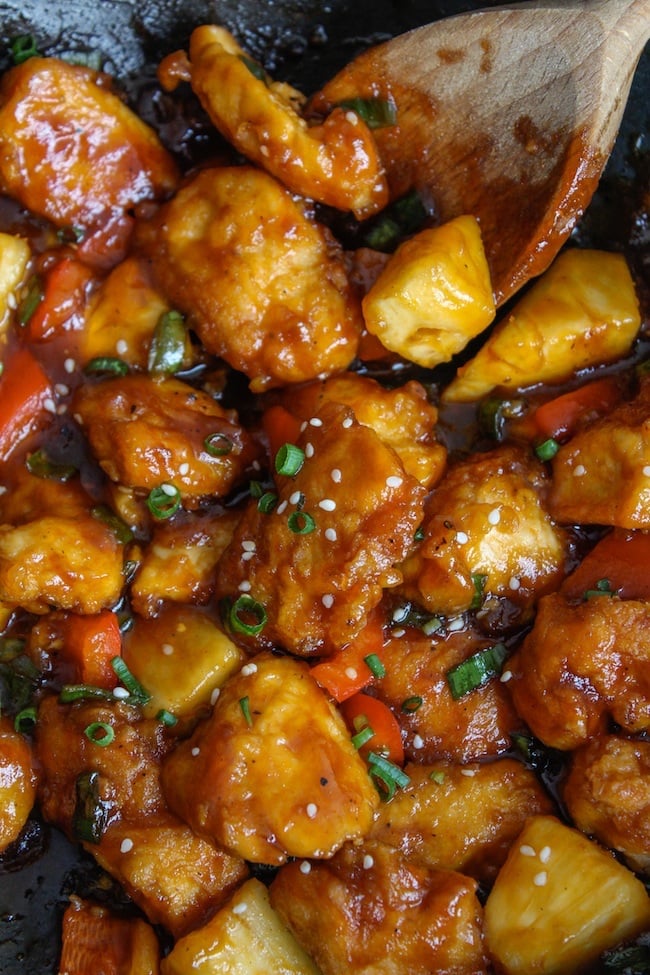 The good news – you can make healthier versions of pretty much anything, and you can even make it ten times better. *Hint* The secret ingredient is love….or salt….whichever. Seriously though, this sweet and sour chicken tastes identical to ones I have ordered in from takeouts and I guarantee it's a hell of a lot healthier than anything I'd pay for. It took me a few goes to make it right – the first few sauces really took on the sour in sweet and sour. Just…no. I know I nailed this one in the end though because after Mike finished he plate he announced that instead of a cake for his birthday next month, he wants me to recreate his favorite Chinese takeout dishes including this recipe, my Whole 30 Cashew chicken, and a few others.
I adapted this recipe from the Sweet and Sour Chicken recipe from DamnDelicious to make it Paleo friendly and low FODMAP. I used the Low FODMAP ketchup that I made last week, but you can totally use your own store bought if that's easier for you. I also used arrowroot starch to batter the chicken, but you can use cornstarch as a cheaper alternative that works just as well.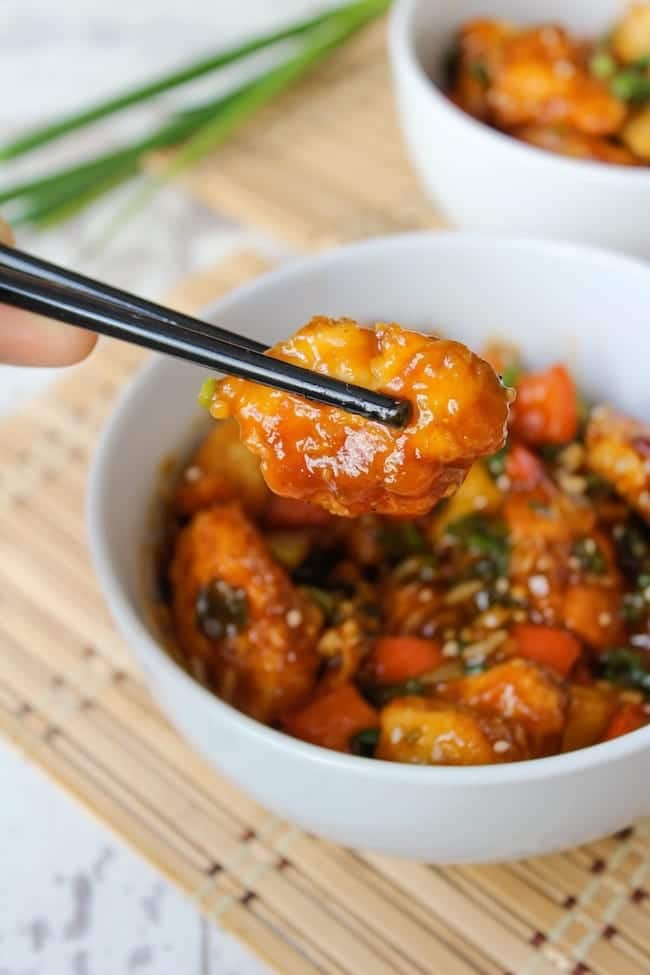 No need to order out with this Sweet and Sour Chicken takeout fake out in all it's sticky glory. What's your favourite takeout dish?
More Low FODMAP Dinners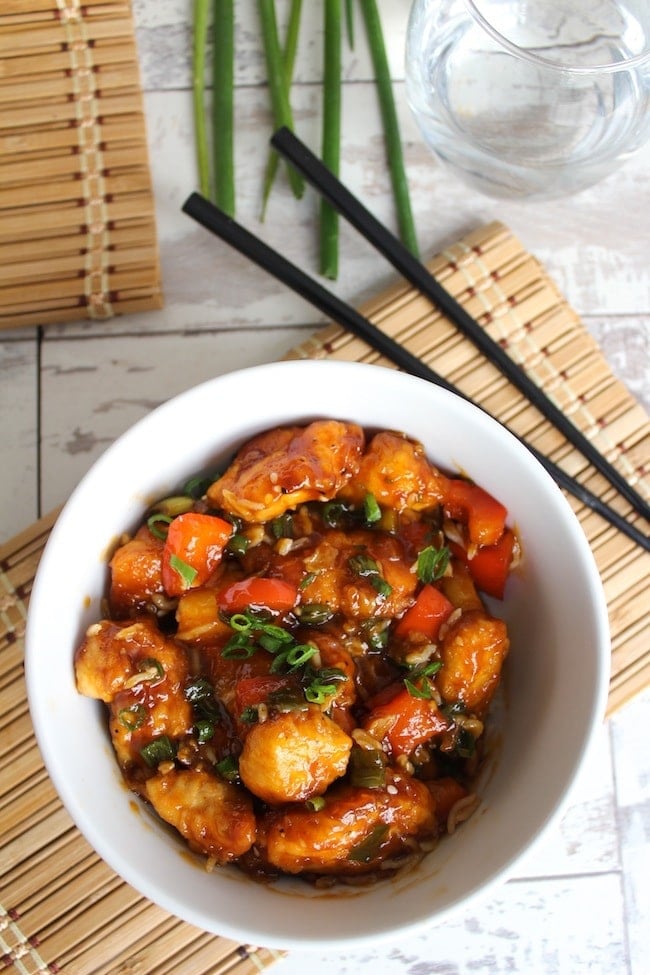 Recipe
Paleo & Low FODMAP Sweet and Sour Chicken
Yield:
4 servings
Prep Time:
10 minutes
Cook Time:
20 minutes
Total Time:
30 minutes
Sweet and Sour Chicken made healthy with low fodmap, paleo ingredients free of additives and full of flavor.
Ingredients
1 pound boneless, skinless chicken breasts, cut into 1-inch chunks
1/2 cup (65 grams) arrowroot starch or cornstarch
1 large egg beaten
2 tablespoons coconut oil
1/2 cup (100 gram) coconut sugar or regular white sugar
1/4 cup (60ml) apple cider vinegar*
2 tablespoons Coconut Aminos, or gluten free soy sauce/tamari
1/4 cup (60 g) ketchup or Low FODMAP Ketchup
1/4 cup (60 ml) chicken stock
1 red pepper cut into chunks
1 cup (65 g) pineapple chunks
3 spring onions stalks, green part only for low fodmap
Instructions
First prepare the sauce by adding the coconut sugar, vinegar, coconut aminos, chicken stock and ketchup to a medium sauce pan. Stir and bring to a boil. Reduce to a low heat and leave until later.
Add chicken pieces and beaten egg to a large ziplock bag. Seal and shake to coat chicken. Then add the arrowroot starch to the bag, shaking again to lightly coat all the chicken pieces.
Add coconut oil to a large non skillet. Add the coated chicken. Fry over medium heat, a couple of minutes on each side until the coating begins to crisp. Add pepper and pineapple chunks. Continue to saute over medium heat until chicken is browned and cooked through.
Add the sauce to chicken and peppers. Cover and reduce the heat down to a simmer and allow the juices to soak into the chicken for a few minutes. Top with sliced green onions. Serve over rice and enjoy!
Notes
Apple cider vinegar is considered low FODMAP under 2 tablespoons, but if you would prefer another alternative just to be on the safe side you can also use white wine or rice vinegar instead
I recommend making your own chicken stock for low FODMAP or using this FODMAP friendly vegetable stock.
Low fodmap ketchup recipe: http://www.asaucykitchen.com/low-fodmap-ketchup-diy/
Nutrition Information
Yield:

4
Serving Size:
g
Calories:

429
Saturated Fat:

7g
Cholesterol:

113mg
Sodium:

500mg
Carbohydrates:

55g
Fiber:

2g
Sugar:

32g
Protein:

26g
This website provides approximate nutrition information for convenience and as a courtesy only. Nutrition data is gathered primarily from the USDA Food Composition Database, whenever available, or otherwise other online calculators.