Soft, chewy middles and slightly crispy edges – these Golden Turmeric Almond Cookies will be ready before you know it! They're easy to make, lightly sweetened and go perfectly alongside a hot cup of tea!
Gluten Free + Paleo + Vegan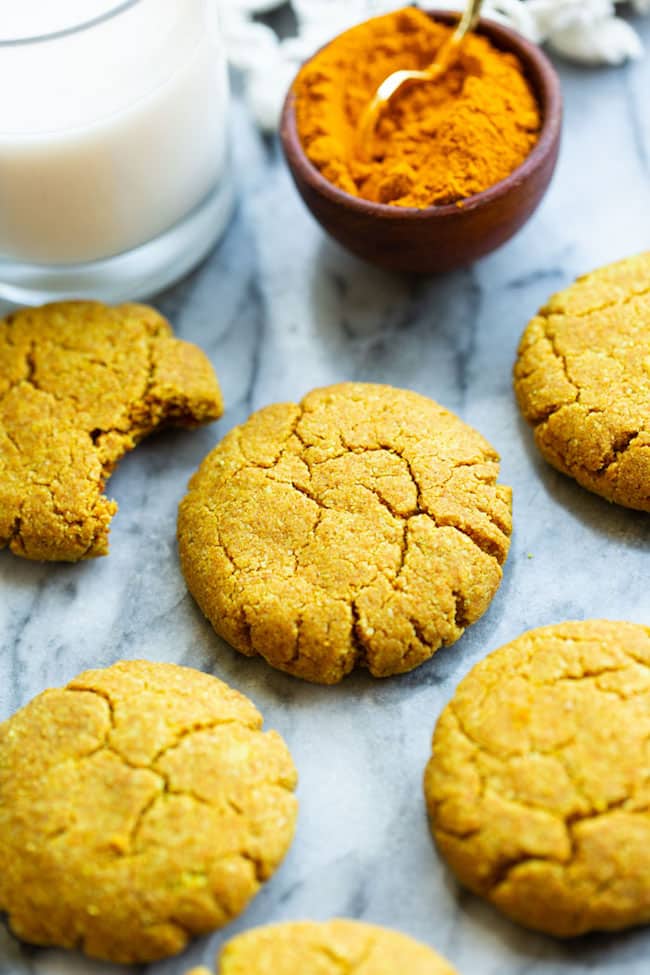 These cookies:
✔️Bake in ten minutes
✔️Are made with nine ingredients
✔️Needs five minutes of prep
✔️Makes for one, lightly sweetened and perfectly satisfying cookie
Well actually it makes about ten of them!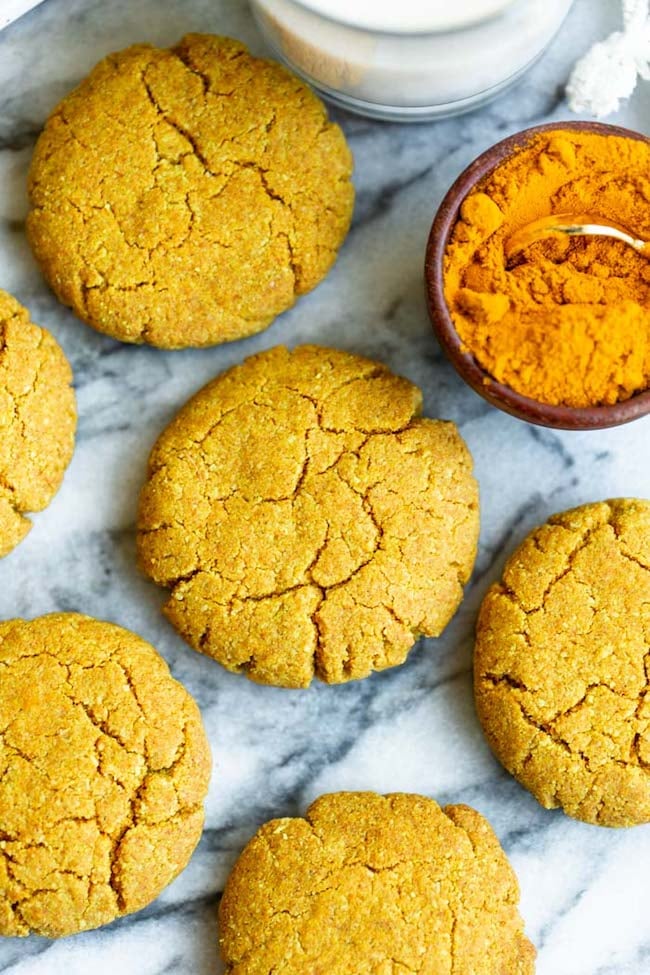 How to Make the Cookies
Altogether, these cookies are fairly easy to make. The prep is really just a matter of whisking together the dry ingredients, stirring in the wet to form and dough and then just rolling and baking.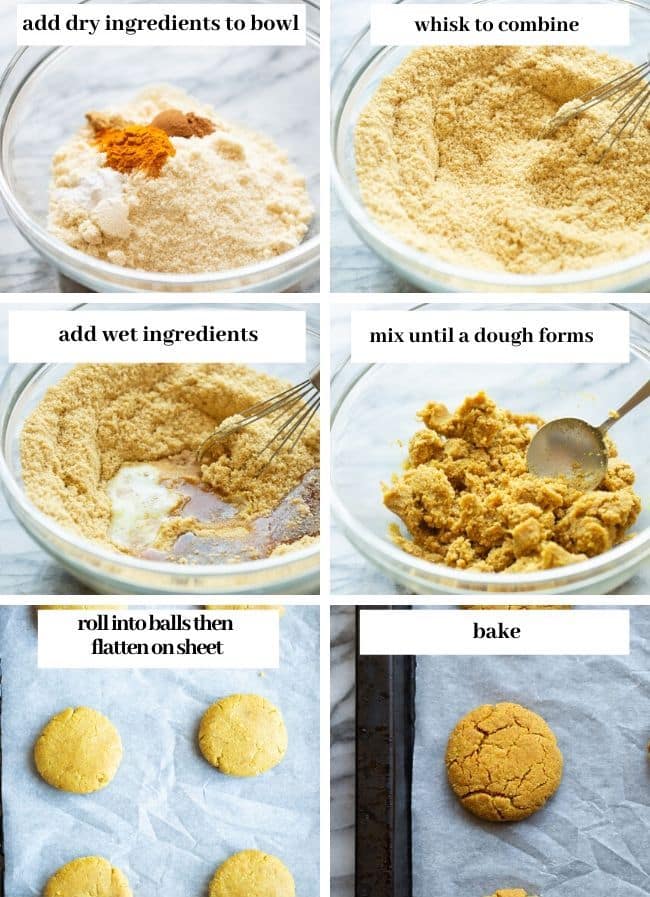 Can I use almond meal instead of almond flour?
Yes! In many cases you cannot swap out almond meal/almond flour interchangeably but with these cookies you can.
CAN I USE ANOTHER TYPE OF FLOUR?
No. I tested this recipe using almond flour/meal. I can't guarantee the same results if you use any other types of flours.
If you're interested in making cookies with different types of flours there are plenty of other recipes on this site you might prefer instead.
Can I use another type of sweetener? Low carb sweeteners?
Agave will also work as another vegan option (though it's not paleo).
As for low carb options, I only recommend trying these with another sweetener if it's a liquid one that can be used as a 1:1 substitute for honey or maple. These cookies rely largely on the maple/honey for moisture so you can't use a dry/granulated sugar here or something like stevia drops because it won't be enough to balance out the dry/wet ratio.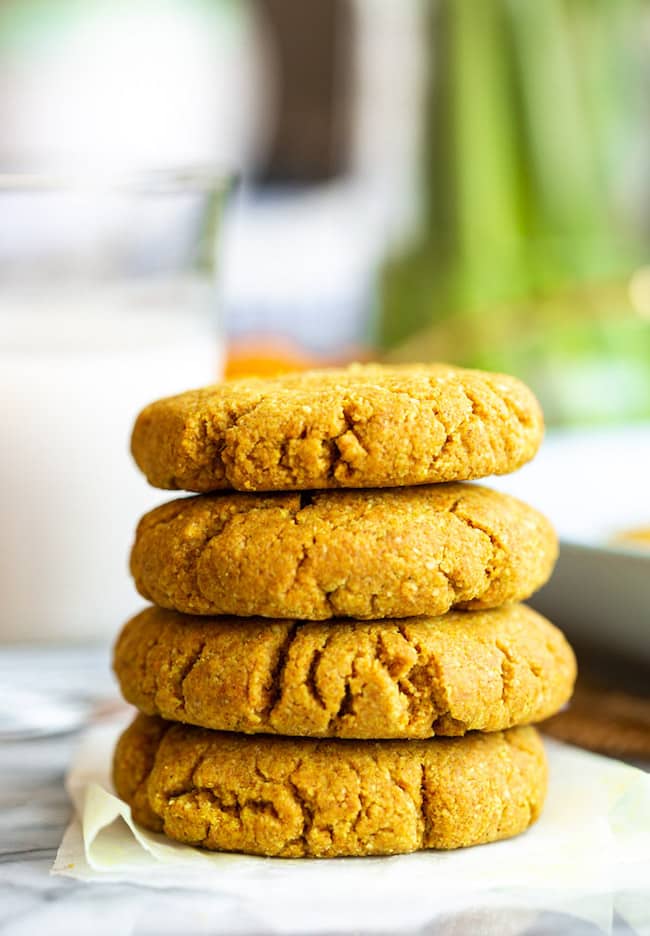 About these Golden Almond Cookies
These cookies get their golden hue thanks to a little addition of turmeric powder. The turmeric makes for a slightly earthy and fragrant cookie that's paired with both cinnamon and ginger.
It's also important to note that these cookies aren't super decadent. They're lightly sweetened with either honey or maple (bakers choice) and are meant to be a healthier cookie you can feel good indulging in the next time you want to satisfy a sweet tooth without going too over the top. I recommend saving a cookie for the next time you sit down with a cup of coffee or hot tea.
FACEBOOK | INSTAGRAM | PINTEREST
Don't forget to @asaucykitchen on instagram if you try these Golden Almond Cookies! We love seeing what you make! You can also post your pictures to my facebook page!
Yield: 10 cookies
Golden Almond Cookies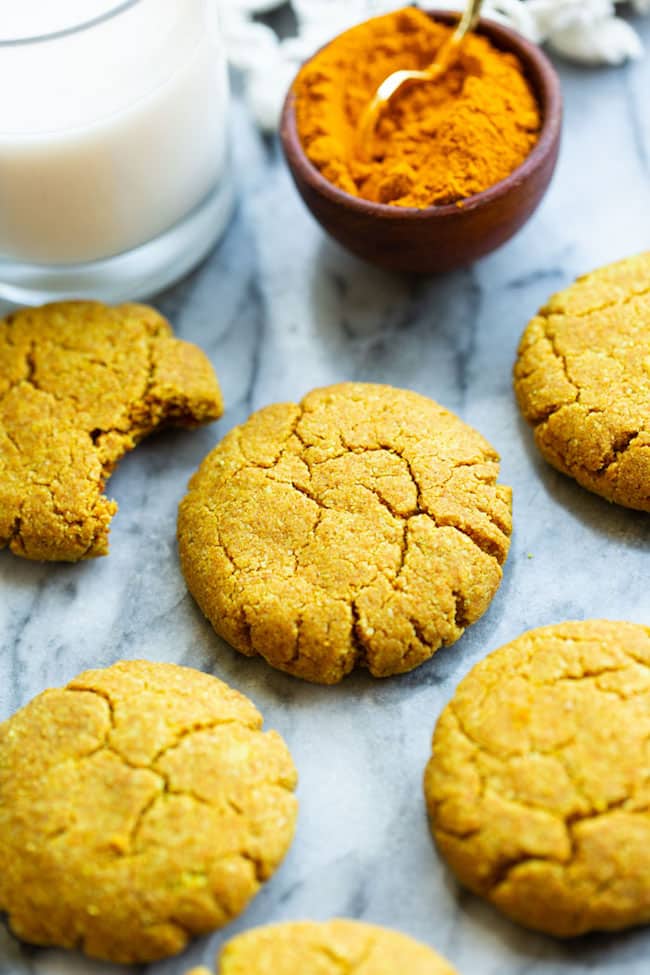 Soft, chewy middles and slightly crispy cookie edges - these Golden Almond Cookies will be ready before you know it!
Ingredients
2 cups (192 g) almond flour
1 tsp ground turmeric
1 tsp ground cinnamon
1/2 tsp ground ginger
1/2 tsp baking soda
1/4 tsp salt
2 tbsp (30 ml) melted coconut oil
1/4 cup (79 g) maple syrup or honey (85 g) if not vegan
1 tsp (5 ml) vanilla extract
Instructions
Preheat your oven to 350°F/180°C. Line a baking sheet with parchment paper.
Add the almond flour, turmeric, cinnamon, ginger, salt and baking soda to a medium sized mixing bowl and whisk together until combined.
Add the melted coconut oil, maple syrup (or honey) and vanilla extract to the bowl and mix until a soft, slightly sticky dough forms.
Scoop out the dough into tablespoon sized pieces and roll into balls. Flatten the balls into round discs and then place on your prepared baking sheet, leaving an inch in-between each cookie.
Place in the middle of the oven and bake for 10-11 minutes. The cookies will golden and crack slightly on top. Let cool a few minutes and then enjoy.
Notes
You can make this with almond flour, almond powder or almond meal. You can also grind up whole almonds for a more crunchy texture.