Not your average cookie recipe – these Salted Honey Tahini Cookies provided a delicious balance of sweet and savory flavors with soft and crunchy textures. Make them for yourself to see why tahini cookies like these are often described as 'grown up peanut butter cookies'! Check out the recipe notes for tips on how to make them grain free, nut free and/or vegan friendly!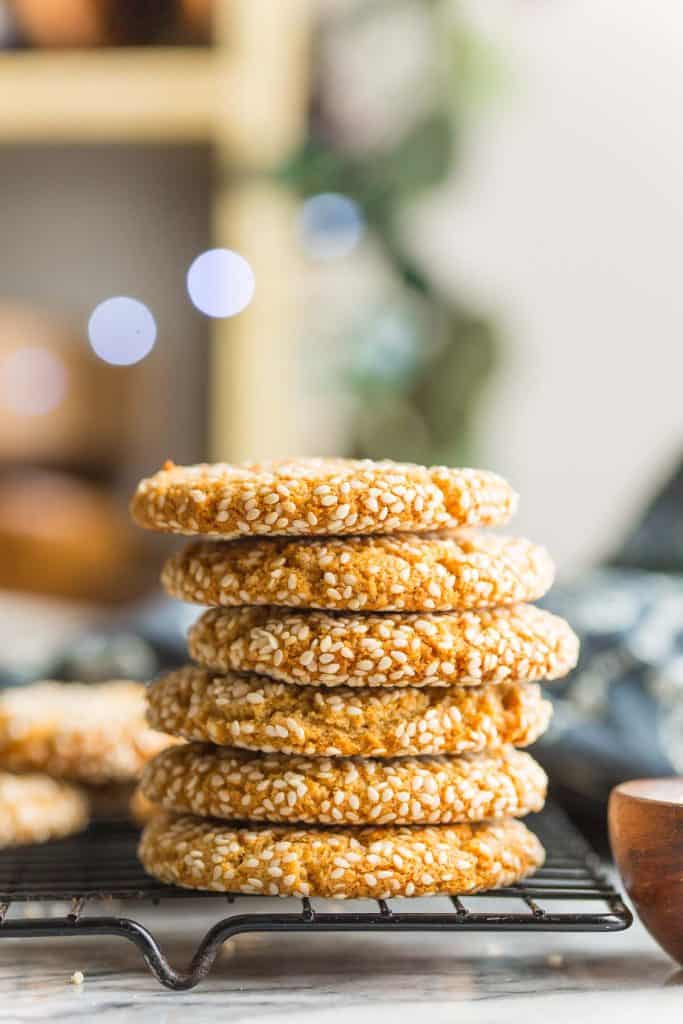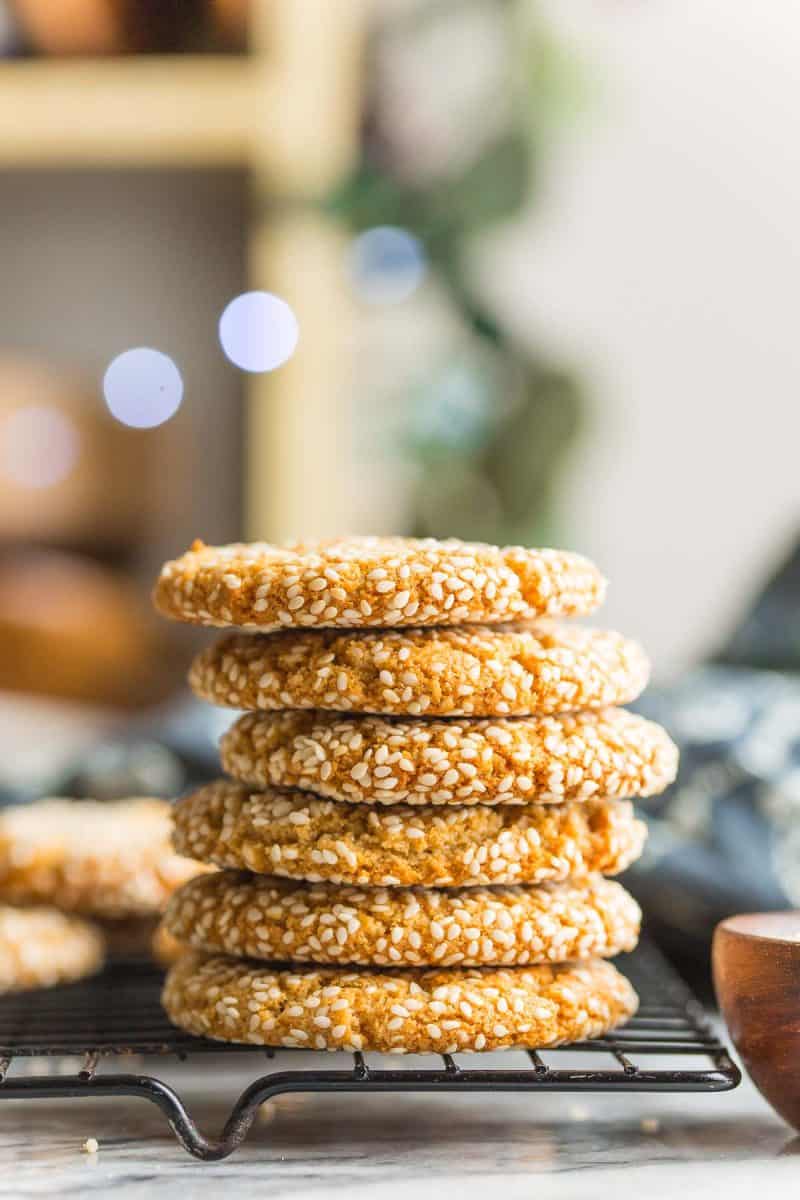 Cookie Week – Day Four
What is Cookie Week? Inspired by Cookie Palooza over on Sally's Baking Addiction, I'm sharing a new, gluten-free holiday cookie everyday for one full week.
What is Tahini?
Simply put, tahini (also known as tahina) is sesame seed paste. Think peanut butter, but made from ground sesame seeds. It's commonly used in Middle Eastern cooking and is a key ingredient in hummus, halva and baba ghanoush.
While it's often used in savory recipes its nutty flavor does lend itself well to certain sweets like these salted honey tahini cookies. The intense sweetness from the honey (and maple syrup) work wonderfully in toning down the slight bitter notes while playing up the more earthy flavor.
The end result? A soft and chewy, sweet and salty cookie that is sure to impress!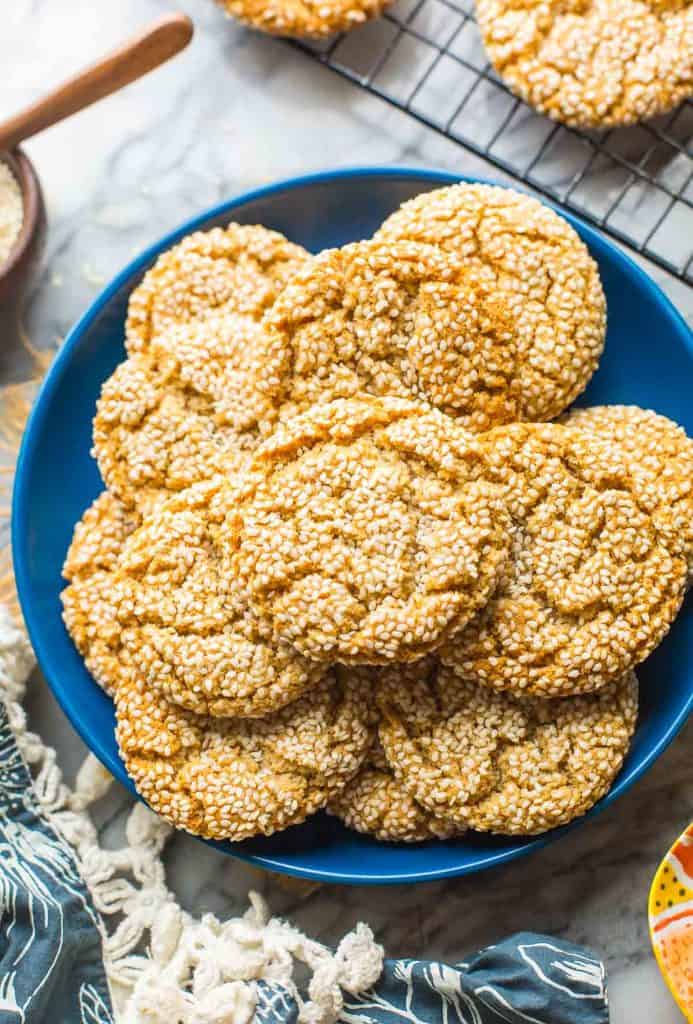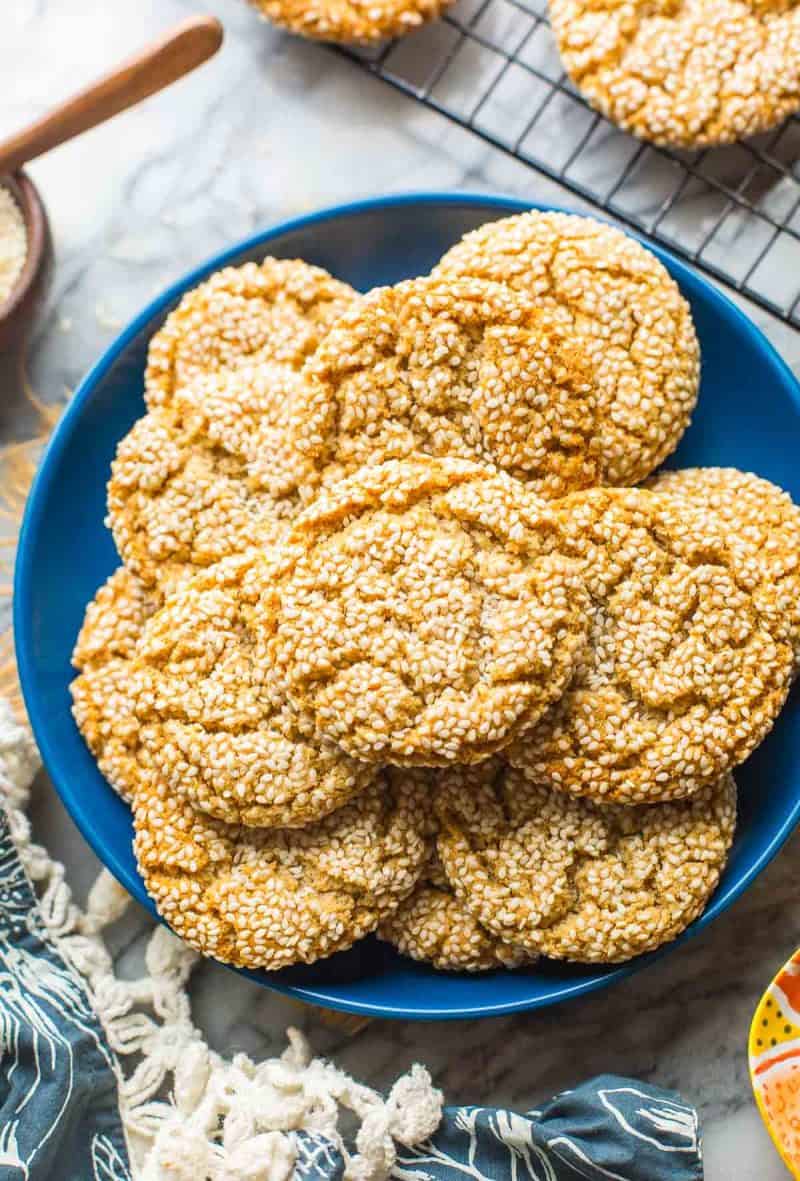 Salted Honey Tahini Cookies – 2 ways
I tested these cookies a few different ways:
One version is grain free made with almond flour (or almond meal).
The second version is nut free and made with a plain gluten free flour mixture.
The method for making both of these versions is practically the same. The only main difference is the amount of flour needed. The end results were also nearly identical. The almond flour cookies spread slightly more in the oven. They also has a few more cracks in the end. The all purpose flour cookies are kept their puffed up shape slightly better and had few cracks.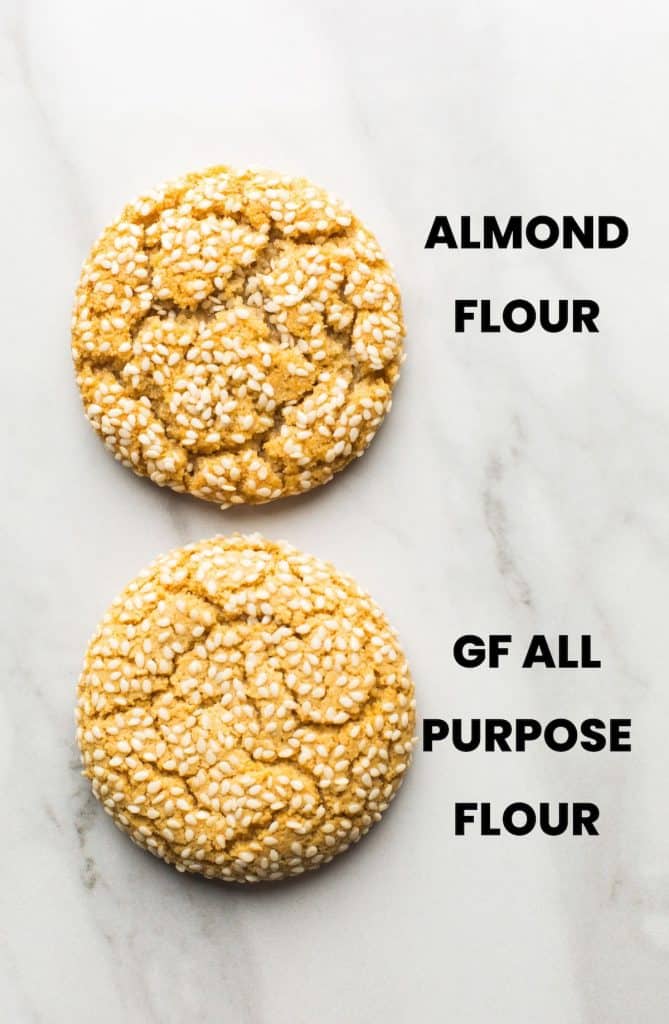 Cookie Dough Prep
Altogether the process for making these cookies is quite easy. With tahini being the exception, all you need are a few simple ingredients, a bowl for mixing, a cookie sheet and about 20 minutes of prep.
An electric mixer of some sort would make this process easy, but you can make these with nothing more than a wooden spoon a bit of elbow grease. If you make these by hand, just make sure you do well to evenly mix everything together.
Ingredients
Tahini – The special ingredient in tahini cookies. It works like any other nut butter would in a cookie recipe – it provides fat, flavor and texture. You could make these cookies using something in place of the tahini (like cashew butter or almond butter) but then of course they wouldn't be tahini cookies. Make sure to use a thick, runny tahini to get the right texture.
Honey (or Maple Syrup) – Honey is one ingredient often paired with tahini. It's intense sweetness helps to tone down the natural bitterness found in tahini. Together they make for a really rich, earthy flavor. Maple syrup works in a similar way and is a great option if you want to make these vegan. The natural stickiness in liquid sweeteners like honey and maple also help with keeping these cookies egg free.
Light Brown Sugar & Vanilla Extract – These help to add a little extra flavor to the cookies. Honey can be quite a strong flavor on its own. Adding a couple of tablespoons of brown sugar helps to add a bit more dimension in flavor.
Milk (Dairy or Non Dairy) – A small amount of milk helps add a bit more moisture to the dough that you would normally get from eggs.
Almond Flour 0R Gluten Free All Purpose Flour – I tested these cookies using almond flour and all purpose flour. Almond flour is great if you want grain free cookies. All purpose flour is great if you want to make nut free cookies.
Salt – Salt helps to tone down bitter flavors which is one reason why it goes hand in hand with tahini. Sea salt and kosher salt are best because of their larger flakes.
Baking Soda – Baking soda helps with the shape. It provides a small amount of lift and spread.
Sesame Seeds – Roll the cookies in sesame seeds just before baking for some added crunch and nuttiness.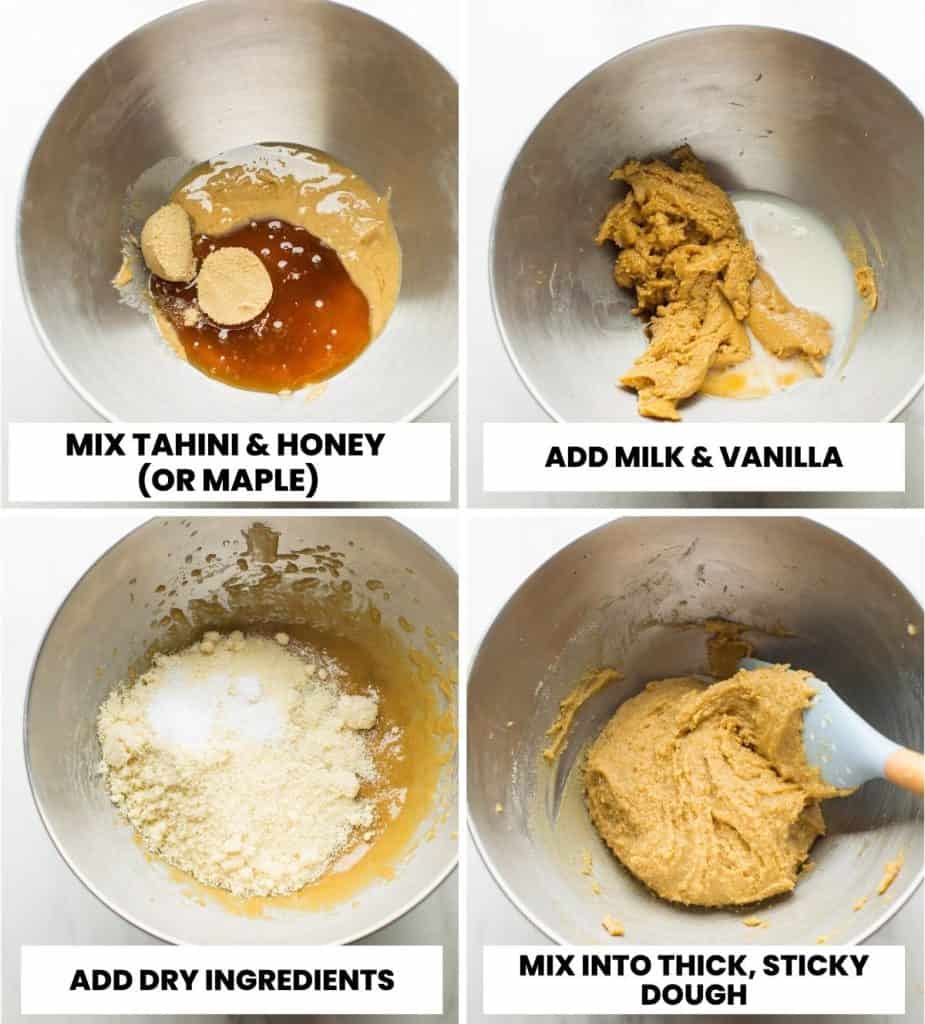 The steps:
Mix together the honey (or maple), tahini paste, and light brown sugar.
Add the milk (both dairy and non dairy milk work) and vanilla extract.
Stir in the dry ingredients and mix until well combined.
Tip!
The dough will be very thick and sticky. You can pop the dough in the fridge for about 15-20 minutes to make it a little less sticky to handle or you can power through ASAP.
Sesame Seed Coating
One thing that really makes these cookies special is their sesame seed coated outsides. The sesame seeds add an extra element of crunch and provide a nice and toasty flavor when finished.
Roll your cookie dough balls in to a small bowl full of sesame seeds to coat all over, then transfer to a prepared baking sheet.
The cookies will spread a bit in the oven so make sure to leave a bit of space in between each ball.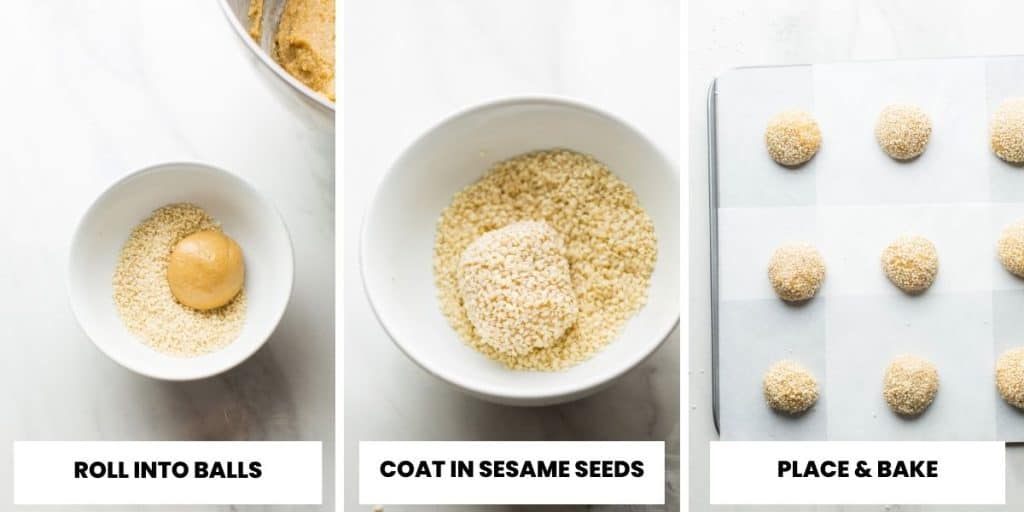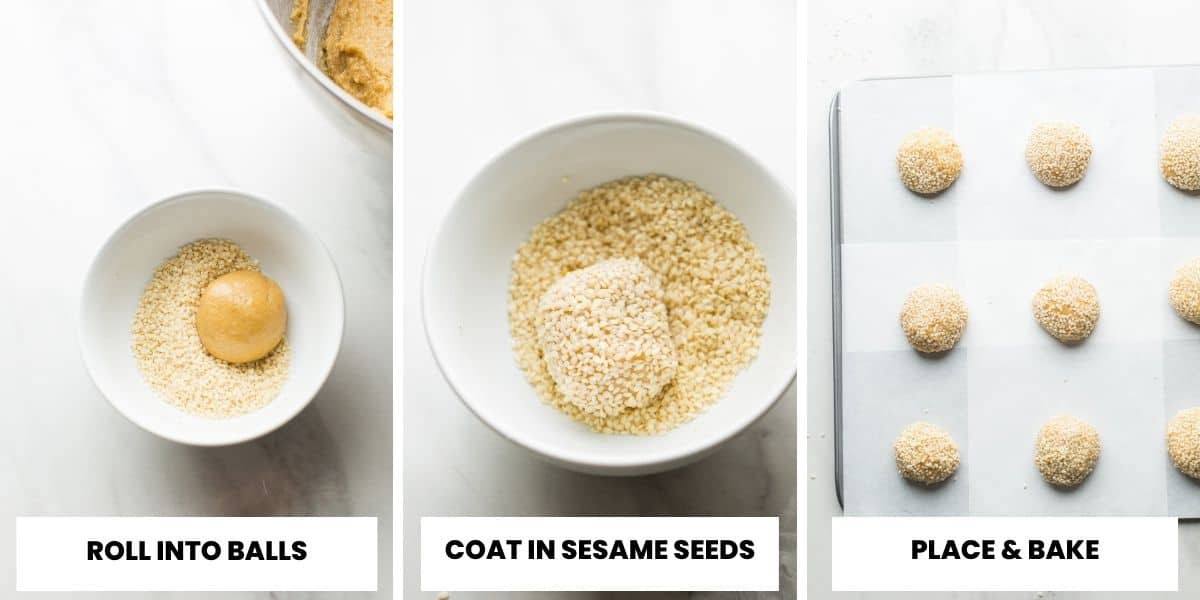 Quick Questions
How can I make vegan Tahini?
Easy enough! Simply swap out the honey for maple syrup and make sure to use a dairy free milk. Everything else is naturally vegan so there's no need to change it.
Can I make these cookies paleo?
Yes! Use almond flour instead of all purpose flour. Make sure to use a paleo friendly milk like almond or coconut. Use coconut sugar in place of brown sugar, or just leave out the brown sugar altogether.
Do I have to roll the cookies in sesame seeds?
Nope! The sesame seeds add a nice crunch and nutty flavor, but you can absolutely leave them out if you prefer.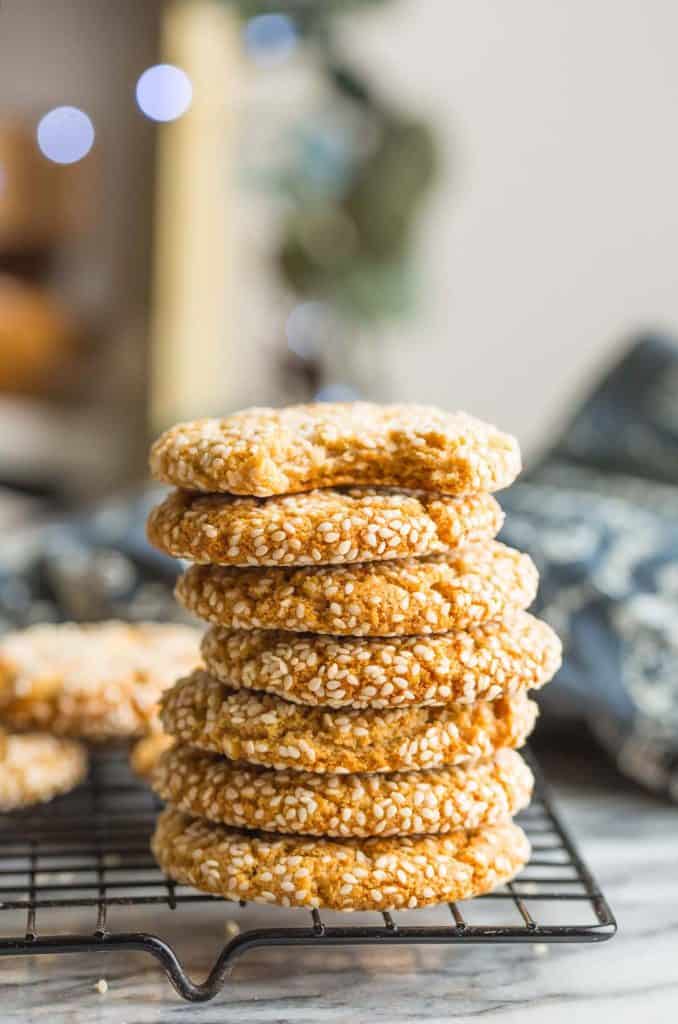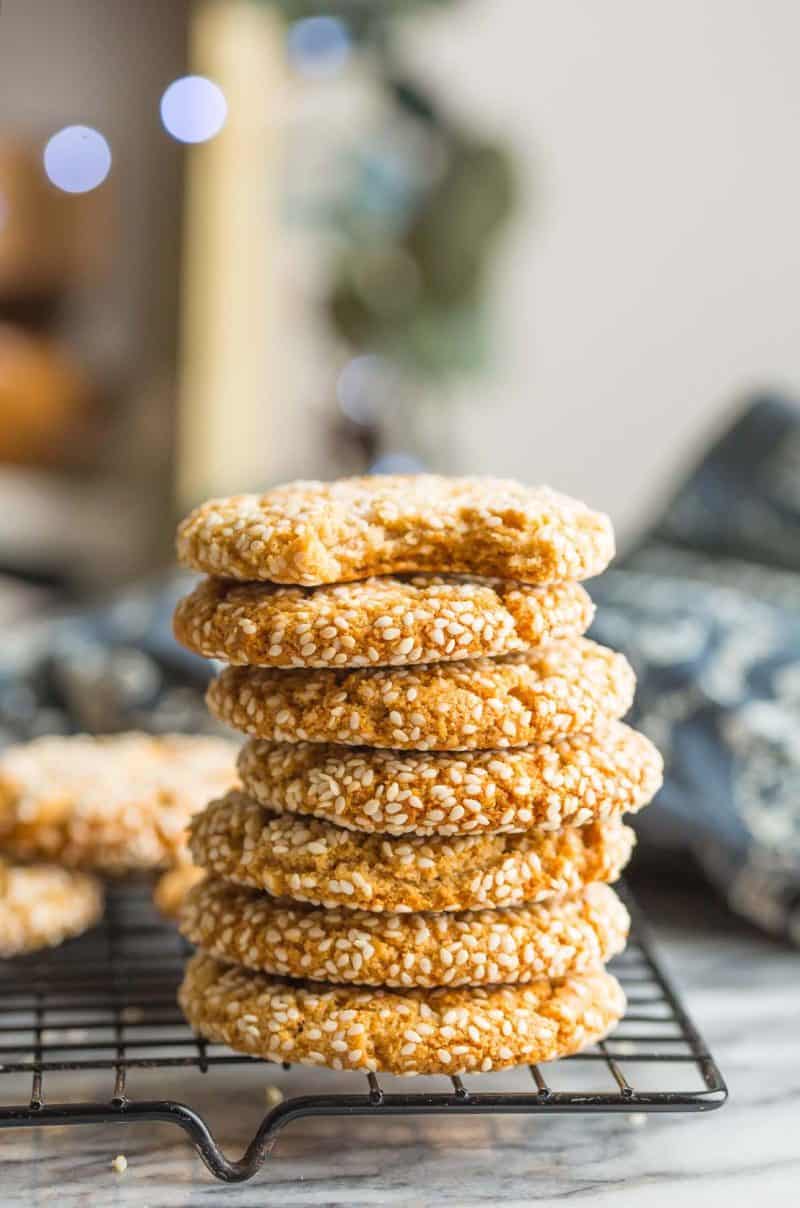 Freeze for Later & Storage
Baked, these cookies will keep well about 1 week. Once cooled, pack them away in an airtight container and keep at room temperature or in the fridge.
To freeze baked cookies: Let the cookie fully cool then place the cookies on a baking sheet you can fit in the freezer. Place in the freezer until solid then transfer the cookies to a freezer bag or  freezer-safe container. Place a small sheet of baking parchment in between each cookie to prevent them from freezing together. Cookies will keep up to 3 months in the freezer. You can reheat in the oven at 350°F/180°C – bake for five minutes
To freeze the dough: Wrap the dough tight in plastic wrap and then seal in a freezer safe bag or wrapped in foil. Dough will keep well in the freezer for 3 months. To defrost, leave the dough in the fridge overnight to thaw. Once thawed, roll out the dough and proceed with the recipe normally from there.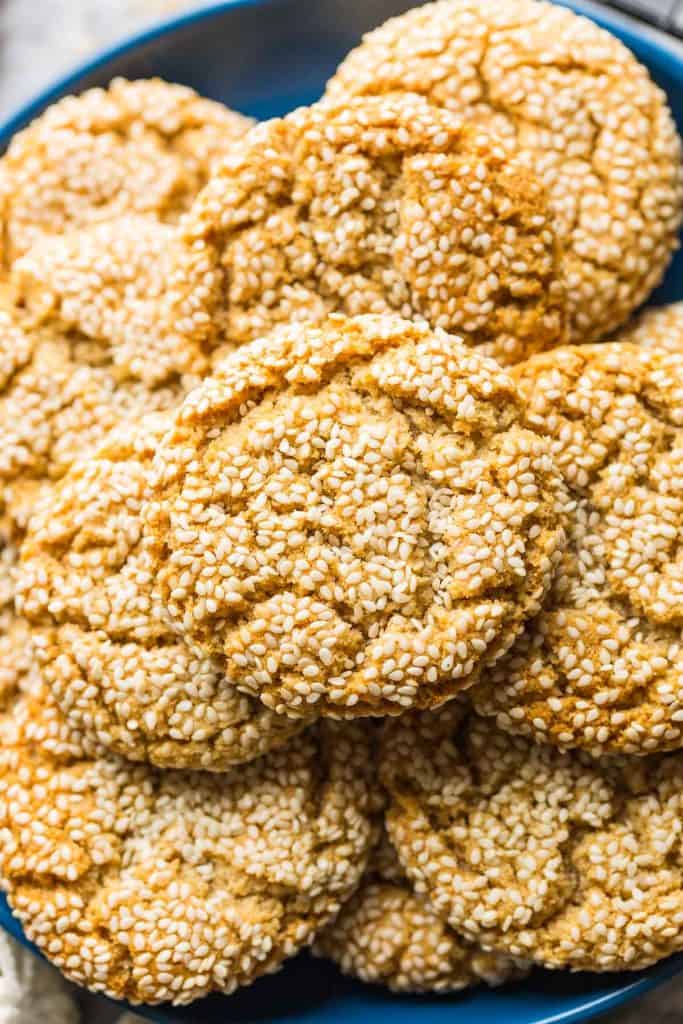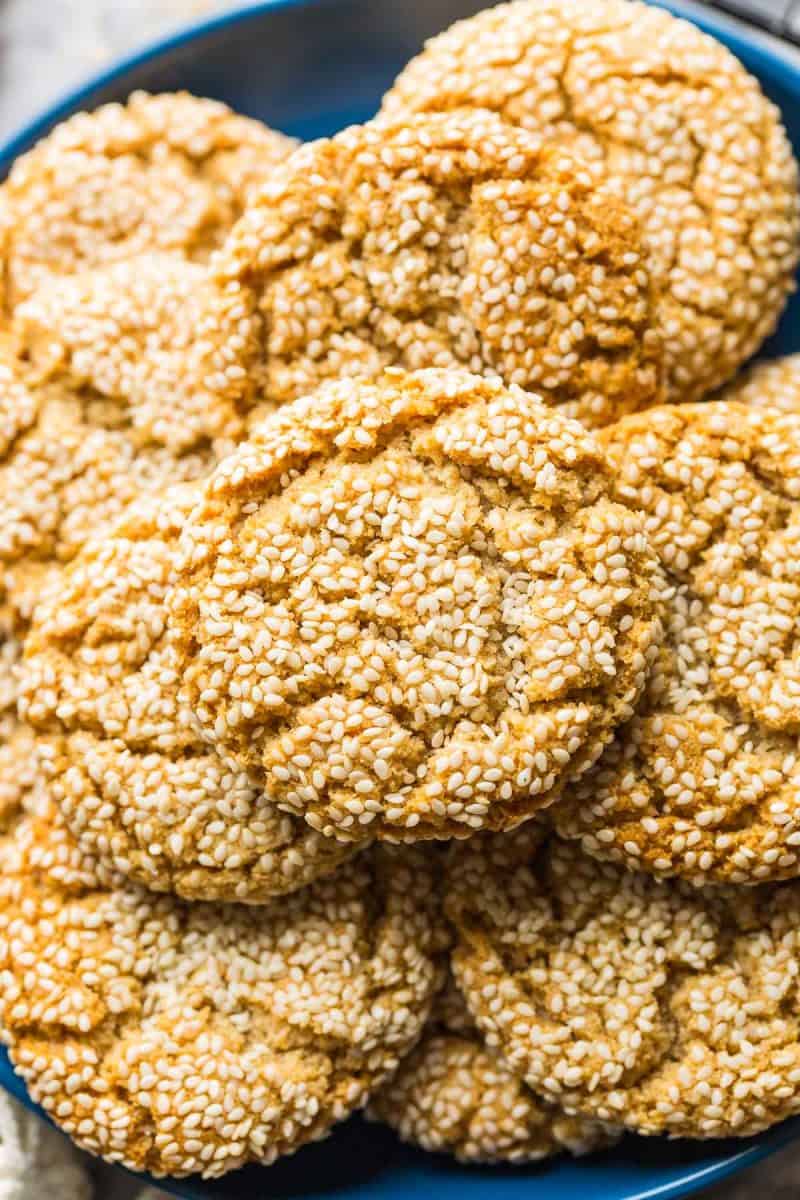 More Gluten-Free Cookies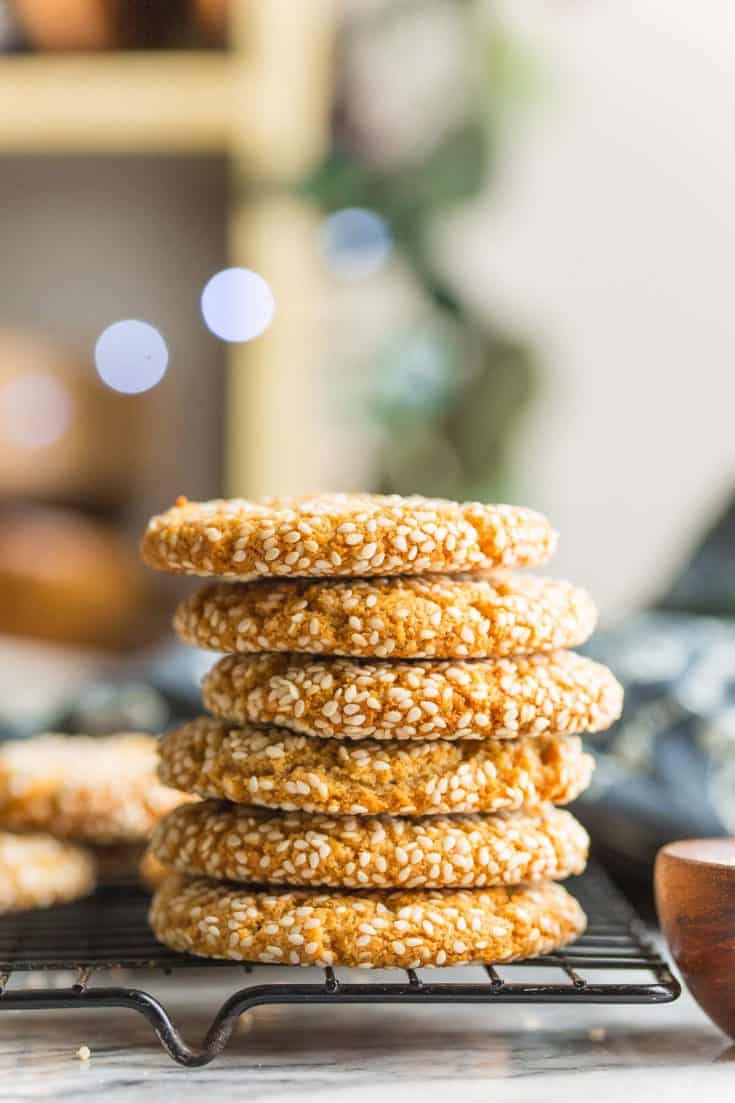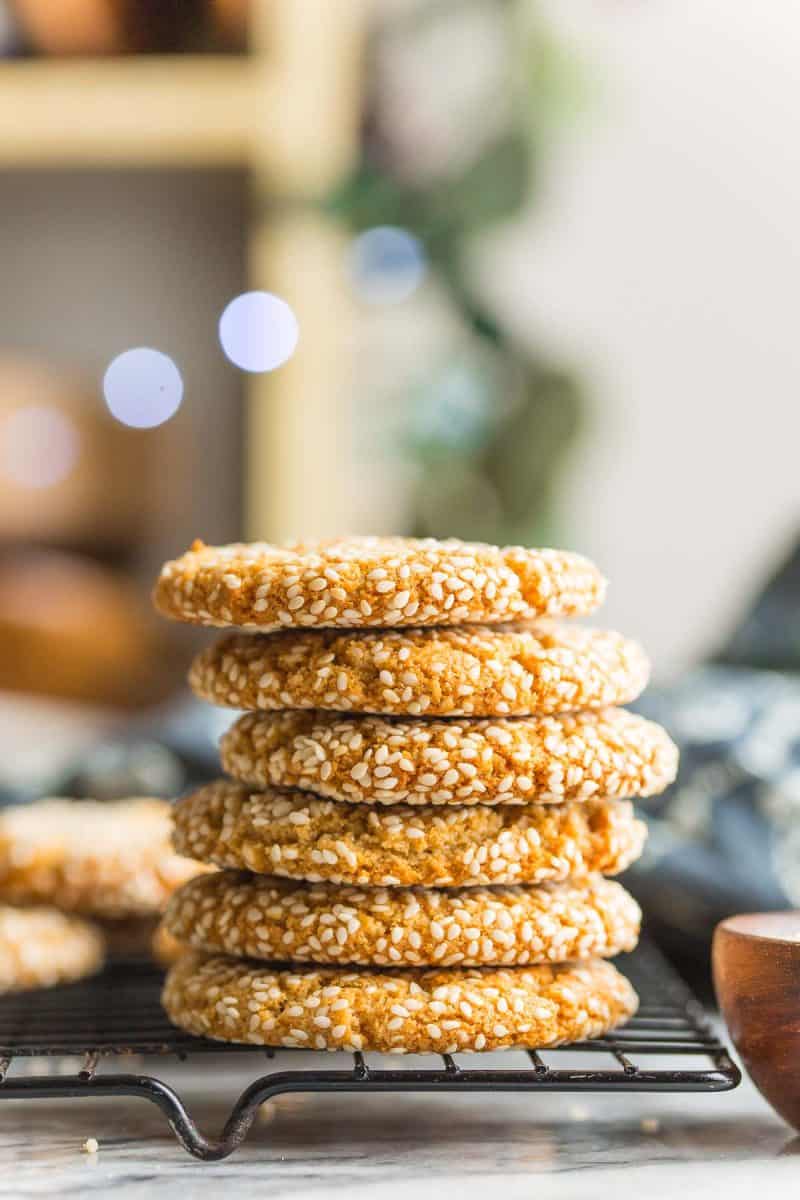 Yield:
18 cookies
Prep Time:
20 minutes
Cook Time:
13 minutes
Total Time:
33 minutes
Not your average cookie recipe – these Salted Honey Tahini Cookies provided a delicious balance of sweet and savory flavors with soft and crunchy textures.
Ingredients
1/2 cup (120 g) smooth tahini, stirred
1/3 cup (113 g) honey or maple syrup (105 g)*
2 tablespoons (28 g) light brown sugar
2 tablespoons (30 ml) milk, dairy or non dairy
1 teaspoon (5 ml) vanilla extract
1 1/2 cup (145 g) almond flour OR 1 1/4 cup (175 g) gluten free all purpose flour
1 teaspoon flaky sea salt or kosher salt
1/2 teaspoon baking soda
6 tablespoons (54 g) sesame seeds
Instructions
Pre heat oven to 350°F/180°C. Lightly grease or line a couple of large baking sheets with parchment paper. Set aside.
With a hand mixer in a large bowl (or stand mixer), beat together the tahini (1/2 cup | 120 g), honey (1/3 cup | 113g) OR maple syrup (1/3 cup | 105g) and light brown sugar (2 tbsp | 28 g) until well combined.
Mix in the milk (2 tbsp | 30 ml) and vanilla extract (1 tsp | 5ml).
Add the dry ingredients to the wet ingredients and mix into a thick, sticky dough: almond flour (1 1/2 cup | 145g), salt (1 tsp) and baking soda (1/2 tsp).
Place sesame seeds (6 tbsps | 54 g) in a small, shallow bowl.
Scoop out about 1 heaping tablespoon worth of dough at a time and roll into a ball then roll that ball in the sesame seed bowl, coating all the sides.
Place each cookie dough ball on the prepared baking sheet. Leave about 3 inches of space in between each ball. Place in the middle of the oven and bake cookies for 12-13 minutes. The edges will turn golden brown and the cookies will be slightly puffed up with small cracks on top of each cookie.
If you have any sesame seeds left over after rolling the cookie dough, sprinkle the seeds over the tops of the freshly baked cookies to coat the cracks. Leave the cookies to cool on the baking sheet, about 5 minutes then carefully transfer to a wire rack to finish cooling. The cookies will be soft right after they come out of the oven, but firm up as they cool.
Keep stored in an airtight container in the fridge or at room temperature for up to one week.
Notes
Tip: The dough will be very thick and sticky which can make it a bit tricky to roll. You can pop the dough in the fridge for about 15-20 minutes to make it a little easier to handle or you can power through ASAP.
Recipe adapted from Food & Wine
You can make these cookies paleo by using coconut sugar in place of the brown sugar and but using a dairy free (paleo friendly milk).
Use maple syrup to make these cookies vegan.
This website provides approximate nutrition information for convenience and as a courtesy only. Nutrition data is gathered primarily from the USDA Food Composition Database, whenever available, or otherwise other online calculators.