Refresh and replenish with a simple yet delicious homemade electrolyte drink! Think gatorade, but without all the added sugars, dyes and artificial ingredients.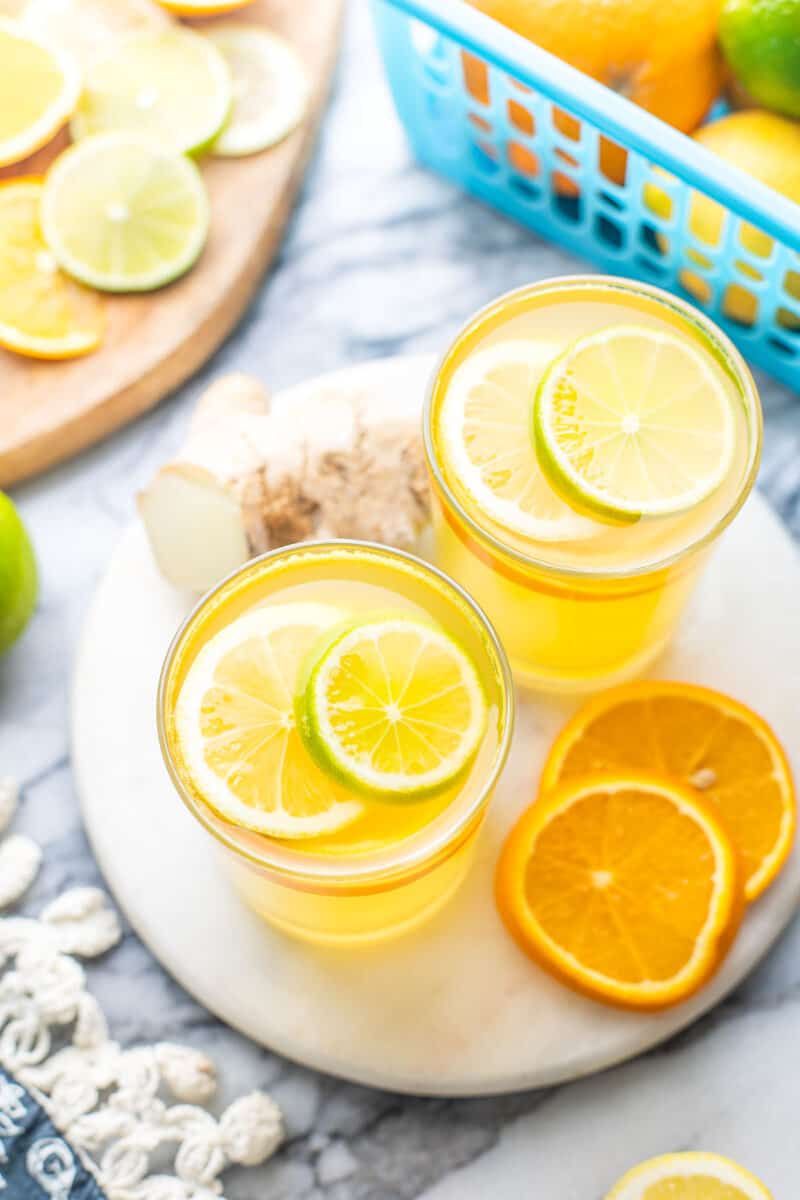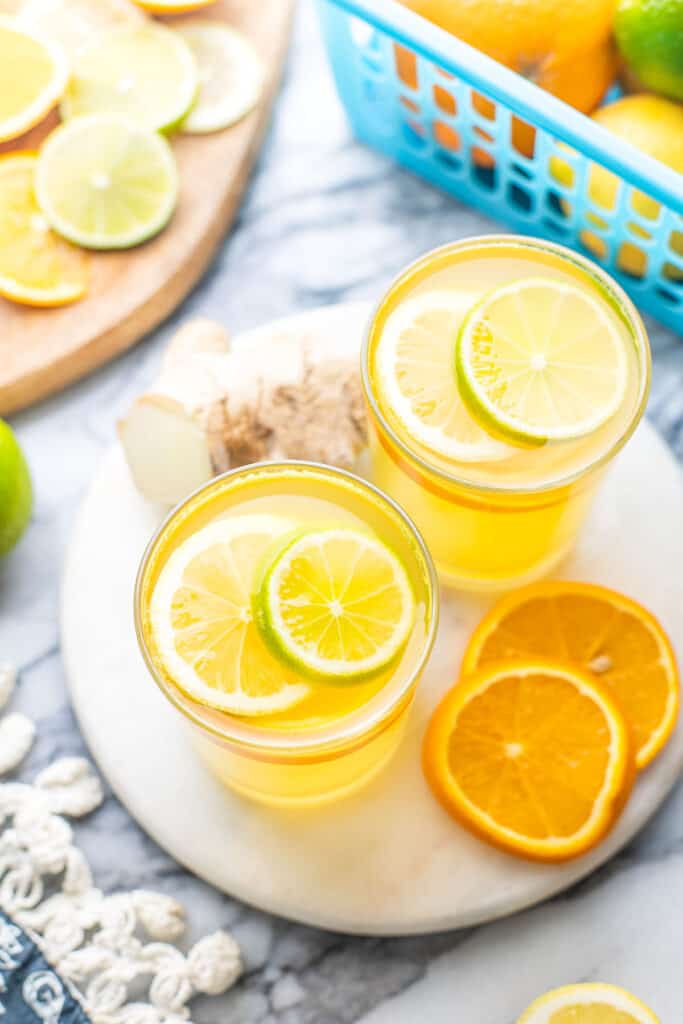 Want to learn how to make your own hydration drink with simple ingredients you likely already have in your own kitchen?
First Things First: What are electrolytes?
Electrolytes are essential minerals (salt, potassium, bicarbonate, etc) that conduct electrical charges when dissolved into water.
They play an important role in the regulating the nervous system and keeping you hydrated.
Signs of electrolyte loss or depletion include: nausea, headaches, fatigue, low blood pressure and muscle cramping. Do you feel hungover? You probably need more electrolytes in your system!
More Foods that Replenish Electrolytes
In fact, any time you find your self losing a lot of fluid, whether that be a stomach bug or heavy exercise, it's likely you find yourself low on electrolytes. Certain medical conditions (like PoTS) and poor diets can also lead to an electrolyte imbalance.
While it's easy to forget – human beings are electrical beings and we're made up of mostly water. With this in mind, it's no surprise that electrolytes are essential for good health.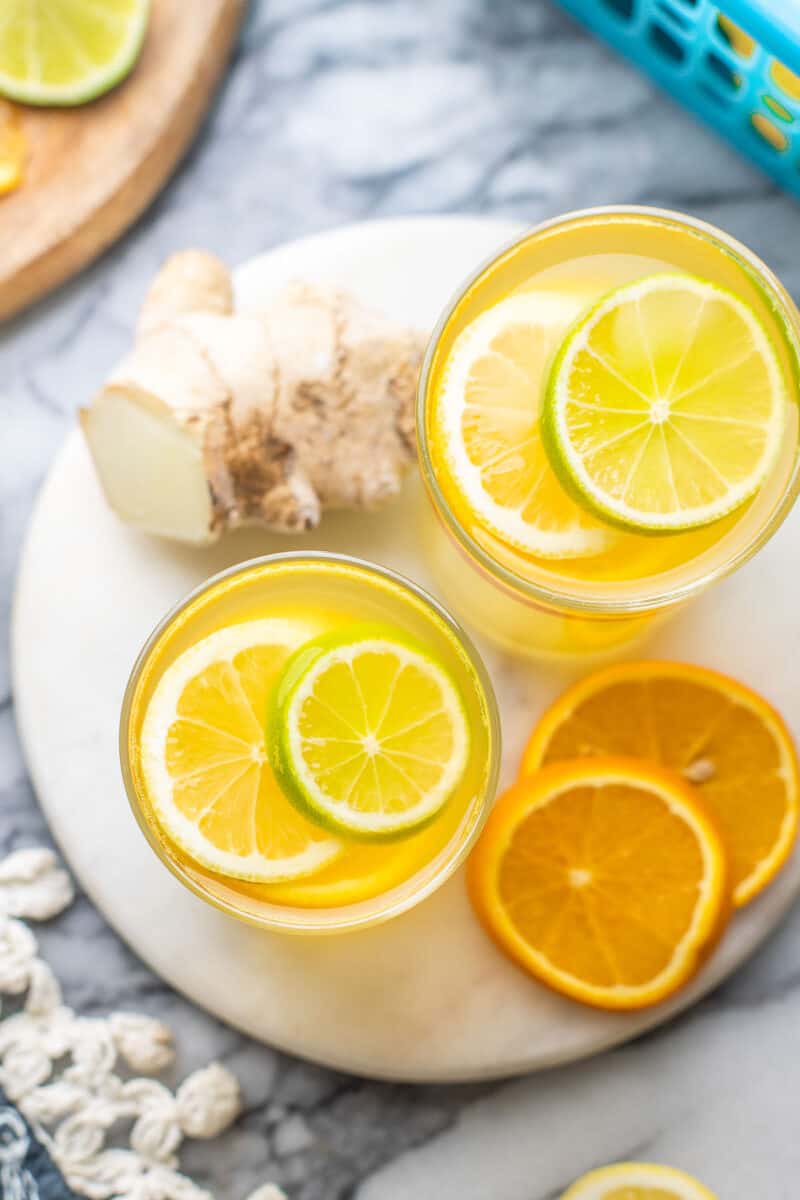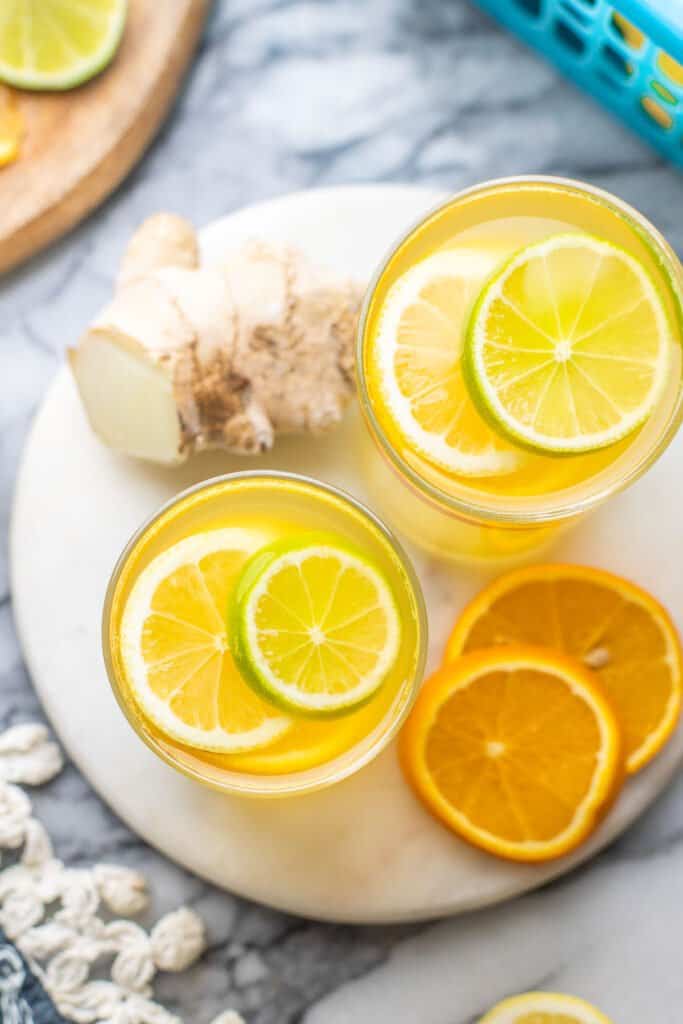 The Original Energy Drink
Despite the high sugar content, I totally understand that traditional sports drinks and general energy drinks do have real benefits.
Gatorade was originally created in 1965 as a means to combat heat exhaustion for the University of Florida football team (the Gators). Between the excessive heat, humidity and strenuous exercise, the Gators were depleted. This translated to excessive weight loss, sluggish performance and sometimes even fainting.
The fix? Basically, a team of researchers worked together to create what was essentially lab-made sweat that footballers would drink for electrolyte replacement.
As you can imagine, sweat-in-a-bottle didn't exactly taste great. It was however extremely effective. The year following the introduction of Gatorade, the Gators when on to the Orange Bowl for the first time in the schools history.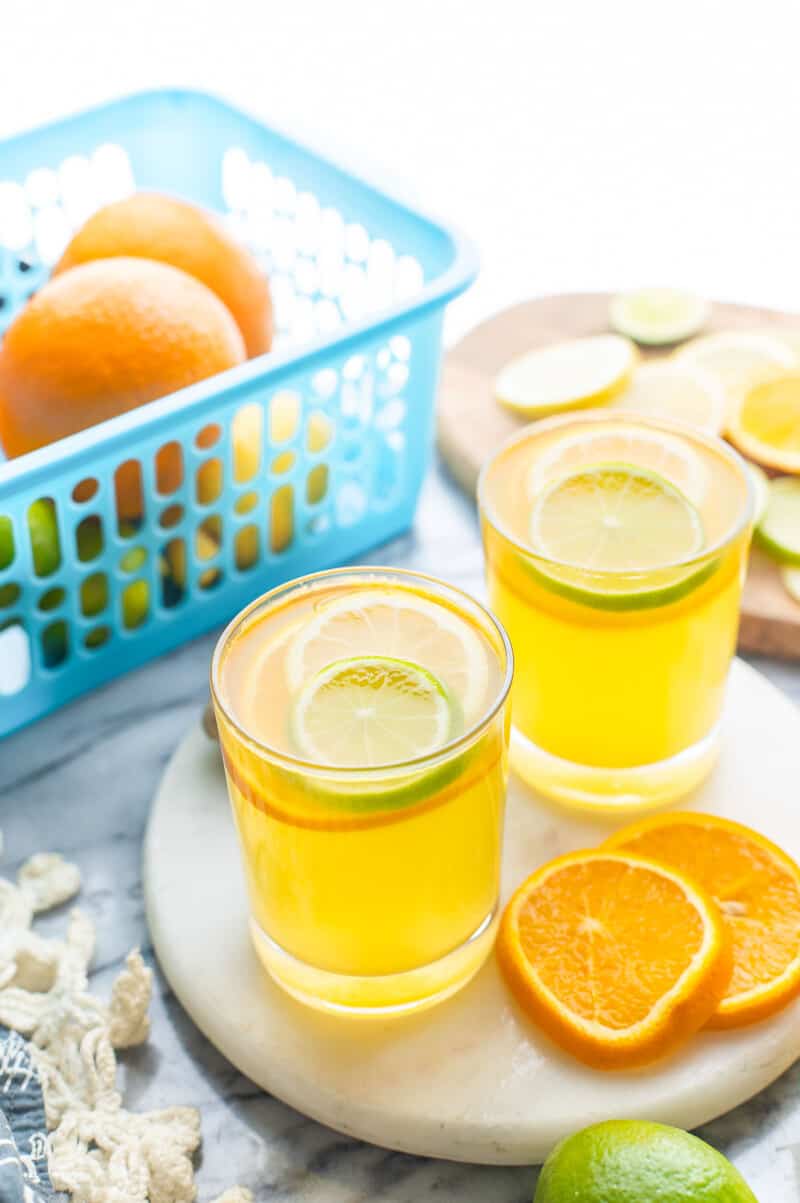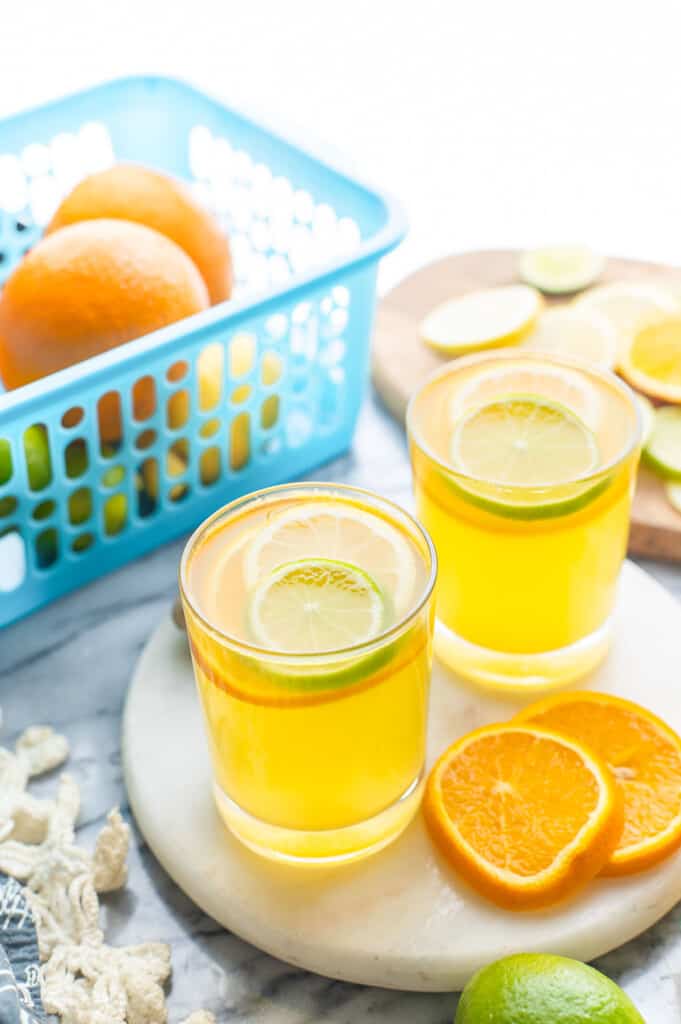 How to Make Your Own Homemade Electrolyte Drink
Fortunately for us, it's actually quite easy to make a DIY electrolyte drink that tastes good without the excessive added sugar.
All you need is about 20 minutes, a pot and a few natural ingredients you might even have already.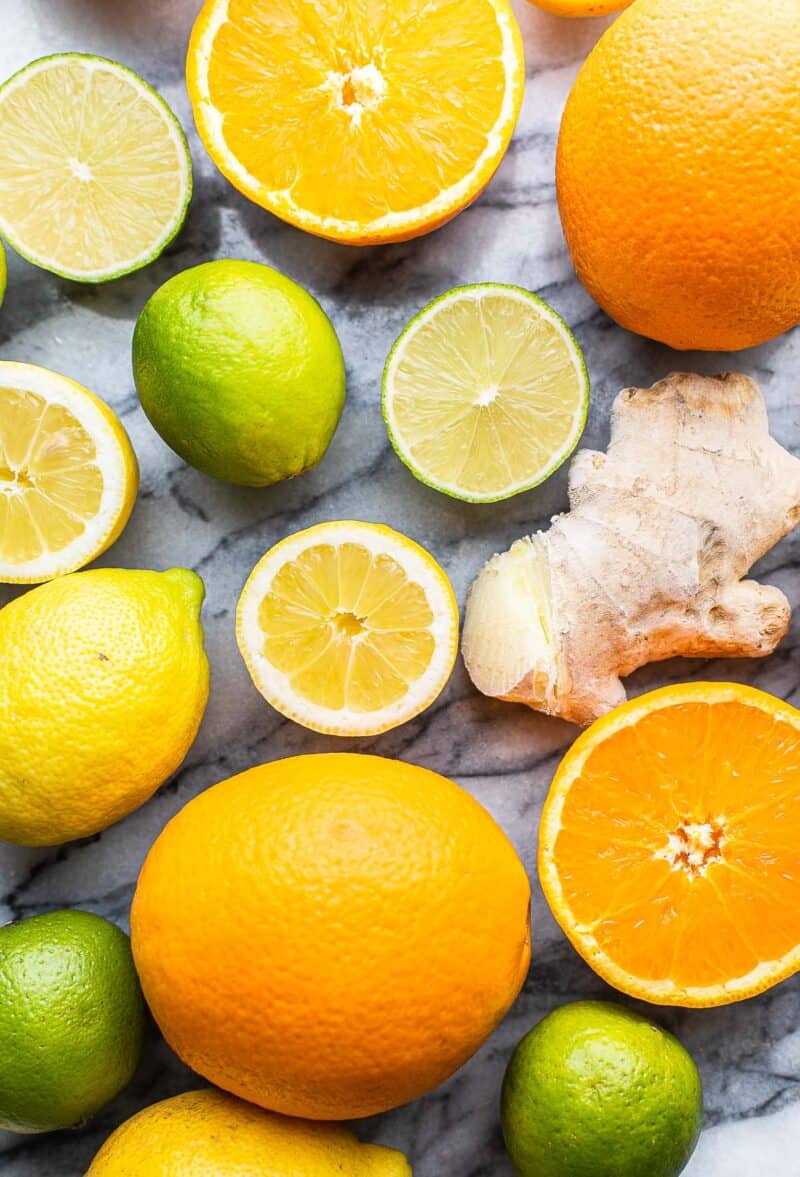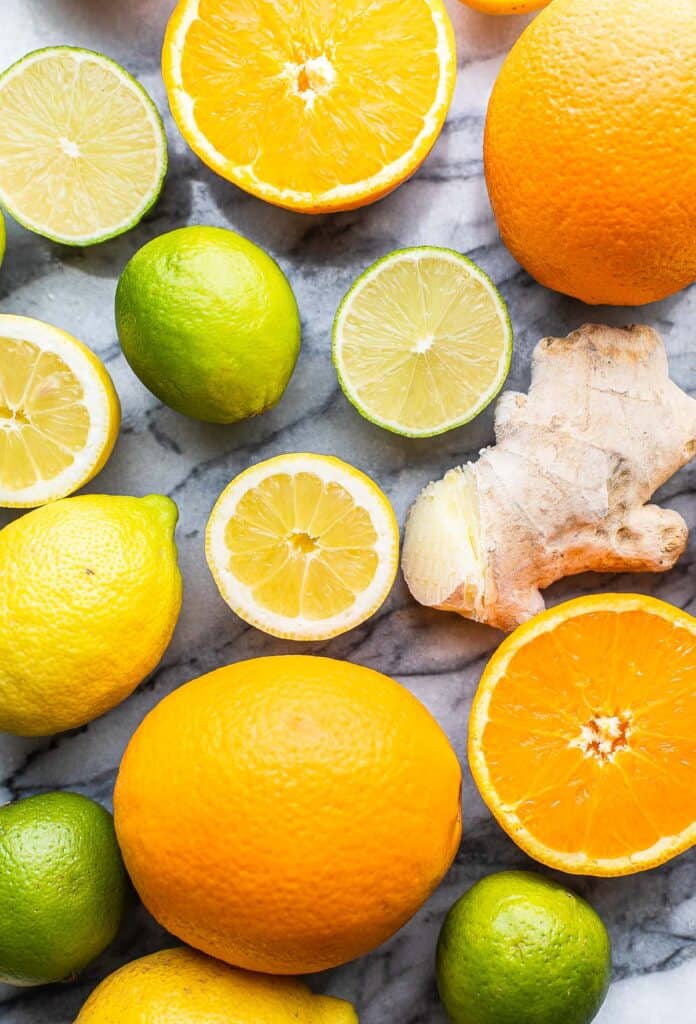 Ingredients
Citrus Juice

Orange juice, lemon juice and lime juice add small amounts of citric acid and Vitamin C to support the immune system.

Fresh Ginger

Ginger is an anti inflammatory food that has been shown to reduce nausea and headache pain (both symptoms of electrolyte depletion.

Water

You can get fancy here if you want with filtered or mineral water, but I simply use plain water from the tap.
Coconut water is already basically a natural electrolyte drink because is contains potassium, sodium and manganese. Use this for an even more hydrating experience!

Baking Soda (sodium bicarbonate) & Salt (sodium chloride)

If you've ever wondered why sweat tastes salty it's because it contains quite a lot of sodium (an electrolyte). While lemons do naturally contain electrolytes and other trace minerals, the addition of baking soda and elevates the amount of electrolytes making this an even more hydrating drink.
Because of how they are processed, sea salt and pink Himalayan salt contain more trace minerals compared to kosher salt and table salt. For the benefit of a drink like this that is meant to nourish and replenish sea salt might be a better option to maximise nutrients, but the difference is so minimal in these amounts that it doesn't actually matter much here. Use what you have.

Natural Sweetener

Use maple syrup for vegan and low fodmap options.
Raw honey is always great to use when you can (like this honey simple syrup!). Raw honey is less processed meaning it has likely retained more nutrients. It's also great to support local beekeepers when possible. That being said – use what you can find and afford and don't sweat it!
Steps
Altogether, this homemade electrolyte drink recipe is super easy to make with only a few steps and little effort. A quick overview of the steps:
Combine ginger, citrus and water in a sauce pan.
Bring to a simmer.
Stir in the baking soda and salt.
Remove from the heat and stir in the sweetener.
Strain out the pulp and solids.
Cool and enjoy.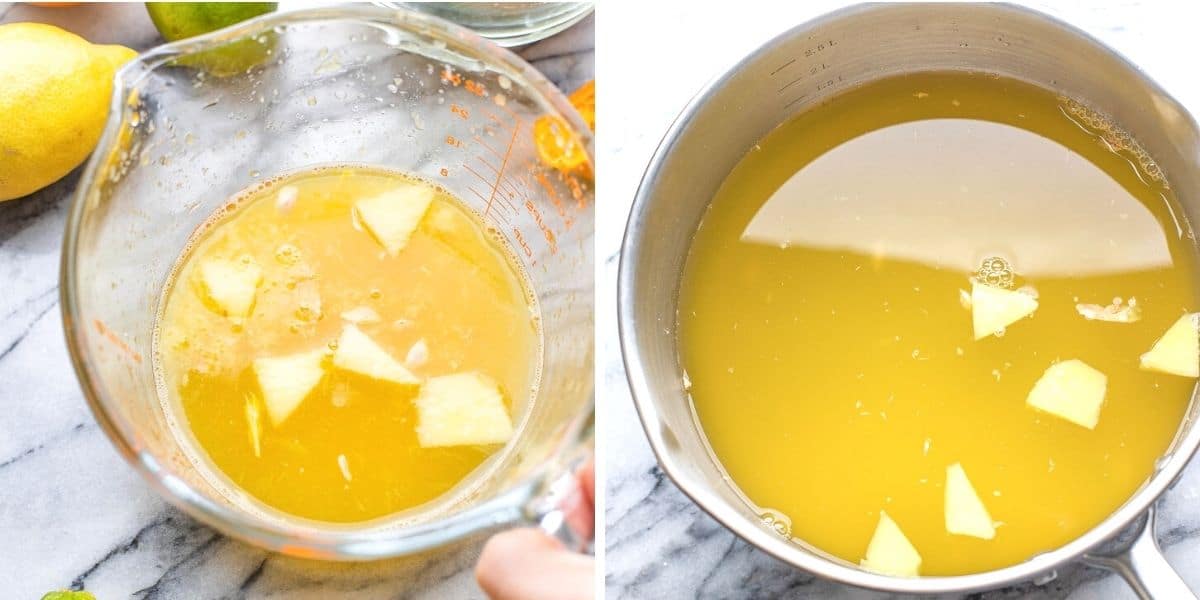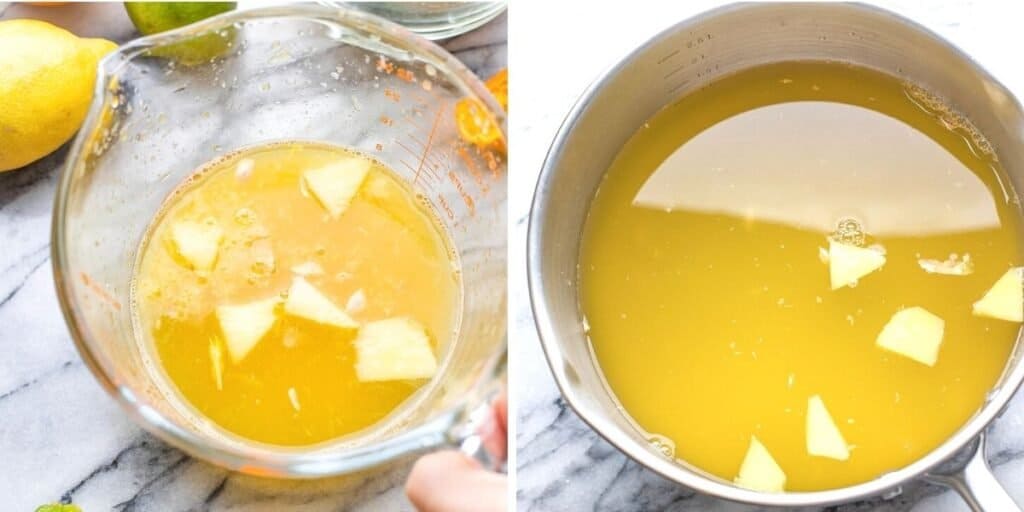 A couple of tips before you begin:
Don't worry about fishing out the seeds before you begin because you're going to strain your drink at the end.
Before slicing it up, gently smash your ginger with a rolling pin or the side of a large knife (carefully!). This will soften it up making its flavor even more accessible.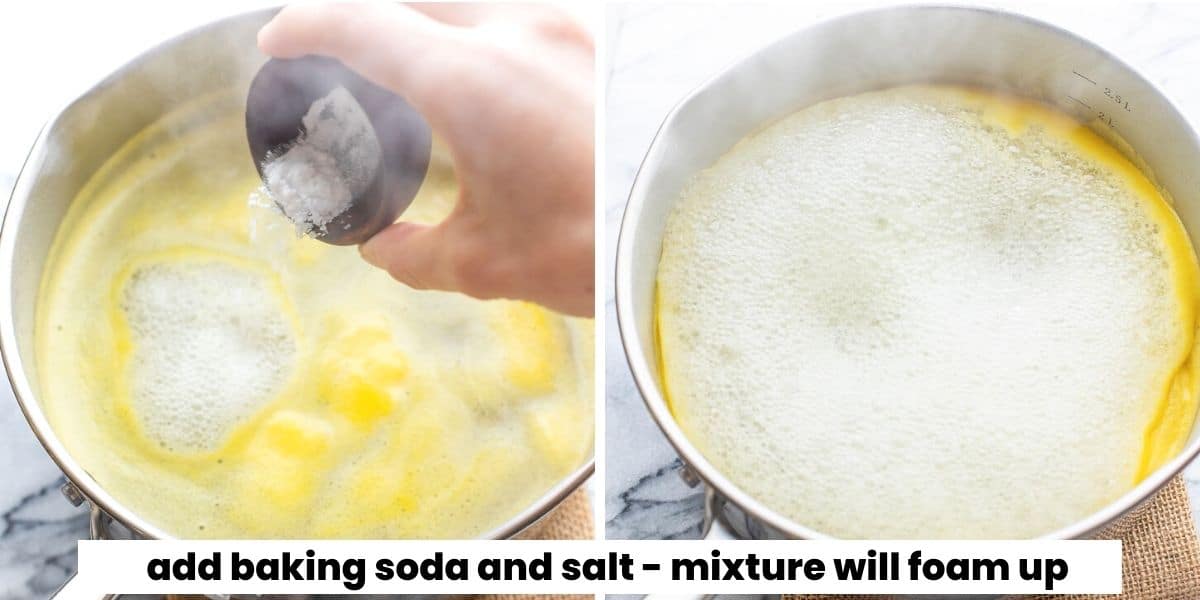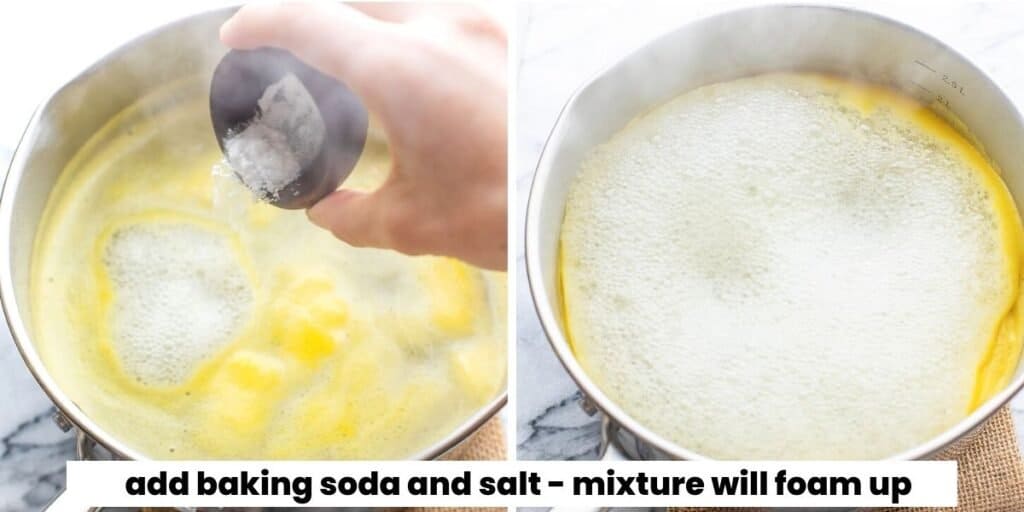 Why does it fizz up?
Right after you add the baking soda and salt to the pot you should notice that the contents of the pan start to foam up a bit.
This is because you're witnessing a chemical change, an acid-base reaction, take place.
When the baking soda (the base) makes contact with the citrus (citric acid), the two react and create carbon dioxide (the bubbles) and sodium citrate.
Sodium citrate, by the way, is another electrolyte that is shown to help your body absorb fluids and others electrolytes when combined with glucose (aka sugar).
Side Note: This chemical reaction happens often in baking, you're just not able to see it happen quite so obviously. The reason why muffins and cookies puff up in the oven is because your baking soda (and baking powder) react to an acidic ingredient (cocoa powder, butter milk, etc) to create gas bubbles (carbon dioxide) which adds volume.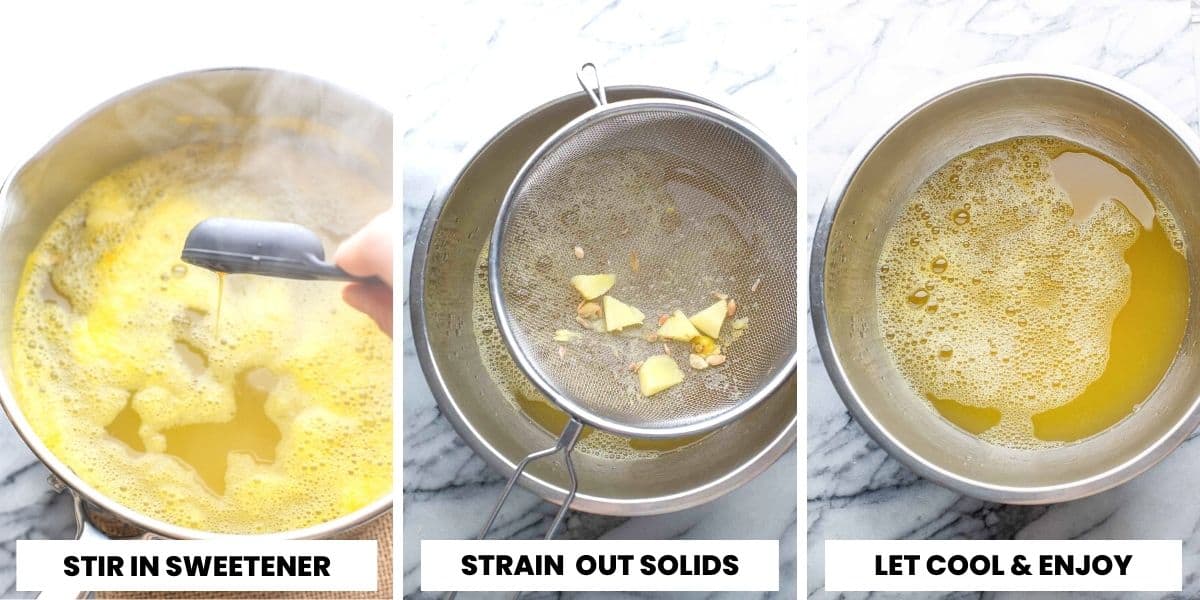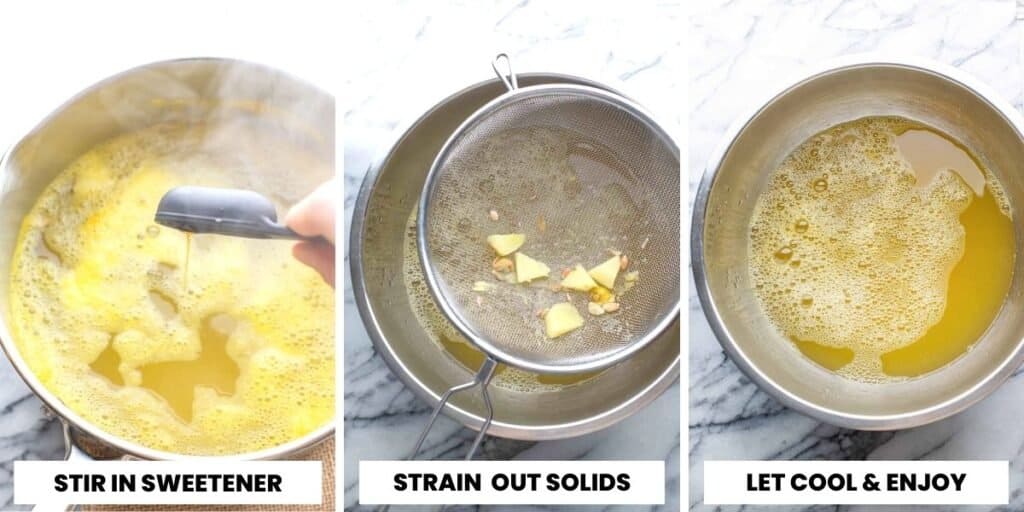 Who is the drink good for?
Professional athlete or not – your body needs to maintain a healthy balance of electrolytes in order to thrive.
Times where electrolyte drinks are particularly useful:
Before and after working out – especially if you experience muscle cramps after working out. Go eat a banana and then make this drink!
During or after illness – especially one where you struggle to hold down food. This is basically a homemade pedialyte recipe.
In the summer or whenever it's particularly hot outside – Dehydration can really sneak up on you in the heat.
After a night of drinking – Hangover symptoms are essentially symptoms of electrolyte depletion.
If you struggle with low blood pressure – Low blood pressure symptoms can manifest in a few different ways. Some of the more common symptoms dizziness, fainting, fatigue. If you're someone who has PoTS you may benefit by increasing or being more mindful about your electrolyte intake. I started making this back in 2015 after my husband Mike was first diagnosed with PoTS. Over time his health and experience with PoTS has improved, but this drink did help when he was really struggling.

As always, if you have a medical condition you should always consult you doctor before listening to some rando on the internet!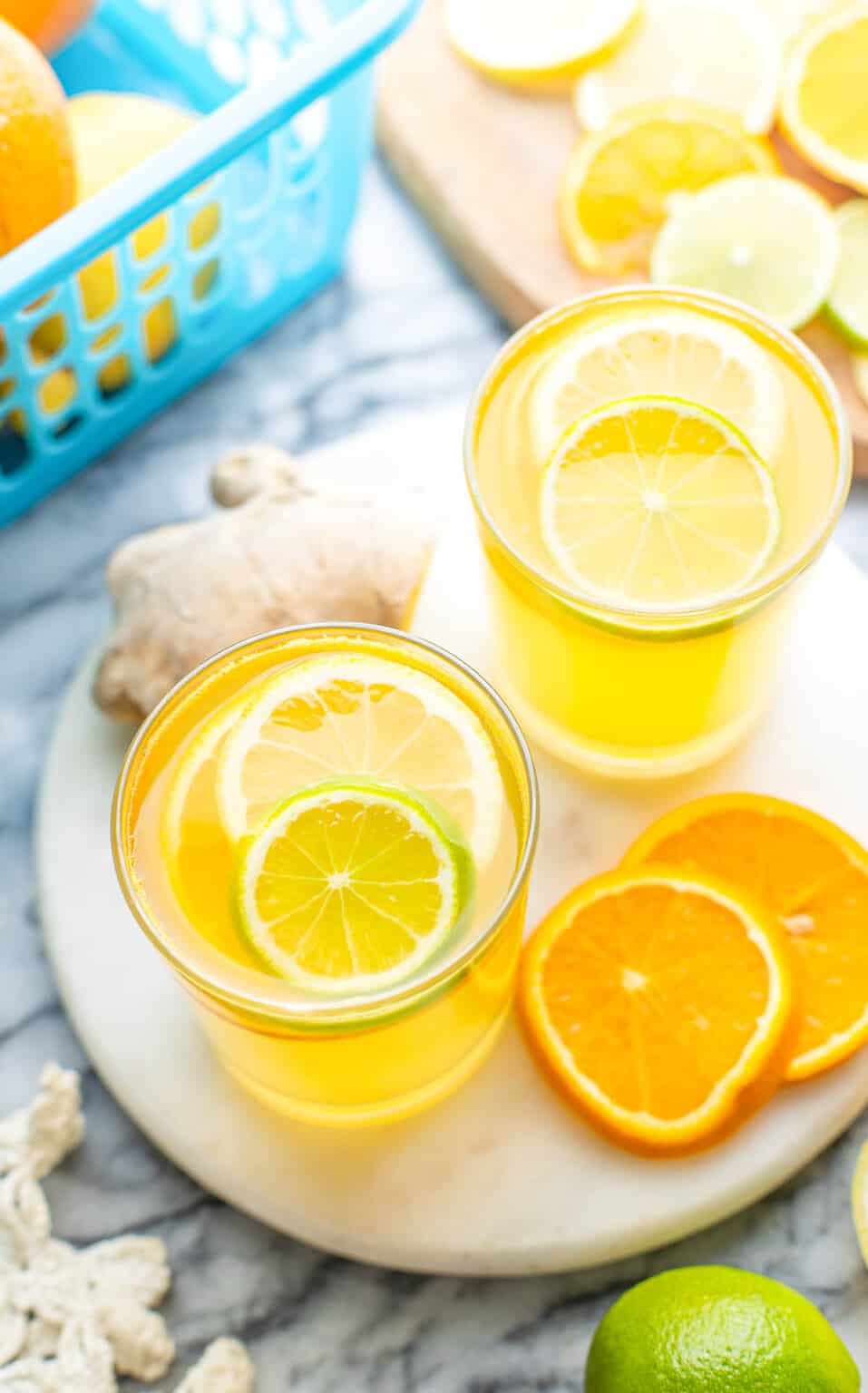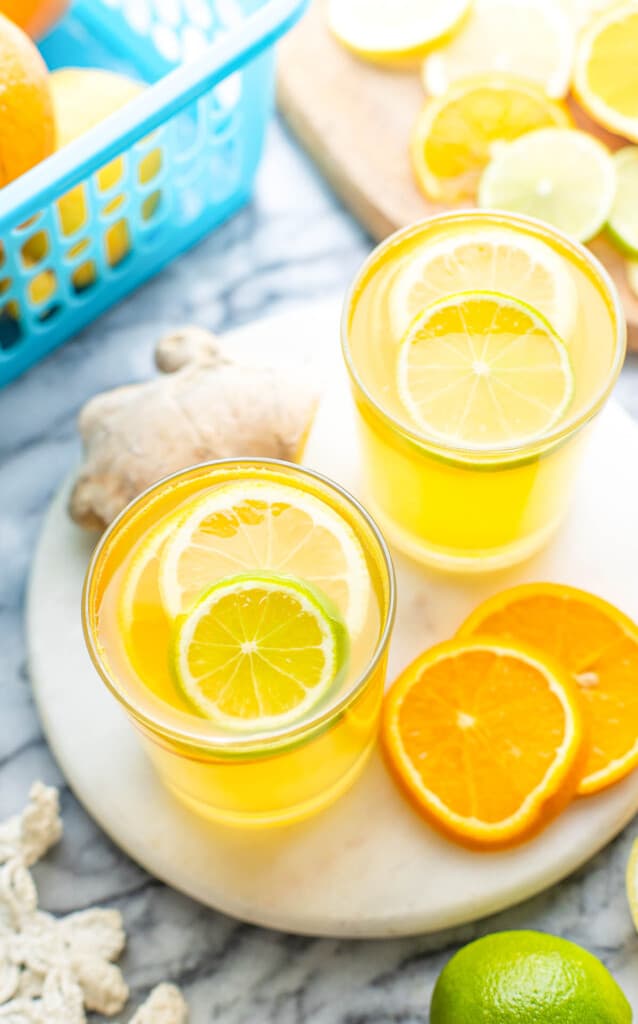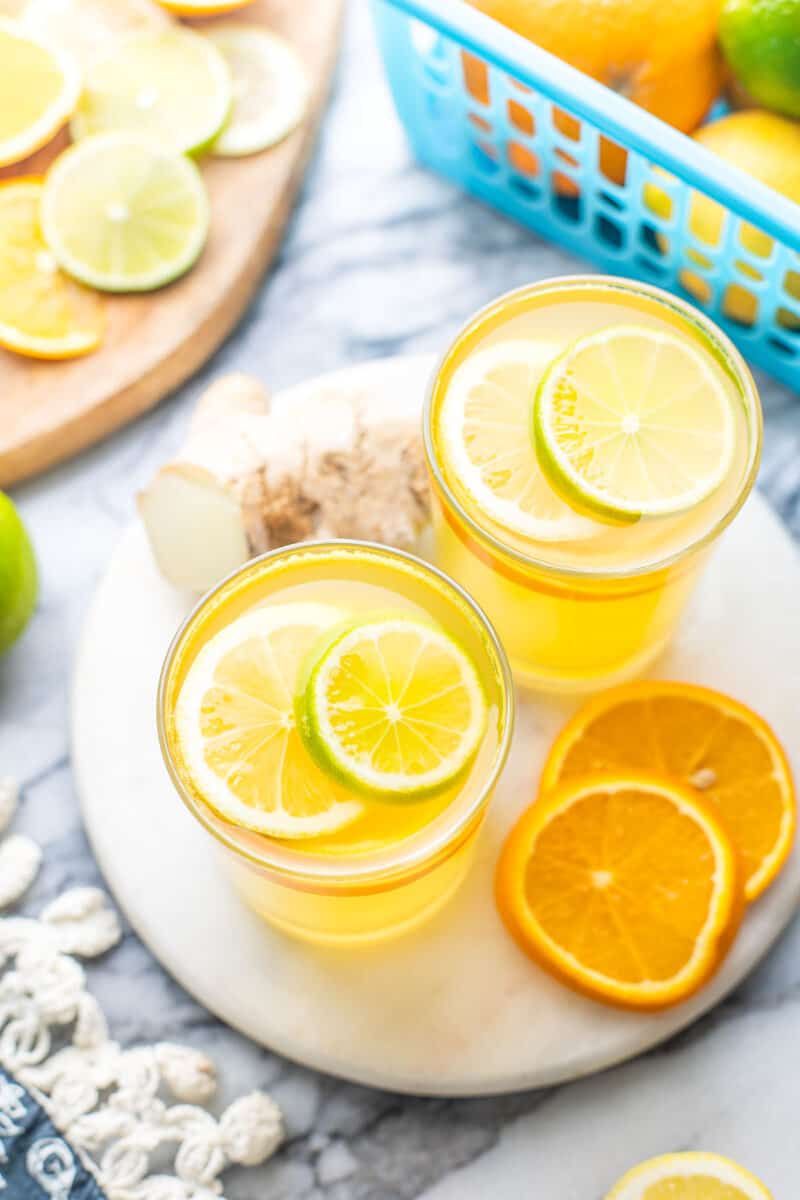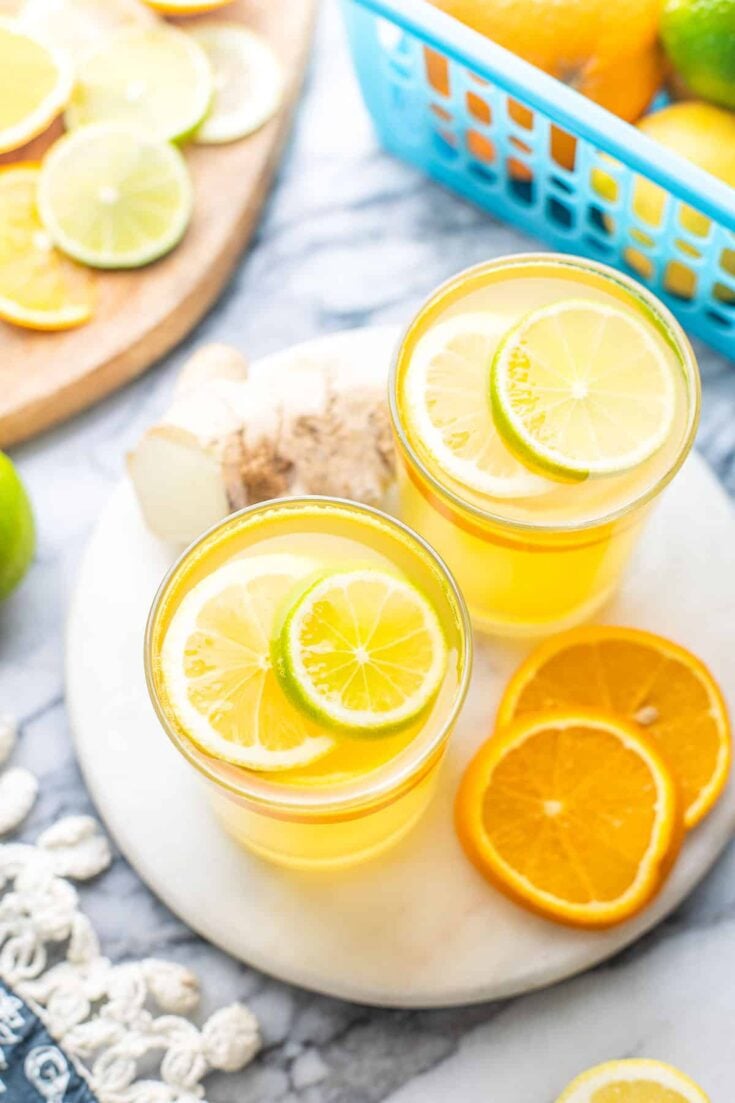 Recipe
Homemade Electrolyte Drink
Yield:
4-5 servings
Prep Time:
5 minutes
Cook Time:
15 minutes
Additional Time:
20 minutes
Total Time:
32 minutes
Refresh and replenish with a simple yet delicious homemade electrolyte drink! Think gatorade, but without all the added sugars, dyes and artificial ingredients.
Ingredients
4 cups of water (960 ml)
1-2 inch chunk ginger, smashed and roughly chopped
1/2 cup fresh orange juice (120ml)
1/4 cup fresh lemon juice (60 ml)
2 tablespoons fresh lime juice (30 ml)
1/4 teaspoon sea salt
1/4 teaspoon baking soda
2-3 tablespoons pure maple syrup or honey (see notes for alternatives)
Instructions
Add the water, orange juice, lemon juice, lime juice and ginger to a medium sized sauce pan. Place over a medium heat and bring to a simmer.
Add the baking soda and salt to the pot. Stir to dissolve. The liquids will foam up after you add the baking soda so keep an eye on the pot to watch for over flow. The foaminess will reduce after a minute or so. Turn the heat down to medium-low and gently simmer about 2 minutes.
Turn off the stove and remove the pot from the heat. Stir in 2 tablespoons maple syrup or honey until fully dissolved.
Place a fine mesh strainer over a large, heat safe bowl. Pour the electrolyte drink into the bowl through the strainer to filter out the solid ginger pieces and citrus seeds. Taste and sweeten with more maple/honey if needed..
Serve hot or cold. To serve cold, wait for the juice to cool fully before transferring to refrigerator friendly closed containers. Keep in the fridge for up to 5 days and enjoy or pour into ice cube moulds and freeze. Electrolyte ice cubes can be added to water or juice for an extra boost of hydration.
Notes
What Type Of Sweetener?
Use maple syrup for vegan and low fodmap options.
You can use a low carb sugar alternative instead, but you will need to add the correct amount at your own discretion. Check the packaging labels for your specific sweetener for guidance. If in doubt, start out with a small amount of sweetener, taste and add more as needed.
Nutrition Information
Yield:

4
Serving Size:
about 1 cup (240ml)
Calories:

65
Total Fat:

0g
Saturated Fat:

0g
Trans Fat:

0g
Unsaturated Fat:

0g
Cholesterol:

0mg
Sodium:

213mg
Carbohydrates:

18g
Fiber:

0g
Sugar:

9g
Protein:

0g
This website provides approximate nutrition information for convenience and as a courtesy only. Nutrition data is gathered primarily from the USDA Food Composition Database, whenever available, or otherwise other online calculators.
More Delicious & Healthy Ways to Hydrate