A homemade electrolyte drink for POTS made with freshly minced ginger, citrus juice, and added salt for a healthier way to stay refreshed. This is also great for athletes or anyone else who needs to stay hydrated.
I've been meaning to make my own homemade electrolyte drinks for aaages. Before I get to the recipe though I feel like I should give a little backstory about why it's important for us personally. One of my main goals with this blog is to raise awareness about some of these health issues, so if this gets a bit boring…oh well.
For years I heard Mike talk about how difficult it was for him to stand up for long periods of time. Waiting in lines made him feel dizzy and showering always left him feeling as if he had just run a marathon. Those issues were either shrugged off by doctors who didn't seem to get it, or written off as being just another chronic fatigue problem. It wasn't until he was finally diagnosed with Coeliac Disease and started seeing his gastroenterologist, who recognized the symptoms that Mike described as being typical issues that people with POTS experience. After waiting a few months to get the proper testing done Mike was also diagnosed with Postural Orthostatic Tachycardia Syndrome (POTS). Say that five times fast.
Postural: posture
Orthostatic: moving in an upright position
Tachycardia: abnormally rapid heart rate
To put it in the most basic terms it means that people with POTS experience an increased heart rate in upright positions that lead to a number of symptoms like exhaustion, dizziness, and fainting. For any of you Deliciously Ella fans out there, she also had POTS which inspired her to start blogging about healthy eating and holistic living in the first place.
There are two things that you're likely to hear from your doctor after getting a POTS diagnosis: drink more water and increase your salt intake so that you retain that water. Dehydration will increase the symptoms of POTS because the blood volume circulating in your body is reduced which also leads to reduced blood pressure. Low blood pressure = dizziness/fainting.
If you drink too much water you start to dilute electrolytes in your body which can also lead to worsened symptoms.This is where the homemade electrolyte drink comes in. Electrolyte drinks are infused with vitamins and minerals (potassium and sodium) that help prevent dehydration. Most of the time if you want to buy electrolyte drinks you're limited to things like Smart Water and Gatorade. As much as I like Smart Water, paying $3 for a bottle of water just doesn't feel all that smart to me. As for Gatorade…I can't even look at Gatorade without wanting to be sick but that's another story for another day.
I'm sure that there are supplements that you can add to water to make your own form of electrolyte drinks at home, but after doing a bit of research I realized just how easy it is to make our own healthy version at home.
I borrowed the skeleton for this recipe from the Dr. Oz website, but decided to add some extra citrus for some added calcium. I also threw in some ginger because a) ginger is amazing in everything and b) it's an anti inflammatory food that will never not be useful to Mike.
If you have the option, I'd recommend using sea salt over table salt for this because table salt is processed in a way that removes trace vitamins and minerals which is exactly what we are trying to achieve in this drink.
I hope I didn't bore you too much with the information overload! It's hard to discuss health issues like this without going into the how's and the what's involved.
POTS or no POTS, athlete or not, this is still a great drink for anybody who wants to stay hydrated and refreshed.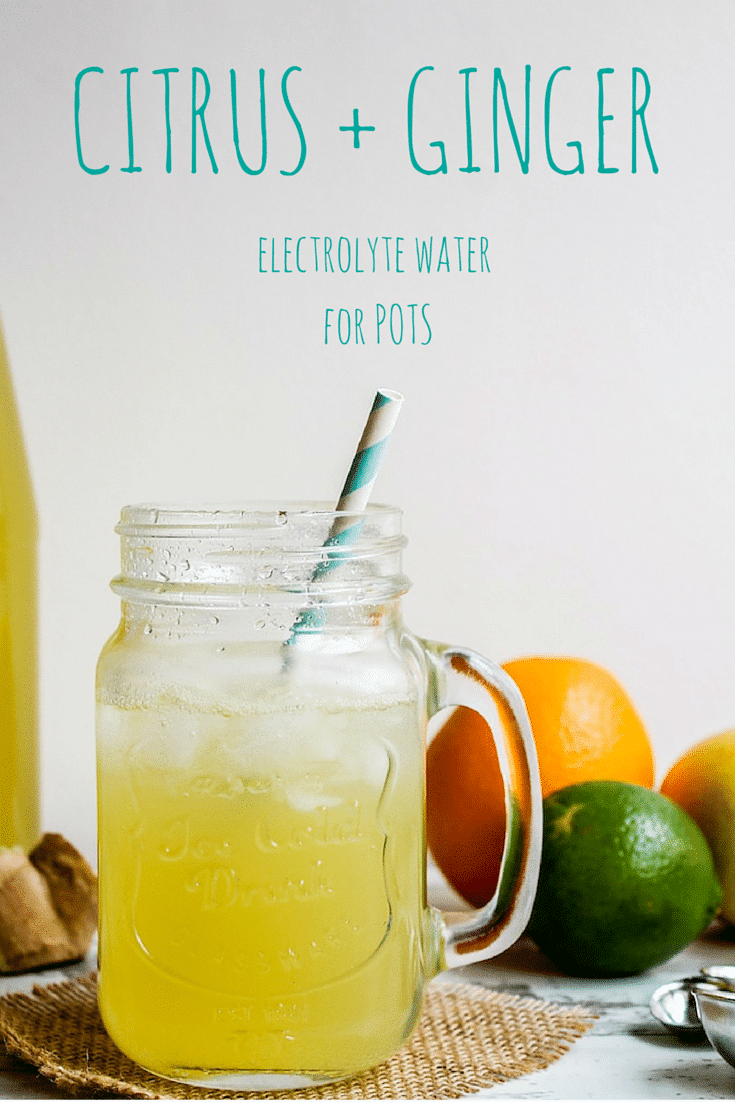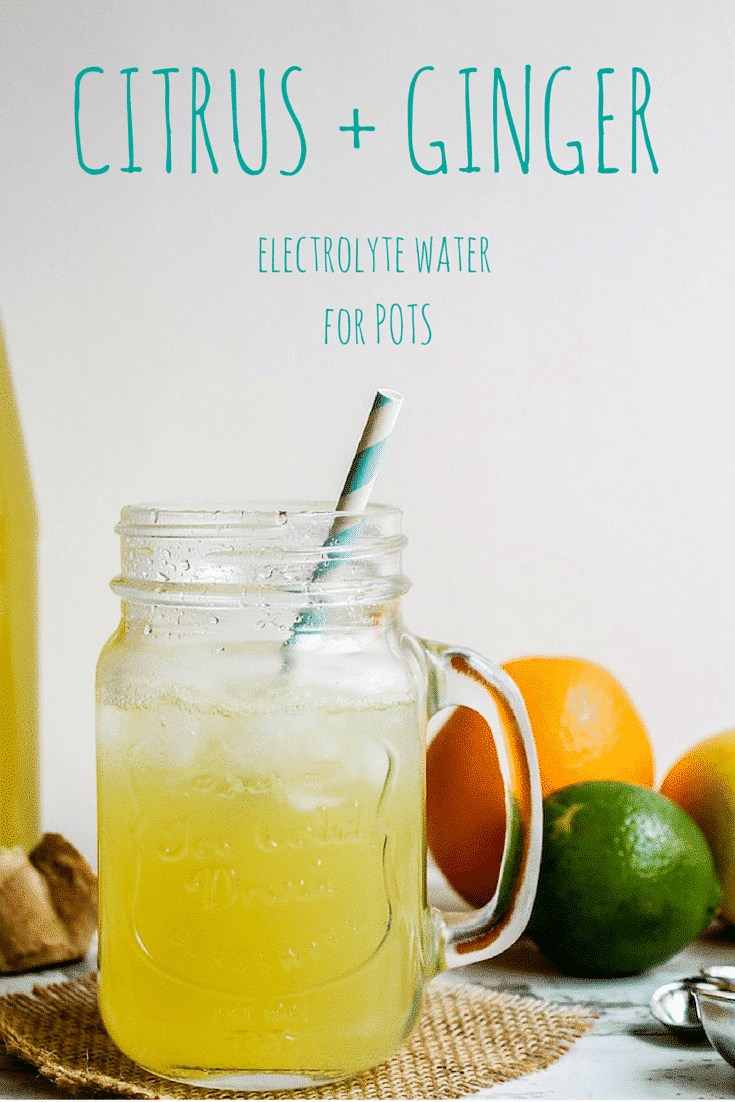 Recipe
Homemade Electrolyte Drink for POTS
Yield:
2 servings
Prep Time:
10 minutes
Cook Time:
2 minutes
Total Time:
12 minutes
A homemade electrolyte drink for POTS made with fresh ginger, citrus juice, and salt for a healthier way to stay hydrated.
Ingredients
1 liter filtered water
1 tablespoon minced ginger, (about 1 inch chunk)
Juice from 1 lime
Juice from 1 orange
Juice from 1 lemon
2-3 tablespoons honey or agave/maple for vegan option
1/2 teaspoon sea salt
1/2 teaspoon baking soda
Instructions
In a medium sized sauce pot warm your water on a low heat.
Add all of your ingredients to the sauce pot and stir until the sweetener (honey or maple), salt, and baking soda is dissolved. That should only take a couple minutes at most.
Remove the pot from the heat. If you don't want any bits of ginger left in the drink, strain it out with a fine mesh strainer before transferring the drink to a pitcher or water bottles to keep in the fridge.
Let the drink cool for about 5-10 minutes in the fridge and then enjoy.
Notes
If you have POTS, this is great for making in large batches and then storing in water bottles in the fridge for when you go out. If you do plan on having this regularly you may want to decrease the amount of baking soda to 1/4 teaspoon.
Nutrition Information
Yield:

2
Serving Size:
g
Calories:

88
Sodium:

882mg
Carbohydrates:

23g
Sugar:

20g
This website provides approximate nutrition information for convenience and as a courtesy only. Nutrition data is gathered primarily from the USDA Food Composition Database, whenever available, or otherwise other online calculators.