Juicy chicken thighs browned and simmered in a savoury cider sauce made with lightly caramelized onions, mushrooms and thyme. Prepped in one pot with less than 10 ingredients – these cider braised chicken thighs make for a delicious, hearty and seasonal one-pan meal the whole family will enjoy!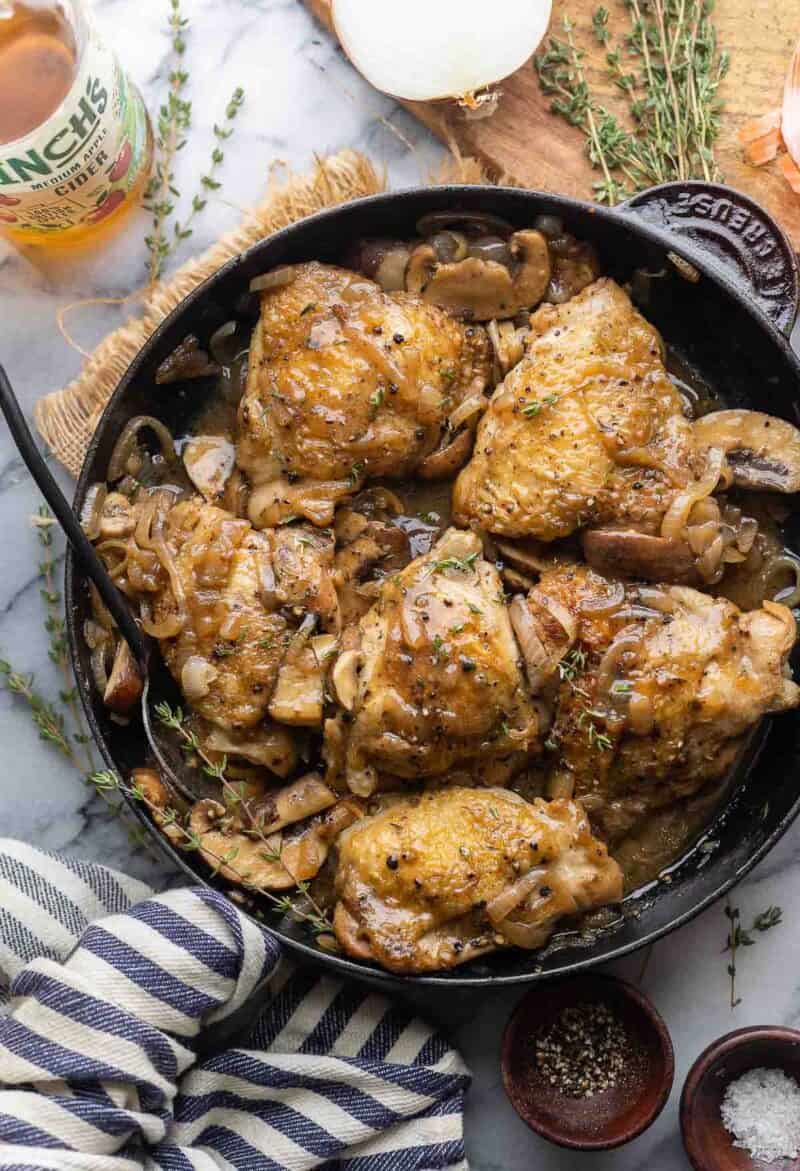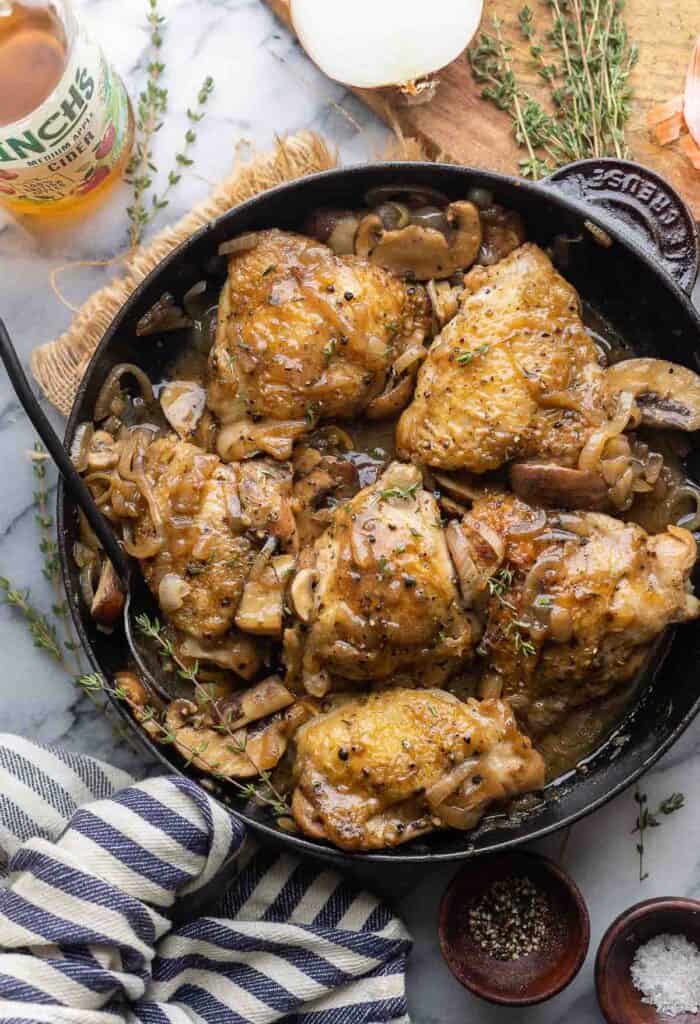 What's to love about these Apple Cider Braised Chicken Thighs?
Other than the fact that it's delicious, of course…
✔️It's gluten free & dairy free
✔️Quick clean up as it's made in one pan
✔️Slim ingredient list
✔️Cooks quickly compared to most braised chicken thigh recipes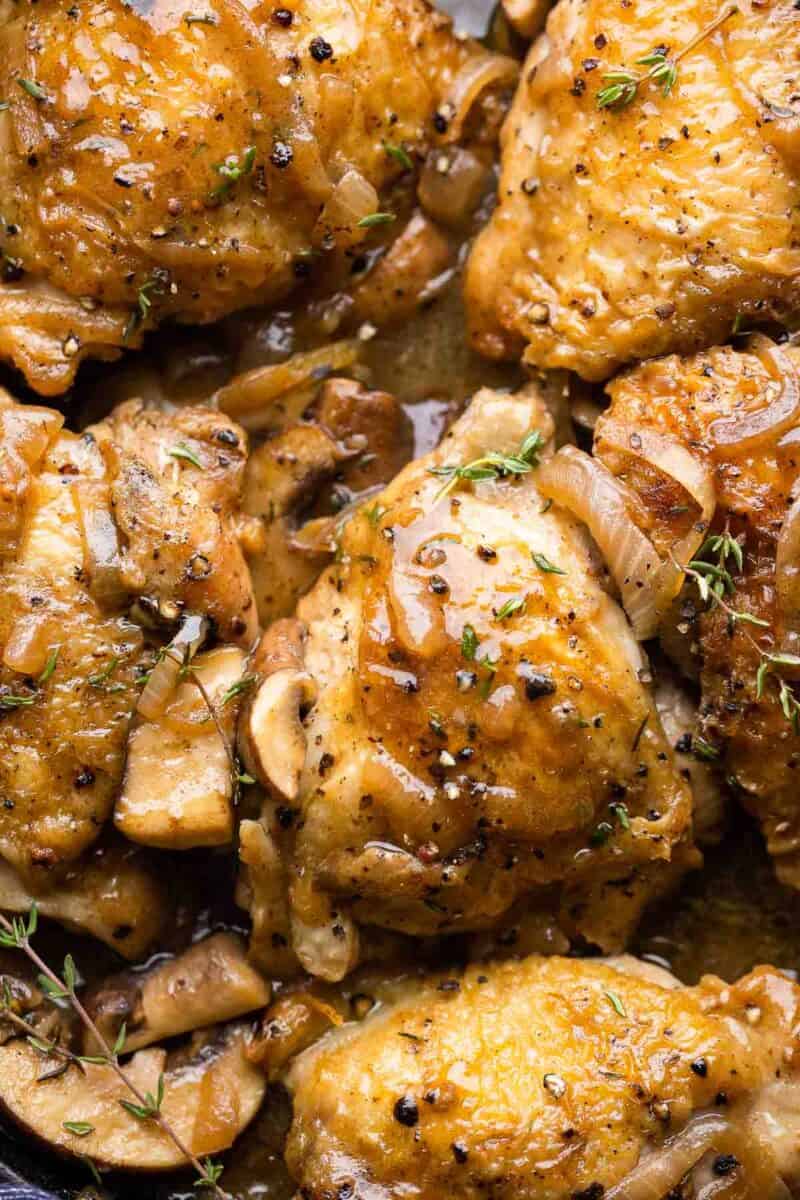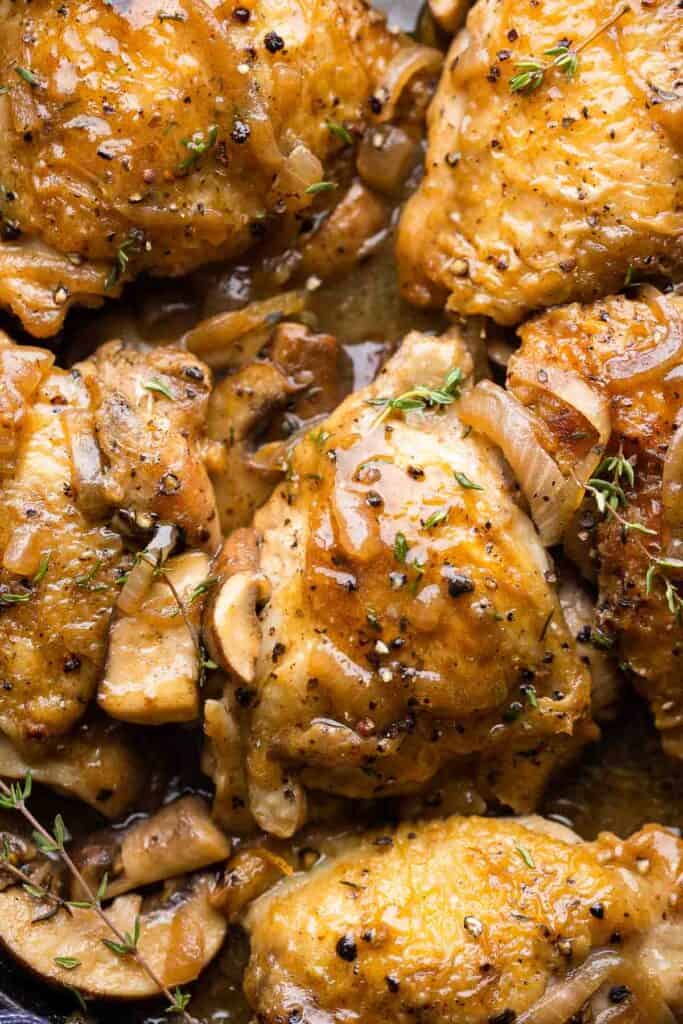 Cider Braised Chicken – Key Ingredients
Avocado Oil:

Avocado oil is has a high smoke point (520°F/270°C) which makes it ideal for roasting and sautéing. While it considered a healthy cooking oil, it can be pricey so feel free to use more basic vegetable oil here if you'd like. Olive oil has a low smoke/burning point so I don't recommend it here.

Apple Cider:

Look for a dry hard cider (alcoholic). Non alcoholic cider has quite a different flavor as it's more like a juice. You could certainly use it here, but it will make for a much sweeter sauce. Next best substitute for hard cider is dry white wine or more chicken stock (for an alcohol free version).

Chicken Stock:

Use your favorite chicken broth here whether it's from a stock cube, a carton or homemade. Use a low sodium stock if you'd like to have a bit more control on the seasoning.

Bone In Chicken Thighs:

I recommend skin-on chicken thighs because they're hard to over cook. Skinless thighs and even boneless thighs work as well, but you'll need to adjust the cook time to make sure they don't go rubbery from over cooking.

Sliced Mushroom & Onions:

Sauté then simmer in the apple cider-chicken stock sauce.

Fresh Thyme (or dried!):

Thyme adds a slightly earthy/woodsy flavor that pairs well with the other flavors, but I'm all for you playing around with other herbs you might have! Rosemary and sage are two more great options here!

Salt & Black Pepper:

Sprinkle the thighs with a little salt and pepper before frying.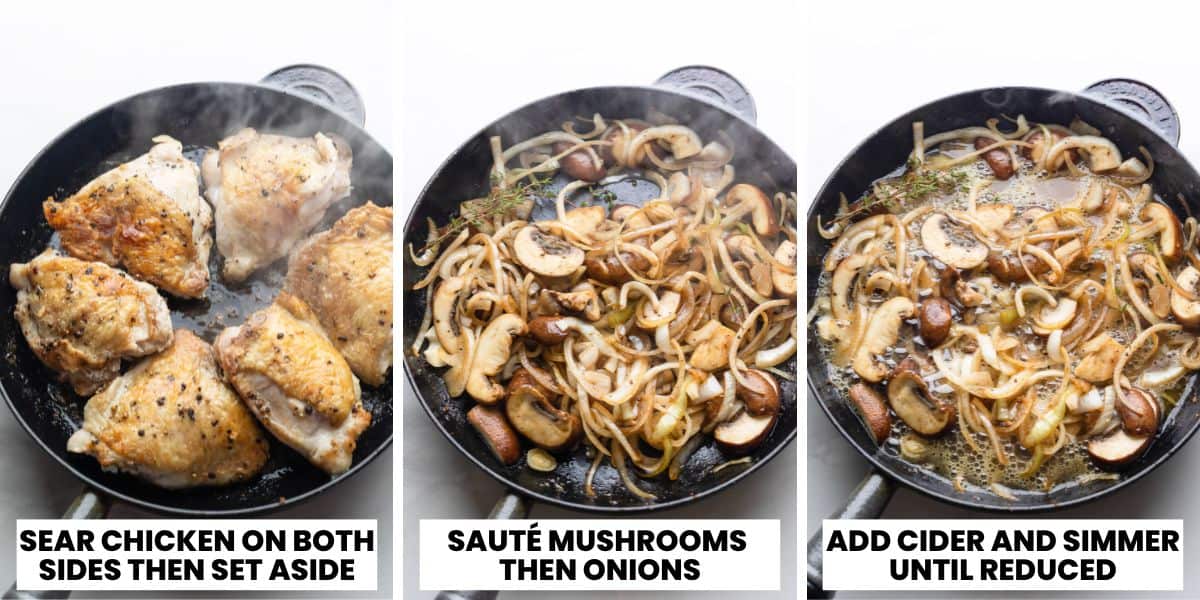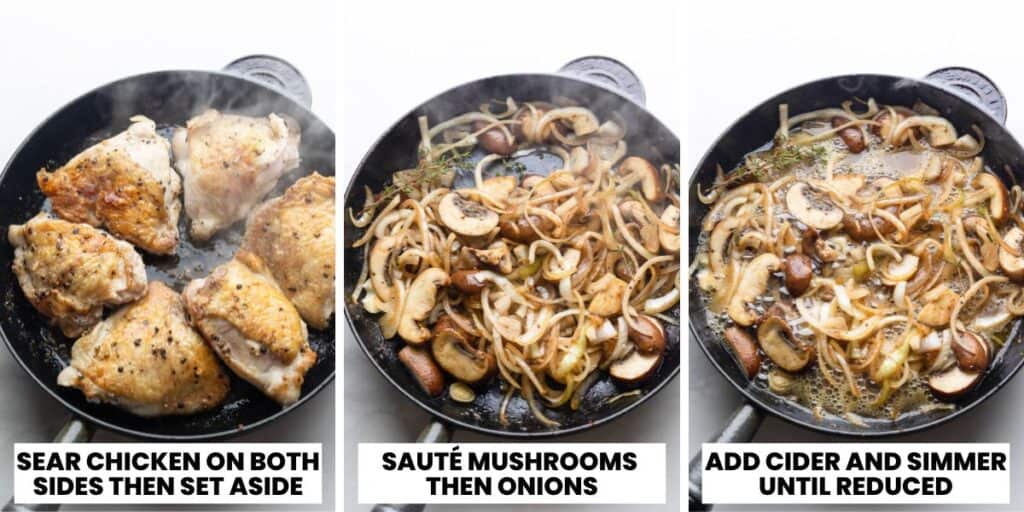 Steps
Making this cider braised chicken is fairly easy and straightforward. Broken down into basic steps:
In a large skillet, sear the chicken, skin-side down until golden brown then transfer the browned chicken pieces to a plate and set aside.

If there are a lot of black and brown bits left in the pan after the chicken, deglaze the pan with a bit of water or wipe it down with a paper towel first.

Sauté the mushrooms for a few minutes in a tbsp of the oil on a medium high heat, then add the onion and thyme. Cook until softened.

Mushrooms cook before the onion because they will release water as they cook which makes it difficult for the onions to slightly caramelise.

Add half the cider to the pan, simmer and reduce.

The idea here is to allow the cider to evaporate and reduce down into a more concentrated flavor.

Stir in the remaining cider and stock, then place chicken back in the pan. Bring to a boil then reduce the temp to maintain bubbling simmer. Cover and cook another 15 minutes or so to cook the thighs through.
Remove the lid and continue to simmer until the sauce thickens.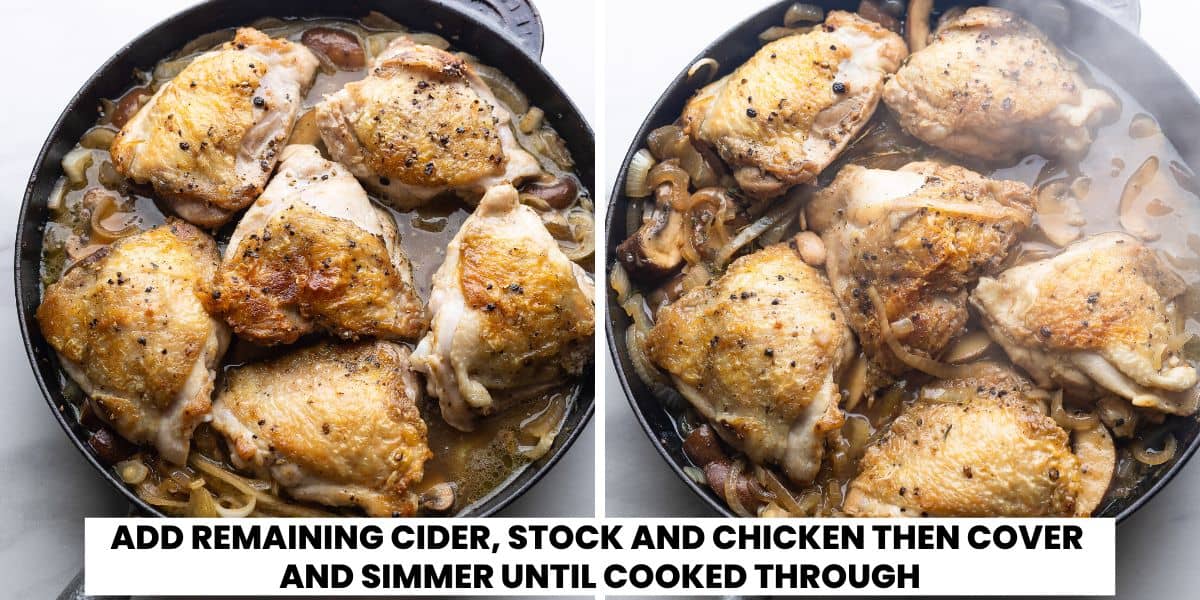 Thicken the Sauce Further – Optional*
Mix a small amount of flour in with a bit of sauce to create a thicker, more gravy-like consistency.
I recommend you remove a few spoonfuls of the sauce to mix with flour in a separate, small bowl. This way you can ensure that you're fully mixing in the flour without leaving any lumps behind.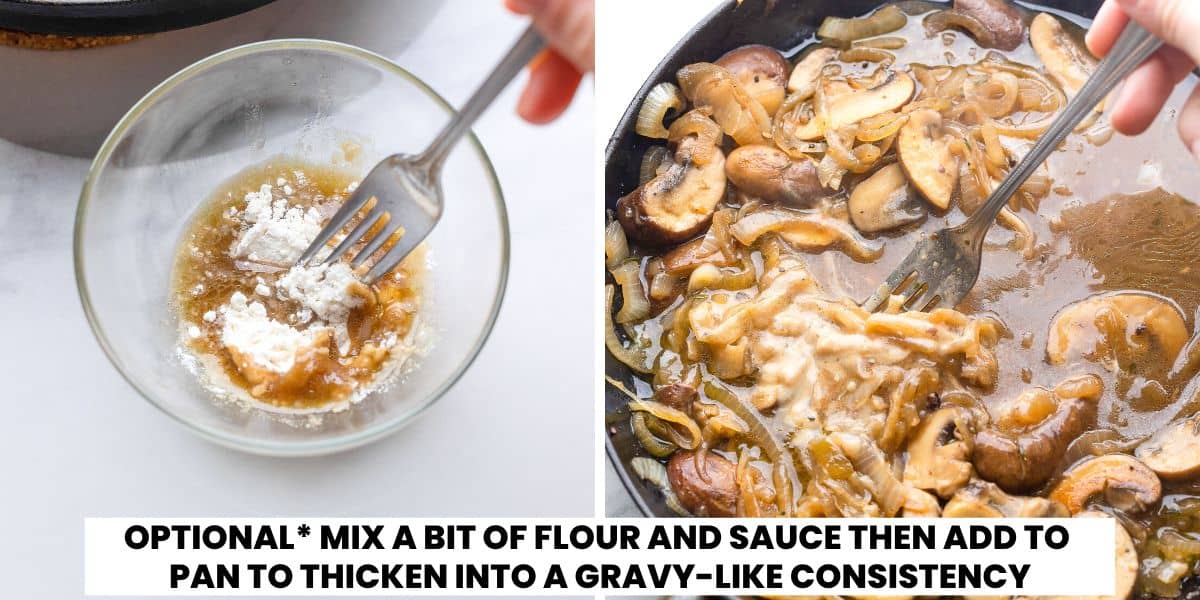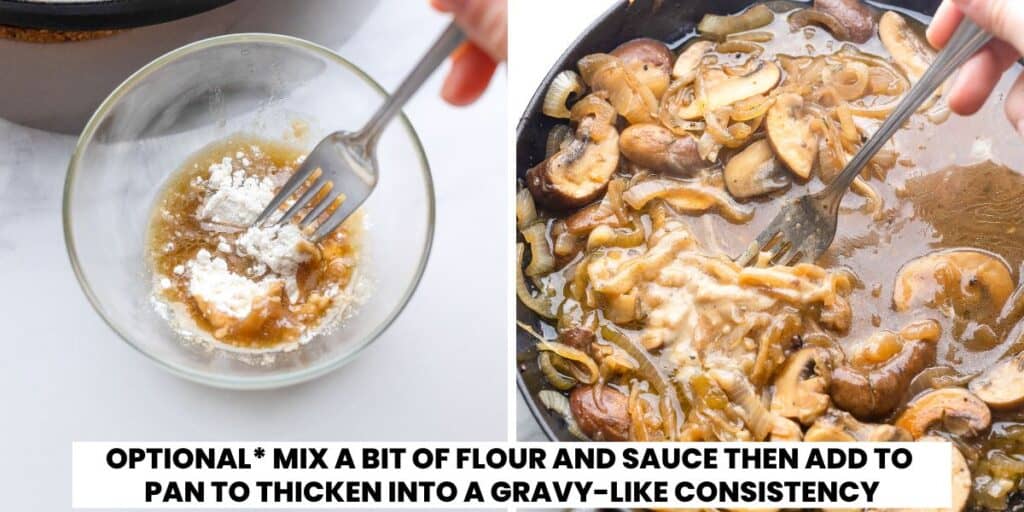 A Few Tips Before You Begin
Make sure you use a pan with a fitted lid. A fitted lid keeps all the heat and steam in the pot as the chicken cooks. Even if the meat isn't fully submerged, you know it's still cooking evenly and thoroughly.
Cook until the chicken reaches about 170-175°F (77-79°C). While chicken is safe to eat at 165°F/74°C, thighs are a tougher meat which means they benefit from cooking longer (makes them more tender). If you don't have ones already, instant-read thermometer is a fantastic kitchen tool that takes all the guess work out of knowing when your meat is done.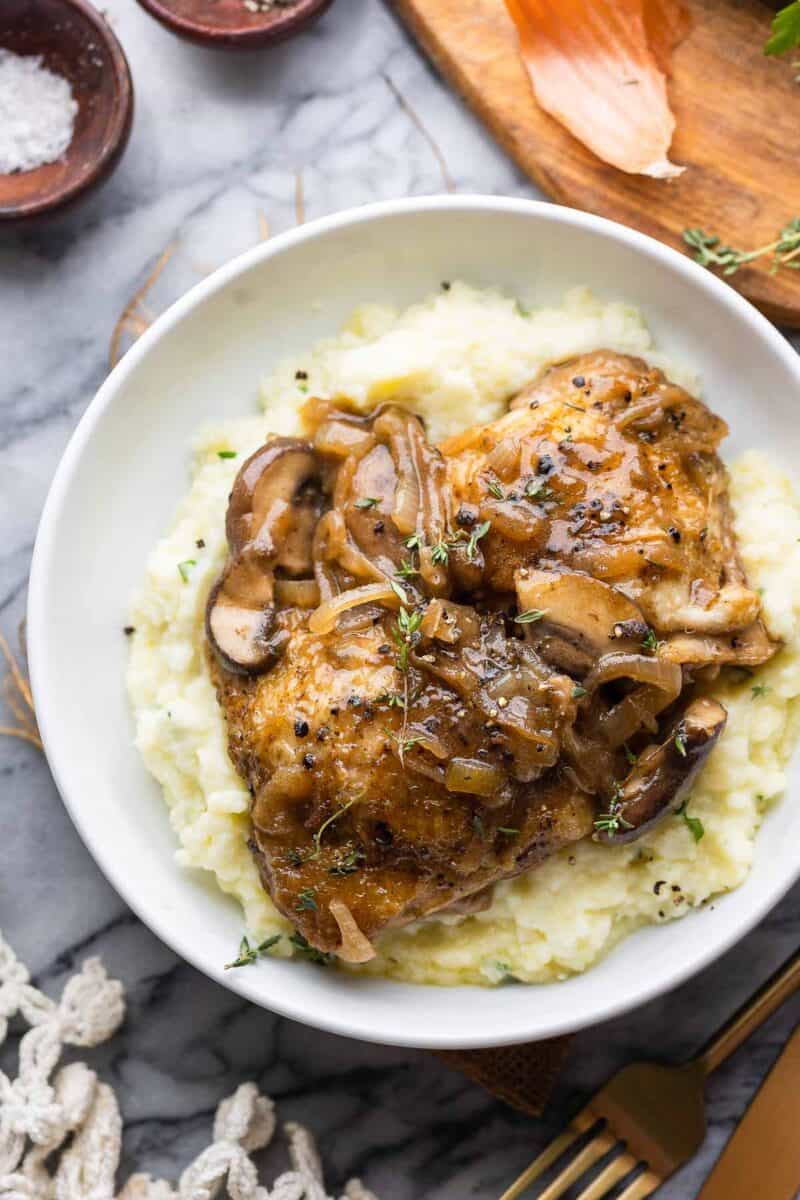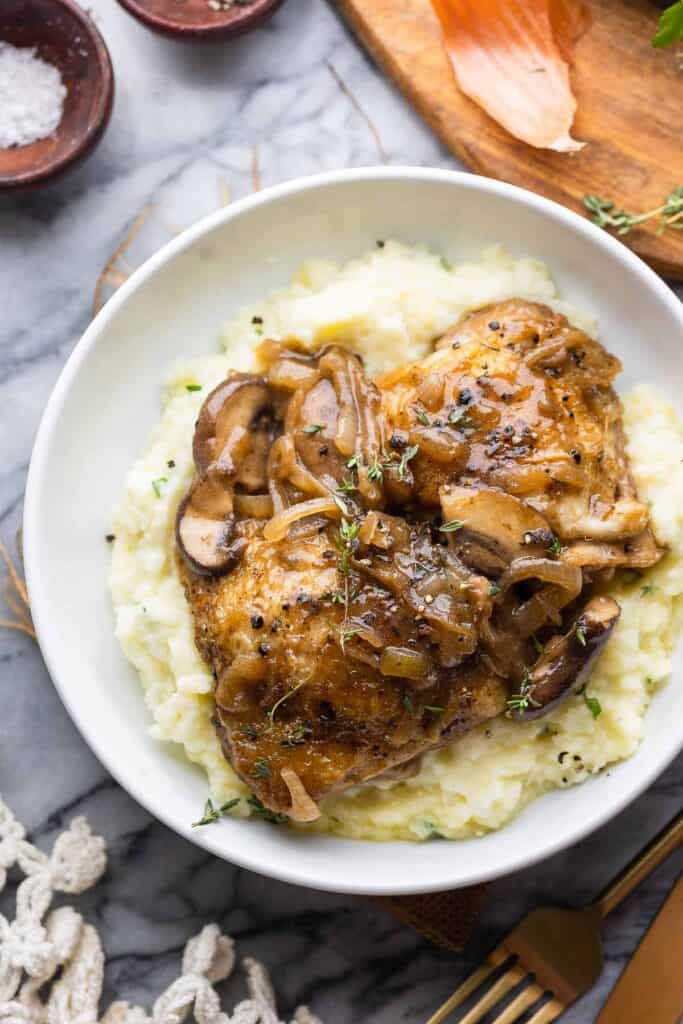 Serving Suggestions
Soak up the savory cider sauce with a piece of crusty bread or over a bed of mashed potatoes (or cauliflower mashed 'potatoes' for a low carb options!).
A few more veggie sides you might enjoy with it: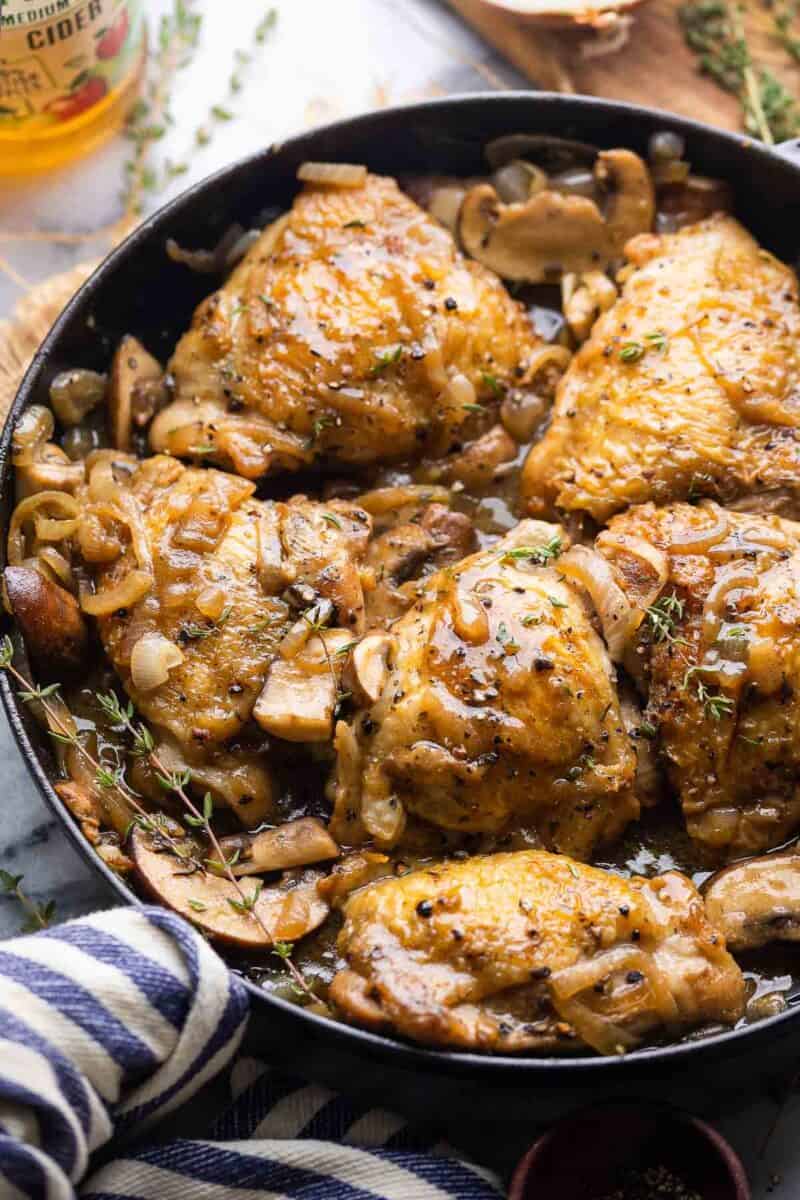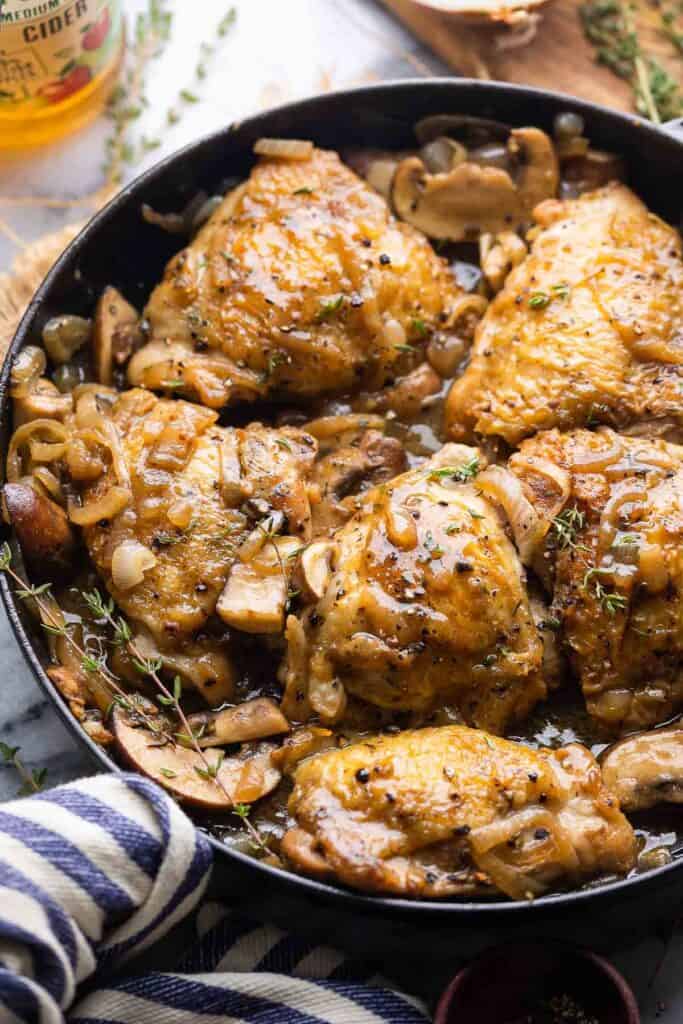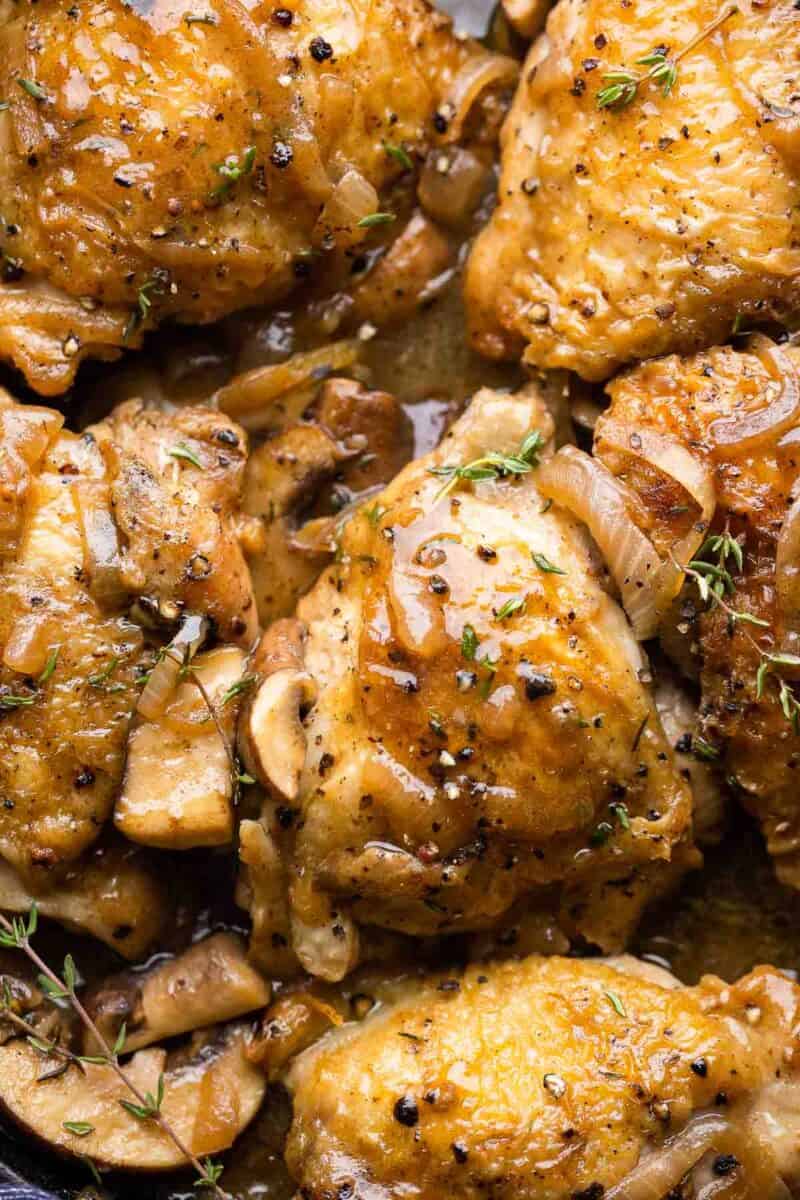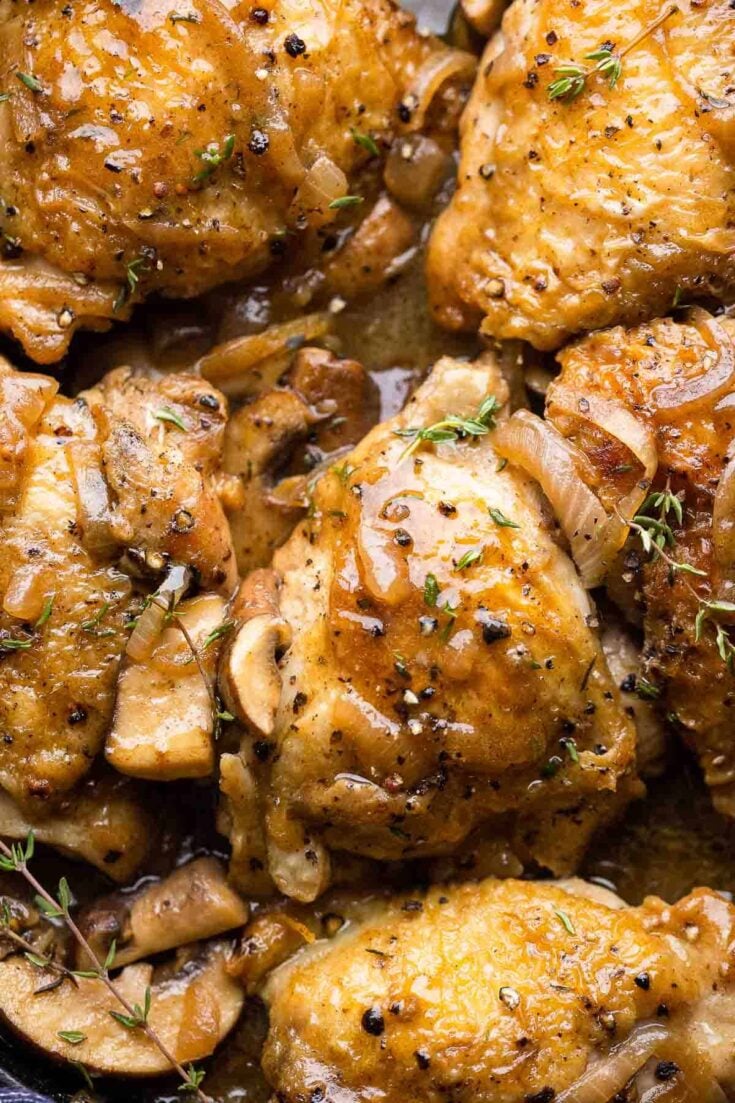 Recipe
Apple Cider Braised Chicken Thighs
Yield:
4 servings
Prep Time:
15 minutes
Total Time:
15 minutes
Juicy chicken thighs browned and simmered in a savoury cider sauce made with lightly caramelized onions, mushrooms and thyme.
Ingredients
Chicken
1 1/2 pounds bone-in and skin on chicken thighs (680 g/ about 8 thighs)
salt and pepper
Sauce
2 tablespoon avocado oil, divided (30 ml)
8 oz white or brown (cremini) mushrooms, sliced
2 onions, thinly sliced
2 sprigs fresh thyme or 1 teaspoon dried thyme
1 cup hard apple cider, divided (240 ml)
1 cup chicken stock (240 ml)
Instructions
Warm a large pan or skillet (with a fitted lid) over a medium heat. When the pan is hot, add just enough oil to coat the bottom of the pan (about a tablespoon).
Sprinkle both sides of the chickens generously with salt and pepper. Add the chicken, skin-side down. Leave space in between each thigh. Sear the chicken, about 7 minutes until golden brown. Then flip and sear the other side about 5 minutes then remove from the skillet/pan and set aside. (Chicken doesn't need to be fully cooked yet.) Use a paper towel to wipe the black and browned bits off the pan.
Add another tablespoon of oil to the skillet along with the sliced mushrooms. Cook about 5 minutes over a medium-high heat until they start to brown and caramelise.
Add another tablespoon of oil and sliced onions and thyme to the pan. Cook another 3-5 minutes to soften the onions.
Add 1/2 cup (120 ml) cider to the pan. Turn the heat up high. Bring to a simmer, then let the liquids continue to simmer another 2-3 minutes to thicken slightly and reduce
Stir in the remaining 1/2 cup cider along with the chicken stock. Add the chicken back to the pan. Cover with the fitted lid and cook over a medium heat for about 15 minutes or at least until the chicken is cook through. Remove the lid and continue to cook another 5 minutes.
Taste and season with more salt and pepper as needed and serve.
Notes
Optional: Thicken then sauce with flour to make a gravy-like sauce. After simmering the chicken in the liquids for about 15 minutes, scoop out a couple spoonfuls of the sauce and transfer to a small bowl or cup. Add 1-2 teaspoons of gluten free all purpose flour and whisk until no lumps remain then add back to the pan. With the sauce simmering, mix in the flour mixture and simmer a minute or two until it thickens up.
This website provides approximate nutrition information for convenience and as a courtesy only. Nutrition data is gathered primarily from the USDA Food Composition Database, whenever available, or otherwise other online calculators.
Similar Recipes You Might Enjoy