Over a month of Whole30 approved recipes! This list includes easy one pan dinners, casseroles, soups and salads!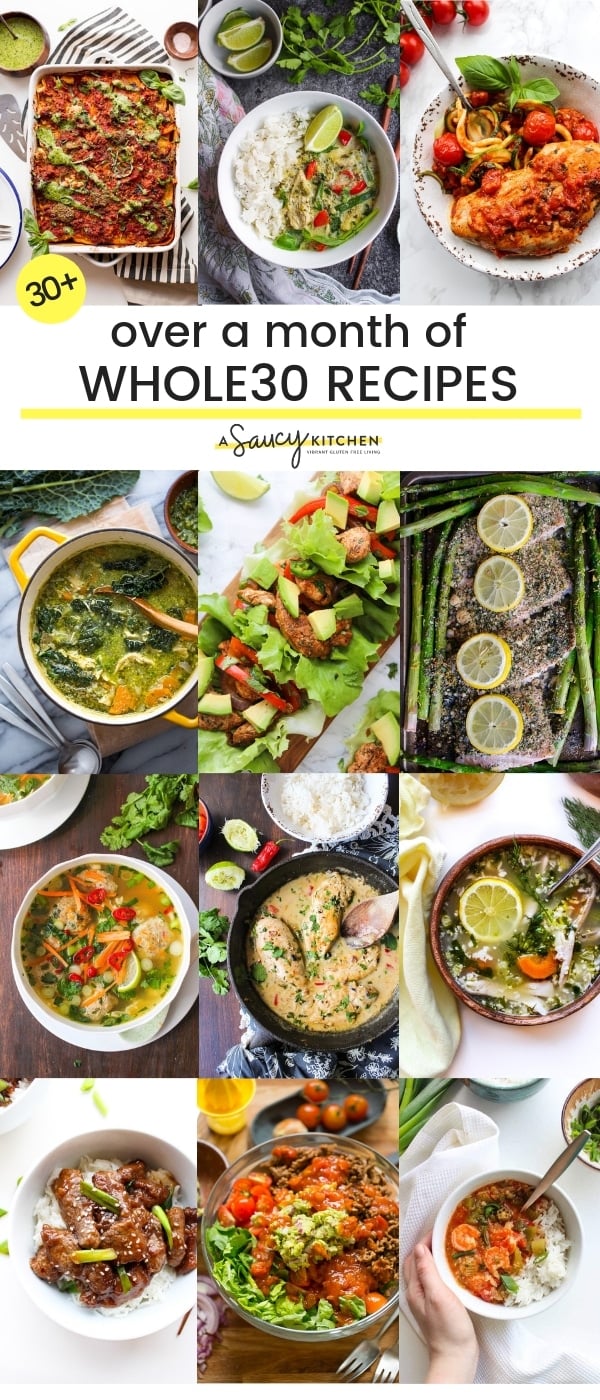 Who's ready for another round of Whole30 this month? Not me! give major props to anyone with the will power strong enough to make it the full 30 days, but that's just not me.
Last year Mike & I attempted our first whole30 and it ended up being a whole12 instead. Not quite halfway but I was pretty proud of making it  a week and a half.
That being said I did quite enjoy our clean eating challenge and ended up really enjoying the food we ate. In fact some of my favourite recipes last year came out of our failed whole30 challenge. So while we won't be going strict this month I do plan on making the most out of this next months commitment to clean eating.
In case you need a little extra push to get you going here are 30+ Whole30 approved recipes that are so good you won't even know they're good for you!
Enjoy!
A one pan, Whole 30 approved dish made with only a handful of ingredients! This recipe has been updated to also include Instant Pot Recipes for an even easy prep. Most popular recipe on A Saucy Kitchen!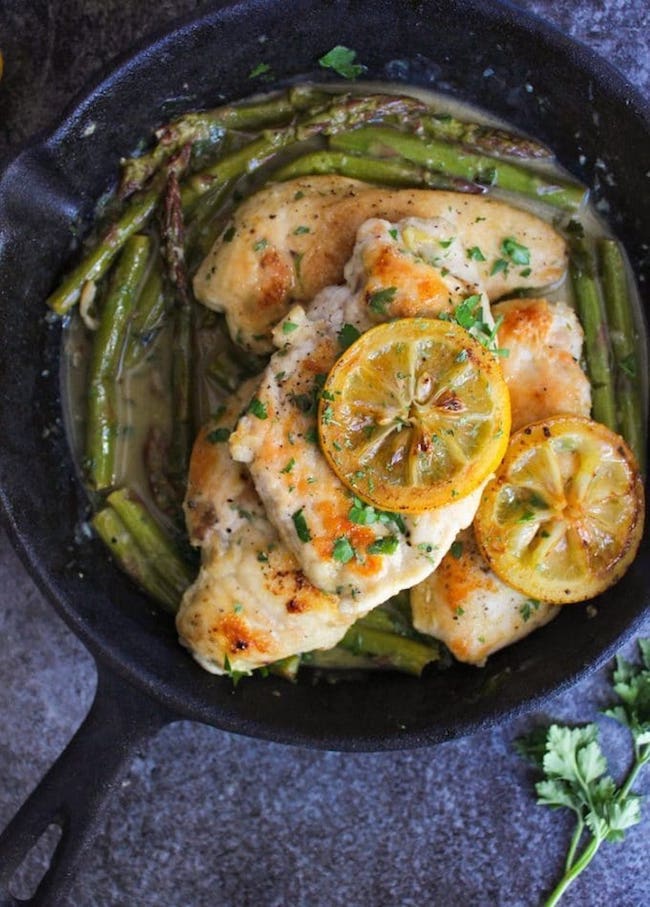 One Pan Lemon Chicken with braised asparagus in a simple lemon mustard sauce ready in 30 minutes or less!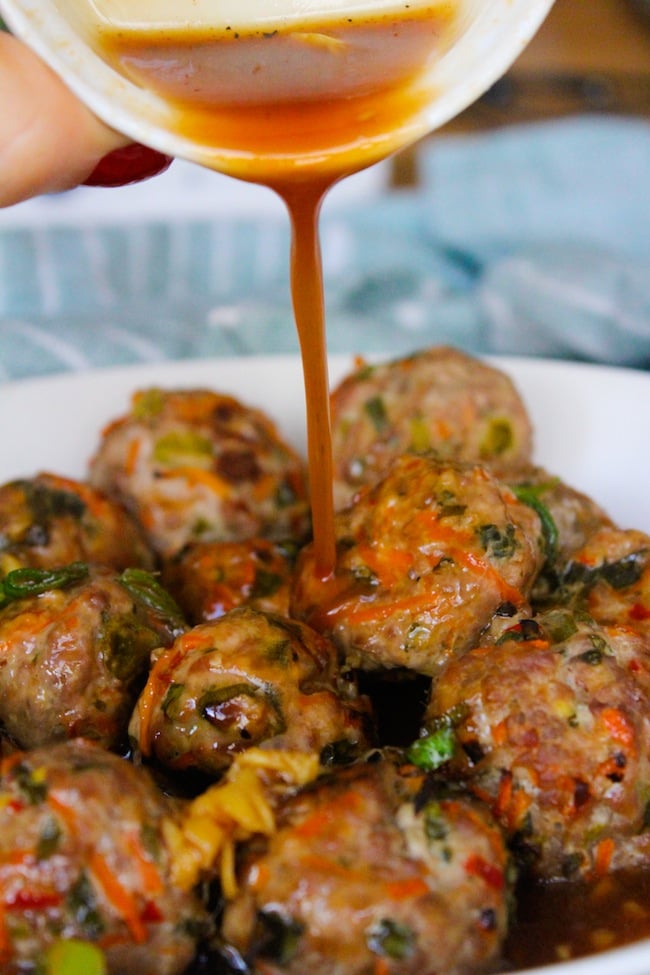 Baked Thai Meatballs packed with fresh flavours and paired with a simple chili sauce. Serve over riced cauliflower and veggies to make a meal out of it!  Low FODMAP and SCD approved!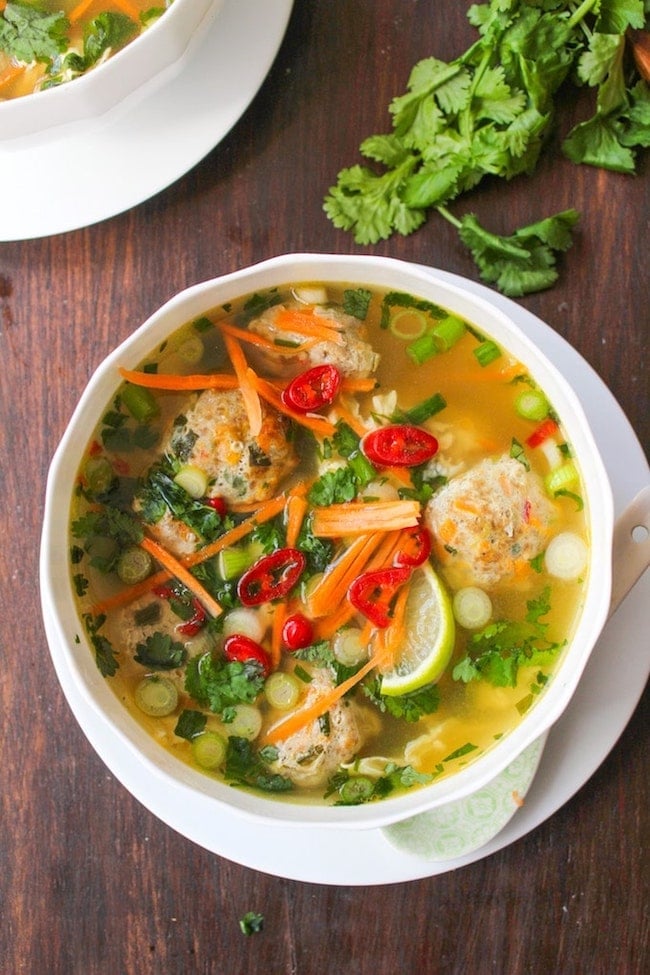 Thai flavours mixed into a traditional egg drop broth for a comforting and filling soup!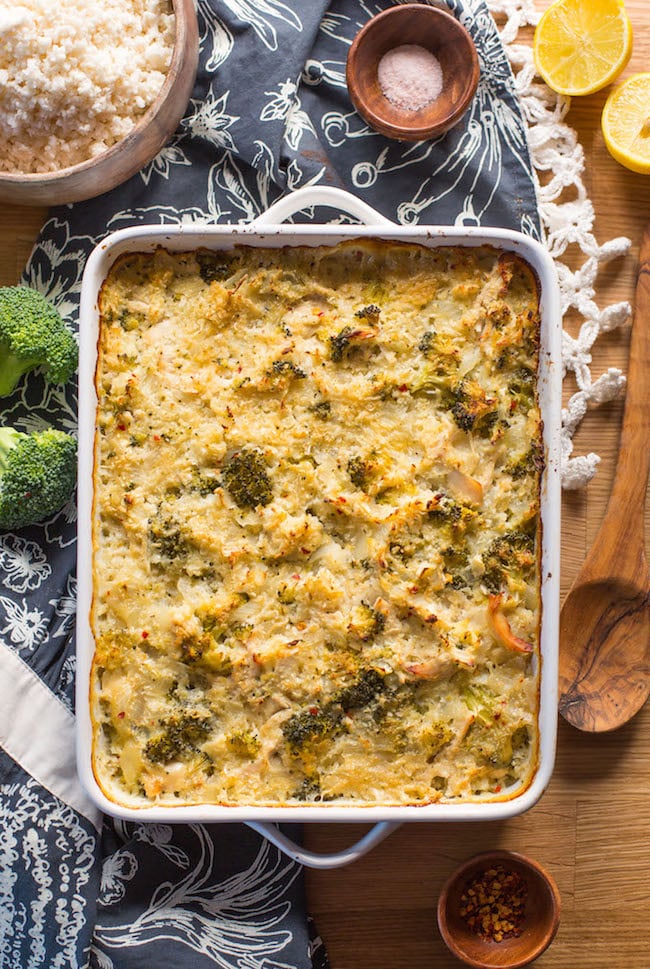 A low carb spin on a classic casserole made with riced cauliflower in place of actual rice and a dairy free sauce – AIP adaptable too!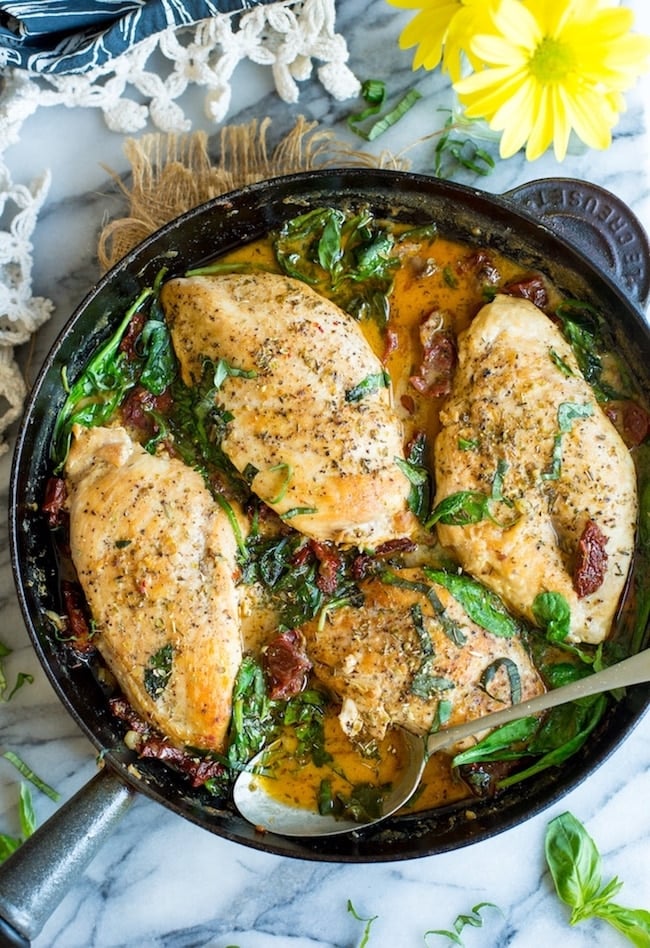 One pan Sun Dried Tomato Chicken with fresh basil – an easy, low carb week night dinner made in about 30 minutes!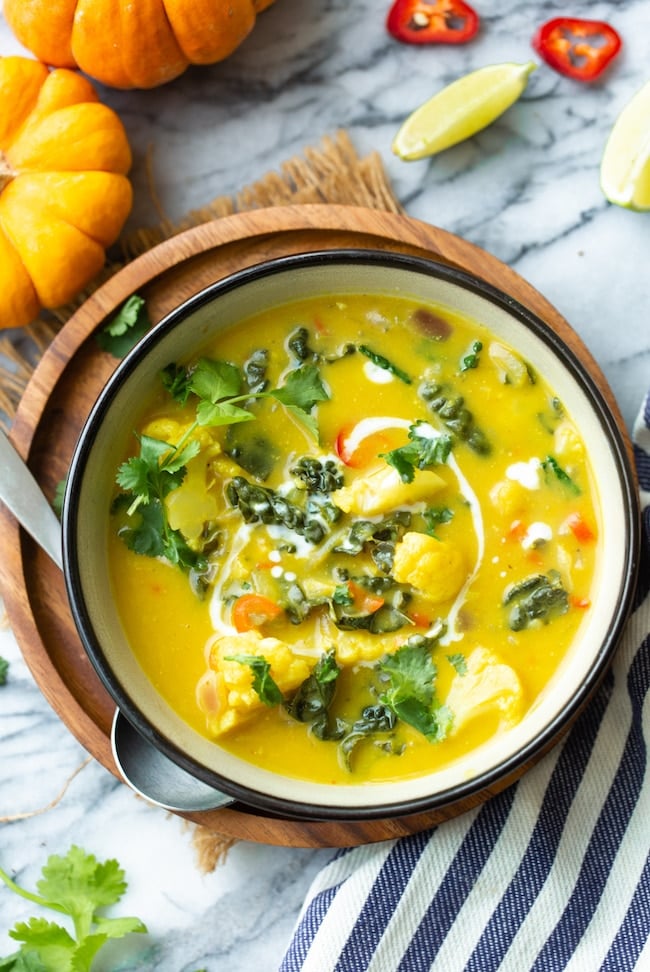 One pot, vegan Spicy Thai Pumpkin Soup – loaded up with veggies, spices and hearty flavours. Made in 30 minutes or less!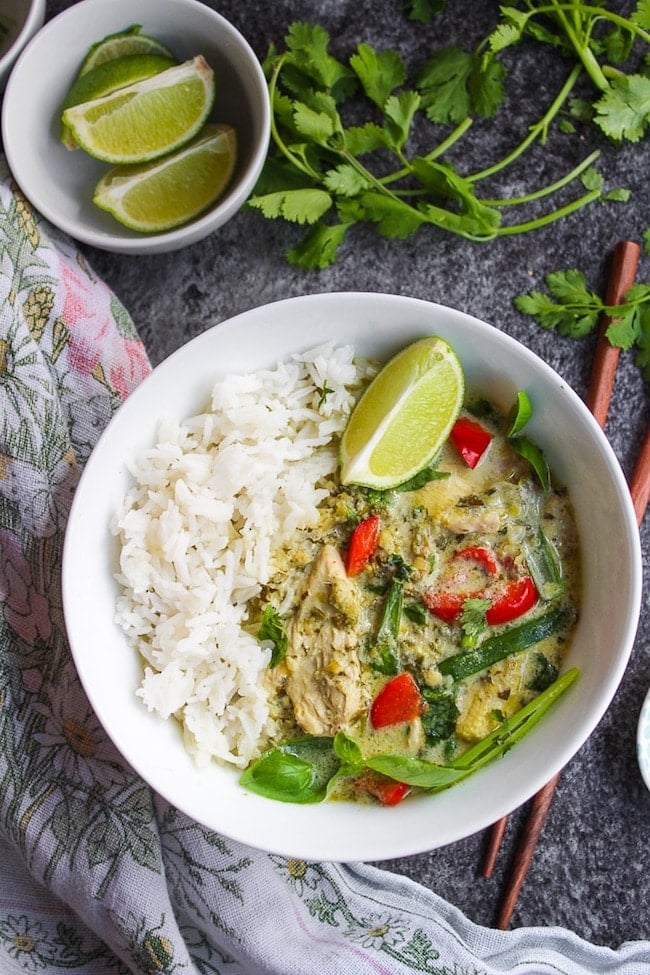 Low FODMAP Thai green curry – fresh, flavorful, and IBS friendly! Omit the fish sauce & serve over cauliflower rice for a whole30 approved meal!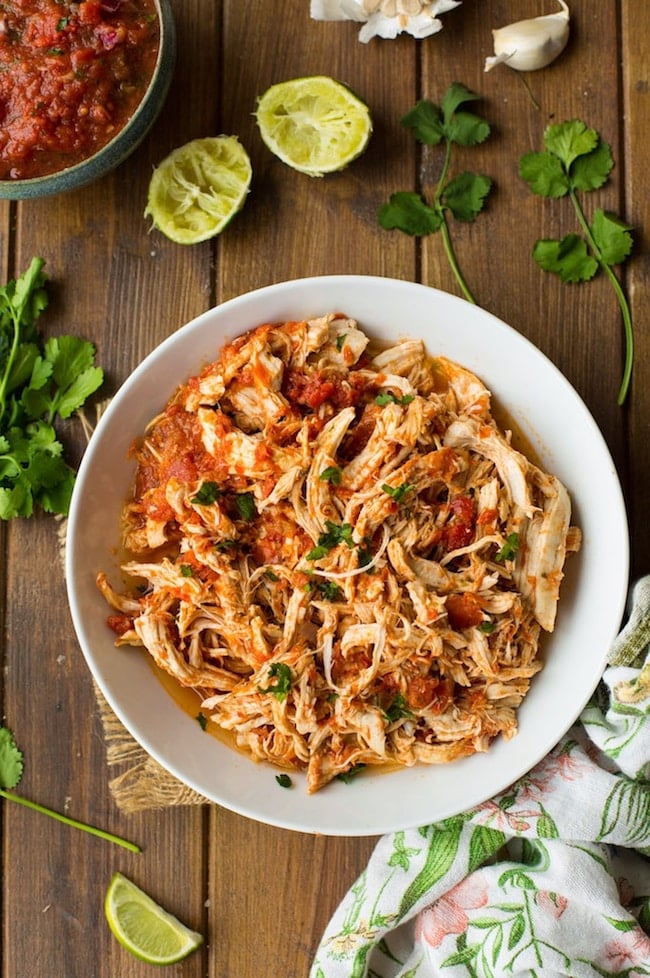 2 ingredient Salsa Chicken made in the instant pot – perfect for adding to tacos, salads and burrito bowls. Just make sure to use a sugar free, whole30 approved salsa!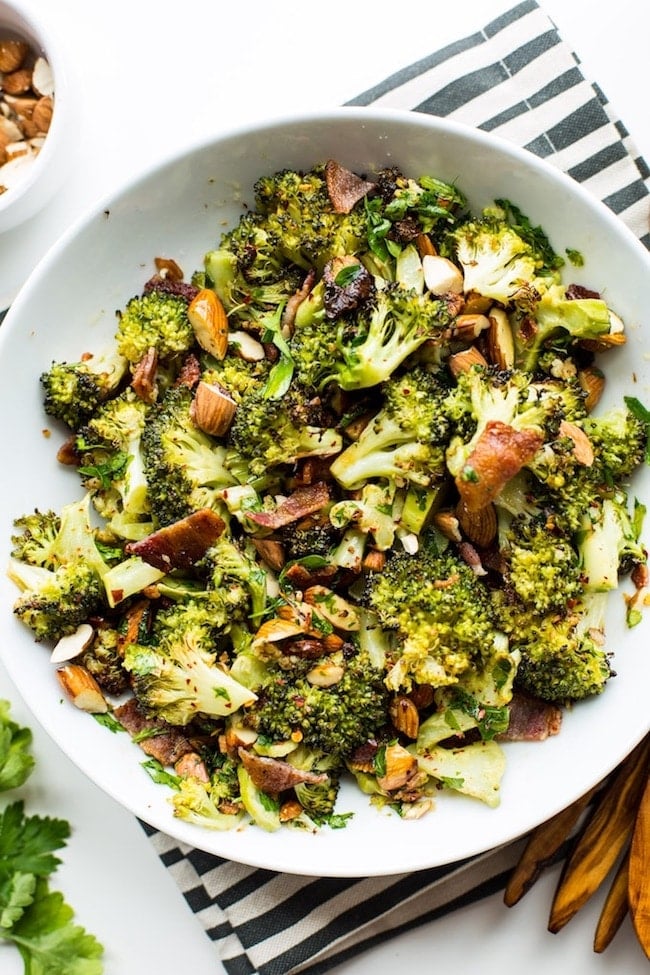 Crispy, crunchy Roasted Broccoli Salad tossed in a simple garlic-chilli dressing and mixed with roughly chopped almonds and salty bacon pieces.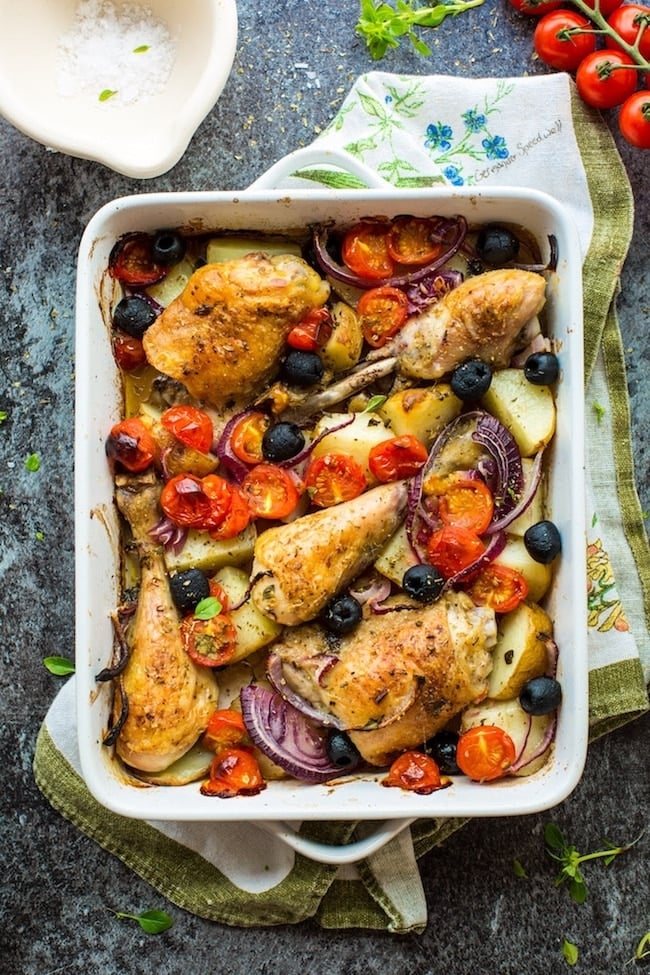 Easy One Pan Greek Chicken with Roasted Veggies – 5 minutes of prep and straight to the oven. A full meal for minimal cleanup and minimal effort!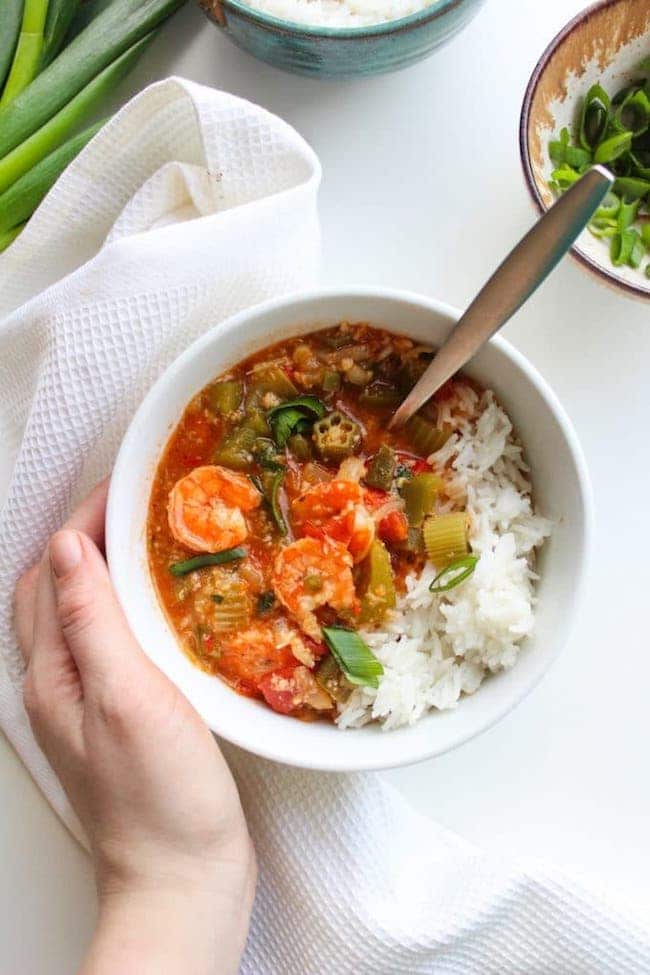 One pot Fast Seafood Gumbo loaded with crab, shrimp and tons of veggies. Use tapioca or arrowroot starch to make the roux base and serve over riced cauliflower for a Whole30 approved meal!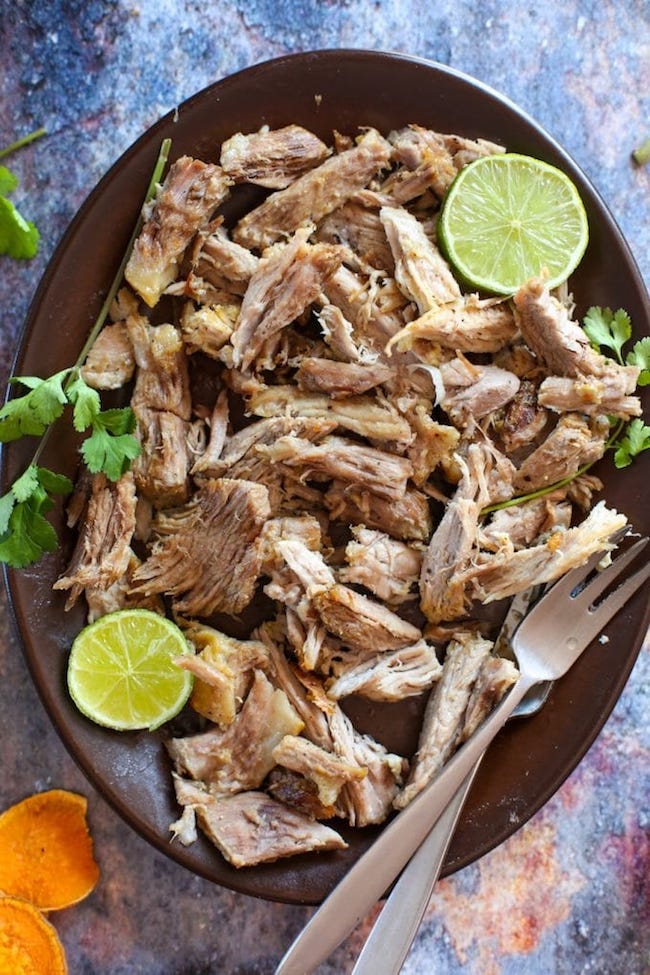 Tender, shredded pork in an hour! Make a low carb burrito bowl with cilantro lime cauliflower rice, guacamole and baked sweet potato fries.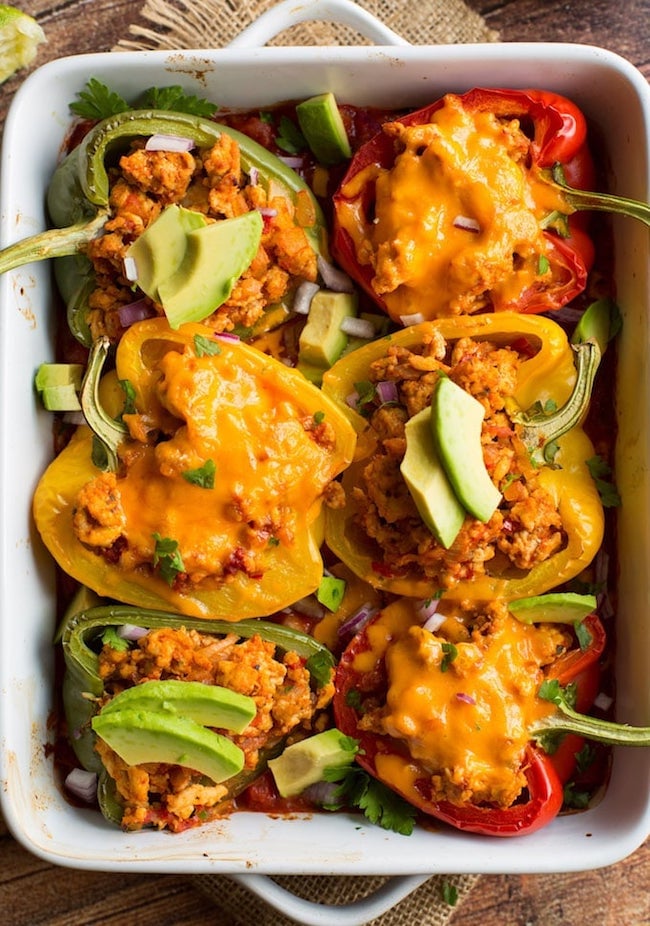 A healthier option for your next Taco Tuesday: Paleo friendly Taco Stuffed Peppers. Leave out the cheese and topped with guacamole instead!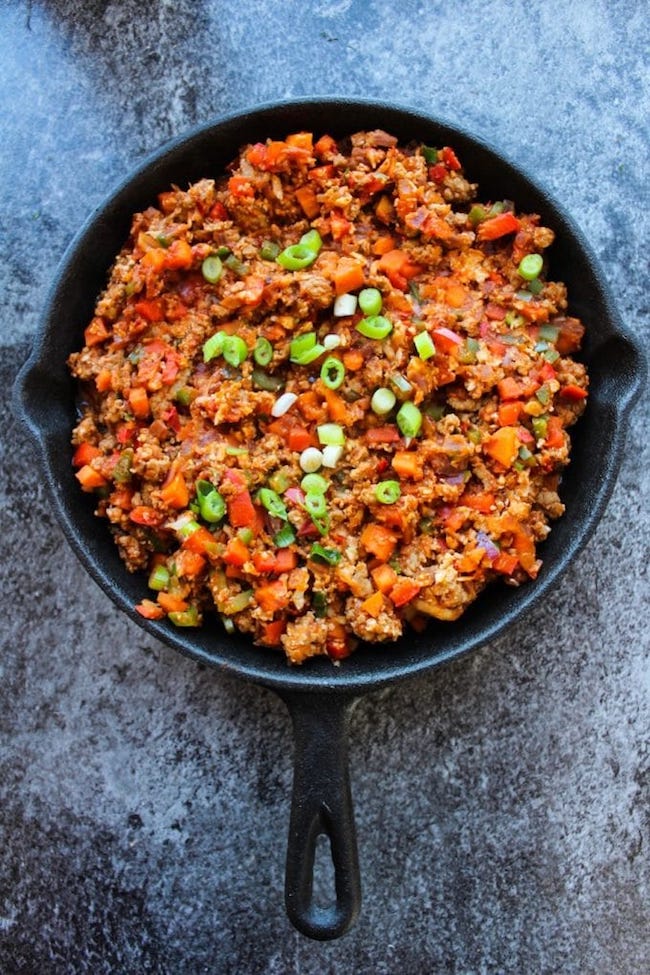 Packed with veggies, protein, and loads of spice. A perfect, low carb weeknight dinner!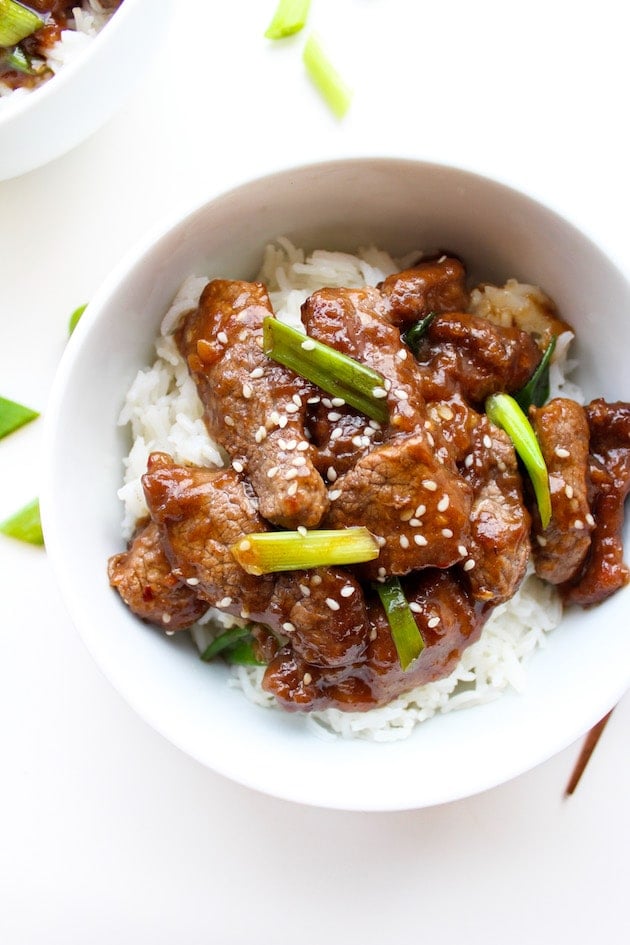 Only 10 ingredients needed and ready in under 30 minutes!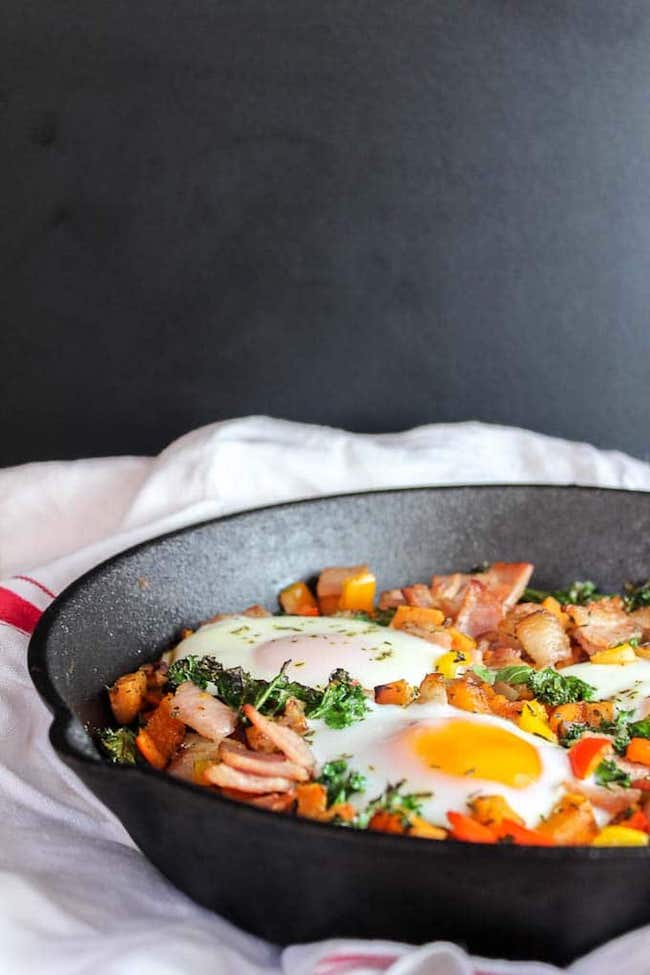 A sweet and savoury one skillet breakfast packed with protein, fiber, and tons of flavour. Fodmap friendly too!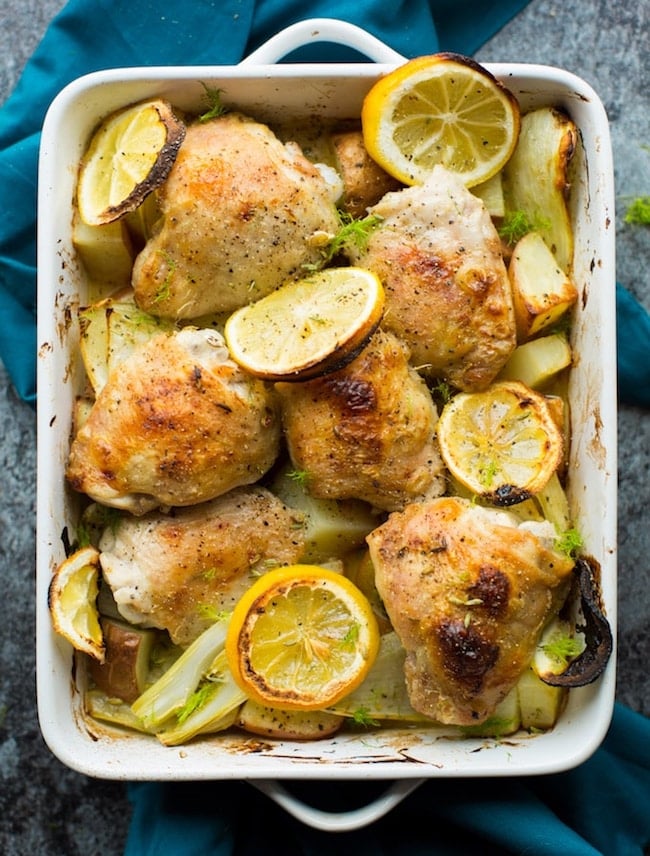 Simple, Roasted Lemon & Fennel Chicken Thighs with potatoes made in one dish Tons of flavour with minimal clean up!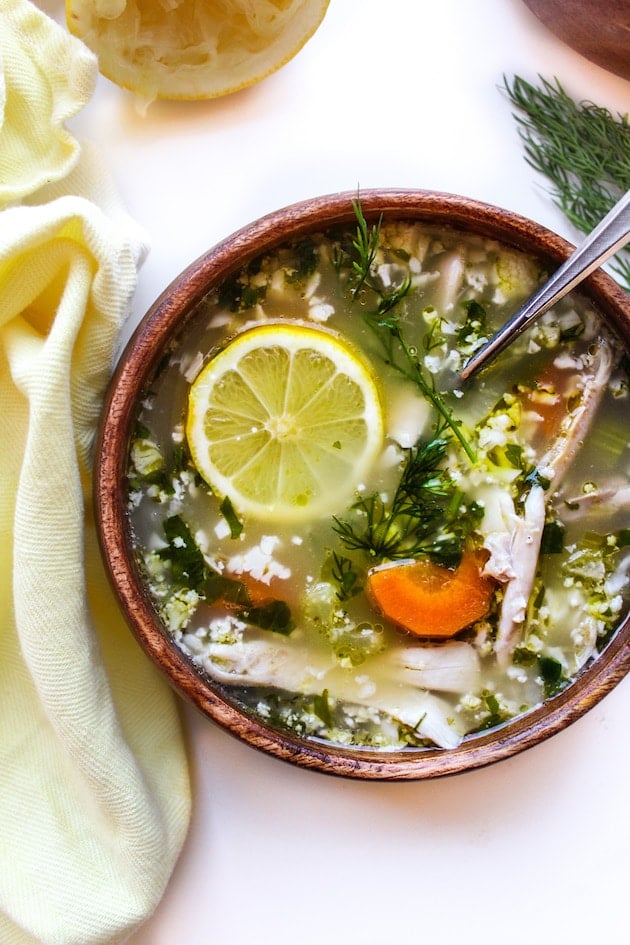 A light & healthy soup with a whole lot of zip!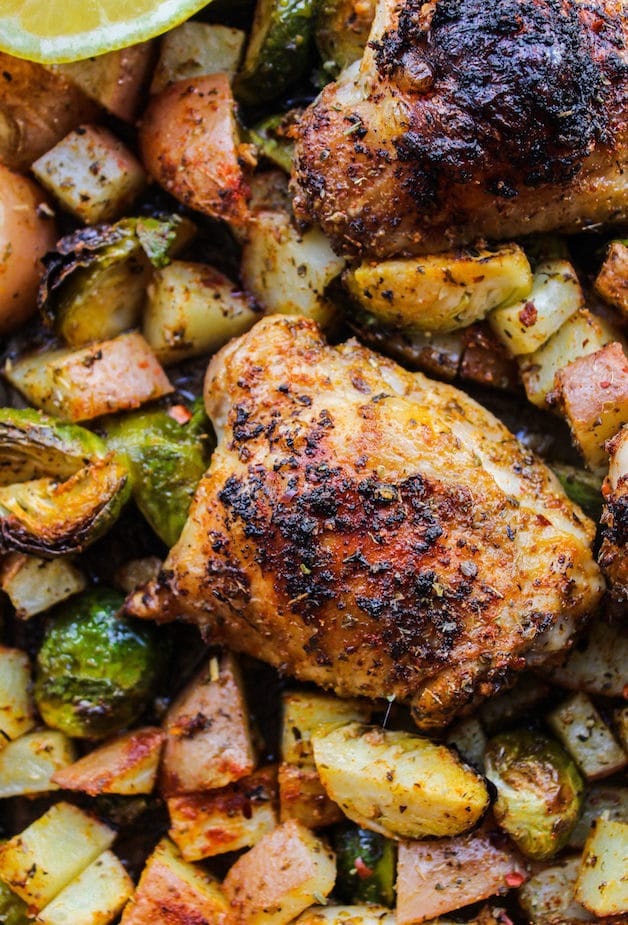 One pan chicken dinner with lemon, garlic, oregano & paprika seasoned potatoes and Brussels sprouts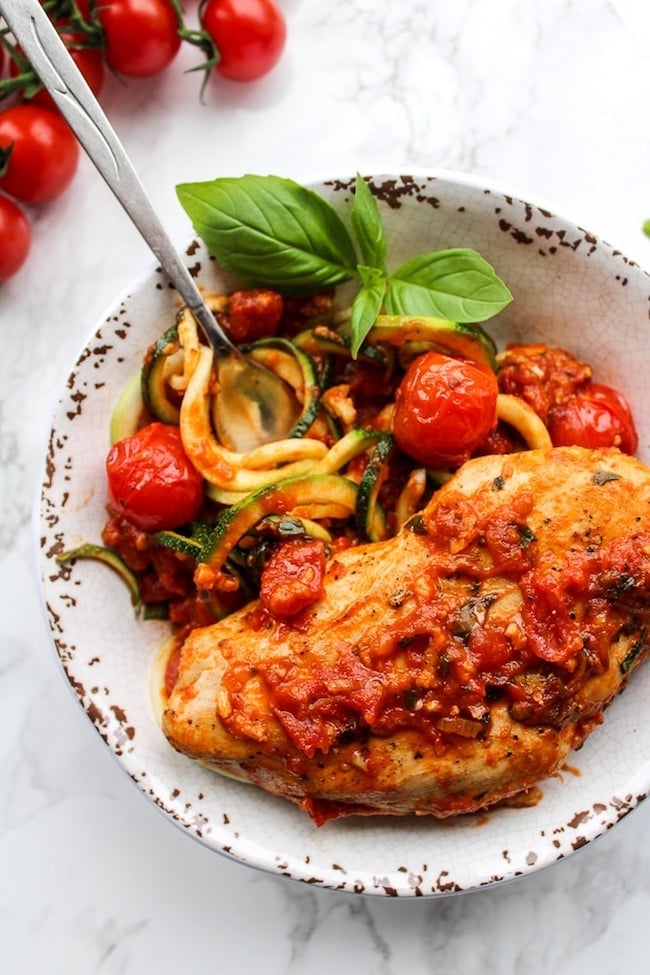 This tomato and basil garlic chicken is a quick, easy and flavour packed dish that you can have ready on the table in less than 30 minutes.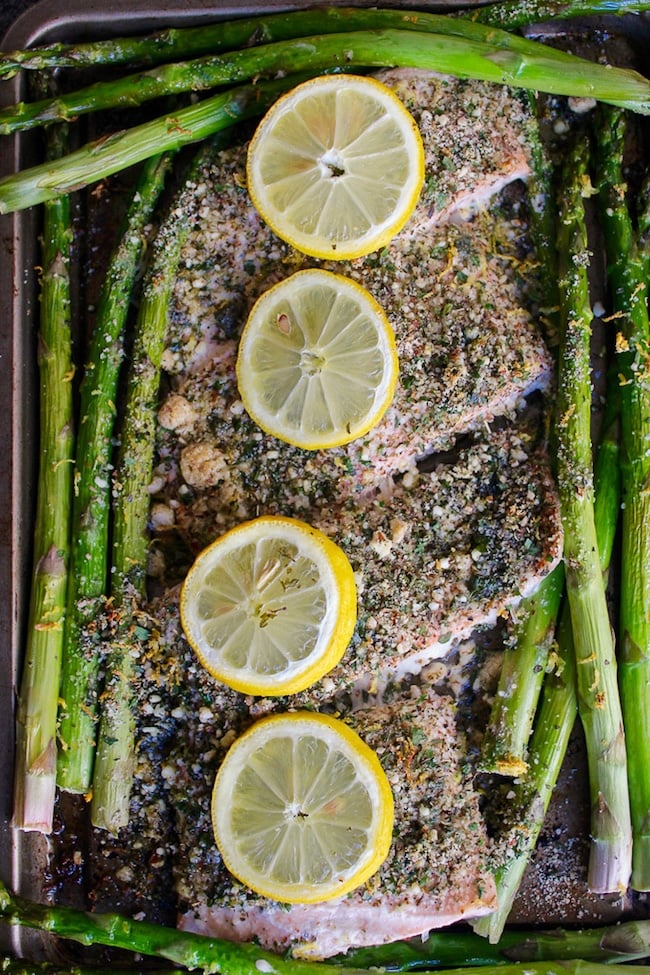 Ground almonds, mixed herbs, and a squeeze of lemon.  Swap the asparagus for tomatoes and sautéed spinach to make it low FODMAP!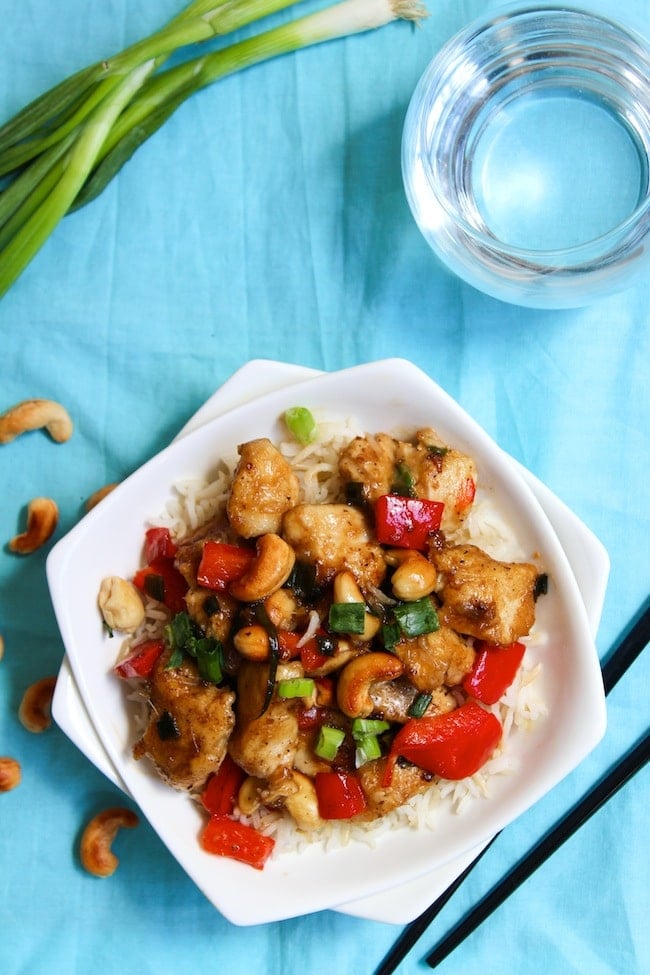 Uses a blended up date to sweeten and coconut aminos in place of soy sauce for a healthier, sugar and soy free dish!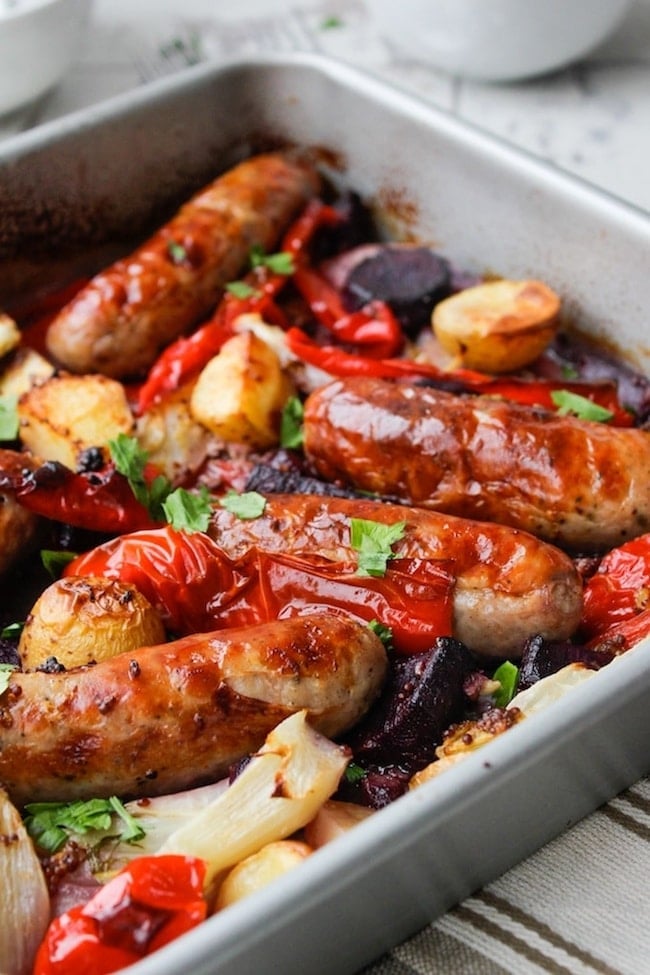 Simple ingredients + big flavours! Roasted veggies and sausage make for a hearty and filling dinner with little work needed.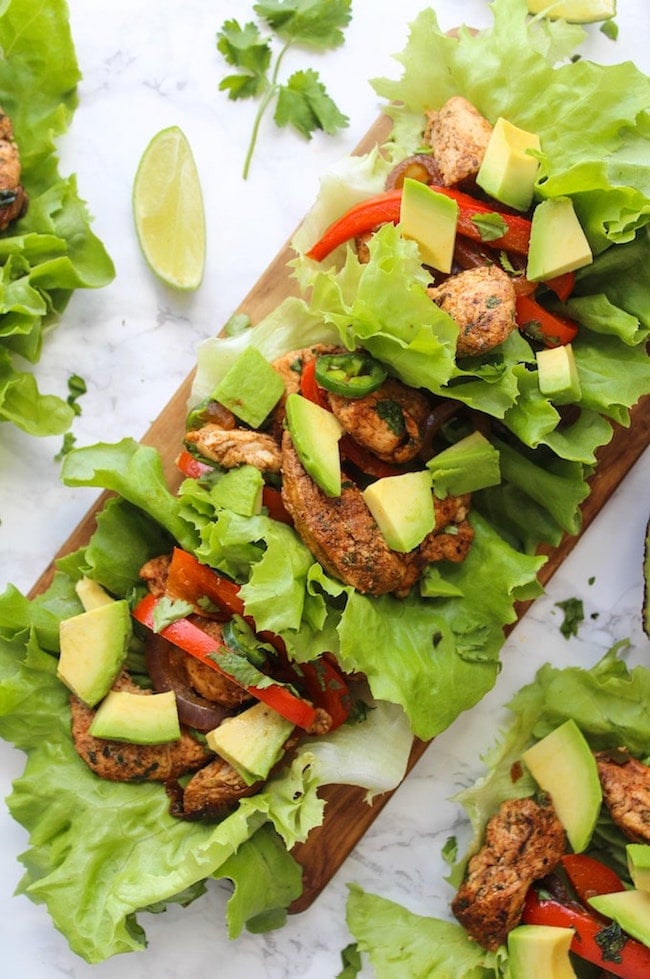 Easy Chicken Fajitas Lettuce Wraps – sautéed onions & peppers, seasoned chicken and topped with diced avocado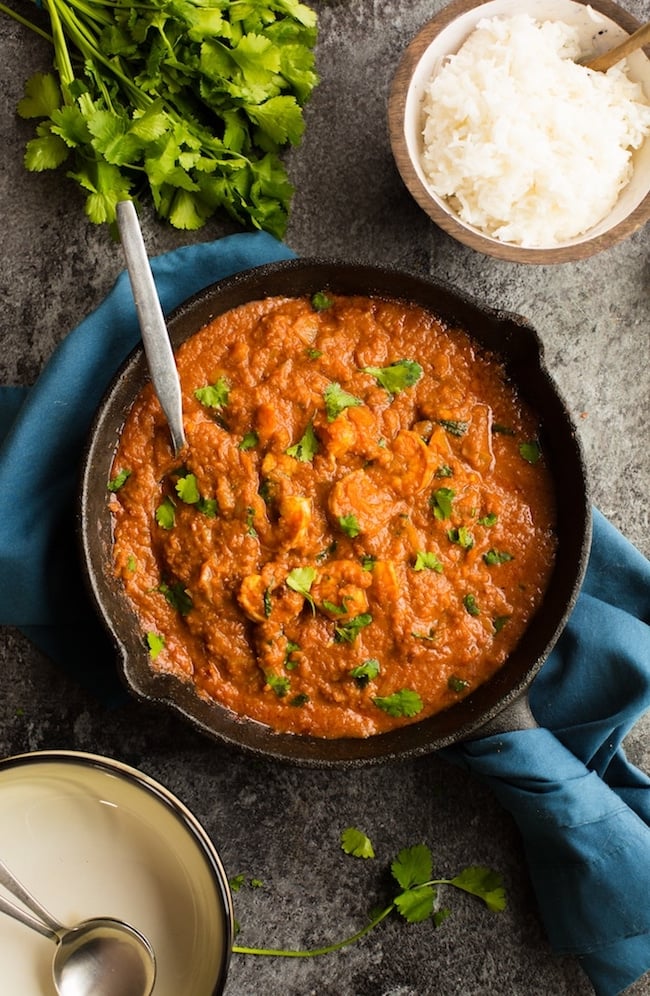 Thick and saucy Tomato & Turmeric Shrimp Curry – perfect for serving over a bowl of rice for a healthy + hearty dinner. Serve over rice cauliflower to make it low carb/paleo friendly!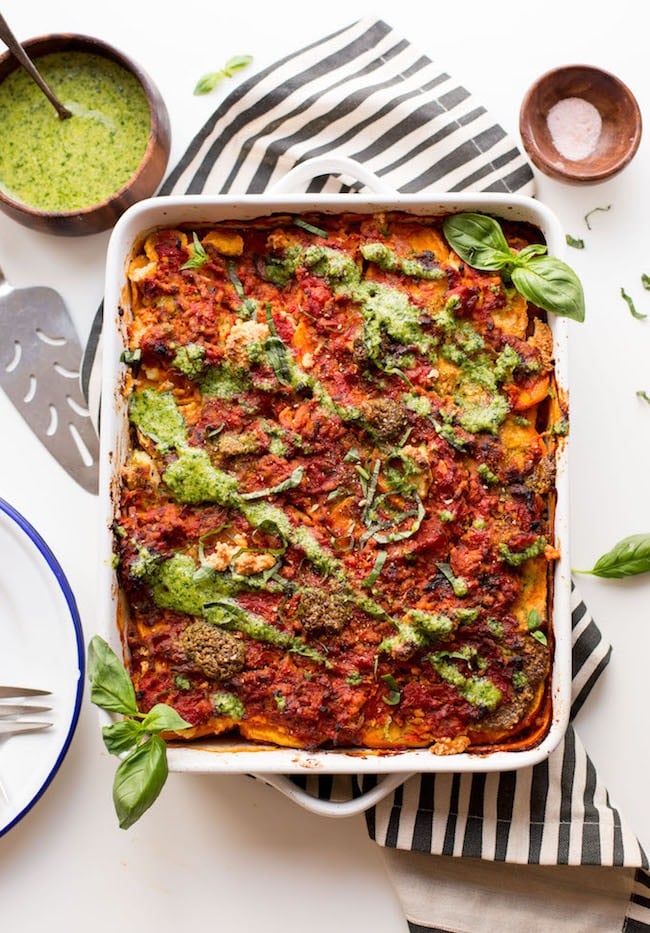 Noodle-less sweet potato lasagna – thin slices of sweet potato between layers of hearty meat sauce, almond ricotta and fresh basil pesto!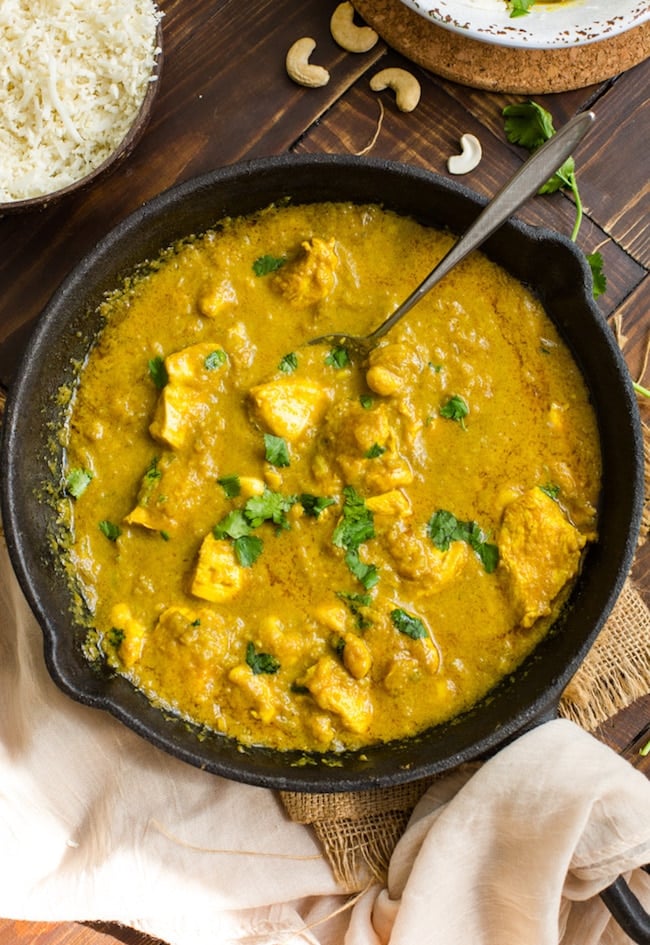 A rich and creamy curry that's mildly spiced and easy to make! Serve over cauliflower rice for a hearty and healthy low carb meal!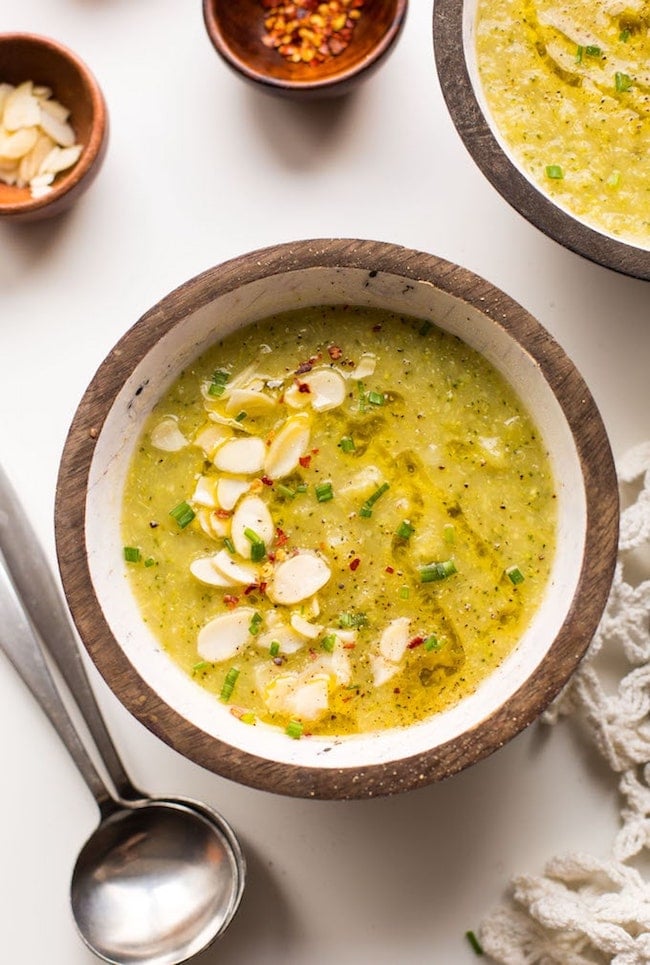 Simple yet flavourful Broccoli Leek Soup – only 7 ingredients & 30 minutes needed!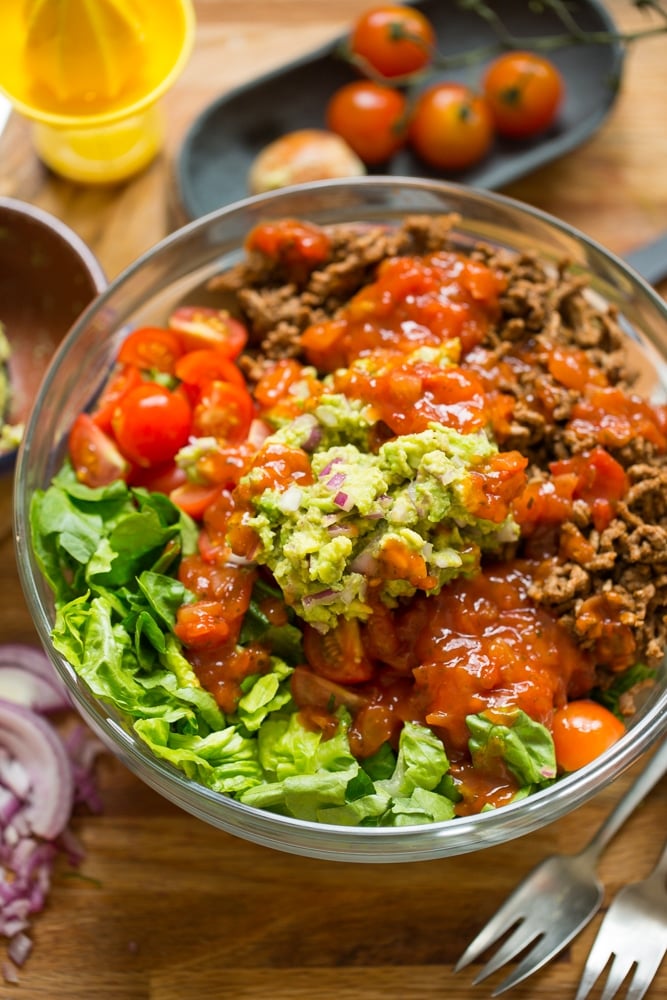 Whole 30 Taco Salad with a homemade taco seasoning mix topped with guacamole and salsa. An easy, low carb salad, filling enough to enjoy as a meal!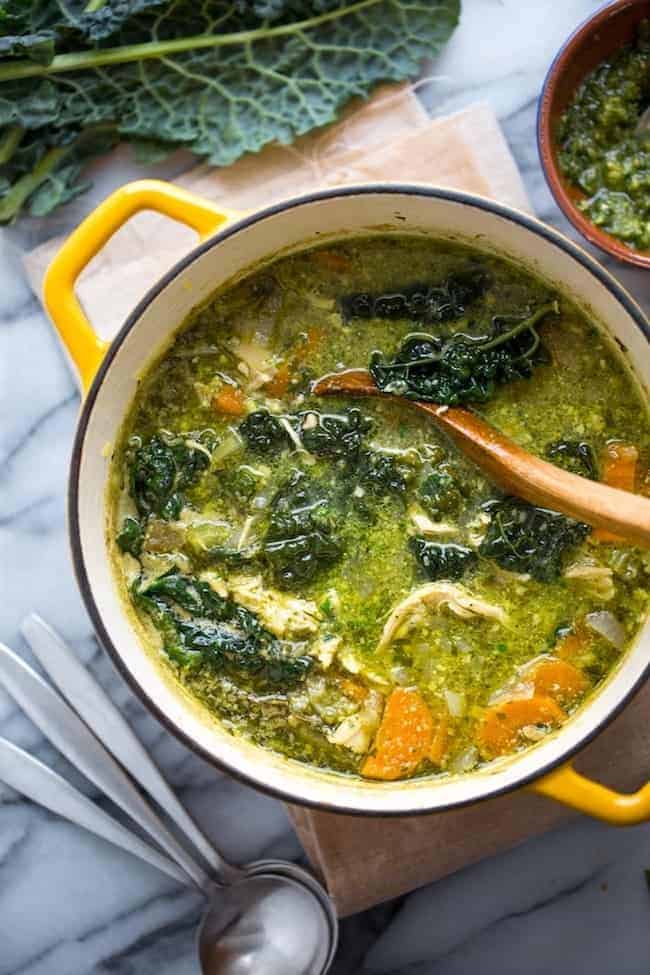 Robust flavours, healthy ingredients and incredibly easy to make! Includes a recipe for a homemade, dairy free pesto for a whole30 meal!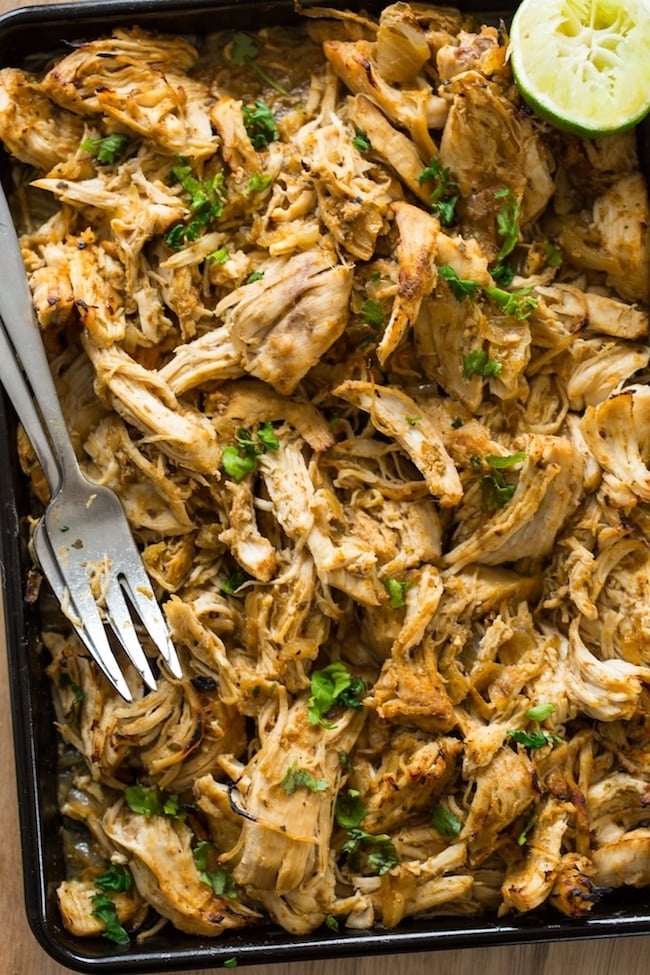 Juicy chicken cooked and shredded in under 30 minutes! Add to burritos, nachos, tacos and bowls and top with guacamole. 
Spicy Kale Potato Breakfast Hash – a bright, medley of veggies and spices making for a delicious, egg-free + Whole30 friendly breakfast skillet that's anything but boring!
What are your favourite go-to, Whole30 recipes?
She brains and reluctant dishwasher for A Saucy Kitchen