A full months worth of gluten free one pot dinner recipes – find a range of one pot, one pan and one skillet meals you can whip up with minimal cleaning required!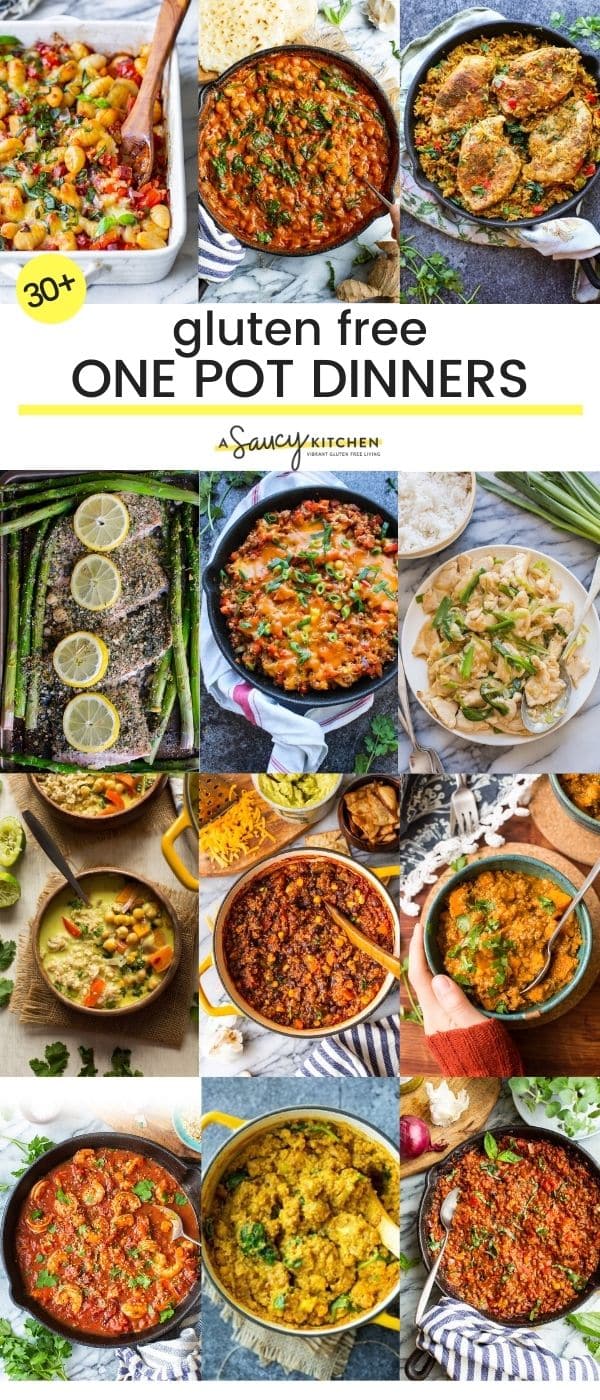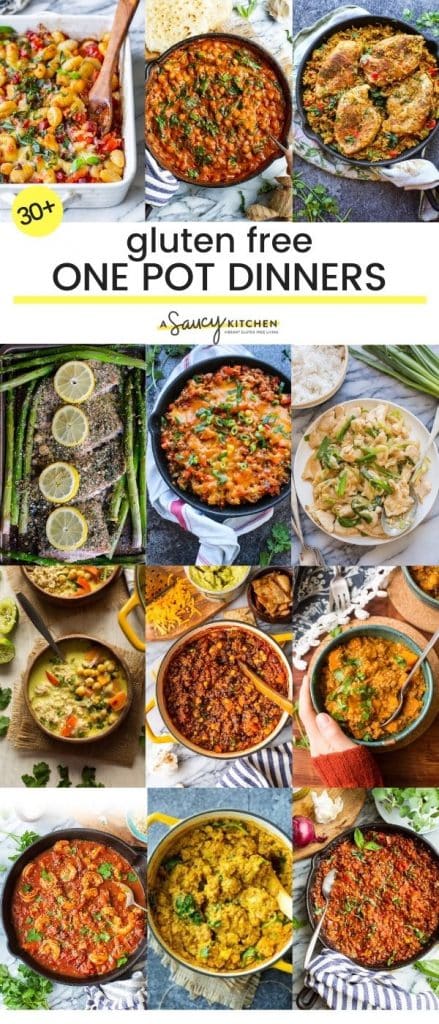 Ok, listen: I might be slightly exaggerating here but I'm pretty sure I spend 130% of my time in the kitchen washing dishes. While I understand that that might not actually be possible, it sure feels that way. Since our kitchen doesn't have a dishwasher I suppose, technically speaking, I am the dishwasher.
Dishwasher or not, I'm sure you can relate the overwhelming feeling of a full sink after a long day. Weeknight evenings should be spent catching up with your family or unwinding with a little 'me-time' – not elbows deep in the kitchen sink rinsing off every pot, pan and kitchen utensil under the sun.
Well if I'm speaking your language and you're on the lookout for some low maintenance, easy one pot gluten free dinner recipes you can throw together on the fly then look no further. I've got you covered, my friend.
All of these recipes can be made in one pot, one pan or one skillet. There are no special kitchen appliances needed here – just you, your oven and/or stove top and you're good to go.
Whether you're looking for meat mains or veggie dinners, this list has got a little bit of everything for everyone. Below you'll find an assortment of curries, stir-fry's, stews and more. This list also includes a few A Saucy Kitchen reader favourites like the Coconut Lime Chicken and the Mediterranean Chickpea Stew.
So have a look, bookmark a few recipes and spend more time actually enjoying your food and less time cleaning it all up after!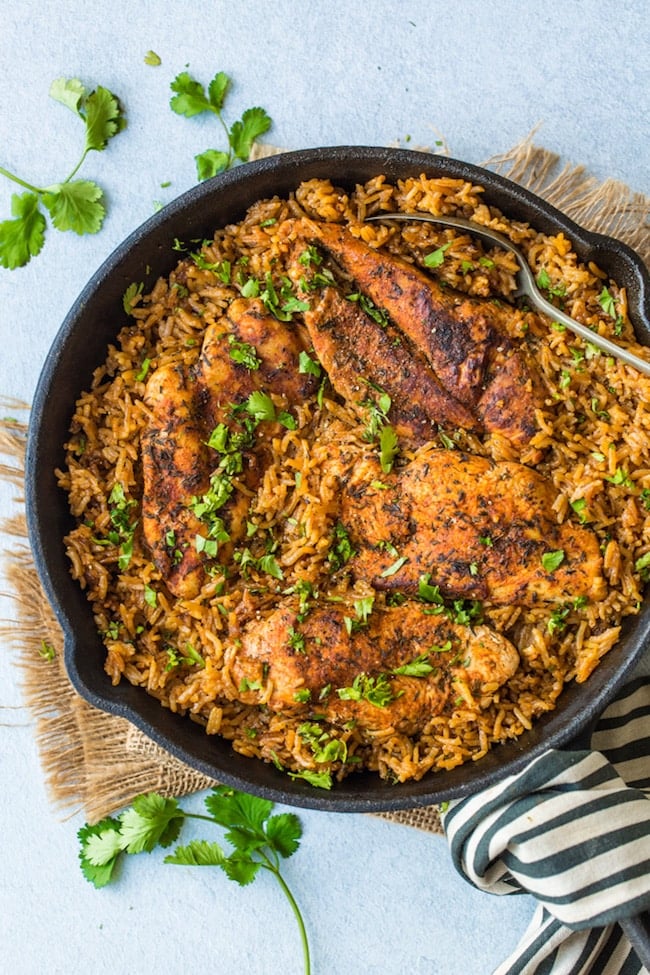 A simple and delicious One Pot Chicken and Rice made with a few herbs and spices and a pop of lemon! This dish is prepped and cooked all in one pan in about 30 minutes making it a great midweek, last minute dinner. | Gluten Free + Dairy Free + Low FODMAP option
Reader Review: "An absolutely awesome and straightforward meal. Both of my fussy eater kids had seconds!!!!" – Jacques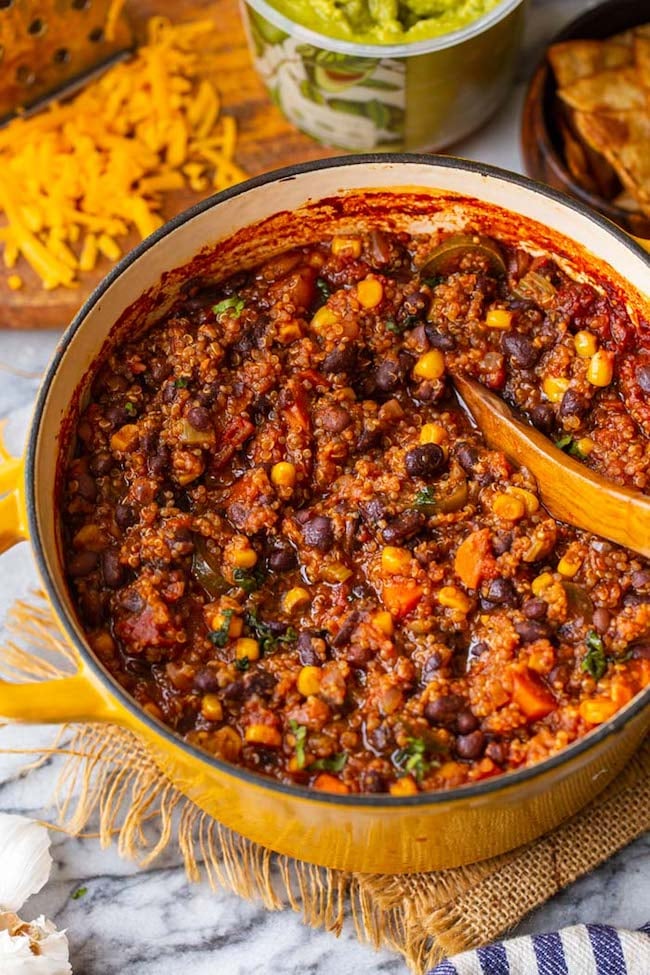 One Pot Black Bean & Quinoa Veggie Chili – satisfying and filling without the meat! This easy to make, one-pot chili is made with a hearty blend of black beans, quinoa, corn and a healthy vegetable base of onion, carrot, celery and garlic. | Gluten Free + Vegan
Reader Review: "As a uni student with a job I love this recipe! I cook up a big batch and then enjoy it all week. Delish!" – Chloe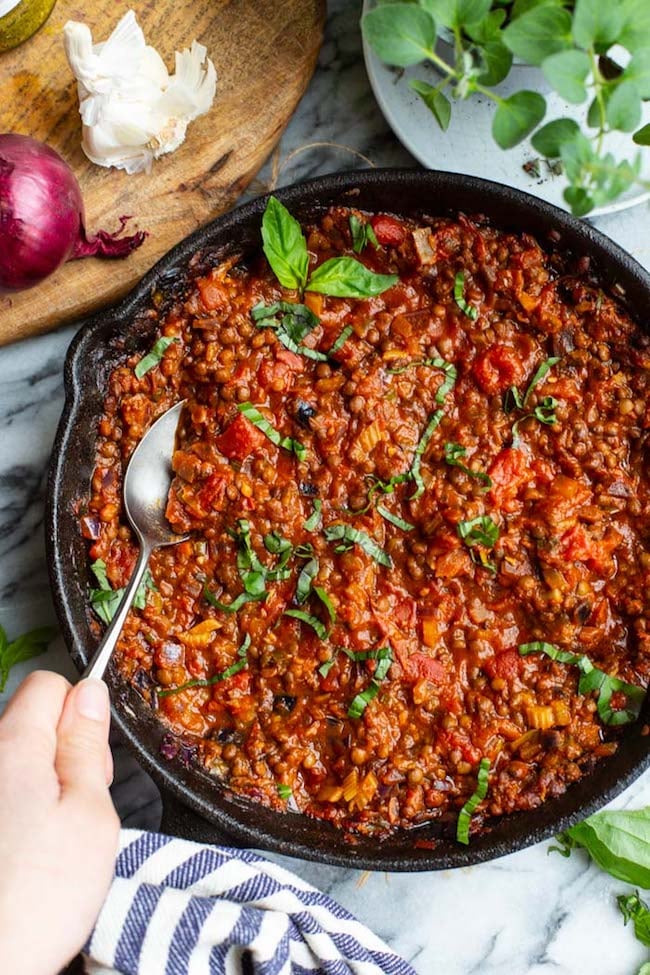 Dinner will be ready in a flash with this 20 minute vegetarian Lentil Bolognese! This speedy dish is made all in one pot with wholesome pantry essentials that you likely already have on hand. It's filling, delicious and super easy to make! Gluten Free + Vegetarian + Vegan Friendly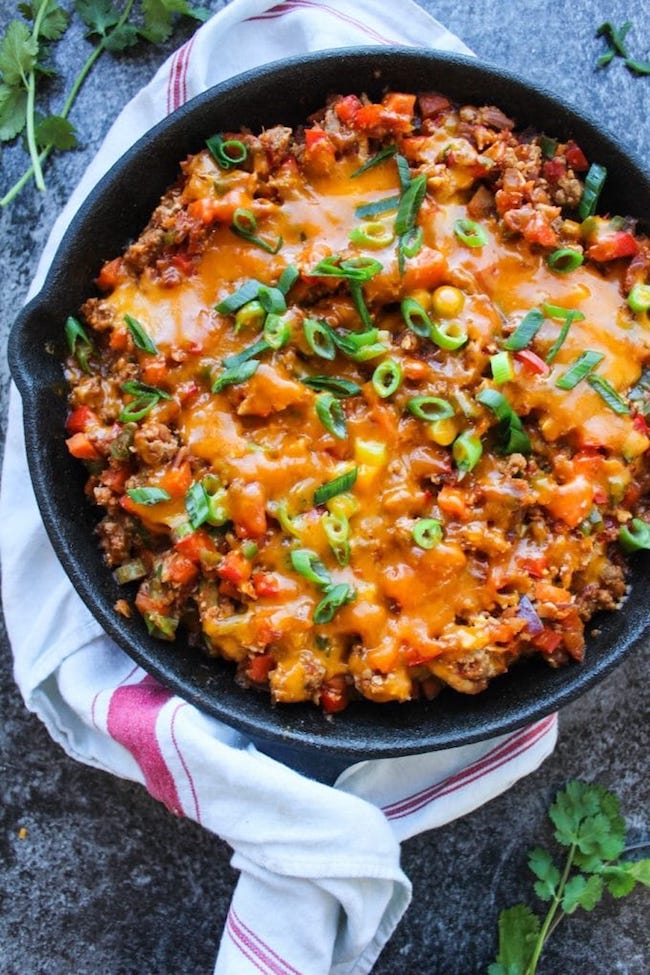 Super simple one pot Taco Skillet packed with veggies, protein, and loads of spice | A perfect, low carb weeknight dinner! Gluten Free + Whole30 & Paleo options – just skip the cheese!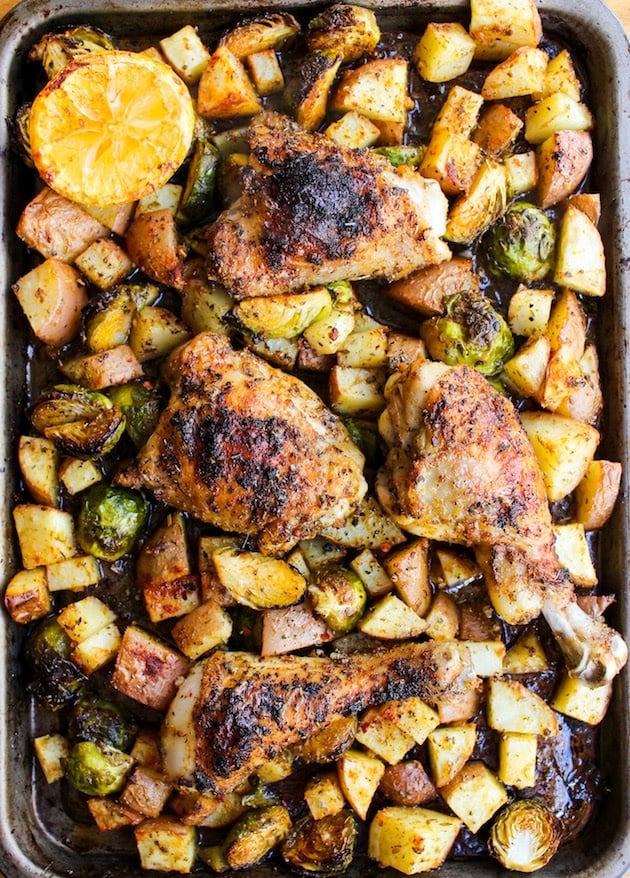 One pan chicken dinner with lemon, garlic, oregano & paprika seasoned potatoes and brussels sprouts | Grain Free + Whole 30
Reader Review: "I made this for dinner this evening and it is delicious! I did increase the garlic, but no other changes. The house smells yummy!" – Jill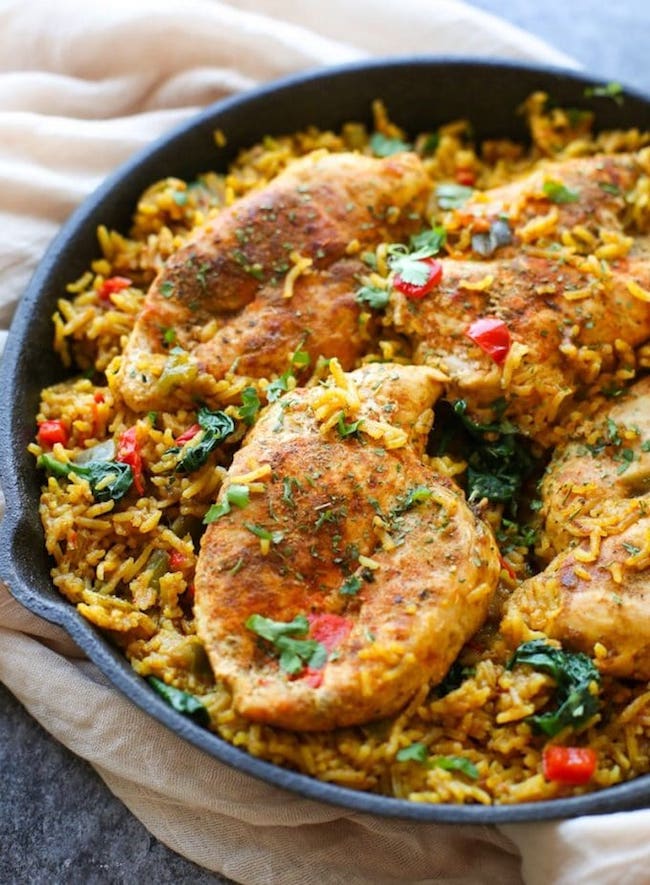 Khichdi Inspired One Pot Low FODMAP Chicken and Rice packed with bell peppers, tomato, ginger & spices | Low FODMAP + Dairy Free
Reader Review: "My 15 year old son and I are newly diagnosed sufferer of ibs, i have been in pain for what feels like months.
Cooked his meal tonight, made a double batch as I have my husband and 4 children 2 are adults, everyone loved it. I" – Petara
Herby One Pan Chicken with Oranges – chicken thighs and drumsticks marinated in an easy herb and citrus packed marinade and baked in one pan! | Gluten Free + Paleo + Whole30 + Low Carb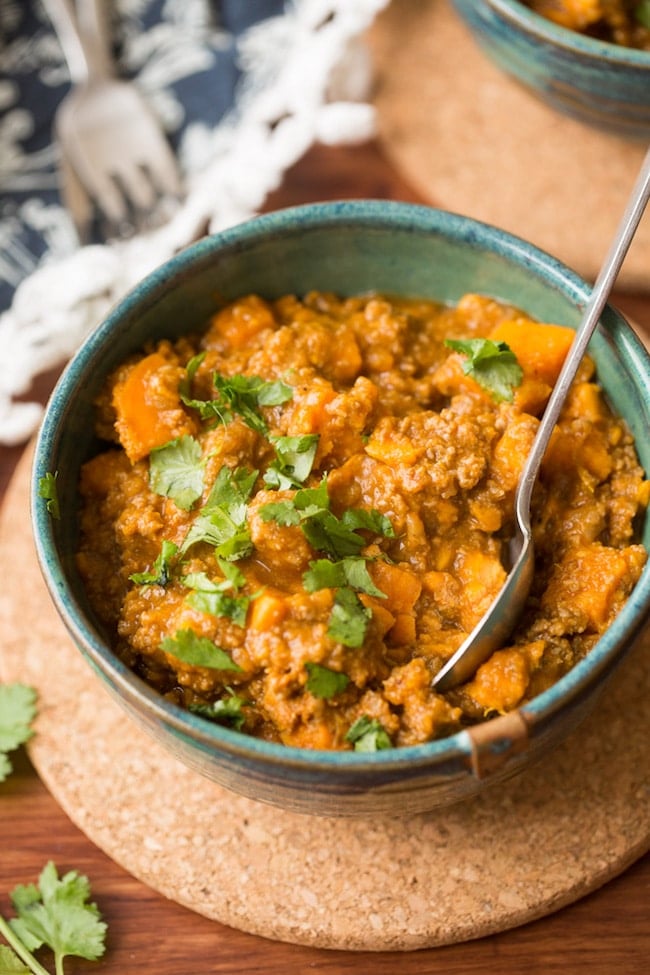 One pot, protein packed Sweet Potato Paleo Chili with turkey – hearty, healthy and filling! Gluten Free + Whole30 Approved + Bean Free
Reader Review: "This chili recipe is a keeper! I so enjoyed the satisfaction of making the taco seasoning blend (which smelled wonderful) and the aroma of the cooking chili permeating my home. Only drawback: only tasted a spoonful because it was so late. Thank you for sharing." – Joanne.
Enchilada Skillet made with sweet potatoes, black beans and an easy, homemade enchilada sauce made in under 30 minutes! Gluten Free + Vegetarian
Reader Review: "I made this for my family this evening and they absolutely loved it!" – Emma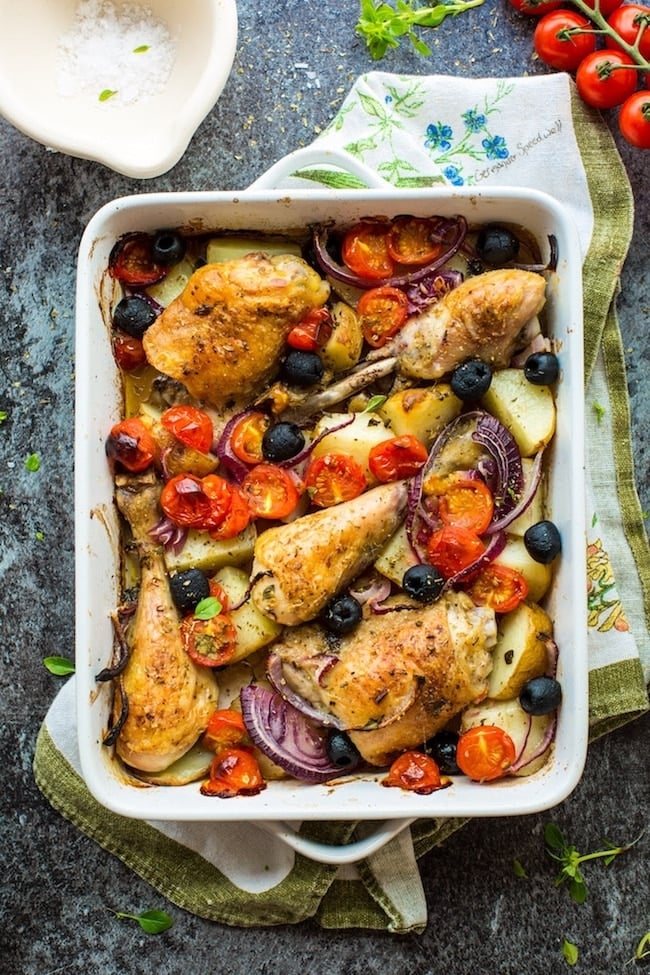 Easy One Pan Greek Chicken with Roasted Veggies – 5 minutes of prep and straight to the oven. A full meal for minimal cleanup and minimal effort! Gluten Free + Whole30
Reader Review: "My family absolutely love this one … it's terrific. Smells fabulous and tastes even better." – Heather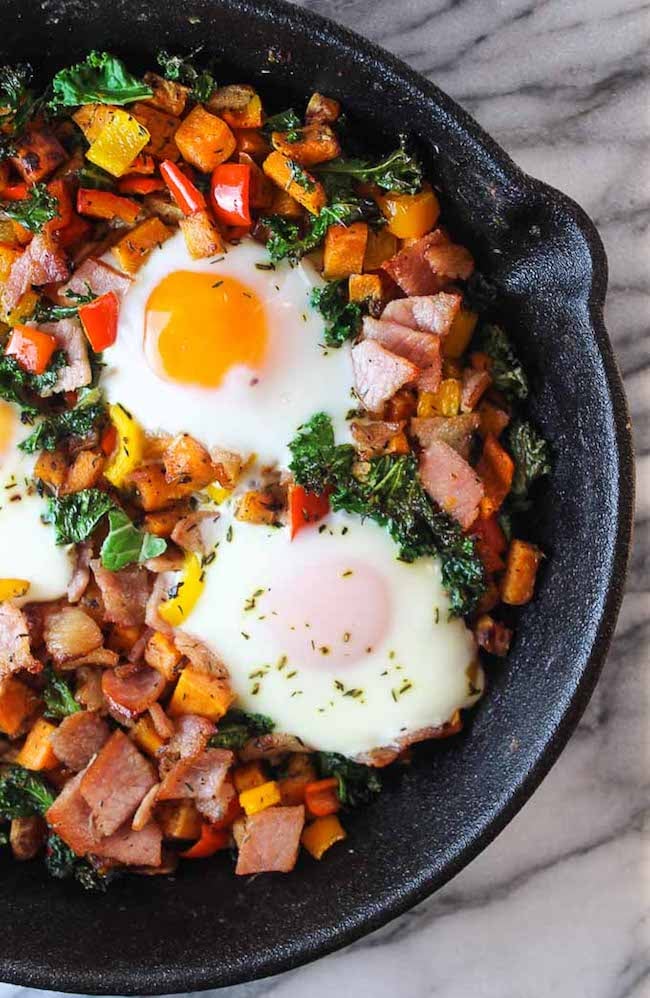 Bacon Kale & Sweet Potato Hash: a sweet and savory one skillet breakfast packed with protein, fiber, and tons of flavor. Low Fodmap & Whole 30 Approved.
Reader Review: "Made this for dinner tonight and it was absolutely delish. My partner said he could eat it everyday! Thanks so much for sharing this recipe 😊" – Amanda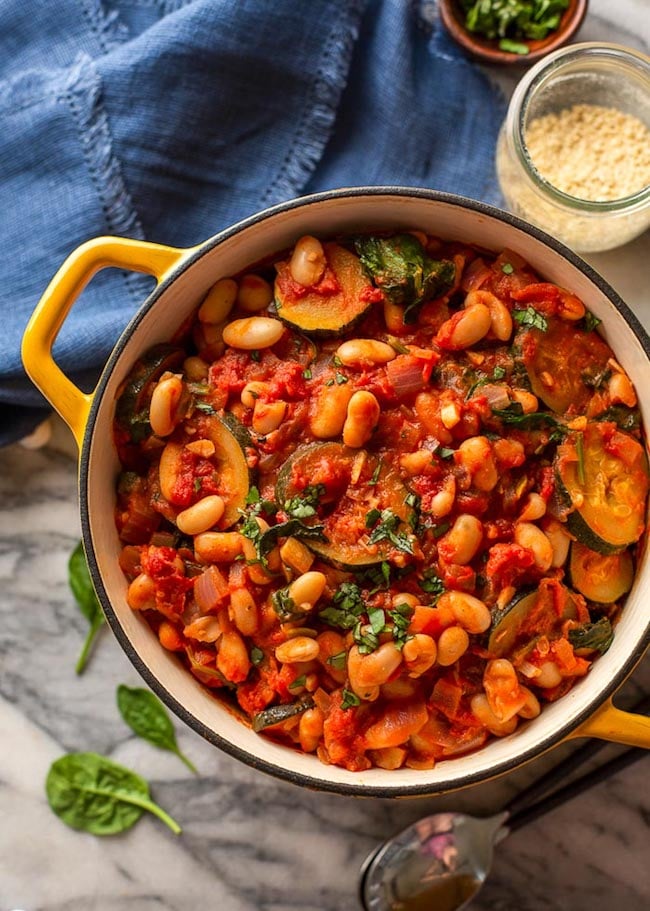 Humble ingredients make for big flavours in this super simple one-pot meal. This dish is great to make when you don't have much in the house. In just about 30 minutes you'll see how a couple of canned goods can be transformed into a healthy, hearty and delicious meal. You can even serve this stirred into cooked pasta for an even more filling option! | Gluten Free + Vegan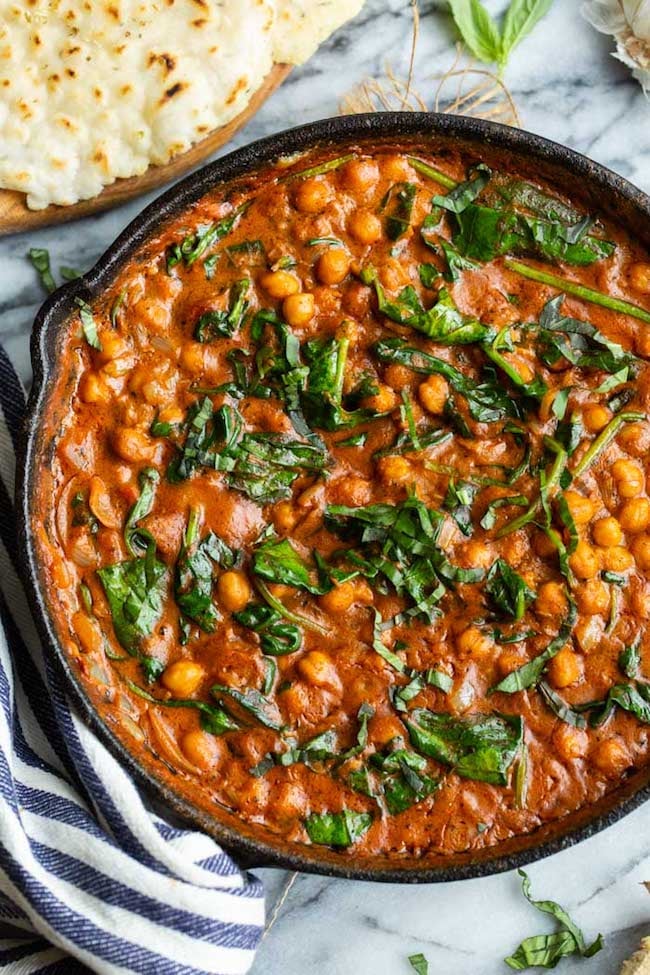 One pot, 30 minute Tomato Basil Coconut Chickpea Curry – sautéed onions, garlic and ginger stewed in crushed tomatoes, coconut milk and a few herbs and spices make for a simple yet satisfying and delicious meal you can make without too much fuss! Gluten Free + Vegan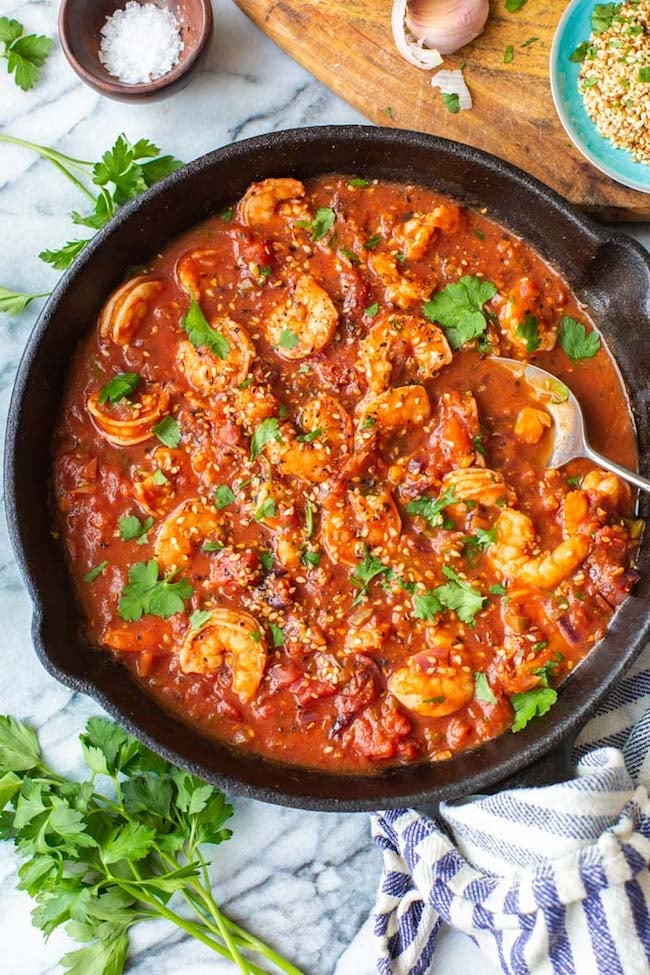 This Mediterranean Shrimp Stew comes together in about 30 minutes and all in one skillet – sautéed red onion, garlic and chili make up the base flavours and are then cooked in crushed tomatoes and seasoned with ground cumin & fennel. Peeled shrimp are added in the final minutes of cooking and then topped off with toasted sesame and fresh parsley. | Gluten Free + Paleo + Whole30 optional
Reader Review: "I made this for dinner last night and served over wild rice. I added a few handfuls of baby spinach when I added the shrimp. Otherwise made as written. It was delicious, and my husband really enjoyed it as well! Thank you for a great recipe!" – Elizabeth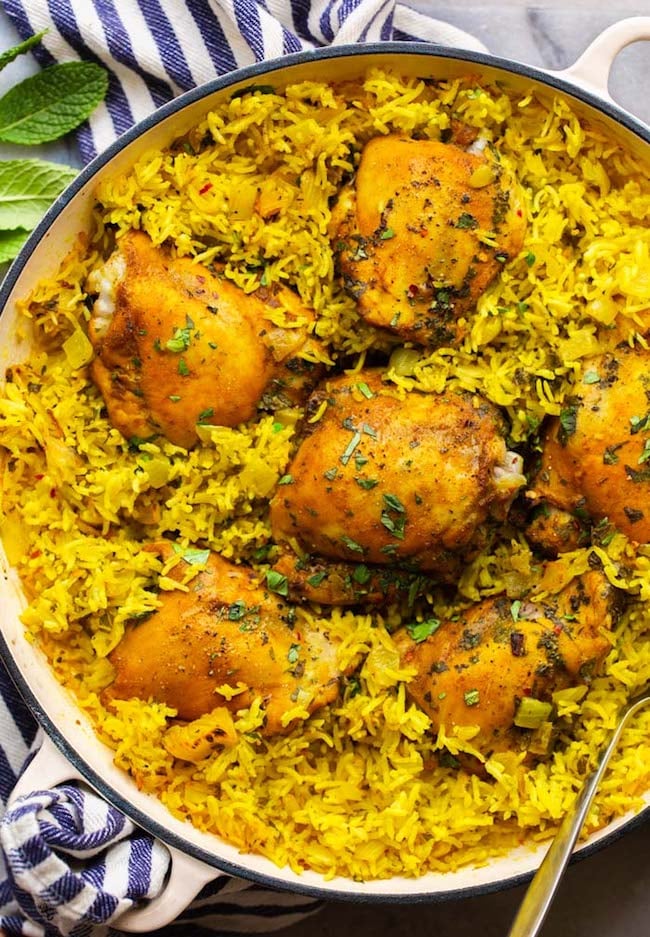 Make this Herby Golden Baked Chicken and Rice – all prepped and cooked in one pot for easy clean up and a satisfying dinner! Juicy chicken thighs are coated in a simple spice blend of cumin, ginger and turmeric and then cooked over golden-seasoned bed of rice topped with loads of fresh herbs. | Gluten Free + Dairy Free
Reader Review: "This was delicious!! Even my two picky eaters went back for seconds! Thank you for the recipe!" – Alicia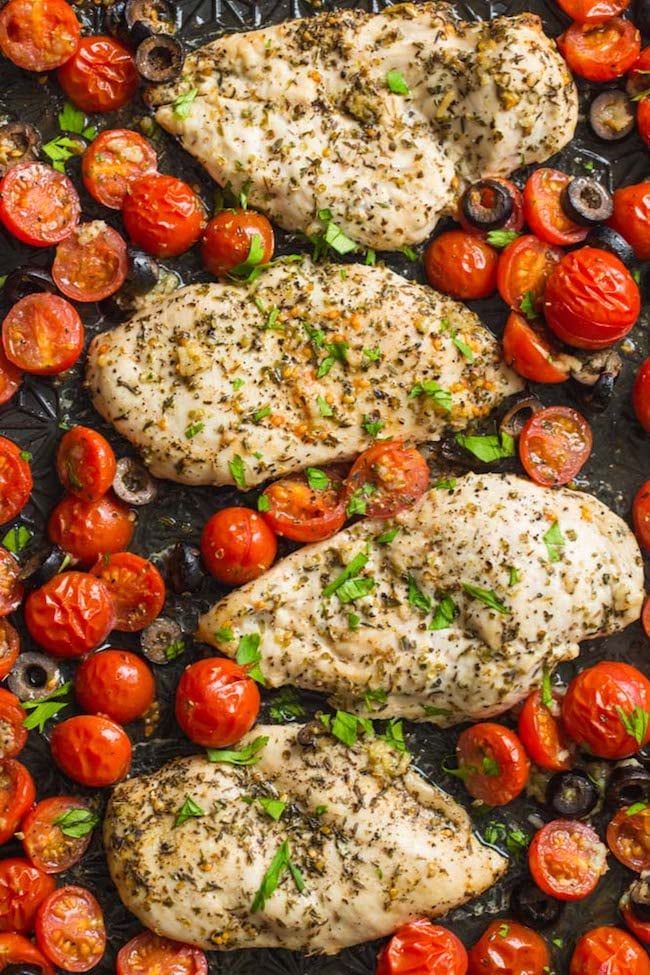 Super easy and healthy Baked Italian Chicken with cherry tomatoes and sliced black olives topped with fresh herbs. Enjoy this chicken as is with a side of veggies or slice it up and add to pastas, salads, sandwiches or wraps!
Reader Review: "Simple. Easy. Delicious. Love it." – Kat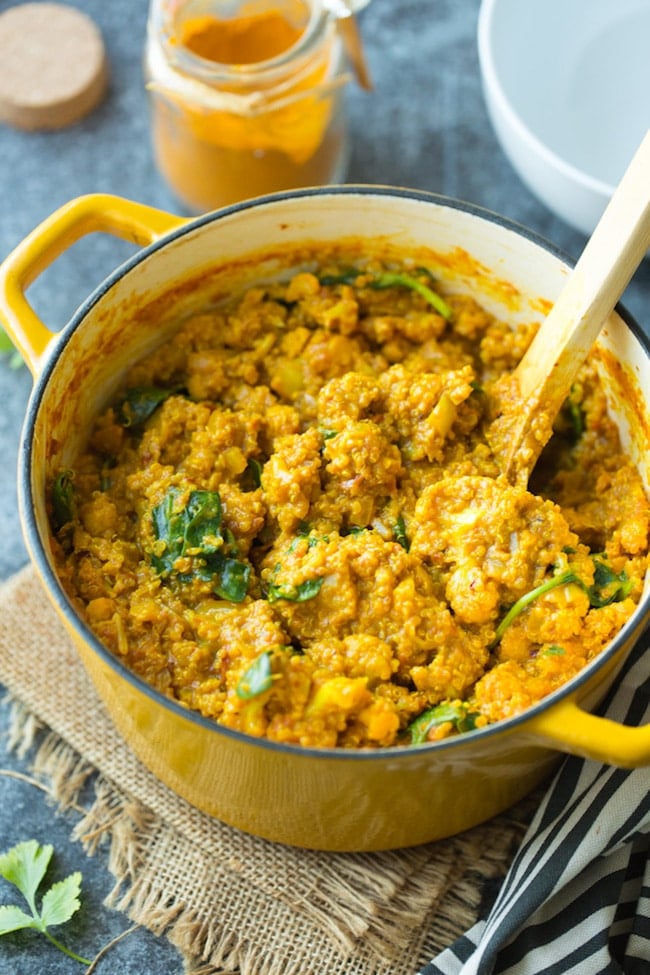 Golden Cauliflower Quinoa Curry – creamy turmeric spiced cauliflower and quinoa stewed together with crushed tomatoes, coconut milk and spinach. This hearty dish comes together all in one pot in about 30 minutes! | Gluten Free + Vegan
Reader Review: "Made this tonight and it was DELISH! I used light coconut milk and skipped the coconut oil and it was AMAZING! Thank you!" – Jill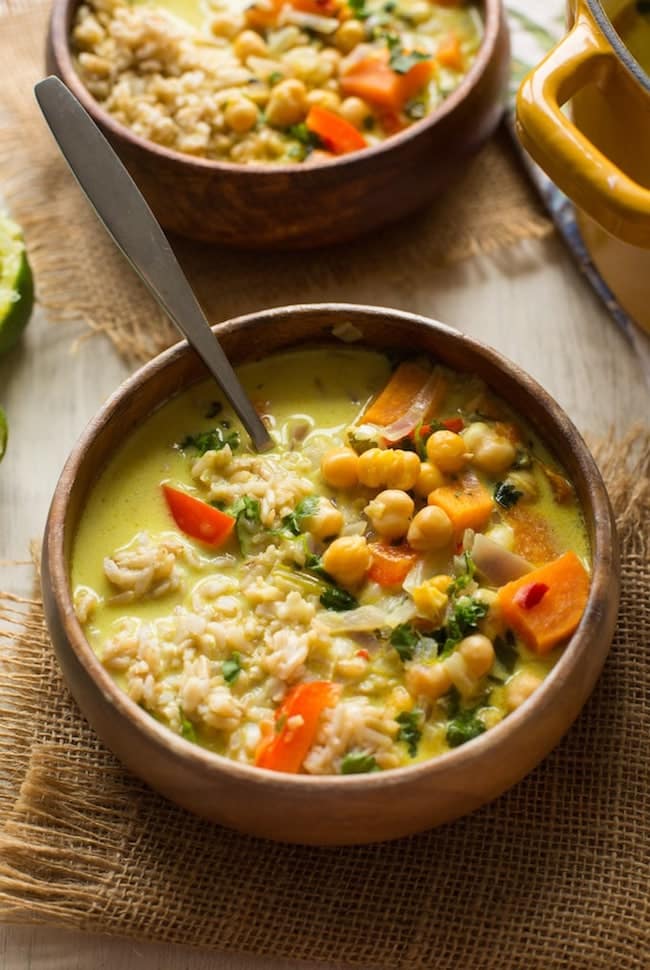 30 minute Chickpea Lime & Coconut Soup – warm, satisfying & easy to make! | Gluten Free + Vegan + Grain Free
Reader Review: "Cannot believe how something so simple to make can taste so amazing. And brilliant, as you say, for using up leftovers in the fridge – I added in a small handful of broccoli, cauliflower, a bit of aubergine, some mange tout and a couple of cooked jersey royal potatoes I had left over. Have bookmarked to add to my favourite go-to recipes that produce maximum results for minimum effort!" – Sheona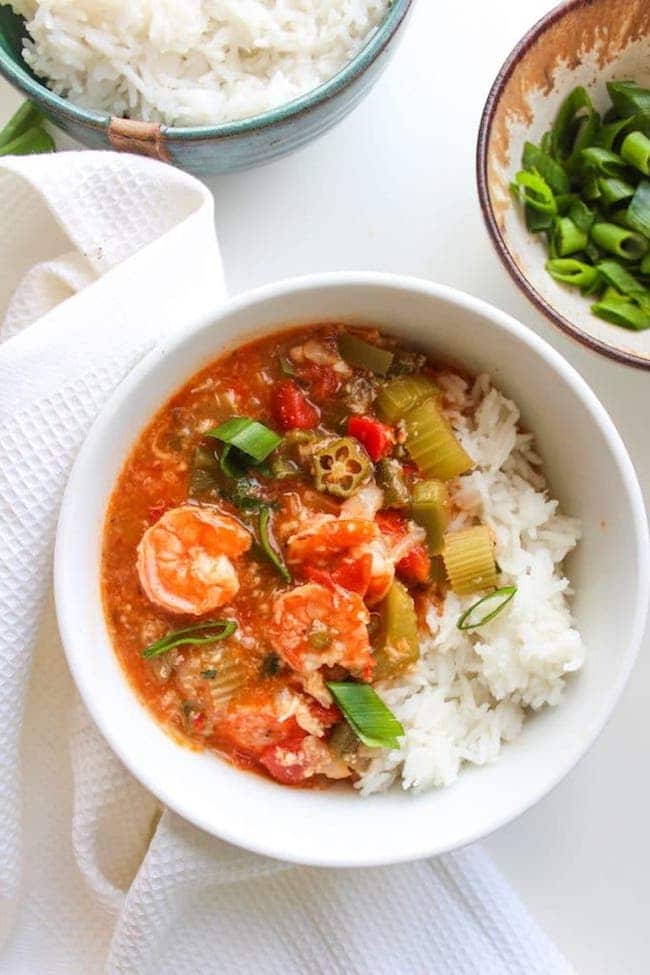 One pot Fast Seafood Gumbo loaded with crab, shrimp and tons of veggies | Gluten Free + Paleo Option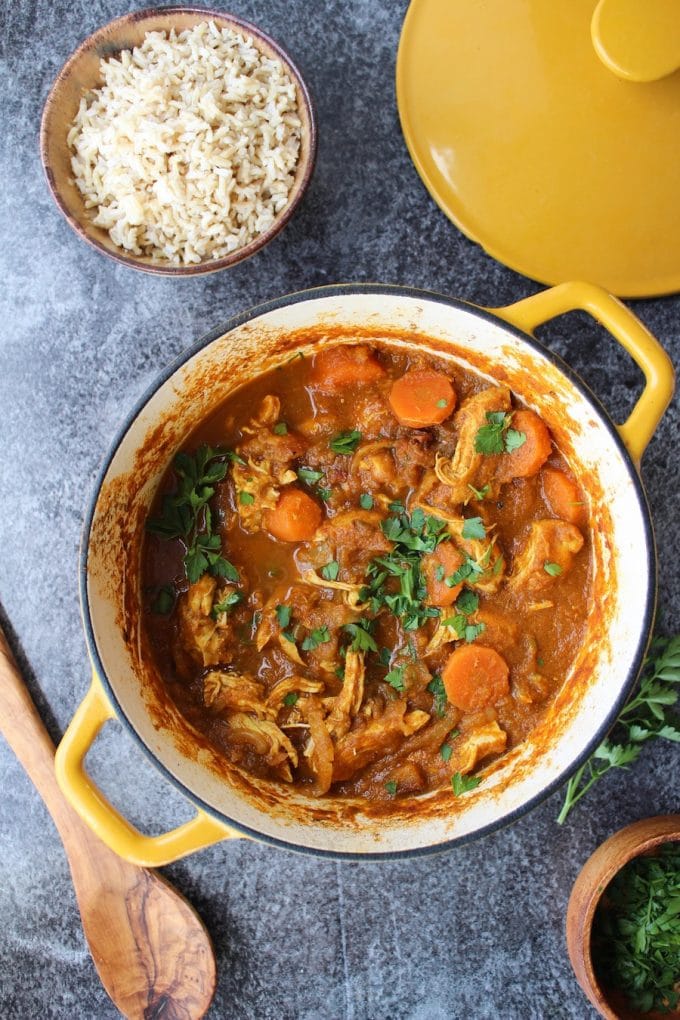 Paleo Moroccan Chicken Stew – Moroccan spiced veggies with shredded chicken and chopped dates | Dairy Free + Paleo
Reader Review: "Absolutely beautiful meal, very tasty. Thank you very much for posting this recipe, I shall make it again for sure." – Brian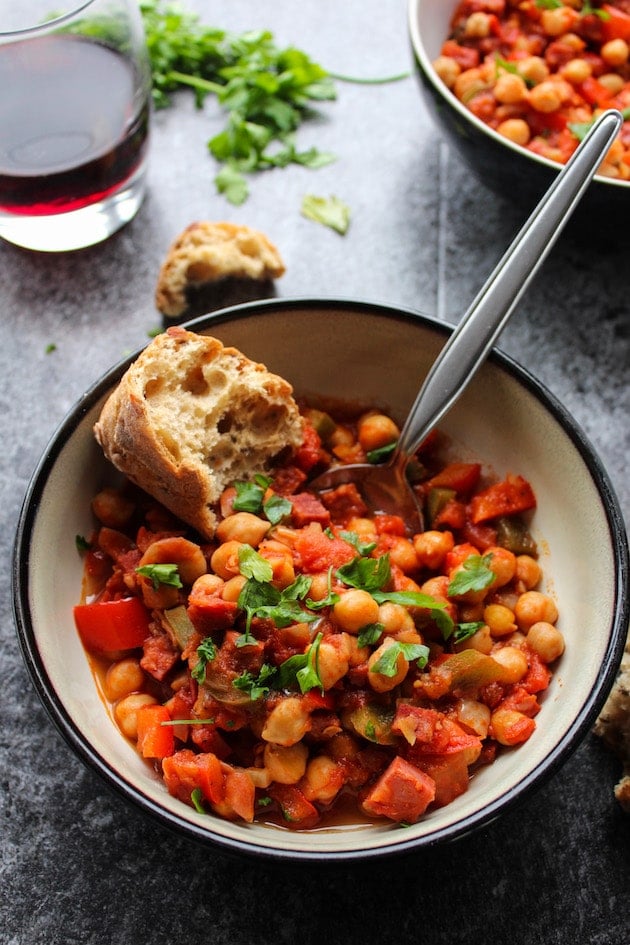 Fast and easy Chickpea & Chorizo Stew – make it in 30 minutes or less for the ultimate one pot dinner | Gluten Free + Grain Free
Reader Review: "Just love this recipe – so easy so tasty so quick ! Great" – Karen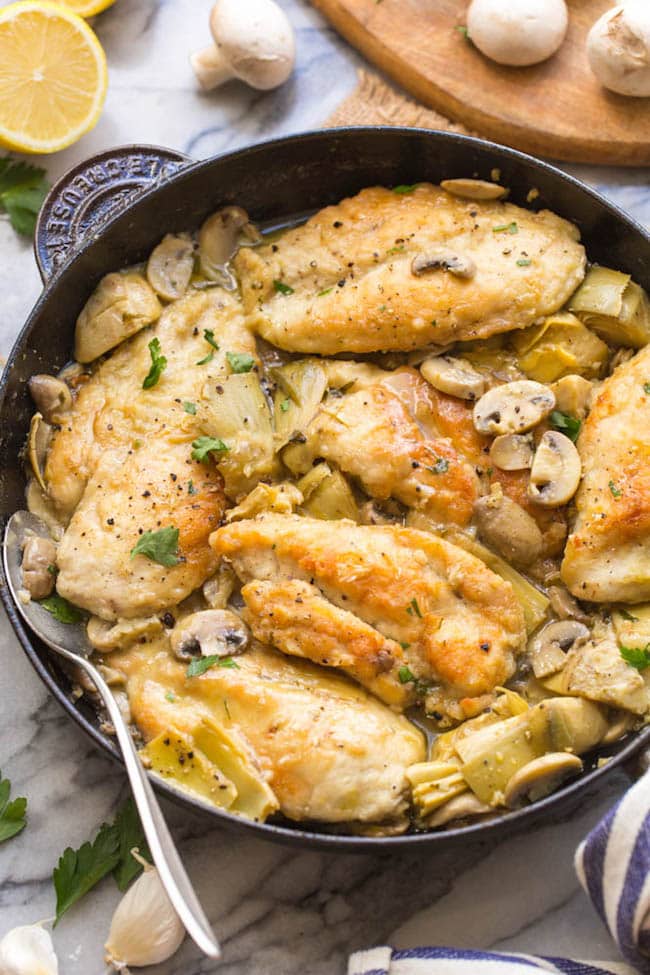 Make sure to save a spot for this Mushroom & Artichoke Chicken dish in your weeknight dinner rotation! Lightly coated chicken pieces are cooked, crusted and then mixed in with sautéed mushrooms and artichokes swimming in light and zesty white wine and lemon sauce. | Gluten Free + Dairy Free
Reader Review: "I tried this recipe last night and it came out very well – great flavours. Will be making it again." – Ryan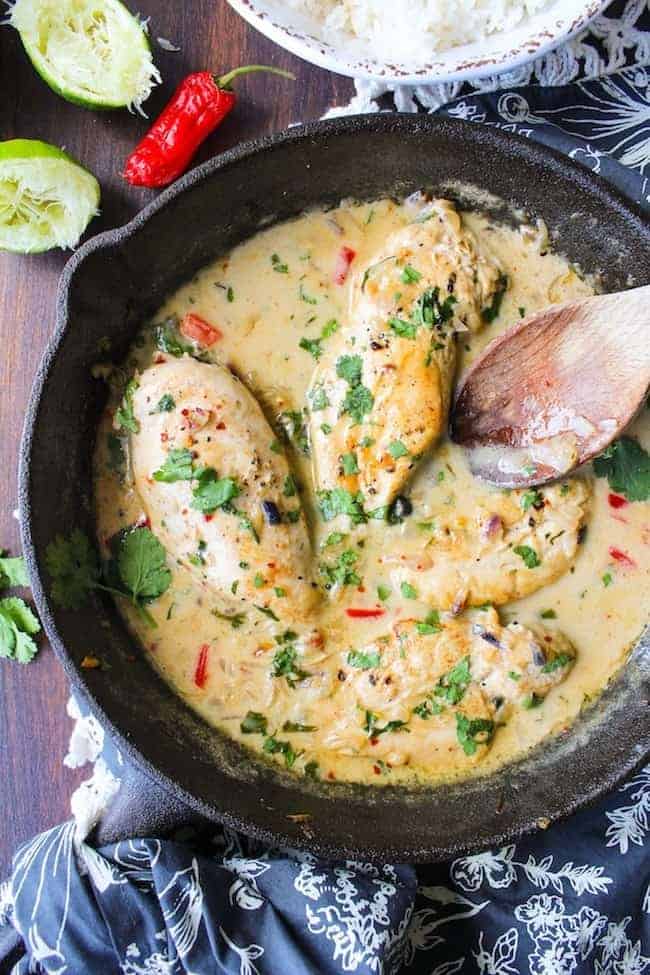 Coconut Lime Chicken Breasts – a one pan, Whole 30 approved dish made with only a handful of ingredients. Dairy Free + Paleo
Reader Review: "This is one of my favorite Paleo recipe! The sauce is sooooooo good ! I have been making it for a year, never gets boring." – Eve-Marie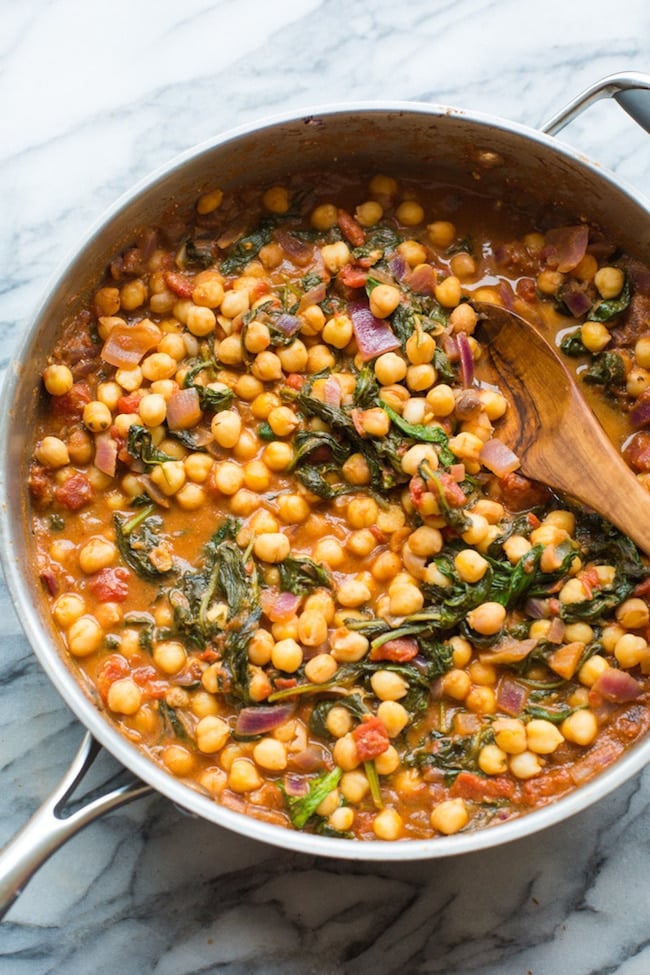 Mediterranean Chickpea Stew with Spinach & Feta – all made in one pan in under 20 minutes! Sautéed red onion and garlic with Mediterranean spices stewed with crushed tomatoes, chickpeas and spinach. | Gluten Free + Vegetarian
Reader Review: "Since my girls, 12 and 11, decided to go vegetarian I have made numerous dishes. This dish was a hit and I have made a half dozen times in the past 2 months. Nothing ever gets wasted as the leftovers don't last long." – Matthew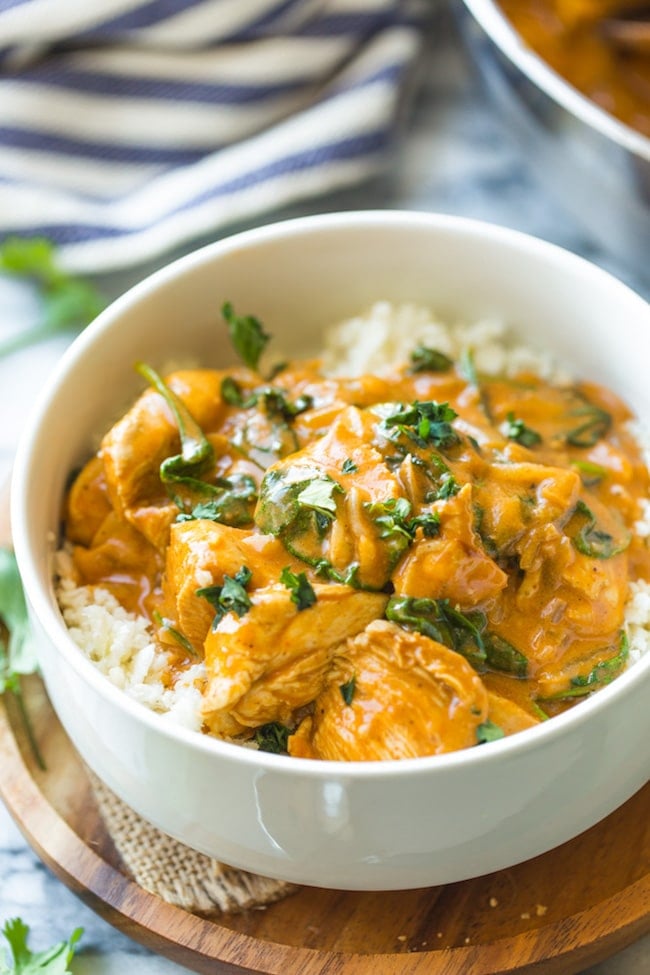 Easy to make with basic ingredients – Tomato Coconut Curry Chicken! All prepped and cooked in one pan in about 30 minutes! Gluten Free + Low Carb + Whole30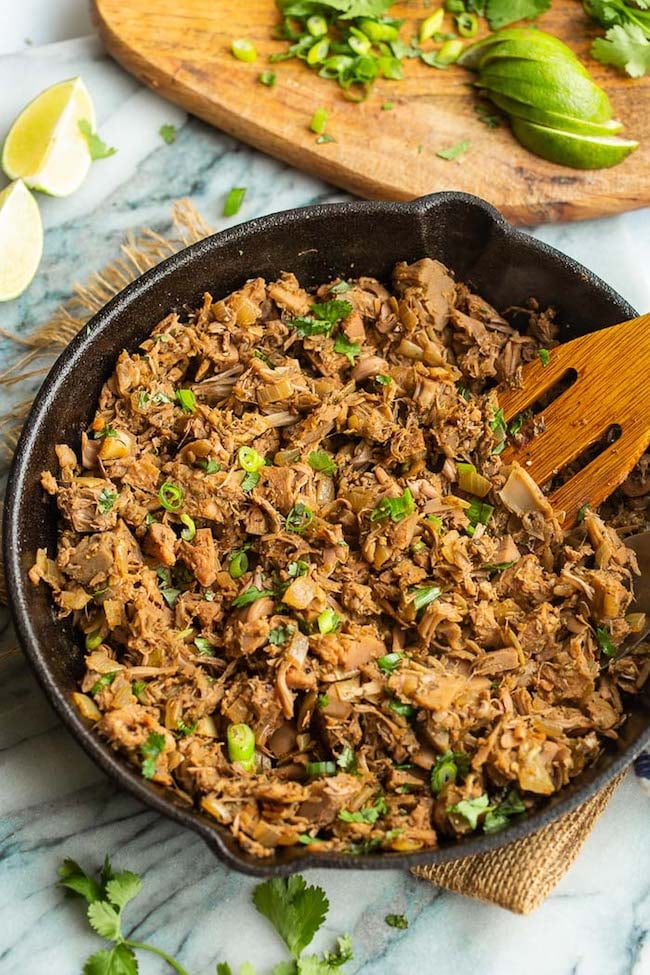 These vegan jackfruit carnitas make for the perfect weeknight dinner – they're prepped all in one pan and are ready in about 30 minutes with pretty basic ingredients! Add to tacos, burritos, bowls and more!| Gluten Free + Vegan + Paleo Option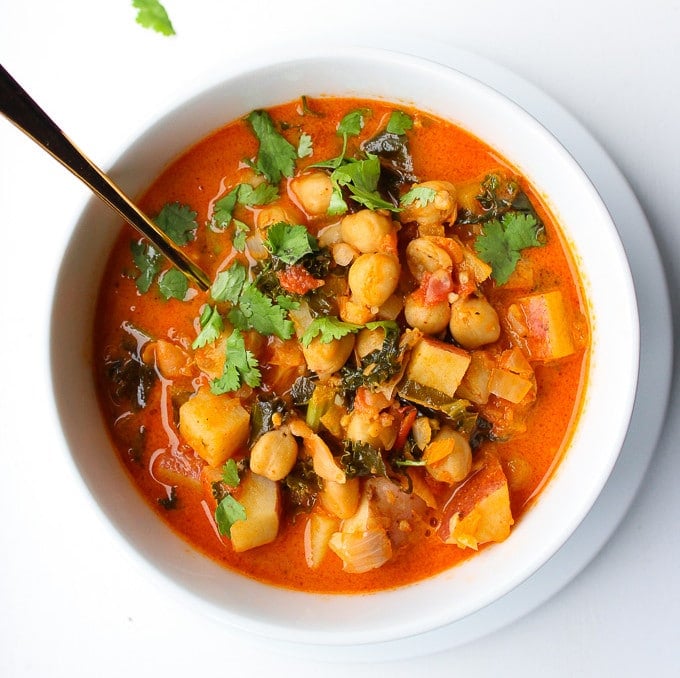 Tomato Coconut Curry Stew | Loaded with chickpeas, kale, potatoes and topped with a sprinkling of fresh coriander
Reader Review: "I just made this soup tonight with kale and crushed tomatoes fresh from the garden and it came out amazing! So much so that my future father in law (who's had culinary lessons himself) gave it high accolades. He said all the flavours in it were extremely well balanced. Thank you for the lovely recipe! Truly came out great." – Natalie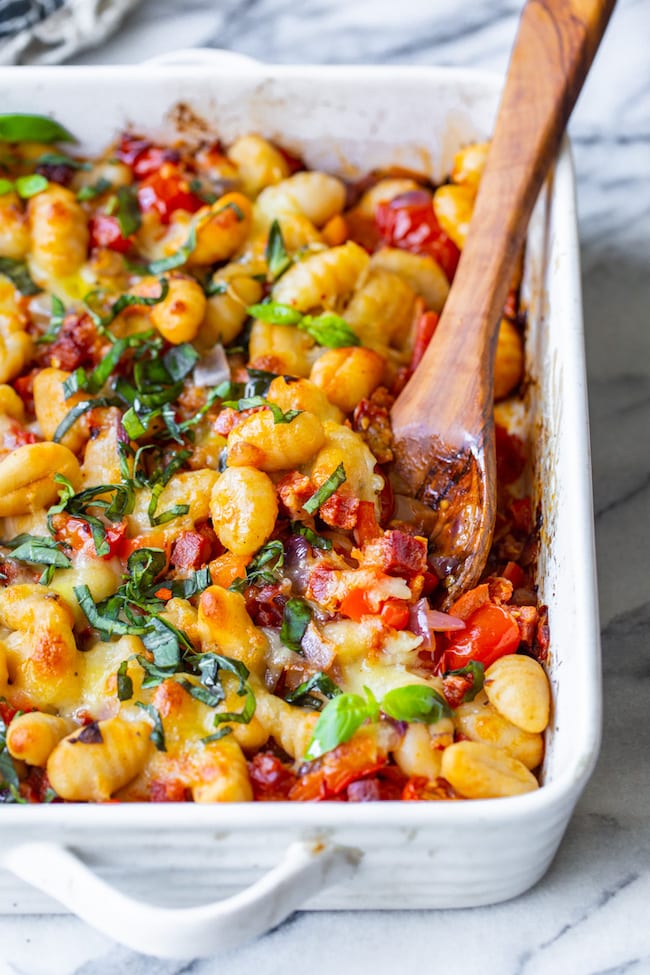 Red pepper, tomato and onion roasted and then mixed together with diced chorizo pieces, pillow-y potato gnocchi and topped with fresh mozzarella – all cooked in one dish with minimal effort! This simple weeknight dinner will quickly become a family favourite!
Reader Review: "Made this dish for my boys and husband…it was a hit!! Husband said he could lick the plate it was so good..Thank you!" – Lisa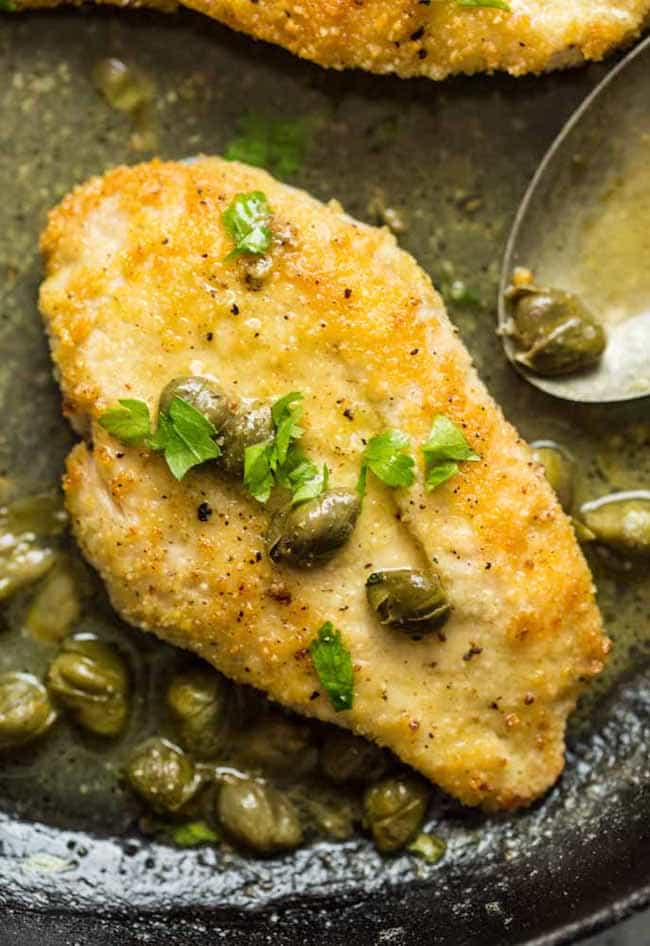 One Pan Lemon Caper Chicken Breasts – a healthy + easy skillet chicken dinner that's made with less than 10 ingredients in about 20 minutes! If you like Picatta then you'll love this! Serve this dish with a side a mashed cauliflower to keep it low carb/keto friendly or topped on a plate of rice to soak up all the juices! Gluten Free + Low Carb + Paleo/Whole30 Option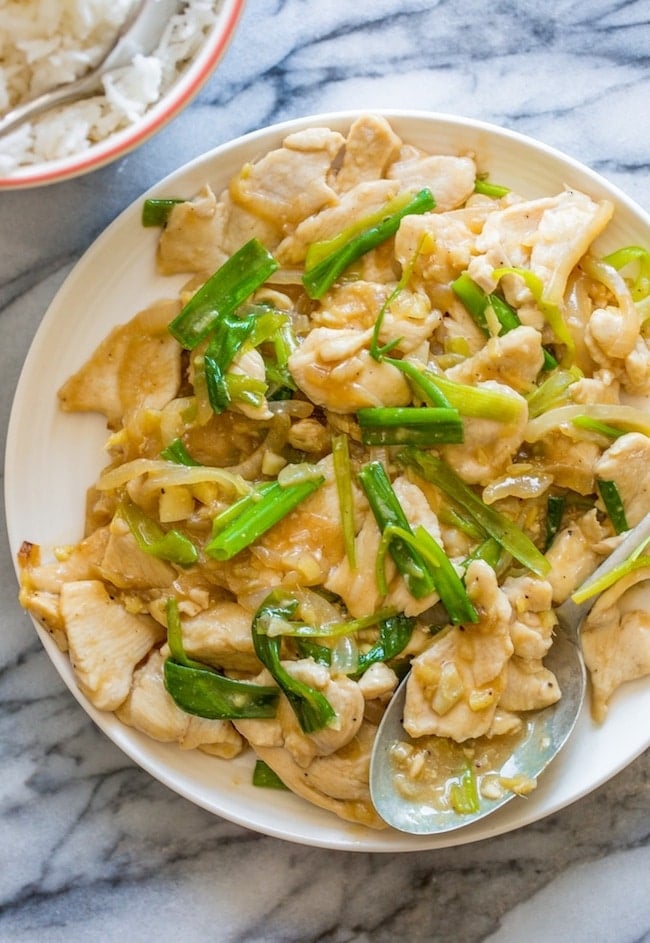 15 minute stir fry Garlic Ginger and Spring Onion Chicken – a Chinese takeout favourite made easy!
Reader Review: "I just made this dish for lunch and it was brilliant, so simple yet flavourful. Thank you for sharing this :)." – Thomas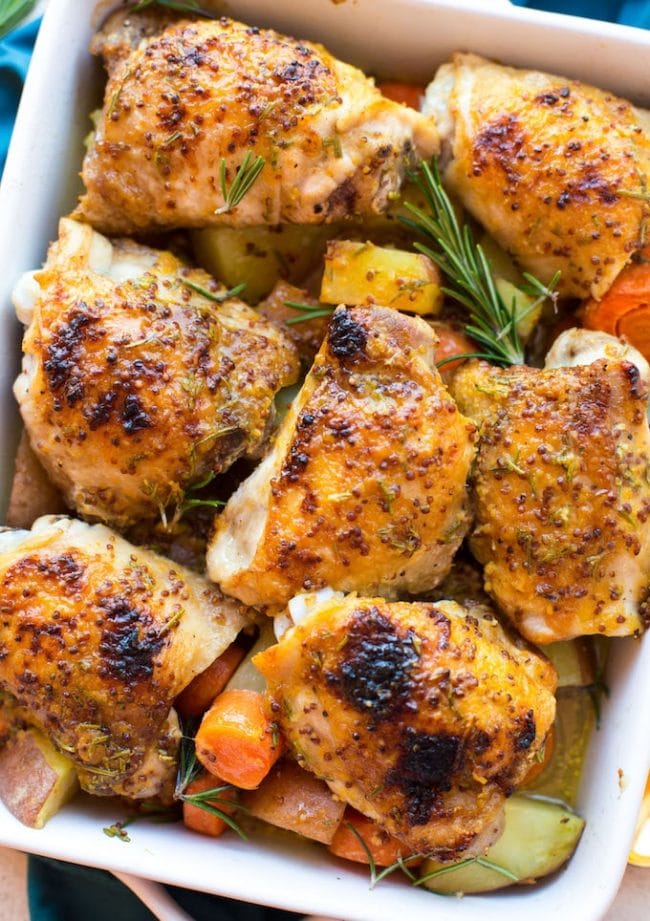 Low FODMAP Maple Mustard Chicken with earthy rosemary, potatoes, carrots and crispy chicken skin – a full dinner with only 10 ingredients made in under an hour! | Paleo + Gluten Free
Reader Review: "This is one of my FAVORITE recipes now. It is delicious. It is part of my regular dinner rotation/Sunday meal prep. The sauce that goes over the chicken is the perfect balance of tangy and sweet. Thank you!!" – Kristi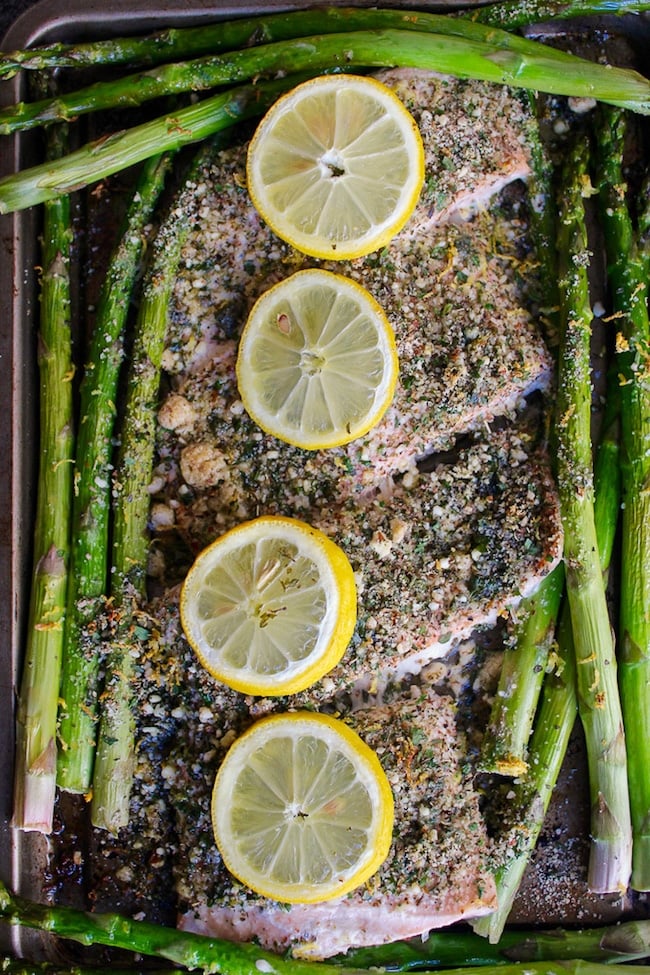 One tray, 15 minute Almond & Herb Crusted Baked Salmon with asparagus. Ground almonds, mixed herbs, and a squeeze of lemon | Whole 30 and SCD friendly | Swap the asparagus for tomatoes and sautéed spinach to make it low FODMAP
Reader Review: "Great recipe! Thank you for sharing it! I just smashed a bunch of almonds and it was totally fine. Mix of fresh herbs and dry herbs; I think the fresh herbs go a long way. Delicious!!" – Sara
More Monthly & Weekly Menu Ideas